Until not so long ago, Pigeon Forge was nothing but a small, sleepy Southern town mostly isolated from the rest of the world due to the lack of major roads – but over the past few decades, it has transformed itself into a bustling resort town visited by millions each year.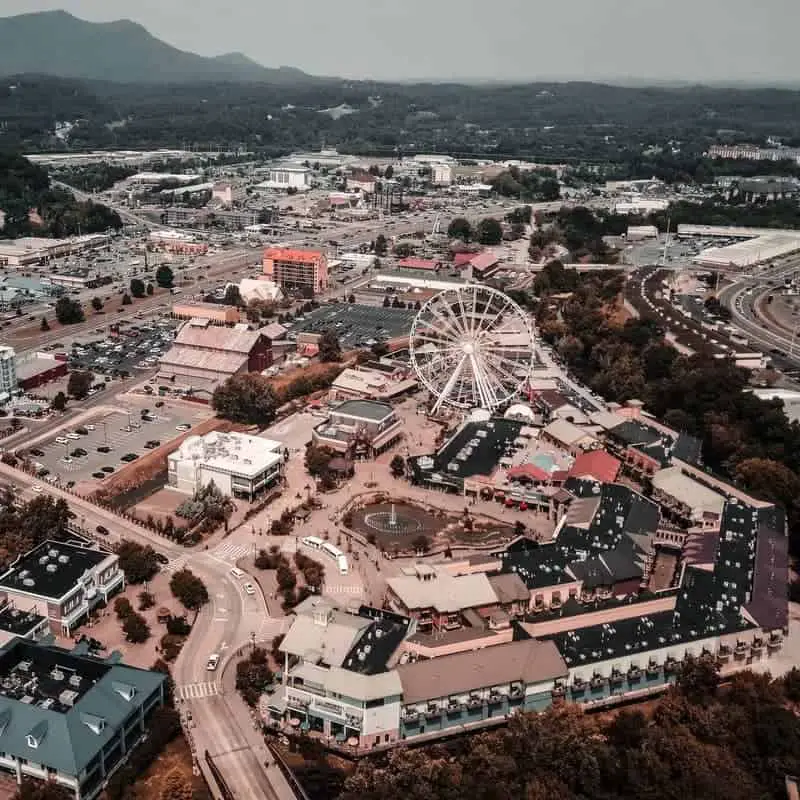 For a town with a population of only around 6,000, it boasts an almost mind-boggling array of attractions, and to help you find the best of them, here's our comprehensive guide to things to do in Pigeon Forge and the surrounding area.
Things To Do in Pigeon Forge
1. Sightseeing Tours
When you visit Pigeon Forge, perhaps the first thing you'll want to do is familiarize yourself with the area, in which case, joining one of the many exciting tours is the perfect way to get a taste of the exquisite local scenery. Here are some of your options:
Driving Tour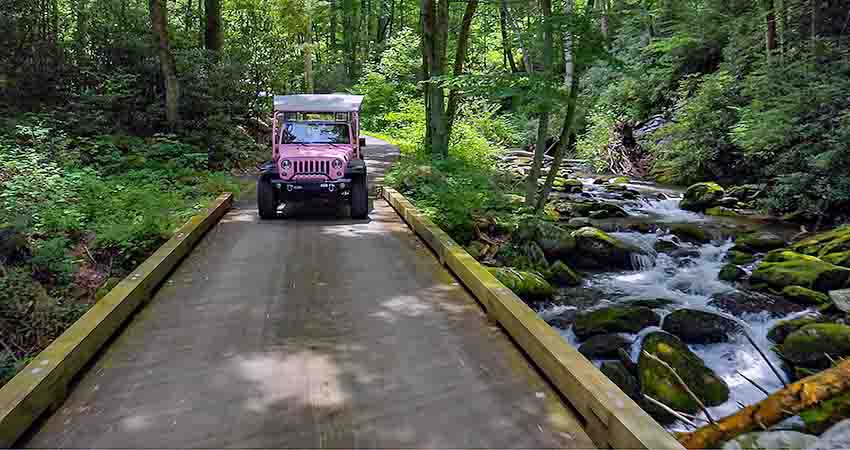 Take a 4×4 jeep tour up into the hills to discover the stunning natural beauty of the Smoky Mountains at first hand, taking in some special hidden gems along the way.
Alternatively, if you prefer, you can rent a vehicle and drive yourself – several local companies have jeeps, road-legal UTVs and more available.
Helicopter Tour
If you want a unique view of the landscape, take to the skies and experience the breathtaking vistas from above in a helicopter tour, something that's sure to be a highlight of your stay.
Railroad Tour
For something a little more sedate, take a trip on the Great Smoky Mountains Railroad, a train ride that will transport you back to the days of old as you dine in your first-class carriage and take in the historic landscape from your window.
You'll have to travel across the state border to Bryston City in North Carolina for this one, but if that doesn't put you off, it's well worth considering.
This is a unique and off-the-wall tour the like of which you've never experienced. Jump on the converted camouflage school bus and take a redneck tour of the area – it's a comedy club and a guided tour rolled into one.
You'll see all the famous sights but expect plenty of laughs along the way too in this one-off attraction – and you'll even get to taste some traditional local moonshine on the trip too if you so choose.
Mullets are strongly encouraged but not required.
2. Trekking, Horse Riding and Outdoor Exploration
Another great way to visit the area and take in the local scenery is by heading off on a trek. You can do this independently or you can join an organized tour. Here are some possibilities to consider:
Big Rock Dude Ranch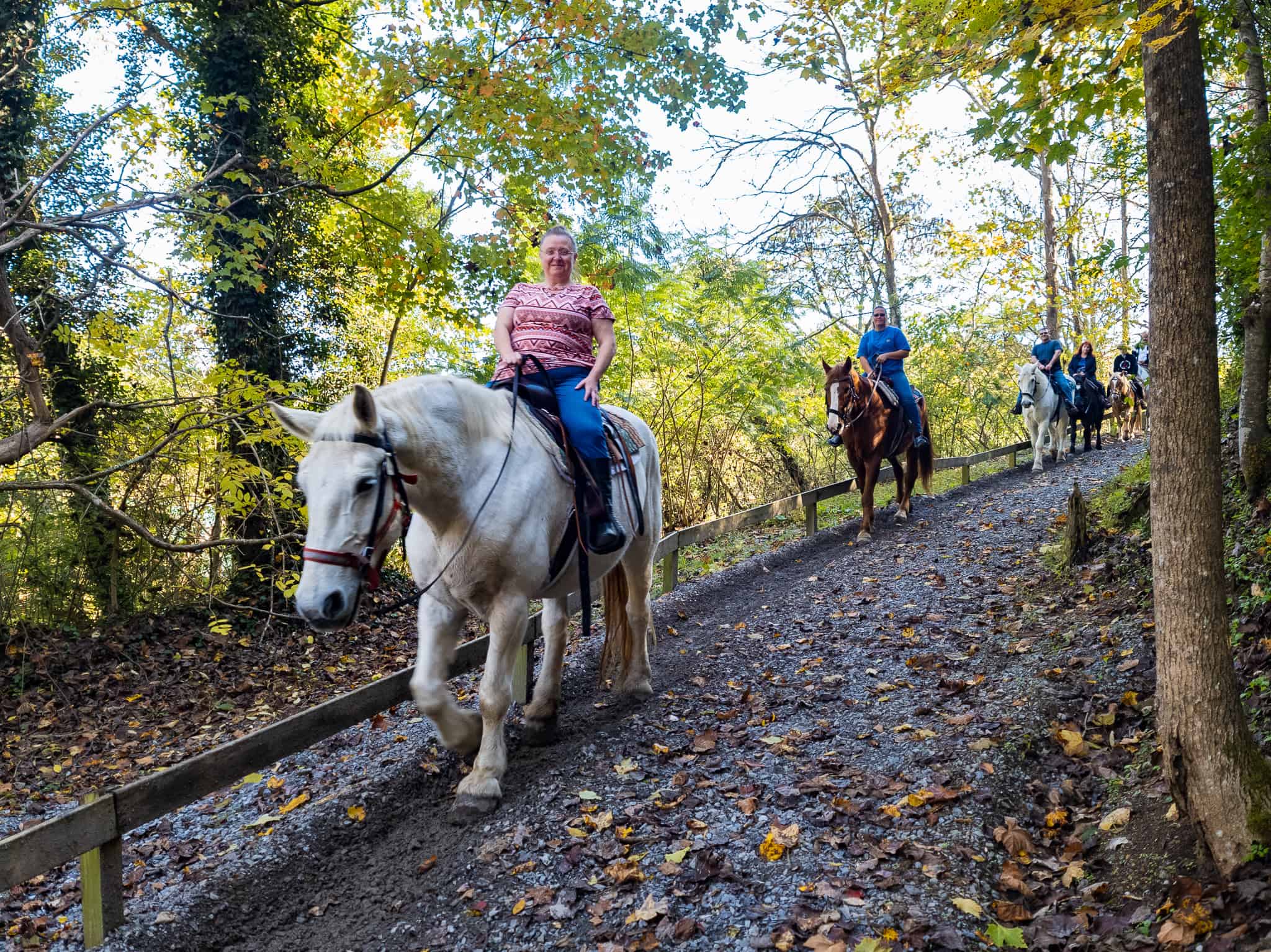 Big Rock Dude Ranch markets itself as Pigeon Forge's premier horseback riding center and promises to allow you to experience the Smoky Mountains as the early settlers saw it 200 years ago.
Other activities like gem mining and fishing are available, and there's also a petting zoo, so this is an attraction not to miss.
Smoky Mountain Llama Treks
A more unusual option is to sign up for a llama trek. Starting in the nearby town of Cosby, two options are available – a one-hour trek or a two-hour version, depending on your time restraints and fitness levels.
Whichever you choose, both trails will take you through some gorgeous mountain scenery, and the llamas are undeniably adorable – and who could say no to that if they had the chance?
Great Smoky Mountains National Park
For those who prefer to go it alone, the Great Smoky Mountains National Park is just a stone's through from the town of Pigeon Forge.
The park boasts around 850 miles of marked trails to explore along with campsites and numerous historical attractions.
This park is arguably one of the country's most beautiful, and entrance is free too – so for lovers of nature and the great outdoors, this should be an essential item on any Pigeon Forge itinerary.
Roaring Fork Motor Nature Trail
Although it's known as the "motor trail", this five-mile route can easily be walked too. Highlights include the Rainbow Falls and another waterfall known as Place of a Thousand Drips.
The start of the route is located just a few miles south of Pigeon Forge, and perhaps the best part is that this attraction is absolutely free!
Related Read: 7 Best Smoky Mountains Horseback Riding
3. Museums
There's no shortage of museums in Pigeon Forge to keep you and your family occupied. Here are a few of the most interesting – as well as some of the quirkiest: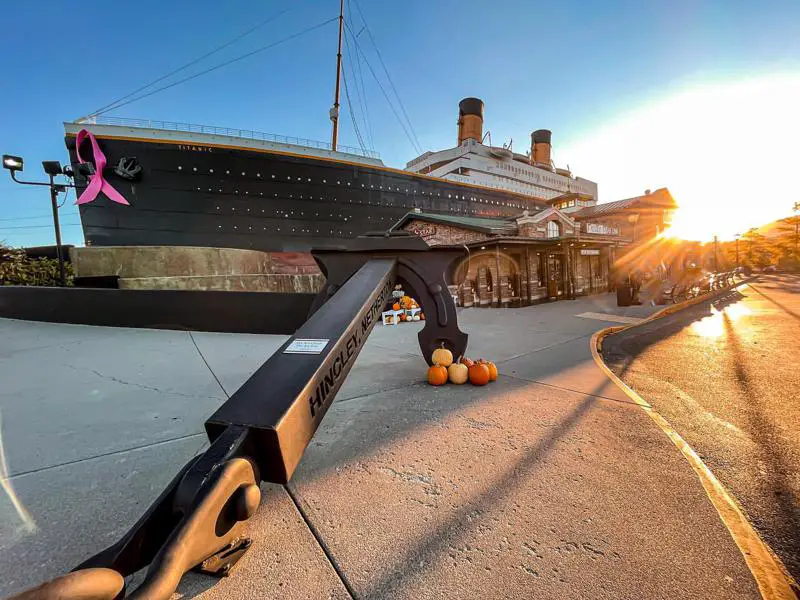 Everyone knows the Titanic was declared "unsinkable" – and everyone also knows how the story ended.
However, there's so much more to learn about how this tragic ship was built and what happened on her fateful maiden voyage, and with around 400 genuine Titanic artefacts, this fascinating interactive museum will teach you all about it.
Alcatraz East Crime Museum
The five galleries of the Alcatraz East Museum allow you to explore American history from a new angle, gaining insights into everything to do with crime and those who commit it.
The museum is great for kids, and exhibits include the Bronco used in the infamous OJ Simpson car chase and Al Pacino's machine gun from Scarface.
Hollywood Wax Museum
The Hollywood Wax Museum is exactly what it sounds like – and more.
Not only will you have the chance to take selfies with lifelike wax models of all your favorite movie stars, but you can also enjoy other attractions like "Outbreak – The Undead", which lets you walk through a zombie-infested science facility where an experiment went horribly wrong.
WonderWorks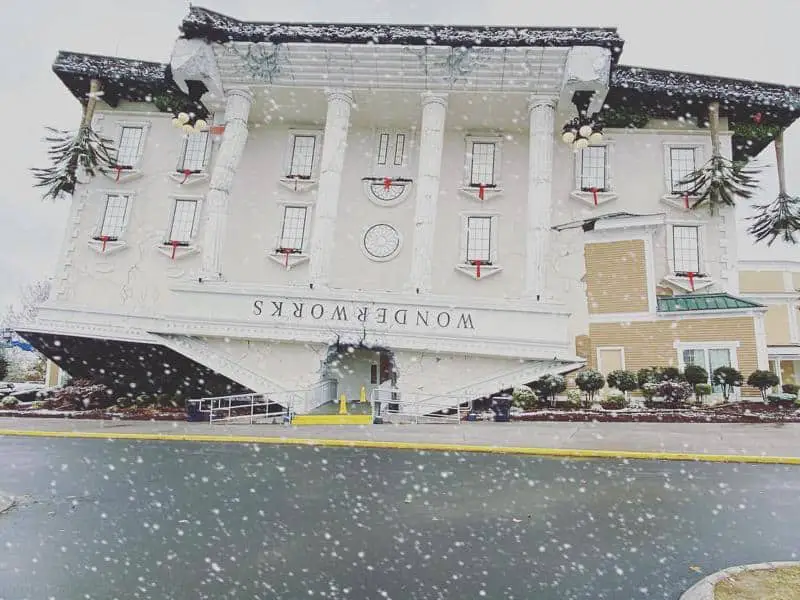 One of the more bizarre museums you're likely to visit in your life, WonderWorks is definitely worth adding to your Pigeon Forge itinerary.
You'll start to understand what you're in for as soon as you arrive because the museum is housed in a huge upside-down mansion.
In the six Wonder Zones, you'll discover a range of amazing "edutainment" activities that kids – and adults – will love, making this one of the town's unmissable attractions.
Beyond the Lens!
For those interested in technology, Beyond the Lens! Should be high on your list of things to see. This interactive museum includes over 150 exhibits that allow you to hunt for Bigfoot, learn about the JFK assassination, search for aliens – and much, much more besides.
Ripley's Aquarium of the Smokies
Not technically in Pigeon Forge but located just a short drive away in nearby Gatlinburg, Ripley's Aquarium of the Smokies is worth taking a trip to visit.
Species on display include cute penguins, graceful rays and fierce-looking sharks, there are various areas to explore, and you can even take a ride on a glass-bottomed boat – so it's no wonder this attraction has previously been voted the best aquarium in the US.
4. White Water Fafting
Located as it is only five miles north of the Great Smoky Mountains National Park, it's unsurprising that Pigeon Forge is a top spot for white water rafting.
A number of reputable outfits operate in the area and can arrange exhilarating rides on churning local rivers to ensure you don't go home without getting your adrenaline fix.
5. Ziplining
Just as the Pigeon Forge area is ideal for white water rafting, so it is for ziplining, and there are some tantalizing options for those who enjoy the thrill of flying along at high speeds while attached to an overhead cable. Here are two suggestions:
Legacy Mountain Ziplines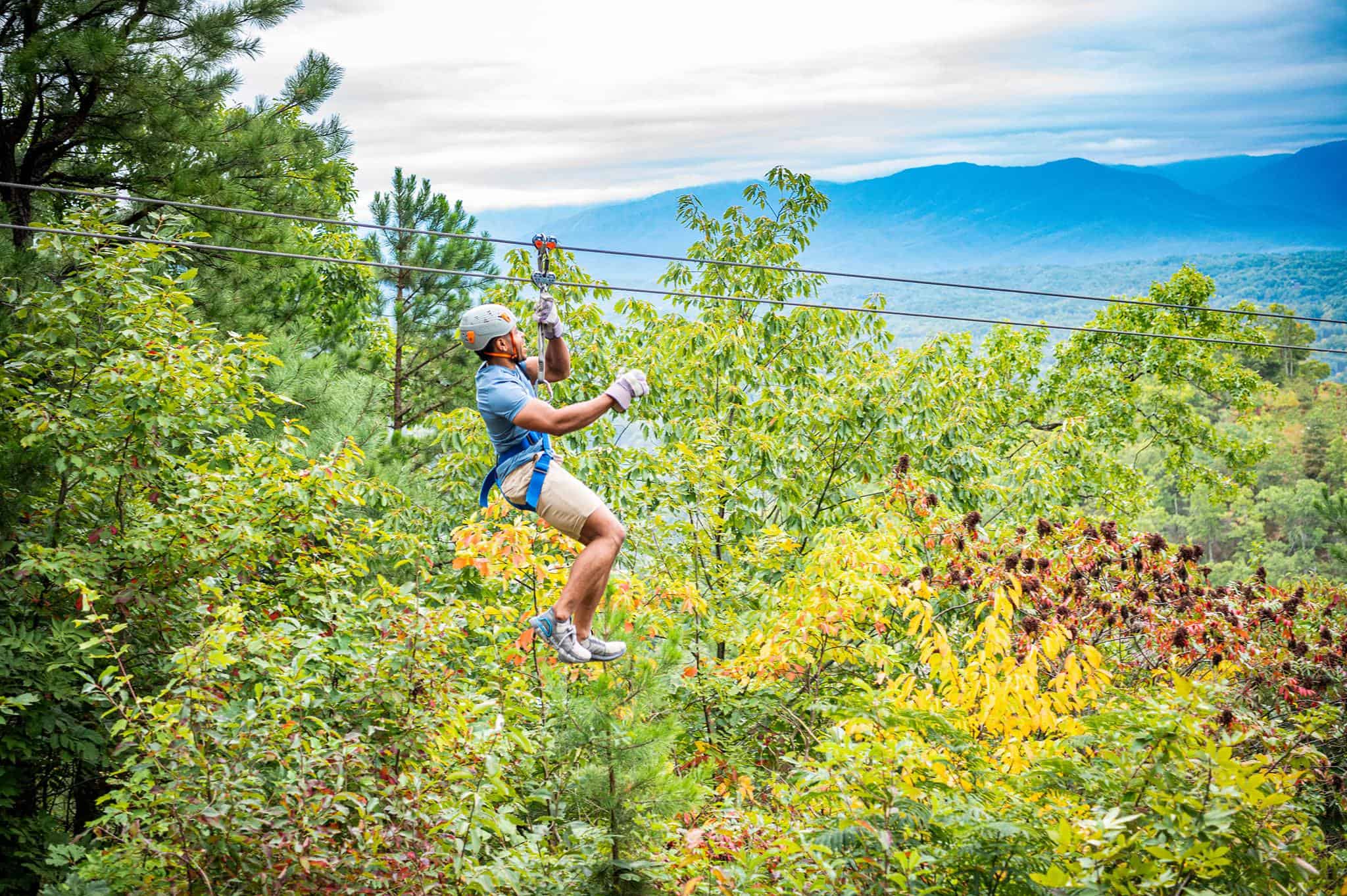 If you want an experience that's guaranteed to set your heart racing, check out Legacy Mountain Ziplines. With seven different lines totaling over 3,500ft and with top speeds of over 50mph, this is just the kind of activity adrenaline junkies will adore.
Foxfire Mountain Adventure Park
Located over in Sevierville and another premium ziplining experience, Foxfire Mountain Adventure Park is another option if you want to experience the sensation of hurtling along as the stunning scenery whistles by below.
The adventure starts on a short beginners' line – by the last one is the highly impressive quarter-mile finale that will simply take your breath away.
Related: 9 Best Zipline in the Smoky Mountains Pigeon Forge Area
6. Adventure Parks
If you want to combine activities like ziplining with others such as treetop adventures, obstacle courses and roller coasters, you're sure to find somewhere with all you could ask for and more in the Pigeon Forge area. Here are a few to look out for:
Paula Deen's Lumberjack Feud Adventure Park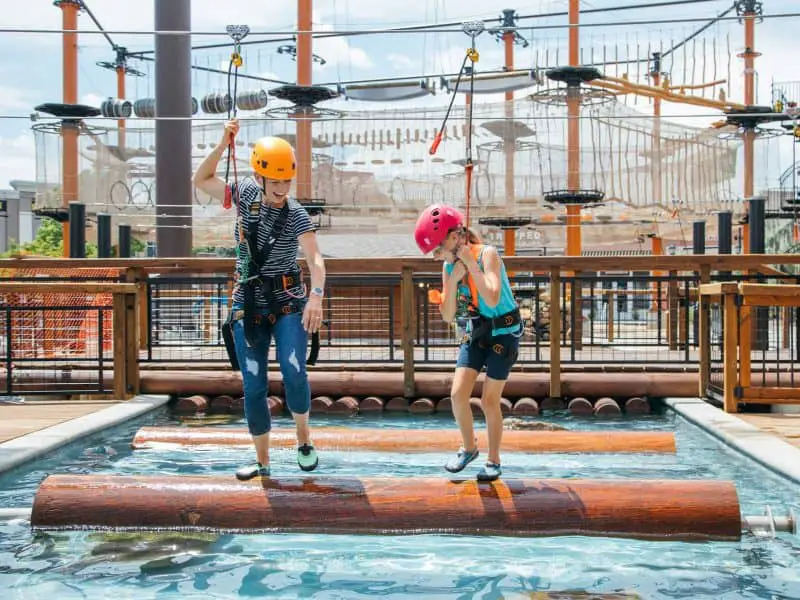 In Pigeon Forge itself, head to Paula Deen's Lumberjack Feud Adventure Park. There, you'll find ziplines, bungee jumping, tree climbing, log rolling and even a zipline roller coaster.
There's also a lumberjack show to catch, making this easily one of the most exciting days out to be had in Pigeon Forge.
Related Read: Lumberjack Show in Pigeon Forge: Activities, Hours
Anakeesta
A short drive away in Gatlinburg, the Anakeesta adventure park offers the chance to enjoy a scenic cable car ride to the top of Anakeesta or the opportunity to explore the mountain in a truck.
There's also the Treetop Skywalk and the TreeVenture Challenge Course for the more actively inclined, and for those who appreciate a good brew, there's a bar serving local craft beer too!
Rowdy Bear Mountain Adventure Park
With locations in both Pigeon Forge and Gatlinburg, Rowdy Bear Mountain Adventure Park has a whole range of exciting activities to offer – including snow-based fun during the winter.
Highlights include the Alpine Mountain Coaster in Gatlinburg and the Laser Gun Coaster in Pigeon Forge – and so much more besides.
This park is located in Sevierville and gives you the chance to explore the Smoky Mountains either by zipline or by horseback.
7. Rollercoasters, Theme Parks and Waterparks
For fans of traditional theme parks and roller coasters, in Pigeon Forge you'll be spoiled for choice – and there are some exceptional waterparks too. Here are some of the best ones to check out:
Rocky Top Mountain Coaster
Claiming to be the longest coaster in Tennessee as well as one of the only examples in the world with four uplifts, the Rocky Top Mountain Coaster is one that rollercoaster aficionados won't want to miss.
Set against the backdrop of the majestic Smoky Mountains, it has to be one of the coasters with the most stunning locations in the world – but if you ride at night, you'll be treated to an even more spectacular experience.
Dollywood and Dollywood Splash Country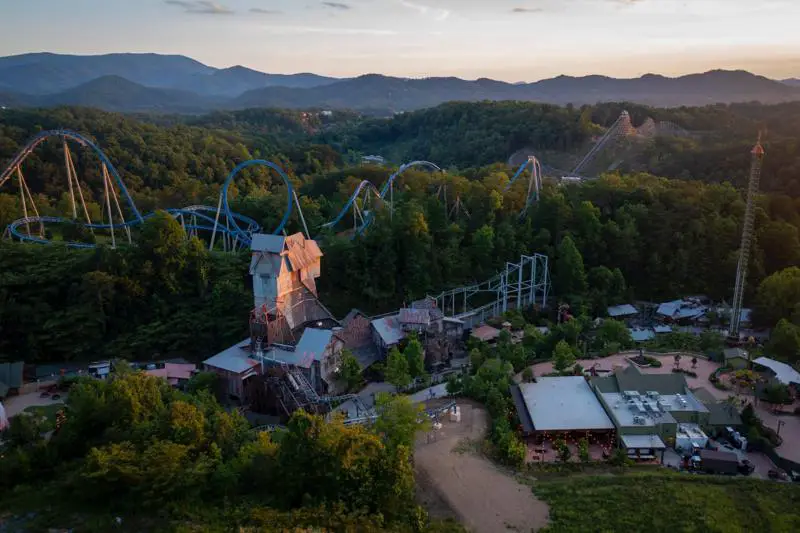 Among the most iconic of Pigeon Forge's attractions is Dollywood, along with Dollywood's Splash Country, a more recent extension to the park.
Part-owned by country music legend, locally born Dolly Parton, the two parks boast rollercoasters, waterslides and more, all with a distinctly local flavor, making this one of the quintessential Pigeon Forge attractions and a must for all visitors to the town.
Soaky Mountain Water Park
If Dollywood doesn't sound like your kind of thing, you can head to Soaky Mountain Water Park in Sevierville instead. With a wide range of top-end rides, it's the perfect place to cool down during the hottest months of the year.
8. Flyaway Indoor Skydiving
This sounds like the kind of thing you see on TV but never get to do yourself – except in Pigeon Forge, you can.
Ever wanted to try sky diving but don't dare jump out of a plane? Then try the Flyaway Indoor Skydiving experience – America's first vertical wind tunnel – instead!
9. Outdoor Gravity Park
For anyone who's never heard of it, "zorbing" involves climbing inside a giant inflatable ball and then being rolled down a hill inside it.
It's just about as crazy – and super-fun – as it sounds, and for anyone who's interested in trying, you can give it a go at the Outdoor Gravity Park in Pigeon Forge.
10. Karting
Anyone who loves the sound of revving engines and has a craving for speed will find themselves right at home in the Pigeon Forge area. There are numerous karting tracks where you can show off your driving skills, and here are a few that are worth looking out for:
NASCAR SpeedPark
Located in nearby Sevierville, a visit to the NASCAR SpeedPark will be a great day out for the whole family.
They have karting tracks for all ages, and when you're tired of driving, other activities such as mini golf are also available, so there's enough to keep everyone entertained for hours.
SpeedZone Fun Park
If you don't want to travel out of town, karting is also available in Pigeon Forge itself at the SpeedZone Fun Park.
They have four challenging circuits – including the wooden "Tennessee Twister" and a kids' track – so SpeedZone will be an enjoyable and memorable karting experience for drivers of all ages.
Xtreme Racing Center
The Xtreme Racing Center is well named since it offers the fastest karts in Pigeon Forge. Are feeling the need for speed? Then this is the place to head.
Riders must be 11 years old and 56" tall to ride.
The Track
For those who want karting and more, The Track could be just the place you're looking for. Along with kart tracks, you'll find blaster boats, Kids Country rides, an arcade with interactive games and more – so there's plenty to keep the whole family entertained for hours.
Related Read: Best Go-Karts in Pigeon Forge
11. Car shows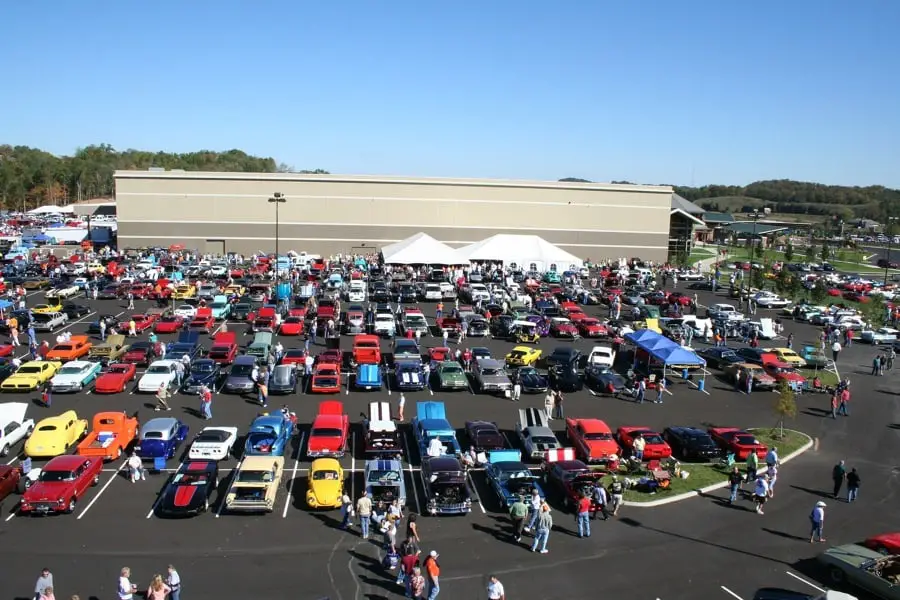 If you don't want to drive yourself but are interested in watching the pros do it, car and truck shows are a regular feature on the Pigeon Forge calendar.
Events vary from year to year, but there's always something coming up – so if you're a car or truck enthusiast, be sure to find out what's on while you're in town.
12. Escape rooms
In recent years, the concept of the escape room has exploded, and there are now several excellent versions operating in Pigeon Forge.
Take your friends or family and pit your wits against the challenging puzzles that will allow you to escape from the room and win the game.
One that deserves a special mention is the Activate gaming experience over in Gatlinburg, an advanced escape room concept that provides a more hi-tech, immersive experience.
However, if you don't want to leave Pigeon Forge itself, there are several fun escape room options there too.
13. Arcades and Games
Sometimes you just feel like playing games, and when that happens, there's no shortage of places to head in Pigeon Forge. There are a range of arcades as well as some more intriguing possibilities that will keep you occupied, and here are a few of the most fun:
Arcade City
A classic arcade with all the games you could want, Arcade City is one of Pigeon Forge's best.
Big Top Arcade
For fans of all kinds of arcade games, Big Top Arcade is another top destination. It also has instant win games to try, so if you're lucky, you'll be leaving with an armful of prizes!
MagiQuest
Four attractions in one, the MagiQuest castle is home to four different attractions, Pirate Golf, the Odyssey Mirror Maze, MagiQuest itself and a gaming arcade. It's somewhere you can spend hours without ever getting bored – and it's a place the whole family will love.
Country Roads Axe Co.
This is exactly the kind of whacky attraction that Pigeon Forge is known for! At the Country Roads Axe Co., you can try your hand at axe-throwing, fill up on coalfired pizza and enjoy a cold one at the pour-it-yourself beer bar. What more do you need?
Rockin' Raceway
The Rockin' Raceway is an arcade and more. Along with over 150 games to tackle, there's also a karting track and the Power-UP VR Experience to try, so this is a place where you won't lose interest in a hurry!
Lazerport Fun Center
If you want to have a game of laser tag in Pigeon Forge, the Lazerport Fun Center is for you. However, there's more to it to just that since you'll also find an arcade, black light mini-golf, karting, axe-throwing and far more besides.
7D Dark Ride Adventure
7D Dark Ride Adventure is an immersive game experience that involves all your senses, so strap yourself in and be ready for a wild ride – just make sure you have your blaster at hand because there'll be zombies to zap!
14. Gatlinburg SkyLift Park
If you head over to Gatlinburg, you can enjoy the delights of the Gatlinburg SkyLift Park, including impressive SkyTrail and the lights of the SkyBridge by night.
15. Pigeon Forge Snow
If you visit in summer but you suddenly feel the urge to build a snowman, head over to Pigeon Forge Snow and do just that! Boasting real snow and other activities such as snow tubing, this is a place where you can hit the slopes year-round!
16. TopJump Trampoline and Extreme Area
Among the most enjoyable of Pigeon Forge's many attractions is the TopJump Trampoline and Extreme Area. Far more than just trampolines, you can look forward to trying the Fire & Ice Ninja Course, Basketball, Dodgeball, Climbing Center and more.
17. Goats on the Roof
Goats on the Roof is one of the oddest attractions in Pigeon Forge. It's a bakery with a petting zoo, a gift shop, a "goat coaster" and yes, goats on the roof!
18. Shows
Tennessee is recognized as the birthplace of country music, and it will come as no surprise that country and western culture plays a big role in Pigeon Forge – so while you're in town, make sure you include at least a show or two on your to-do list.
There are more than just country shows in town though, and many of the shows include dinner too. Here are a few of the best:
Country Tonite Theater
For country music, there are few better places to go in Pigeon Forge than the Country Tonite Theater.
Hatfield & McCoy Dinner Feud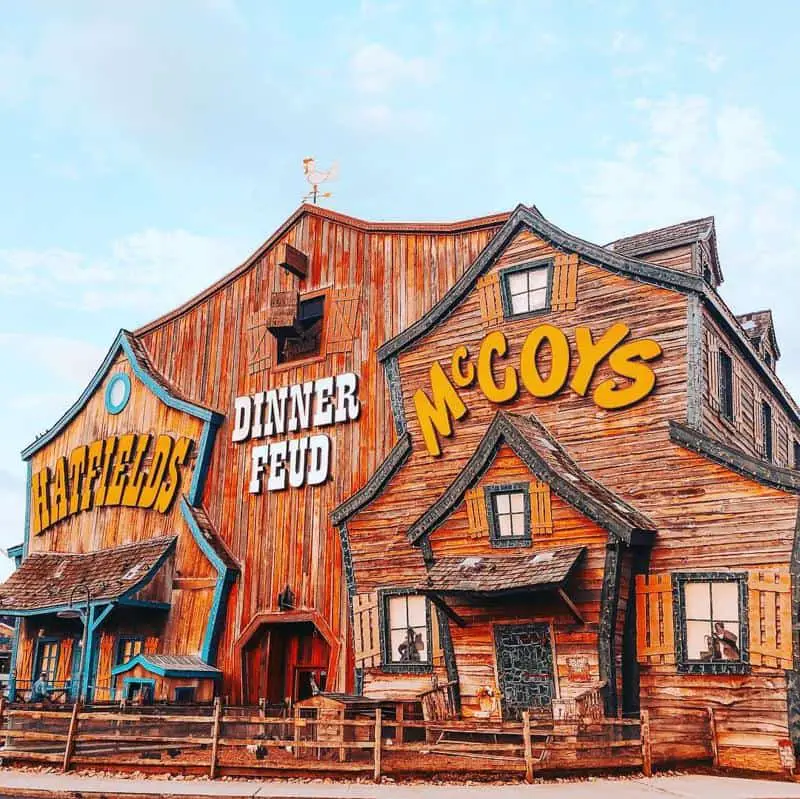 If you want a hilarious evening's entertainment as well as an all-you-can-eat family-style meal, the Hatfield & McCoy Dinner Feud show is the perfect solution.
Dolly Parton's Stampede
Although she wasn't born in Pigeon Forge, Dolly Parton originally hails from nearby Sevierville, making her a big local hero – and if you're a fan, Dolly Parton's Stampede dinner and show is something you need to see.
Red Skelton Tribute Theater
The Red Skelton Tribute Theater in Pigeon Forge is the only officially authorized tribute act, making it essential viewing for those who want to enjoy the characters and gags of this beloved American comic.
Buttonwillow Civil War Theater
For a light-hearted yet informative take on the events of the Civil War seen through Southern eyes, a performance at the Buttonwillow Civil War Theater will educate and entertain in equal measure.
Pirates Voyage Dinner and Show
Pirates never lose their appeal, so if you're looking for somewhere to spend a spare gold doubloon or two, the spectacular Pirates Voyage Dinner and Show will have you reaching for your cutlass in no time. Aye, aye me hearties! All hands on deck!
The Comedy Barn Theater
Great wholesome fun for the whole family, the Comedy Barn Theater is the perfect evening out if you're in need of a laugh.
Great Smoky Mountain Murder Mystery
If you want your dinner served with a large side of intrigue, the Great Smoky Mountain Murder Mystery is the show for you. Expect plenty of jokes and enough twists and turns to keep you guessing until after you finish dessert.
Related Read: The 11 Best Dinner Shows In Pigeon Forge
19. Golf
When you just want to relax and unwind, hitting the golf course can be the ideal tonic, and you can do just that while in Pigeon Forge. There are also a few mini golf options that you can enjoy with your whole family. Here are some of the best places to search out:
Sevierville Golf Club
For a full round of golf, you just need to take a short drive to Sevierville. There, you'll find the Sevierville Golf Club, which boasts two immaculate championship-standard 18-hole courses that you can play on a daily fee basis.
Crave Golf Club Mini-Golf Experience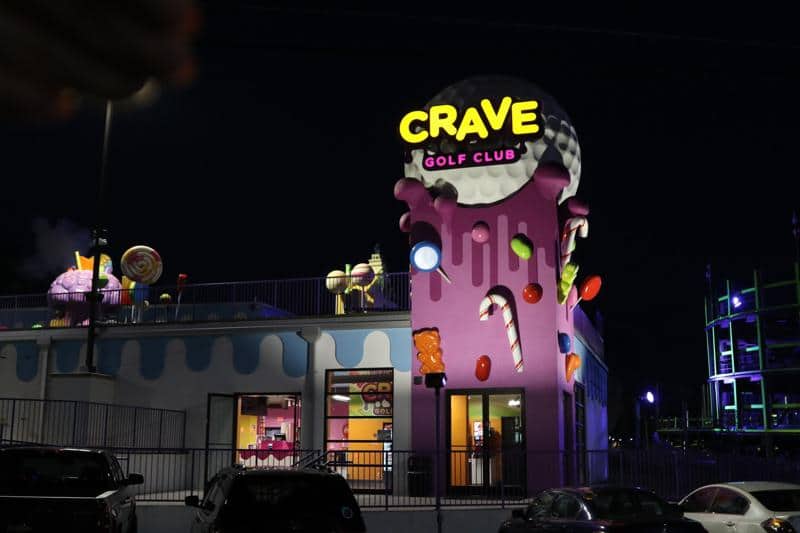 For a more family-oriented golfing experience, the Crave Golf Club Mini-Golf Experience would be a great choice. Rated as the best mini golf in the country, it's one not to miss. There's also an escape room and bowling on-site too.
Toy Box Mini Golf
Great fun for kids and their parents alike, Toy Box Mini Golf is a fun day out for all. You can also attempt the laser maze, stock up on candy or visit the toy store while you're there.
20. Wine and Liquor Tasting
Although Pigeon Forge was "dry" for a long time, a vote passed in 2013 to allow certain establishments to serve alcoholic beverages on the premises, and now there are a number of attractions that allow you to sample the local produce.
Here are some ideas that will be of interest to those who are partial to a tipple from time to time:
Wine Tasting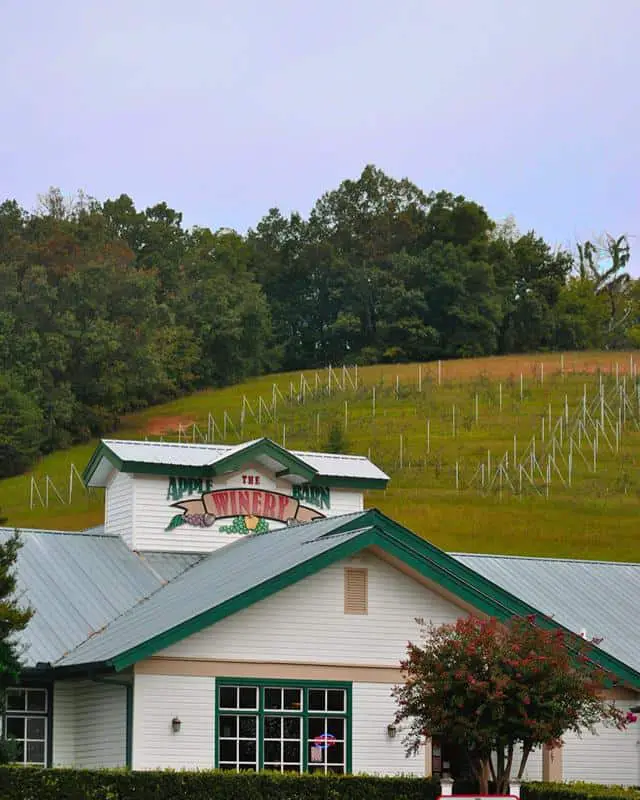 Some excellent wines are made in the Pigeon Forge area, and perhaps the best way to become acquainted with them is on the Rocky Top Wine Trail.
Comprising five local wineries where you can enjoy free tastings, it gives you a thorough introduction to what's on offer – and after you visit the five wineries, you even receive a free glass as a souvenir.
Spirit Tasting
Those who prefer something a little stronger won't be disappointed either. One option is to make your way over to Sevierville to the King's Family Distillery where they claim to make the "finest spirits in the Smokies".
They have a range of drinks including whiskeys, vodkas, and liqueurs to sample, allowing you to make up your own mind if their claim is true.
Another one to look out for is the Smith Creek Distillery, which specializes in making traditional local "moonshine" – definitely something not to miss while you're in the area!
Cider Tasting
If you don't like wine or spirits, you can try the Tennessee Cider Company instead. So as you can see, for a formerly dry town, there's no shortage of places to find liquid refreshment in Pigeon Forge!
Related Read:
21. Local Places of Interest
For a glimpse of Pigeon Forge as it once was, don't forget to stop off at the Old Mill, a picturesque working grist mill, to take a quick snap, and then head out to the Little Pigeon River to soak in the peaceful atmosphere of the timeless Tennessee countryside.
Another natural attraction worth a look is the underground Forbidden Caverns, located only a few miles away from Pigeon Forge in Sevierville.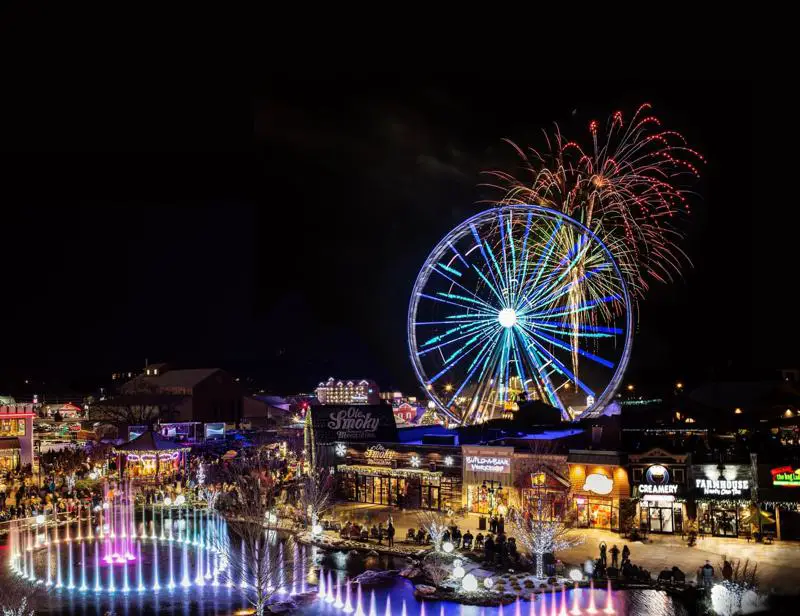 While in town, make sure you also visit The Island, a popular modern complex within Pigeon Forge that offers entertainment, restaurants and a variety of activities – and don't forget to check out the Island Show Fountains while you're there.
Finally, also consider visiting The Incredible Christmas Place, a festive-themed village a bit out of town that is open all year.
22. Photography
If you want the perfect souvenir to take home with you, make your way to Selfie Hangout for the ultimate in Insta snaps.
Alternatively, you can opt for Three Monkeys Photo Emporium where you can have your photo taken with four (not three!) adorable capuchin monkeys and two exotic birds.
23. Board & Brush Creative Studio
Feeling creative during your time in Pigeon Forge? Then the Board & Brush Creative Studio may just be calling your name. Another of the town's more unusual attractions, it allows you to join a workshop and pick up a few handy new DIY skills to try out when you get back home.
24. Shopping
When you feel like a little retail therapy, visit the Mountain Mile & Tower Shops mall for food, clothing, accessories, souvenirs and more.
Enough to Keep You Busy Each Time You Visit
As you can see, there's so much to keep you occupied in Pigeon Forge, and you'll never be able to do everything, even if you keep coming back again and again.
Perhaps the hardest part will be choosing what to do first, but at least with our guide, now you'll have some idea about where to start!
Also Read: