There are many ways to explore the Smoky Mountains, from horseback riding to hiking. One of the most exciting ways to explore and take in the Smoky Mountains is on the back of an ATV or when driving an UTV!
ATVs are all-terrain vehicles which feature a straddle seating position and a handlebar whilst UTVS are a bit sturdier with passengers sitting side-by-side. Both types of vehicles are nifty and quick, maneuvering through a variety of rough terrain so you can see the Smokys up close. These vehicles are the most adrenaline-filled and exciting way to immerse yourself in the backcountry.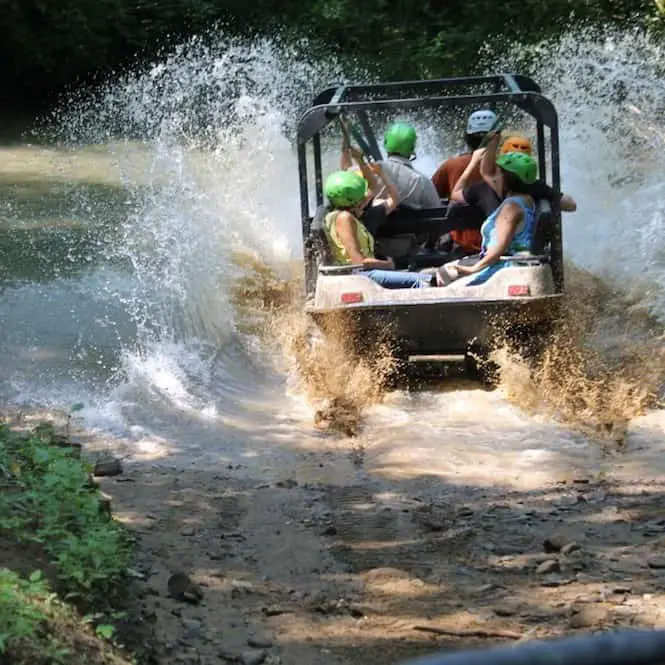 Book an ATV or UTV tour, or rent and adventure alone around this beautiful part of North America. Here are the best companies to rent an ATV or UTV when visiting the Smoky Mountains.
ATV & Side-By-Side Rentals in the Smoky Mountains
Mountain Riders ATV/UTV Rental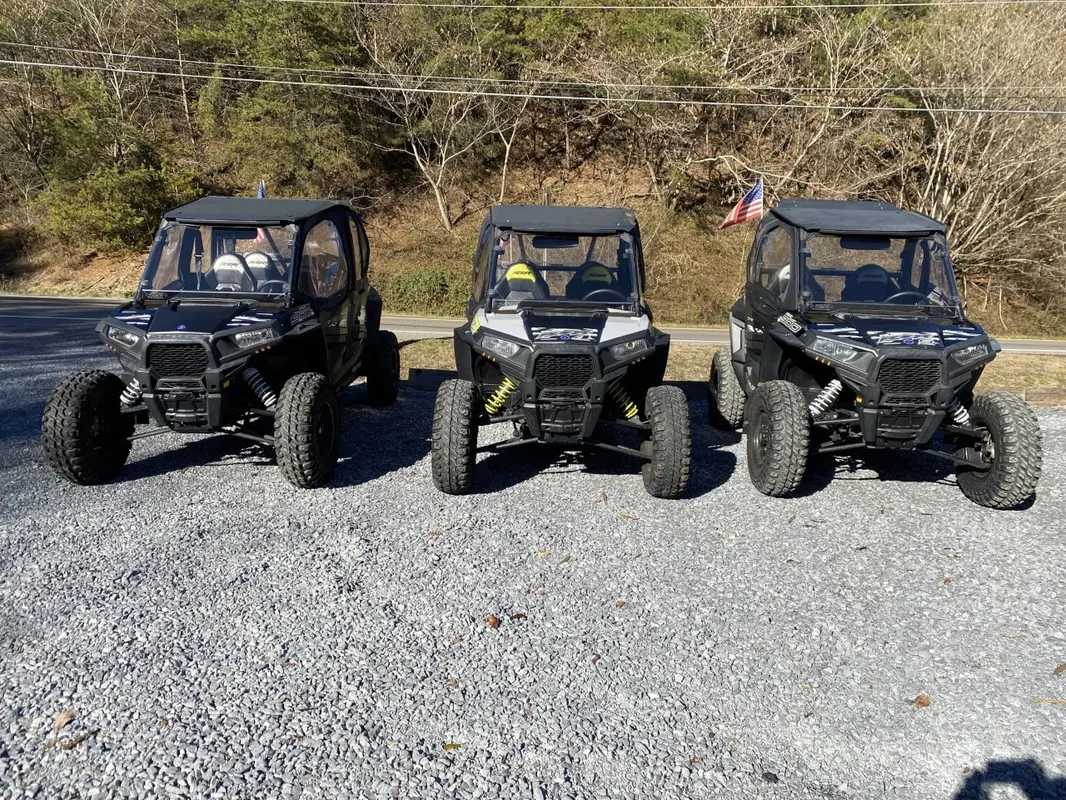 Tour the Great Smoky Mountains in a UTV Side-By-Side or a street legal ATV. Not only are these Polaris RZR Side-by-Sides powerful, but they are also fantastic fun for everyone. There are no tours and no guides, allowing you to roam freely through the area. This company also have reasonable price, ideal for those on a budget!
At Mountain Riders, you can also enjoy an hourly rental of street legal side-by-side 4-wheelers. Tour the Great Smoky Mountains like never before with the vehicles. The Polaris RZR900's come in 2-seater or 4-seater options that are 100% street legal with hard top roofs and Bluetooth stereos.
Address: 1753 Wears Valley Rd, Pigeon Forge, TN 37862, United States
Hours: Monday -Sunday 9:00 am to 7pm. Closing time depending on the season
Price: Please contact
Walk Ins: Welcome
Foxfire Mountain (ATV tours)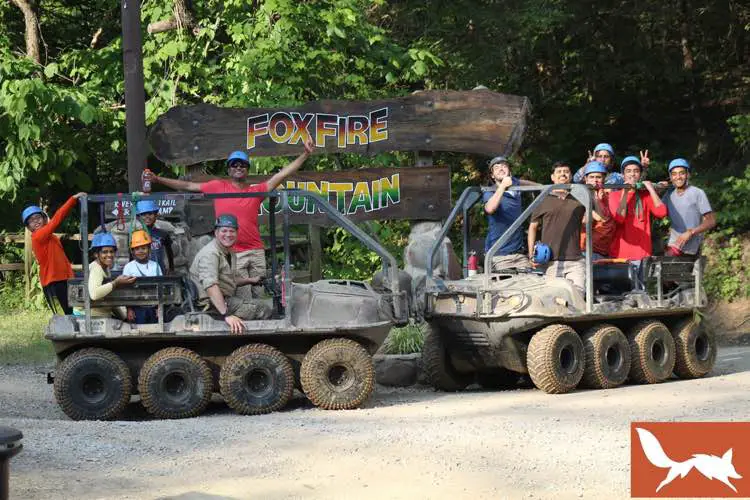 Foxfire Mountain is an outdoor adventure park that offers hiking, ziplines and ATV tours. The whole family can enjoy an off-road adventure in the Smoky Mountains with a tour guide. If you have kids, this is a fantastic option, as any kids over 3 years old can ride.
Foxfire allows visitors to experience nature from an extreme ATV on one of their rugged off-road trails. You'll feel the excitement of dodging trees and swerving curves to make it to the top of the stunning mountain range.
This tour is a fantastic way to enjoy views of the forest areas of The Great Smoky Mountain Area. Sit back and listen to tales of Foxfire Mountain as our guide takes you back in history.
Address: 3757 Thomas Lane, Sevierville TN 37876
Price: $79.95 per person with group discounts
Walk Ins: Welcome
Bluff Mountain Adventures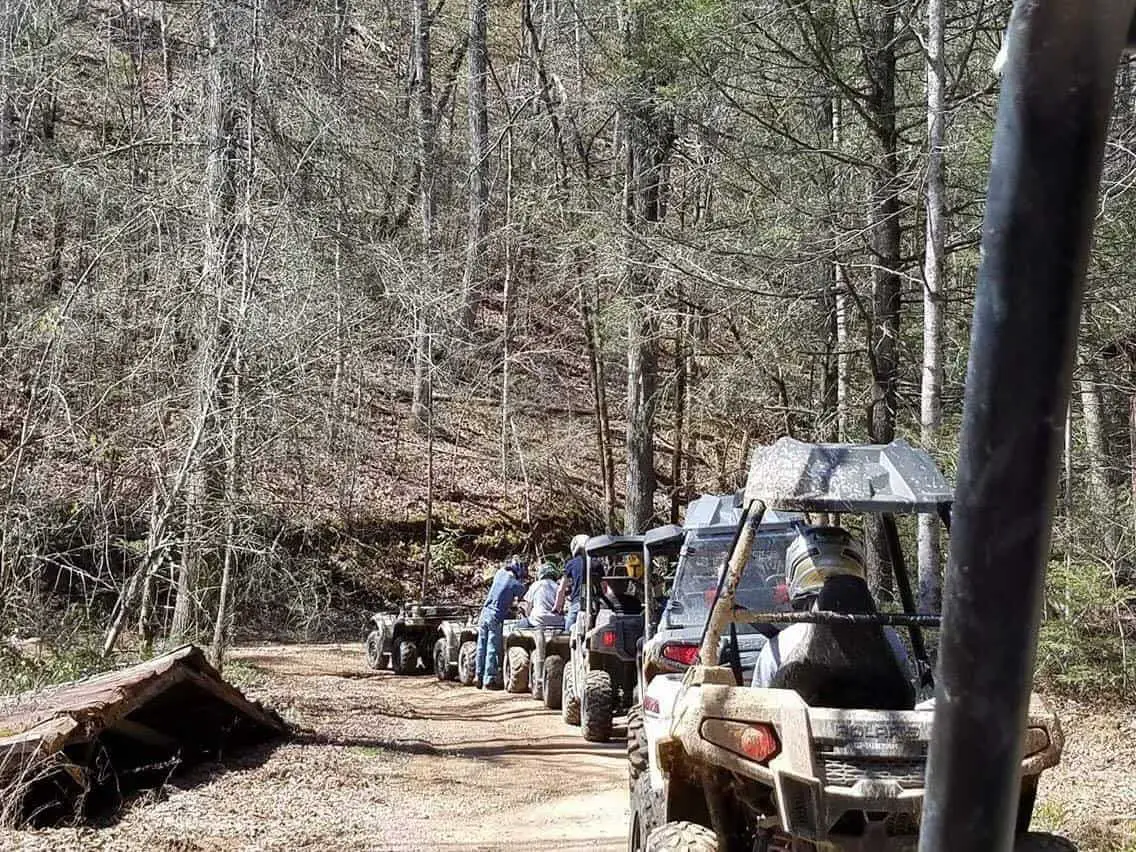 Bluff Mountain Adventures offers guided ATV trail rides across 6,000 stunning acres of Smoky Mountain trails and explore the foothills of East Tennessee. This tour will climb the mountain, cover rugged terrain and allows you to experience spectacular views over this area!
They have trails to accommodate beginners and experienced riders. The Family Introductory ride will take you through the foothills of Bluff Mountain, taking you through moderate terrain. The mountain trail adventure tail goes over rougher terrain, so it's better suited to more experienced drivers, but you can enjoy spectacular views over the scenery.
The custom trail ride is a scenic ride that will cover the most ground of any of the available trails. For this adventurous trail, you must have experience riding on mountainous terrain, and you must purchase a ticket at least one day in advance.
The ridge run is the most challenging ride at Buff Mountain adventures. You must be very experienced with ATVs riding in this mountainous trip as some trails will be no bigger than your ATV and hits some rough terrain.
Address: 2186 Parkway, Pigeon Forge, TN 37863
Hours: Monday through Saturday at 10:00 AM, 12:00 PM, 2:00 PM, and 4:00 PM
Price: $74
Walk Ins: Welcome
Jayell Ranch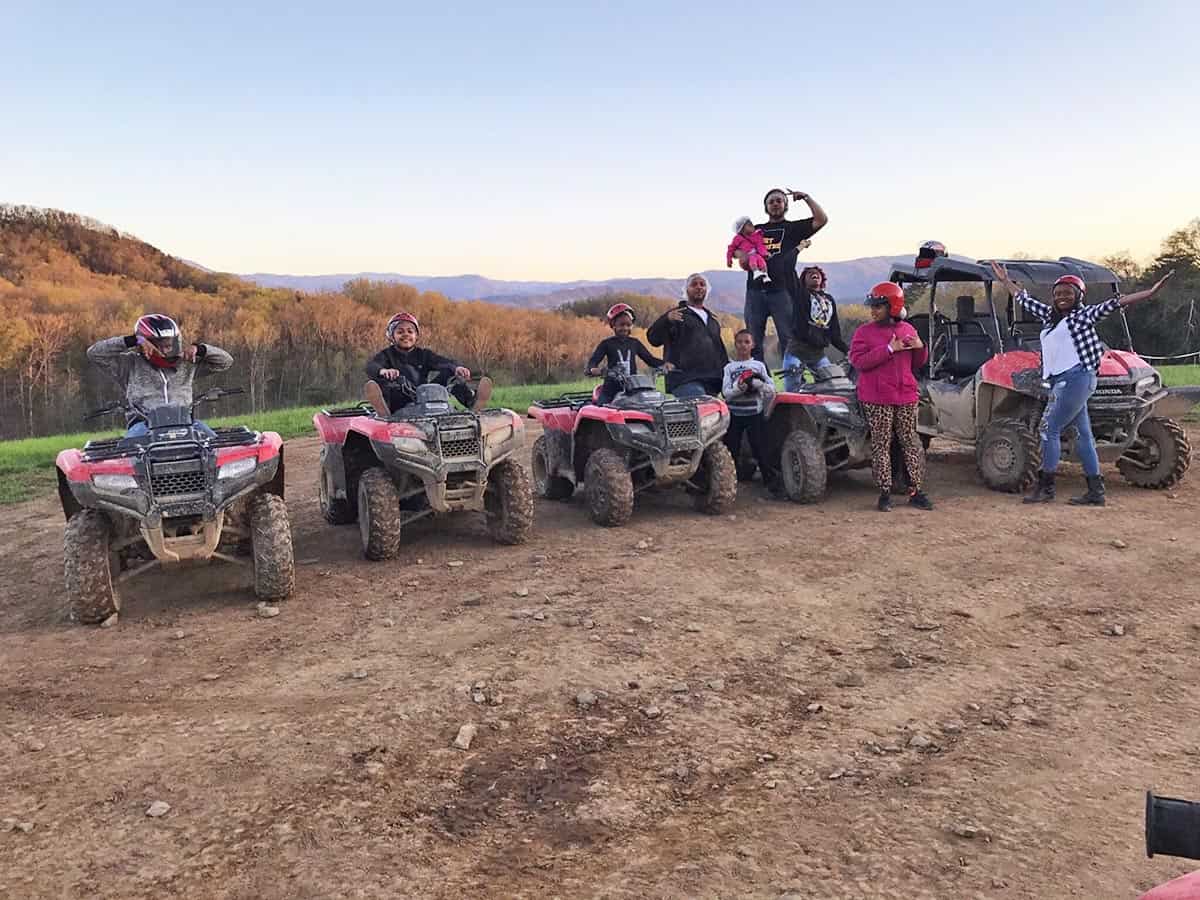 Jayell Ranch offers both ATV and UTV rides where you be joined by a well-trained guide for an hour-long trail. This 12-mile ATV adventure will lead you through the rolling foothills and let you enjoy breath-taking views of the Smoky Mountains.
This is a dirtier and rough ATV rental trail where you drive through muddy woods and creeks, but it's an authentic experience on the Smoky Mountains. They are walk in only, so pop into their Sevierville location and start your ATV adventure.
Address: 1131 Jayell Rd Sevierville, TN 37862
Price: $159.99
Walk Ins: Only
Timber Trails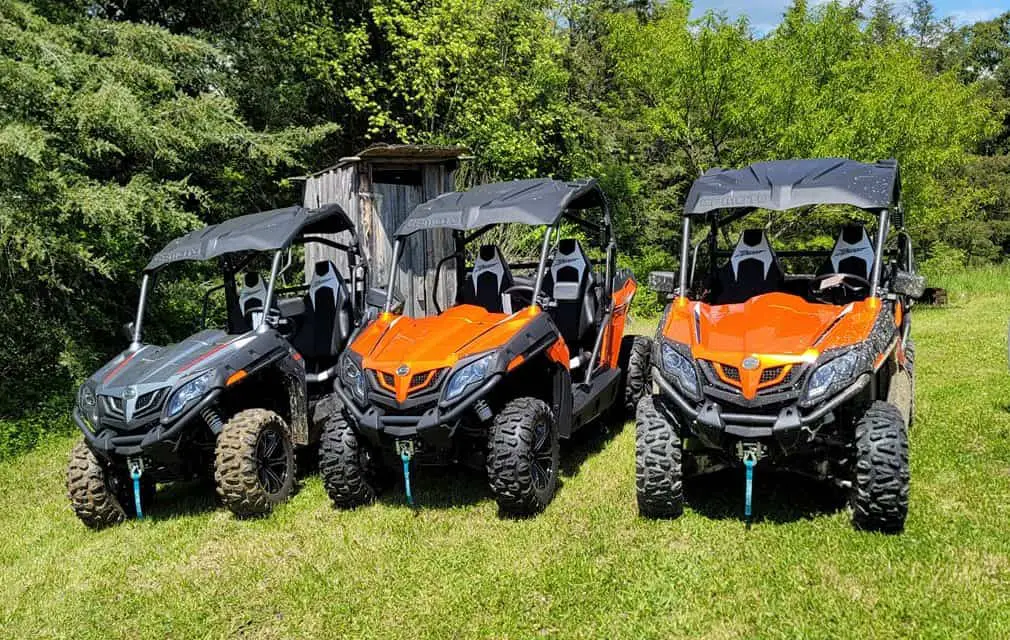 Timber Trails offer a range of different ATV rentals in the Gatlinburg, Sevierville and Pigeon Forge area. You can choose from a range of rental packages and pick your only Smoky Mountains adventure with this family-owned company
This is probably one of the most laid-back ATV rental services in the Smoky Mountain era, catering to your needs and your budget. They work at industry-standard rates but do require a rather hefty upfront deposit.
Rent an ATV or bring your own vehicle and spend an hour or a day exploring the 180 acres of forest land, stunning rolling meadows and open fields with gorgeous views. Friends and family members of all ages can enjoy a relaxed, yet bespoke day spent in nature.
Address: 2111 Fowler Grove RD. Bybee, TN 37713
Timescale: Standard Season runs from April through October
Price: 1 Hours: $79.99 + tax, $20 bring your own vehicle, 2 Hours: $159.98 + tax, 3 Hours: $239.97 + ta, 4 Hours: $319.96 + tax
Walk Ins: Yes
Rocky Top Adventure UTV Rentals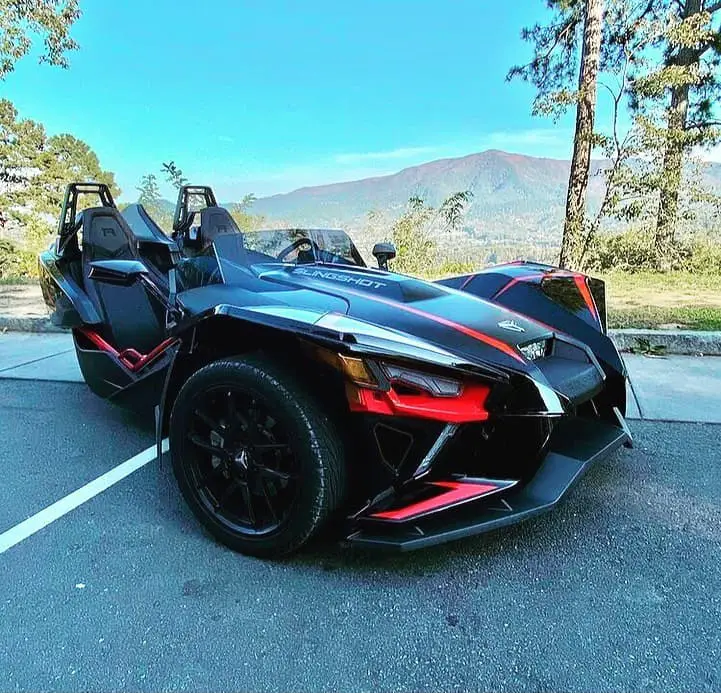 Rocky Top Adventure Rentals offer UTV rentals, Slingshot rentals and Jeep rentals if you want to try something different from an ATV. They have a range of rental options including 2, 3, 4 and 6-seaters. Rent a vehicle for as little as one hour or rent for the entire day and explore the whole area.
Rocky Top Adventures pride themselves at having the newest and nicest fleet of UTV rentals in the Smoky Mountains. Every UTV you can rent has a Bluetooth stereo speaker and every new safety precaution.
Address: 544 East Pkwy, Gatlinburg, TN 37738
Timescale: Monday – Sunday: 9am-9pm Winter hours: Monday-Sunday: 10am-8pm
Price: Contact for quote
Walk Ins: No
Kan Am Fun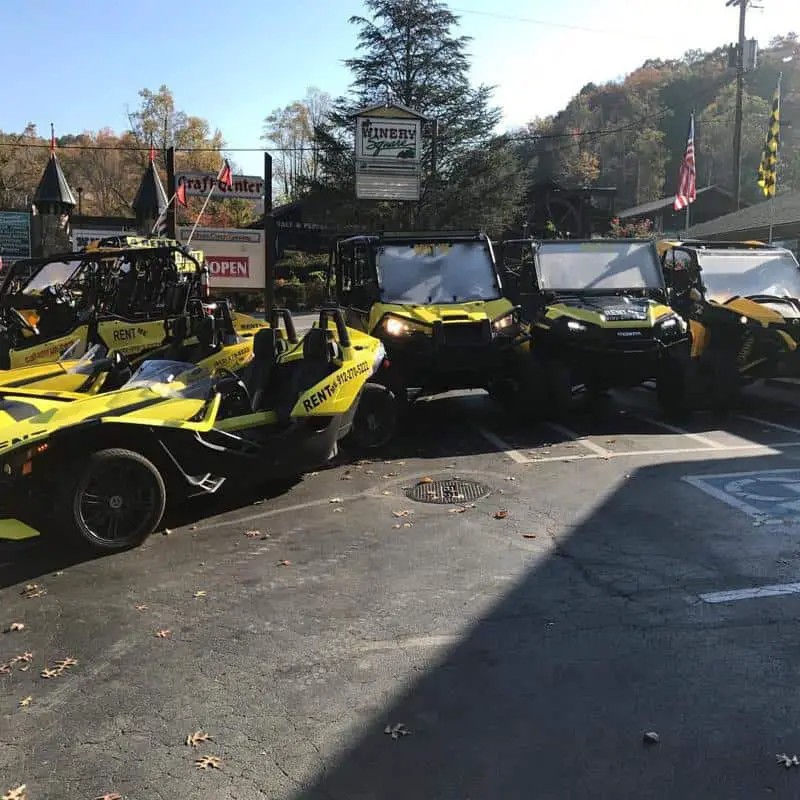 Kan Am Fun is another UTV rental business. A family business operating in Gatlinburg since 2013, their UTV fleet will help you view the National Park in a new adrenaline- filled way. Enjoy a 2 hour off-road tour, which they run three times throughout the day.
Kan Am Fun is open year-round and every day, offering recreational vehicle rental and Slingshots as well as UTV rentals. All Kan Am Fun vehicles are street legal and are welcomed in the Great Smoky Mountains National Park. Local maps are included so you can investigate the area by yourself.
Address: 446 East Parkway Suite 10 Gatlinburg, TN 37738
Hous: 9am – 9pm everyday
Price: Prices start at $169 (10% military discount).
Walk Ins: No
Wolfcreek Rentals
Wolfcreek has the largest selection of bikes in the area as well as off-road vehicles, all at a competitive rate. Most of their rental comes with saddle bags and lots of storage space. Wolf Rentals is the ideal choice if you're looking for overnight and multi-day rides. They pride themselves on having an option for all levels of experience.
They offer maps to self-guided routes and will be happy to help you plan your Smoky Mountains ride. Wolf Creek rentals offers 5 hours, 24 hours of multi-day rentals as well as guided tours that can be specifically prepared for your group.
Address: 7321 East Lamar Alexander Parkway, Townsend, TN 37882
Timescale: 9am- 7pm everyday
Price: Prices start at $169 (10% military discount).
Walk Ins: No
Read More: Best Camping in The Great Smoky Mountains
FAQs
What's the difference between an ATV and a side-by-side (UTV)?
An ATV is an all-terrain vehicle that is generally accommodating to single riders, although there are some models that allow multiple riders. Also known as quads or four-wheelers, ATVs are usually smaller than UTVs, and harder to driver because they require more of your body to steer and control.
A UTV is an all-purpose utility task vehicle that is sometimes known as a side by side. They are essentially a middle ground between dirt bikes and four wheelers. UTVs can accommodate up to six passengers and are usually operated by a steering wheel and foot pedals. This vehicle comes shielded by a roll bar or a cage as well as bench or bucket seating plus seatbelts.
ATVs are generally better for long distance in comparison to UTVs. They are quicker to hop on and off, plus they are narrower. ATVs can slip through tight gates, narrow trails and other obstacles that would normally bar UTV entry. UTV can tackle primitive trails and rugged terrain, with its rough and safe shell.
What do you wear when rising an ATV?
You are legally obliged to wear certain items for safety reasons. Protective gear (generally, helmet and goggles, sometimes elbow pads) should be provided by the ATV rentals company. Be sure to check weather conditions and temperatures and dress accordingly to prevent being uncomfortable. Also remember, these trails can get a little muddy, so wear something you don't mind messing up.
Tennis shoes, sneakers, or boots are required. If you aren't wearing closed toe, flat shoes, you may not be allowed to participate. In winter, you should wrap up warm and especially wear gloves. In summer you can wear shorts and short sleeves but be careful as some terrains have plants which could scratch.
Are ATVS street legal?
Yes, ATV are allowed on roads where the speed limit is less than 40 mph. Registered off-road vehicles don't need special licenses to drive, but you must wear a helmet and appropriate safety gear.
What are the physical requirements of riding an ATV in the Smoky mountains?
Most companies will require drivers to be 16 years of age of more, others like Jayell Ranch are okay with younger drivers with guardians. Always check the age before booking if you have someone under 18 in your group. Foxfire Mountain is one of the few companies that let kids join in the fun.
Some ATV rental companies will have weight and height requirements. Any ATV companies we recommend will always put the safety of their customers first, which is why they may have limitations on who can't rent vehicles. Children are small and light, which means they may be in danger of being thrown off.
Should I choose a tour guide?
A guided ATV tour is a fantastic way to learn the history and legends of the Smoky Mountains. Storytelling and folklore is an important part of the heritage of the area, with tales being passed down the generations. Enhance your experience by riding the trails with a local guide and learn about the local traditions. You'll see the mountains in a whole new way!
Also Read: 3 Best Time to Visit Smoky Mountains
Final Words
Start planning your ATV or UTV tour of the Smoky Mountains today! Book your Gatlinburg, Pigeon Forge or Cades Cove UTV or ATV rental online and get ready to hit the trails.