With a mix of stunning landscapes and unusual family-friendly attractions, Gatlinburg is one of Tennessee's most popular and most visited tourist locations. This bustling city has come a long way since its humble beginnings as a quiet mountainous town.
Originally part of a thoroughfare for Native Americans during their hunting excursions, Gatlinburg became an official city in the early 1800s after early settler William Ogle decided to build a permanent residence in the area.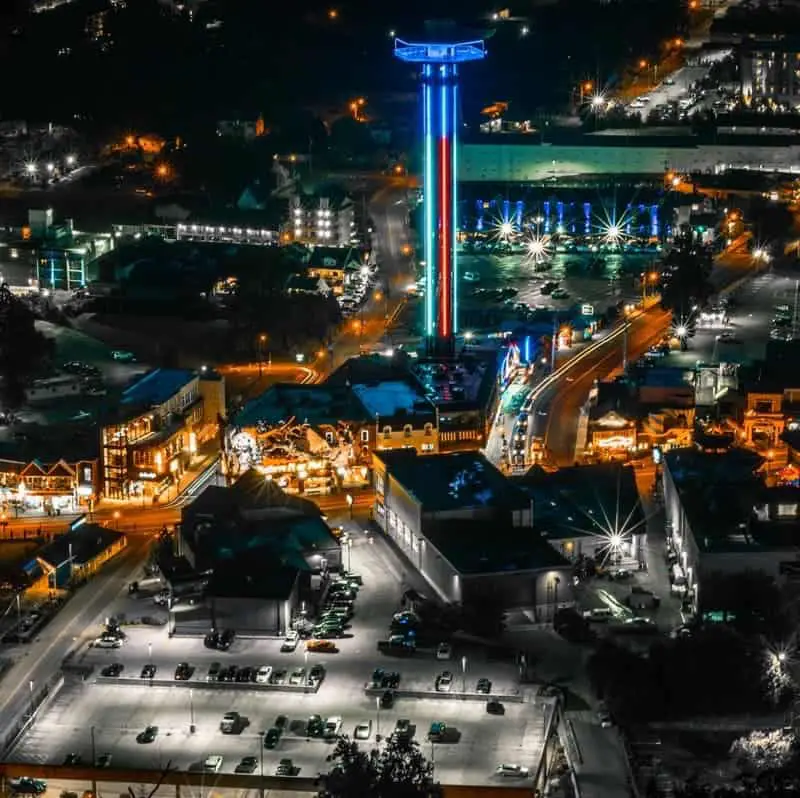 Visitors come from all around the world to visit to relax, explore, shop and play. It may feel overwhelming trying to work out where to go first and what to do. That is why we have made a guide helping you to work out what you should be up to when visiting Gatlinburg.
Best Things to Do Outdoors in Gatlinburg
Gatlinburg is a stunning location, nestled amongst some of the most beautiful scenery in the world. Explore the mountainous scenery, explore the green landscape, and meet the wildlife. Here are some of the best things to do outdoors in Gatlinburg.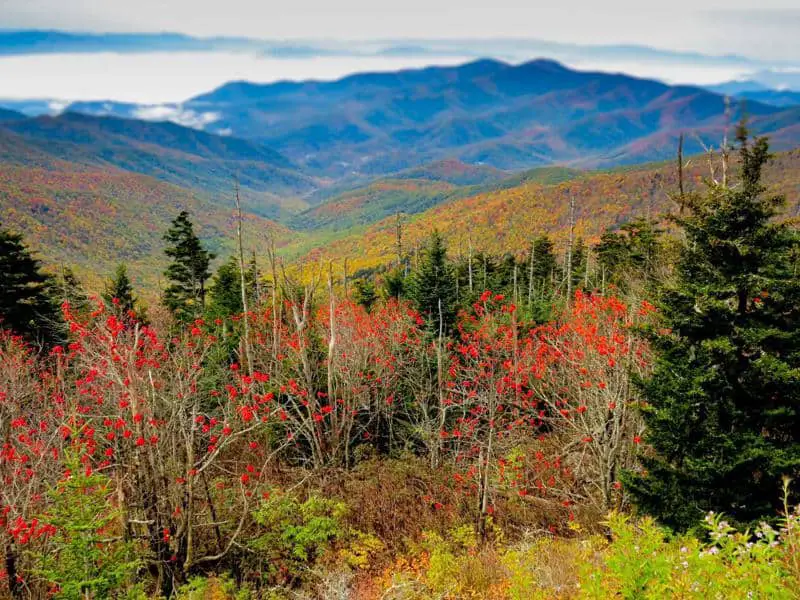 With cascading waterfalls, roaming wildlife, and a view that stretches out over 500,000 acres, this is the USA's most-visited national park. This is probably the reason you've come to Gatlinburg, but if it isn't, you definitely should still visit.
The best way to see the Great Smoky Mountains National Park and all it has to offer is to explore it on foot. Take a hike through the iconic Great Smoky Mountains – whether it be on the Appalachian Trail itself, a more chilled wildflower walks, or a more relaxed trip to one of the many waterfalls – you will be. There are 150 trains covering 800 miles, so you will never get bored at the waterfalls, vistas, valleys and wildlife.
Thousands of animals and plant life species have been documented in the Smokies, and more are being discovered each year. Because the last Ice Age didn't reach this far south, the flora and fauna here has been thriving for thousands of years. If you're lucky, you might even spot a black bear!
Not the hiking type? This national park is also home to a range of scenic and accessible spots. Enjoy the old architecture of the mills, soak up the Little Pigeon River scenery or enjoy a picnic with the family at one of the many designated spots. You can even camp here if you fancy getting closer to nature.
Price: Free Entry. $14-23 per night.
Suitable For: Everyone!
Also Read: The Best Time to Visit Smoky Mountains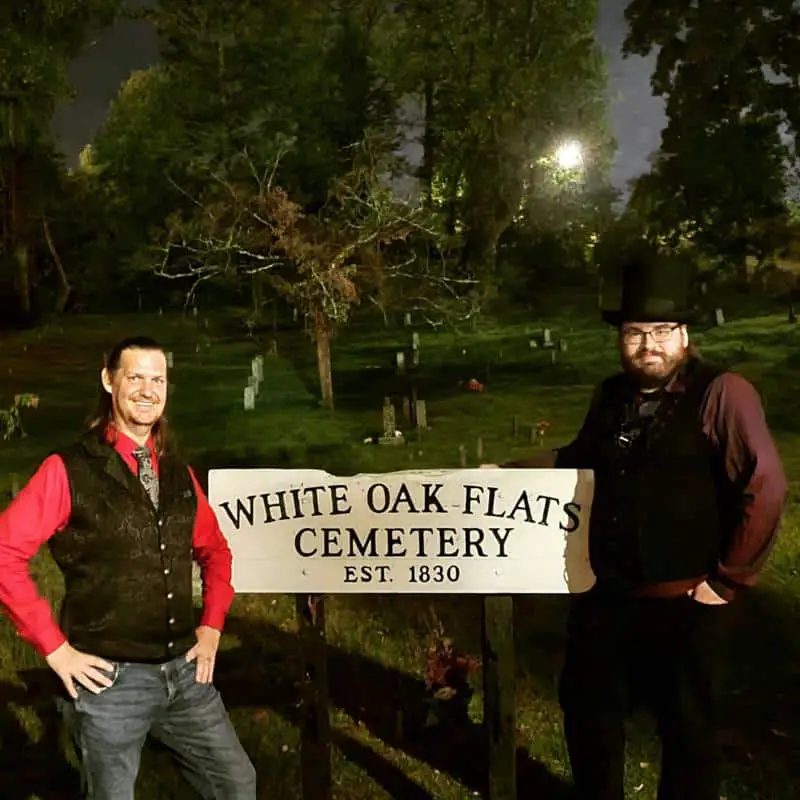 Gatlinburg has a spooky history as a long-standing settlement in Tennessee. It's become a popular spot for fans of hauntings with a rich history of murders and mysterious disappearances. Go on a leisurely stroll of some of the most dread Gatlinburg spots, including a 19th-century cemetery that's famous for its spooky night-time noises.
Learn stories about a number of haunted hotels and buildings in the downtown area, about a gruesome murder committed, and the young woman and security guard who still haunt it. You will also get a history lesson about Radford Gatlin, who stole the name of the town for himself.
This stands out for boring more about storytelling and less about cheap jump scares. It's perhaps a little bit too slow for some, especially little ones who don't have a big attention span. Fans of local folklore, history and superstition will be kept amused. You'll even be given an EMF to spot the ghosts. They are the most affordable tour in the city as well!
Location: The Ghostwalk Tour meets at the public fountain located at 520 Parkway Gatlinburg, TN 37738
Price: Adults $17. Children 12 and under FREE with paying adult.
Suitable For: 12 and above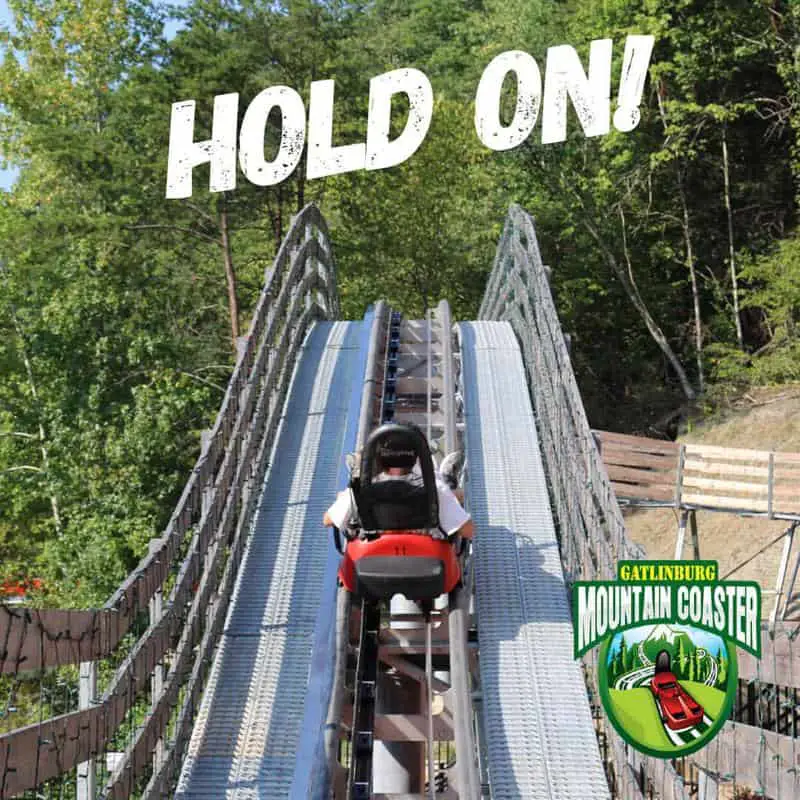 This alpine coaster takes roller coasters to a whole new thrilling level. You will be strapped to an individual caboose, where you can control the speeds by using the hand-held brakes. You can speed turn the mountain at up to 35 miles an hour or enjoy a more scenic route.
You can ride this award-winning ride solo or in a pair, in the daytime or at night-time. If you ride this coaster after dark, you will find the tracks will be illuminated. With twists, turns, dips, and climbs, you'll not only never have a boring moment as you enjoy the views.
Location: 306 Parkway, Gatlinburg, TN 37738, United States
Price: Adults $17, Youth $13 and Kids $13.
Suitable For: Over 3s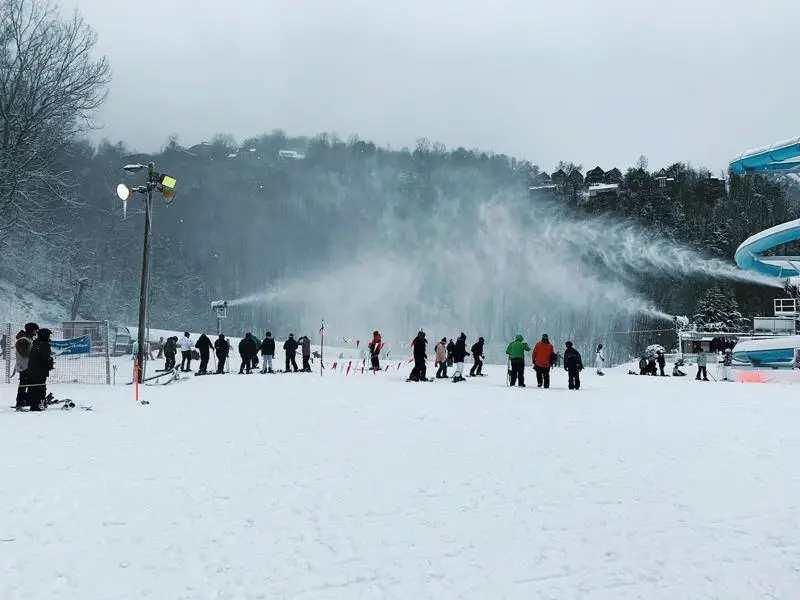 Ober Gatlinburg Ski Area and Amusement Park offer a range of all-year-round family fun at the top of Mount Harrison. The family-orientated amusement park allows you to enjoy 'snowless' ice skating, ski mountain coaster, summer tubing and an Alpine slide.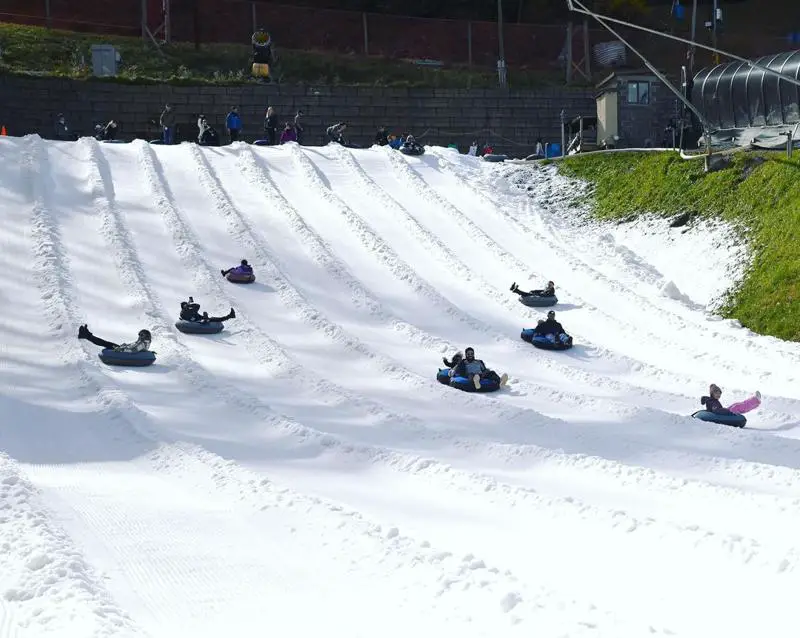 Tennessee's best and only ski center will change the activities based on the season, meaning you and your family can visit time and time again. Seasonal activities include skiing, snowboarding, and tubing in the winter.
Spring activities include guided hiking tours, a rocking climbing wall and mini golf. In summer and fall check out the summer tubing, water raft rides and indoor ice skating. There are multiple snack bars and three on-site eateries.
Location: 1001 Parkway Suite 2 Gatlinburg TN, 37738
Price: From $10
Suitable For: Everyone
Related Read: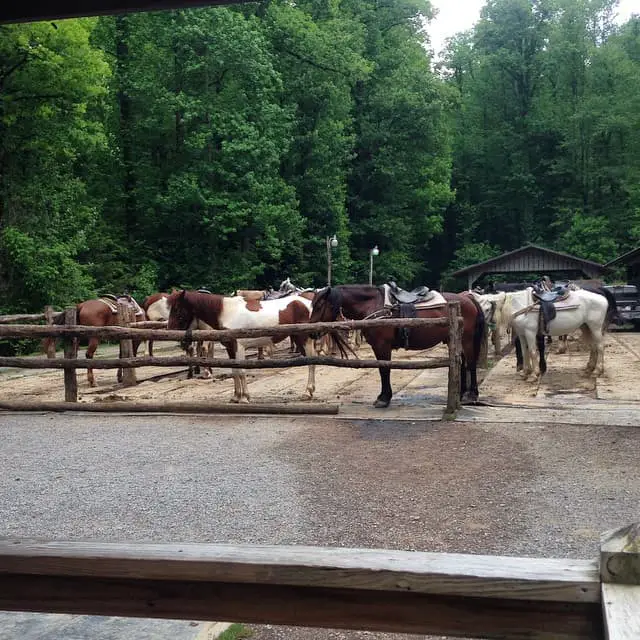 Don't have riding experience but want to enjoy the Gatlinburg scenery? Sugarlands Riding Stables will make riders of all levels comfortable horseback riding, making them feel safe and comfortable during the ride.
You can choose from four different tours, and they range from a basic, one-hour walk down a paved nature trail to a four-hour and fifteen-mile adventure through wild woodlands. The best tour for you will depend on your experience on the saddle.
Horseback riding is a fantastic way to see the breathtaking Tennessee scenery. Your well-trained horse will take you through creeks, tree-lined trails and rushing streams. If you're lucky, you'll be able to spot some wildlife on the trail, including bears and deers (it's okay, the horses are well-trained and will stay calm).
Location: 1409 Parkway, Gatlinburg, TN 37738, United States
Price: $40/h
Suitable For: 5 or above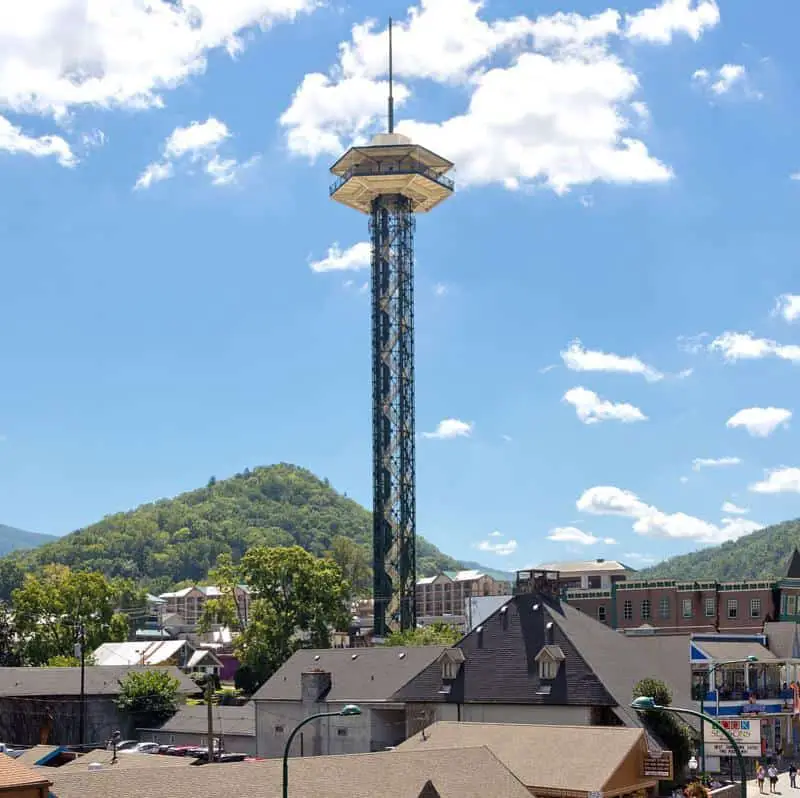 The iconic Space Needle is a 407′ observation tower that overlooks downtown Gatlinburg and the Smoky Mountains. Ride up the glass elevators to the observation deck for a 360° view of the Great Smoky Mountains and the stunning Tennessee location.
Enjoy unrivalled panoramic views of the area all year round, enriched by their free viewfinders. You will also learn more about the destination thanks to the Higher Learning exhibits, which
Before rising to the tower, you can hit up arcades, pizza joints, souvenir shops, access through the downstairs lobby. If you're a fan of Italian food, the Slice Pizza Bakery has some of the best pizzas in the state. Win big in their over 25,000 square foot amusement centre, that houses the widest range of amusement games, simulators, and activities in Gatlinburg.
The view from the Gatlinburg Space Needle is an unequalled panorama of beauty year round enriched by our free viewfinders. But, it's more than a view; it's also an information-packed experience thanks to our Higher Learning exhibits, an educational feature which is rich in facts and history about Gatlinburg and the Smoky Mountains.
Location: 115 Historic Nature Trail, Gatlinburg, TN 37738
Price: Adults: $15.95 Children (4-11): $9.95, Seniors (60 +) or AARP Members: $12.95
Suitable For: Everyone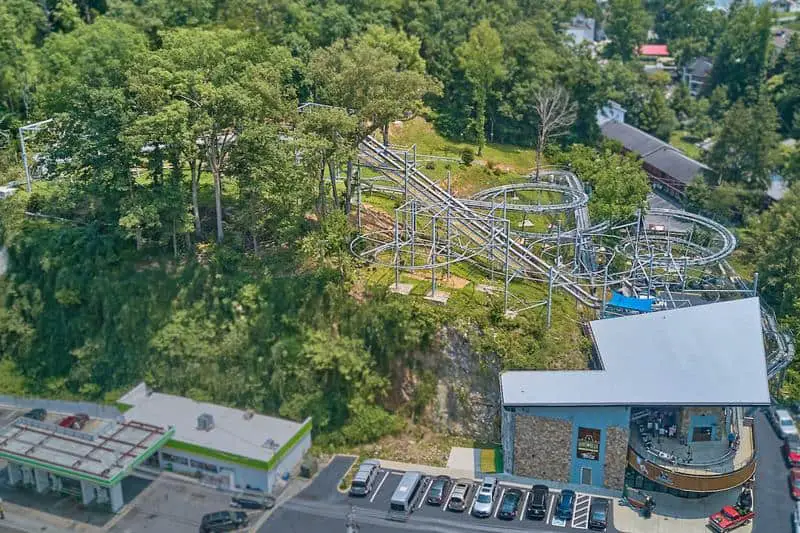 Rowdy Bear Mountain is home to the most thrilling Smoky Mountain activities. This attraction is home to the first mountain glider in the world and other fun activities. If you head to their nearby Pigeon Forte location, you will find the longest and fastest outdoor snow tubing hill.
The Rowdy Bear Alpine Coaster is a gravity-propelled alpine mountain coaster that reaches speeds of up to 35 mph while it winds through the woods of the Rowdy Bear Mountain. This coaster is easy to operate, simply push your handles forward to go fast and pull back to slow down.
The Mountain Glider is the first of its kind in the world, a suspended single rail coaster that safely soars through the treetops. This in-air coaster allows you to while combining free falling and hang gliding into a safe and fun experience.
Location: 386 Parkway, Gatlinburg, TN 37738
Price: $20
Suitable For: Over 3 subject to weight and height requirements.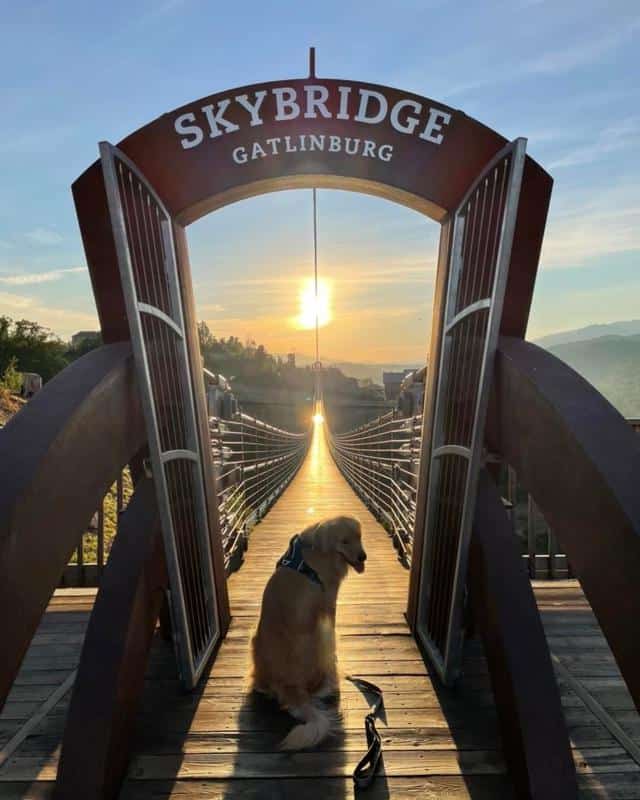 Located at the top of the iconic SkyLift, 1,800 feet above sea level, the Gatlinburg SkyBridge is the longest pedestrian cable bridge in North America. This bridge stretches almost 700 feet across a deep valley in a single span.
Walk 500 feet above Gatlinburg at your own pace and enjoy the panoramic views. There is also 30 feet of see-through glass in the middle, which although frightening, inspired the hashtag Can you #pass the glass.
Price: $31.95 for 12-64, $24.95 for over 65s and $18.95 for 4-11 year olds.
Suitable For: Everyone
Also Read: Is SkyLift Park Worth the Money?
Gatlin's Mini Golf is the area's largest miniature golf destination with 45 holes of fun. Their two award-winning outdoor miniature golf courses are set amongst stunningly serene hillside scenery. Every hole will also teach you a story about the area's history and the early settlers.
The 18-hole Old Mountain Trail course was designed with the more traditionally skilled mini golfers and features the Great Smoky Mountains as it runs through stunning native trees and beautiful landscaping. You will learn about European settlers, Cherokee Indians and the National Park in this historically themed course.
The 18-hole Old Town Square course is located right in the middle of all the restored historical cabins and runs through replicas of early landmarks. Filled with trick-shots, this course is filled to the brim with interesting trivia about this quaint mountain location.
Check this video:

Location: Reagan Terrace Mall 716 Parkway Gatlinburg, TN 37738
Price: $15.99
Suitable For: Everyone
The first of its kind in Gatlinburg, little adventurers can climb three stories in the air and face thirty-eight different challenges, all whilst safety harnessed into an overhead track. When overhead, they can battle adventures, including balancing obstacles, suspended ropes, and rickety bridges.
This isn't just about showing off your climbing skills, you need to showcase agility and precision. This rope course is ideal for all levels, from newbies to rock climbing experts. It is also suitable for all age groups.
Location: Reagan Terrace Mall 716 Parkway Gatlinburg, TN 37738
Price: $21.99
Suitable For: Everyone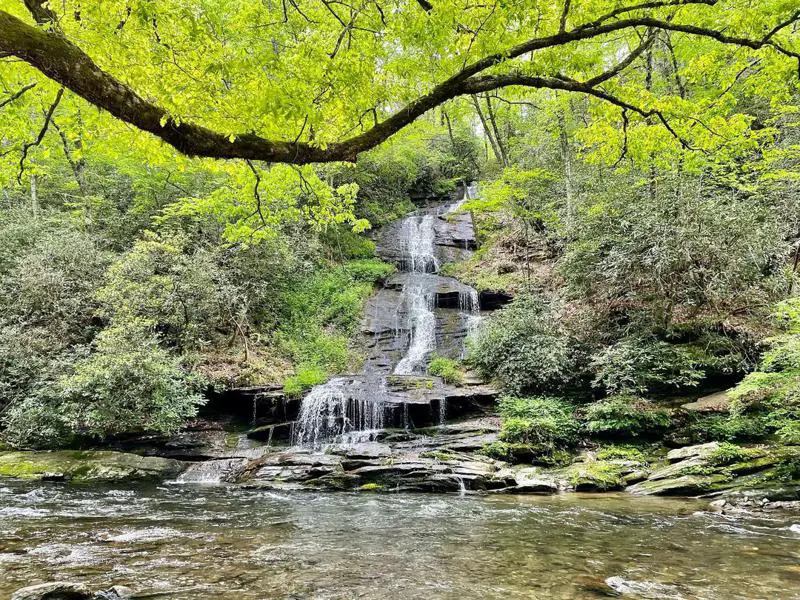 The Roaring Fork Motor Nature Trail is a stunning scenic drive that will take you through some of the most beautiful natural wonders to ever be found in Tennessee. This is also a fantastic access point for hidden gems that can only be found via the park and hike.
This trail is home to Rainbow Falls, a beautiful vertical waterfall that you can only reach after hiking your way through an hour's worth of leaves and ferns in the surrounding woodlands. Another popular destination is the Place of a Thousand Drips, a horizontal, low-flow waterfall that trickles across a stunning rock formation.
If you're not a hiking fan, drive down the Roaring Fork Motor Nature Trail and enjoy the sights on a lovely, sunny Gatlinburg day. We advise bringing your own snacks as once you start, there are no Visitor Centers along the motor trail and no turning back.
Location: Roaring Fork Motor Nature Trail Gatlinburg, TN 37738
Price: Free
Suitable For: Everyone
In 1802, a South Carolina farmer called William Ogle, traveled to a valley at the foot of the Great Smoky Mountains. With plenty of land, woods, and fresh streams, William decided that this area, known as White Oak Flats, was the right location to move his family.
Although he died of malaria before he could move his family to this new slice of paradise. In 1807, his family moved to this cabin. Although the Ogle Cabin has been moved from its original location, it stands as the oldest preserved cabin in the Smoky Mountains area.
Inside the cabin, you can learn about what life was like for Gatlinburg's earliest settlers. Historic antiques like a loom, spinning wheel, and other tools are on display. If you catch the attraction at the right time, a demonstrator wearing a period dress will give a tour and re-enactment.
Location: Cherokee Orchard Rd, Gatlinburg, TN 37738, USA
Price: Free
Suitable For: Everyone
Best Things to Do Indoors in Gatlinburg
Is the weather not good enough to enjoy the external Gatlinburg activities? There is plenty to do inside, from the educational to the zany. Here are the best inside activities to check out during your visit to Gatlinburg.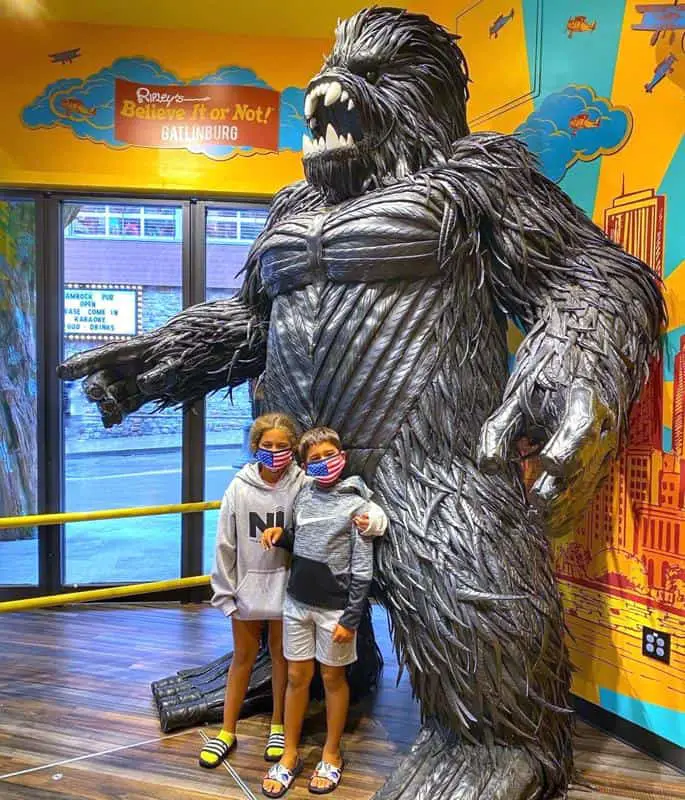 Ripley's Believe It or Not Odditorium lives up to its name by being filled with oddities. Ripley's Believe It or Not Odditorium is three stories filled with over 500 exhibits, artifacts, and oddities from around the world. It's a great spot for the family as they can have fun and learn.
Ripley's Odditorium is proud to be called the weirdest place in Gatlinburg. It features hundreds of exhibits where you can find everything from deformed animal skeletons to shrunken heads. There are also activities like a haunted house, mirror maze, mini-golf course and movie theatre.
Expect to find items like a 6,583-foot rope made completely out of bubble gum wrappers, a portrait of Jimi Hendrix made from Rubix cubes, and a space shuttle made from jellybeans. Aside from the oddities, there is also an aquarium with penguins and sharks.
Location: 800 Parkway Gatlinburg, TN 37738
Price: Price differs by attraction. $ 159.99 for the ultimate fun pass for adults, $79.99 for children 3-11.
Suitable For: Anyone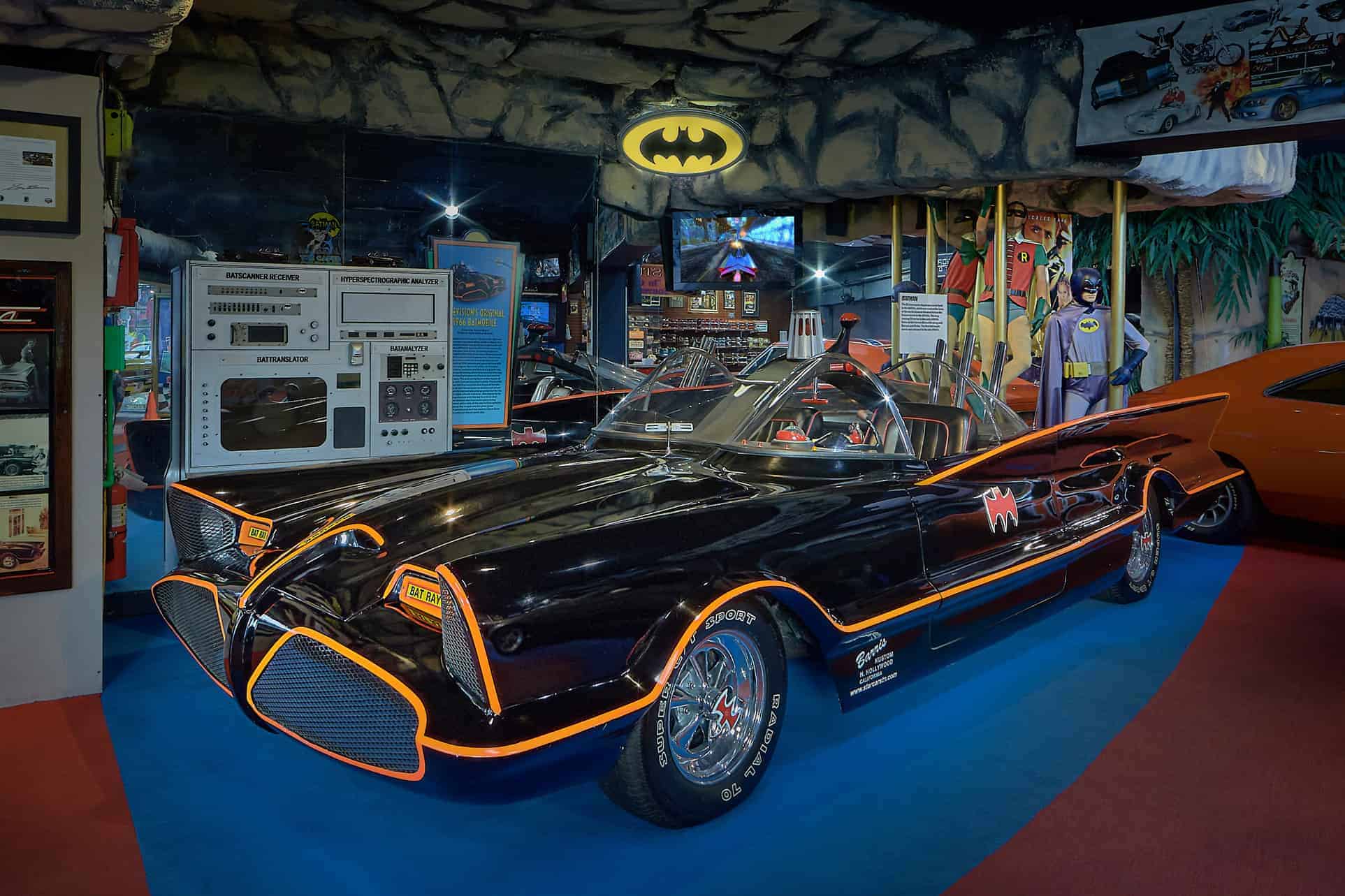 Hollywood Stars is home to the coolest cars from film and TV. Many of the cars have been designed by George Barris, who has created more famous Hollywood movie & TV cars than anyone else in the industry. There's a guided tour to make sure you don't miss anything, or you can explore on your own and pose for photos behind the wheel of your favorite Hollywood vehicle.
Some of the most famous vehicles in their collection include The Ghostbusters Ecto-1, The Munsters Drag-u-la, General Lee from The Dukes of Hazzard and the Beverly Hillbillies Jalopy. Their most popular attraction is the two Batmobiles from Batman TV Show & Batman Returns.
Other cars featured are Eleanor from Gone in 60 Seconds, a selection The Fast and the Furious vehicles, the Back to the Future DeLorean time machine and a Mello Yello race car from Days of Thunder.
Location: 914 Parkway, Gatlinburg, TN 37738
Price: $12.99 Adult Tickets, $7.99 Children (6-12) Tickets, Under 5's Go Free
Suitable For: Anyone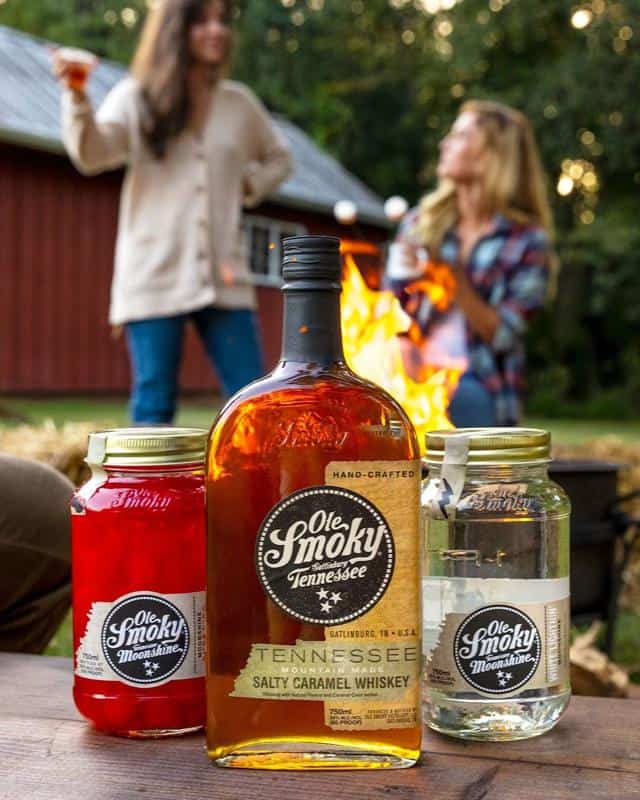 Ole Smoky is the first federally licensed moonshine distillery in the state of Tennessee. This popular moonshiners hideout is one of the most popular tourist spots in the Smoky Mountains. In this authentic moonshine still you can learn the history of Tennessee moonshine and experience the distilling process from beginning to end.
There is a free walk-through museum that will help you appreciate what goes into making moonshine. At the end of the tour, you will be able to stop at the Moonshine store to sample the traditional flavors. Not a fan of the traditional? They also have seasonal flavors like peach, apple pie and blackberry.
Location: 903 Parkway #128, Gatlinburg, TN 37738, United States
Price: Tastings are $5, and you receive a $5 off coupon towards your purchase and 7 flavor samples.
Suitable For: Over 13s
The Village is a fantastic place to shop, eat, relax, and enjoy! Just In downtown Gatlinburg, it's home to 27 unique boutiques, eating establishments, and galleries. This enclave has a truly European fairy-tale feel that is a lovely visit, even if shopping isn't your thing.
It's the ideal place for a leisurely shopping experience, a relaxing cup of coffee, to grab food, as well a place simply to enjoy the weather. A tourist favorite is to snap a selfie in front of the fountain, or it's the perfect place to pick up a souvenir or two.
The Village is open year-round, but shop hours vary depending upon the day and time of year. Pick up hiking gear ready to hit the trails, buy your loved one stunning silver jewellery or shop for your little ones at the toy shop.
Location: 634 Parkway, Traffic Light #6 Gatlinburg, TN 37738
Price: Free entry
Suitable For: Everyone!
This museum is home to over 20,000 sets of salt and pepper shakers from around the world, and a huge pepper mill collection! The museum was started as a personal hobby 35 years ago by a Gatlinburg family. Soon this collection grew as they family began to realise how history could be told by the condiment receptacles.
The Salt & Pepper Shaker Museum is a fantastic way to learn about the history of the USA via shakers. As you walk through the museum, you can see how tastes and designs changed from the ancient times to the 1500s, 1800s, 1920s, 1940s, 60s, all the way to the present day.
Location: 461 Brookside Village Way Gatlinburg, TN 37738
Price: $3
Suitable For: Everyone
Fowler's Clay Works is a family-owned pottery studio which welcomes families of all sizes and ages. Whether you just want to look around and watch their fantastic work, pick up a handmade baking dish, or try your own hands at the pottery wheel, this is a great activity for the whole family.
They craft a host of pottery pieces so you can pick up everything from mugs to plant pots and kitchenware. Every item is unique because it has been shaped and glazed by hand. This locally owned pottery also always mixes their own glazes so that their range of pottery can reflect the natural beauty and elegance of the Smoky Mountains.
Beginners can enjoy the Make a Pot Experience, where you'll be shown how to make your own small bowl or vase by hand. For those with a little more experience or for those who want to deep dive into the world of pottery, there is a unique instructor-led Make a Mug Experience.
Location: 1402 E. Parkway, Suite 10 Gatlinburg, TN 37738
Price: $40 for a beginner pottery class. $60 Make a Pot Experience
Suitable For: Everyone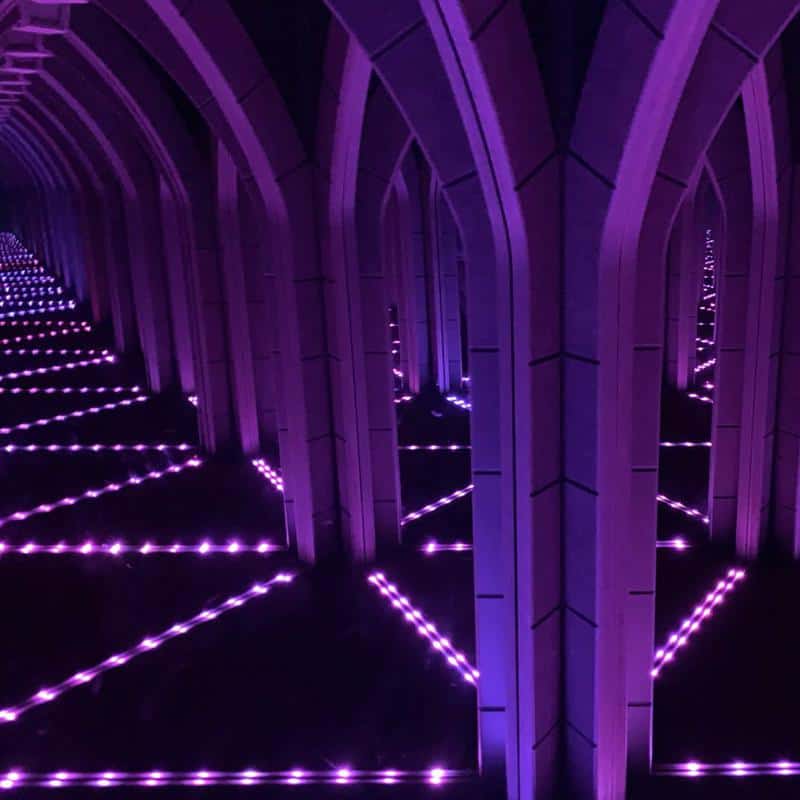 The Amazing Mirror Maze is an interactive visual adventure to stimulate and challenge minds of the whole family. Navigate your way through seven different attractions in this unique fun-filled spot.
With three levels of adventure, this Gatlinburg attraction is one of the largest mirror maze attractions in the world, with infinite hallways, endless reflections, and a new twist and turn hidden around every corner. Kids and adults will have hours of fun in this mirror maze.
There is The Vault Laser maze where you need to bend, crawl and jump over laser beams. Step inside Infinity and lose yourself to an endless abyss of reflections, explore a boundless maze of holographic mirrors, or enjoy the escape room experience. Of course, there is also the classic funhouse mirror experience that will entertain the whole family.
Location: 919 Parkway, Gatlinburg, TN 37738
Price: $ 25.99, kids under 3 go free.
Suitable For: Everyone
Work together in an hour-long race against the clock to escape the themed room! Solve puzzles together and conquer challenges while experiencing twists and turns around every corner of all five rooms.
The Legend of Atlantis is a story-driven adventure with an Indiana Jonesesque journey with Hollywood worthy special effects and set pieces. The Moonshine Hill Hootenanny is a hillbilly-themed room where you have to break into Big May Bertha's shack and blow up her moonshine.
The Haunting of Hyde House is one for the horror fans. Abandoned by your tour guide, you'll become trapped in Hyde House and discover you are not alone. Curse of the Kraken is a pirate-themed room where you hunt for the legendary yet cursed Kraken's eyes. Finally, Master of Magic allows those with mystical and magical abilities to partake in the special magician's challenge.
Location: 716 Parkway Gatlinburg, TN 37738q1
Price: Starting at $36.99 per person
Suitable For: Everyone
The Gatlinburg Pinball Museum takes you on a journey through retro arcades and classic pinball machines. This isn't just a nostalgic journey, it's also an interactive museum as you can play most of the games.
You can race cars, shoot hoops and kill bad guys on genuine vintage machines that have been restored to their former glory. For a single all-day admission, you can play as many games as you want, eliminating the need to mess around with coins and tokens.
Play over 100 pinball machines and retro arcade games, including countless limited edition and rare pinballs. Some of their pinballs include Attack From Mars, The Walking Dead, Medieval Madness, Lord of the Rings, Metallica, Dialed In, The Addams Family Gold Edition, the 1965 classic Gottlieb Sky-Line, and more.
Location: 205 Historic Nature Trail. Gatlinburg, Tennessee 37738
Suitable For: Everyone
Also Read:
Things to Do in Gatlinburg: FAQs
Where is Gatlinburg?
Gatlinburg can be found in the city of Tennessee and is located along the northern border of the Great Smoky Mountains National Park at the intersection of US 441 and US 321.
What is the best way to get around Gatlinburg?
Although Gatlinburg has the usual means of transport, you can also opt for the Gatlinburg trolley. This is an old fashioned but charming transit bus that follows a selection of color-coded routes through the mountain location. The routes go:
The red route will send you down the River Road and through the young and busy areas of downtown Gatlinburg. This is where you'll find malls, hotels, restaurants and nightlife.
The yellow route goes through the Gatlinburg Arts and Crafts Community, so if you're looking to visit galleries, theaters and other creative areas, this is the right choice.
The tan route winds through parks and campgrounds before coming to a stop at the famous Great Smoky Mountains National Park.
The purple route heads via the North Parkway, Spur Welcome Center Park and Ride, Ripley's Aquarium of the Smokies and the Convention Center.
The best thing about the trolley is it's free, and you can board it at many locations throughout the City. Simply hope on anywhere you see the Street Trolley sign.
What are the best distilleries in Gatlinburg?
No trip to Gatlinburg is complete without sampling some of the area's trademark moonshine! For years, this illegal activity was popular for distillers who refused to pay the government's whiskey tax. In 2009, a new law allowed legal moonshine to be produced in Tennessee. Since then, several amazing distilleries have opened in Gatlinburg, and these are the best three:
Ole Smoky Moonshine is the most famous distilling company in East Tennessee. It will allow you to learn about the moonshine making process and sample the products! This distillery also frequently hosts live music from the best bluegrass musicians.
Sugarlands Distilling Co. is another popular place to taste moonshine in Gatlinburg. They offer unique flavors as well as mixology lessons and special experiences.
The Tennessee Shine Company focuses on delivering premium quality small-batch moonshine and whiskey. This smaller, down-home distillery has a more friendly atmosphere with tastes that have been passed down generations.
There are plenty of things to do when visiting Gatlinburg in Tennessee. Whether you want an education visit to a museum, a fun activity the whole family can get involved in or a sporty trip for the thrill seekers, you will find it in Gatlinburg. For such a little city, there is a whole lot of fun to be had!