It's fair to say that in the southern states, kids have a very different winter to those in the north. While it snows a little in Tennesse, there are far fewer snowball fights and big freezes in the winter and many more mild days throughout the year.
This is good for those who favor a warmer climate – but some people, kids and big kids alike, find themselves wishing for snowsports opportunities on their doorstep. Enter: Pigeon Forge Snow. The opportunity to make snowmen and soar down the slopes is here!
If you're interested in a fun adventure around Pigeon Forge, we highly recommend Pigeon Forge Snow. Open seven days a week all year round, it's America's first indoor snow park.
Whether you're feeling festive in December and want to do something snowy, or if you are looking for something completely unique to do in Pigeon Forge in August, read this guide for everything that you need to know about visiting Pigeon Forge Snow.
What is Pigeon Forge Snow?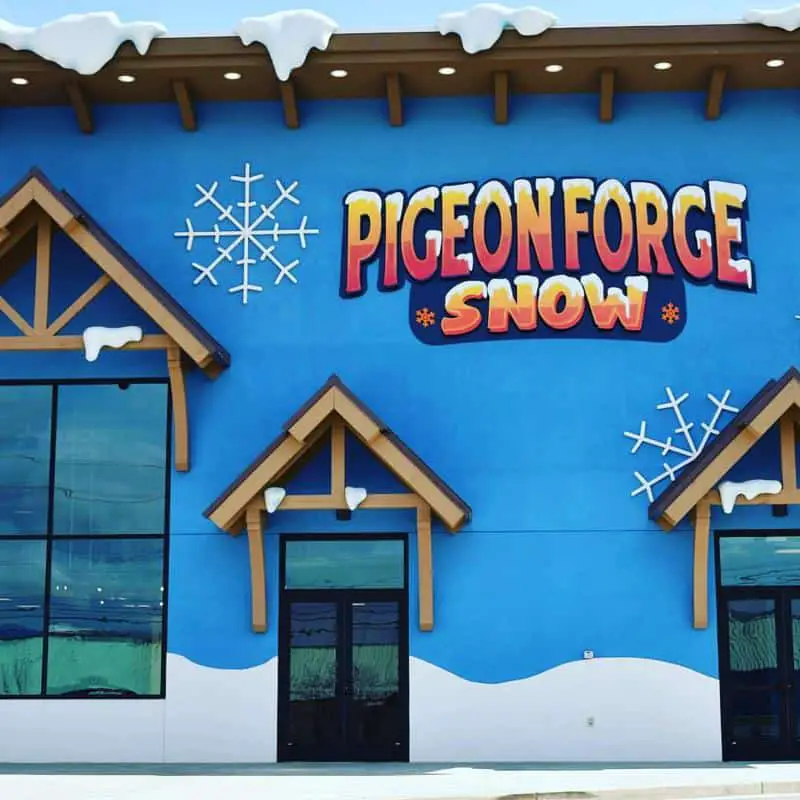 Pigeon Forge Snow is the first indoor snow park in the USA. It's a bit of a novelty for Tennessee, a state that isn't famous for its snow, so if you're in the area it's well worth checking out!
It's not famous for its twisty, dramatic slides like you'd find in a waterpark – the slopes just go straight up and down, but they are exceptionally fun, especially if it's your first time snow tubing! It uses real snow made from sophisticated snow machines.
The beauty of Pigeon Forge Snow is that it's suitable for people of all ages (as long as they are older than three!). There's no upper age limit, so it's perfect for kids and big kids alike. As long as you feel able to take to the slopes, you'll love soaring around in a giant tube at Pigeon Forge Snow!
What is Snow Tubing?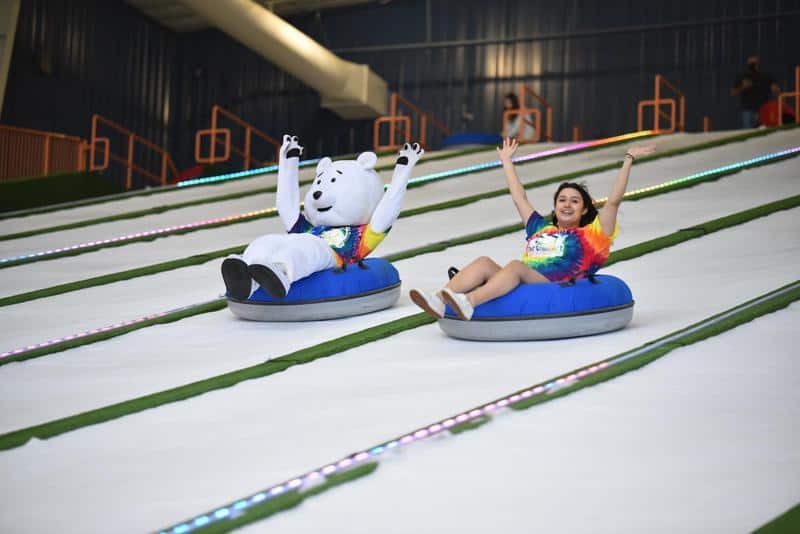 Snow tubing is a mix of traditional sledding and rubber ring waterslides.
Essentially, you sit in a 'tube' – a large ring with a solid bottom – and soar down a slope.
Unlike sledding, you can't usually break, as you'll spin if you try to stop. So you just have to let gravity do its business!
Is Snow Tubing Safe?
Snow tubing can be dangerous if it isn't organised by a proper company.
However, companies like Pigeon Forge Snow are designed for snow tubing, so they put in many safety procedures to ensure that the activity is safe for everyone involved.
The procedures include barriers to make sure nobody moves lanes, ensuring that only one person goes down the hill at any one point, a helmet policy, slope maintenance to check that there's nothing that the tubes can catch on and ensuring that any potential landings are soft.
Because of these safety procedures, snow tubing at Pigeon Forge Snow is much safer than trying it outdoors, even on an official snow tubing course.
About the Snow Play Area
This is ideal for kids of any age (under-threes are welcome). Children who have never experienced proper snow before will love it here; they can build snow creations and make snowballs galore!
The snow is quite similar to the real thing, potentially a little bit tougher, but it's often the most realistic snow that you'll get in the area without descending up the Smokies.
Pigeon Forge Snow Reviews
Pigeon Forge Snow has some excellent reviews, with a 4.5/5 rating on TripAdvisor.
Reviewers say that they love the flexibility and affordability of Pigeon Forge Snow, so they can turn up at any time and pay a low fare to take to the slopes.
Others say that the slopes are smooth and comfortable and that the safety measures are excellent.
Some people comment that there isn't enough time included in the ticket, so the general consensus is that it's best to visit at non-busy times.
But generally, the novelty of being able to snow tube in Tennessee makes it a must-visit destination!

Pigeon Forge Snow Prices & Hours
Here are some of the prices that you'll pay at Piegon Forge snow:
One hour of tubing: $29.99
30 minutes of snow play: $9.99
One hour of tubing and snow play: $36.99
Pigeon Forge snow has the following hours:
Monday to Thursday: 10:00 am to 9:00 pm
Friday: 10:00 am to 10:00 pm
Saturday: 9:00 am to 10:00 pm
Sunday: 9:00 am to 9:00 pm
The last entrance is 45 minutes before closing time.
Group Reservations
If you want to visit the Pigeon Forge as a group, whether that be for a sports team or corporate event, you can make a group reservation. Their only requirement is that there must be at least 15 people in the group.
It's recommended to book in advance because the slots can sell out early.
There's a form that you can fill out on their website, which asks for the group size, the date of booking and has space to fill out any additional requirements. You can access the form here.
Are you looking to book a group activity in the next few days? The form can take a while to process, so it's best to call 865-280-2199 instead. You'll be able to talk to a member of Pigeon Forge Snow's friendly team who will see if they can fit you in.
Birthday Party Packages
If your kid loves snow tubing, why not get in touch with Pigeon Forge Snow about their birthday party packages?
These packages provide:
12 wristbands that either kids or adults can use
1 hour of tubing (for kids who are over 3 and more than 38 inches tall) and 30 minutes of time in the snow play area
An additional hour in the party area
A downloadable invitation that you can fill out and send to friends
The snow party package costs $350 and any additional people cost $28. It doesn't cost anything for additional adults who are watching.
Related Read: Does It Snow in Pigeon Forge, Tennessee?
Pigeon Forge Snow: FAQs
Do I Need to Book?
No, unless you are visiting with a large group (15 people or more) or for kid's birthday party, no booking is required. You can fit your snowy adventure around your other daily activities and commitments.
Just turn up when you're ready to hit the slopes and the friendly staff will fit you in!
How Cold is it Going to Be?
It's nowhere near freezing in Pigeon Forge snow! The temperature sits at a comfortable 60-70 degrees, so don't worry, you don't need to wear any snow gear or anything else special when you go snow tubing.
Is it Real Snow?
Yes, it's completely real snow. Plus, there's no nasty chemicals or anything added to it – it's just water that is frozen in a special machine. The machine is then used to disperse the snow.
What Should I Wear?
It's best to wear a long sleeve shirt and pants. Shorts and short sleeves are ok too though. If you tend to get cold, take a light jacket. However, you might find that when you are moving around, you'll feel quite warm! The only shoes that are not suitable are flip flops.
Is There Anywhere to Eat?
Yes, there is a snack bar where you can purchase various food and drink items. You can access this for free, and it has a great lookout area where you can watch snow tubers soar down the slopes! However, it isn't a restaurant, so it's best to eat before you go.
What Restrictions and Rules Are There?
Anyone who is snow tubing should be at least 3 years old and 38 inches in height.
Other restrictions include:
Tubers should be a maximum weight of 375 pounds
There can only be one person in each tube
Everyone should sit in the center of the tube
There are also some rules that you should follow to ensure a safe time snow tubing. These include:
Secure any objects like jewellery etc so they don't have any chance of falling off
Listen to instructions from any attendants
Don't eat the snow
No snowballs or mucking around on the slopes
No food or drinks on the snow
Tips for visiting Pigeon Forge Snow
Get there early: Pigeon Forge Snow is quietest first thing in the morning. And when the attraction is quietest, you'll have less queuing and more time on the slides! So, it's advisable to get there as early as possible so you can go on the rides as many times as possible!
Avoid peak times: equally, it's a good idea to avoid any particular peak times. This includes weekends and kids school holidays. If you visit on a weekday, you'll find that you can spend much less time queuing and more time on the snowy slides!
Make sure everyone's prepared for snow: apart from the snow tubing slide and the snow play area, there isn't all that much to do in Pigeon Forge. There aren't many games or anything else for children to enjoy.
Non-snow tubers can watch for free: don't worry if some of the group don't want to go snow tubing or enjoy the snow. There's a snack bar where you can sit and watch the snow tubers descend down the slopes. It's perfect if you just want to watch the kids having the best time ever!
Final Thoughts
Pigeon Forge Snow is a fantastic place to visit in Tennessee. It's a completely refreshing and unique experience, like nothing else in the southern states.
Whether you live in the area and are visiting with your kids, or are on vacation in the Pigeon Forge area, it's a fantastic place to visit. You'll love soaring down the slopes on your tube!