Lumberjacking is a widespread trade in Northern America as a fully-fledged profession. It is so much part of the culture that there are sportsmanship activities (timber sports) where professional loggers compete in speed and agility to perform jacking activities. Even though activities have dwindled to save the world's green coverage, controlled timber harvesting is still alive.
The Smoky Mountains were a center for tree felling before establishing the Great Smoky Mountains National Park. The Paula Deen Lumberjack Show is a marvel to behold for anyone interested in adrenaline-filled activities in Pigeon Forge. The show features competitions for the best in logging activities in a fast-paced 90-minute performance. The show is family-friendly, with an intermission for children to safely experience the spirit of lumbering too.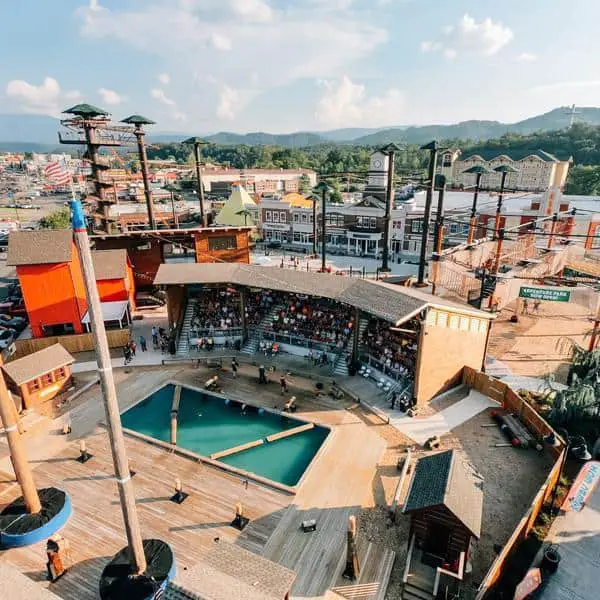 If you're looking for an experience that will set you apart from the rest and a show with audience participation, attending the Paula Deen Lumberjack Show will be heavenly. Not a fan of lumbering and sweating? Attending this show changes your perspective completely. You will even enjoy it so much that a souvenir from the retail gift shop is the least you will have at the end of it!
About the Show and the Grandstand Venue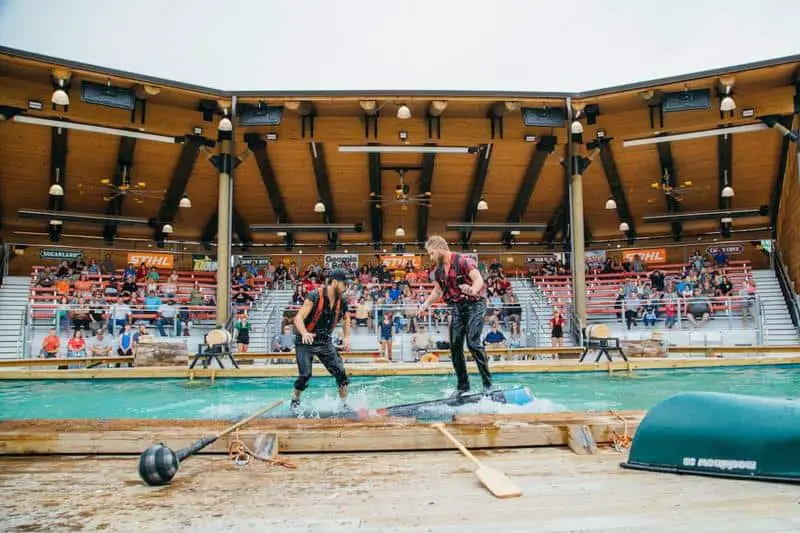 Duration: 1.5 hours
Rating: All ages
Pigeon Forge was a lumbering community before tree feeling was capped. The Great Smoky Mountains provided the timber, which was in demand for construction and furniture businesses. However, the activity declined when the Great Smoky Mountains National Park came. The park was a conservatory for the many tree varieties in the mountain forest, not to mention habitat for the local wildlife.
Before that, two families in the timber business sought to cut as many trees as possible before the national park drowned their businesses. The McGraws and Dawsons compete to save their businesses by cashing in within the short period available to them. Paula Deen's Lumberjack Feud is a reincarnation of the fiasco, a competition to see which family is the best.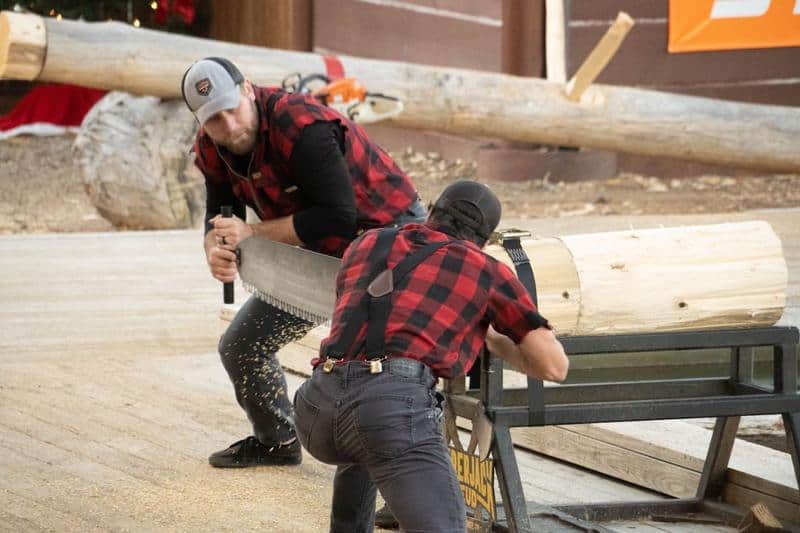 Professional timber sports competitors and loggers comprise the teams in the two rival families. The feud is to see the superior logger, with each show featuring 13 active timber sports activities. Some of the activities the competitors will fight for superiority in include:
Ax throwing: players throw axes at a target log, aiming to hit the bull's eye or get as close as possible. Similar to archery, only with a lumberjack's favorite tool (an ax).
Logrolling: Two competitors at each end of a free-floating log try to make the other fall by birling the log, kicking, and other techniques.
Underhand chop: players chop through a 32 cm thick log while standing on it horizontally.
Springboard chop: Competitors start at the bottom of a log that has an 11-inch log at the top. They use two springboards to get to the top and cut the log.
Standing block chop: a 30 cm block is erected vertically, mimicking a tree felling. The competitors cut on both sides of the log as fast as possible to win.
Boom run: players compete to be the fastest across a logrolling dock line.
Speed climbing: the winner climbs a wooden pole as fast as possible and down.
Crosscut: two-player sets compete to make the fastest cross-cut with a crosscut saw.
Hot saw event: players make a crosscut with a powered chain saw. The winners are awarded the ultimate champion family. You will get a chance to cheer for your select family and boo the rivals as your family takes the lead in every competition. Don't shout too much; your jeering can turn into a ticket to the arena! Don't worry, no one will force you to do it, but it's a whole lot of fun to make those crosscuts.
This family-friendly show has an intermission for kids where your little one participates in kid-friendly excursions in the timber business. They will cut timber and hold those majestic saws; safely, of course. And an adventure park full of activities is also available, which is discussed later in this article.
The Lumberjack Show venue in Pigeon Forge is a climate-controlled arena with a holding capacity of 350 patrons. The padded seating ensures that the stadium-style setup is comfortable and warm, leaving you to immerse yourself in the show entirely. It means that whether it's rain or sunshine, you are shielded from its effect. As the famous showbiz saying goes, the show must go on.
The Competitors
The show boasts a diversified talent from the pool available in the world championships and professional loggers. Most of these performers are active in timber sports competitions, holding titles in their specialized categories.
Fernando Ortiz is a top, up-and-coming player in the sport, showing off his springboard chop and underhand chop skills.
Derrick Knutson is a legend in timber sport and is an active competitor in the Stihl Timber competitions. He's a 3-time Ironjack champion in the 2012 Bulls of the Wood competition and the 2009/2014 speed climb world champion.
Adam Lethco won the U.S. title for the Springboard Championship in 2017. He is also ranked in the top 10 in Stihl Timbersports Series, participating in Stihl Timbersport Southern Qualifiers from 2017 to 2019.
Charlie Fenton is a four-time Boom Running World Champion, a 3-time Relay Team World Champion, and he is also ranked in the top 10 in speed climbing.
Caleb Graves bagged the Speed Climbing World Championship championship in the 60ft and 90 ft category in 2019. He also was in 2nd place in the 2018 Boom Run competition.
Andrew Jensen is the 2016 champion for the Underhand chop semi-pro category. He came 4th in the 60ft and 90 ft Speed Climbing category.
Darby Hand's specialty is underhand chop, 60ft speed climb, and log rolling. Fun fact: He started log rolling at the age of 4!
Tyler Alden competes in the underhand chop and single buck competitions. He's also a talented chainsaw carver.
The Lumberjack-Themed Adventure Park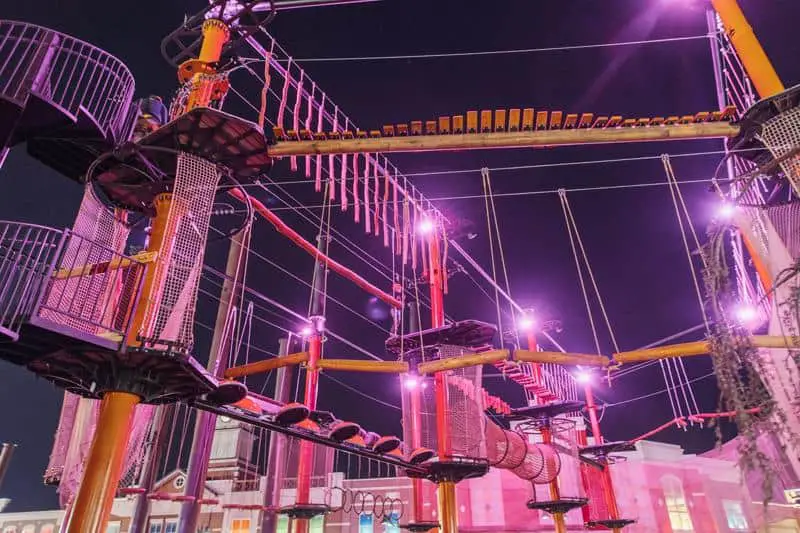 Duration: 2 hours
Rating: 5+ years
If you want to be part of the action in the show, head over to the themed adventure park at the venue to experience firsthand what it means to be a lumberjack. This multilevel obstacle experience is rated as 5+, meaning kids below five aren't allowed to participate for safety reasons. They can join the kids' show during the main show's intermission.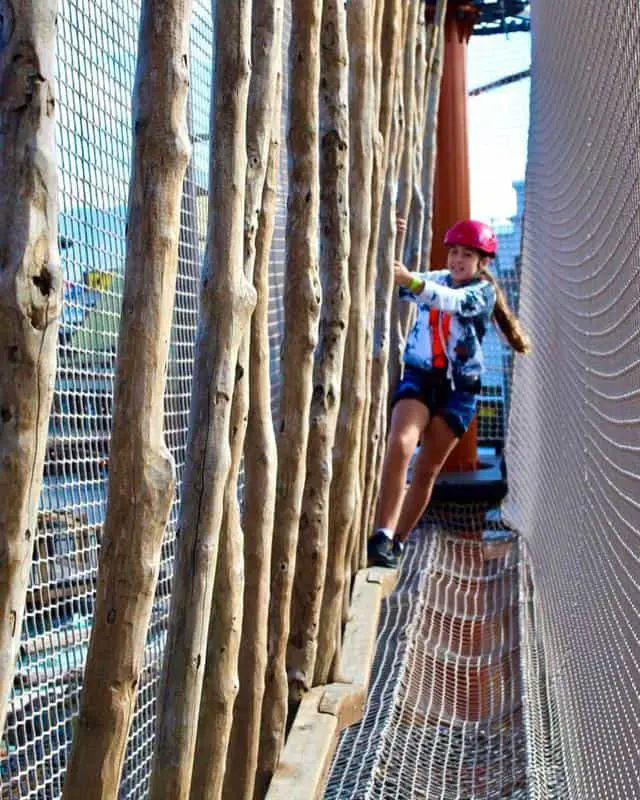 To become the ultimate woodsman champion, you are thrilled and strapped to compete in the log roll, spring chopping, among other trials. You also take part in simulated elements in speed climbing competitions. The ultimate culmination of your adrenaline will be on the Flying Ox zipline cable to rail roller coaster, one of its kind in Tennessee. Other activities include the two 80ft jump towers, an aerial kids play area.
How to Get To the Paula Deen's Lumberjack Feud
Address: 2530 Parkway, Pigeon Forge, TN 37863, United States
The show is located in the Lumberjack Square at 2350 Parkway, between the 3rd and 4th lights-Walden landing. The timber towers are visible from the road. The show has free parking for its patrons too. Alternatively, you can hail a taxi, and they will drive you to the show entrance. The seats in the arena are on a first-come, first-served basis, so make haste and arrive early to take the best seats near the action.
When Is the Show Open?
Paula Deen's Lumberjack Feud is open daily from January to December. The climate-controlled grandstand ensures adequate heating during cold or rainy days and enough cool during those hot summer days. The lumberjacks are rugged, and they have been doing this for a long time. Just like in the forest, these lumberjacks don't stop because of a bit of rain or snow.
Opening times are as shown below:
Tuesday to Friday: 10 am-7 pm
Saturday: 12 noon-10 pm
Sunday and Monday: 10 am-10 pm
Disclaimer: The show may be canceled due to adverse weather conditions that may threaten patrons' and performers' health. Tickets are forwarded to the next available show, and you are informed beforehand.
Show Tickets
You can purchase tickets to the show via the official website or use third parties if you will. Physical tickets at the box office are also available. Your ticket prices may fluctuate depending on your show or park selection.
Paula Deen's Lumberjack Feud tickets:
Adults (12+ years) @ $34.99
Children (4-11 years) @ $14.99
Children (below 4 years) @ $0.00
Lumberjack-themed Adventure Park tickets:
Adults (12+ years) @ $39.99
Children (5+ years) @ $34.99
Children under four years are allowed free entry provided they sit on a paying parent or guardian's lap, observing the one child per paid ticket policy.
You can get discounts on food at the Harpoon Harry's Crab House for an extra $20, saving you five bucks on the food price. You can also choose the concession stand's offer with an additional $9 grabbing you a soda, water, chicken, and some fries.
Outside food is allowed into the show, so bring enough snacks for your whole family. The Lumberjack Square has four restaurants ready to serve you delicious food as the show carries on. Better still, make food reservations elsewhere and eat before or after the show.
Lumberjack Show: FAQs
Is Lumberjack Show Pigeon Forge a dinner show?
While ticket prices are not inclusive of dinner, the show offers a concession stand with snacks and foods like fried chicken and fries. Alternatively, book the dinner and show option to eat in one of the restaurants in Lumberjack Square. You can also bring food from outside or order from nearby restaurants.
Is the Lumberjack Show Pigeon Forge appropriate for children?
Paula Deen's Lumberjack Feud is a family-friendly show featuring serious competition. There is an intermission amid the show where kids take supervised tasks like wood chopping and sawing.
Is the Lumberjack Show Pigeon Forge open in winter?
Paula Deen's Lumberjack Feud is open daily, winter through summer, seven days a week. The grandstand arena is climate controlled to offer comfort for patrons come sun or rain.
Conclusion
Timber sportsmanship has bever gotten this serious in Pigeon Forge. Get the best talent in the Smoky Mountains to show you how it's done in the logging business. The show is fun, adrenaline-packed, and a must-attend in Pigeon Forge or the Great Smoky Mountain region.
Go ahead and bring your family for a logging experience in the adventure park and compete with who is better at it with an ax. What are you waiting for, friend? Get ready to log!