Did you know that Hollywood Wax Museum in Pigeon Forge is the biggest and most photographed attraction in Pigeon Forge, Tennessee? The wax museum is so popular and beloved that it won the Pigeon Forge TripAdvisor 2020 Travelers' Choice award.
With so many activities to do in the beautiful city, like summer hikes and checking out the fantastic fall foliage, one can only wonder what sets the Hollywood Wax Museum Pigeon Forge apart. Since its opening in 2012, the destination has been the center of attraction in the area. It has brought visitors from all over the country and beyond.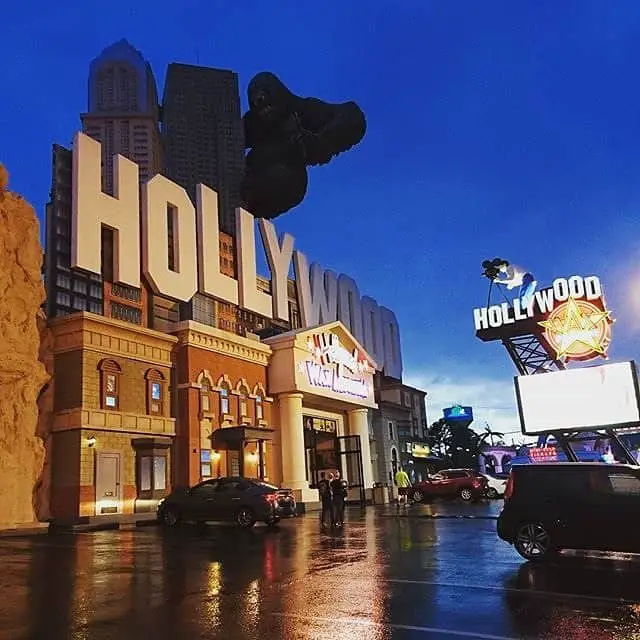 Are you interested in a madcap 5D adventure with laser pistols? Are you interested in posing with A-list star props with awesome costumes? Then this is the place to be. The museum features four main attractions that will take you hours to go through. The experience is fun for individuals of all ages, and you will want to bring your entire family along. Kids will have the best time, but who says you and your buddies can't loosen up too.
We will look at the background history that brought us to this beautiful site and the genius behind it. Keep reading to get to know the showtimes, schedule, ticket prices, and all the things you can do at Hollywood Wax Museum Pigeon Forge.
Background of the Hollywood Wax Museum in Pigeon Forge, Tennessee
The Hollywood Wax Museum in Pigeon Forge, Tennessee, is part of the Hollywood Wax Entertainment Center's chain of museums that celebrate American celebrities using waxworks. These wax museums contain collections of wax sculptures that are made to represent famous celebrities throughout American History.
The museums also consist of contemporary personalities that are made into life-like poses in real clothes of their given time. The wax museum tradition dates back to the 18th century but became popular in the United States when Spoony Singh decided to open the first Hollywood Wax Museum on February 25, 1965.
The location is still on Hollywood Boulevard and is solely dedicated to celebrities such as A-list movie stars, iconic singers like Elvis Presley, and classic entertainers of an age long gone. It also features a Chamber of Horrors that contains some of the most gruesome waxworks you will ever see.
Singh's idea was well-received to the point that the first opening had a ½ mile-long queue for the tickets. The idea became popular due to his connection to celebrities, columnists, and friends in the press. After his retirement, his sons and grandsons took on the mantle and built the empire that is now Hollywood Wax Entertainment Center.
Their success is very apparent that the Hollywood Chamber of Commerce Community Foundation gave them their Heroes award in 2012 to contribute to the Hollywood community and American culture. Not only that, the museums got world recognition to the point of being featured in movies such as 1972 The Mechanic, 2007 America's Top Model, and the Midnight Club: Los Angeles video game.
The Singh family expanded the Hollywood Wax Museums from California to Branson, Missouri, in 1996 with the opening of Hollywood Wax Museum Branson. This location won the 2011 Branson Beautification Award because it brought life to the Highway 76 strip. The Hollywood Wax Museum in Pigeon Forge wouldn't be opened till 2012. A final location was opened in 2014 in Myrtle Beach, South Carolina.
Each location has its own set of attractions and figures apart from the rest. The Hollywood Wax Museum Pigeon Forge is currently the biggest wax museum (22,000 square feet) in the United States, costing a whopping $15 million to build.
Attractions at the Hollywood Wax Museum in Pigeon Forge
Museum Details:
Location: 1086 Showplace Blvd, Unit A, Pigeon Forge, TN 37863
Website: www.hollywoodwaxentertainment.com
Telephone Number: (865) 428-5228
Email: [email protected]
Operation Hours: Monday to Sunday from 9 am to 10 pm (the opening hours are subject to change from season to season depending on various factors such as holidays and special events)
There are four great attractions at the 22,000 square foot Pigeon Forge destination.
1. Meet The Stars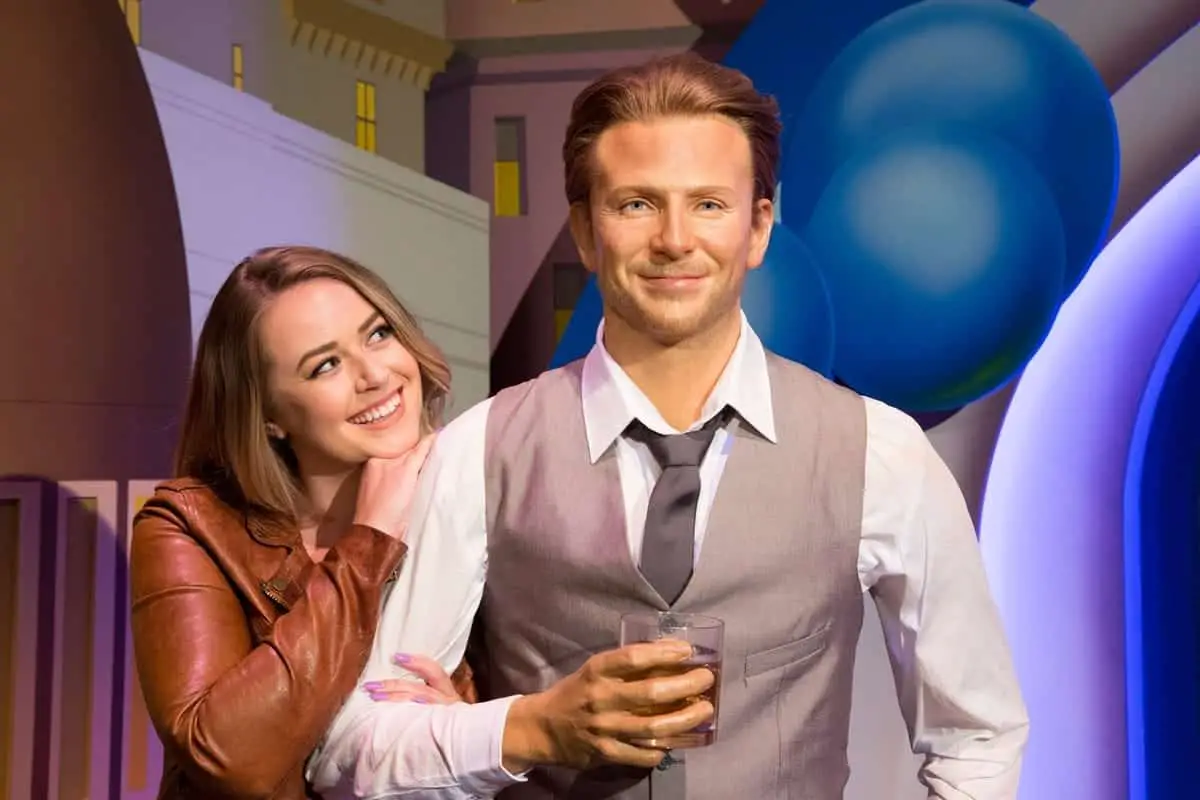 The main attraction is the Meet the Stars exhibit which won the 2020 TripAdvisor Travelers' choice award. The attraction consists of wax figures that talented artists professionally make to resemble real-life A-list celebrities such as Michael Jackson.
Other notary figures in the museum include Robert Downey Jr, Robert Pattinson, William Shatner, Will Smith, Jamie Foxx, Megan Fox, Elvis Presley, Marilyn Monroe, Charlie Chaplin, Bradley Cooper, John Wayne, Natalie Portman, Brad Pitt, and Anne Hathaway just to mention a few.
There are over 100 hundred wax statues that act as a tribulation to America's film industry and how it has played a role in serving the American culture. These waxworks give you a chance to take a stroll down the red carpet with the greats of the entertainment industry as you pose for photos and emulate your idols.
The props also have information about the celebrities ranging from their pet peeves to their charity work, to businesses, and a little bit about their personal lives.
2. Castle of Chaos – a 5D Adventure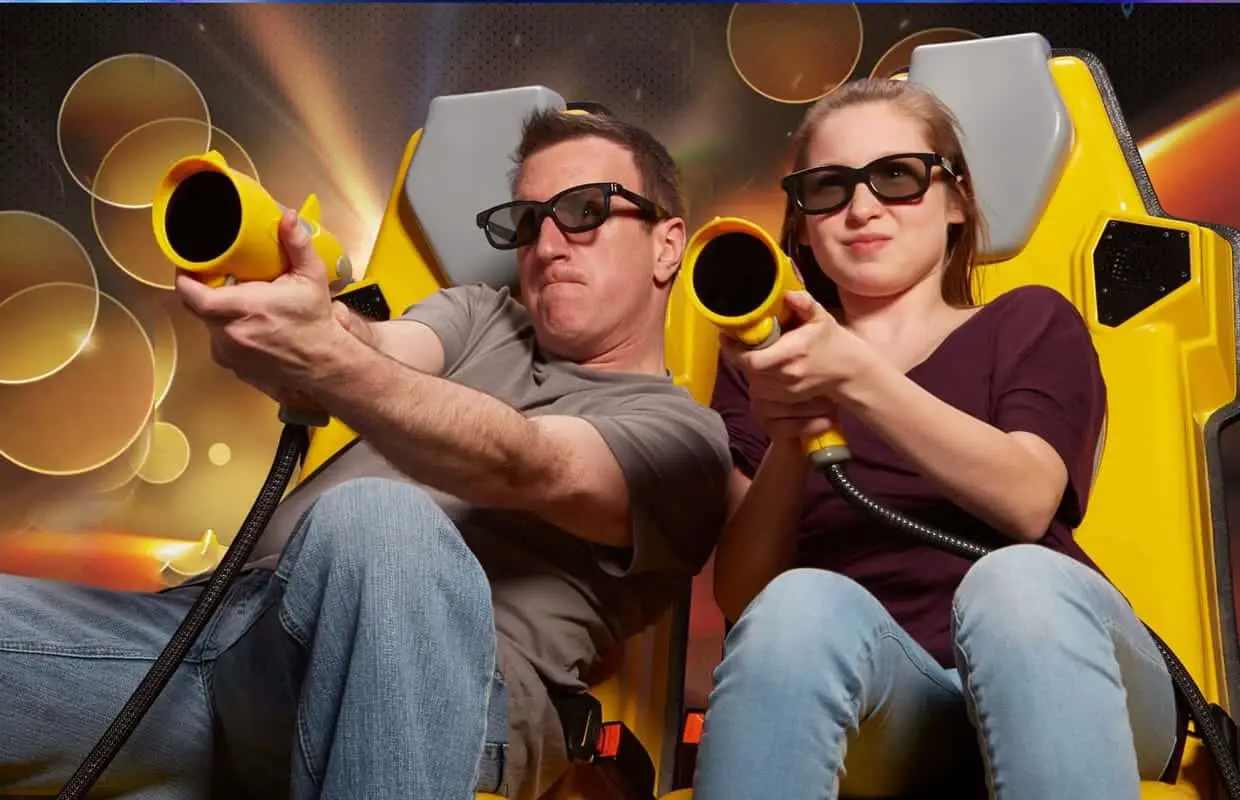 There are two 5D motion theatres dedicated to the Castle of Chaos adventure. They both have different storylines and consist of a 5D ride together with amazing visuals and sound effects. You will get laser pistols and be well belted to your seat as the ride takes you through a whole new reality with an adventures destination where you get to shoot multiple targets along the way.
The 5D adventure is indeed a Castle of Chaos with 400 movements per second that take you through an intense visual and sound experience. Some of the scenes take you from rooftop to rooftop, down a waterfall, and across the cobblestones.
You get ranked at the end of the game. Your scores are displayed on display for your bragging rights.
3. Save the Princess – Hannah's Maze of Mirrors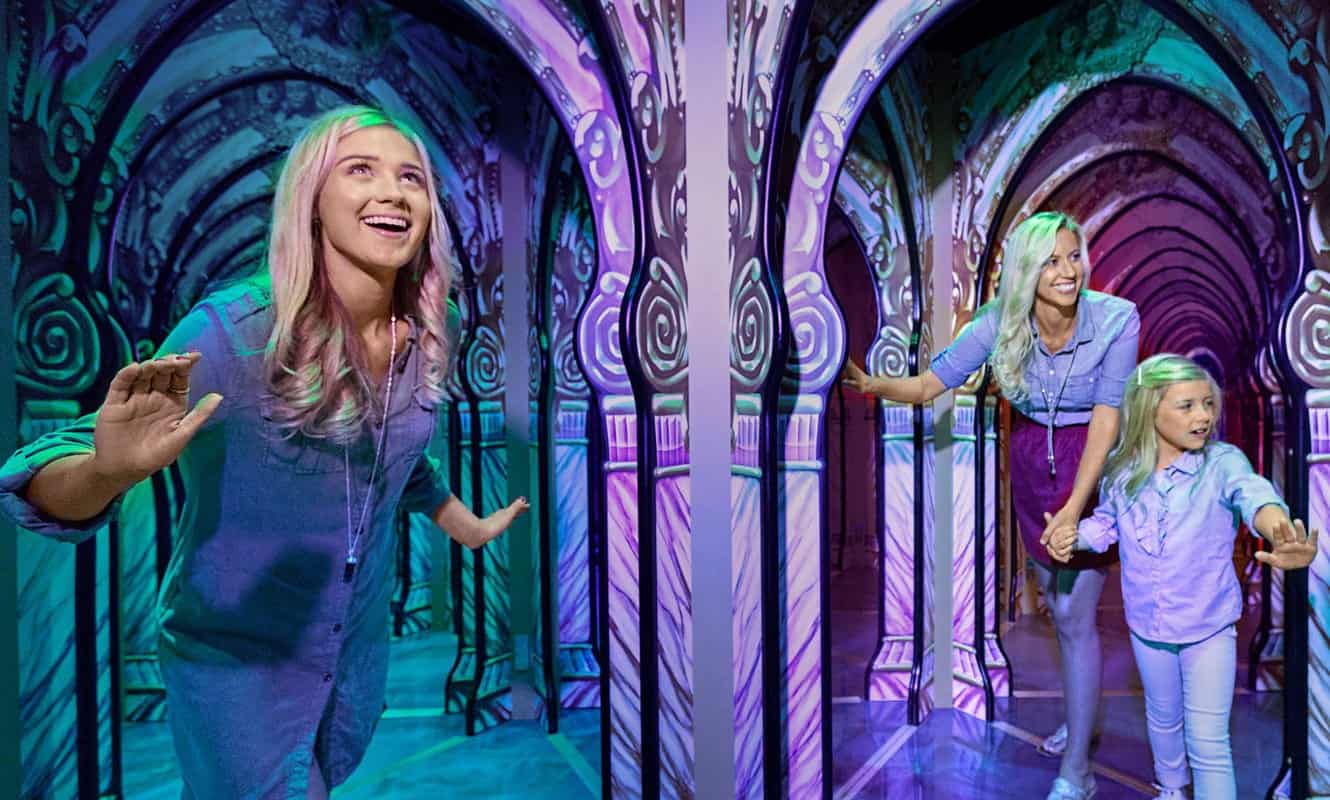 Save the Princess involves going through a maze of mirrors with lots of options so that you can get to save Princess Hannah. The story involves saving the Princes of Savannah, lost in the maze of mirrors. You will go past a musical staircase, across a drawbridge, and into a maze that features 288 potential turns in the mirrored corridors.
The music is enchanting to get you into game mode as you wander through hidden rooms and hit dead ends. There are lots of illusions and special lighting that will mesmerize and terrify you as you get to know Hannah's story.
4. Outbreak – Dread the Undead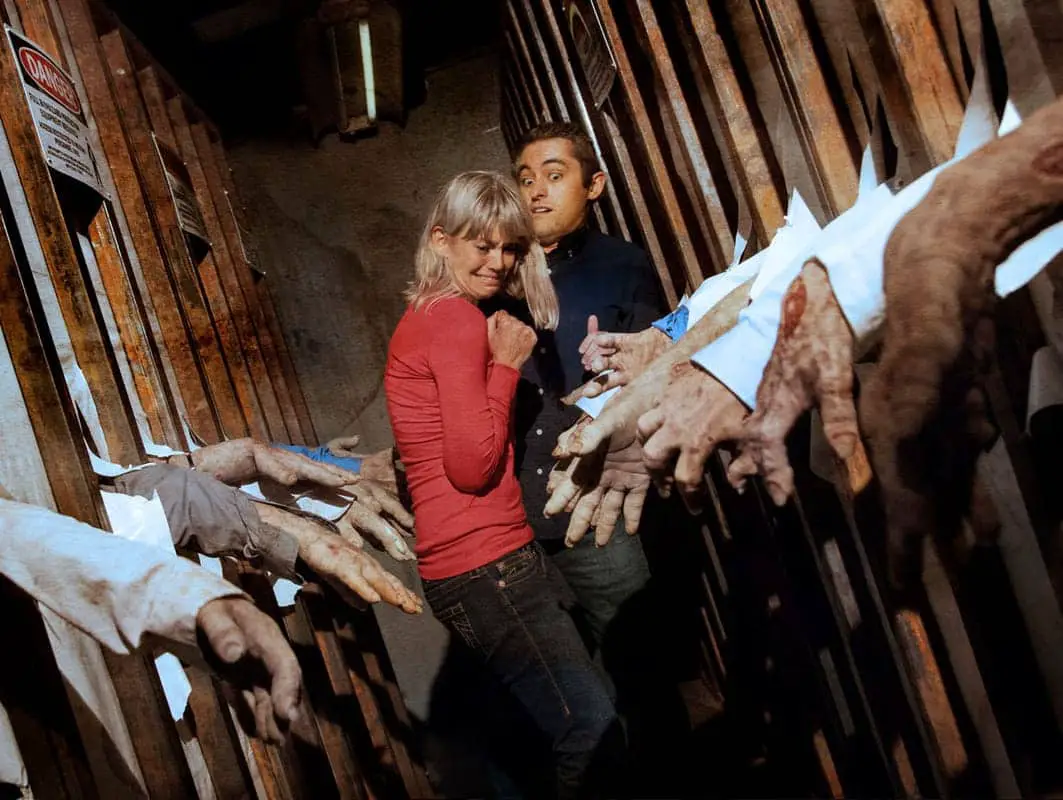 You already know there are zombies in this attraction. Outbreak is the number one zombie attraction in Pigeon Forge, featuring a ransacked lab, morgue, rotting basement, and a horde of zombies that will scare you along the way.
This indoor activity has only one exit, which you have to reach through a hallway of smelly spectacles and real-life scares that will leave your toes curling.
Hollywood Wax Museum Pigeon Forge Prices and Tickets
The accepted payment methods include AMEX, Cash, Discover, Mastercard, and Visa. Check out a few group discounts that you can get at the wax museum in Pigeon Forge.
You can get an all-access pass to all four attractions in the museum. The cost for a regular all-access pass is $39.99 (ages 12 and above), for children between 4 years and 11 years is $19.99, and it is completely free to see all the four attractions for your kids who are ages three and under.
Tip: Visit the Hollywood Wax Museum with a group of 15 or more to get massive discounts. It can be with your friends, coworkers, or family. You will be awarded a 15% discount that will save you a few bucks. Additionally, if you are part of a non-profit group, you will be given a bigger discount of 20% on all tickets/all-access passes.
Ticket prices for single attractions are laid out in the table below:
| | | | |
| --- | --- | --- | --- |
| | Regular (Age 12 and above) | Children (Ages 4-11) | Children (Ages 3 and below) |
| Meet the Stars | $29.99 | $17.99 | FREE |
| Castle of Chaos | $15.99 | $9.99 | N/A |
| Save the Princes – Maze of mirrors | $15.99 | $9.99 | FREE |
| Outbreak -Dread the undead | $15.99 | $9.99 | FREE |
Hollywood Wax Museum Pigeon Forge Reviews – What Visitors Say:
"This was so much fun taking stupid photos at our family reunion. They had a star for every age; even my mother-in-law stepped away from her walker to take a photo with Lucy Ball. Highly recommend if you are doing a family reunion, lots of laughs." – Mdecoe, TripAdvisor, Jan 2022.
"The wax figures were so life-like! We had the best time doing selfies with so many different characters! The props were great, pulling us into some fun pics!" – Stephanie W, TripAdvisor, Jan 2022.
"They have a lot of different celebrities and characters you can take pictures with, with lots of props! There are two levels to the museum and a gift shop at the end. I highly suggest you stop and take a look at this place! Everyone is also super friendly." – Krystal R, Yelp, November 2021.
Hollywood Wax Museum: FAQs
Can You Take Pictures in the Hollywood Wax Museum?
You are allowed and encouraged to take as many pictures as you can at the Hollywood Wax Museum locations. The walk with the stars is a great opportunity for you to be up close with your idols and celebrities' real-life-like wax figures.
Moreover, the props and sets make for a great social media profile that will leave you in awe of the time you had. Feel free to carry your best camera and bring as many people as you would like.
How Long Do You Spend at Hollywood Wax Museum?
The experience at Hollywood Wax Museum Pigeon Forge is self-paced. You can stay as long as you like provided you have the tickets and that you have as much fun as possible. The management recommends at least one hour for the full experience – taking photos with the stars and posing alongside the fun props.
Three hours may be the best for most people, especially if you go there with family and kids. There are also attractive games that you can play, and you may want to spend time reading a lot of facts about each prop in the vicinity. However, if you just want a quick walkthrough, you can go through the entire museum in just 30 minutes.
What Attractions Does the All-Access Pass Include?
The All-Access pass makes it convenient to experience all the attractions in the Hollywood Wax Museum Entertainment Center for one ticket price. This also includes the Castle of Chaos, Hannah's Maze of Mirrors and Outbreak experiences.
Are the Museum Attractions Accessible by Wheelchair?
Yes, all the attractions at the museum can be accessed by wheelchair.
Is it Possible to Touch the Wax Figures?
Visitors should not touch the wax figures as it might damage the delicate wax figures.
Also Read: