Whether you are into history, crime, or pop culture, the Alcatraz East Crime Museum has something for everyone. With a multitude of galleries, over 100 interactive experiences, as well as rotating temporary exhibits, the
Alcatraz East Crime Museum is a must-see destination if you are in Pigeon Forge or the surrounding area.
Crime Museum owners John Morgan and Seth Ellis designed the 25,000 square foot museum to replicate a 19th-century prison. The Building houses hundreds of crime-related artifacts like Ted Bundy's Volkswagen Beetle and old-school lie detection devices.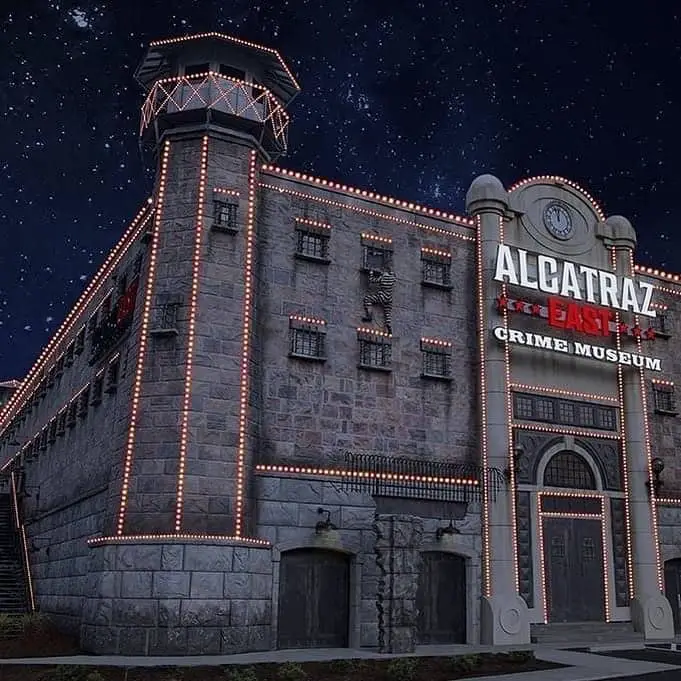 The Alcatraz East Crime Museum is located at 2757 Parkway Pigeon Forge, TN 37863; you can't miss it, it's the huge building that looks like a prison.  It's close to the Comedy Barn and Margaritaville Island Inn and a slew of restaurants. Parking is free at Alcatraz East.
What Can You See at Alcatraz East Crime Museum?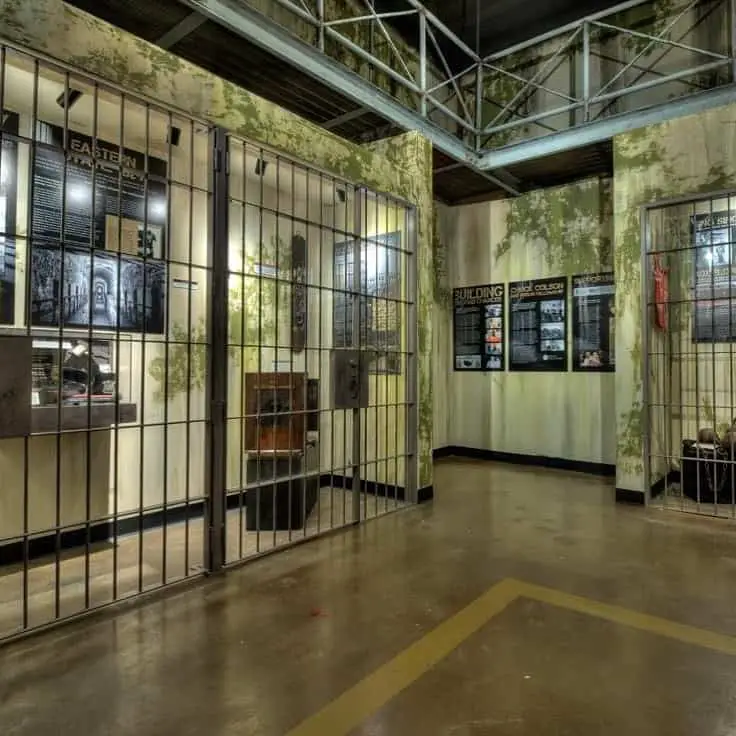 For those fascinated with forensic science, criminal profiles, and the penal system, you won't find this kind of history and artifacts in any other museum.  The museum spans two floors of exhibits with interactive features to explore.
Permanent Exhibits at Alcatraz East
Alcatraz East has an array of permanent exhibits to entertain and engage the sleuth in all of us.  The museum takes you through the history of notorious criminals as well as the law enforcement tactics used to catch them and keep them behind bars.
The History of American Crime Exhibits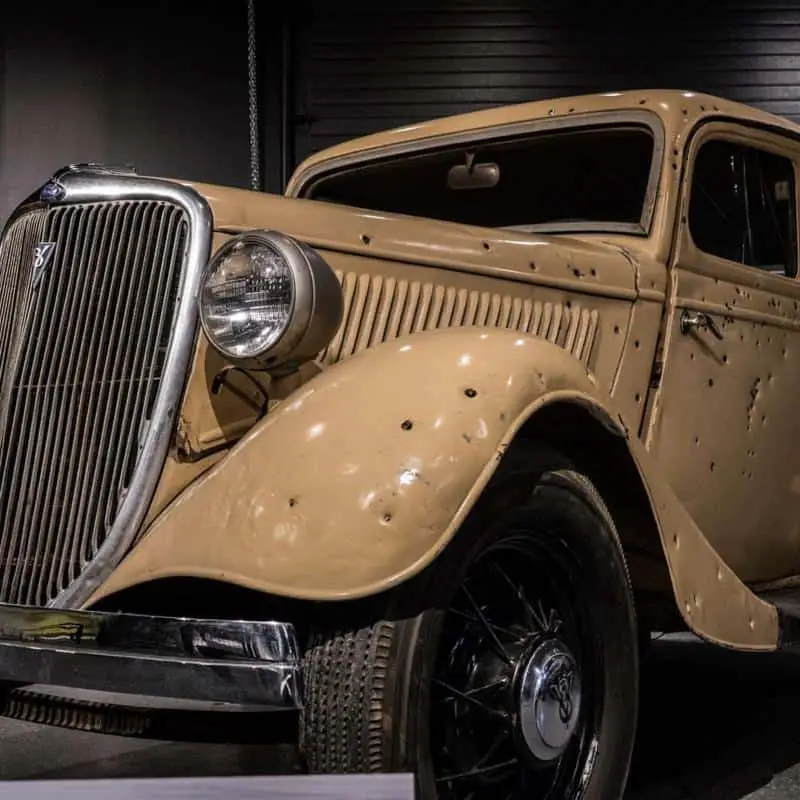 This section of the museum is fascinating! There isn't a notorious criminal in American History that hasn't earned a place in this museum. Dating as far back as pirates at sea to the gunslinging criminals of the Wild West and all the way up to present-day law-breakers, this section has plenty of History to share.
This is the section where you will see OJ Simpson's white getaway Ford Bronco and John Wayne Gacey's clown outfits and artwork from when he was in prison.  The exhibit also covers other historical crimes like The Salem Witch Trials and historical mobsters and gangsters.
The Punishment Fits the Crime Section
This is a series of exhibits that offers a lot of interactivity.  Have you ever wondered what it's like to be in a jail cell? This is your opportunity to acquaint yourself with what it's like to be locked up, take a lie detector test, or have your mugshot taken.  This engaging section of the museum gives you an up-close and personal look into what it's like to get caught on the wrong side of the law.
Crime Scene Investigation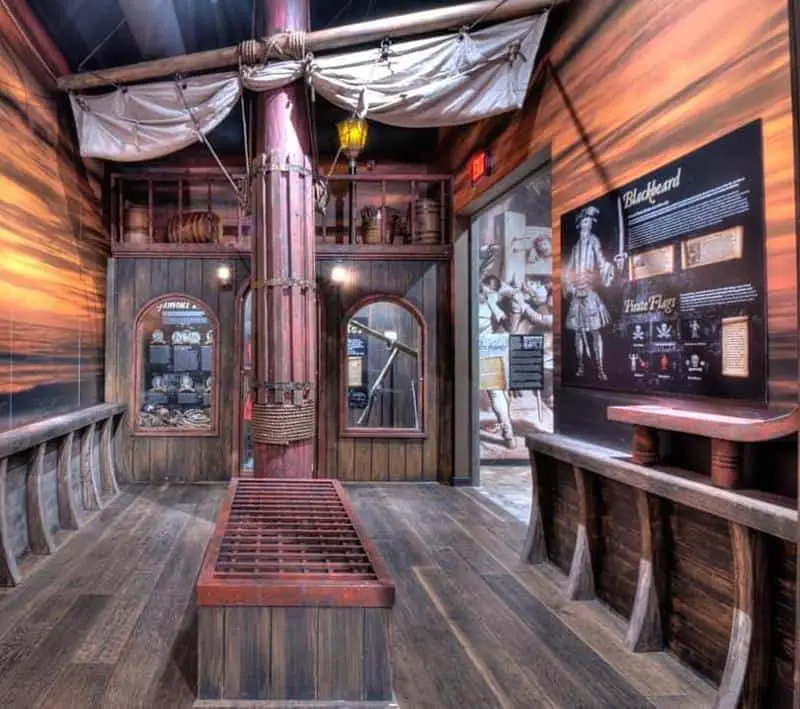 If you find yourself binge-watching Forensic Files or think serial killers are fascinating, this section is right up your alley.  You can even take a forensics class. These exhibits explore the intriguing discipline of forensic science. Things like DNA analysis, fingerprinting, and facial reconstruction are but a few of the investigative methods covered as well as many interactive opportunities.
Crime-fighting Heroes
You can't expect to see the criminals and their habitats without paying respect to the heroes that helped bring them to justice.  This section of the museum includes individuals like distinguished lawmen Eliot Ness and also covers larger agencies like the FBI.
This area of the museum highlights local police officers and other departments that help capture and apprehend criminals as well. It also includes those who work behind the scenes helping solve some of the toughest crimes or continue to pursue so-called cold cases.
Counterfeit Crimes and Pop Culture
From counterfeit money to fake watches, this section covers the gamut when it comes to the illegal sale and trafficking of counterfeit goods.  There is so much engrossing information in this part of the museum, you're guaranteed to learn something new. Here you'll find interesting insights into how the trillion-dollar counterfeit industry affects you, your family, and your community.
Temporary Exhibits
The Alcatraz East Crime Museum has temporary exhibits as well as those that are permanent. These temporary exhibits feature a criminal, an important event, or other categories as it relates to crime and the judicial system.
Right now they have the Tennessee Bureau of Investigation Exhibit and From Car To Incarceration – which details Ted Bundy"s final arrest. The temporary exhibits are included in the price of your ticket and they sometimes partner up with outside organizations, so it's worth checking out.
What Activities Are at the Alcatraz East Museum?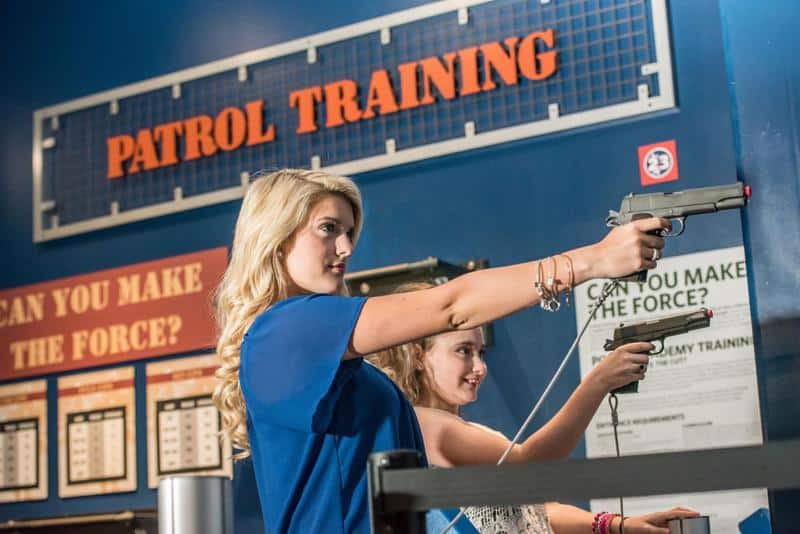 The Alcatraz East Crime Museum is not like your typical "walk around and look at things" museum tour. This is an immersive experience with all kinds of activities to get you through the museum feeling like Agatha Christie or Sherlock Holmes — or Ted Buddy for that matter.
They offer lively activities like "The Heist! – laser tag challenge," and "Prohibition Shootout," if you're up for an immersive experience from that era. You can also join the "Top Detective Challenge" which is a scavenger hunt with questions that give answers to clues throughout the museum.
Kids Activities
Alcatraz East also has a "Junior Detective" program designed especially to keep the younger kids engaged and having fun. These activities include things like trying to crack a safe or participating in a police lineup; kids also have the opportunity to meet McGruff the crime dog and play detective while trying to find Blackbeard's missing medallion.
Jailhouse Junk
If you are wanting a souvenir from your day through the eyes of a serial killer or FBI agent, then you can swing by the museum shop.  They have everything from NCIS T-shirts to coffee mugs adorned with your favorite serial killer. Jailhouse Junk also sells toys, hats, jewelry, and much more!
The museum does sell snacks and drinks, but there's nowhere to get a full meal. Luckily, being that the Alcatraz East Museum is located at the Island,
Pigeon Forge, there are plenty of nearby restaurants you can walk to.
Museum Hours and Pricing
The museum is open daily but it's a good idea to check their website since these hours are subject to change during the holidays and special events as well as seasonally.
 Museum Hours
Sunday – Thursday 10 am to 9 pm
Friday & Saturday 10 am to 10 pm
Museum Prices
There are a few options when it comes to purchasing tickets. Ticket prices will vary depending on whether or not you decide on any add-on activities.
The museum offers discounted tickets to law enforcement and those in the military. To get a ticket at the discount rate you have to buy them when you get to the museum and not online.
You can purchase tickets when you arrive or ahead of time online if you are not getting discounted tickets. Children who are 7 years old and younger can visit the museum for free.  Otherwise, the ticket selections are as follows:
General Admission
This includes admission to the museum and access to over 100 interactive exhibits. 
Adults 13-60 – $26.95
Seniors 61+ – $19.95
Children 8-12 – $14.95
Military/Law– $19.95
Sevier County – $19.95
General Admission with audio tour
This includes admission to the museum and access to over 100 interactive exhibits and an audio tour narrated by Cold Case Files anchorman Bill Curtis.
Adults 13-60 – $31.95
Seniors 61+ – $24.95
Children 8-12 – $19.95
Military/Law– $24.95
Sevier County – $24.95
General Admission including the Detective Challenge
This includes admission to the museum and access to over 100 interactive exhibits as well as the Detective Challenge activity. This activity involves answering questions from clues to try and find a missing artifact.  This is a fun, all-ages activity.
Adults 13-60 – $31.95
Seniors 61+ – $24.95
Children 8-12 – $19.95
Military/Law– $24.95
Sevier County – $24.95
Alcatraz East Crime Museum: FAQs
Is Alcatraz East good for children?
Children of elementary school age and above will get more out of this museum than the younger ones. The programs for the younger kids don't include any mature content or anything scary so this is an option for the entire family.
How long does a museum visit usually take?
Most visitors are in and out of the museum within 2-4 hours.  If you are planning any extra activities it may take longer.
Is Alcatraz East worth it?
Alcatraz East is totally worth visiting! There are over 100 fascinating exhibits as well an array of interactive options for kids and adults alike.
Is the Alcatraz East Crime Museum scary?
There is nothing too scary at the museum but there are some exhibits that are geared toward mature audiences. The kids' programs are designed for younger visitors.
What cars are at the museum?
One of the main museum attractions is the cars. You can have a close encounter with get-always cars like OJ's white Bronco and Ted Bundy's Volkswagen Beetle. Also on display is John Dillinger's 1933 Essex Terraplane, and the car from the 1967 Bonnie and Clyde film.
Are pets allowed at the museum?
Only trained service animals are allowed at the museum.
Also Read:
It's a Crime not to Visit This Place
If you're visiting the Island of Pigeon Forge, the Alcatraz East Crime Museum is the ideal place to include along with your stops. Located in the center of all the action, there are shops and attractions
This museum has fun and interactive exhibits that cater to families and couples alike. Even if you don't know much about serial killers or true crime, here's an opportunity to explore the inner workings in the minds of criminals as well as the masterminds that solve the crimes and bring the bad guys to justice.