There is no shortage of sweet serving ice cream shops in Pigeon Forge, Tennessee. The lovely resort city is located in Sevier County, Tennessee, and is the home to incredible creameries like the Mad Dog creamery and the Old Mill Creamery. You will be surprised how popular these places are, especially during the hot summers.
Pigeon Forge is the home to various attractions that add up to the marvelous creameries in the region. The total land areas are about 13.35 sq mi and are home to the largest Titanic Museum in the whole world. Moreover, it is home to one of Hollywood Wax Museum where you can get to take photos with wax figures of popular people and marvel at the rich Hollywood culture from different ages.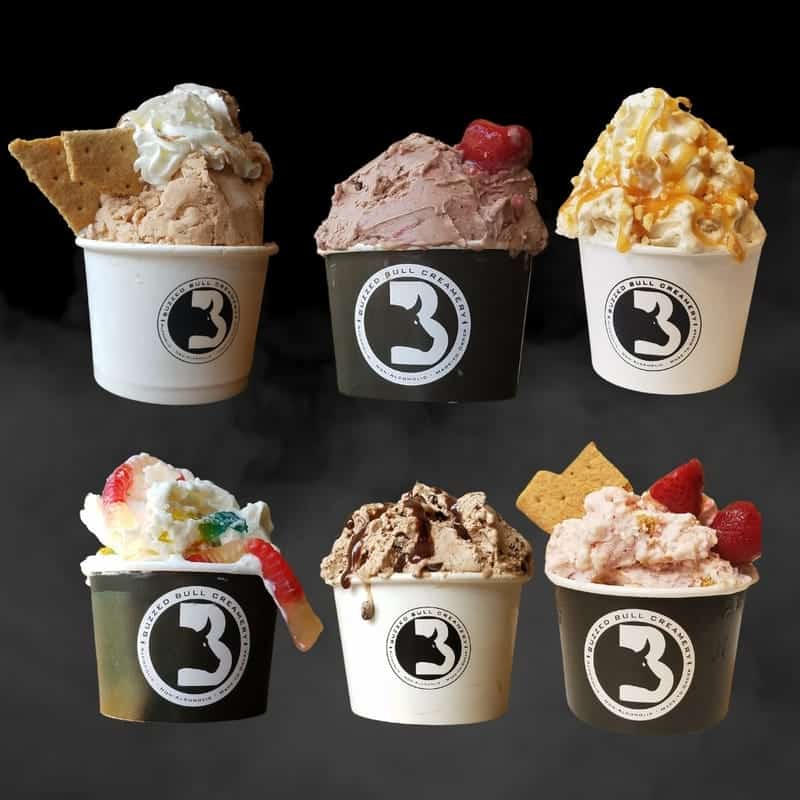 The ice cream attractions are beneficial for the locals looking to quench their savory taste buds and tourists who are getting scorched by the unforgiving summer heat. The options are endless, from hand-dipped options, banana splits, milkshakes, sundaes, and other accompaniments such as house-made waffles.
Best 7 Ice Cream Shops Pigeon Forge
The top 7 Ice cream places in Pigeon Forge are chosen based on their popularity, their wide selections, and convenient locations to attractions and near-certain roads.
1. Curl De La Crème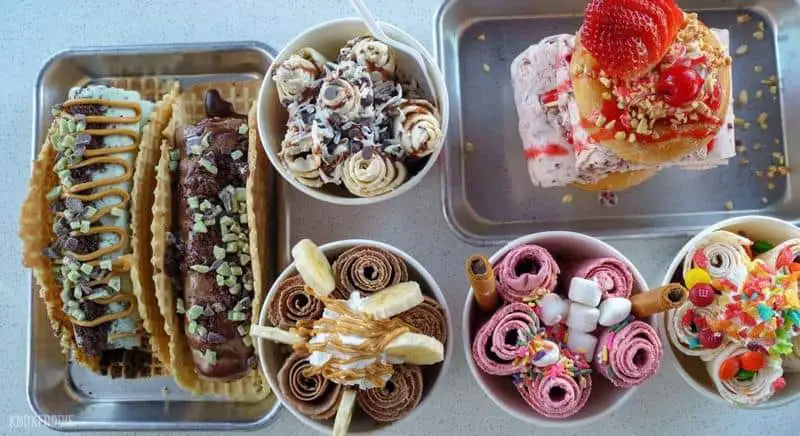 Details:
Address: 2656 Parkway, Suite 6 Pigeon Forge
Website: Curl de la crème
Telephone Number: 865-286-9230
Business hours: Monday to Sunday from 4 pm to 9 pm. Hours will depend on the season.
The first unique advantage of the Curl de la Crème gives you the option to customize your creation. This helps you choose your favorite combos. Moreover, the serves will let you watch them make your favorite ice cream from scratch. Watch as the cream is whipped with your desired items and put into a frozen pan to make the most delicious cream rolls. Finish it up with toppings of your choosing.
The interactive experience adds to the ambiance of the creamery, making it fun for people of all ages. The options are endless, with the first choice being your dessert type, which includes waffle taco, waffle bowl, or Krazy Kremewich, which is two mix-ins with 2 Krispy Kreme doughnuts unlimited toppings.
The base can either be gluten-free chocolate, vegan vanilla, vegan chocolate, plain vanilla, sugar-free vanilla/chocolate/ or mint that is gluten-free. The topping options are also vast, with items like Hazelnut straws, brownie crumbs, Graham Cracker crumbs, caramel sauce, Heath toffee crumbs, vanilla wafers, and fruity pebbles that are either vegan or gluten-free.
What customers say:
"Curl de la Crème is delicious. Watch as you wait for your treatment to be made before your very eyes. You pick everything from the cream, what's in it and what's on it after it's completed. Simply put, it's like being at your favorite hibachi, but they're whipping up ice cream instead of stir fry, and it's quite a treat!" – Cliff J, Yelp Review.
"Curl de la Creme is probably one of the best in town, and the mint ice cream was the flavor I had. The one drawback was the cost of the ice cream as a normal size bowl was around $9 a cup. For me, the quality didn't meet the price paid. If this was some of the best I've ever had, I'd gladly pay that price at a vacation destination." Matt Martin, TripAdvisor Review.
2. Mad Dog's Creamery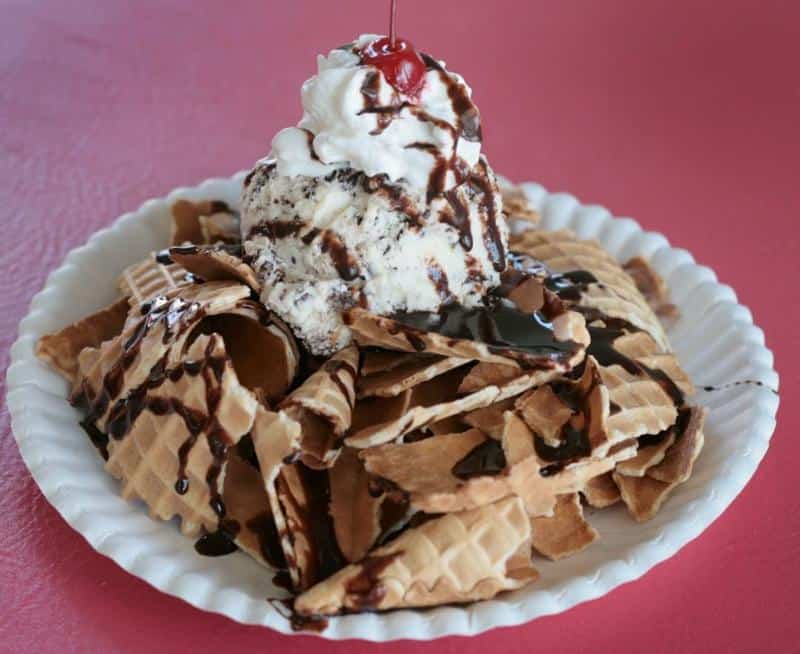 Details:
Address: 3048 Parkway, Pigeon Forge
Website: Mad Dog
Telephone Number: 865-774-5558
Business hours: Friday from 2 pm to 9 pm and weekends from 12 pm to 9 pm
Mad Dog's Creamery is where you want to be to let out your sweet inner tooth. The establishment consists of a sweet shop and an ice cream place that also serves donuts. What more would you wish for.
The items include hand-dipped premium ice cream, milkshakes, sundaes, soft serve, and banana splits. They also serve the best funnel cakes you can hope to find in Pigeon Forge. There are over 24 different ice cream flavors to give you that sugar rush.
Some include vanilla, chocolate, strawberry, sea salt caramel cheesecake, black walnuts, rainbow sherbet, strawberry cheesecakes, Columbian café, super cow, peach, yellow brick road, orange pineapples, caramel pies, chocolate chip cookie dough, butter pecan, and moose tracks.
What customers say:
"If you like funnel cakes, ice cream or cotton candy this is the place to go. The funnel cakes are the best anywhere. Worth the trip." Winter, TripAdvisor Review.
"Good ice cream at reasonable price. Sugar free available. Family has been here MANY times and have not had a bad experience." – Inspire, TripAdvisor review.
"The combination of ice cream and donuts was really amazing. There were a lot of ice cream flavors and donut varieties to choose from." – Nikki D, Yelp Review.
3. Old Mill Creamery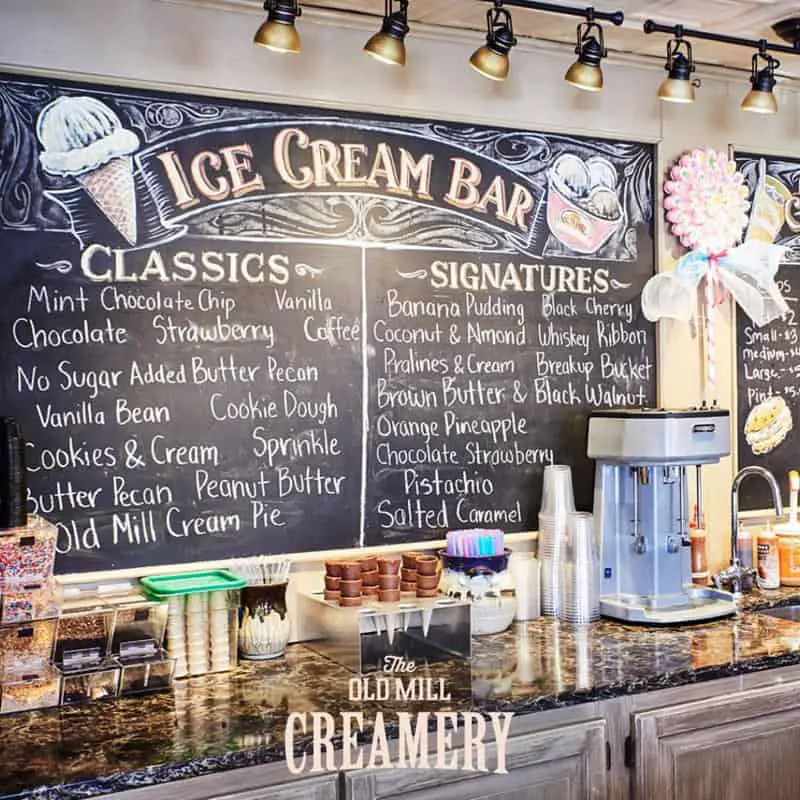 Details:
Address: 171 Old Mill Avenue, Pigeon Forge
Website: Old Mill Creamery
Telephone Number: 865-453-4301
Business hours: Sunday to Thursday from 11 am to 4 pm, and Friday to Saturday from 11 am to 6 pm.
Old Mill Creamery is a traditional American Ice cream and frozen yogurt place that serves classic and traditional ice cream flavors. Old Mill Creameries also serve desserts as well as ice cream sandwiches. The ingredients partly come from the local Lafayette Farm, The Old Mill, Old Mindy Candy Kitchen, and the Old Forger distillery.
Classic menu items include sweet vanilla, peanut butter, black lantern chocolate, mint chocolate chip, rocky road, smoky mountain strawberry, cookies-n-cream chocolate, chip cookie dough, southern butter pecan, and no sugar added vanilla.
Signature options include oat mill cream pie, the gristmill toffee grind, whiskey ribbon, salted caramel candy, pecan pie swinging, brown butter, black walnut, and the breakup bucket.
What customers say:
"Nice homemade ice cream. The Whiskey ribbon is a treat with bites of caramel and walnuts. I loved the dark chocolate raspberry as well. Not bad prices and a good selection. But every scoop seemed very runny and a bit melted, only complaint. Over all yummy fun!" – Jason S, Yelp review.
"What a great spot! The staff was very friendly and welcoming…they allowed us to take our time and were patient, allowing us to sample several flavors. The shop is near the mill and has seating outside to sit and enjoy your ice cream. The shop is ADA friendly with easy access for those with wheelchairs." – Champion Travel, TripAdvisor Review.
4. Buzzed Bull Creamery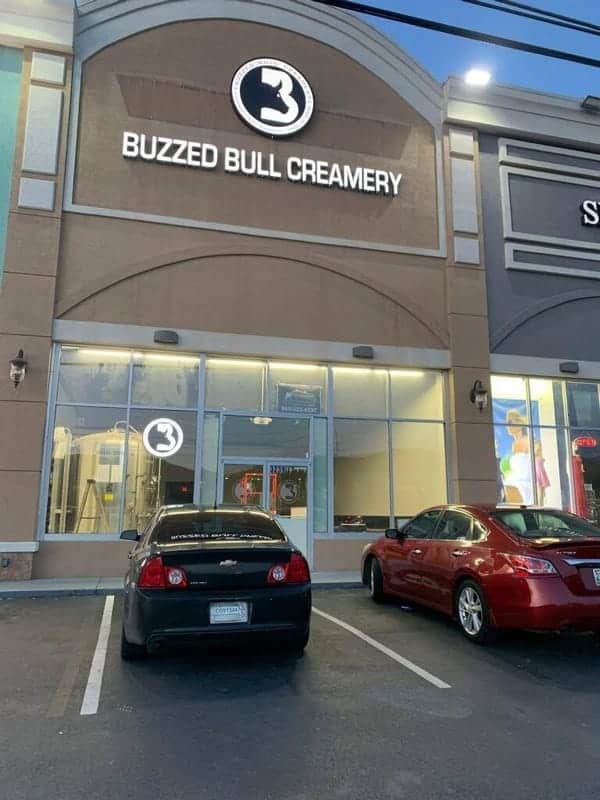 Details:
Address: 3239 Parkway Suite 6, Pigeon Forge
Website: Buzzed Bull Creamery
Telephone Number: 865-286-5775
Buzzed is another unique ice cream establishment in Pigeon Forge. It is the perfect place for adults who want to mix their love of ice cream with a little bit of alcohol for that quick buzz, hence the name, Buzzed. As per their projections, the company suggests that the market reports predict alcohol-infused ice cream will be the next big thing. The projections suggest over $2.5 billion over the next four years in the United States.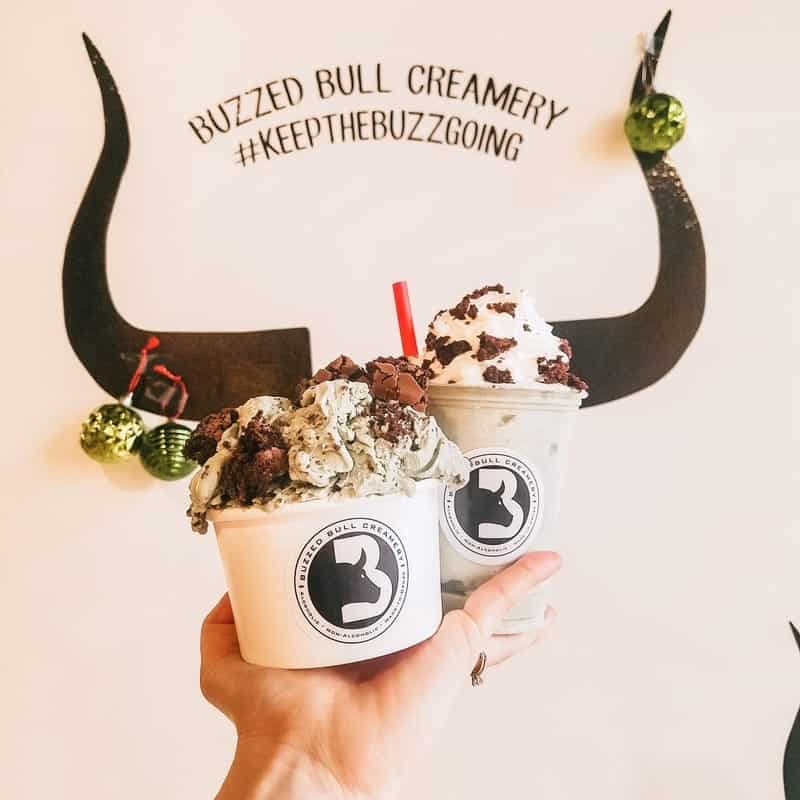 One can only imagine how incredible the industry will become in the coming years. The combination of a light buzz and the sugar high is perhaps the most ingenious idea that any sugar and alcohol fun has ever come up with.
The menu consists of items like the death by chocolate which comes with a suggested buzz of chocolate vodka in combination with brownies, chocolate chips, and chocolate sauce on top. Another fan favorite is the specialty ice cream that comes with one small shot or a regular 1.5 shots of your alcohol favorite.
Even the banana splits come with a suggested buzz of cherry vodka. Another item is the tiger stripes, including chocolate, peanut butter, and peanut butter sauce on top of spiced rum.
What customers say:
"A unique experience, the ice creams are made to order in minutes. We bought a strawberry shortcake milkshake and a custom-made vanilla with nuts scoop. Shiv, the proprietor went over the menu and helped us choose the best tasting milkshake. We just loved the experience; we highly recommend if you're in the area." Akash, Yelp Review.
"Very friendly and helpful with any questions. The buzzed milkshake was a great treat. Here on vacation or would be someplace I would visit again." – Carl, TripAdvisor Review.
5. Kountry Kreamery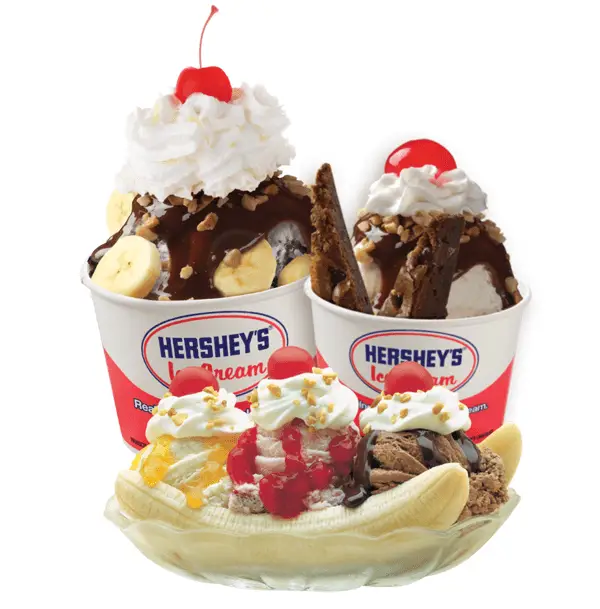 Details:
Address: 2430 Teaster Ln, Suite 109, Pigeon Forge
Telephone Number: 865-774-8008
Business hours: Sunday to Thursday from 12 pm to pm
Kountry Kreamery is an ice cream shop owned by Jeremy, the only employer, and employee at the establishment. He has set up a lovely shop with lots of ice cream flavors over 32), most of which are tailored for the kids.
The seating area is not utilized since he works alone and can't manage the counter and sitting area. However, he does make up for it by offering free samples to all the customers getting taken out. Some of his favorite offerings include the apple pie made with granny smith apples.
What customers say:
"They have their fall flavors (pumpkin, and apple pie) The owner gave us a sample of the apple pie with green apple balsamic and let me just say. It was incredible. It was just like eating an apple pie made with granny smith apples. I got 2 scoops and my wife got a pumpkin pie milkshake topped with whipped cream and a sprinkle of cinnamon and nutmeg. This place outdoes any other place we have ever been to." – David, TripAdvisor Review.
"Kountry Kreamery is one of my son's favorite old fashion ice cream parlors that serves over 30 flavors of Hershey's hand dip ice cream. A birthday wouldn't be complete without eating your favorite ice cream and waffle cone." – Dionne F, Yelp Review.
6. Marble Slab Creamery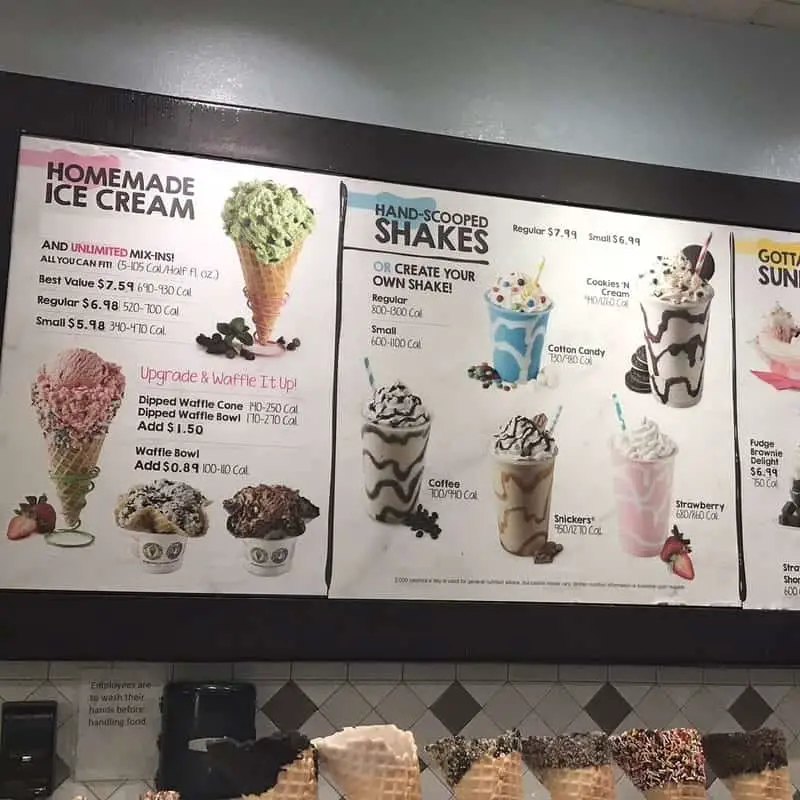 Details:
Address: 2485 Parkway Suite 2, Pigeon Forge
Website: Marble Slab
Telephone Number: 865-453-6824
Business hours: Monday to Thursday from 1 pm to 10 pm, Friday from 1 pm to 11 pm, and Weekends from 12 pm to 10 pm.
Marble Slab features an outdoor seating area, available parking, and wheelchair-accessible pathways. You have the option of dining in, taking out, or ordering for delivery. One of their main items is the hand-scooped shakes that cost $7.59.
The create your shake offers you to pick your flavor of ice cream and toppings. However, you may opt for the menu specials like the cookies and cream milkshake that comes with vanilla ice cream with Oreos blended in with chocolate syrup. It has whipped cream on top. Other items include strawberry milkshake and coffee milkshake with ice cream.
What customers say:
"Amazing place! Very busy, though extremely fast service. Delicious ice cream flavors with plenty of toppings to add." -Spencer, Yelp Review.
"Stopped here for a cool treat after dinner. We ordered different shakes and ice cream. All were excellent. They seem a bit short-staffed (like everyone one else, currently), so it was a bit of a wait, but worth it." – Steven, TripAdvisor Review.
7. Baskin Robbins Ice Cream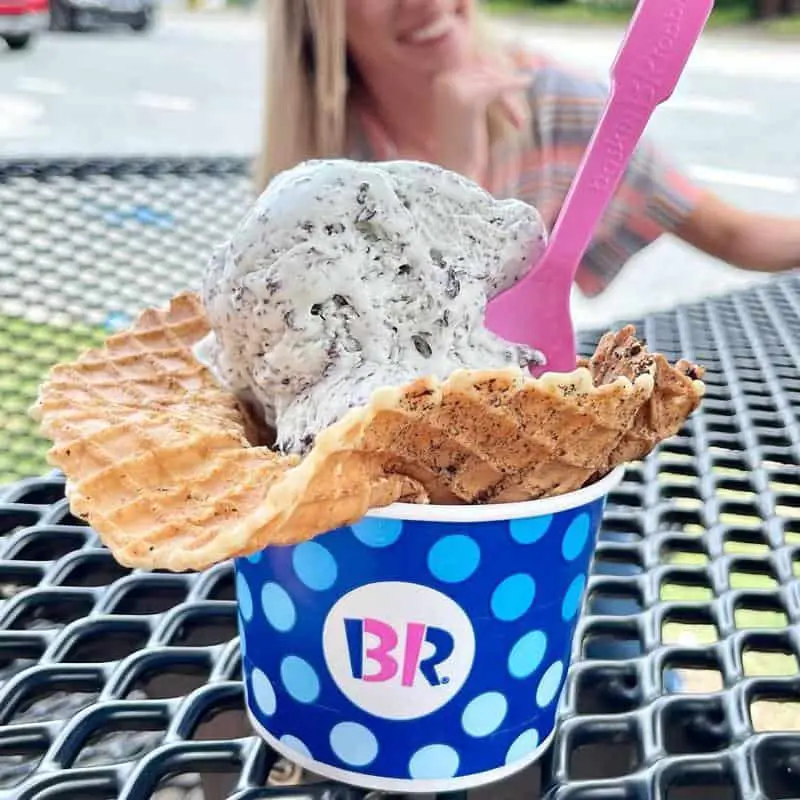 Details:
Address: 3668 Parkway, Highway 441, Pigeon Forge
Website: Baskin Robbins
Telephone Number: 865-453-3337
Baskin Robbins is not only an ice cream fan favorite but also a controversial place to be, considering it gets lots of good reviews on its flavors but less so on the service. However, this depends on the establishment's location. Some of the famed flavors include the no sugar added caramel turtle truffle, the baseball nut, cherries jubilee, and chocolate chip cookies dough.
Once you have finished exploring the Smoky Mountains, this is the place to be. The 31 flavors will leave you wanting more and taking more scoops nonstop.
What customers say:
"Very helpful server. Answered all my questions and made substitution as needed. Had Banana Royale, It is like a banana split in a cup. Little pricey." – Debra, TripAdvisor Review.
"Service: 5 stars: it was a gentleman that helped us, he was very friendly. Once he saw I was torn between 2 flavors and only wanted 1 scoop he recommended his favorite flavor. He gave me samples and came across as he enjoyed his job. There was also a lady working with him who was also very friendly." – Lynx, yelp Review.
Also Read: 10 Best Restaurants in Pigeon Forge