Pigeon Forge is known as the Center of Fun in The Smokies for its extensive list of fun activities and places, like the best pizza places. The resort town is home to the Great Smoky Mountains and attracts thousands of visitors each month including vacationing families.
What better way to unwind from your day of exploration and fun activities than with a good slice of pizza, or a whole box of pizza. You will not run short of pizzerias in Pigeon Forge, Tennessee. There are a lot of options including country-wide fast-food chains and family-owned businesses that will serve you savory pizzas, even late into the night.
We will take a look at the best pizza places you can visit in Pigeon Forge and help you get a clear idea of what is the best pick. Keep in mind that you may find some amazing sports that are out of Pigeon Forge but close enough to provide you with an amazing slice.
Best Pizza Restaurants in Pigeon Forge
1. Mellow Mushroom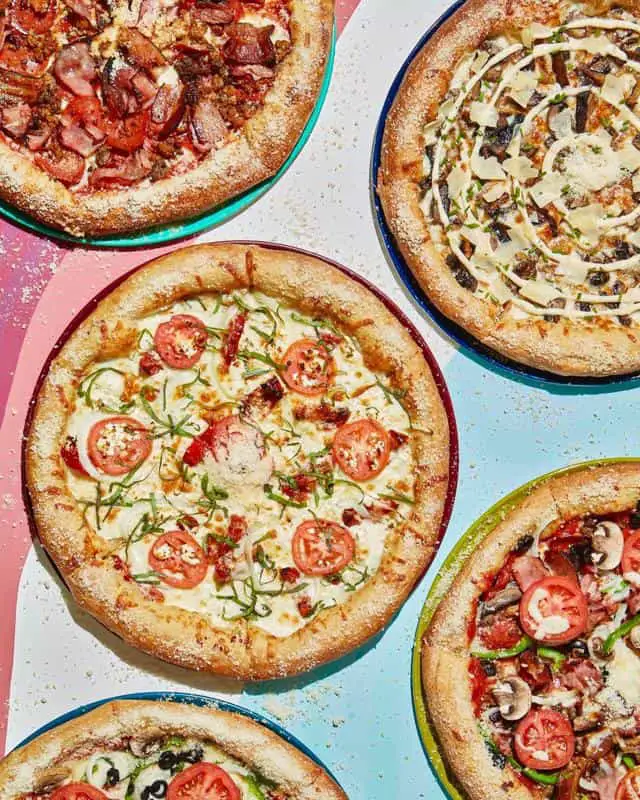 Details:
Address: 2485 Parkway, Pigeon Forge, TN 37863 and at The Island 131 The Island Drive, Suite 3101, Pigeon Forger, TN 37863
Telephone number: 865-286-2229
Business Hours: Monday to Saturday from 11 am to 10 pm and Sunday from 11 am to 10 pm
At Mellow Mushroom, you can create your pizza by choosing a cheese option and adding on top one of the 30 amazing toppings they offer. There are traditional flavors and new modern twists that will make your pizza as tasty and spicy as you want. You won't lack a good selection of specialty pizza at Mellow Mushroom with options like the House Special with applewood smoked bacon.
Mellow Mushroom has two locations in Pigeon Forge one at The Island and another at 2485 Parkway. Each of the establishments features a similar menu that comprises lots of options from burgers to vegan, to sweets, to magic mocktails, to liquid karma cocktails, to greens and stone-baked pizzas.
Apart from the famous House Special, you will get other signature pizzas like the Kosmic Karma. The Kosmic Karma comes with a Mellow red sauce base with feta cheese, spinach, mozzarella, sun-dried roasted tomatoes, and Roma tomatoes. All of this is topped with a pesto swirl and comes in small, medium as well as a large sizes.
There are vegan options too like the Veg Out that comes with Mellow red sauce base with spinach, mozzarella, green peppers, mushrooms, onions, black olives, and tomatoes. Other pizza offerings include the Wild In Havana which will take you for a ride with its Cuban-inspired marinated pork and Buffalo chicken that is served with a swirl of your choice of bleu cheese or ranch dressing.
2. Big Daddy's Pizzeria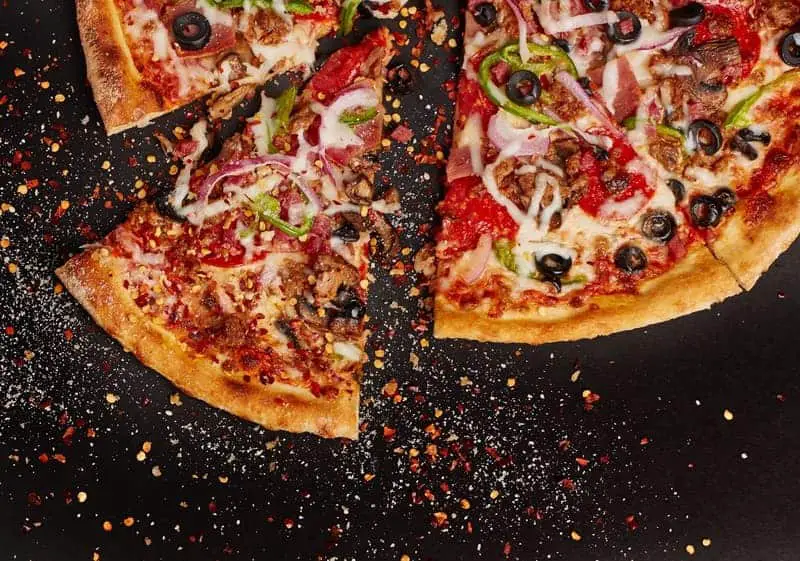 Details:
Address: 3053 Parkway Pigeon Forge, TN 37863
Telephone number: 865-429-7171
Business Hours: Monday to Sunday from 11 am to 9 pm except on Wednesday when it is closed
Big Daddy's Pizzeria has one of its locations in Pigeon Forge where they use their one-of-a-kind brick oven to cook the best pizzas in Pigeon Forge. The oven operates at 550 degrees Fahrenheit and features w wood-fired flame.
The pizzas are unique with the use of Big Daddy's homemade sauces and fresh farm ingredients. The handcrafted dough also adds to the world-class nature of the pizzas at this pizzeria. In 2021, Big Daddy's Pizzeria won the 2021 Traveler's Choice Award from TripAdvisor as the best pizza place in the whole of Pigeon Forge. In doubt? Check out their menu.
The Big Daddy menu recently introduced low-carb pizzas that help those on keto-based and low-carb diets to lose weight. One of these offerings is the Sausage Crust Pizza. It comes with a choice of any 10-inch pizza from the menu which will then be made low carb. The pizza is then adjusted with Big Daddy's new sausage crust which will cost you just $5.99 for a full pound of sausage with no flour.
The pizza cuisines include the classics like the simple Boo Bo Bomber which is just a delicious pepperoni pizza for just $9.99. Another classic is the Cheese Pizza that lacks toppings. If the classics are not up to your speed, then select the Smoky Mountain Cheesesteak specialty that comes with an Alfredo base, mozzarella, provolone cheese, green peppers, shaved steak, and onions.
3. Smoky Mountains Brewery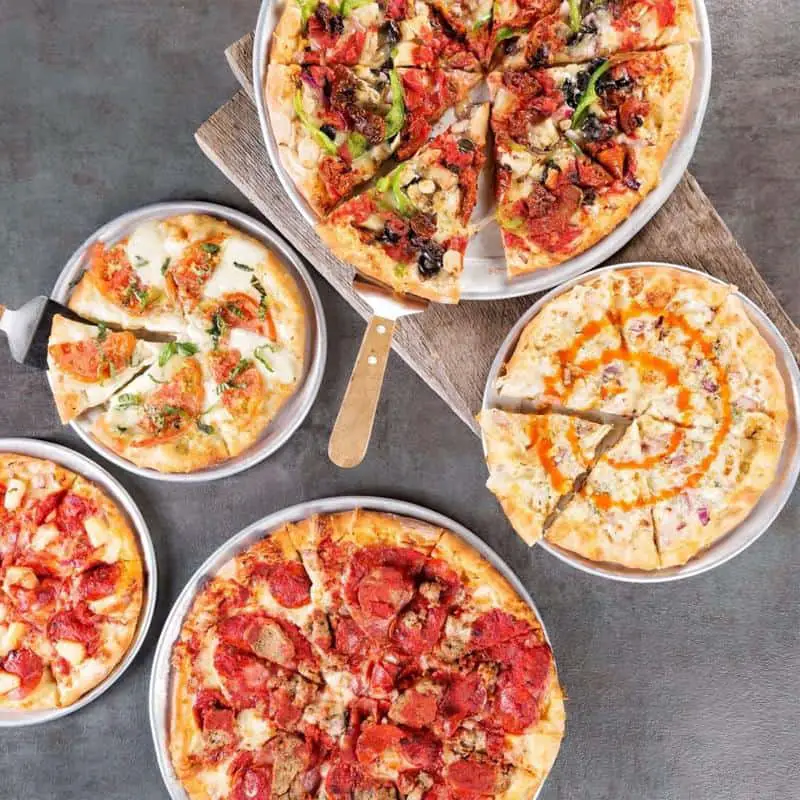 Details:
Address: 2530 Parkway Ste 15, Pigeon Forge, TN 37863
Telephone number: 865-868-1400
Business Hours: Monday to Sunday from 11 am to 12 am
A brewery is the last place you would think to go for a pizza but you are in for a surprise with the Smoky Mountains Brewery. Unlike other pizza places on our list, Smoky Mountains Brewery is open till 12 am the next day and has more options than just pizzas.
The Smoky Mountains Brewery is located in Lumberjack square where you get to see a state-of-the-art microbrewery that is tranquil from the excitement of the resort town. You will see the establishment between traffic lights 3 and 2B at Wears Valley Intersection.
The entertainment venue is popular among the locals with its 20 plus television screens that make for a great game night and an accompaniment of a few beers. There are hand-tossed pizzas on the menu including personal, regular, and large offerings. You will get to top the pizzas with fresh toppings like pepperoni, ham, bacon, roasted chicken, garlic roasted tomatoes, mushrooms, meatballs, and even ground beef.
4. Marco's Pizza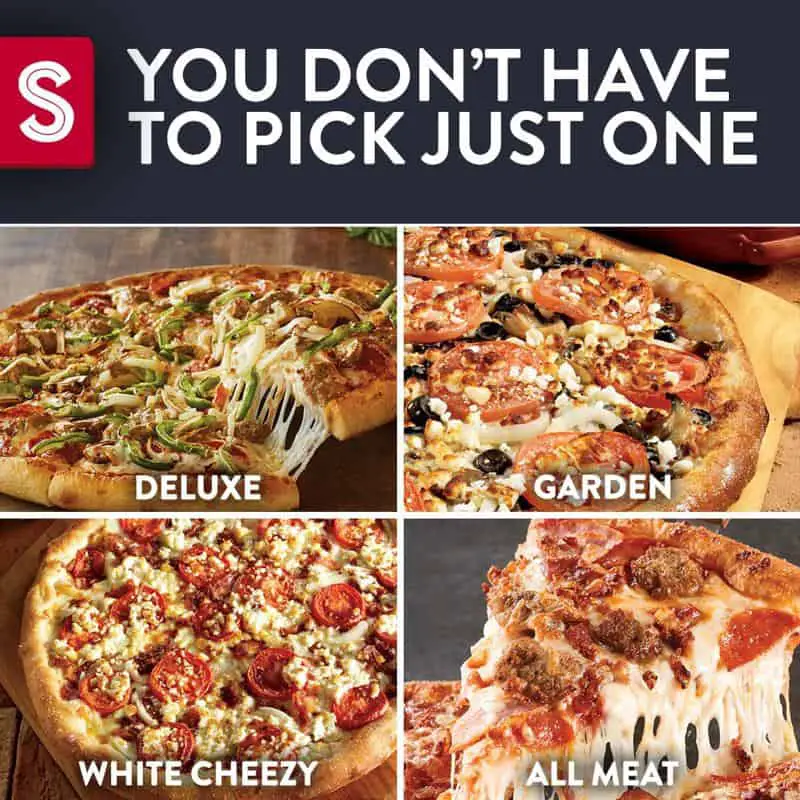 Details:
Address: 2656 Parkways Ste 1 Pigeon Forge TN 37863
Telephone number: 865-277-6361
Business Hours: 11 am to 10 pm from Sunday to Thursday and Friday/Saturday from 11 am to 11 pm
Marcos's new Zesty 5 Cheese Pizza is one of the popular offerings at this location that comes with toppings of cheddar, shaved parmesan, and three cheese blends. It is flavored with signature sauces, garlic butter, special Romesan seasoning as well as oregano.
You have the famed build your pizza option that lets you get your style of pizza for less than $10. You can choose to make the pizza original, crispy thin, thick, or lite. Specialty pizza at Marco's Pizza in Pigeon Forge includes the Chicken Fresco Pizza that comes with grilled chicken, onions, bacon, sliced tomatoes, original sauce, three signature kinds of cheese, and cheddar, all for $13.99.
5. Geno's Pizza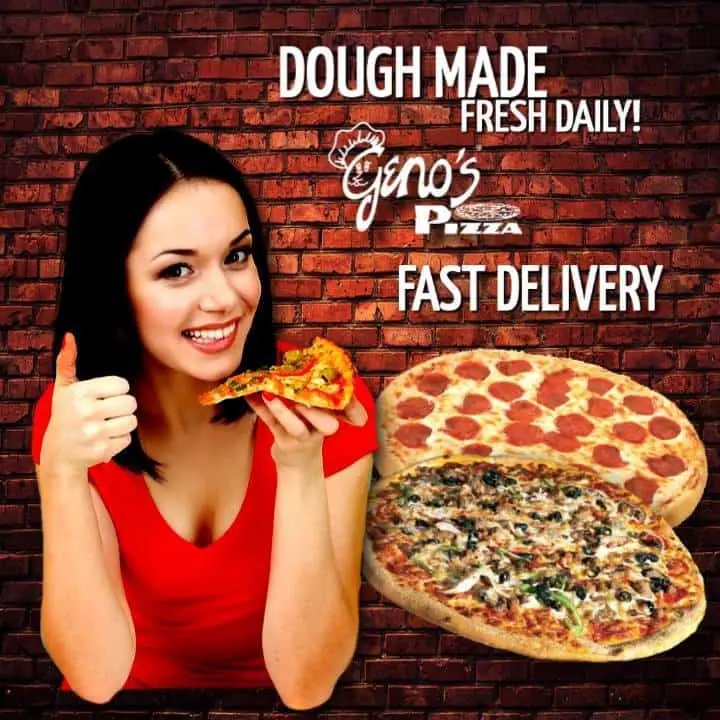 Details:
Address: 2631 Parkway Ste 3, Pigeon Forge, TN 37863
Telephone number: 865-428-2496
Business Hours: Sunday to Thursday from 11 am to 1 am and Friday/Saturday from 11 am to 3 am the next day
Geno's Pizza was opened in 1984, more than 30 years ago in towns like Kodak, Gatlinburg, and Pigeon Forge. The pizza place has made its name as a pillar and staple of the community that it is the go-to recommendation for those who want to support local businesses.
Geno sources fresh ingredients from locally owned and operated sectors of the town and offers both dine-in and delivery services around Pigeon Forge. The pizzas are made exactly how you want them, whether it is with cheese alone, or with fresh toppings like pepperoni, Italian sausage, and banana peppers.
The specialty pizzas at Geno's Plaza include Geno's special that comes with beef, pepperoni, sausage, mushrooms, onions, green peppers, and black olives. You also have the BBQ chicken and Bacon that features all-white chicken with bacon toppings and zesty BBQ sauce.
Also Read: Best Italian Restaurants in Gatlinburg & Pigeon Forge
6. Johnny Carino's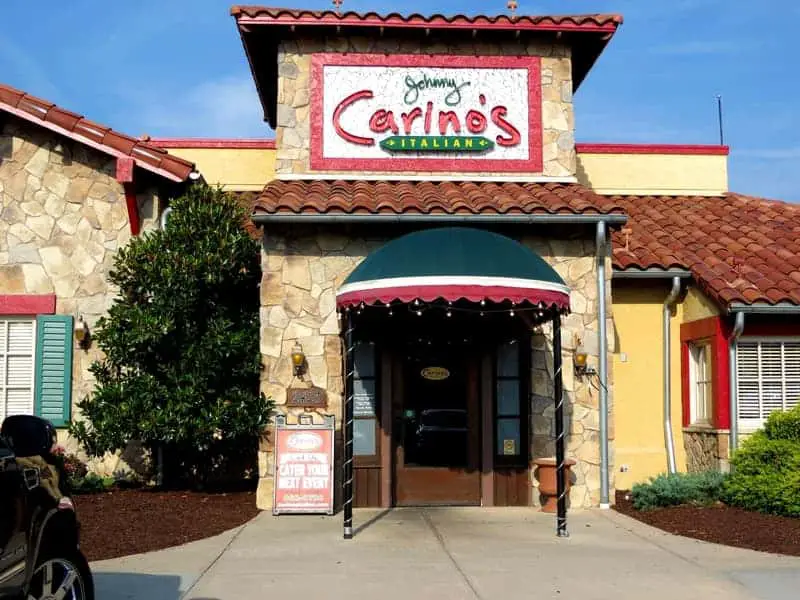 Details:
Address: 2525 Parkway Pigeon Forge TN 37863
Telephone number: 865-868-0790
Business Hours: Sunday to Thursday from 11 am to 9 pm and Friday/Saturday from 11 am to 10 pm
Johnny Carino's does try to do more than is necessary to fulfill your pizza cravings. They offer you the best of Italian foods including specialty pizzas and pies that will leave you wanting more. The eclectic establishment in Pigeon Forge has been in operation for more than two decades and has made a name for itself.
This is where you want to go in Pigeon Forge to enjoy Italian delicacies like Lasagna, Spicy Shrimp & Chicken, and Family Platters. Dive into appetizers like the Italian nachos that come with crispy pasta chips, pepperoncini, Roma tomatoes, jalapenos, Alfredo sauce, mozzarella, and Parmesan.
Johnny Carino's at Pigeon Forge offers you handcrafted pizzas that are made of house-made dough and cooked perfectly in their signature pizza oven. Some of their options include the Three-Meat Combo that comes with pepperoni, ham, sausage, Mozzarella, Provolone, and Parmesan for just $13.99 per six slices.
Top Pizza Places near Pigeon Forge, TN
7. Squisito Too
Details:
Address: 1645 Parkway Ste 25 Sevierville, TN 37862
Telephone number: 865-446-2317
Business Hours: Monday to Sunday from 11 am to 9 pm
Squisito at Sevierville near Pigeon Forge serves Italian cuisines as well as pasta, pizzas, sandwiches, and seafood. Visit the location for your lunch and dinner meals to get treated to exciting flavors and specialty pizzas.
You won't run out of options since the menu is made of many items including a kid's menu that comes with pasta alfredo, pasta and meatball options, grilled veggies, and kids' salads with chicken. You can also get desserts like chocolate chip cookies for just $1.99 and cannoli for $3.49.
Weekly specials at Squisito include pizza Mondays where you can get to buy one cheese pizza and get the second one at a whopping 50% off prices. There is also pasta Tuesdays where you can buy one pasta bowl and get the second one at a similar 50% off the price.
Pizza offerings at Squisito include items like the Grandma Pizza that comes with shredded and fresh mozzarella, provolone parmesan, garlic, basil, and red sauce. You will also see the Meat Lovers pizza that has bacon, ham, pepperoni, sausage, red sauce, and mozzarella.
8. Papa Leone's Pizzeria
Details:
Address: 1440 Upper Middle Creek Road, Ste 207, Sevierville TN 37876
Telephone number: 865-365-1615
Business Hours: Wednesday/Thursday from 4 pm to 9 pm, Friday/Saturday from 4 pm to 10 pm, and Sunday from 2 pm to pm
Papa Leone's Pizzeria offers a variety of pizza options including the specialty Meat Eater pizza that has pepperoni, cheese, sausage, ground beef, ham, and bacon for just $19.99.
Other specialty offerings are including the Cabin Fever with ground beef and pepperoni and the signature Supreme Pizza with bacon, mushrooms, pepperoni & banana peppers. Build-your-own pizza options come in 14 inch and 18-inch sizes.
Also Read: 10 Best Restaurants in Pigeon Forge
Final Thoughts
You will not miss a great outlet for pizza in Pigeon Forge. Our list only scratches the surface. Pick the Smoky Mountains Brewery if you are looking for a late-night snack and more entertainment options. It is a beloved destination for both locals and tourists where you will get to meet great people as you feast on a delicious hand-tossed pizza.