Great restaurants in Gatlinburg and Pigeon Forge offer about any type of Italian cuisine you can think of! If you crave Italian food while visiting the Smokies, you'll be happy to know that these areas have various Italian restaurants to pick from!
Classics including spaghetti and meatballs or maybe something new like chicken marsala are both excellent choices. You should also visit a few establishments that serve great pizza!
Nothing like a hearty Italian dish for pleasure! The following are the best 10 Italian restaurants in Gatlinburg and pigeon forge that you should visit:
Italian Restaurant Gatlinburg & Pigeon Forge
1. Best Italian Café & Pizzeria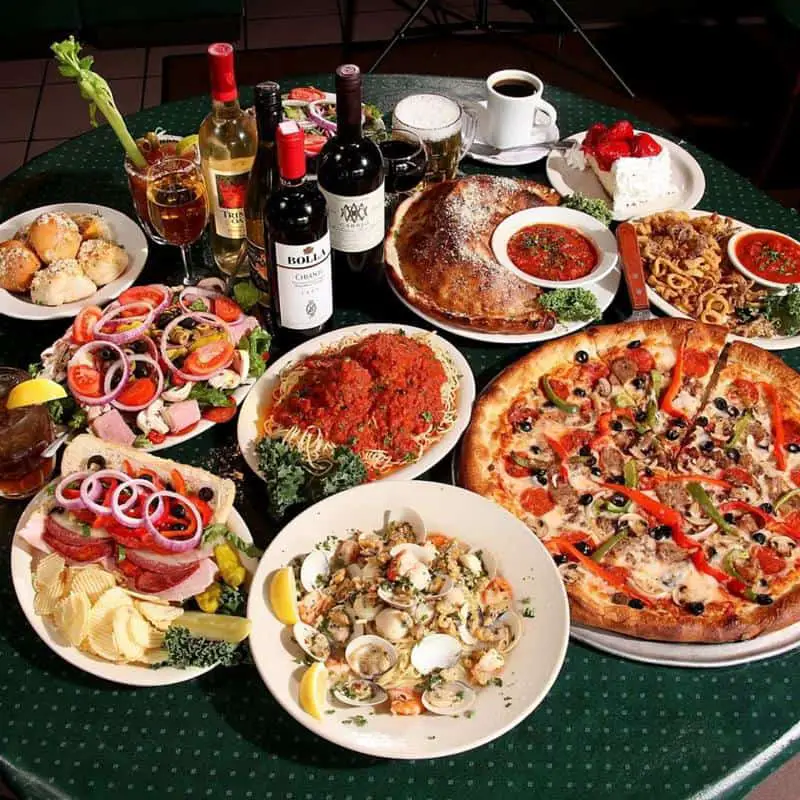 Location: (Two locations) 968 Parkway Suite 9, /710 Parkway, Gatlinburg, TN 37738
Opening hours: Monday – Thursday (11am – 9pm) Friday – Saturday (11am – 10pm) Sunday (11am – 9pm)
For almost 40 years, Gatlinburg's Best Italian has been delighting visitors and residents alike. When a restaurant promises to be the best, they better be able to back it up with hearty meals. The self-proclaimed title of "Best Italian Restaurant" is well deserved!
This famed eatery is known for its enormous quantities and delectable garlic rolls dripping with parmesan and butter cheese. Stuffed shells, spaghetti, and meatballs are all great options.
You can just get chicken parmesan and marsala if you wish to eat chicken. Do you enjoy seafood? A seafood mixture with shrimp, scallops, and clams is a must-try in this eatery. The gigantic calzones, meat, pizzas, and Chicken Florentine are among the other menu specialties.
Menu: Calamari, Meatballs Parmigiana, Fried Cheese Ravioli, Buffalo Wings, New York Style Thin Crust, Spaghetti Marinara, Ham, Salami, Pepperoni, And Kalamata Olives
2. New York Pizza and Pasta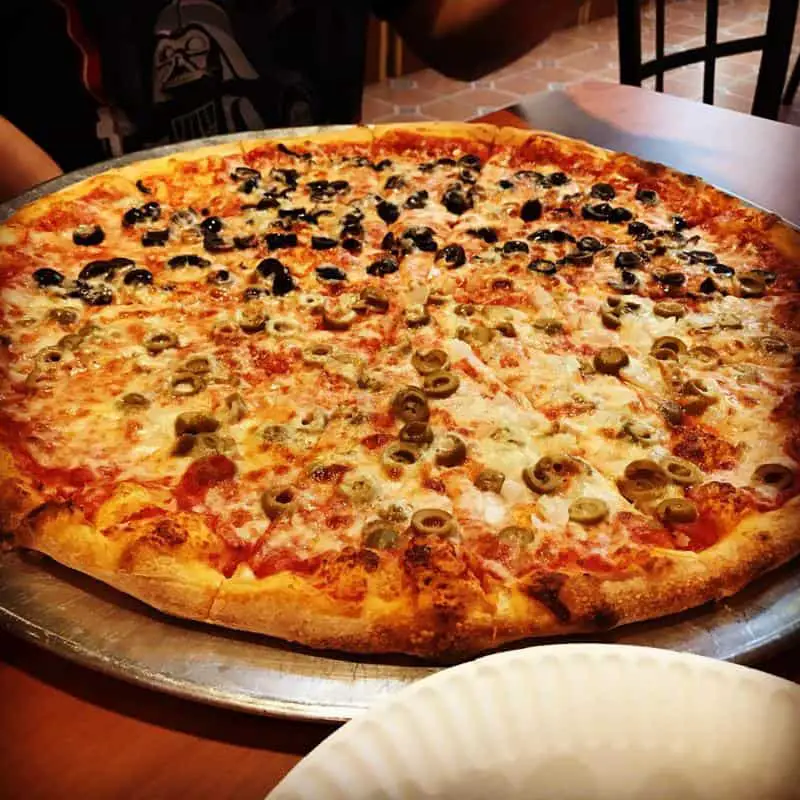 Location: 611 Parkway Gatlinburg, TN, US 37738
Opening hours: Monday – Sunday (10:00 AM – 10:00 PM)
If you really like thin crust pizza, you'll love New York Pizza & Pasta! This no-frills eatery is nestled in Gatlinburg's Mountain Mall, so you can go shopping and, after that, stop in for a tasty, nice meal!
Since the pizza slices are so huge, you'll have plenty of leftovers. Traditional Italian cuisine such as chicken parmesan and baked spaghetti is also available, and nothing goes better with them than an ice-cold beer.
Menu: Pizza, baked spaghetti, and chicken parmesan
3. Nino's Pizzeria & Eatery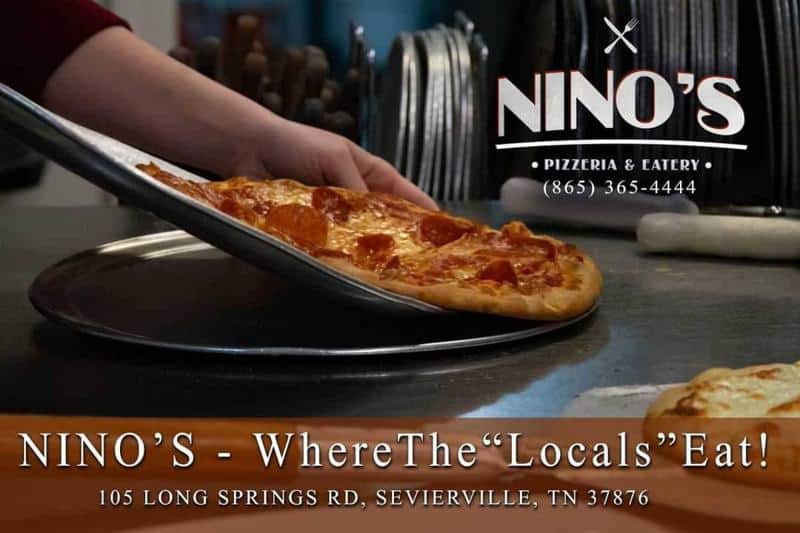 Location: 105 Long Springs Rd, Sevierville, TN, United States
Opening hours: Tuesday – Thursday (11 AM – 8 PM), Friday – Saturday (11 AM – 9 PM) (CLOSED Sunday & Monday)
Nino's Pizzeria & Eatery never fails to impress! This modest eatery tucked away off the main route has a devoted following thanks to its superb thin crust pizza.
You can't go wrong with Nino's Pizzeria & Eatery when it regards thin crust pizza! The Nino's White Pizza is a must-try if you've never been there before.
They are the white pizza specialists, comprising a thin layer of ricotta cheese, provolone, romano cheese, and mozzarella. Meatballs, baked ravioli, linguine with clam sauce, and chocolate cake are among Nino's other Italian favorites.
Menu: Grilled Chicken Salad, Fried Calamari, Cornerstone Supreme, Antipasto, Chicken Parmesan, Spaghetti, Meatballs, Cheesy Bread, Margarita Pizza, and White Pizza
4. Taste of Italy
Location: 1235 E Parkway, Gatlinburg, TN 37738
Opening hours: Tuesday (11:30 AM – 21:00 PM) Wednesday (11:00 AM – 20:30 PM) Thursday – Saturday (11:30 AM – 8:30 PM) Sunday (12:00 PM – 19:30 PM) Monday: CLOSED
Taste of Italy is indeed the place to go if you're searching for real Italian cuisine. It's right off the East Parkway, Gatlinburg, so it's close to all fun. This restaurant is usually regarded as a magical place in the Smokies.
For lunch, they generally provide a range of specials, most of which are less than $10! Try the artichoke hearts, antipasto salad with olives, capicola, salami, marinated mushrooms, and much more for a light meal.
This establishment is one of the greatest because of its excellent services and cuisine and the competitive rates. Although they do not sell wine, you can bring your own. For no additional charges, the kind staff will even uncork and pour it!
Menu: Capicola, Olive Salads, Salami, Artichoke Hearts, and Marinated Mushrooms
5. Johnny Carino's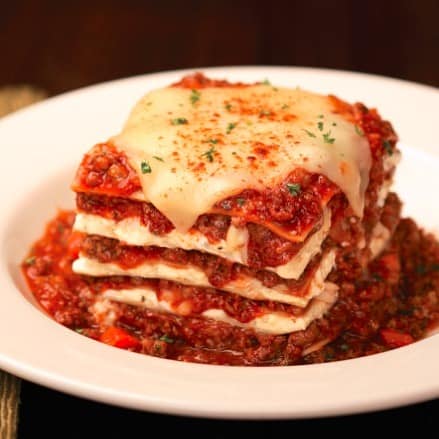 Location: 2425 Parkway, Pigeon Forge, TN 37863
Opening hours: Sunday – Thursday (11:00 AM – 9:00 PM) Friday – Saturday (11:00 AM – 10:00 PM)
Johnny Carino's is ideal for date nights with your partner or a family dinner. This famous eatery serves a variety of traditional Italian cuisine as well as creative dishes like Sicilian Fire Sticks and Italian Nachos.
Johnny Carino's design-your-own pizza and pasta alternatives are excellent for the picky eaters in your group. The restaurant's freshly baked bread, mostly served with roasted garlic and olive oil is guaranteed to satisfy every visitor.
Menu: Hand-Breaded Calamari, Italian Nachos, Baked Stuffed Mushrooms, Pepperoni & Pepperoni, Three-Meat Combo, Chicken Alfredo, Chicken Penne Gorgonzola, and Spicy Romano Chicken
Read More: Best Restaurants in Pigeon Forge
6. Big Daddy's Pizzeria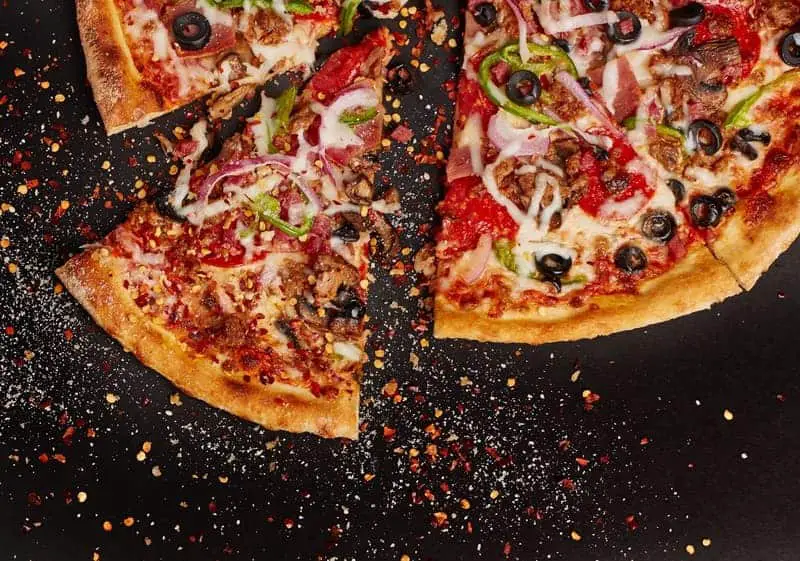 Location: 714 River Rd, Gatlinburg, TN 37738/3053 Parkway, Pigeon Forge,
Opening hours: Sunday – Thursday (11:00 AM – 9:00 PM) Friday & Saturday (11:00 AM – 10:00 PM) (CLOSED – Wednesday)
Big Daddy's Pizzeria is a casual Italian restaurant that is typically a wonderful spot for lunch and dinner with the kids. Begin with dough Daddies dipped in marinara sauce and wood-fired roasted chicken wings in honey sauce.
Any specialty pizzas may be made with either unique sausage crust or normal dough. Every type of vegetable you can imagine can be found on the Herbivore. Chicken, ranch dressing, jalapenos, and buffalo sauce are on the Wing It pizza.
Refried beans, cheese, lettuce, tomatoes, ground beef, jalapenos, and cheese sauce are all on the Taco Pie pizza. You can also make your pizza at Big Daddy's if you wish.
Menu: Wood Fire Roasted Wings, Antipasto Salad, Sausage Crust Pizza, Dough Daddies, Cheese Pizza, Meatballs, Cheesy Spinach Artichoke Dip, Cheesy Garlic Bread, Big Daddy's Submarine, Caesar Salad
7.  Gondolier Italian Restaurant & Pizza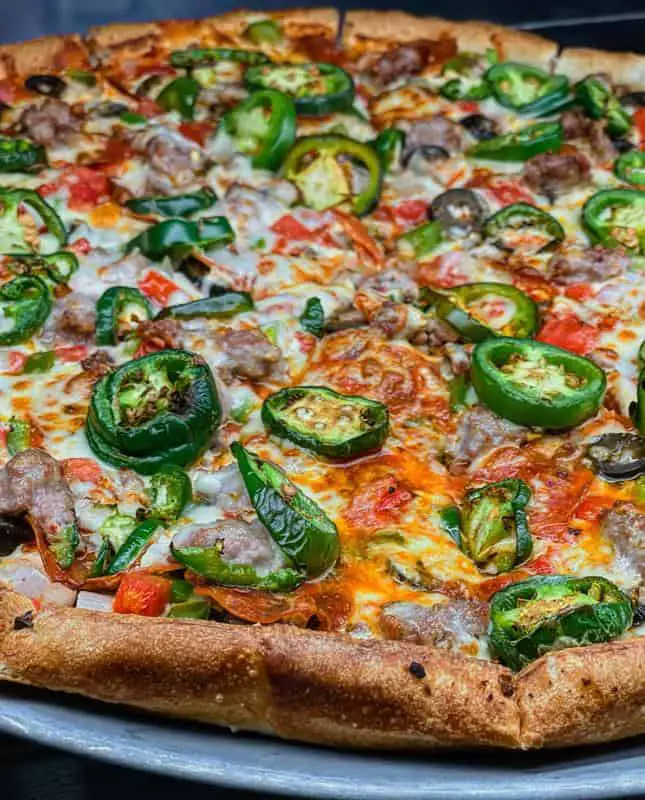 Location: 964 Dolly Parton Pkwy 3707, Sevierville, TN 37862
Opening hours: Monday – Sunday 11:00 AM – 10:00 PM
Do you have a craving for some pizza? You'll find some of the tastiest Italian food you've ever had at the foot of the Smoky Mountains! Gondolier Italian Restaurant & Pizza offers 5-star service and daily fresh Italian and Greek cuisine.
With delicious pita wraps, oven-baked subs, calzones, and strombolis, Gondolier is an Italian cuisine fan's dream come true! If you don't want pizza, you can try the baked tortellini, pork tenderloin linguini, spaghetti, lasagna, and other options.
Chicken marsala, eggplant parmesan, chicken piccata, and veal parmesan are also excellent choices. You will want to come back several times a day since the cuisine is so excellent!
Menu: Cheese Pizza, Chicken Marsala, Pita Wraps, Oven-Baked Subs, Calzones, Breadsticks, Eggplant Parmesan, Cucumbers, Chicken Piccata, Fresh Crispy Lettuce, And Pepperoncini Peppers.
Related Read: Best Pizza Places in Pigeon Forge & Nearby
8. Pizzeria of Gatlinburg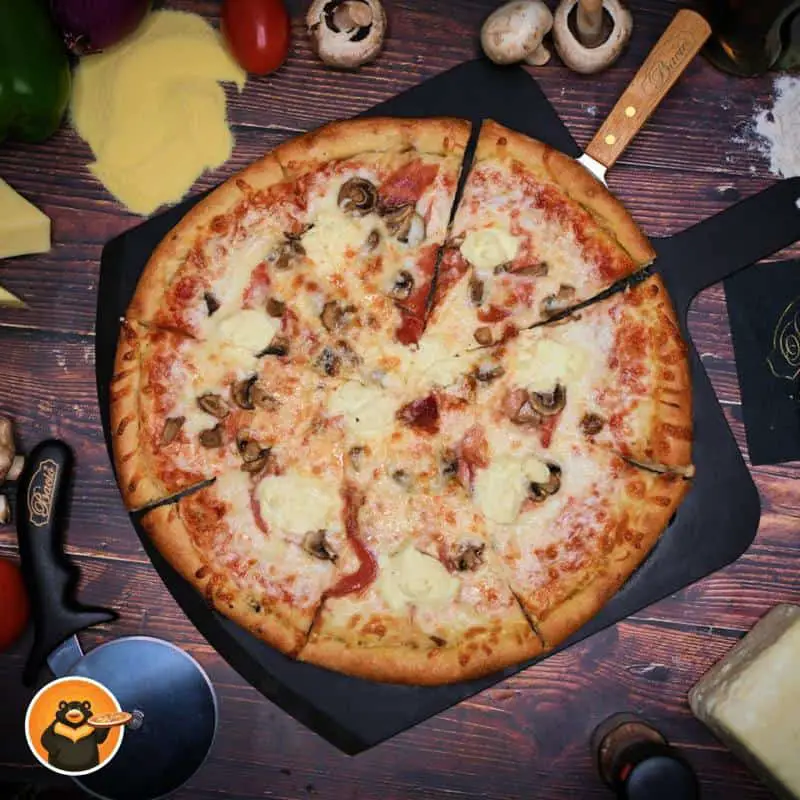 Location: 349 East Pkwy, Gatlinburg, TN 37738
Opening hours: (Monday-Thursday 4:00PM to 12:00AM) (Friday-Saturday-Sunday 12:00PM to 1:00AM)
This restaurant offers far more than an ordinary pizza. They feature amazing salads, pasta dishes, Italian appetizers, and their wonderful homemade pizzas that will keep you going back for more!
If you have any room left, you must have some of their desserts, including cheesecake, traditional tiramisù, and pineapple upside-down cake.
When someone in your crew doesn't want to dine Italian, Pizzeria of Gatlinburg is a good compromise because it also offers sandwiches and some other American dishes like wings & chicken.
Menu: fried ravioli, all meat pizza, garlic parmesan rolls, mozzarella cheese sticks, cheese pizza, spaghetti pasta, and chicken wings
9. Mellow Mushroom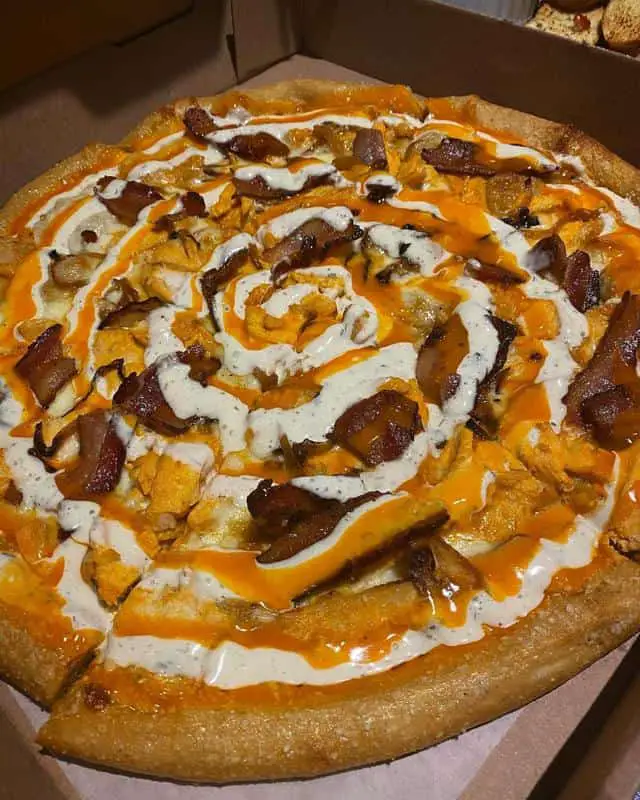 Location: 903 Parkway, Ste 103, Gatlinburg, TN, 37738
Opening hours: (Monday – Thursday 11:00 AM – 10:00 PM) (Friday – Saturday 11:00 AM – 11:00 PM) (Sunday 11:00 AM – 10:00 PM)
You've arrived at the pizza parlor! Another excellent Italian restaurant in Gatlinburg is the Mellow Mushroom. Sandwiches, salads, and calzones are just a few of the options.
Mellow Mushroom's signature dish is pizza. You can make your own pie or select one among their signature varieties. Their House Special includes all of the conventional ingredients.
The Great White is a white sauce pizza with sun-dried tomatoes, cheeses, and basil on top. They also offer all-meat and all-vegetable pizzas too.
Menu: Sausagefest, Steak & Cheese, Pretzel Bites, Bruschetta, Cheese Bread, Mighty Meaty, Buffalo Chicken, and Meatball Hoagie
10. Luigi's Pizza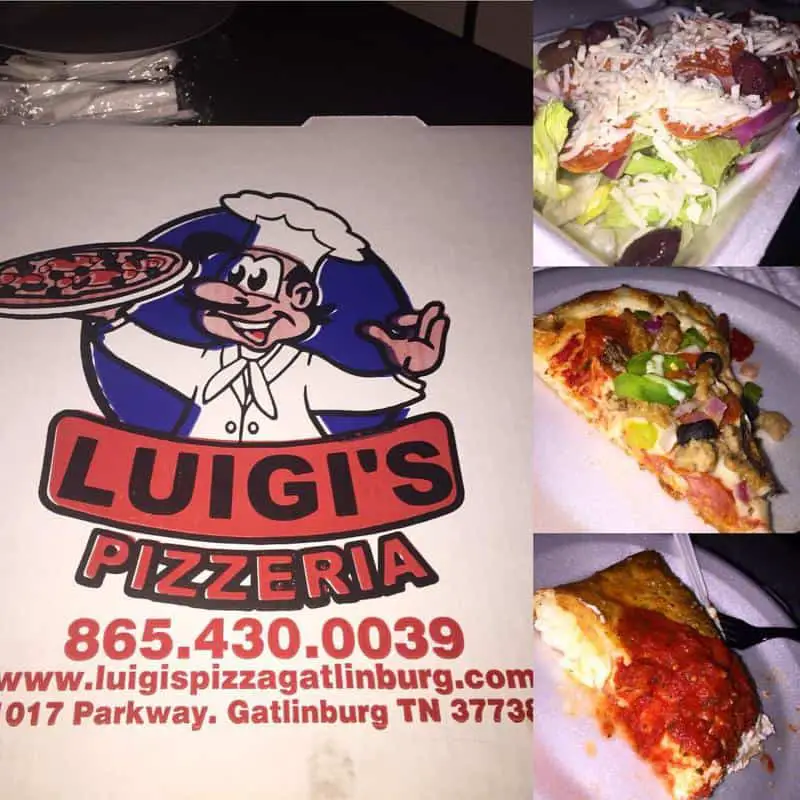 Location: 1017 Parkway, Gatlinburg, TN 37738-3105
Opening hours: Monday – Sunday 12:00 PM – 12:00 AM
Luigi's Pizzeria is yet another excellent Italian restaurant in Gatlinburg. It's open until 12 AM, and you can order your pizza to be delivered! Their legendary pizza pies are available in a variety of flavors.
You can make your own pizza or pick from a large selection of toppings. Also, this pizza joint offers a wide variety of specialty pizzas. There are options for meat lovers, eggplant, Hawaiians, eggplant, Greeks, etc.
Classics like cheese or pepperoni are available, and unique creations such as chicken parmigiana pizza are served. Calzones, chicken wings, subs, and salads are also available at this restaurant! Luigi's offers not only pizza but also pasta dinners, including eggplant parmesan, lasagna, meatballs, and spaghetti.
Menu: Fried Calamari, Fried Mushrooms, Antipasto Salad, Grilled Chicken Salad, Caesar Salad, Gyro, Steak & Cheese Sub, Manicotti, Chicken Alfredo, and Spaghetti with Meatballs
Also Read: Best Restaurants in Gatlinburg
Conclusion
You can never go wrong with any of these local Italian eateries! These Italian establishments in Gatlinburg and Pigeon Forge are wonderful spots to visit with your spouse or family for lunch or dinner. You can always look forward to a fantastic meal now that you know all about the greatest Italian restaurants in Gatlinburg and the Smoky Mountains!
Make a point of visiting one of these wonderful restaurants and other popular attractions in the area.