Gatlinburg is all about nature, entertainment, and food. People come to Gatlinburg to do many things, but mainly to explore this beautiful part of the Appalachian Mountains, the Great Smoky Mountains.
Cascading waterfalls, roaming wildlife, and a view of over 500,000 acres, the Great Smoky Mountains are the country's most-visited national park. Gatlinburg is the starting point to make your way to one of the park's famous paths, where you can find everything you've been looking for. A hike through the Great Smoky Mountains will leave you with a smile and a lasting impression.
However, even if one would visit Gatlinburg for a journey through the mountains, eating remains near the top of the list for visiting this beautiful town. In fact, there are plenty of cuisines to choose from. For your convenience, you can check out the best steak, Italian, pasta, pizza, seafood, and breakfast places in town.
Best Steakhouse Restaurants in Gatlinburg
Alamo Steakhouse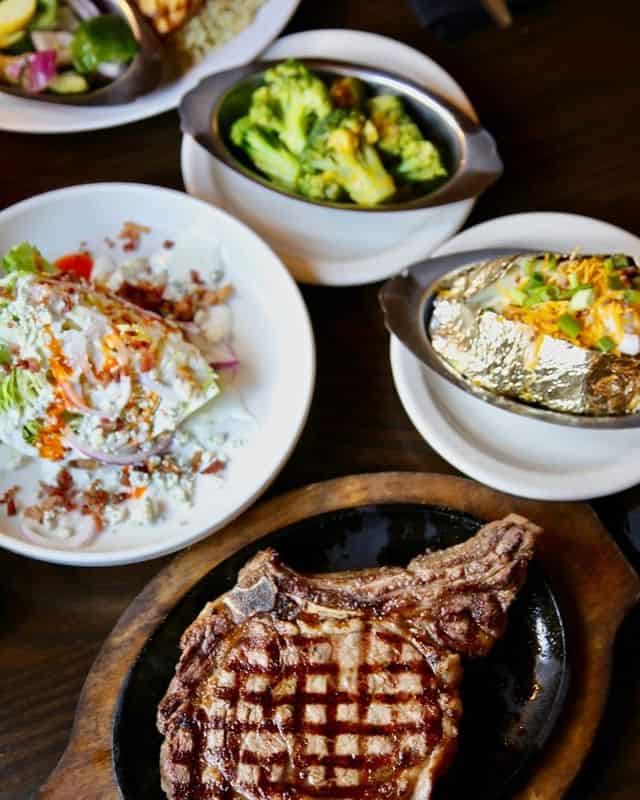 Did you know that Tennessee is called the volunteer state? This is due to the state's thousands of volunteers who fought bravely in the Mexican-American war alongside the famous Tennessean Davy Crockett at the Alamo, Texas. In honor of the brave soldiers, here, at Alamo Steakhouse, you'll find the most excellent food from Tennessee to Texas.
The Alamo is a fantastic restaurant and many people's favorite for its excellent service and flavorful steaks in the entire city. The aged steak is cut by hand and seasoned in-house and then grilled on oak fire and baked with all juices and natural flavors, and that's how the steak becomes soft and delicious.
But Almo doesn't have only just steaks. You can also find burgers, soups, sauces, gravy, homemade bread, and mozzarella sticks on order. It all takes extra time, but I hope you agree that it's worth the effort after trying our food.
Why you should dine at Alamo Steakhouse
Almo offers plenty of diverse dishes, from steak to seafood to burgers to warm, soothing soups. For the best meal, start with the Alamo's shrimp cocktail, followed by the El Presidente Porterhouse with asparagus and button mushrooms.
The Peddler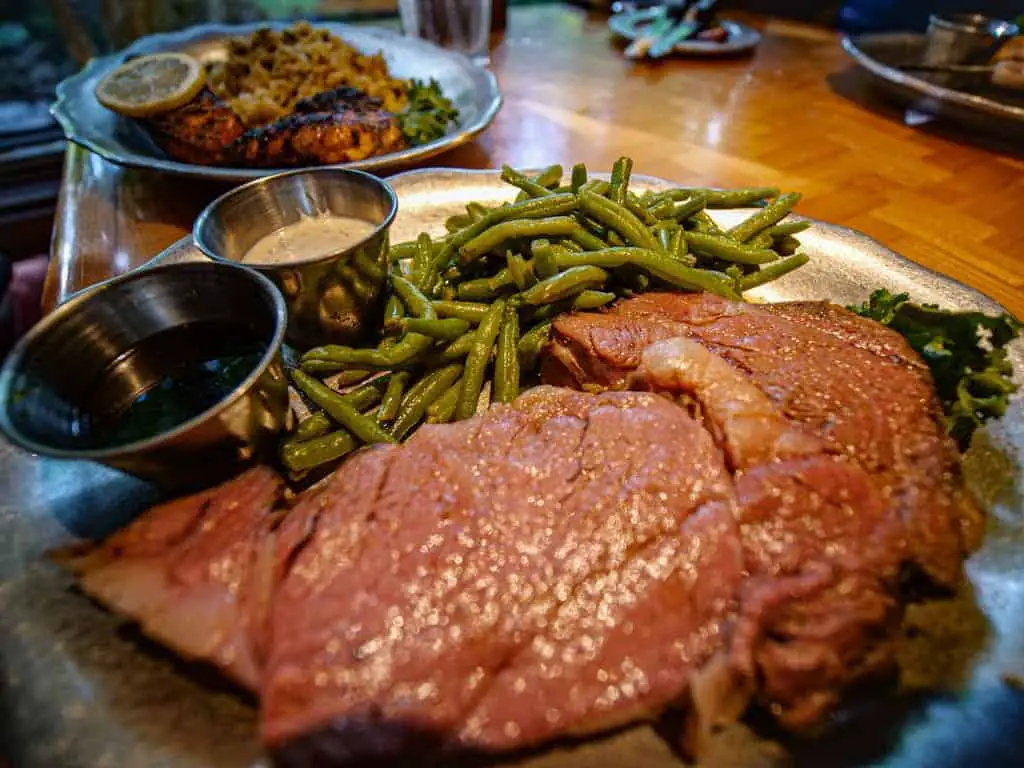 Not only does this steakhouse offer excellent hand-cut steaks, but the history of the building is also remarkable. It used to be the home of a fourth-generation Gatlinburg merchant whose great-grandfather founded the very first grocery store in Gatlinburg back in 1850.
Now this family steakhouse located at the entrance to a national park has been around since the 1970s with the mission of excellent food, service, and ambiance along the Little Pigeon River.
In addition to the steak, popular dishes include chilled shrimp cocktails, petit filet mignon combos, and specialty chicken and almond soups. Make sure to try and share the peanut butter mud pie for dessert.
Why you should dine at the Peddler
Peddler Steakhouse is a Gatlinburg restaurant whose roots date back to the city's founding. Get custom-cut steaks, red wine, and baked potato stuffing and feel like royalty.
Cherokee Grill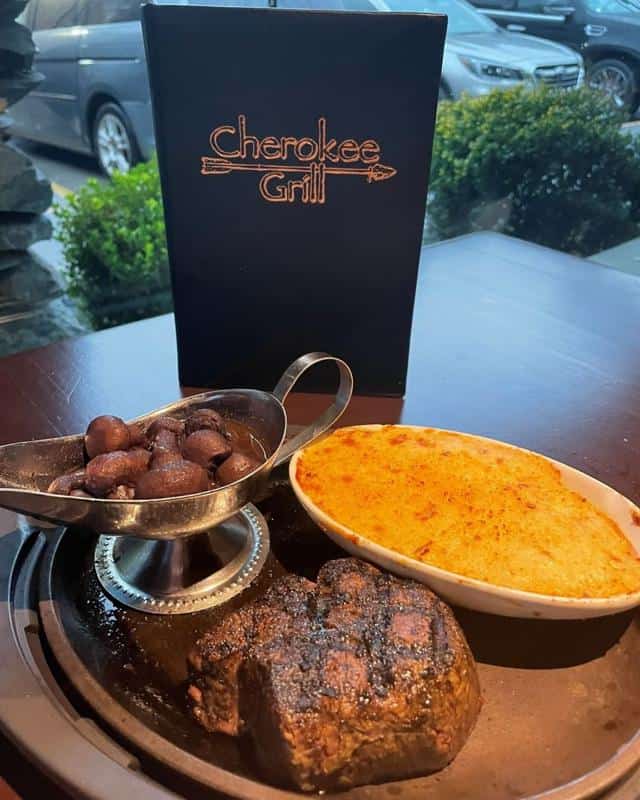 The Appalachian Mountains were once the home of the Cherokee tribe. So, the Cherokee grill strives to respect the tribe by staying true to its roots. From locally inspired menus to friendly service, they want everyone in the restaurant to feel part of the tribe and family.
Located in the heart of the Smoky Mountains, Cherokee Grill presents an upscale mountain lodge atmosphere with an exterior built with stone and brick and an interior accented with granite and walnut.
They offer a variety of steaks which is often one of the most popular selections. You can order add-ons with the steak, like the Boursin cheese or soy-ginger sauce. No matter what you choose, you can't go wrong either way. Also, with a traditional American menu, you can try other dishes such as seafood, fried chicken, crab cakes, and many other delicious foods.
Why you should dine at Cherokee Grill
Though its interior and menu are upscale, you can find all kinds of locals and travelers dining on any given night. So, if you are looking for a fancy restaurant but didn't arrange any plans, Cherokee Grill is a perfect choice.
The Greenbrier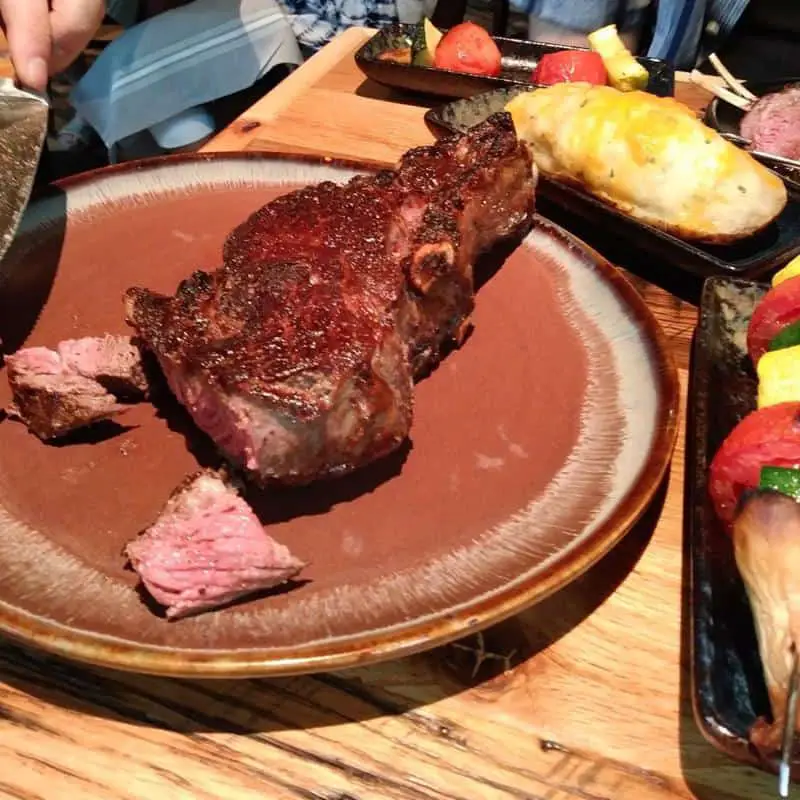 Led by executive chef Aaron Ward, Greenbrier invites its guest to one of the finest Gatlinburg dining experiences at the iconic rustic log cabin dining room.
Before enjoying a homemade dry-aged hand-cut steak, start with a dozen oysters topped with smoked salmon rillettes, ceviche, and salmon roe. Or, if you prefer something different, go for the roasted lamb shank. Accompany your meal with one of their remarkable wines from their vast wine list.
As it is beyond the main drag in a peaceful mountain setting, make sure to designate a driver to enjoy every moment of the restaurant's ambiance and the Rocky mountain's environment.
Why you should dine at the Greenbrier
At Greenbrier, you will find a slightly more fine dining menu than some other top-end restaurants. Choose duck breast, lamb shank, and stuffed flounder for an alternative meal, or go for a more traditional option and order one of their fine hand-cut steaks.
The Howard's Restaurant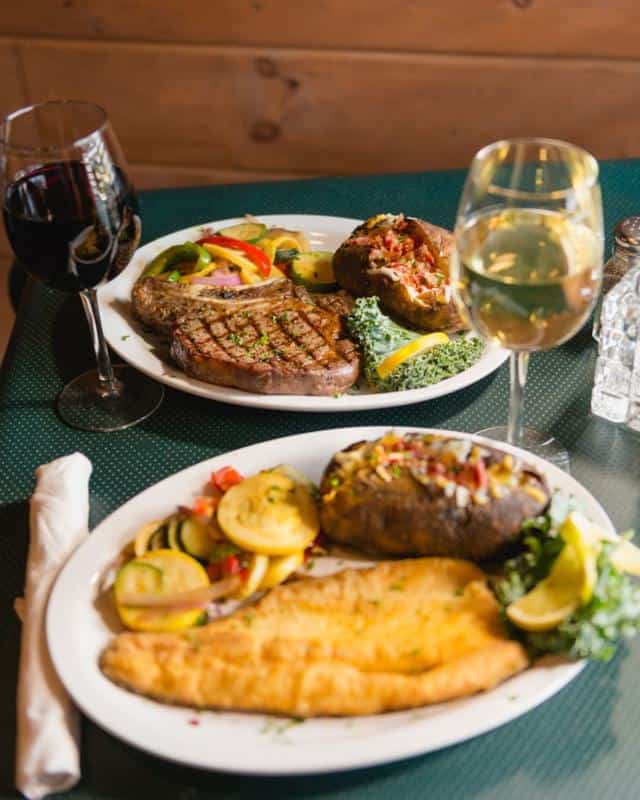 Located in the heart of the Smoky Mountains, Howards is a two-story building with a steakhouse downstairs and a pub upstairs. It's not a luxury steakhouse, but they've been delivering and catering to Gatlinburg's people with the best since 1946.
Although Howard's menu may not seem fancy, you don't need unique food and ingredients to have exceptional meals. For example, their hot chop steak sandwich is a winner and goes perfectly well with Bloody Mary.
Furthermore, as Gatlinburg's oldest restaurant, Howards is a great spot to enjoy some Gatlinburg traditions. Some of their famous steaks are Cowboy Ribeye, Porterhouse, and T-bone. If you are visiting with kids, check out their burgers and sandwiches. They are absolutely mouthwatering and loved by all.
Why you should dine at the Howard's Restaurant
If you are visiting with your partner, choose the steak for two option. It is an 8 oz. and a 14 oz. steak of your choice and two sides with each steak. It is delicious, cheap, and will definitely fill you up!
Read More: Best Steakhouse Restaurants in Gatlinburg
Best American Cuisine Restaurants in Gatlinburg
Delauder's BBQ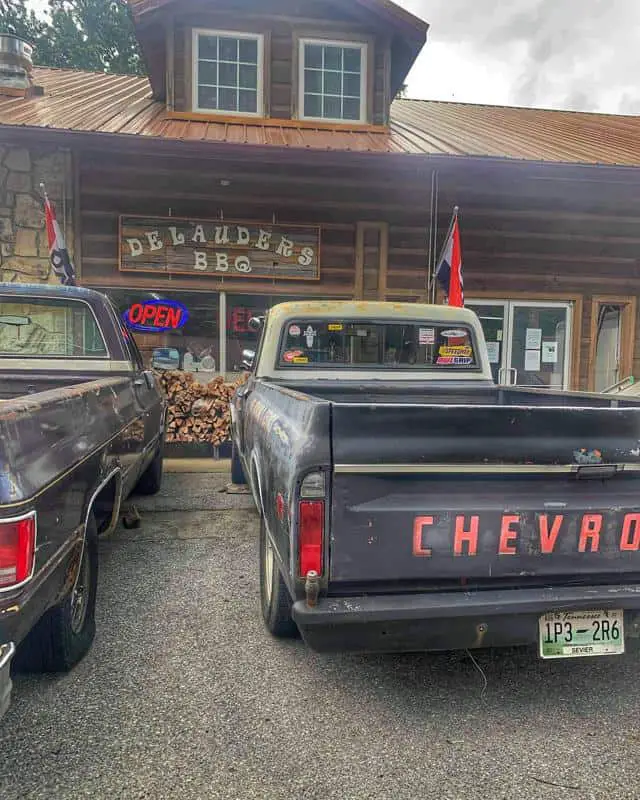 Established in 2015, Delauder's BBQ is family owned and operated business. Specializing in BBQ, they create sandwiches no one else does at affordable prices.
Although it is relatively new to Gatlinburg's cuisine scene, it has been named one of the top 100 restaurants you need to try in 2017. It has also been recognized as one of the top 25 BBQ restaurants in the country by travel & leisure magazine and the best in Tennessee by Time magazine.
Literally being one of the best restaurants in the country, naturally, it has plenty of delectable dishes. According to the guests, some of the best are Mac-n-Cheese Tots, Fried Mac, Smokey Mountains Nachos, and Dinner Sampler.
Why you should dine at Delauder's BBQ
Here you will have one of the best pulled pork dishes you'll ever taste! Furthermore, the ribs and BBQ chicken are amongst the best, and frankly, everything is just scrumptious!
Smoky Mountain Brewery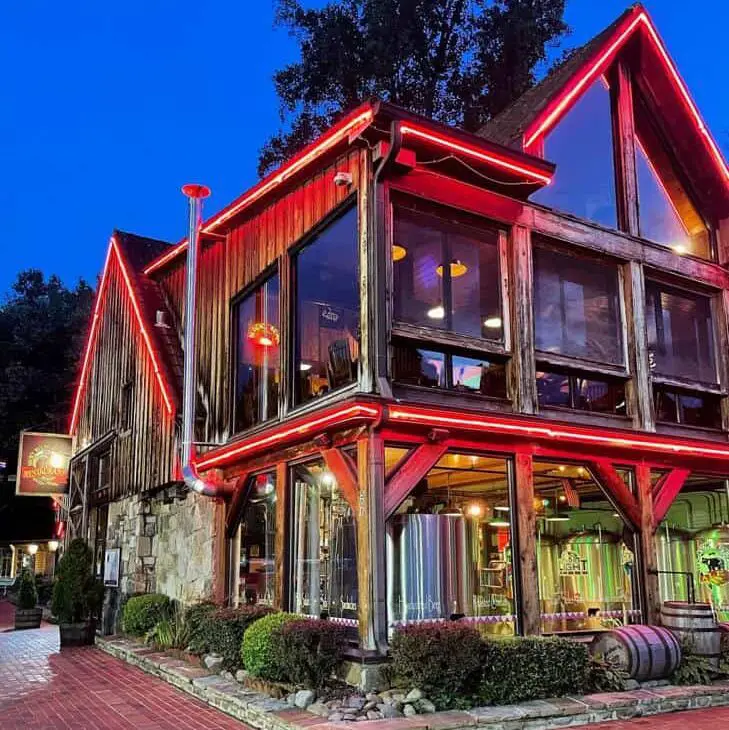 Although this may be a brewery, it is worth mentioning for its great beverages and food. Smoky Mountain Brewery is best described as a cross between a ski lodge and a pub. It has an enclosed deck overlooking Calhoun's Village and the beautiful Smoky Mountains as background.
It is a popular stop for hikers, skiers, and snowboarders for a much-needed break from the often extreme activities on the mountain. Flavorful food, micro-brewed beer, and nightly entertainment make this one of Gatlinburg's favorite places to eat and entertain.
The brewery offers delicious drinks from classical and premium cocktails, premium mules, wine, and handcrafted beers. It also serves classic American dishes such as steaks, burgers, pizzas, and sandwiches.
Why you should dine at Smoky Mountain Brewery
This is an easy choice for adventure and outdoor lovers who wish to try exceptional dishes and drinks while enjoying fantastic nature views.
Also Read: Best Bars in Pigeon Forge & Gatlinburg
Best Italian Restaurants in Gatlinburg
Best Italian Cafe & Pizzeria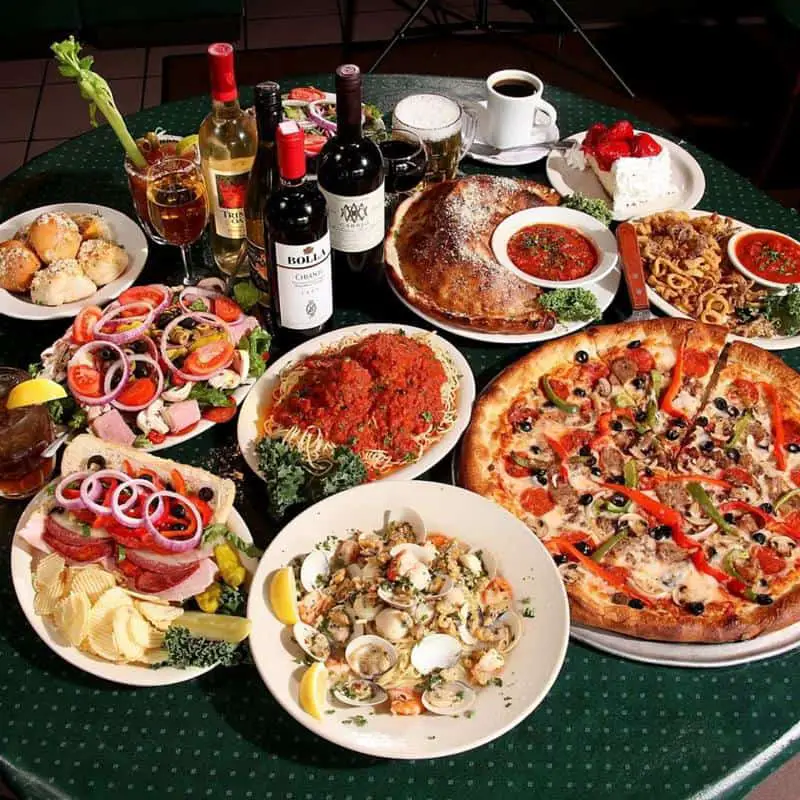 If you're looking for New York-style Pizza while amongst the Great Smoky Mountains, check out Best Italian Café and Pizzeria to satisfy all of your pizza dreams. Since 1976, this pizzeria has been serving Gatlinburg the best Italian cuisine, just as its name suggests.
The restaurant strives to keep the title of the best Italian in town by sticking to the classics such as golden garlic knots, traditional pizzas, creamy pasta, and homemade strawberry cheesecake.
Surely they have taken some liberties with some of their signature dishes, but at the end of the day, the hearty, comforting flavors of every dish will make you want to come back again and again.
Why you should dine at Best Italian Cafe
Their extensive menu of traditional Italian cuisine with a New York twist will leave you satisfied and in love with Gatlinburg even more!
Big Daddy's Pizzeria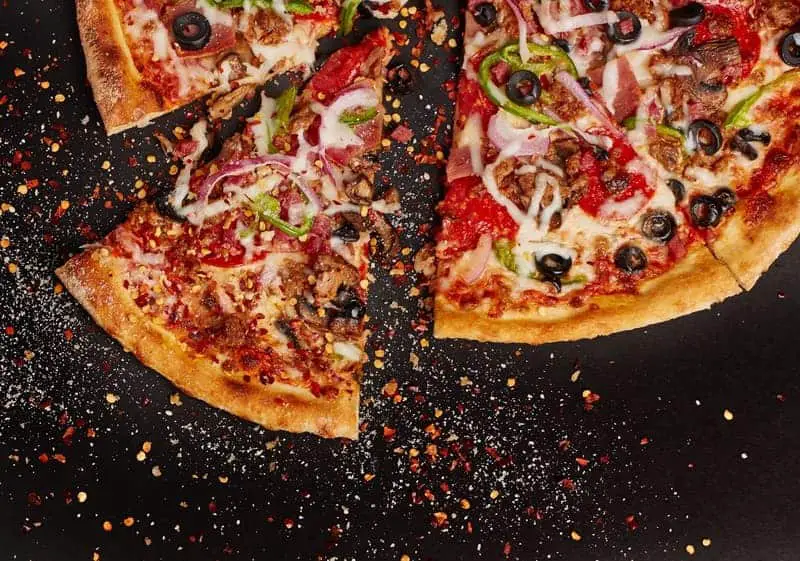 At Big Daddy's Pizzeria, you'll feel as if you were transported to Italy from the Great Smoky Mountains. With their unique wood-fired flame inside a one-of-a-kind brick oven, they are committed to producing tasty pizzas that pay homage to the classic Napoletana with a deliciously crispy crust.
The pizza here starts with handcrafted, homemade dough, and it is then topped with one of their homemade sauces and fresh ingredients. Wanting to serve only the freshest pizzas, you will notice that they don't use a freezer, and that's why their pizzas are so mouthwatering!
Last but not least, some might say having delicious authentic Italian pizza with the gorgeous Smoky mountains as a view might be even better than being in Italy.
Why you should dine at Big Daddy's Pizzeria
The oven is fired up, and they are ready to serve you the best pizza you've ever had! What more reason do you need?
Taste of Italy
Taste of Italy, as it implies, will serve you authentic, tasty dishes straight out of Italy. This humble restaurant has excellent traditional Italian dishes such as Caprese salad, Lasagne, Fettuccine Alfredo, and fantastic desserts.
The restaurant has a very homey and cozy ambiance. To start off, all guests are greeted at the door by the server and hostess, making you feel like being part of their hospitable Italian family that is ready to love you.
If you like a creamy Italian dressing with your salad, you will love the house dressing. However, before you get your salad, you will receive a basket of homemade garlic knots sprinkled with parmesan and a side of marinara sauce. Then your salad and finally, your delicious entree! Some of the favorites are the Penne Alla Vodka and Eggplant Florentine. Both have great flavor and are fantastic!
Why you should dine at Taste of Italy
One thing that shows their excellent hospitality and great service is their large portions. If you are a gourmand here, you will leave satisfied!
Read More: Best Italian Restaurants in Gatlinburg & Pigeon Forge
Best Seafood in Gatlinburg
Bubba Gump Shrimp Co.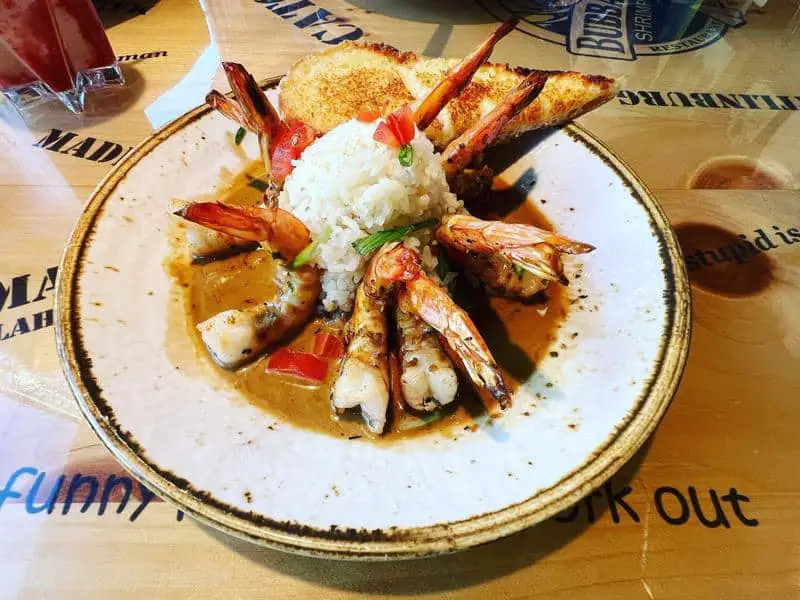 Bubba Gump Shrimp is undoubtedly a must-visit restaurant. Inspired by the movies Forrest Gump, since 1996, Bubba Gump has been creating and serving creative seafood dishes in a charming cozy atmosphere.
The menu offers several items for the shrimp lover in all of us. Some of the most favorable among the regulars are the seafood hush puppies, shrimp mac & cheese, and fried shrimp. But if you are not sure what to choose, the friendly staff will surely help you pick what suits your taste best.
The seafood at Bubba's is top-notch, but what makes it one of the best in Gatlinburg is its many weekly or monthly events and happenings. At every event, there are different offers of seasonal, delightful meals and handcrafted drinks
Why you should dine at Bubba Gump Co.
This is perhaps the friendliest restaurant with excellent staff that will be there throughout your experience, giving you tips and a cheerful ambiance.
Crawdaddy's Restaurant & Oyster Bar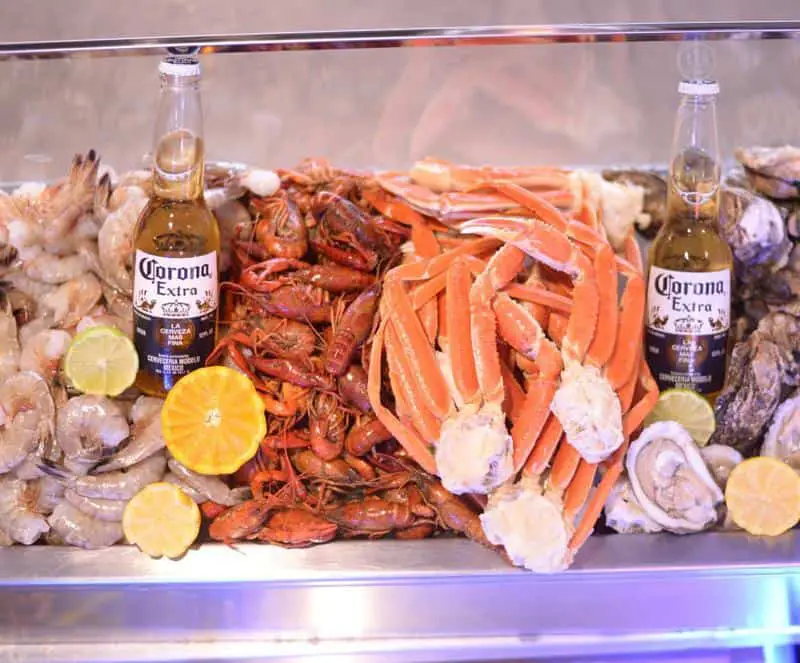 Smoky mountains may not be known for seafood or Cajun flavors, but at Crawdaddys, you can enjoy some tasty southern delicacies. Its menu is built straight from the Hank Williams classic "Jambalaya."
The new chef-driven specials bring an authentic New Orleans setting by serving traditional, Cajun-style food. Crawdaddy's is much more than a restaurant, it's an experience. Whether you're visiting from out-of-town or are local to the area, the experience should be unique.
At Crawdaddy's, they can provide something for everyone. Their goal is to bring together family and friends and create new memories over delicious food and drinks in the perfect environment. Some of the favorites are fried oysters, alligator bites, and seafood gumbo.
Why you should dine at Crawdaddy's Restaurant & Oyster Bar
This is the perfect spot for those craving southern delicacies, seafood, and cajun-inspired cuisine! Furthermore, it is definitely a unique experience to have the Great Smoky Mountains as the view while devouring delicious cajun food.
Chesapeake's Seafood and Raw Bar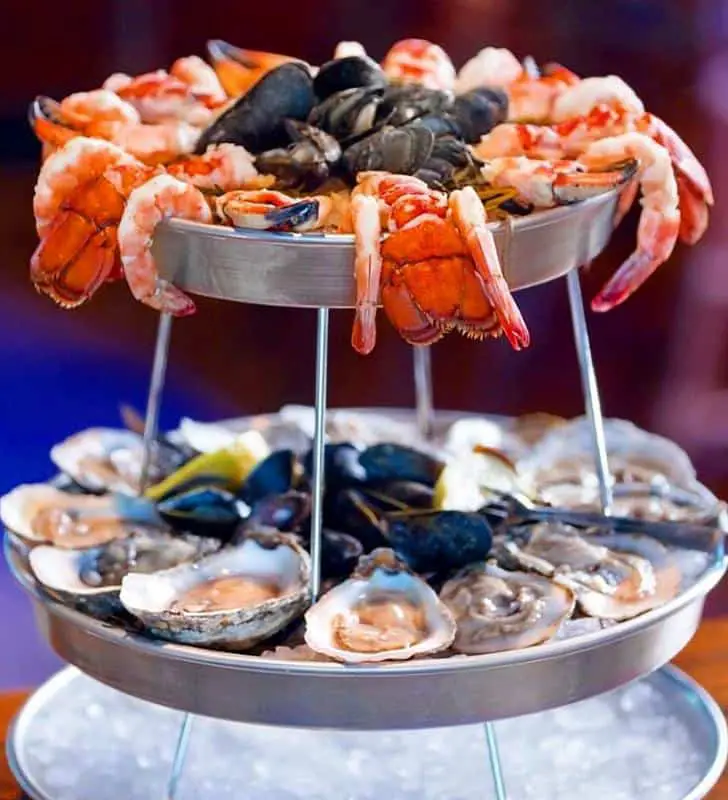 This seafood-forward hotspot boasts a bounty of flown-in-daily catches. They are committed to always serving the highest quality seafood in town. In fact, they source and cut the freshest seafood available daily from the Atlantic, Gulf, and Pacific Coasts.
So, as it is straight from the sea to your table with no in-betweens, it is guaranteed you will have fresh food as well as friendly service during your time at Chesapeake's.
The steamed seafood feast and seafood tower are great options for those who can't make up their minds. Don't miss the namesake Chesapeake oysters topped with creamy blue crab, mushrooms, and Benton's bacon. Still, you will also find steak, chicken, a smattering of sides, and plenty of delicious desserts.
Why you should dine at Chesapeake's Seafood and Raw Bar
Not only will you find the freshest seafood in town, but you will also find steak, chicken, a smattering of sides, and plenty of delicious desserts. Furthermore, you will have an excellent view of the river.
Also Read: Best Restaurants in Sevierville
Best Breakfast in Gatlinburg
Tennessee Jed's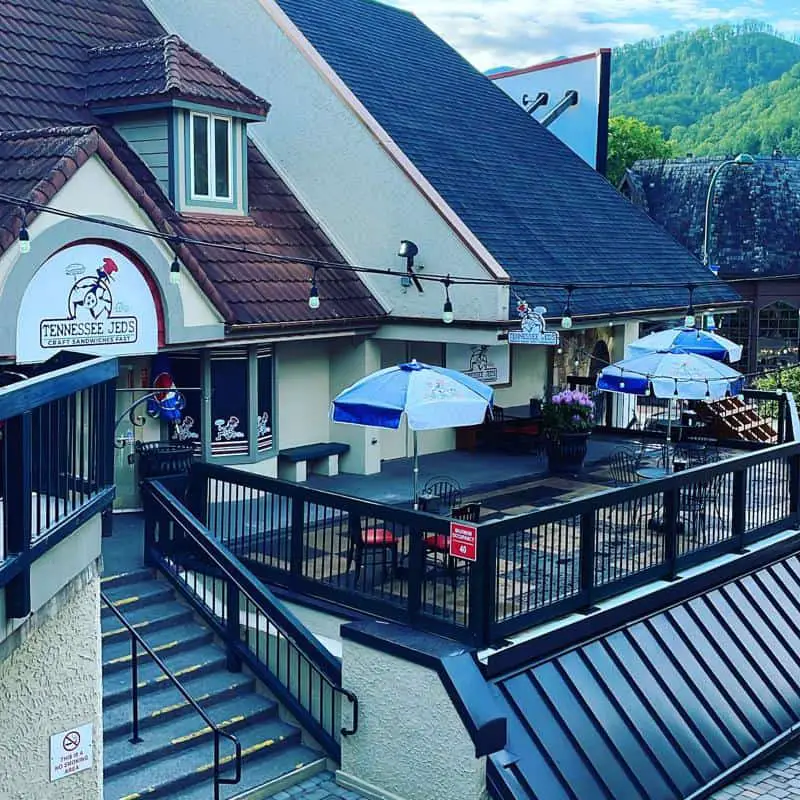 Tennessee Jed's is a sandwich shop on the strip. It is designed to serve breakfast and lunch to people who are up to a fun brunch outing with friends or those who want a quick stop for a satisfying meal before work.
It might not sound as fancy as other restaurants on this list, but their sandwiches are art, not just food. For those who appreciate the beauty of a great Reuben or Cubano or even the classic Kraut Dog, Tennessee Jed's is the perfect destination.
Apart from their fantastic sandwiches, there are many other options for breakfast and brunch, both sweet and savory. Some favorites are crustless quiche baked fresh daily, brown butter mini cake, blueberry, and cinnamon walnut streusel muffins.
Why you should dine at Tennessee Jed's
If you are looking for a quick delicious meal for lunch or a fun Sunday brunch, you should not miss out on this funky spot at Gatlinburg.
Pancake Pantry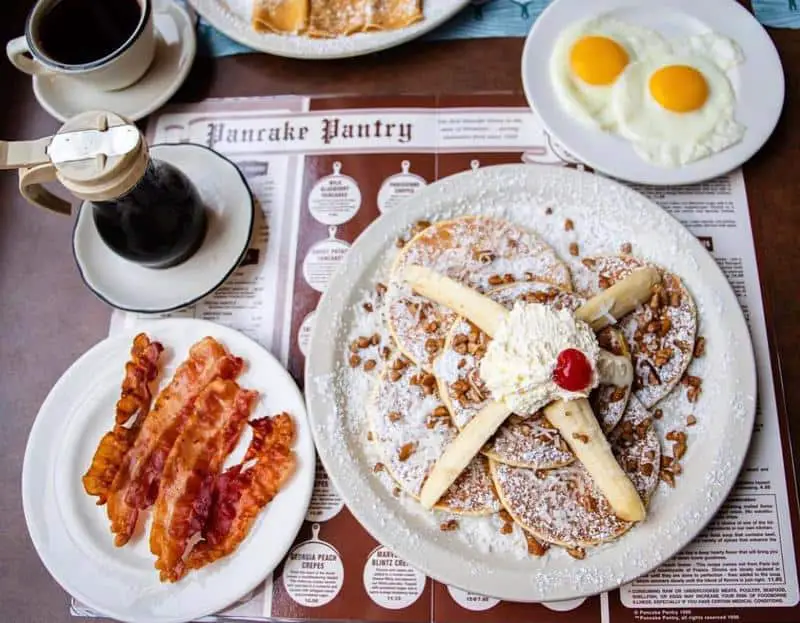 The Pantry is a Gatlinburg classic spot if you're looking for breakfast.
In fact, the Pantry started the trend of pancake restaurants in the Smokies. Breakfast is always on the menu and includes 24 varieties of pancakes.
Open both for lunch and breakfast, it features a relatively light menu.
But a favorite is the Polish Aristocrat, which is layers of Swiss cheese, corned beef, and coleslaw in the rye. This grilled sandwich is worthy of the name.
Although the Pantry is supposedly a lighter choice of lunch, the entree portions at the Pancake Pantry are huge. Most featured dishes come with five full-sized pancakes.
Why you should dine at Pancake Pantry
As the pioneer in serving pancakes in the Smoky Mountains, they are still creating and serving delicious pancakes that will stay memorable for your trip to this beautiful part of the country.
Related Read:
Final Thoughts
Gatlinburg is a terrific city to experience gorgeous mountainous landscapes, Appalachian culture, and fantastic culinary experiences. The city's culinary scene is diverse, with a mix of traditional American cuisine and European flavors. Enjoy a day with delicious pancakes and finish it with a flavorful steak before starting your journey through the Great Smoky Mountains.