You might have heard that breakfast is usually the most important meal of the day and which is true, especially when you're on vacation in the Smokies. The city of Gatlinburg, TN, is widely known for its incredible pancakes and a variety of family attractions.
Pancakes are typically a serious business here! It's one of the cities with the highest number of restaurants per square meter in the entire country. If you love a stack of pancakes in the mornings or heaping breakfast with a buttery warm syrup, then Gatlinburg got you covered.
The places to eat in this city also have a classic southern breakfast that comes with all your favorite delicacies. They are fantastic stopping spots while on your vacation. After trying one of the spots, consider other fun activities to keep your moods high during your visit.
Why are there so Many Pancake Houses in Gatlinburg?
Every trip to Gatlinburg is always fun, and you will always anticipate getting back there to see what's new and have a different experience. Before hopping into the mountains and working up an appetite, you will want to get downtown and feast on some energizing pancakes. Gatlinburg has numerous pancake houses despite its small size.
Southerners have a tendency of enjoying hearty and delicious breakfasts, and mornings here are usually made of pancakes. Eating pancakes has become a tradition for many people who visit the city, including families, touring groups, and couples. Just visit one of the pancake houses and enjoy the good home cooking while experiencing the cool atmosphere in Gatlinburg!
Where Can You Stay in Gatlinburg?
When you visit Gatlinburg and want a nice place to stay around these excellent pancake houses, you can check out Gatlin cabins. You will get luxury cabin rentals that suit your needs and can accommodate 2 to 40 guests. They have unbeatable amenities such as hot tubs, home theatres, game rooms, and much more.
Is it not amazing waking up to the scenes of the Smoky Mountains or relaxing in the hot tubs while taking in the fresh mountain breeze? You will have your best moments in these cabins, just like in the Smokies. Additionally, they have a fully equipped kitchen that allows you to even prepare your own pancakes. Take a look at the various cabins and start planning your getaway now.
Which are the Top Pancake Houses in Gatlinburg?
1. The Pancake Pantry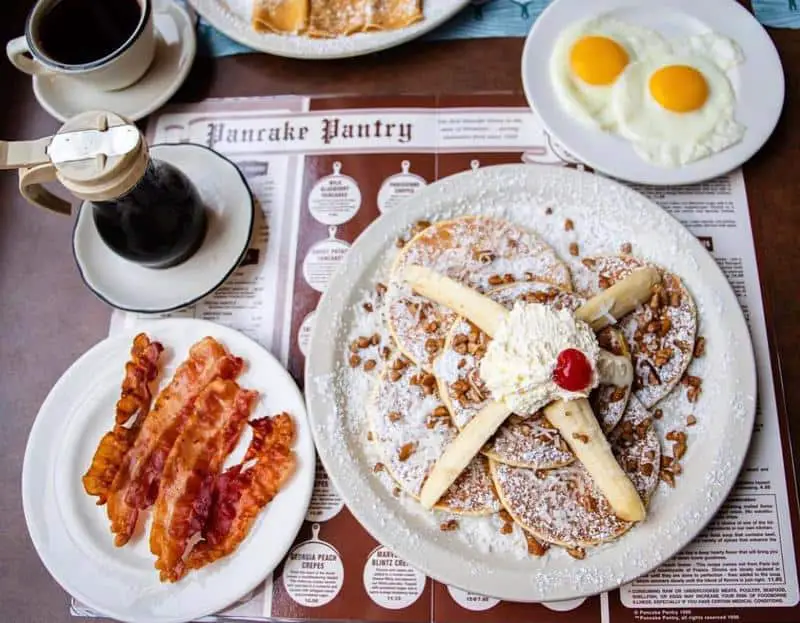 Location: 628 Parkway, TN 37738
Opening hours: 07:00 AM – 3:00 PM
Pricing: $$
Rating: 4.5 stars
The Pancake pantry is the top pancake house in Gatlinburg, being the first to be opened in Tennessee in the 1960s. Since it started operating more than 50 years ago, visitors usually come and enjoy the made-from-scratch delectable fresh and real butter pancakes. The Pancake Pantry is such an incredible option that it can flip more than 4500 pancakes in a single day.
Here, you will find a variety of legendary pancake flavors, including Swiss chocolate chip, wild blueberry, orange walnut, and sweet potato pancakes. The flavorful and fluffy pancakes come large enough for two, and you can never go wrong with the whipped butter and homemade syrup. Also, their menu not only entails pancakes but crepes and blintzes too. Generally, there are 24 varieties which you can choose from.
2. Flapjack's Pancake Cabin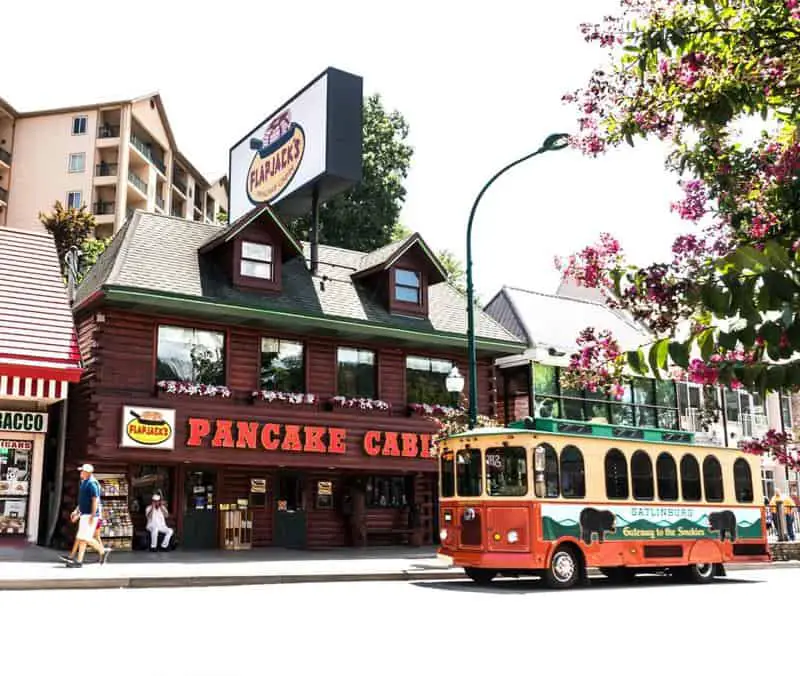 Location: 478 East Parkway, TN 37738
Opening hours: 07:00 AM – 12:30 PM
Pricing: $$
Rating: 4.0 stars
The Flapjack's cabin is a chain of restaurants in three locations to satisfy your desire for pancakes. It usually features a country-style breakfast with made-from-scratch mouthwatering pancakes. It began back in 2001 and has grown to multiple locations across the country, including Gatlinburg. You will probably know why this restaurant is so popular when you taste their sticky bun pancakes piled high on your plate.
Additionally, you won't want to miss the pecan-blended cinnamon swirl pancakes served here and topped with cheese cream icing. These sticky bun pancakes can be worth the trip alone, but you can enjoy other flavors like the chocolate chip, mixed berry, and Reese's peanut butter pancakes. They also serve breakfast skillets, waffles, omelets, and egg platters at affordable prices.
3. Log Cabin Pancake House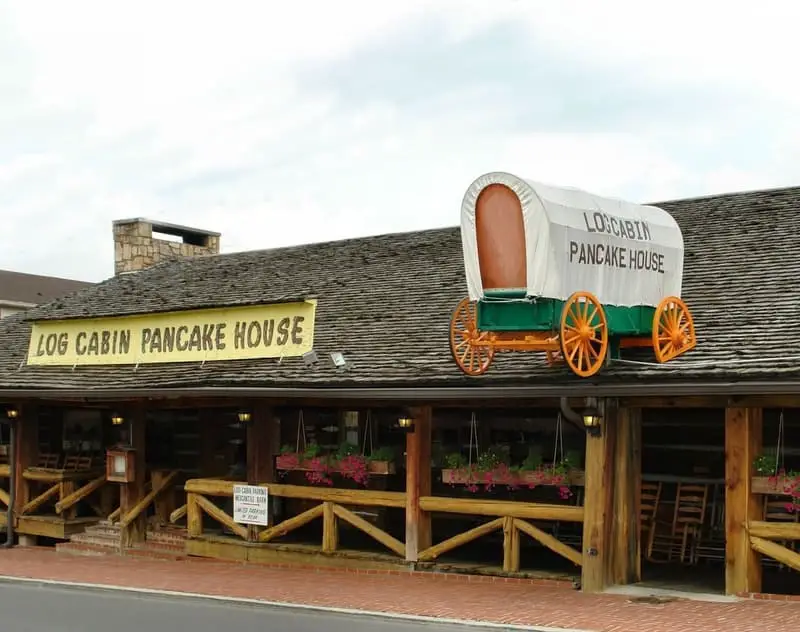 Location: 327 Historic Nature Trail, TN 37738
Opening hours: 07:00 AM – 2:00 PM
Pricing: $$
Rating: 4.5 stars
You can't miss the Log cabin pancake house even when driving due to the wagon fitted on the roof that will definitely catch your eye. This family-owned breakfast spot has been operating since 1976, and their delectable selection of specialty pancakes has made them so popular.
They have unique offerings such as white chocolate chip, Caribbean, and butterscotch chip pancakes. You can enjoy their plain old-fashioned pancakes served with whipped margarine and their own syrup.
Their menu also has other tasty meals, including waffles, French toast, omelets, French crepes, and much more. Overall, this restaurant is one of a kind in Gatlinburg with its variety of pancake choices. Visiting this place in the heart of Gatlinburg is a vacation tradition.
Surprisingly, you will love their professional employees who will serve you with the great pancake royal that comes with banana wedges, cream cheese sauce, and powdered sugar!
4. Reagan's House of Pancakes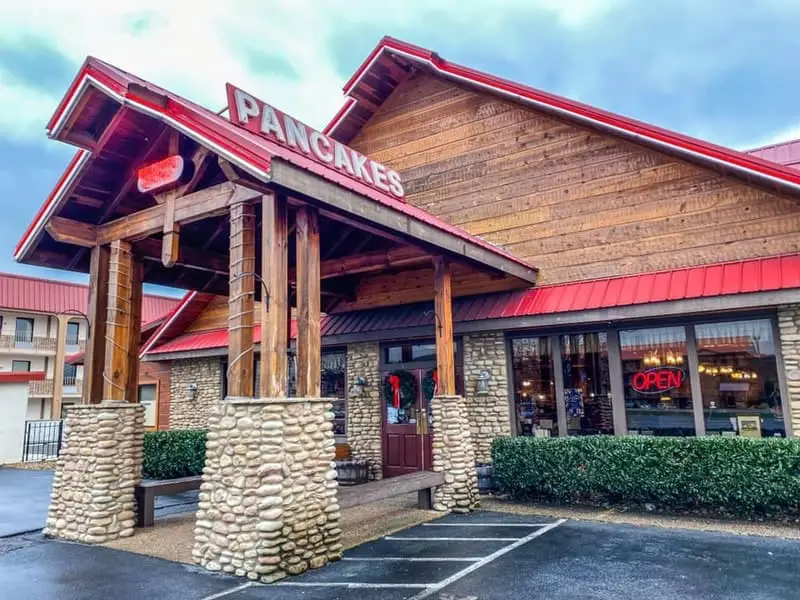 Location: 2820 Parkway and 3516 Parkway
Opening hours: 07:00 AM – 12:30 PM
Pricing: $$
Rating: 4.5 stars
You can never go wrong with the pancakes served at the great Reagan's house of pancakes if you have a mighty appetite. It's one of the top-notch hometown points famously known for the awesome breakfast buffet.
This excellent buffet features pancakes, made-to-order eggs, biscuits, bacon, sausage, and French toasts. And, in case you are not in for the buffet, their expansive menu also has several great pancakes. The Reagan's breakfast spot never disappoints, especially when you visit with family and get to see a few sites. Here, you will have that hearty and satisfying pancake that will keep you energized for the whole day!
5. Little House of Pancakes
Location: 807 East Parkway, TN 37738
Opening hours: 07:00 AM – 2:00 PM
Pricing: $$
Rating: 4.5 stars
Just head to the Little house of pancakes if you're looking for tall stacks of flapjacks. It's a mom-and-pop style breakfast spot offering some of the best meals in town. Put all your breakfast hunger to rest with their foot-wide Flapjack made with 20 ounces of buttermilk batter. Their menu has multiple pancake concoction flavors, including chocolate chip, strawberry, peach, pecan, and blueberry.
While in Gatlinburg, you will enjoy dining in this cute establishment with friendly hospitality making you feel welcome! It might be small, but their plates are usually huge and filled with the tastiest pancakes you have ever had.
You can't afford to miss their fruit-flavored pancakes and other side delicacies like French toast, omelets, and platters. If you're planning to spend some time in Gatlinburg, this is one of the top places to get that mouthwatering pancake.
6. Crockett's Breakfast Camp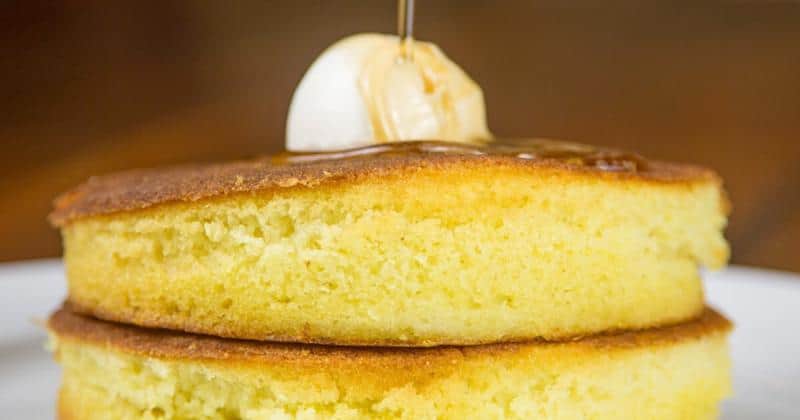 Location: 1103 Parkway, TN 37738
Opening hours: 07:00 AM – 1:00 PM
Pricing: $$
Rating: 4.5 stars
The Crockett's camp is an excellent place to dine with the whole family with its fun mountain atmosphere and rustic interior. It has taken the Smoky mountain restaurant scenes by storm, and one of the things that make it stand out is the making of griddle pancakes rather than the ones. They come at an extra-large size and thickness that will satisfy your mighty appetite and hunger!
They top their pancakes with butter and syrup, or you can choose from their topping menu options, including chocolate chips, blueberry compote, and pecans. They have cinnamon rolls and buckwheat pancakes that you can try with nut sand fruits.
Also, they offer pancakes with sausage links rolled in them and other breakfast meals you can ever think of, not forgetting the tasty waffles, bacon, biscuits, eggs, and French toast.
7. Sawyer's Farmhouse Restaurant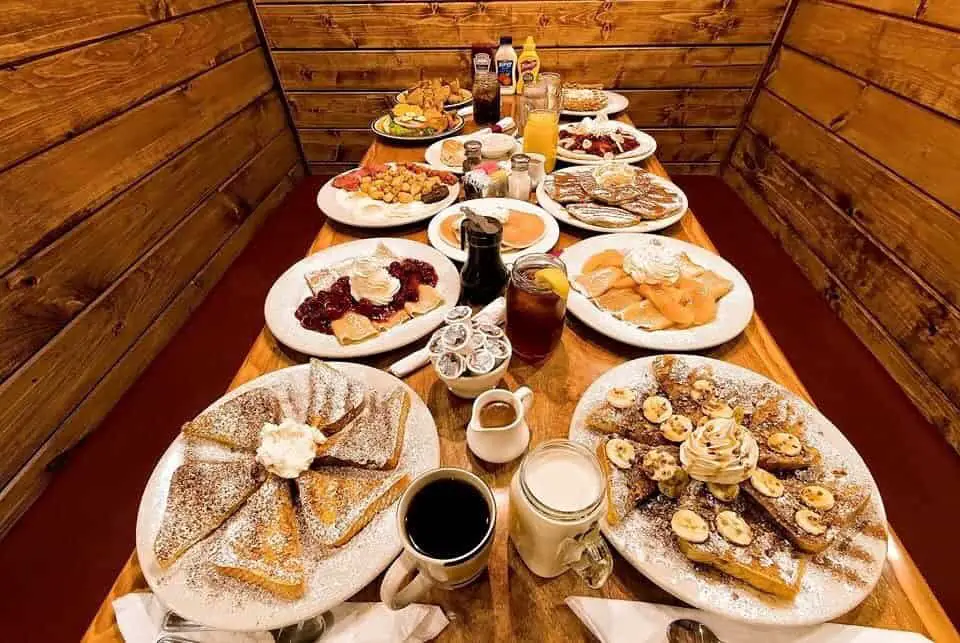 Location: 2831 Parkway
Opening hours: 07:00 AM – 12:00 PM
Pricing: $$
Rating: 4.5 stars
This is another best breakfast place that serves some of the tastiest pancakes in Gatlinburg. It was recently opened, being on its 7th year in operation but has grown immensely to the top positions of the top-rated breakfast spots. The Sawyer's farmhouse restaurant is different from the other places due to their homemade syrups, especially the peanut butter syrup.
This locally owned and operated breakfast point has a giant chicken with a cowboy hat outside, making it easier to spot. The Sawyer's is just perfect for breakfast and lunch meals. It skews to the sweet sides, especially when it comes to crepes and pancakes. Their breakfast meals are just done right, including the fruity options, M&M varieties, and chocolate chip.
8. Atrium Pancakes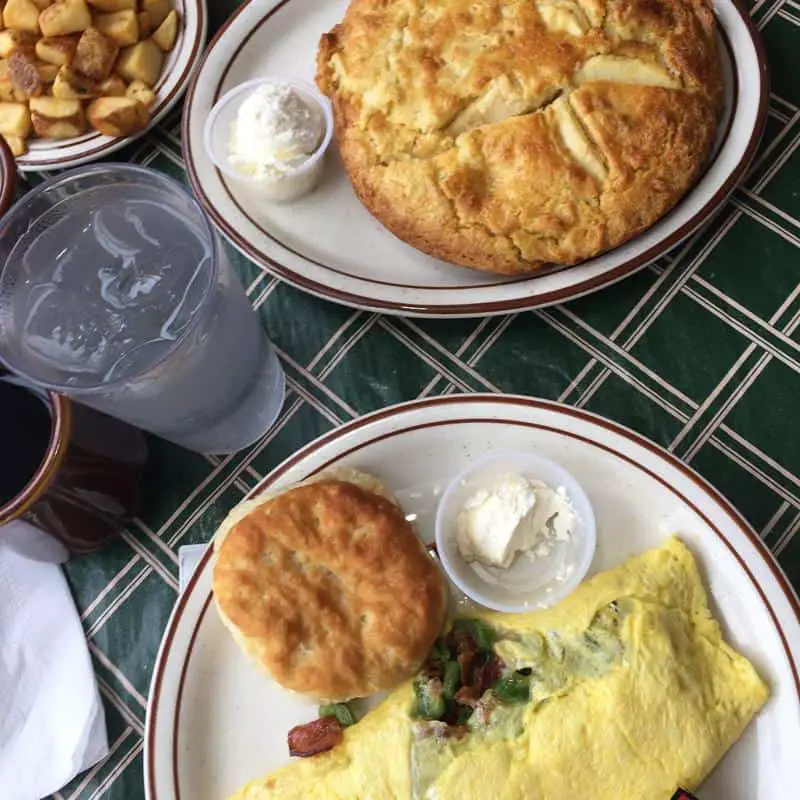 Location: 432 Parkway
Opening hours: 07:30 AM – 2:00 PM
Pricing: $$
Rating: 4.5 stars
The Atrium Pancakes is popularly known for its specialty pancakes! It's one of the restaurants in Gatlinburg that gets rave reviews from both visitors and the locals. The baked apple pancake is one of the best of the 25 options to choose from.
This mouthwatering pancake is prepared in an oven instead of over the griddle, and it's filled with brown sugar and sliced apples. They prepare those masterpiece pancakes with fresh granny smith apples and crisp crust making them your preferred delicacy.
Another incredible aspect about having your breakfast pancakes and Atrium is that you get the opportunity of dining alongside a wonderful waterfall scene. The Caribbean pancake is one of the crowd favorites topped with coconut, walnuts, and bananas.
It's then slathered with whipped butter to make the section an outstanding tropical treat. Since the Atrium Pancakes is known as a hidden gem in the Smokies, why don't you try it today?
Also Read:
Conclusion
While in Gatlinburg, get your mornings off to a perfect start in one of these pancake houses in the city. You can't afford to miss your breakfast favorites and the variety of flavored delicacies in these fun restaurants.
From the creative concoctions to piles of hotcakes. They just don't play around! Get in one of the spots hungry and be ready to devour stacks of fluffy sweet pancakes in the city. Generally, there's just no other way to energize yourself for an action-packed day downtown. Try them during your vacation and enjoy the tempting tasty pancakes and other meals that satisfy your craving!