Horse riding is an energy-filled activity native to many in the country and beyond. The fun comes from the continuous horse galloping cross-filed – prepare to scream if you're an amateur! Despite this, no one can refute that riding a horse is probably one of the best war feelings in the world.
Not only does it provide a means of connecting with nature; some say "psychiatrists prescribe it to their patients in Texas", can you believe it?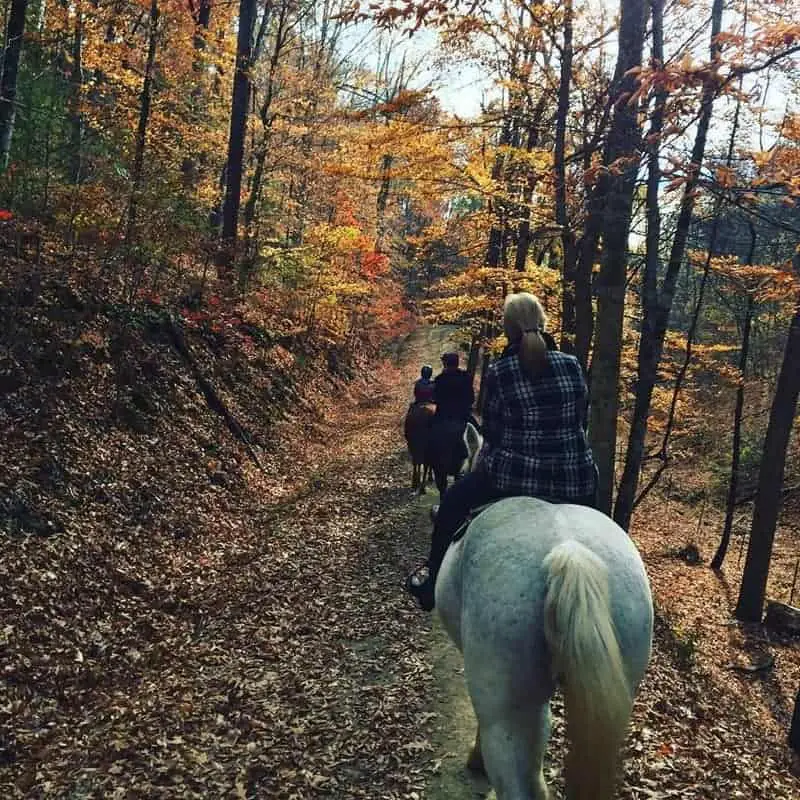 The Smoky Mountain region is full of numerous horseback riding activities. There is tons of training going on in the various horseback riding attractions. From Pigeon Forge to Sevierville, Gatlinburg, all the way to Knoxville, you will find accommodating destinations to either train or ride in the wild.
The Smoky Mountain region includes Knoxville, Townsend, Pigeon Forge, Sevierville, Gatlinburg, and other towns. Where can you get a horse piggyback in the Appalachian Mountains and surrounding towns, you ask?
Horseback Riding in Pigeon Forge
Pigeon Forge has an incredible assortment of horse activities. The trained horses are calm and ready to carry amateur riders and saddle gurus.
Big Rock Dude Ranch at Ponderosa LLC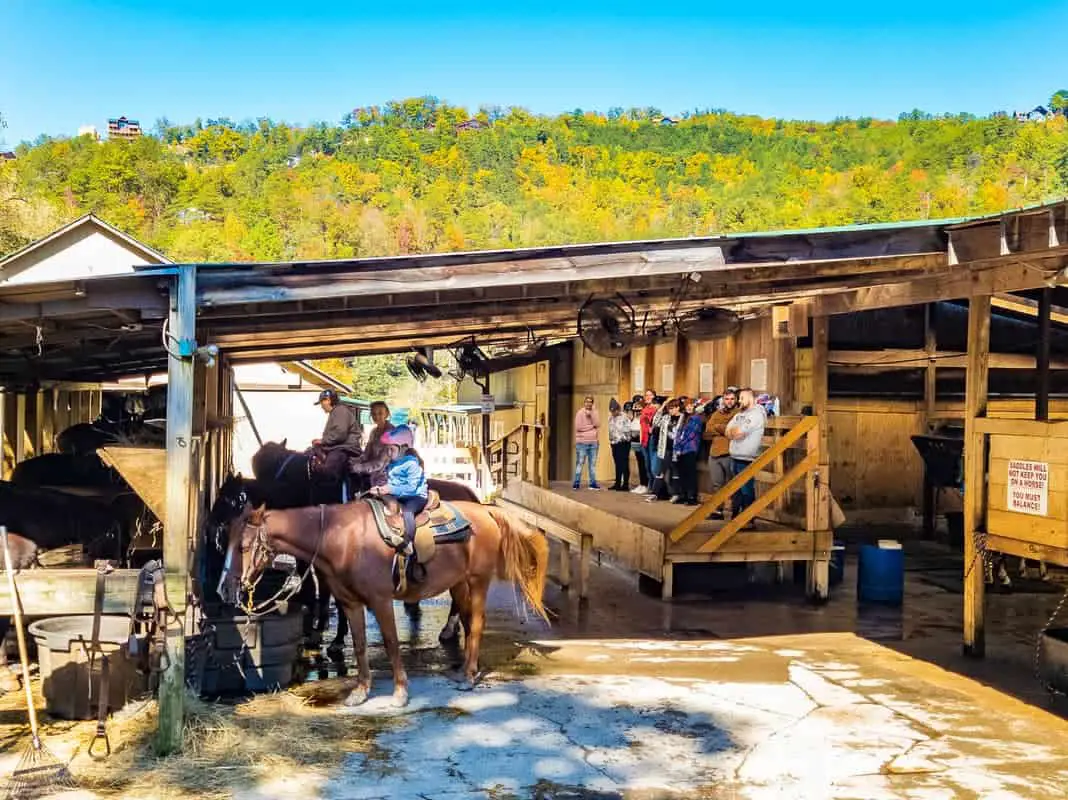 Address: 909 Little Cove Rd, Pigeon Forge, TN 37863
Opening Hours: 9 AM-5 PM
Rating: 4.4 stars
Specialty: Mountain horseback riding and petting
Big Rack Dude Ranch is one of the biggest in the Smokies, with horse riding, petting, a playground and picnic site, and a museum. It offers an unforgettable experience for adults and children, so bring your loved ones along for a visit here.
With over 80+ heads of horses, all trained and bred for maximum agility and safety, Big Rock Dude Ranch will have a horse for you. They go even further to facilitate sessions for larger people. The bigger horses can carry individuals weighing more than 250lbs; call ahead for a horse to be made available when you visit. Note that you will pay extra charges for this service.
Big Rack is a member of the American Quarter Horse Association (AQHA) and a proud holder of the Gilliham & Associates Safety 5-star rating. Their trained horses and guides ensure that all safety precautions are in place before a rider can start a ride. The establishment even has a 4-minutes must-view safety video for their patrons before riding.6 You can ask for a helmet for extra safety should you feel the need.
The mountain track is 3.5 miles long, with a view of the Great Smoky Mountains and its topography. The breeze and cool mountain air will relax you in a way only nature can. Loading ramps are big and adequate for you to climb on the saddle without much trouble, leg up, and you are on.
Small children also have VIP rides with a guide.
For only $57.95, you can enjoy an hour of horseback riding in the mountains. Get a coupon for a discounted fee. There's no admission fee to the facility, and the petting zoo, playground, and picnic site are free too. You will need to purchase snacks for the petting zoo or yourself at the general store. Don't forget to buy a souvenir cowboy hat, a shirt, or a stuffed horse on your way out.
You will find Big Rock on Pigeon Forge Parkway Drive at light 10, between Marathon (BP) Gas Station and Mountain Sky Rodeway Inn.
Goldrush Stables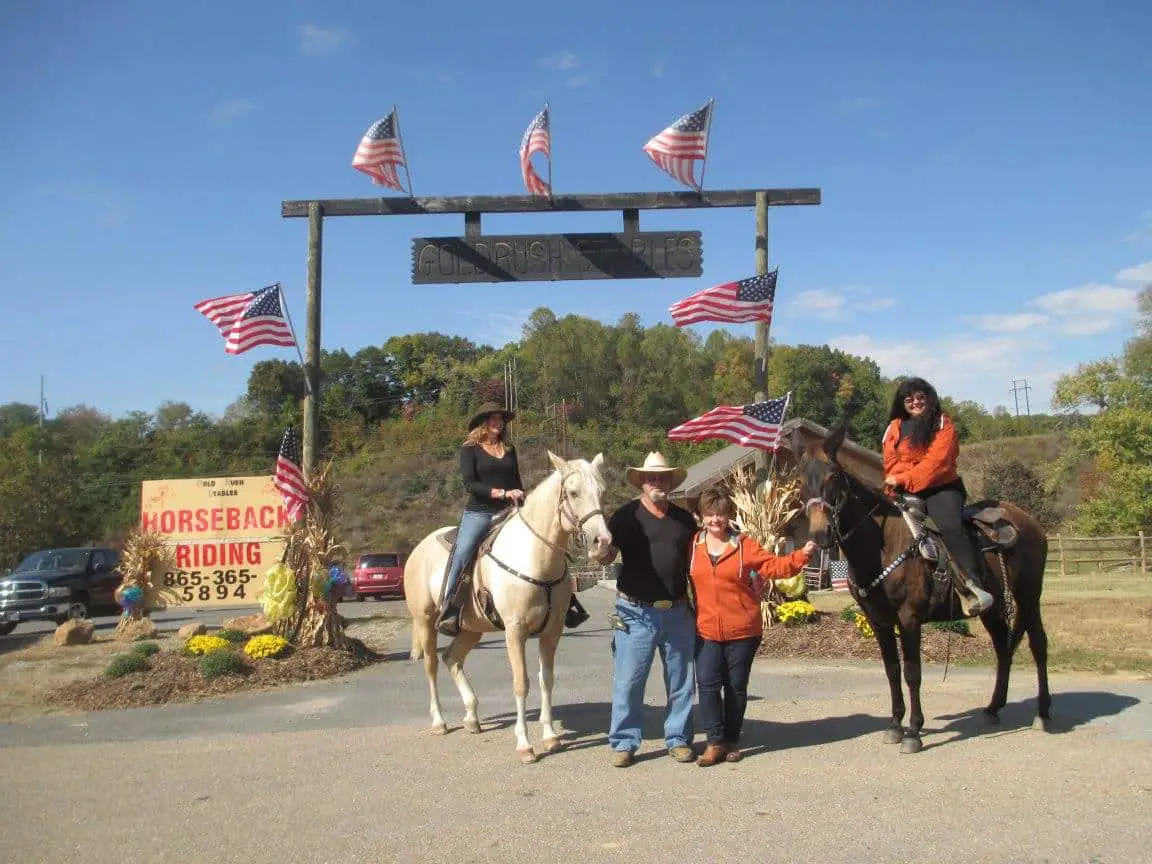 Address: 202 Goldrush Rd, Pigeon Forge, TN 37863
Opening Hours: 9.30 AM-5 PM
Rating: 4.4 stars
Specialty: Horse riding and petting
Goldrush Stables has a top rating on Google and Tripadvisor as a destination for fun and immersive horse riding experiences. They received the 2018-2020 Traveler's Choice award from Tripdvadvisor, which stamps authority on their prowess. The friendly staff and world-class guides make your visit more enjoyable and riding super easy.
Get to ride across a creek, green pastures, a ridge, and through the forest. The natural trail has less impact on wildlife discomfort, which is a plus to the environment's cohesiveness. Incredible views of the Great Smoky Mountain and the Dollywood are relaxing and a must-watch as you ride.
The prices are way more affordable than in other horse riding experiences, costing only $35+tax. If you weigh between 210lbs-240lbs, an extra $15 applies to get the bigger horses. The minimum riding age is 6, with a minimum weight of 55lbs for the 45-60 minutes of horseback riding.
Goldrush takes reservations only; this allows them to control traffic and the number of horses available against the patrons present.
Horseback Riding In Sevierville
Sevierville has the most horse riding destinations in the Smoky Mountains. The ranches and farms have best practices in breeding and training to produce stallions that will handle terrain well. Here are the top destinations in the area:
Jayell Ranch Adventure Park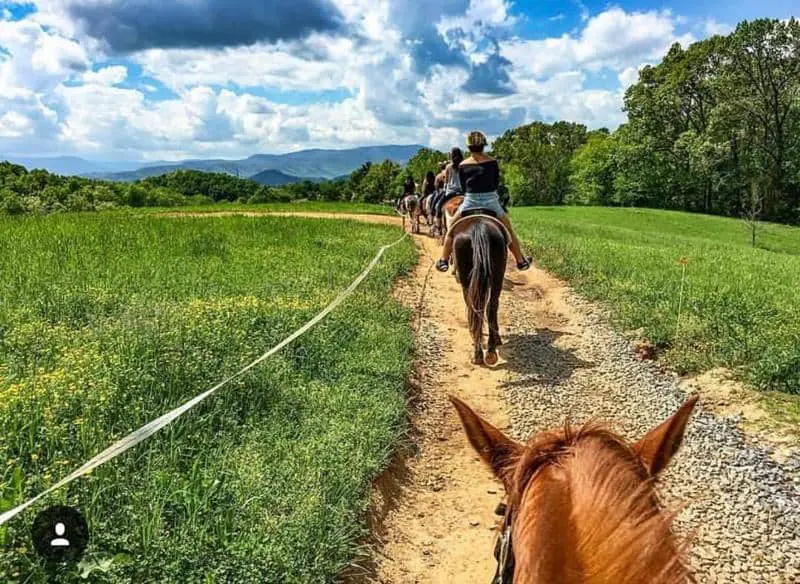 Address: 1131 Jayell Rd, Sevierville, TN 37862
Opening Hours: 9 AM-5 PM
Rating: 4.4 stars
Specialty: Horseback Riding
Jayell Park Adventure Park features ATV rides, zipline tours, and mountain slides alongside horse riding. Here, you'll find the longest zipline in the Smokies!
Located a mile past Dollywood and five minutes from the main parkway, Jayell offers a horse riding experience to remember. The park is on a 200-year-old family-owned farm that also runs it. The upside to this is that you and your party feel welcome, just like a neighbor would do it. The guides are soft-spoken and experienced to teach you how to maneuver to be an avid horse racer or at least a rider.
The 4-mile trail leads you up the mountainous sides of the 260-acre park, letting you enjoy the breathtaking natural views of North Carolina, Mount Leconte, and The Shield's Mountain Fort.
To ride, you need to weigh less than 300 lbs. Children 5 years and over can ride by themselves with a paying adult accompanying them.
It costs $39.99 for an hour on horseback, which is a decent fee in the area. Get deals and discounts on multiple activities when you book combo offers. You can choose the horse riding and zipline experience combo, for example.
Five Oaks Riding Stables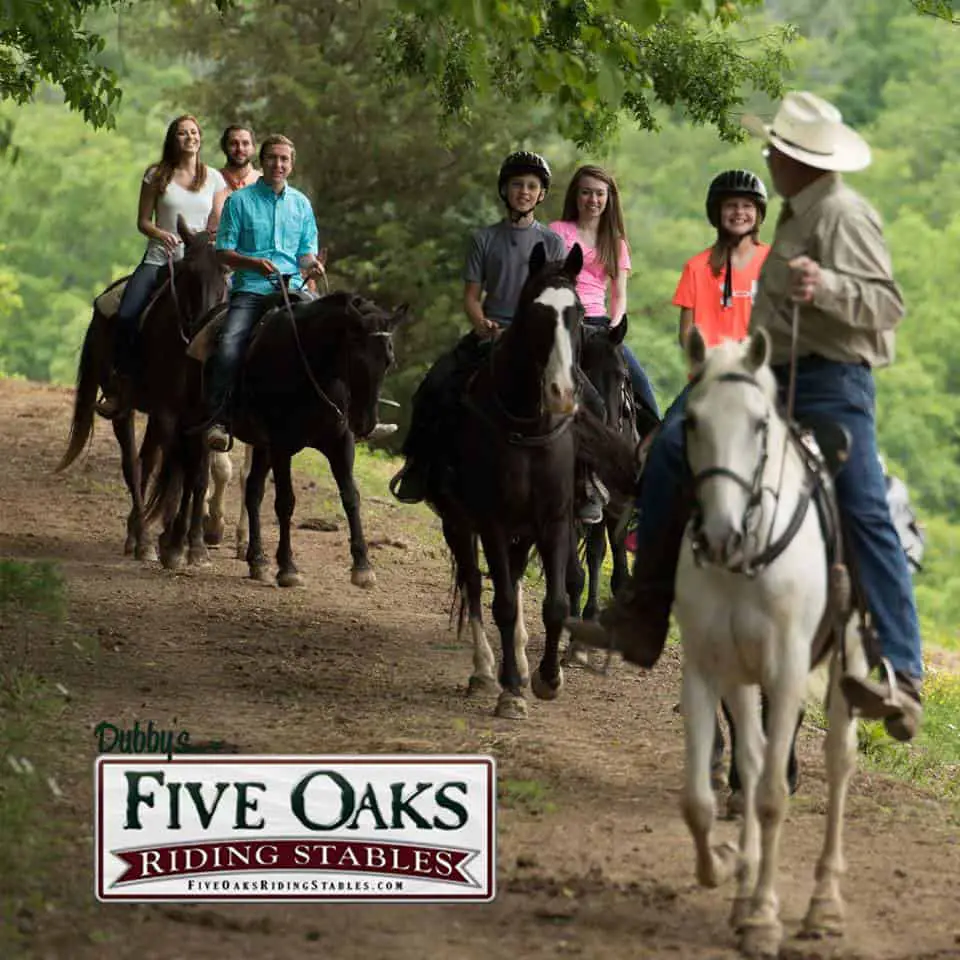 Address: 1630 Parkway, Sevierville, TN 37862
Opening Hours: 8 AM-5 PM
Rating: 4.6 stars
Socials: Facebook
Specialty: Horse riding and training
Riding on a 3.5-mile trail with views of the Great Smoky Mountains, natural streams, and trees is what awaits you in Five Oaks. The park is 70 acres of trees and vegetation you will love. No one will tell if you change careers into botany, though far-fetched.
The well-groomed horses are friendly and fun to ride on the calm natural trials, giving you time to enjoy the wild. A guide will accompany you to the end of the ride. Don't miss an authentic moonshine still along the way! If only they made moonshine here. But again, don't drink and drive or ride in this case.
Safety helmets for kids are available, as children over 6 years can ride a horse. Children aged 3-4 years can ride with their parents. Anyone under 16 must be in the company of a supervising adult to ride a horse at Five Oaks.
Persons weighing more than 270 lbs will not be allowed a ride for safety reasons. The weight limit goes down to 225 lbs in wet seasons. Doubling on horseback is also not allowed during wet seasons.
Wear a closed shoe covering toe-to-heel: athletic shoes, boots, or hiking shoes are recommended.
If you're planning to visit soon, a reservation maybe your best option to prevent waiting too long before your turn or missing a ride altogether. The park will be happy to furnish you with details on your ride on the phone.
Deer Farm Riding Stables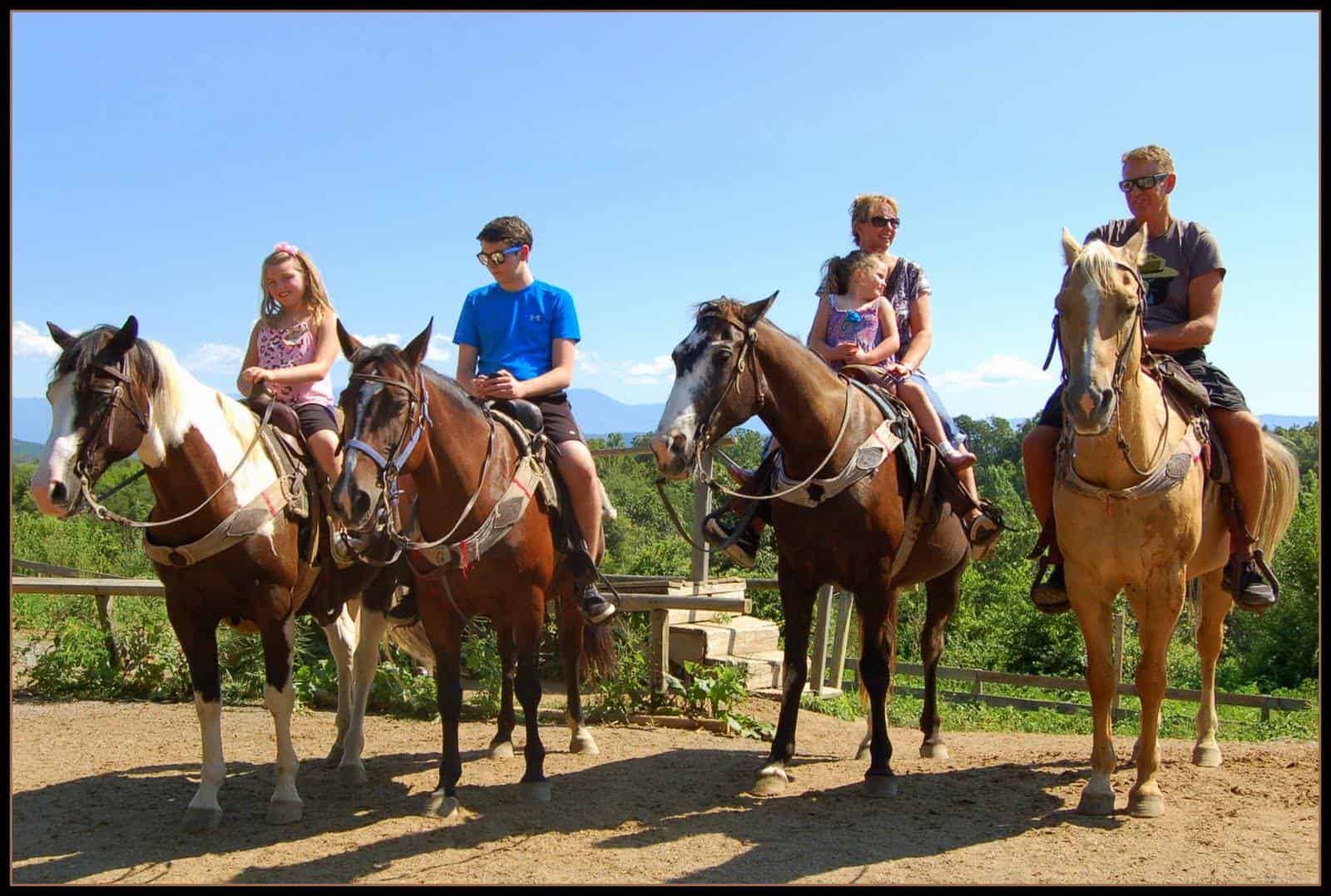 Address: 478 Happy Hollow Ln, Sevierville, TN 37876
Opening Hours: 10 AM-5.30 PM
Rating: 4.8 stars
Specialty: Horse riding, pony riding
Deer Farm Riding Zoo is a huge site in Sevierville with numerous attractions for the whole family. It features 140 acres of barnyard trails and animal spaces, from a petting zoo to horse saddles. The farm was honored with the 2021 Traveler's Choice Award by Tripadvisor.
You can have your little one ride a pony (ooh yes, the good old pony ride) as you take on the reins. Get them through an exciting sand trail as you hold the reins. If your child is relentless in holding the reins, get them a saddle on the horse track as both of you enjoy the scenic views on horseback.
The trail is 60%-80% covered up, shielding you from the sun and heat streaks. The wood-demarcated trails are wide enough to accommodate side-by-side riding. What better way to bond with your partner than on horseback in the south? Well, maybe over food, which you will have after the ride, but a horseback ride is undeniably top rated.
Ponies are available for children under 100 lbs and not taller than 56 inches. It costs $8.99 for the pony ride. The farm has excellent guides who are very "experienced" to help your child overcome the fear and uncertainty of riding a pony. Should your child refuse to ride after you have already bought the ticket, the fee is refundable.
The horse riding experience costs $22.99 for 30 minutes, $25.99 for 45 minutes, and $28.99 for one hour. You can double with your child on a horse, and pay $8.99 extra, provided the weight limit of 250 lbs is in check.
You will pay a fee of $5 if you chicken out after briefing and your horse saddling. The charge takes care of the time spent preparing for your ride.
Horseback riding is limited to persons weighing 250 lbs. All riders are weighed, so don't try to circumnavigate this requirement. Overloading the horse may cause physical harm to it or even to you should you fall. Your weight is visible only to the staff for privacy reasons. You can also take a self-pre-ride measure at the scales in the restrooms.
Read More: Best ATV & UTV Rentals in Smoky Mountains
Horseback Riding In Cades Cove, Townsend
Cades Cove has proximity to the National Park, and its stables are just as amazing. Here are two of the best in the area:
Cades Cove Riding Stables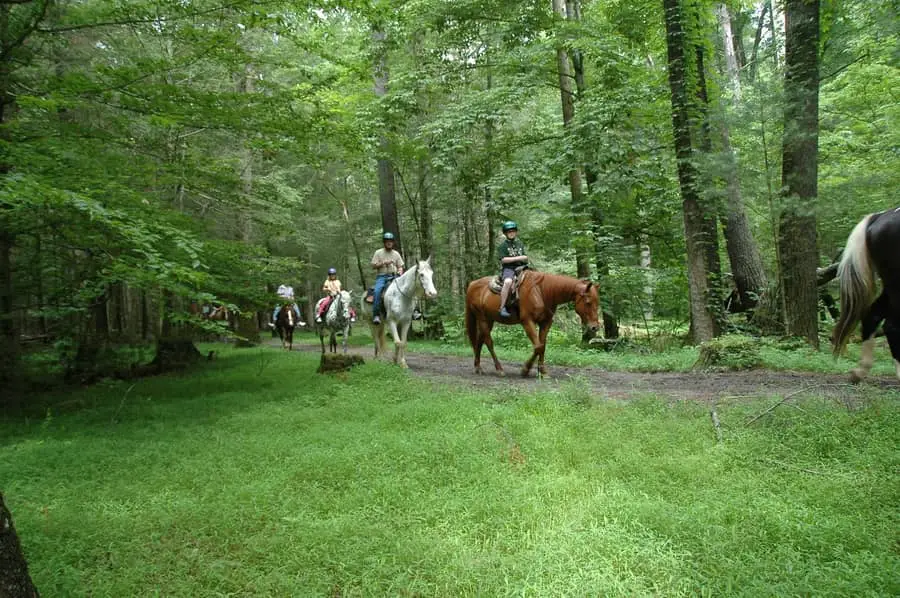 Address: 10018 Campground Dr, Townsend, TN 37882
Opening Hours: 9 AM-4.30 PM
Rating: 4.6 stars
Specialty: Horse riding, horse carriage riding
Cades Cove Riding Stables is the only riding stables in Cades Cove authorized to ride in the Great Smoky Mountains National Park. You get to see wowing views of wildlife and forestry on calm horses.
If you fear a runny horse, you will be glad to know that the guides will pair your personality with a horse and a skill. All the horses are well-groomed and athletic to capture the best moments as you ride them across the vegetative terrain. You will get a chance to see sleeping bears and grazing deer, and if you're lucky, turkeys.
All guests are encouraged to wear a safety helmet (mandatory for children under 15 years). You must weigh less than 300 lbs to ride a horse at Codes Cave Riding Stables for safety reasons.
Your tour guide takes a group of 9 to make you feel at ease. You are fed the stories of the Wild West, the farming communities, and the various entertaining facts of the terrain. Reservations are not allowed for guided horseback tours.
The stables also have horse-pulled carriage rides across the terrain. The carriage rides are suitable for children and seniors. If you fear horseback riding, then here is your reprieve. A carriage can host up to 6 people depending on their total weight.
Horseback guided rides: $40 for riders aged 13+, $35 for riders aged 6-12
Horse-pulled carriage rides (30-45 minutes): $20 for riders aged 16+, $15 for riders aged 2-12
Also Read: Best Camping in The Great Smoky Mountains
Davy Crockett Riding Stables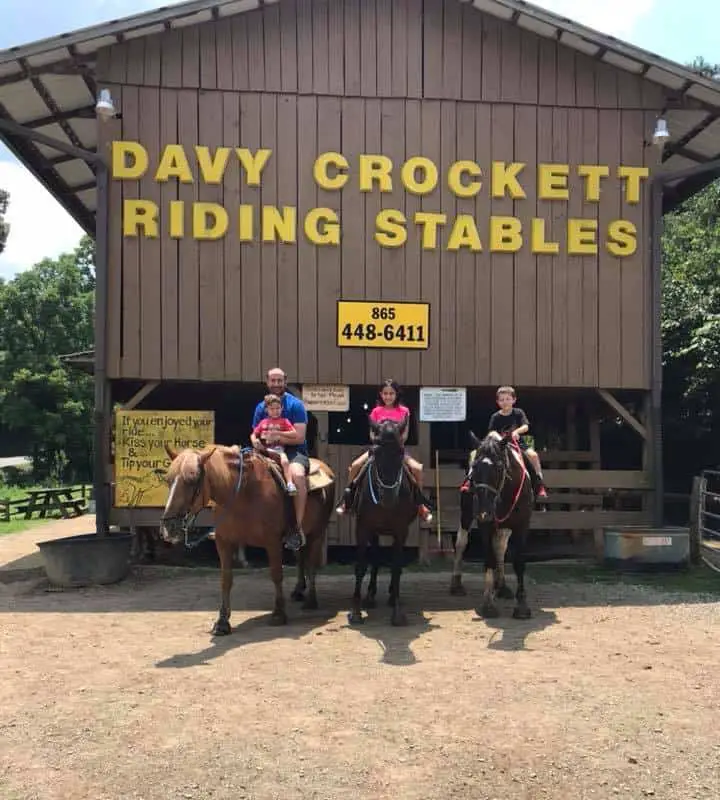 Address: 505 Old Cades Cove Rd, Townsend, TN 37882
Opening Hours: 9 AM-5 PM
Rating: 4.7 stars
Specialty: Horse riding
Davy Crockett Riding Stables is in one of the oldest mountain ranges in the world. Enjoy the old history of the south and the incredible scenery on horseback available in Cades Cove.
Reservations are greatly encouraged to avoid lagging and long lines. However, they are not a requirement, unlike in the off-peak session when you must have a reservation to ride. Rides are available from March through November yearly, so plan. You can also contact the stables' management to have a proper schedule in place.
Ride for 30 minutes at $24, 60 minutes at $35, 90 minutes at $50, or for 2 hours at $65. You can opt to pay the half-day fees of $185 to enjoy the day riding like a true resident of the wild west with no time caps-prices are tax exclusive.
Also Read:
Horseback Riding in the Smoky Mountains: FAQs
Does Gatlinburg have horseback riding?
Two of the famous destinations in Gatlinburg are Sugarlands Riding Stables and Smoky Mountain Riding Stables, which are temporarily closed. You can visit other stables in neighboring towns for a horseback riding experience.
How much does it cost to ride a horse in the Smoky Mountains?
It costs an average of $30 per hour in most towns in the Smokies. Restrictions and policies differ from one stable to the next, affecting the price. Visit individual stables for specific pricing and activity sheets.
Are you required to be trained in horse riding to ride on horseback in the Smoky Mountains?
Having formal training is not a requirement for you to ride. However, individual trail tours need someone with experience in handling a horse. Most of the stables offering horseback riding have trainers who will guide you along the way.
Conclusion
Horseback riding is a fun activity that is exponentially popular with residents of the Smoky Mountains. A dozen ranges and stables have opportunities for you to get on horseback and explore the forest and beautiful mountainous scenes. Next time you are in Gatlinburg, Sevierville, Pigeon Forge, or the other towns in the Smokies, plan to get on a horse. You will not regret it.