Pigeon Forge and the surrounding area has established itself as a top destination for a whole range of outdoor activities, and located as it is right next to the Smoky Mountains, it's a fantastic place to try ziplining.
There's no shortage of reputable outfits offering a range of exhilarating zipline adventures – so here's our guide to the top picks.
In Pigeon Forge
For those staying in Pigeon Forge who don't want to travel, there are a couple of good ziplining options within easy reach of the town.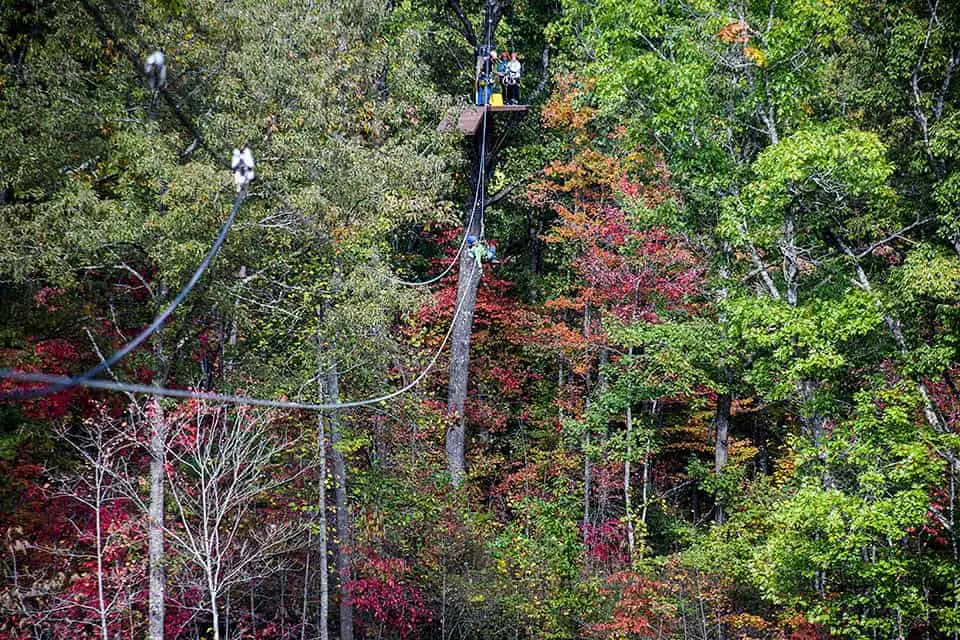 Located just two miles from Pigeon Forge – so close enough to be convenient but far enough away for you to be completely immersed in nature – Smoky Mountain Ziplines is always a reliable choice.
You'll be driven to the start of the course in a military truck, and from there you have 4,200ft of lines ahead of you that will see you racing at up to 25mph, 150ft above the trees below.
The course consists of seven separate lines of up to 800ft in length, and the whole experience takes around two hours to complete.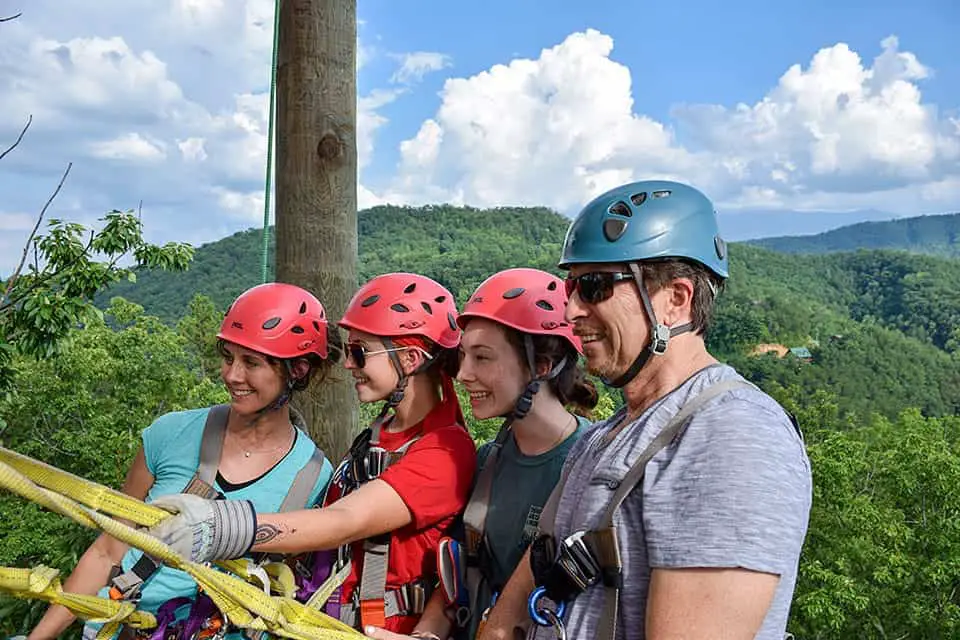 This is one of the oldest zipline companies in the Pigeon Forge area, and the outfit is known for its highly trained and charismatic staff.
Once the truck drops you off, there's minimal walking involved – and you even get canned drinks and bottled water thrown in too – making this a popular and exhilarating day out for any thrill-seekers visiting Pigeon Forge.
Reservations required. Maximum weight 275lbs.
Address: 509 Mill Creek Road, Pigeon Forge, TN 37863
Tel: 865-429-9004
Email:

[email protected]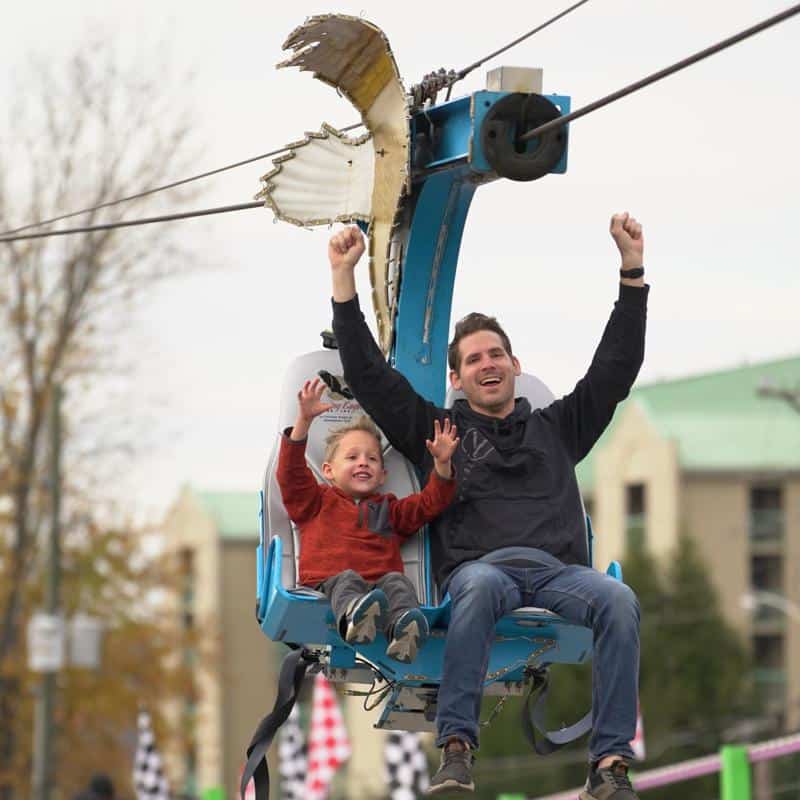 Although not a traditional zipline course, the Fun Stop Family Action Park boasts a sit-on zipline ride named The Eagle.
One or two riders sit on an eagle-shaped seat and are launched along a zipline that allows you to "experience the Smoky Mountains from all new heights".
The park also offers rides such as The Slingshot and The Skyscraper, making this park a great choice for those who want to try ziplining but who would also like to experience some other rides too.
The charge for a solo rider on The Eagle is $15 per ride. For two riders together, the cost is $30.
Also Read: Best Go-Karts in Pigeon Forge
Around Pigeon Forge
If you have transport and don't mind traveling away from Pigeon Forge, the surrounding area also has some excellent ziplining options. Here are the ones to look out for.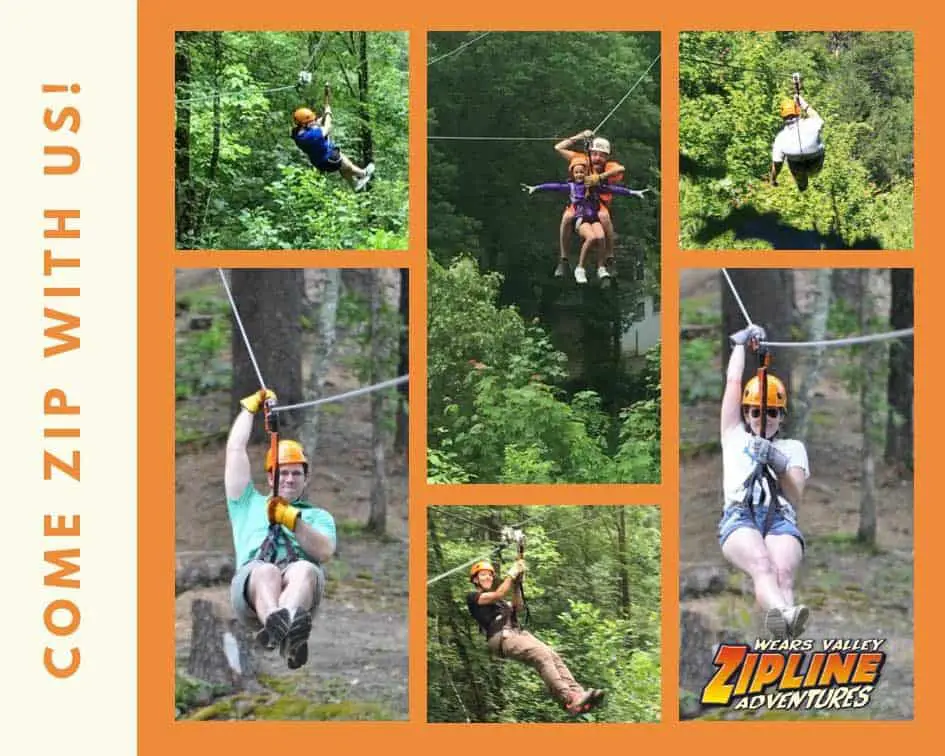 Located in Sevierville, Wears Valley Zipline Adventures allows you to ride some of the longest and highest ziplines in the Smoky Mountains area – their longest line is around 2,000ft long and 250ft high.
You can choose from the five-line course, the six-line course and the eight-line course, with the maximum length allowing you to fly along a total of 7,600ft of ziplines.
The highlights of ziplining with Wears Valley include the breathtaking views of unspoiled mountain scenery and the variety of the lines you can ride.
This is a great option for kids, and the staff are known for being friendly and full of energy too, doing everything they can to ensure you enjoy the perfect experience.
From age 5 and up, ages 5-7 must ride tandem with a guide. Maximum weight 275lbs.
Address: 1911 Wears Valley Road, Sevierville, TN 37862
Tel: 865-428-1545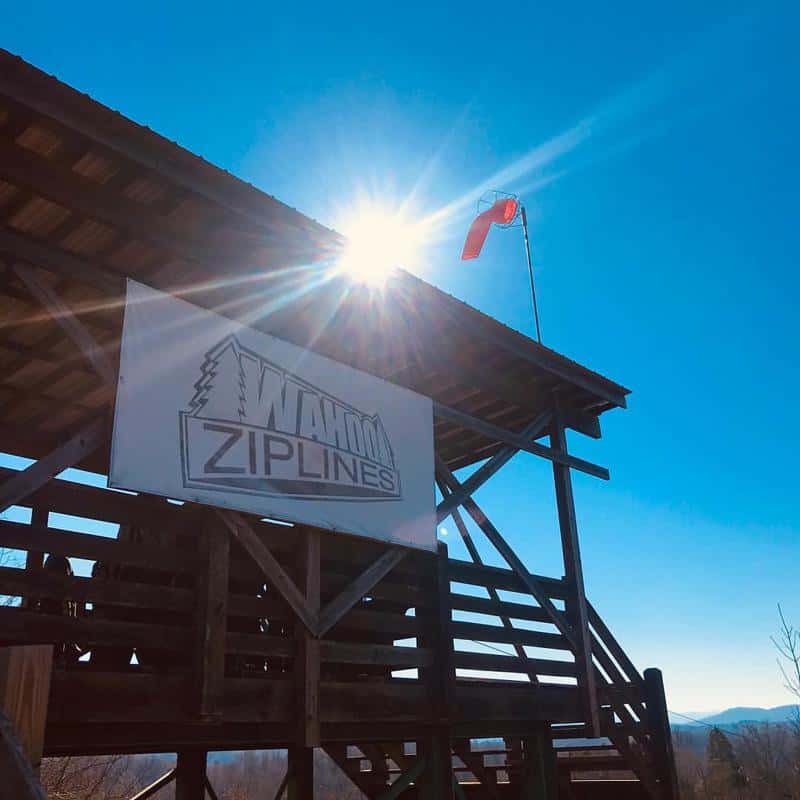 Having opened in 2008, Wahoo Ziplines is the original Smoky Mountains zipline outfit. They've been operating for 13 years and counting, and in that time, they've seen over 400,000 happy customers fly down their cables.
As well as being the oldest, they also market themselves as being the "wildest zipline in the Smoky Mountains", and although we'll leave that to others to decide, with over two miles of lines ranging from 40ft to 250ft in height, we think they have a strong claim.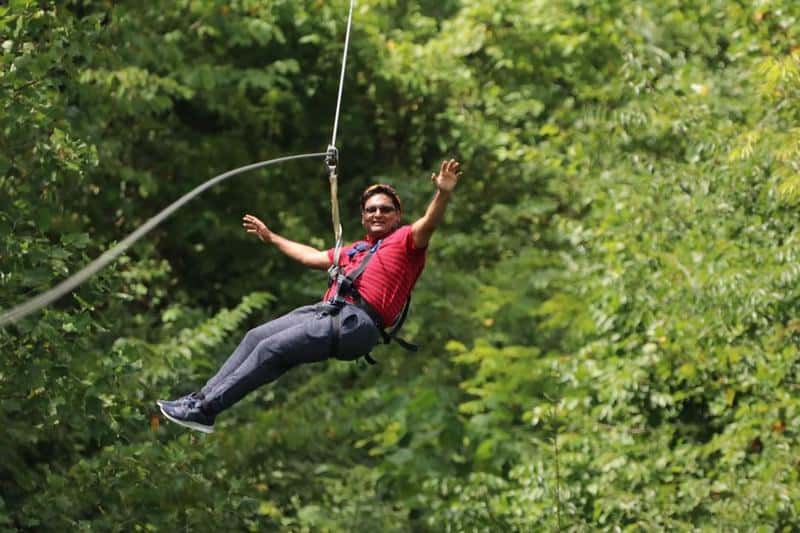 The full course includes six separate lines, and completing the tour takes between one and two hours. Their staff receive extensive training, so these ziplines are as safe as they come, and the guides are friendly and helpful too, putting everyone et ease, even first-time riders.
In between each zipline, there's a short walk along some attractive mountain trails, allowing you to soak in the peace and tranquility of the forest while giving you a few moments of downtime to process the high emotions of the line you've just ridden.
Minimum weight is 45lbs, maximum is 275lbs. Minimum age 5 years. Reservations required.
Address: Wahoo Ziplines, 605 Stockton Drive, Sevierville, TN 37876
Tel: 865-366-1111
Email:

[email protected]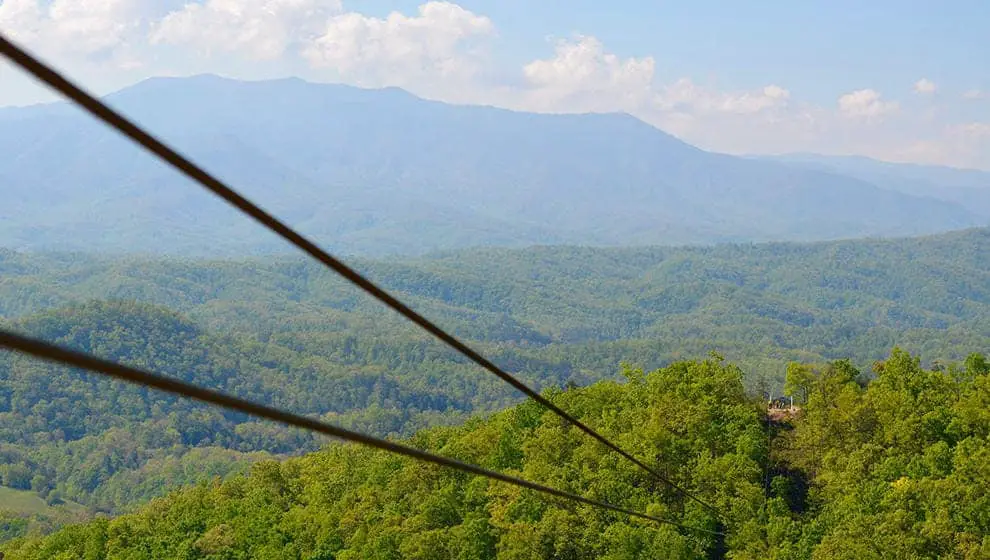 For those who want to test their bravery to the limits, with seven lines measuring over two miles in total at a maximum height of 500ft and with top speeds of 50mph, Legacy Mountain Ziplines is hard to beat.
Located over in Sevierville but convenient to reach from Pigeon Forge, Legacy offers superlative views, exceptional service and an adventure that's sure to have your heart pounding and your adrenaline flowing.
However, even if you're scared of heights, you should have nothing to worry about. The highly trained staff carry out daily checks on the equipment and do everything they can to ensure you are kept as safe as possible.
Ranked as USA Today's #1 Aerial Adventure Park for 2021, this is one of the most popular ziplining experiences in the Pigeon Forge area and definitely one to consider if you're looking for a thrilling day out to remember.
Riders below 16 must be accompanied by an adult – minimum age is 3. Minimum unaccompanied weight is 70lbs, maximum weight is 275lbs. The whole course takes around 2.5 hours to complete.
Address: 800 Legacy Vista Drive, Sevierville, TN 37862
Tel: 888-869-0289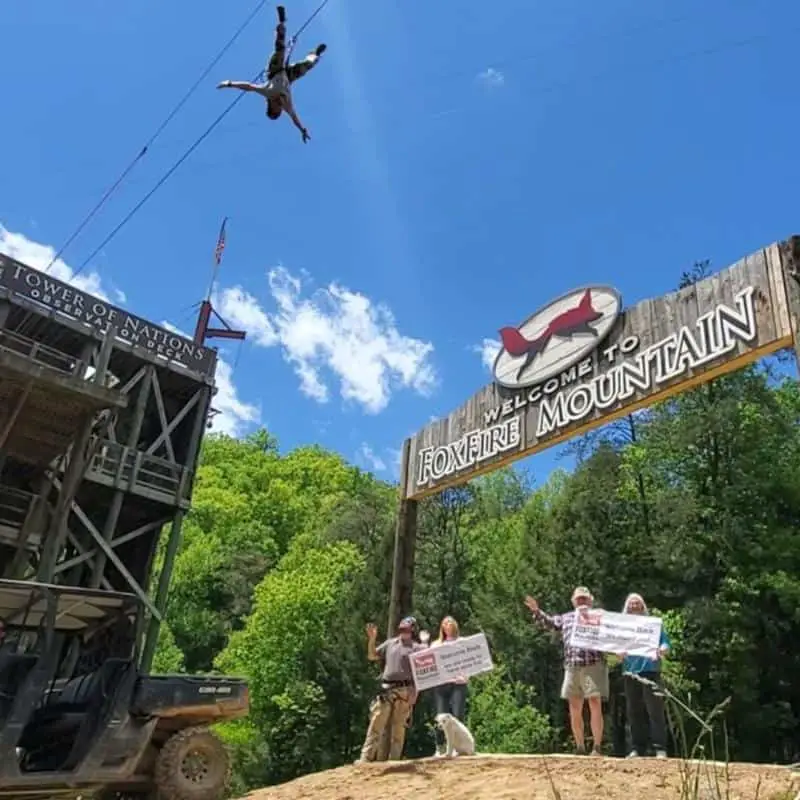 Foxfire Mountain Adventure Park has two separate zipline courses to choose from as well as canopy walks and fun nature trail hikes, so you're sure to find something that suits you and everyone in your group.
The Waterfall Canopy zipline tour combines seven lines with two skybridges. You start on three easy ziplines before moving on to the more advanced ones, making it a great choice for beginners. Highlights include zipping over the mysterious lost mine waterfall.
For the more experienced – or the more courageous – the Goliath tour is the one to choose. It includes some of the fastest, longest and highest lines in the US that will see you racing along at over 60mph while suspended up to 500ft above the forest below.
Alternatively, for the ultimate zipline challenge, combine both tours and ride all the lines, an unrivalled day of ziplining that will take around four hours to complete.
For the Waterfall Canopy tour, minimum age is 7 and weight limits are between 45 and 265lbs.
For Goliath, minimum age is 10 and weight limits are between 100 and 250lbs.
Address: 3757 Thomas Lane, Sevierville, TN
Tel: 865-774-0727
Email:

[email protected]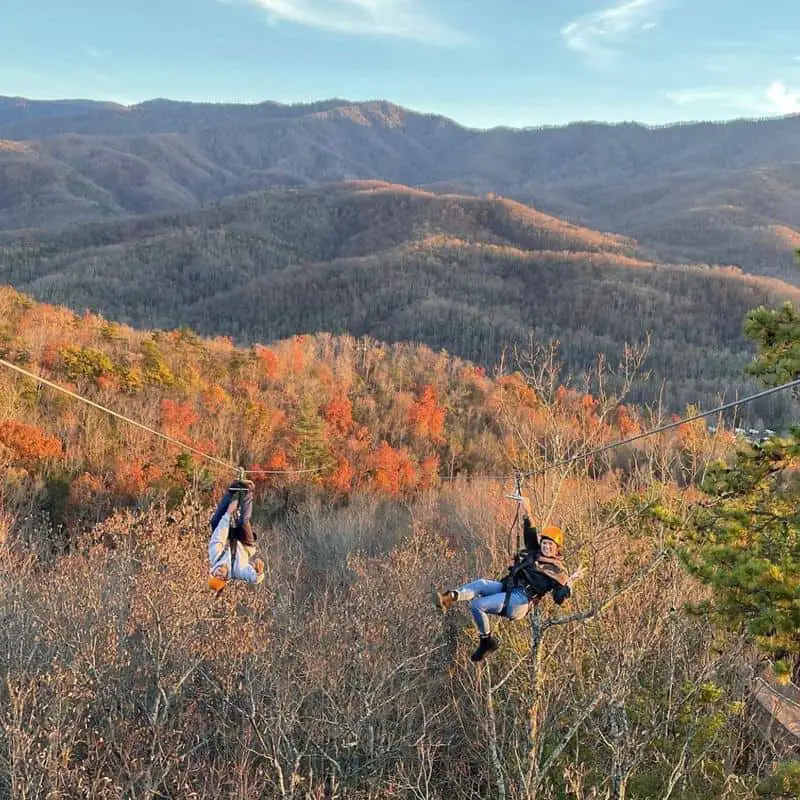 Gatlinburg's CLIMB Works Canopy Tour offers two thrilling zipline courses right on the edge of the Great Smoky Mountains National Park.
The first option, known as the Mountaintop Tour, allows you to experience unrivalled 360° panoramic views over the stunning landscape as you work your way around the course.
The tour consists of six dual ziplines that allow you to share the experience with a family member as you both race down at the same time, and there are also four bridges and a rappel at the end to keep things exciting.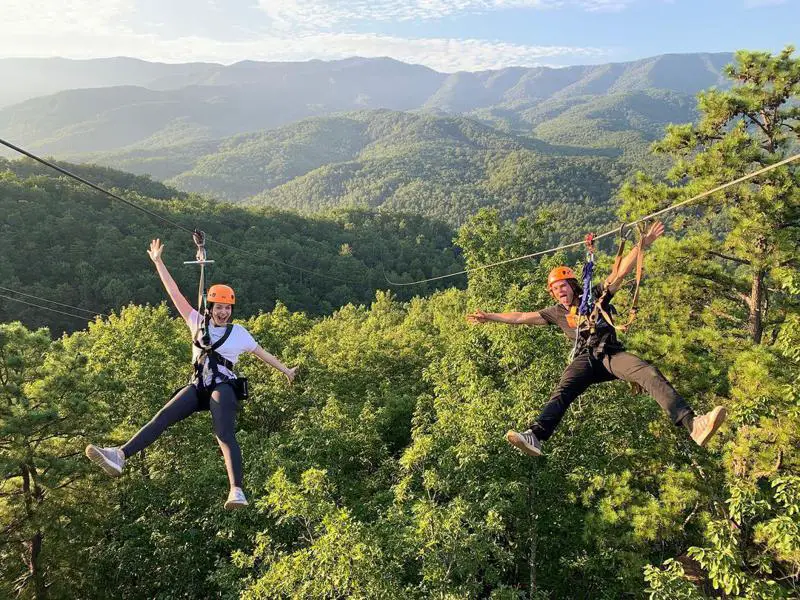 This tour is considered easy to moderate and takes around two hours to complete.
For something slightly more manageable although no less spectacular, the Treetop Tour includes nine lines as well as bridges and a rappel at the end. This option is considered easy and takes around 2-2.5 hours to finish.
Both tours start with an ascent in a six-seat ATV, and during the tour, you'll also have the chance to learn a bit about the Smoky Mountains and the local ecology.
Age limit is 7+ for both tours. For the Mountaintop tour, the weight limit is 250-275lbs, depending on your height. For the Treetop tour, the maximum weight is 270lbs.
Address: 155 Branam Hollow Rd, Gatlinburg, TN 37738
Tel: 865-325-8116
Email:

[email protected]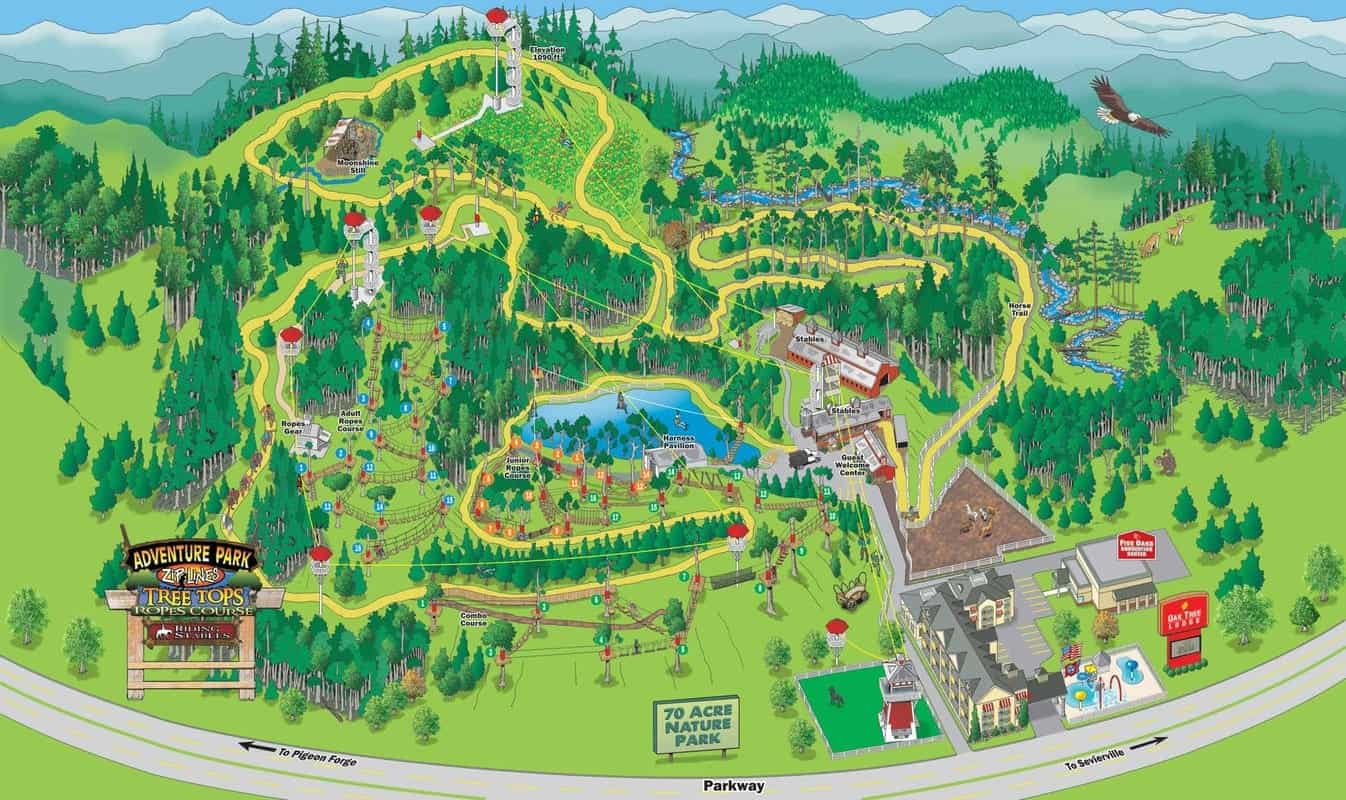 Another excellent ziplining option if you can travel to Sevierville is the Adventure Park at Five Oaks. There, you'll find a 70-acre nature park with seven individual lines of up to 2,000ft in length that allow you to reach speeds of around 50mph.
Since kids of three and above can ride – and the dual ziplines allow you to ride side-by-side with other members of your group – this place is a great choice for families.
Another big advantage is that you can combine your ziplining with horseback riding in a package that will keep you entertained for the whole day.
The park boasts stringent safety measures. Weight limits are 70-270lbs – kids under 70lbs must ride with an adult.
Address: 1628 Parkway, Sevierville, TN 37862
Tel: 877-287-6946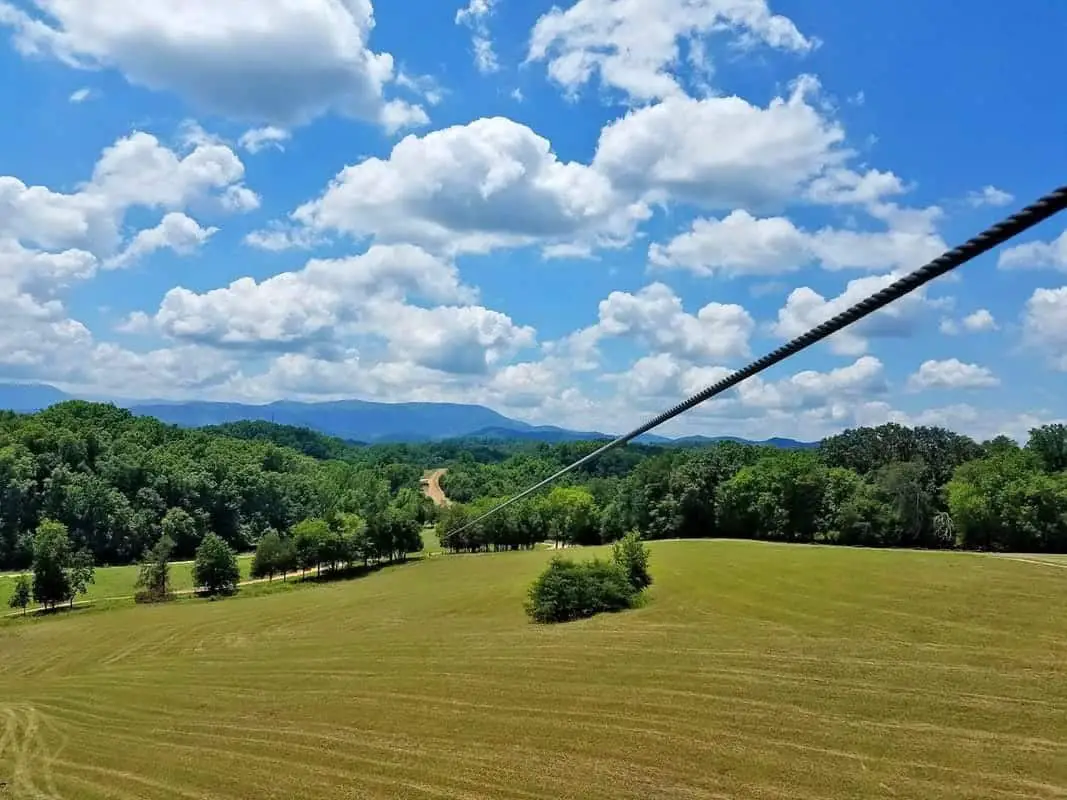 Jayell Ranch is a popular choice for beginners and more experienced riders alike. If you want to try ziplining for the first time but are unsure if you want to experience anything too intense, you can opt for the half-course package.
This allows you to ride the three easier lines, which range from 400 to 1,300ft in length – including one line that takes you through a 60ft tunnel.
Alternatively, select the full-course option and ride all six lines for a total of over two miles – one line measures a huge 3,500ft, putting it among the longest in the whole Pigeon Forge area. Both options also include canopy walkways.
Reservations not required – walk-ins accepted. Minimum age 2 years – weight limit 275lbs. Other activities such as horseback riding are also available.
Address: 1131 Jayell Road, Sevierville, TN
Tel: 865-776-1593
Email: [email protected]
Also Read:
Many Great Options to Choose From
Thanks to a combination of wonderful mountain scenery, beautiful woodland and healthy competition between operators, when it comes to ziplining in Pigeon Forge and the surrounding area, you'll be spoilt for choice.
However, whether you're a beginner or an experienced zipliner, there's sure to be something for you to try – and with our guide, now you'll know all the best places to check out.