Hospitality in the Smoky Mountains is and always has been a towering part of the region. Hotels, restaurants, cabins, shows (name them) are all huge parts of the Smokies. Pigeon Forge is a tourist hub buzzing with locals and travelers who sightsee the wonders of nature in the hill town. Not to mention that they will not be leaving without sampling the goodness of the town's food, among other things.
Blue Moose is the only family sports grill in town, and locals have revered the place as a sanctuary to have the best meals while enjoying the latest in the sports world. One may wonder if the town has a taste for sports.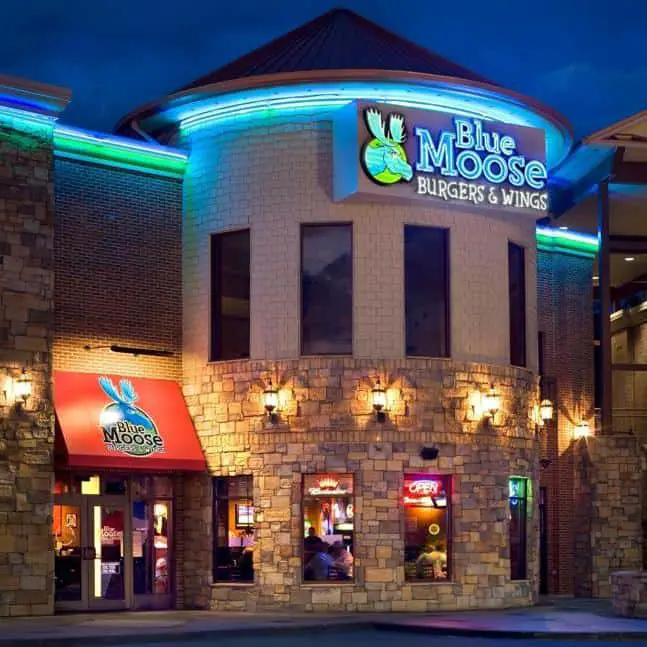 To answer you, yes, the Pigeon Forge has a wide following in football, volleyball, hockey, and basketball are fan favorites. So don't be amazed when you enter a bar to be greeted by a cheer for that Superbowl score.
About Blue Moose Burgers & Wings
Blue Moose Burgers and Wings has been serving residents and visitors of East Tennessee since 2007. As the only sports bar with a family-friendly environment, the joint has a commendation for impeccable service with delicious food at affordable prices. You are in for much more than tasteful food, as the sports bar has a stunning ambiance great for the whole family.
The restaurant has over 20 flat screens casting your favorite game while you enjoy a hot serving of crispy fries with hot wings and a cold beer. The screens are in strategic positions such that every table has a good viewing point to what's currently showing. It completely surpasses the bar for a sports bar when it dawns on comfort, suitability, and friendliness.
Even though the restaurant is not in the best of locations, as you will read in a local feature below, Blue Moose is a jewel of the locals. You will find large crowds, especially on weekends or game nights, waiting to catch live action from the "screen city" of Pigeon Forge.
It's built with a family concept in mind in that you can bring your four-legged companion to hang on the patio. Don't worry. Your burger will not boil from the scorching sun; there are patio umbrellas that provide adequate shade for a fun-filled afternoon.
Did you know they have a varied menu with fast dishes, fascinating sides, and craft beer? The restaurant stocks versatility in their palates; they even have a special kids menu. It means you can sip on your beer in peace as your little ones feast on fries and some iced yogurt or whatever the kids love these days. Bet you're not too old to not know, but who cares if you are. The Moose got you.
Where Is Blue Moose in Pigeon Forge Located?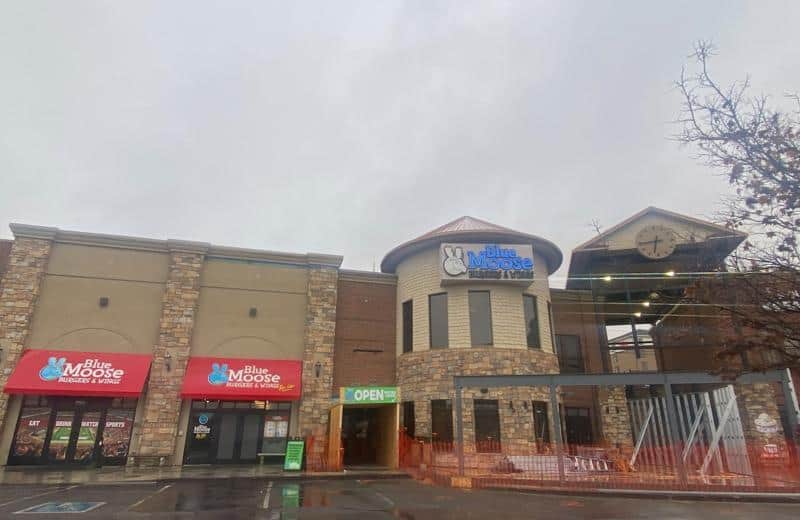 Blue Moose has been a well-kept secret tucked-in Pigeon Forge, but it is out now. Not to say that the restaurant did not fancy visitors in the past. After all, they are in the business of tours. Its location is not necessarily very accessible or visible.
You'll find the sports bar off Teaster Lane, right behind Buffalo Fish Grill and Carino's Italian eateries. The restaurant shares a shopping center with Three Monkeys Photo Emporium and Tropical Smoothie Cafe. Some say that the location is more interior than other sports bars, and others will attest to the serene environment Blue Moose offers away from the main road. Either way, they will find their way to the Moose.
Contact Information:
Reach the Blue Moose via their official website or through the hotline.
Alternatively, you can check out updates and menu specials on their social pages on Facebook and Pinterest.
What Time Does Blue Moose Open?
Blue Moose Burgers & Wings is open daily Monday through Sunday. The restaurant has dine-in and takeaway options for all food and drinks on their menu.
Hours:
Sunday – Thursday: 11 am-10 pm
Friday – Saturday: 11 am-11 pm
Deliveries through third parties are available, too. You can place your order for those delicious crispy chicken wings from Uber Eats, DoorDash, etc. Delivery is, however, dependent on the availability of the order and if the courier company has operations in your area.
Blue Moose Burgers & Wings Menu
The Moose offers the best sports bar experience. In addition to the remarkable and immense screen time you get, the food takes you by storm, but in a good way. The menu here is, without a doubt, extensive and diverse. If you are a fries person, a beer enthusiast, or a chicken addict, your cravings are fully taken care of right here.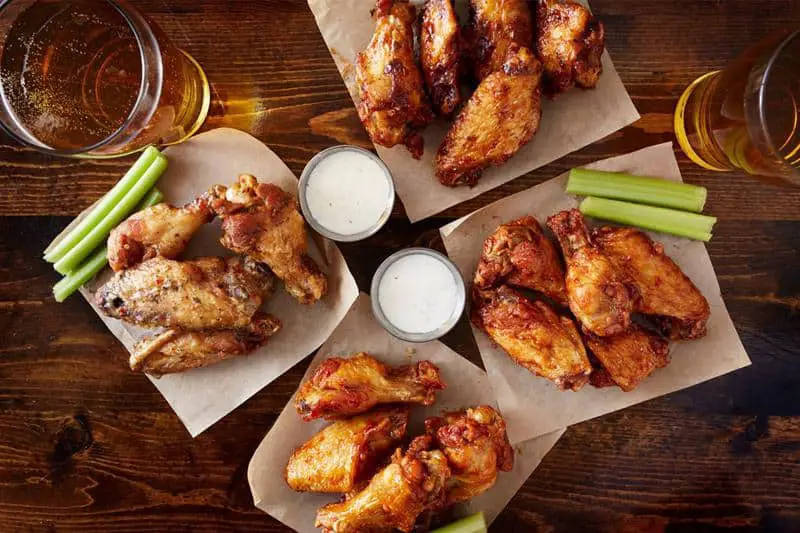 The food is delicious, to say the least, or should you wait to attest? What you will find ‌is an incredible taste of some fries, crispy and spicy, perfect for that NFL final coming up. What about the kids' menu so that your little one can enjoy sweet foods and drinks too. It's has stamped itself as a family-friendly space, even for pet dogs.
Diving straight into the menu: there are a few favorites that you may be interested in in your hunger visit to the Moose. Here is a synopsis of the Blue Moose menu:
Starters: Buc's poker chips, fried mushrooms, Moose-A-Rella sticks, Moose's gringo nachos, Kick's Jalapeno bites, stuffed potato skins, etc.
Salads: Tacos, the wingman, house salad, and grilled chicken. Salad dressings are available too.
Moosewiches (sandwiches): fried pickle buffalo chicken, chicken Philly, grilled chicken sandwich, buffalo chicken wrap, wild chicken wrap, the brotherly love, etc.
Moose Burgers: Big mushroom melt, Moose's big daddy Mac 'n Cheese burger, grilled cheeseburger, southern Jalapeno burger, Hawaiian Lau burger, etc.
Chicken wings: Served in 18 different flavors, including plain naked, wild ranch, honey bbq, sweet Thai, signature hot, atomic, etc. The flavors vary in heat, from sweet, mild to hot.
Kids' menu (10 years and under): Mac 'n cheese, grilled cheese, all-beef hotdog, chicken fingers, buttered corn dog, blue chicken wings, chicken/cheese quesadilla, etc.
The chicken jumbo pack is a local favorite served with a dipping sauce of choice from the 5 dipping sauces available. Sides (fries, corn, chips, and mac 'n cheese) and desserts can be ordered with each meal. Drinks are available at the bar, both tapped and canned. Check out the prices on untappd.com.
Pro-tip: The atomic hot sauce has a daredevil kinda heat, so choose wisely. You don't want to be drinking water and juice all through lunch-unless you think you have what it takes.
Blue Moose Pigeon Forge Drink Menu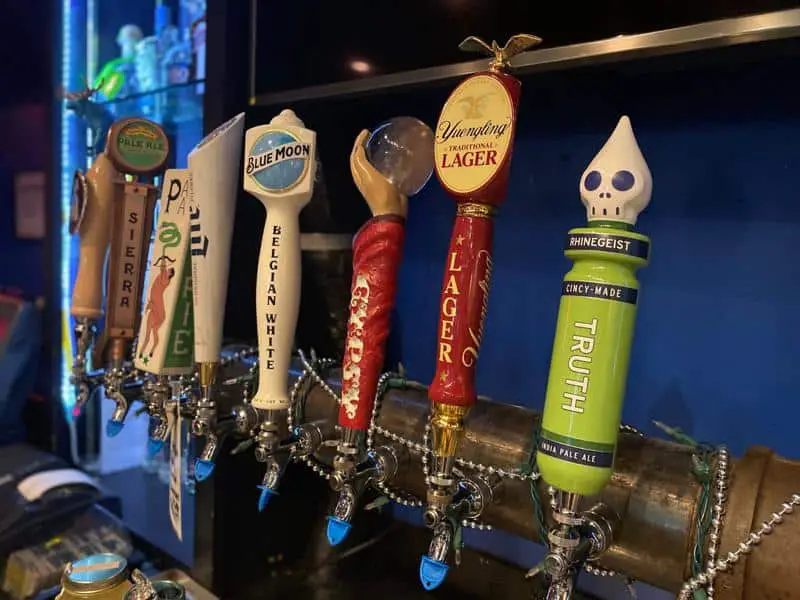 Select among the 8 mainstay drafts (Lager, Lite, Ale, etc.) and the 8 regional and seasonal crafts (coffee porter, dragon's milk, etc). Check the full drink menu on untappd.com.
Blue Moose Burgers & Wings Pricing
Sports bars are expensive in most tourist towns like Pigeon Forge. However, the prices at Moose are friendlier compared to others at the same rating. Not in many places will you find a sports bar, more so one that is family-friendly and action-packed like Blue Moose, displaying affordability.
Blue Moose has some of the best food in the hill town, yet you can spend $50 on a meal for your family of four. What a deal, right?
It has always been a local favorite, with friendly prices on meals, and they extend the same courtesy to all their customers. You will not go broke dining at the joint with a few of your mates as you enjoy some field action-go, go Tennessee Smokies!
Here are some prices for local fan favorites in the Moose:
Starters: $7.99-$14.49.
Salads: $4.99-$12.99
Moosewiches: $10.49-$11.99
Burgers: $11.99-$14.99
Jumbo chicken wings: $9.99-$36.99
Sides: under $5
Desserts: under $7
The kids' menu has drinks for $1.79-$1.99, and all foods and snacks are under $6.99. Remember that your kid has to be ten and under to order from the menu.
Is the Blue Moose Worth It?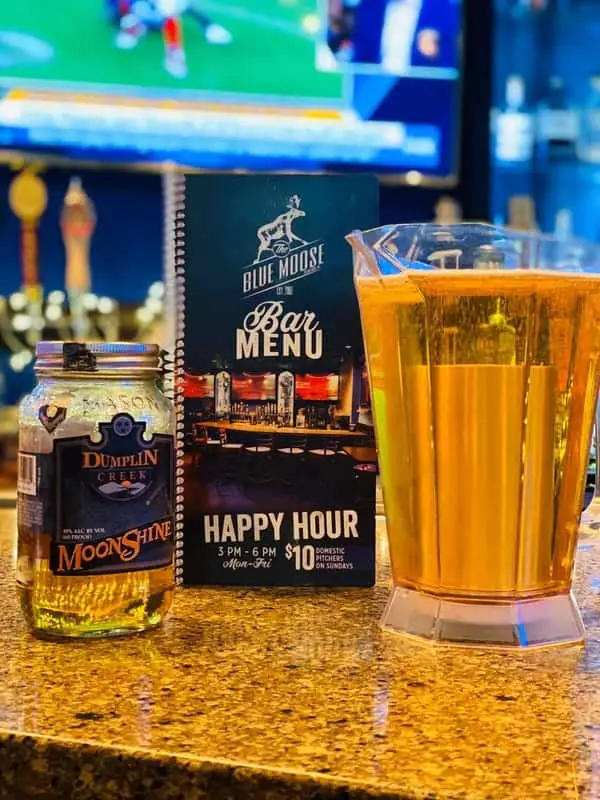 The Moose is, no doubt, one of the best places to dine in Pigeon Forge. Not only because they are the only family sports grill, but their overall service is way above the top. They are a jewel for any sports fan with their 30HDTVs on the walls, and even some seats have a screen where you can select your preference using a phone app. Crazy, right? They also incorporate music, and amazingly, you can choose your track!
Another incredible thing that sets Blue Moose apart is that they can accommodate you during major game nights when you have a ticket. It means that they can show more than one game concurrently on different screens. You can request to watch any game, and for sure, an attendant will be more than happy to turn it on ‌one of the many plasma screens at the bar.
The only setback on this joint is the wait time. You can have lengths of more than 20 minutes in wait time for your order to process. You cannot blame them for this, as the place flocks with clients, day and night due to their tasty food and warm service.
In peak times, you can be waiting for anything between 40-60 minutes. Now if you have to wait a whole hour, then it becomes less pleasing to wait for a burger, right? Good thing they have an online booking system where you call to order ahead of time so that you can get an estimated time.
Also Read: 10 Best Restaurants in Pigeon Forge
Conclusion
Burgers and Sandwiches never get any better in the Smokies than at the Blue Moose Burgers & Wings. Digest the best in Pigeon Forge hospitality at the only family-friendly sports grill in town.
They stock crispy potato chips and deep-fried flavored chicken wings featuring 18 different flavors. Highlight The Moose on your bucket list this year when you visit the hill town, and you might just find your new chill spot during any game night.