If you haven't heard of the Sunliner Diner, things are about to get interesting for you. Spanning two locations, one in Pigeon Forge and the other in Gulf Shores, the Sunliner Diner is more than just your run-of-the-mill diner that serves chicken and waffles all day. Visit the Sunliner Diner in Pigeon Forge for an experience that literally carries you back in time with its style, decor, and menu.
Patrons may expect this throw-back eatery to have held a lease since the days of classic cars and The Bee Gees, but this unique restaurant just hit the scene in 2019. The other location made landfall in the Gulf Shores just a year earlier in 2018.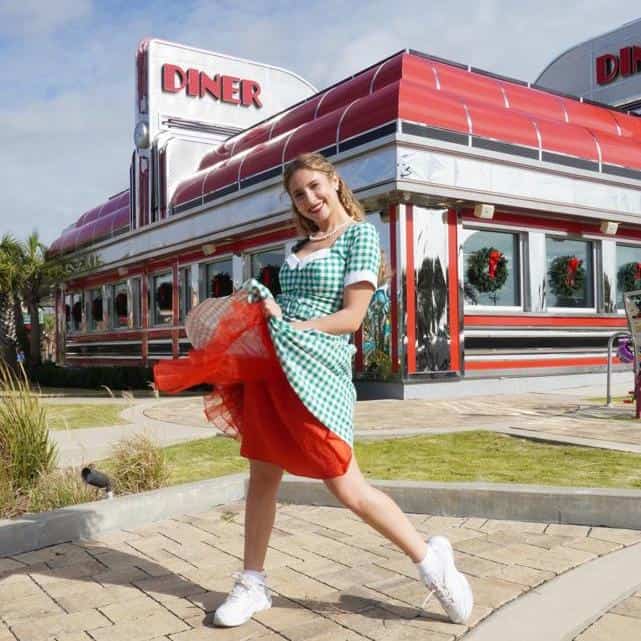 The Sunlight Diner in Pigeon Forge and Sunlight Diner in Gulf Shores are owned by Parent company Hangout Hospitality Group LLC. They own a number of other restaurants in the Gulf Shores area as well as in Myrtle Beach. The company offers theme-style restaurants that cater to couples and families.
It's Not Just a Restaurant, It's an Experience!
If you are seeking out a romantic fine dining experience to celebrate your anniversary, this may not be your best bet. But, if you want to take a date or family out for the dining experience of the decade, the Sunrise diner probably won't disappoint.
The 1950s inspired Sunliner Diner has classic car booths for seating and 1950's style music for your enjoyment. The servers are also clad in 1950's style clothing to polish off the experience. If you are lucky, you may even catch your waiter or waitress singing an oldie or two.
Sunliner's Classic Menu
Classic diner food has remained a contemporary favorite so the menu should be pleasing to most who enjoy eating at those kinds of establishments. One of the great things about the Sunliner Diner is that it serves breakfast all day, this alone could be a deciding point if you're trying to figure out where to eat.
As you would predict, the Sunliner Diner offers a classic 1950's diner fare, but not without adding some style and ingenuity. With menu choices like Reuben sandwiches and ice cream sundaes, you can't go wrong if you're looking for something you typically see on diner menus, and the portions are huge!
The menu itself gives patrons a creative way to engage with the theme by providing a list of 1950's "Slang" to ensure a giggle and proper communication. It also includes a fascinating newspaper section that gives interesting facts from the 50s era like the movies and television shows that were popular and what the average income was back then.
What to eat at the Sunliner Diner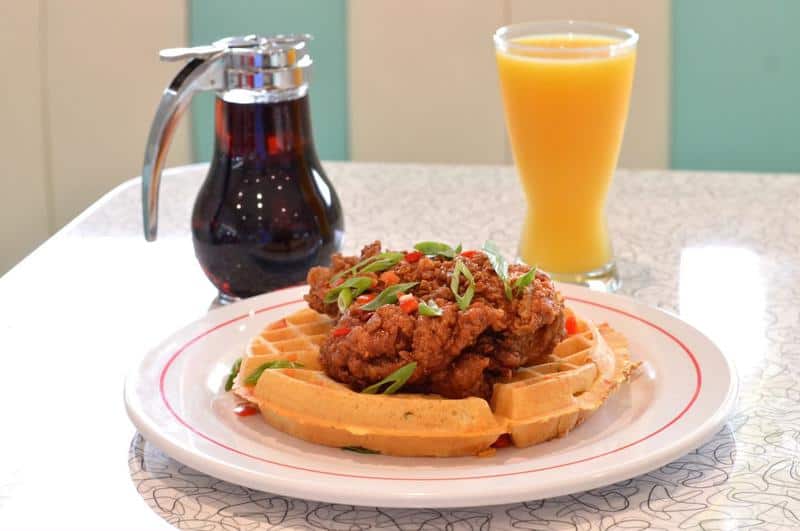 Breakfast
Who doesn't love the option of having eggs benedict for dinner, especially if you're part of the late-night crowd? The Sunliner Diner serves breakfast all day so you're in luck if that's an option you're looking for.
Breakfast Menu: $10.99-$21.99
The breakfast choices range from specialty benedicts to classic waffles and everything in between. Their menu includes country-fried steak and chicken selections as well as omelets, hash, biscuits and gravy, and pancakes.
For those waffle-lovers out there, the menu offers a huge selection of waffles topped with everything from fruit and honey to chocolate sauce and chopped bacon.
The Sunrise Diner has a Light and Healthy section in the breakfast menu for those watching their figures. The avocado toast is a popular choice and you can add a plant-based patty for an additional $4.00.
Sunliner Diner lunch and Dinner
They offer traditional American diner choices, sometimes with a delicious twist. You can sink your teeth into burgers, salads, and sandwiches galore. They also have specialties like fish and chips and New York Strip steak.
Sunliner Appetizers: $9.99-$11.99
Appetizers are mostly fried and include menu items like candied bacon, fried pickles, and onion rings. The appetizer menu was not very extensive and did not offer things like buffalo wings or anything on the lighter, healthier side.
Sunliner Salads: $11.99-$16.99
If you're looking for healthy fare, choosing a salad may be your best bet. They offer a Chef Salad, Garden Salad, Greek Salad, and Cesar Salad. Sunliner Diner gives a variety of dressing choices including some of their house-made dressings! Adding a protein like fried chicken or steak is also an option for an additional cost.
Sunliner Sandwiches: $9.99-$15.99
The sandwich choices at The Sunliner Diner are mouthwatering. They invite you to try options like a turkey avocado Reuben or the ultimate BLT which comes with 8 strips of delicious thick-cut applewood bacon. Other favorites are the Sunliner Buffalo Chicken sandwich on a brioche bun and the Tripple Grilled Cheese which is made with Texas toast. Eight sandwich choices are offered and all come with fries.
Sunliner Burgers: $10.99-$20.99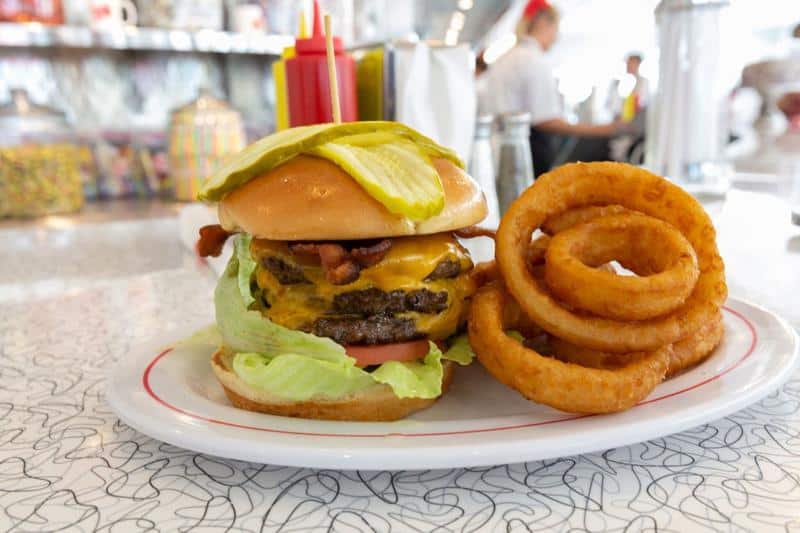 You'd be hard-pressed not to order a burger when you visit the Sunliner Diner. They could probably get away with their burger menu alone. They offer the typical bacon and cheese additions as well as some more inventive choices like egg and creole hollandaise Sauce.
For the more adventurous eaters out there, try turning your dining experience into a full-on eating contest with the only competitor being yourself. Order the "Jukebox" burger which comes with three burger patties, American, Swiss, and cheddar cheese, bacon, fried green tomato, onion ring, fried egg, and fried pickles, and then drizzled in creole hollandaise. When you order this, you can play a song of your choice on the jukebox, and if you're able to finish the entire thing you'll get a Sunliner Surprise!
Their burgers are served on a brioche bun and all come with french fries. You can substitute the fries for onion rings if you want but it will cost you an extra two bucks. For an additional $4.00 you can substitute with a plant-based patty and turn any of their scrumptious burgers into a veggie burger.
Sunliner Specialties: $14.99-$22.99
No diner menu is complete without chicken and waffles and it's a specialty at the Sunliner Diner. Meatloaf, country fried steak and chicken and Fish & Chips are also options. If you're looking to class things up a bit you can order the New York Steak Strip dinner. The specialties are served with either fries or green beans and mashed potatoes.
Sunliner Milkshakes: $8.99-$12.99
The Sunliner "Authentic 1950's Shake" will take you back in time with the whipped cream and cherry topping, Not all shakes are created equal though, up the ante with a banana split or cookies and cream shake or go all-in with the "Big Tickle Party" and create your own shake.
Sunliner Splits and Sundaes: $6.99-$49.99
Yes, you read that correctly, $49.99 for a sundae? You can order the "Happy Day Sundae" for $49.99. It's prepared and designed to share and comes with tons of ice cream, cake, and sweets as well as other toppings. Perfect to celebrate a birthday, graduation, or any day for that matter.
For those wanting their sundae experience to be more of a solo mission, you can choose a single sundae with all kinds of topping choices like caramel apple, nuts, fudge, waffles, fruit, and syrups.
Sunliner Drinks: $3.49-$6.99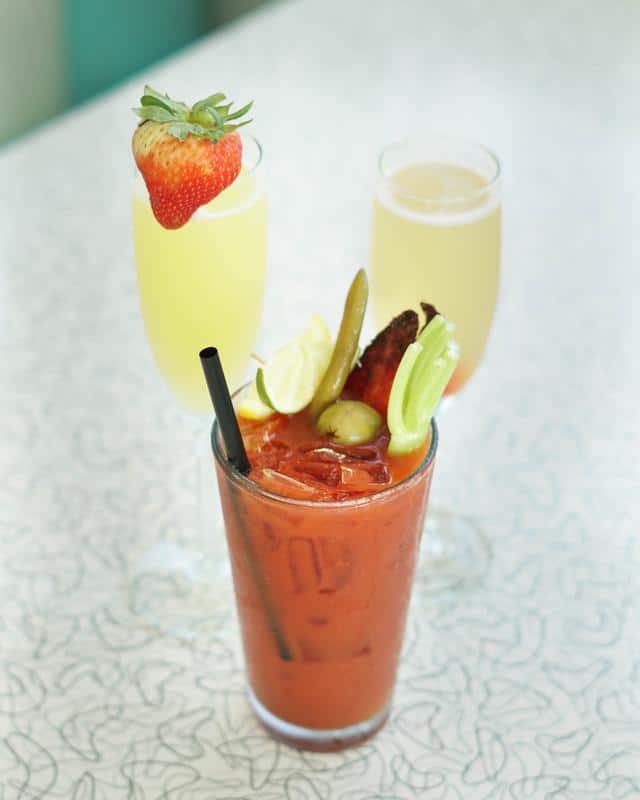 Your options range from Coke products to old-fashioned sodas and cream sodas. Ice cream floats, iced coffee drinks are also on the menu.
Wine, beer, and cocktails: $3.99-$13.99
The Sunliner Diner also serves light beer, premium beer, and a house red or white wine. Also offered are bloody marys, mimosas, cosmopolitans, screwdrivers, white Russians, margaritas, and Irish coffee. The cocktail menu furthermore includes the "Bushwacker"—a vanilla milkshake with Hershey's syrup, Malibu Rum, and coffee liqueur topped with whipped cream, chocolate syrup, and a cherry.
Sunliner cakes and pies: $5.99-9.99
Like most self-respecting diners, the Sunliner Diner offers pies and cakes that are made from scratch daily in their in-house bakery. Menu items for cakes and pies will vary depending on what's available.
Sunliner Diner in Pigeon Forge: FAQs
Where is the Sunliner Diner in Pigeon Hills located?
The Sunliner Diner is located a 2302 Pkwy, Pigeon Forge, TN 37863.
What are the operating hours of The Sunrise Diner?
The Sunrise Diner is open from 8:00 am – 9:00 pm every day of the week. On Friday and Saturday nights the diner stays open until 10:00 pm.
Is the Sunliner a busy diner? Will I have to wait to be seated?
Due to its popularity, you may have to wait up to 45 minutes to get seated. Once you're in though, the servers are quick and efficient.
Are there vegetarian options at the Sunliner Diner?
The menu does not indicate any options specific to vegetarians, but many of the menu items can become vegetarian-friendly by simply eliminating the meat. Beef burgers can be substituted for plant-based burgers for $4.00. Salads and many of the breakfast items will work too.
Are there gluten-free options?
No gluten-free meals are displayed on the menu but you can take some sides and salads and make a perfectly delicious gluten-free meal.
Also Read:
Rock and Roll Your Way to a Full Belly
Imagine drinking a chocolate malt shake and eating a double bacon cheeseburger while sitting in a classic car listening to the Beach Boys. That's the experience you will get from the Sunliner Diner. The Sunliner Diner is not just a place to eat, it's a 1950s time-warp for the entire family to enjoy.