The Gaucho Urbano Brazilian Steakhouse in Pigeon Forge is the first eatery of its kind in the area. This spot not only gives you delicious Brazilian cuisine, it will literally inspire you to take a vacation to Brazil just for the food alone. From the fried bananas to the pork chops, if you're looking for a full cultural dining immersion experience, you're in luck, this authentic Brazilian restaurant is unlikely to disappoint even vegetarians.
The Gaucho Urbano is located at 111 Valley Dr. Pigeon Forge, TN 37863, very close to Gatlinburg and Great Smoky Mountains National Park. It's also worth the drive from Knoxville; you won't find Brazilian food better than this anywhere in the area.
This steakhouse offers an array of Brazilian menu choices with a focus on the meat; it is a steakhouse after all. But this place isn't like your typical eatery, you have continuous tableside service as well as the option to visit their salad and sides bar.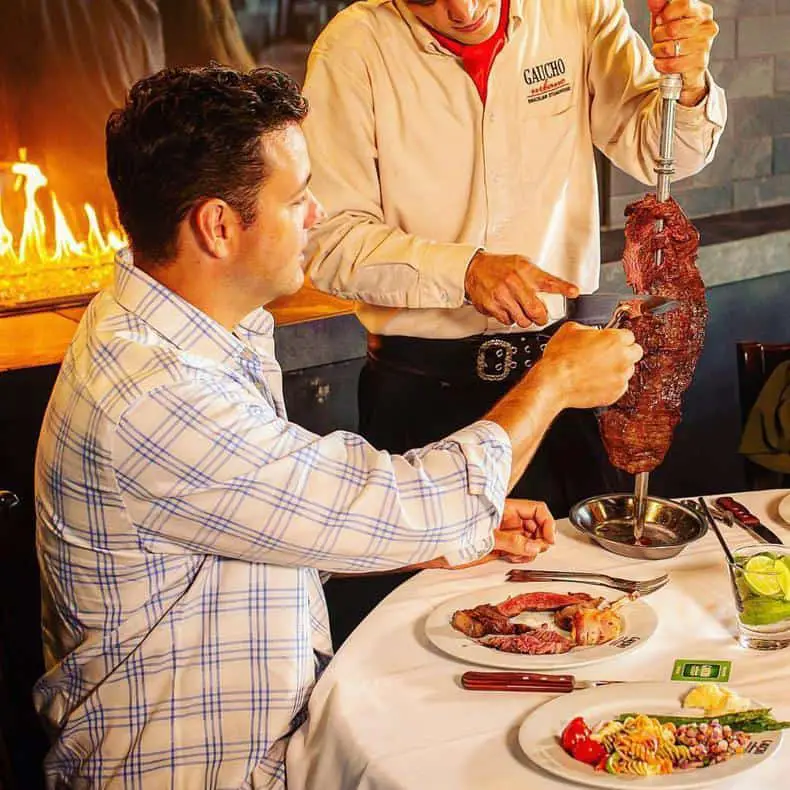 "The Gaucho," as it's fondly known by locals, is owned by Vilmar and Renata Zenzen. For Vilmar, this restaurant is certainly not his first rodeo. Before landing in Pigeon Forge years ago, he was serving up churrasco-style cuisine in Beverly Hills to actors like Brad Pitt and Leonardo DiCaprio.
While growing up in Rio Grande do Sul, a southern state in Brazil, Zenzen started his career in the restaurant business washing dishes at the age of 17. He learned the ropes of the family business which led him to the United States to open restaurants in Dallas, Houston, Beverly Hills, Atlanta, and Knoxville before making his way to East Tennessee 7 years ago.
A Fine Dining Experience With a Rustic Vibe
The Gaucho Urbano Steakhouse is elegantly decorated with spacious indoor seating. The tables are adorned in classic white tablecloths to add to the refinement and the restrooms resemble something you might see at a fancy Las Vegas Casino.
The indoor electric fireplace coupled with the stone and wooden accents add to the rustic feel of this charming eatery. There is even a board for kids to display the art they created while waiting for their meal.
A Different Kind of Dining Experience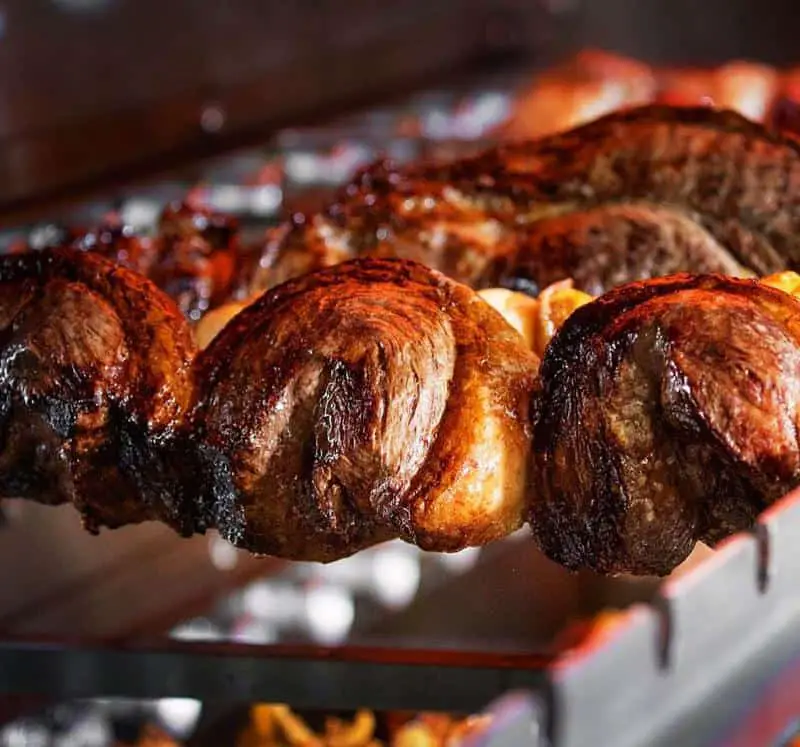 When it comes to methods of food delivery, the Gaucho Urbano doesn't follow the traditional restaurant model. You see, if you decide to order the Gaucho Experience, the servers will continuously come by your table and deliver all sorts of delicious meat, sausage, and chicken for your consumption. Yes! It's all you can eat meat!
The salad bar has a mixture of fresh greens and a myriad of veggies and toppings and sides. There is a selection of dressings to choose from as well as an oil and vinegar option. The salad bar isn't the only multiple-choice option at this restaurant. Just like the salad bar, they have an array of sides to choose from at the Harvest Bar.
At the start of your dining experience, you are given a token to signal the server. If you're showing the green side, this tells the server to keep bringing the meat! If you're feeling full or need a break from eating, you simply turn your token to the red side and the server will hang back. As soon as you are ready for more, you just flip the token back to green, and just like that, the meat begins to reappear.
The Gaucho Urbano Menu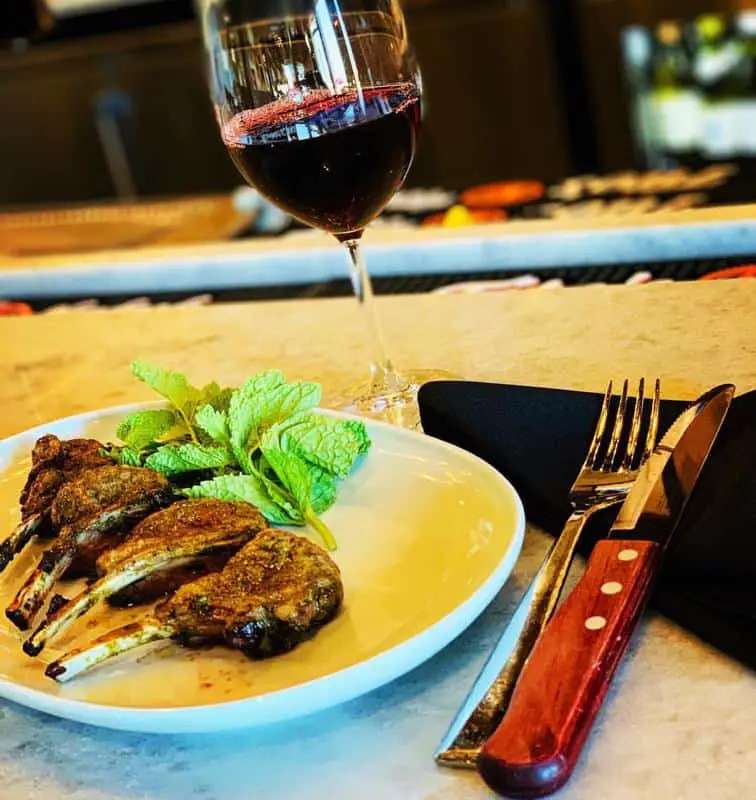 The menu doesn't offer the typical starters, entrees, and desserts like most restaurants, The Gaucho Urbano Steakhouse offers "Experiences!" The menu indulges you with the choice of either the Gaucho experience or the Sample Experience, and yes, these offerings include an endless supply of meat.
Another option that may appeal particularly to vegetarian patrons is the Harvest and Chefs table choice; this allows access to the salad bar and chef's table each of which includes an impressive array of sides. For the pescatarians out there, there is an add-on section of the menu that includes some seafood.
Let's talk about the meat!
The Gaucho Urbano Steakhouse uses premium meats that are seasoned and cooked to perfection. Most of the meat is cooked on skewers and then carved by skilled passadores. They offer 16 different kinds of meat including filet mignon wrapped in bacon, leg of lamb, and pork chops. Here are the meats you can expect to see on the menu:
Frango ao mulho de teriyaki – chicken breast with teriyaki sauce.
Petito de Frango com bacon – chicken wrapped in bacon or without bacon.
Petito de Frango – Chicken without bacon.
Sobrecoxa de Frango – chicken thighs.
Alcatra – top sirloin.
Costela de porco – pork ribs.
Bisteca de porco – pork chop.
Linguica Picante – mildly spiced sausage.
Linguica defumada – smoked sausage
Perna de Cordeiro – leg of lamb.
Filet Mignon com bacon – wrapped in bacon.
Filet Mignon – not wrapped in bacon.
Picanha – prime Gaúcho beef.
Picanha com alho – Picanha with garlic.
Churrasco – bottom sirloin.
Beef Ancho – top sirloin.
The Gaucho Experience
There's really no better choice on the menu than The Gaucho Experience. This experience includes all 15 cuts of meat and harvest (salad bar) and chef's (sides) tables. When you order the Gaucho Experience, you can use your token to signal the waiter for a continuous delivery of meat to your table.
The Sample Experience
This experience gives you a total of 9 different cuts of meat instead of 16. The first nine meats listed above are the ones included in this option. Access to the harvest and salad bar are also included.
Chicken and Salad
The chicken and salad choice includes all the chicken options from the meat menu; chicken wrapped in bacon, chicken legs, and chicken teriyaki. Harvest and salad bar are also included.
Harvest and Chefs Table
This is a great choice for those who eat a vegan or vegetarian diet. The salad bar has an array of fresh vegetables, salads, meats, and cheeses to choose from. The hot sidebar has an assortment of tasty sides like cauliflower with white sauce and chicken or beef stroganoff. You will also find traditional Brazilian fares like farofa and mashed potatoes as well as soups and sauces.
Traditional Brazilian sides like white rice, black beans, French fries, caramelized bananas, crispy polenta, and fried yucca are all available upon request with no additional cost.
Add-ons
If an overabundance of meat is not enough, you can add some seafood and other options to your meal for a small added fee. The add-on choices include jumbo grilled shrimp, grilled filet of salmon, single grilled lamb chops, and 8oz top sirloin.
Gaucho Cocktails
Not only is the food authentic, but so are the cocktails. The Gaucho Urbano Steakhouse serves up the national drink of Brazil, the Caipirinhas! This cocktail is made by muddling lime and sugar then adding Brazilian rum.
Another favorite is the chilled red or white sangria which is made from fresh tropical fruit and Chilean wine. This item is so popular they are willing to serve it by the liter.
Like most upscale restaurants, The Gaucho comes with its own set of signature cocktails. Think Brazilian Flirtini, pineapple upside-down cake, or Acaci margarita —yummy! The Gaucho Urbano has no lack of creativity when it comes to signature cocktails.
You can also choose from an assortment of Brazilian beer as well as draft, domestic, and imported beers. They also offer Angry Orchard Cider on tap.
The wine offerings are extensive with a range from Malbecs, to Rieslings to Moscato. The wine list is lengthy with bottles sourced both nationwide and internationally. Wine comes in 6oz or 8oz pours or you can order the entire bottle. They have an entire wall housing hundreds of bottles of wine.
The Desserts
All desserts are made daily in-house to bring you the most delectable treats at the end of an amazing meal. Some items include Brazilian Flan, crème-Brule, and papaya cream to name a few; also, many of their desserts are gluten-free.
The Prices
The prices are the least appetizing part of the menu, you do however get an enormous amount of food and top-notch service. The Gaucho Experience will set you back 50 bucks per person, but that includes sides and salad too. You can order less expensive items as well.
Gaucho Experience; $49.50
Sample Experience: $44.50
Chicken and Salad; $36.50
Harvest Table and Chefs Table: $26.50
The good news is children up to3 years old eat free! Also, $7 for kids 4-6 and 7-12-year-olds can eat for half price.
When to Visit the Gaucho Urbano Steakhouse
Seating stops at
Monday: 3:00pm 9:00pm
Tuesday: 3:00pm 9:00pm
Wednesday: 3:00pm 9:00pm
Thursday: 3:00pm 9:00pm
Friday: 3:00pm 10:00pm
Saturday: 3:00 pm 10:00pm
Sunday: 1:00pm 9:00pm
Daily Happy Hour from opening until 6pm.
Be sure to make online reservations ahead of time.
An Upscale Dining Experience for Any Occasion
The upscale atmosphere coupled with a warm but festive feel makes this a great place for celebrations like birthdays or graduations. It is also a great choice for a cultural-culinary family outing of sorts and meals are discounted for kids.
You are guaranteed to have an undeniably memorable time at the Gaucho Urbano Steakhouse in Pigeon Forge. Not only is the food prepared and served to a level matching exquisite, the experience itself is like no other in the area. A meat lover's dream with plenty of vegetarian and gluten-free options makes it an ideal choice for any occasion.
Also Read: