Gatlinburg is all about nature, entertainment, and food. People come to Gatlinburg to do many things, but mainly to explore this beautiful part of the Appalachian Mountains, the Great Smoky Mountains.
The Great Smoky Mountains is the country's most visited national park, and Gatlinburg is one of the starting points of the park's famous trails. Here you will surely find everything you are looking for. Hiking the Great Smoky Mountains will leave you with a smile and an impression.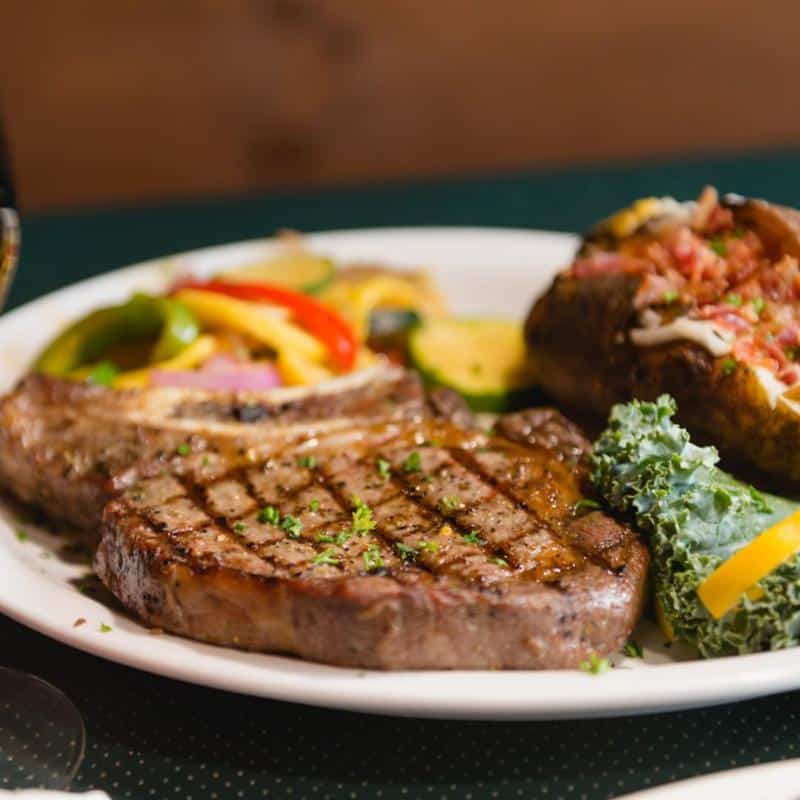 But even if you are in Gatlinburg to visit the stunning mountains, eating remains near the top of the list of things to do in this beautiful town. There are many dishes to choose from, but steak is a must at Gatlinburg. Traditionally, Gatlinburg steak is homemade, dry-aged, and hand-cut, and it's absolutely delicious!
Check out the restaurant guide reviewing the top steakhouse spots in Gatlinburg.
Best Steakhouse Restaurants in Gatlinburg
The Peddler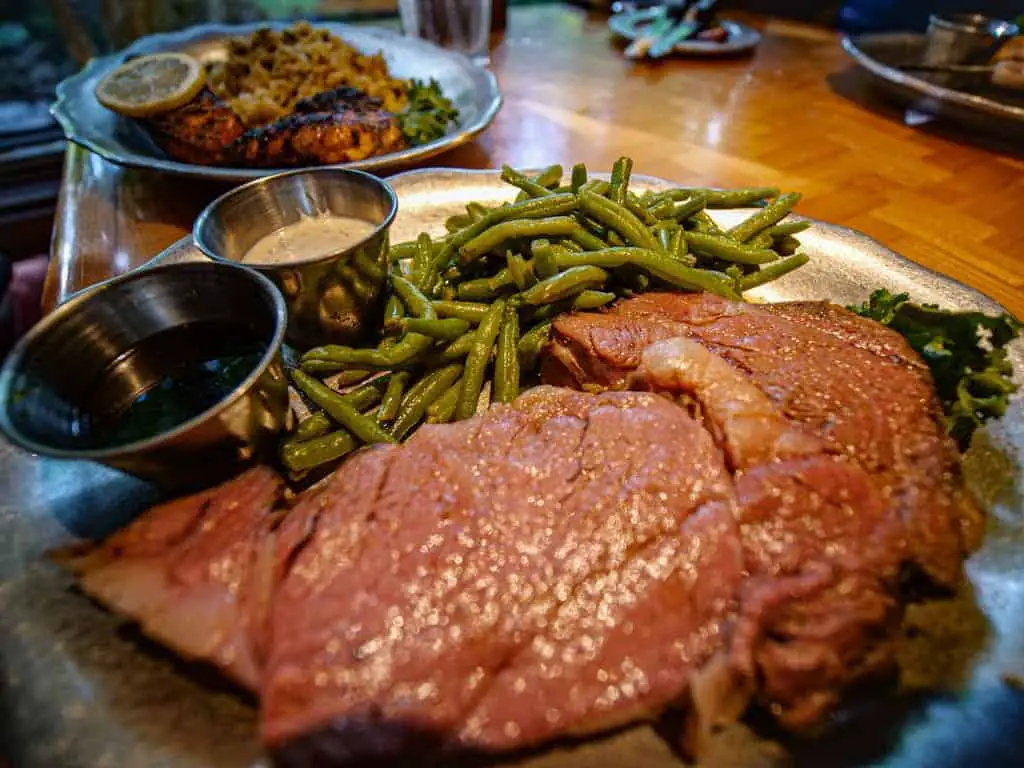 Address: 820 River Rd, Gatlinburg, TN 37738, United States
Phone: +1 865 436 5794
Not only does The Peddler Steakhouse offer excellent hand-cut steaks, but the history of the building is also remarkable. It used to be the home of a fourth-generation Gatlinburg merchant whose great-grandfather founded the first grocery store in Gatlinburg in 1850.
Today,  located on the Little Pigeon River close to the entrance of the National Park, this family steakhouse has been around since the 1970s with the mission of providing excellent food, service, and atmosphere.
In addition to the steak, popular dishes include chilled shrimp cocktails, petit filet mignon combos, and specialty chicken and almond soups. Don't miss out on the peanut butter mud pie for dessert.
Why you should dine at the Peddler
Peddler Steakhouse is a Gatlinburg restaurant whose roots date back to the city's founding. Get custom-cut steaks, red wine, and baked potato stuffing and feel like royalty.
Cherokee Grill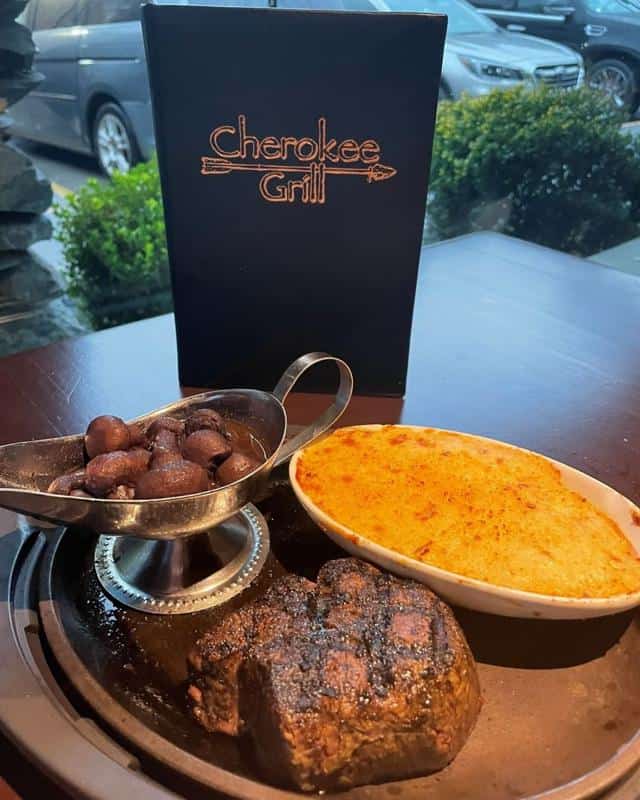 Address: 1002 Parkway, Gatlinburg, TN 37738, United States
Phone: +1 865 436 4287
The Appalachian Mountains were once the home of the Cherokee tribe. That's why Cherokee Grill strives to respect the tribe by staying true to its roots. From locally inspired menus to friendly service, they want everyone in the restaurant to feel like a member of the tribe and family.
Located in the heart of the Smoky Mountains, the Cherokee Grill offers a luxurious mountain cabin atmosphere with a stone and brick exterior and an interior accented with granite and walnut.
Offering a variety of steaks, this is one of the most popular steakhouses in Gatlinburg. You can order side dishes such as Boursin cheese and soy-ginger sauce with the steak. No matter what you choose, you won't be disappointed. You can also try other dishes on their traditional American menu, including seafood, fried chicken, crab cakes, and many other delicious dishes.
Why you should dine at Cherokee Grill
Though its interior and menu are upscale, you can find all kinds of locals and travelers dining on any given night. So, if you are looking for a fancy restaurant but didn't arrange any plans, Cherokee Grill is a perfect choice.
Also Read: Gaucho Urbano Brazilian Steakhouse: Menu, Hours, Prices
The Greenbrier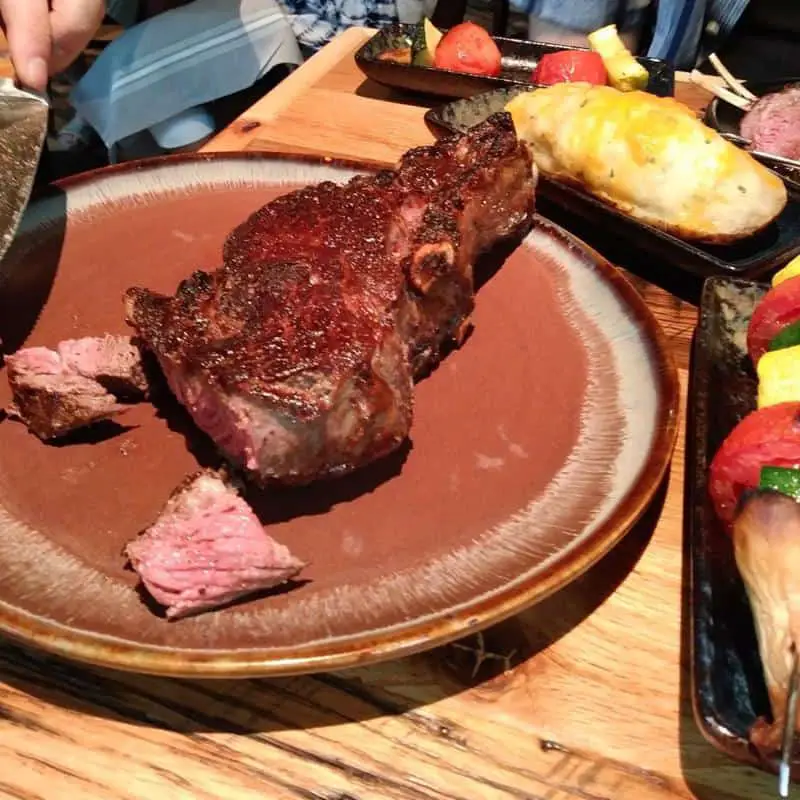 Address: 370 Newman Rd, Gatlinburg, TN 37738
Phone: +1 865 412 1576
Led by executive chef Aaron Ward, The Greenbrier invites guests to one of Gatlinburg's best dining experiences in the iconic rustic log dining room.
Before enjoying a homemade dry-aged hand-cut steak, start with a dozen oysters topped with smoked salmon rillettes, ceviche, and salmon roe. Or, if you prefer something else, choose a roasted lamb shank. Add one of the notable wines from the extensive wine list for the perfect dining experience.
As it is beyond the main drag in a peaceful mountain setting, make sure to designate a driver to enjoy every moment of the restaurant's ambiance and the Rocky mountain's environment.
Why you should dine at the Greenbrier
At Greenbrier, you will find a slightly more fine dining menu than some other top-end restaurants. Choose duck breast, lamb shank, and stuffed flounder for an alternative meal, or go for a more traditional option and order one of their fine hand-cut steaks.
Calhoun's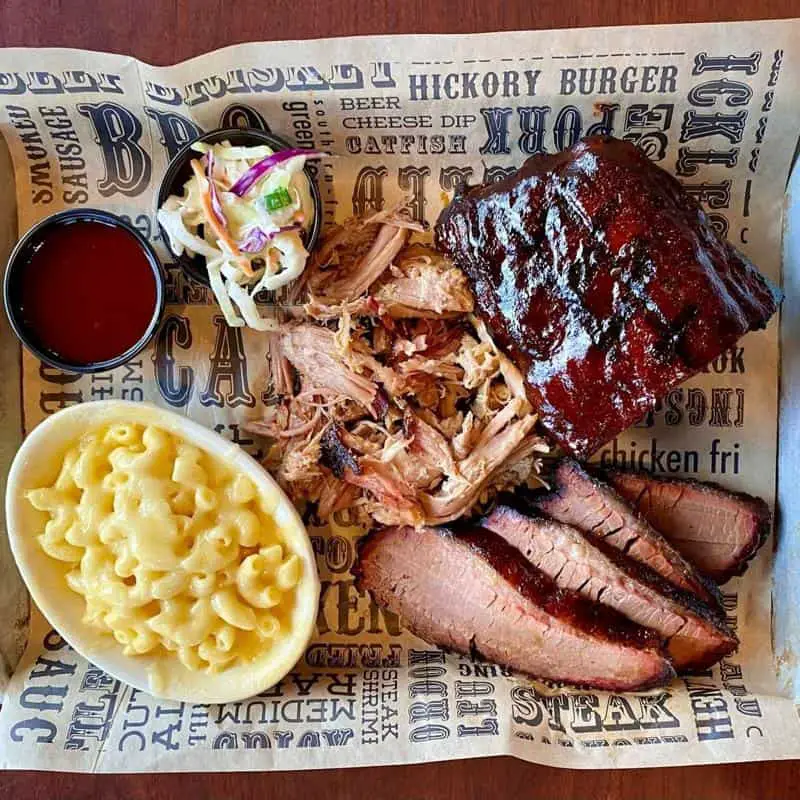 Address: 1004 Parkway #101, Gatlinburg, TN 37738
Phone: +1 865 436 4100
Since 1983 Calhoun's prided themselves on having and delivering the best ribs in America. After all, they won the grand prize at the National Rib Cook-Off in Cleveland, Ohio.
Today, with the same eagerness and love for sharing and delivering only the best food, Calhoun's serves perfectly smoked meat, delectable sauces, and scratch-made sides. A must-try is Calhoun's "Ale" Steak, a 7 or 10-ounce sirloin marinated in olive oil, mustard, garlic, and Cherokee Red Ale. It is topped with Worcestershire butter. And it is incredible.
Their first building was a homage to their agricultural roots, Southern hospitality, comfort food, and the craftsmanship and traditions of Tennessee barbeque. Though today they have a more modern restaurant, they still continue that legacy.
Why you should dine at Calhoun's
Calhoun's is one of those places where you become familiar with the environment, the people, and the food even if you've only been once. It is a homey place perfect to dine out with friends looking for good company.
Alamo Steakhouse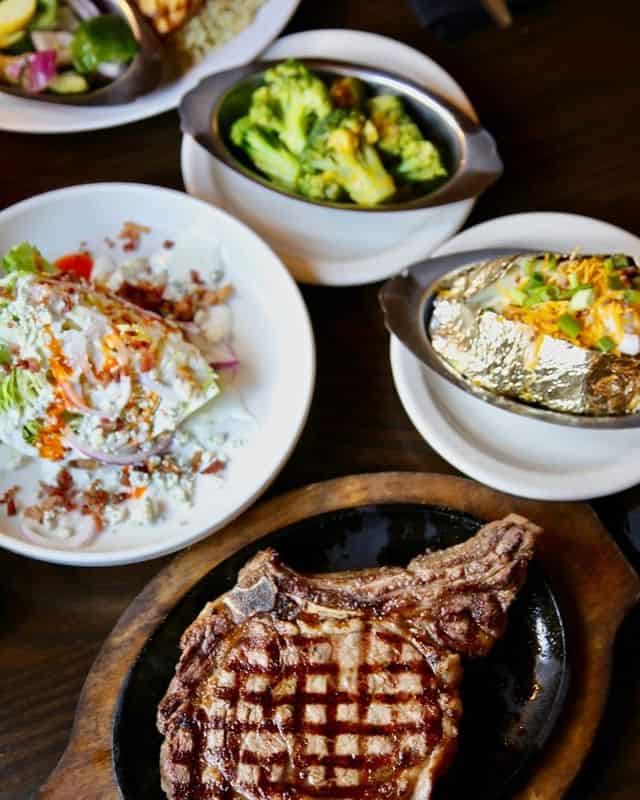 Address: 705 East Pkwy, Gatlinburg, TN 37738
Phone: +1 865 436 9998
Did you know that Tennessee is called the volunteer state? This is due to the state's thousands of volunteers who fought bravely in the Mexican-American war alongside the famous Tennessean Davy Crockett at the Alamo, Texas. In honor of the brave soldiers, here, at Alamo Steakhouse, you'll find the most excellent food from Tennessee to Texas.
The Alamo is a fantastic restaurant and many people's favorite for its excellent service and flavorful steaks in the entire city. The aged steak is cut by hand and seasoned in-house and then grilled on oak fire and baked with all juices and natural flavors, and that's how the steak becomes soft and delicious.
But Almo doesn't have only just steaks. You can also find burgers, soups, sauces, gravy, homemade bread, and mozzarella sticks on order. It all takes extra time, but I hope you agree that it's worth the effort after trying our food.
Why you should dine at Alamo Steakhouse
Almo offers plenty of diverse dishes, from steak to seafood to burgers to warm, soothing soups. For the best meal, start with the Alamo's shrimp cocktail, followed by the El Presidente Porterhouse with asparagus and button mushrooms.
Crystelle Creek Restaurant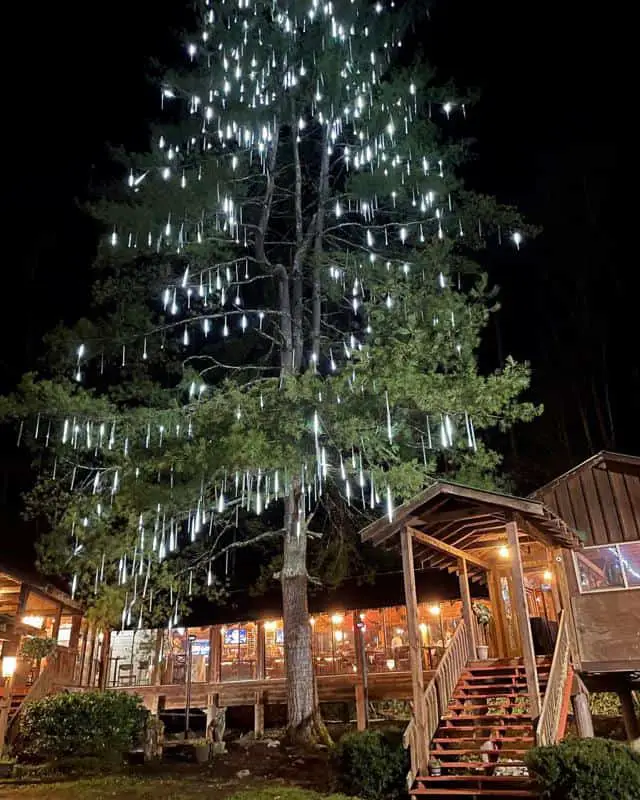 Address: 1654 East Pkwy, Gatlinburg, TN 37738
Phone: +1 865 430 1551
Located by the creek on Highway 321 just outside Gatlinburg and adjacent to the Smoky Mountain National Park, Crystelle offers beautiful views while enjoying delicious meals.
This is one of the most unique Smoky Mountain and Gatlinburg restaurants offering something for everyone. Their goal is to provide you with the finest dining experience in Gatlinburg at an affordable price with professional and friendly service.
Crystelle Creek serves some of Gatlinburg's finest steaks, seafood, ribs, chicken, burgers, signature pasta dishes, and great appetizers, soups, salads, and homemade desserts.
Why you should dine at Crystelle Creek Restaurant
If you are visiting with your partner, Crystelle Creek has a quieter, more private area perfect for a romantic dining experience.
The Park Grill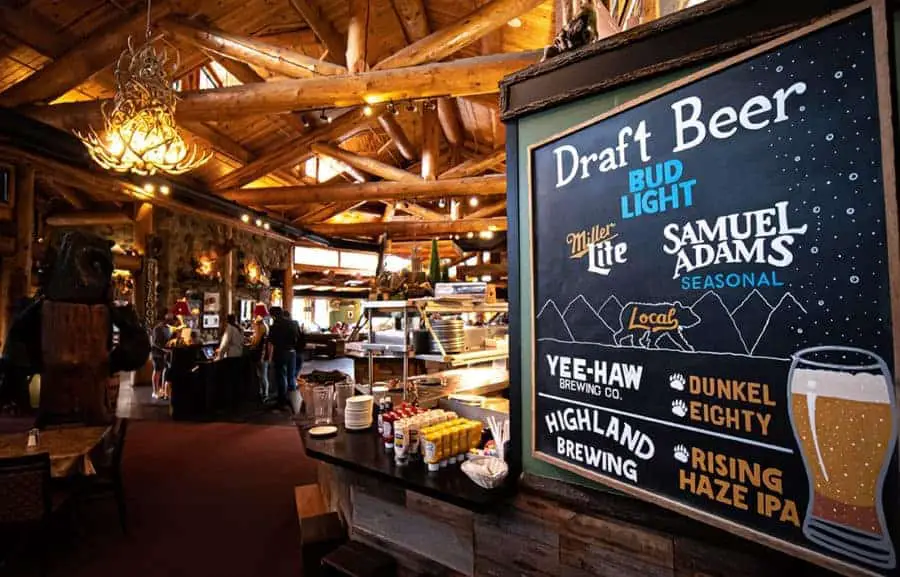 Address: 1110 Parkway, Gatlinburg, TN 37738
Phone: +1 865 436 2300
Right next to the beautiful Great Smoky Mountains National Park entrance, the Park Grill is the park's unofficial restaurant. Here you can experience an authentic Smoky Mountain dining experience.
The restaurant is designed to make you feel like you are dining in the heart of the Smokys. Wood from old spruce trees forms the exterior, and stone from fences in Cosby creates a rustic mountain lodge atmosphere.
In addition, the menu includes all the classic flavors of southern Appalachia, from hickory-grilled steaks to the excellent salad bar. Whether you're hiking with your family or having a romantic dinner for two, The Park Grill offers delicious food and a cozy atmosphere.
Why you should dine at the Park Grill
The Park Grill is the perfect ending to a day exploring the Great Smoky Mountains National Park and Gatlinburg.
The Howard's Restaurant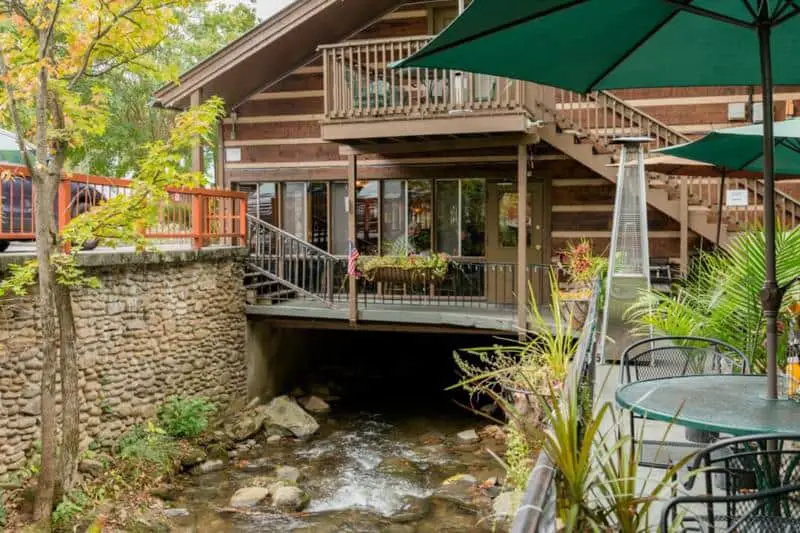 Address: 976 Parkway, Gatlinburg, TN 37738
Phone: +1 865 436 3600
Located in the heart of the Smoky Mountains, Howards is a two-story building with a steakhouse downstairs and a pub upstairs. It's not a luxury steakhouse, but they've been delivering and catering to Gatlinburg's people with the best since 1946.
Although Howard's menu may not seem fancy, you don't need unique food and ingredients to have exceptional meals. For example, their hot chop steak sandwich is a winner and goes perfectly well with Bloody Mary.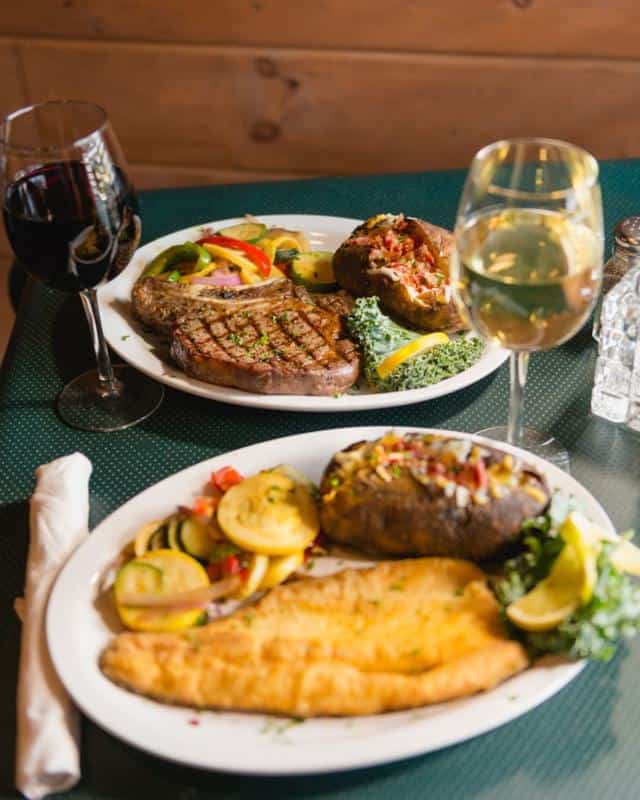 Furthermore, as Gatlinburg's oldest restaurant, Howards is a great spot to enjoy some Gatlinburg traditions. Some of their famous steaks are Cowboy Ribeye, Porterhouse, and T-bone. If you are visiting with kids, check out their burgers and sandwiches. They are absolutely mouthwatering and loved by all.
Why you should dine at the Howard's Restaurant
If you are visiting with your partner, choose the steak for two option. It is an 8 oz. and a 14 oz. steak of your choice and two sides with each steak. It is delicious, cheap, and will definitely fill you up!
Read More:
Final Thoughts
Gatlinburg is the perfect city to experience beautiful mountains and Appalachian culture and enjoy a great dining experience. The city's culinary scene is diverse, with a mix of traditional American and European flavors. But what's better than enjoying a day with a flavorful and juicy steak in the heart of Smoky Mountain.