Gatlinburg in Tennessee is considered one of the most romantic spots in North America. This is probably why it's considered the honeymoon capital of the South for a number of years.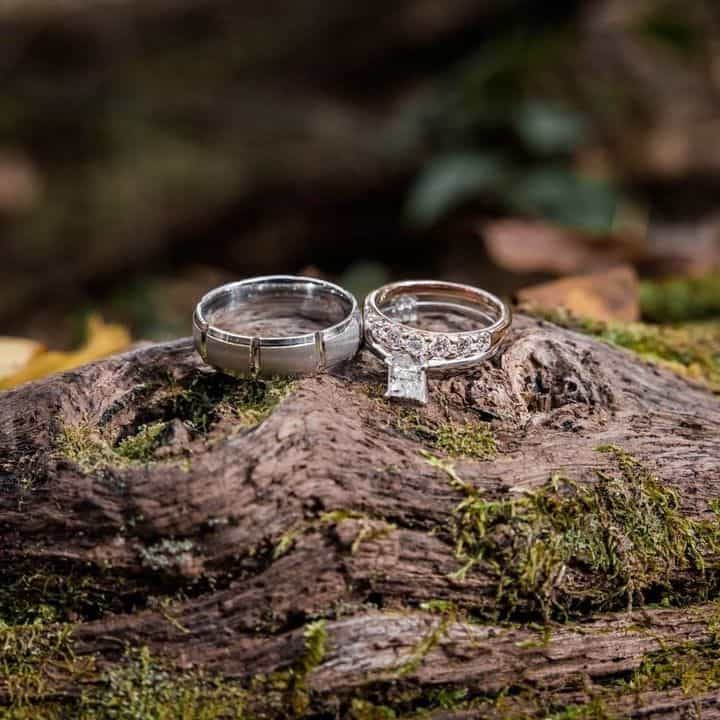 There are a huge number of locations to get married in Gatlinburg, from cute mountain chapels to more modern options. We have put together a list of the best wedding chapels and spots to get married in Gatlinburg.
Wedding Chapels in Gatlinburg
Gatlinburg's Little Log Wedding Chapel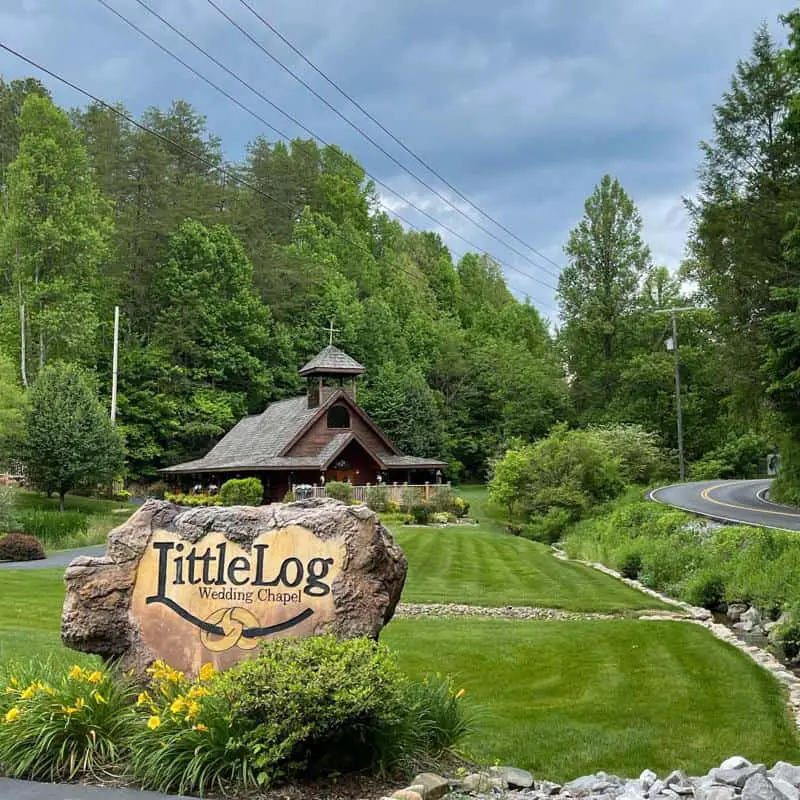 Gatlinburg's Little Log Wedding Chapel is a beautiful countryside wedding venue, nestled in the Great Smoky Mountains of Gatlinburg. The charming venue is home to a rustic wedding chapel and is surrounded by a lush green lawn and beautiful fountain, ideal for photos opportunities.
Gatlinburg's Little Log Wedding Chapel offers couples and guests cozy cabins to relax and celebrate in. This wedding chapel is happy to accommodate both indoor and outdoor ceremonies. The venue can host a maximum of 100 guests, one of the bigger capacities.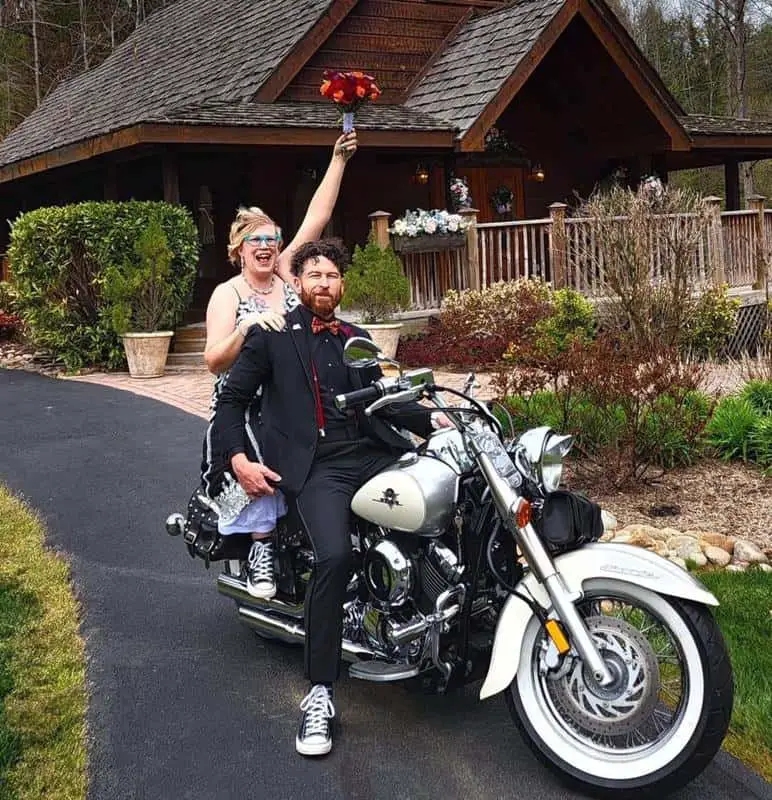 Packages range from just $299 for a simple elopement to $3,999 a larger wedding which includes an ordained minister, romantic candlelit service, toasting glasses, expert videography and photography, a 3-tiered wedding cake, a flower package and 3-nights lodging in a stunning mountain cabin. Little Log Wedding Chapel offers a range of packages from intimate ceremonies to lavish woodland weddings.
Address: 945 Glades Rd, Gatlinburg, TN 37738, United States
Price: Packages range from just $299 for a simple elopement to $3,999
Capacity: 100 guests maximum, 0 minimum
Facilities: Bridal suite, cake, clean up, event planning and rents, lighting and sound.
Accommodation: Little Log Vacation Rentals
Chapel at the Park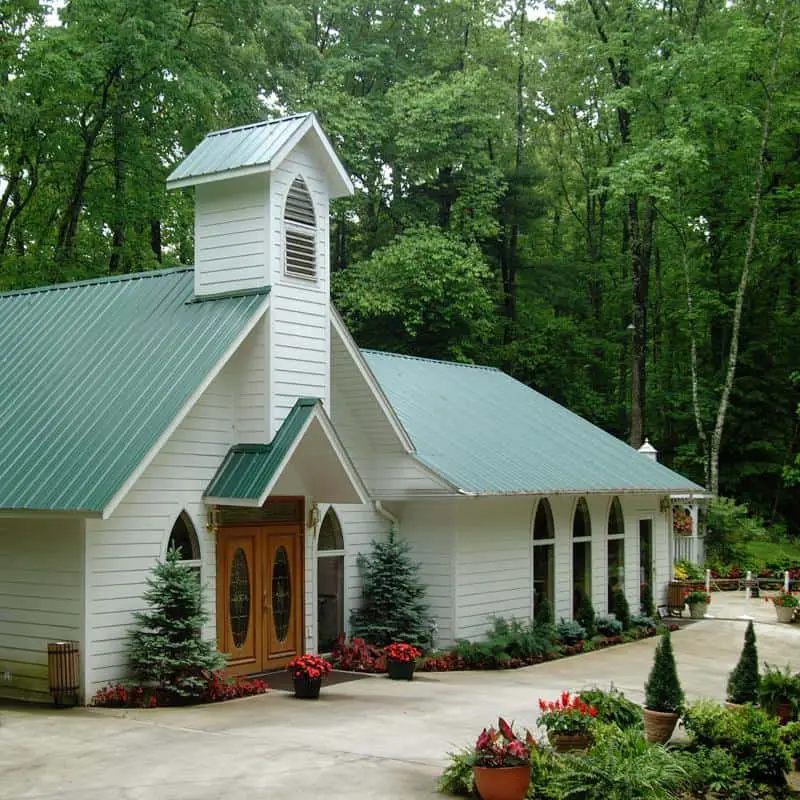 Chapel at the Park is a stunning wedding venue located on a secluded three-acre estate. You can choose both indoor or outdoor ceremonies, an intimate elopement of a big celebration with family and friends, the venue is happy to accommodate your wishes.
The chapel is quaint and intimate, offering a romantic ambience with warm candles and delicate floral arrangements. You could alternative chose to exchange vows outside in the charming wooden arbor framed by relaxing foliage and leafy vases.
There is also a serene waterfall to marry in front of and stunning white wooden gazebos. Alternatively, the Enchanted Forest option is available, so you can start the next chapter of your married life amongst swaying trees. There are several comprehensive wedding packages, making it easy for you to reach your wedding goals.
Address: 1844 East Pkwy, Gatlinburg, TN 37738, United States
Price: From $229 for a 30-minute reservation to $1299 for the ultimate fantasy wedding
Capacity: 70
Facilities: Photography, videography, cake and transportation
Accommodation: No
Chapel in the Hollow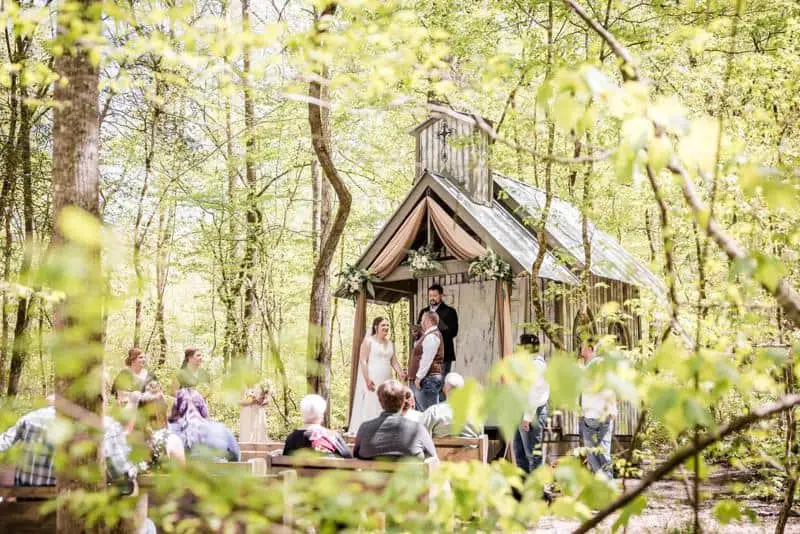 Found in the foothills of the Smoky Mountains, the Chapel in the Hollow is an intimate wedding and elopement venue. Although not in Gatlinburg, if you don't mind traveling to Seymour, just an hour away from Gatlinburg, it is worth it!
It's a fantastic spot for couples who want something more relax with its whimsical, rustic flair. Owned by a husband-and-wife team, you will enjoy a casual booking experience as you will also be dealing with the same team.
The woodsy outdoor ceremony is as close as you can get to a national park wedding without the fuss of getting a government permit and working around the regulations. Ceremonies are generally held outdoors, in front of the chapel, in front of a bench of guests. The chapel is just a small room, often used for changing. There are plenty of stunning locations to get married or have photos taken near on-site.
Address: 1057 Millstone Gap Rd, Seymour, TN 37865, United States
Price: Starting at $500 for a weekday and going up to $1600 for a peak weekend
Capacity: 35
Facilities: Photography, videography, coordination, candles and lanterns
Accommodation: No
Gatlinburg Wedding Chapel at Honeymoon Hills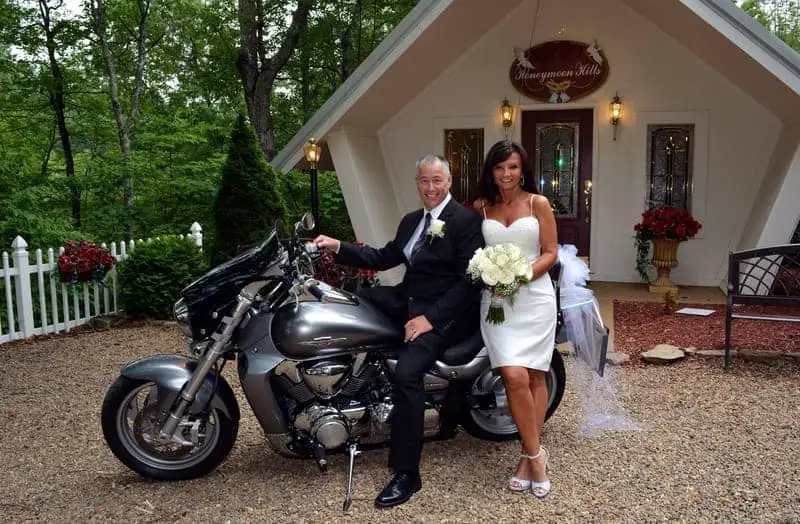 The Gatlinburg Wedding Chapel at Honeymoon Hills is a multi-award-winning venue including Wedding Wire Couple's Choice Award, 2013 thru 2020 TripAdvisor Certificate of Excellence, the Coveted TripAdvisor's Hall of Fame Award, and the 2020 TripAdvisor Traveler's Choice Award.
This Gatlinburg spot is a charming little white wedding chapel, with a gazebo and little bridge over the bubbling stream that runs nearby. Celebrate your love with a candle lit chapel ceremony. Your guests will make their way down a romantic stone lane to the chapel and enter through the bush adorned entrance.
You can also choose an outdoor creek-side wedding, opt for the romantic gazebo, a rustic cabin ceremony or exchange vows on the adorable bridge over the mountain stream. Honeymoon in the private cabin nestled on a quiet mountain top in Gatlinburg, right next door to Pigeon Forge in The Great Smoky Mountains.
Address: 750 Honeymoon Hills Road, Gatlinburg, TN 37738
Price: $149 to $299 for a ceremony only wedding
Capacity: 50
Facilities: Cake, photography, bridal accessories
Accommodation: Cabin rentals
Chapel in the Glades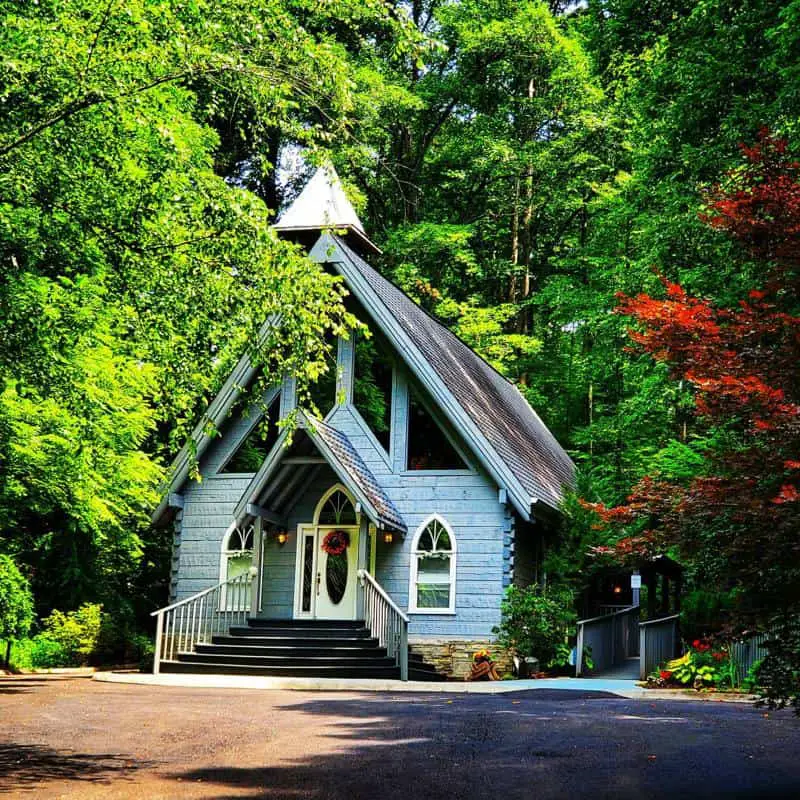 Built in 1998, Chapel in the Glades is found in the foothills of the Great Smoky Mountains National Park. Share your vows in a beautiful rustic chapel surrounding by woodlands. If you would rather get married outside, there is a secret garden with two waterfalls which make an idyllic backdrop for photos.
Chapel in the Glades provides a charming setting for your wedding, perfectly intertwining rustic charm with classic Southern hospitality. This stunning wedding chapel has been recognized by the Gatlinburg Chamber of Commerce for its architecture and landscaping.
For the budget-conscious couple, the Chapel in the Glades offers a cheap 15-minute "Mini Micro Wedding" for only $175. It will only include a couple and a minister with no photographs or fanfare. Alternatively, choose a high-end package with a bouquet and boutonniere, a unity candle ceremony, bridal portraits and a 12-inch wedding cake.
Address: 460 Glades Road Gatlinburg, TN 37738
Price: General weddings range from $320-$1045. Mini Micro Wedding for $175
Capacity: 45
Facilities: Ordained minister, photography, videography, candles, cake, tasting goblets,
Accommodation: Cabin
Chapel in the Glen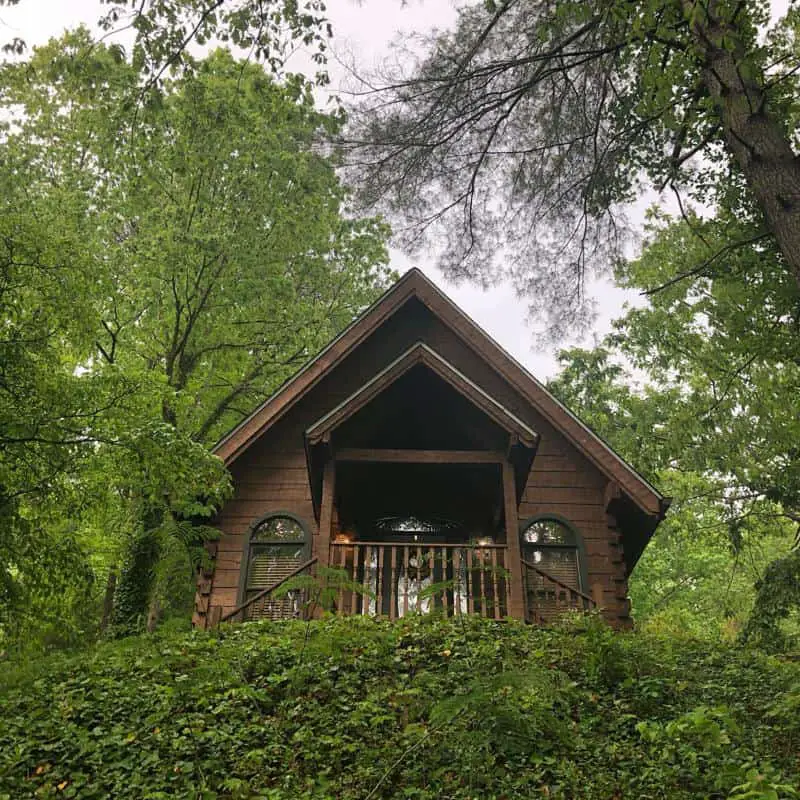 The Chapel in the Glen is the sister chapel to Chapel in the Glades. It's a smaller and older but is elevated for enhanced views. This primitive but beautiful cabin sits hidden among the woodlands just outside a stunning park filled with natural wildlife. This is the perfect spot for couples looking for a rustic feeling cabin with its charming wooden benches and a rock-wall altar.
Alongside the adorable little rustic chapel, couples can hold their nuptials in the garden gazebo area. Both venues are included in the wedding package choices, which range from the stripped back to the very elaborate. You can also customize any wedding package for an additional fee.
Chapel in the Glen also offers cost-efficient options for couples on a budget, including discounted weekday specials and 15-minute ceremonies for as little as $199. Discounts are also available for all active military personnel. High end packages include a candlelight ceremony with music, bouquets and boutonnieres, a ceremony DVD, toasting goblets, and a two-tiered wedding cake.
Address: 412 Glades Road, Gatlinburg, Tennessee 37738
Price: $199–$1,599
Capacity: 45
Facilities: Wedding coordinator, photography, candles, accessories, videography
Accommodation: Cabin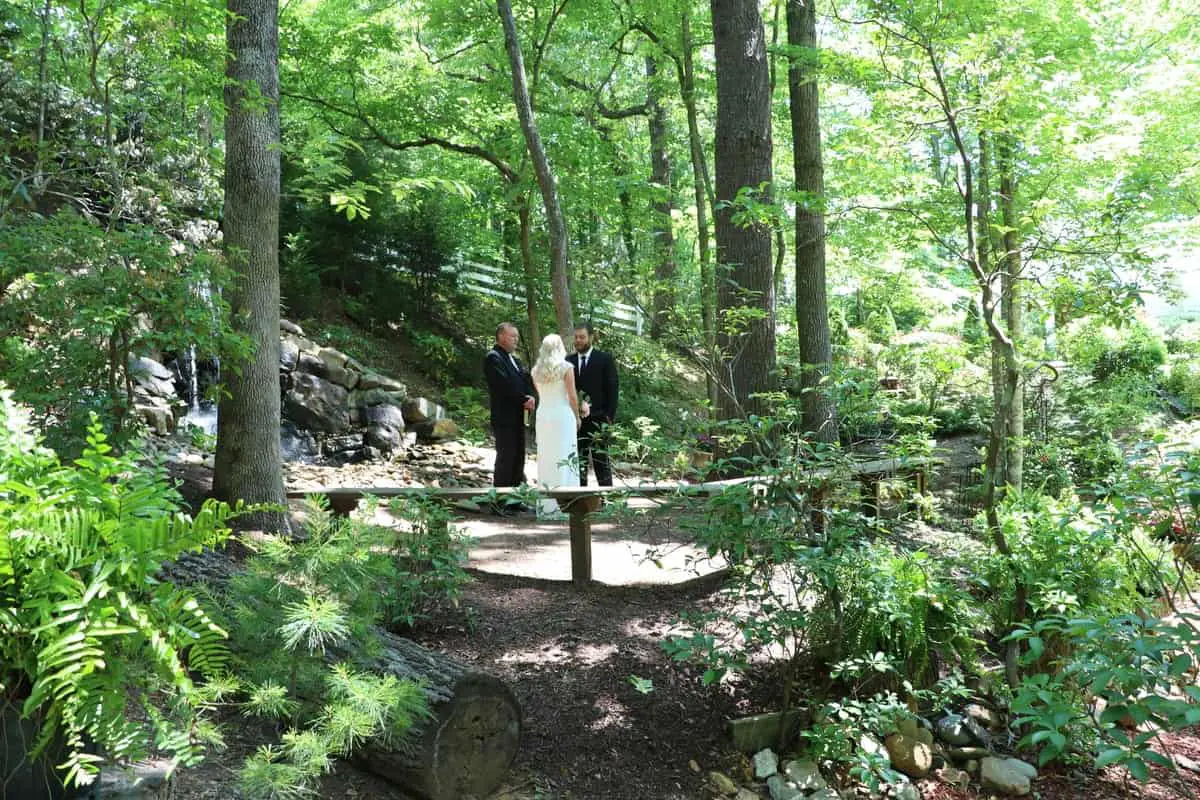 This traditional country wedding chapel is nestled in the Great Smoky Mountains National Park, minutes from downtown Gatlinburg and a short drive from Pigeon Forge. They offer both chapel and waterfall weddings, with up to 70 guests.
There are 3 acres of estate for you to marry on, from cozy indoor chapels to the stunning waterfall and romantic gazebo. They have a special elopement ceremony where couples can get married in 30 minutes with up to 6 family or friends in attendance.
The 30-minute reservation, which costs $299, doesn't include the grandeur of other packages. You must arrive already dressed, prepared for photos and ready to meet the minister. If you want more than 6 people, you will have to pay a $25 per person fee.
Address: 1844 East Parkway, Gatlinburg, TN, 37738
Prices: Elopement packages start at $299, the extended package is $1299
Capacity: 70
Read More:
FAQs
How do I get married in Gatlinburg?
Before you walk down the aisle in Gatlinburg, Tennessee requires couples to obtain a marriage license at the County Clerk's office. The marriage license must be used within 30 days of being issued. It currently costs out of state residents $41.00 and Tennessee residents $101.00.
To get hold of a marriage license, you need to:
Be 18 years of age or older
Present a valid state driver's license or a certified birth certificate
Present a social security card
Provide a valid passport if you're not a US citizen
The date any previous divorce or spousal deaths happened
Can I bring my own minister to wedding chapels in Gatlinburg?
Every wedding chapel on this list has an ordained minister on site, some that come in packages and some which come at an additional cost. However, all Gatlinburg wedding chapels want couples to customize their wedding and get exactly the ceremony they want.
At an added cost, you may be able to bring your own minister, please check with the venue first. They will have to have valid credentials of ordination issued by a legitimate organization. You will need to send over the credentials at least one week before the wedding ceremony. Your minister will be responsible for going over the ceremony before arrival.
What is the downside to getting married in a wedding chapel in Gatlinburg?
Gatlinburg is a stunning spot to get married, surrounded by greenery, waterfalls and wildlife. Chapels tend to be small and intimate, with a rural and rustic charm. Chapels are usually dimly lit and aren't suitable for couples looking for something more contemporary.
Chapels also come with their own strict rules, usually because they are older buildings in scenic spots. Due to the packages available to customers, guest photography, recording, cell phones and food will not be allowed into the ceremony.
If you are considering booking a ceremony with a Gatlinburg wedding chapel, always read the fine print in your contract. Always check there are no additional hidden costs relating to digital downloads and print release cost. Wedding venues have a bad habit of advertising low rates to get you in the door and hiding lots of additional charges in the fine print.
What is the cheapest wedding option in Gatlinburg?
Many wedding venues in the Smoky Mountain region offer beautiful Garden Weddings with rustic gazebos and barns. Enjoy a natural setting for a custom, romantic outdoor experience for couples on a budget.
February and December are in-demand months thanks to Valentine's Day and Christmas. Therefore, the cheapest months to get married in Gatlinburg are January, March, April and November. During these months, chapels and wedding venues are typically more available and less expensive.
Can I get married outdoors in Gatlinburg?
Yes, all the above options have outdoor options and most of them an indoor option. Outdoor weddings, when the weather is right, are romantic and can help a couple feel at one with nature. The green canopy of trees during summer and spring is a natural gazebo and creates beautifully romantic lighting.
When is the best time to get married in Gatlinburg?
Many people believe the best time of year to get married in Gatlinburg is during the fall. The temperatures aren't too hot and the leaves are a stunning palette of red, yellow and gold. Many couples love spring and summer weddings because the weather is nice, the pictures are bright and there is less chance for their big day to be rained on!
Final Words
Celebrate the love you have for your partner by marrying in a Gatlinburg wedding chapel. These traditional little spaces come with a range of packages so it can be as stripped-back or lavish as you want it to be. Marry inside the rustic space, in front of it, or in the surrounding greenery.