While Gatlinburg and its surroundings are best known as family vacation spots, the Smoky Mountains are also the southern premier destination for weddings, elopements, and honeymoons. After all, few places are more scenic and captivating than the forested slopes of the Smoky Mountains around Gatlinburg.
So why not choose Gatlinburg to relax and enjoy nature, or a glass of wine with spectacular scenery as your view for a romantic hideaway. Whether you want to be surrounded by breathtaking mountain views or the sparkling lights of downtown, Gatlinburg has a cozy cabin perfect for you and your partner.
Keep on reading to find secluded spots with spectacular views for a romantic vacation at the best honeymoon cabins. With remarkable nature at your doorstep and the intimate comforts within, these cabins, many with hot tubs, offer you the best Gatlinburg and Smoky Mountains experience.
Best Honeymoon Cabins in Gatlinburg
The Sweet Escape Cabin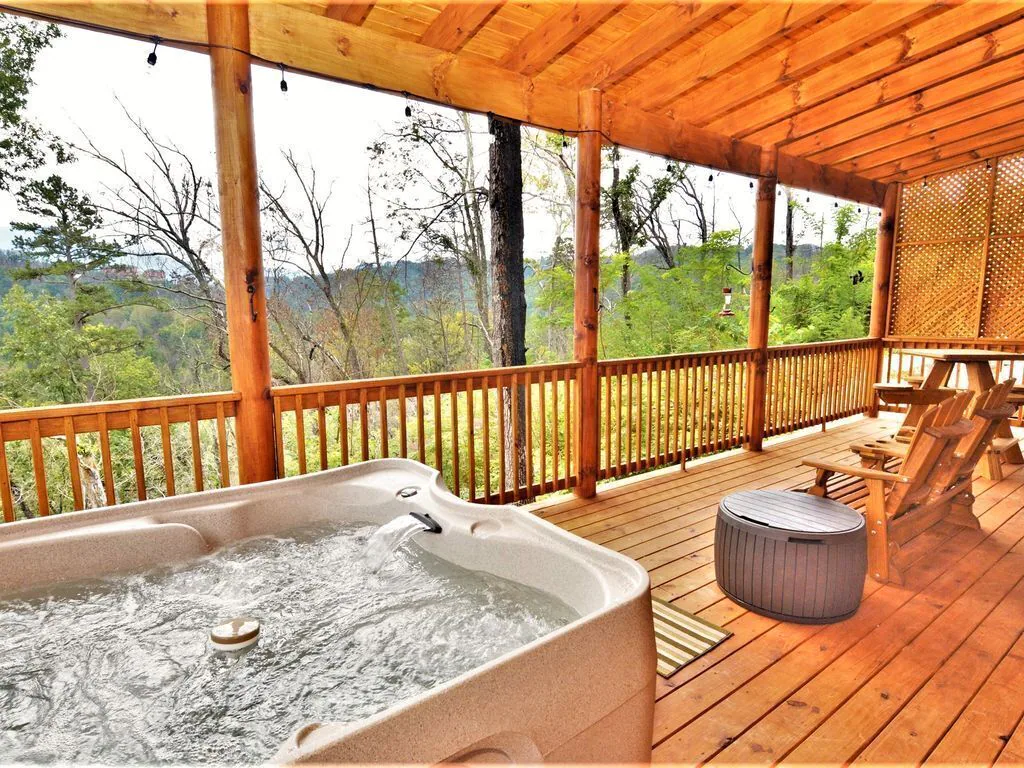 Tucked away at the edge of a cul-de-sac, The Sweet Escape is just a short drive from downtown Gatlinburg and Pigeon Forge, making it easier to access all the needed facilities for an enjoyable stay. Constructed in 2018, this cabin features a king-size bed suite, handmade sassafras furniture, a flat-screen HDTV, a Jacuzzi bathtub, and a fully functional kitchen.
Featuring high ceilings and large windows, the aesthetics of this cabin will surely strike your heart. No additional guests can be welcomed during your stay in this cabin, allowing you to keep your vacation private.
If you're looking for stunning mountain views and fresh air, there's no better option than The Sweet Escape.
Bear Dance Cabin With Hot Tub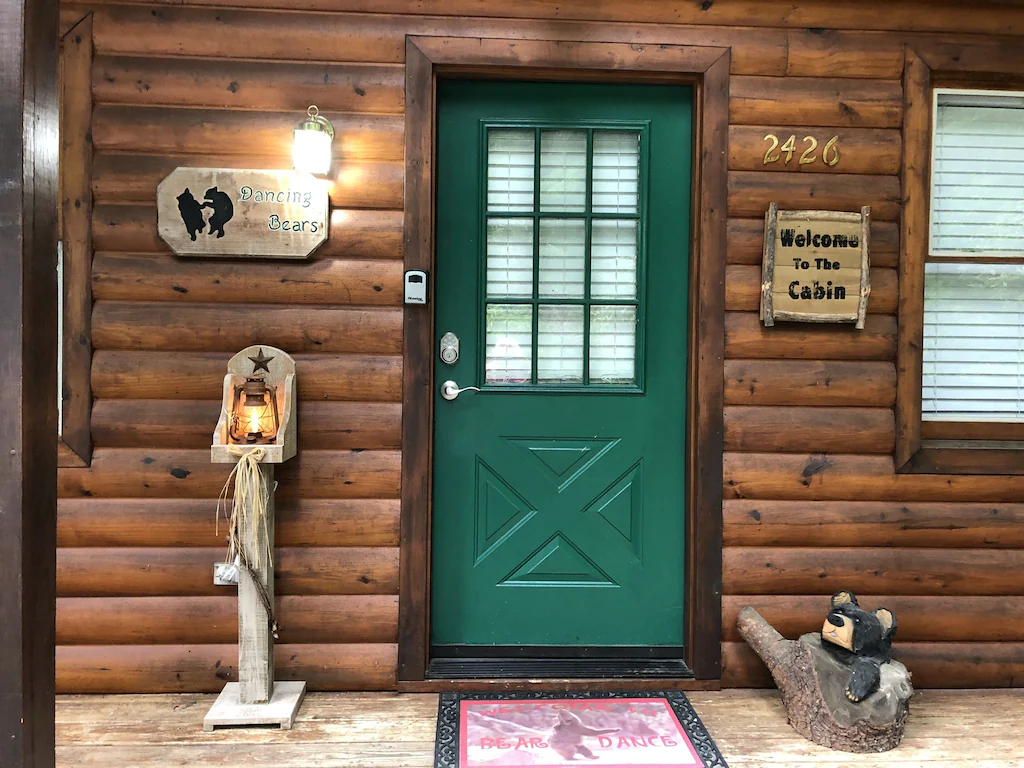 The Bear Dance cabin is arguably one of the best choices for couples and honeymooners. Located between Gatlinburg and Pigeon Forge, it's easy to get around, yet it is also almost remote since there are no direct neighbors. So it's a really secluded cabin and perfect for getting away from the bustling and hustling cities.
The cabin offers spectacular views of Smoky Mountain. Relax in the outdoor hot tub and watch the sunset behind the mountains, or grab a cup of coffee and get immersed in nature with the morning fog.
The main level has an open concept with one bedroom, one bathroom, a fully equipped kitchen, and a bistro table. On the ground floor, there is an additional bathroom as well as a game room with a pool table. For the best views of the lush mountains in the summertime, you'll find a fire pit outside. However, you can enjoy the scenery near the indoor gas fireplace during the cold winter.
Romantic Cabin with Gazebo Hot Tub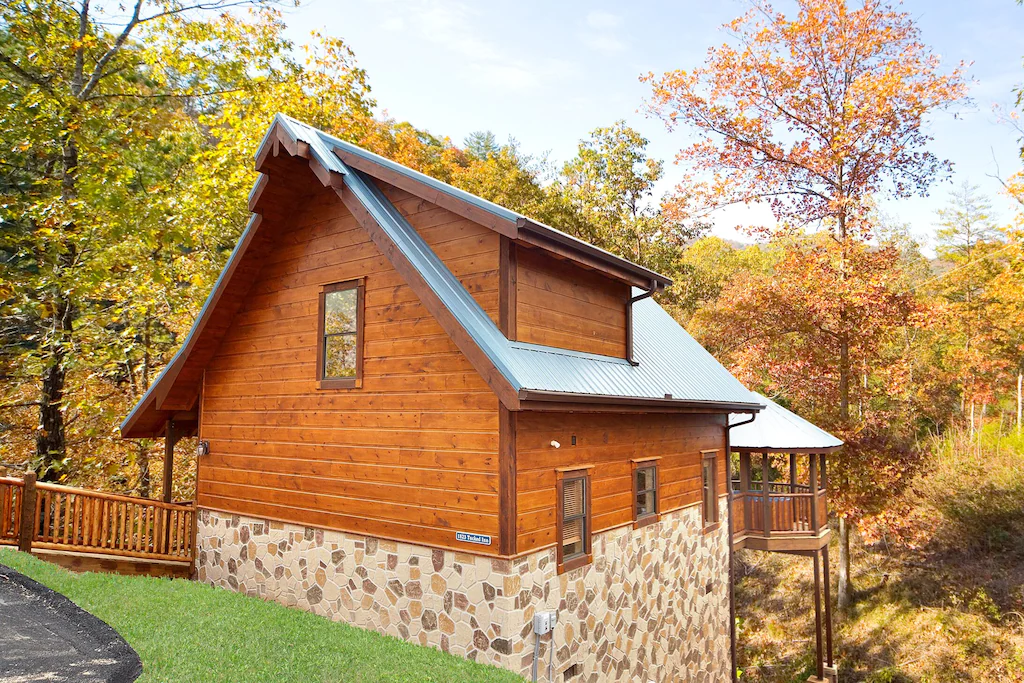 Nestled in the Great Smoky Mountains, this luxurious two-bedroom, two-bath rustic cabin features a large master suite with a jacuzzi, a guest suite with queen-sized bunk beds, and a loft game room with a pool table, stainless steel gas grill, and a private gazebo with a hot tub.
In addition, less than a mile away, there is the Honeymoon Hills chapel. Also, it is less than five miles from popular downtown Gatlinburg attractions such as Ripley's Super Fun Zone, Anakeesta, and the world-famous SkyBridge at SkyLift Park.
As its name suggests, this is undoubtedly one of the most romantic cabins to visit for honeymooners. Here you can enjoy a luxurious stay surrounded by nature.
Laurel Hideaway Cabin
This secluded cabin is perfect for honeymoons, romantic getaways, and anniversary trips. This remote Gatlinburg cabin features one bedroom, two bathrooms, a Jacuzzi area, a two-seat breakfast table, a grill, and a fully equipped kitchen.
Enjoy the beautiful views of Mount LeConte with your loved ones on the wraparound deck with homemade breakfast, a cup of coffee, or even a glass of wine.
This cozy little cabin in Gatlinburg is perfect for a weekend getaway into the mountains to feel at home away from home.
Sweet Memories by the Pool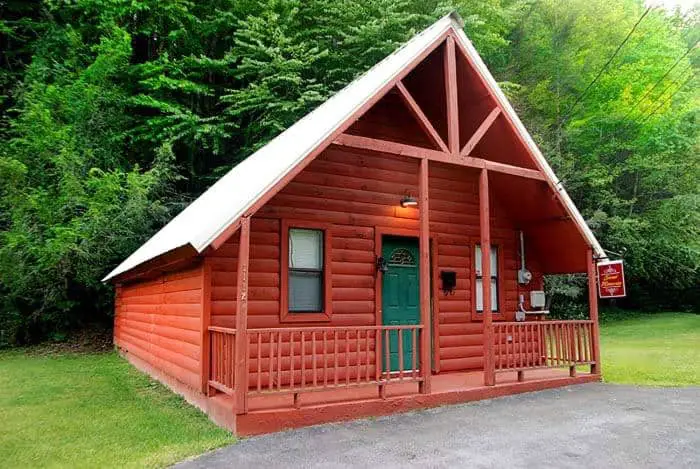 Sweet Memories by the Pool is truly a cabin where Sweet Memories are made. The cabin is set in a large wooded area with no neighbors nearby. As the name implies, it has a swimming pool and a mini waterfall for guests to use, making this cabin the perfect weekend escape into the mountains with your significant other!
This dramatic two-story cabin features a leather sofa, three TVs, a wood-burning fireplace, a fully equipped kitchen, and a bedroom with a heart-shaped hot tub in the center.
You can easily spend your entire vacation in this cabin, but there are also various activities nearby. Shopping, skiing, hiking, fishing, rafting, ziplining, zorbs, Dollywood, Splash Country, fine dining, and the national park surrounding Gatlinburg for countless outdoor activities are nearby.
A Passionate View Cabin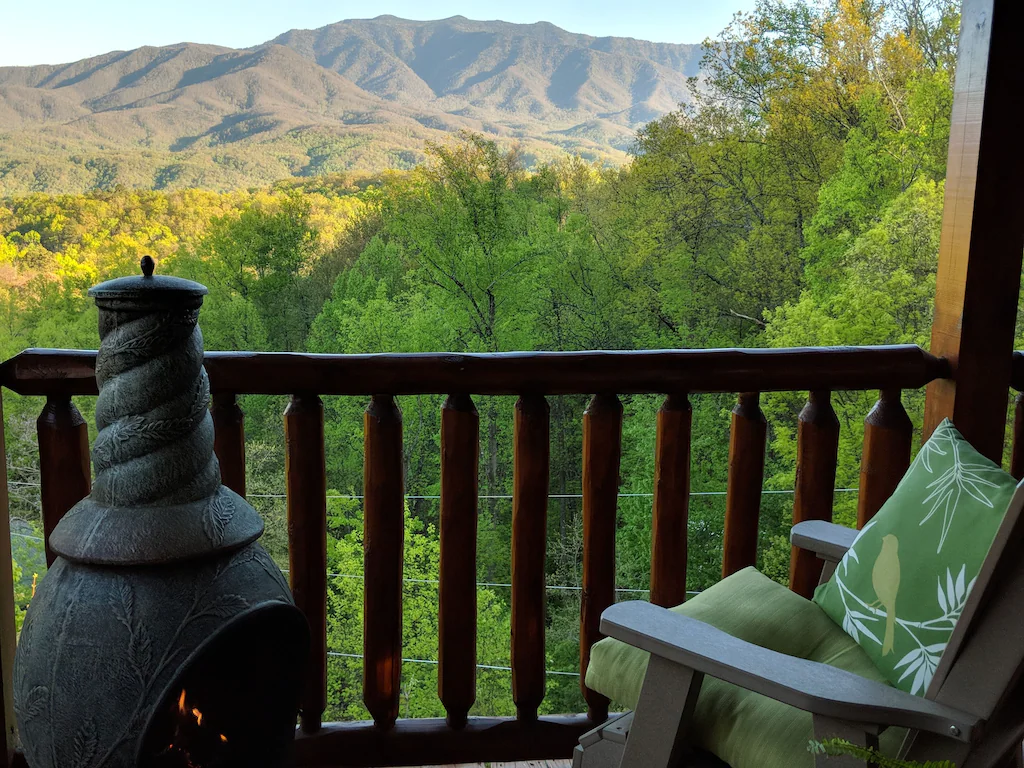 Located in Gatlinburg, "A Passionate View" is a unique Log Cabin with lots of breathtaking views of the Smoky Mountain range and majestic sunrise views from every room in the mornings!
The cabin has a heart-shaped jacuzzi for two overlooking a great view, a king-sized bed, two bathrooms, a fully functional kitchen, a TV in the living room, a fireplace, a game room, and a hot tub. This is an excellent cabin for a romantic getaway, anniversary, or simply escape from people into the mountains.
You will reach this beautifully maintained, perfect for couples cabin after a long, beautiful, private, paved, and gated driveway. Furthermore, it is easily accessible from both Gatlinburg and Pigeon Forge and just a few minutes away from the Great Smokies National Park! So, within a few miles, you can find everything you need, such as restaurants, pubs, arts and craft shops, and even grocery stores.
Smoky's Mountain View Cabin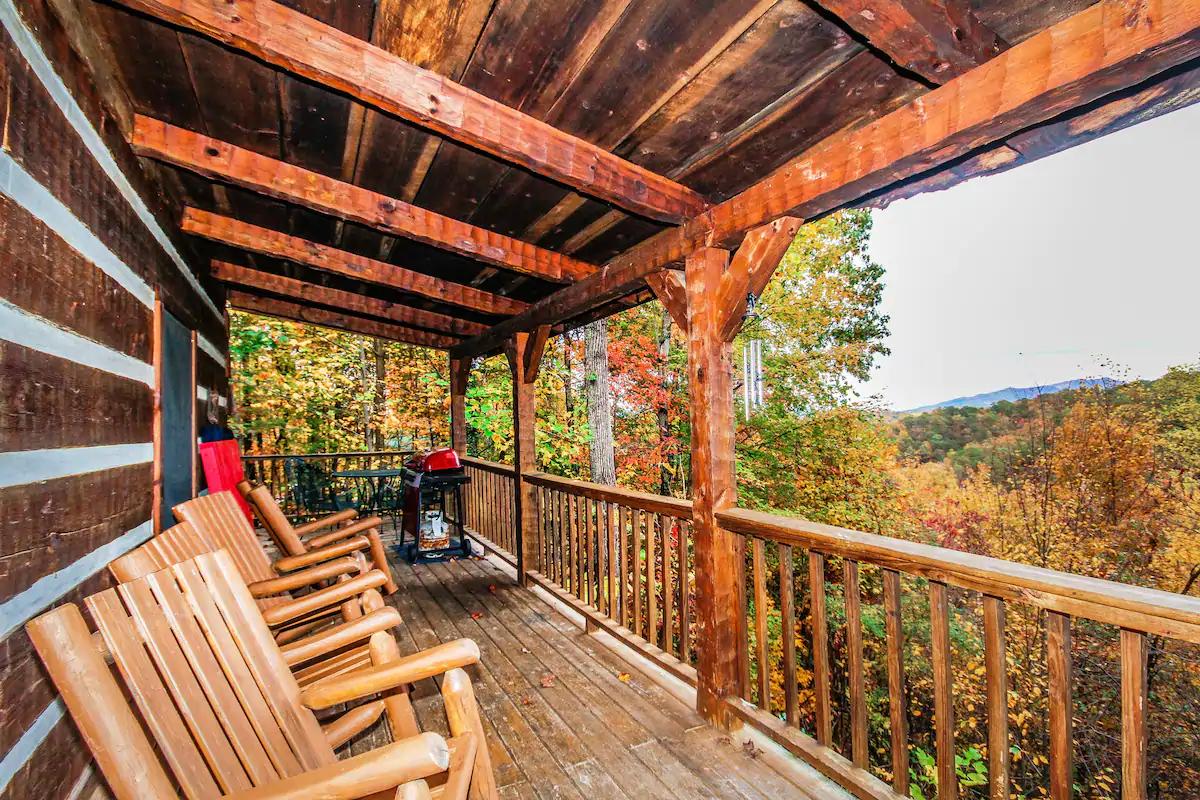 This charming cabin was built exclusively with couples in mind. The cabin features one large bedroom, jetted whirlpool, a hot tub, a double-sided fireplace in the living room, and a fully functional kitchen with all the essential cooking equipment.
The large living room windows overlook Mt. LeConte straight ahead, and the Ober Gatlinburg Aerial Tram can also be seen ascending and descending in the distance. For incredible mountain views, indulge in a steamy, relaxing soak in the outdoor hot tub.
Lastly, being only a short trip from the main entrance of the national park and Gatlinburg's downtown makes it the perfect spot for a relaxing vacation with everything at your doorstep. Also, as it is located in Gatlinburg's Chalet community, guests will be able to enjoy the entire property to themselves with seasonal swimming pools and tennis courts.
Rolling Waters Chalet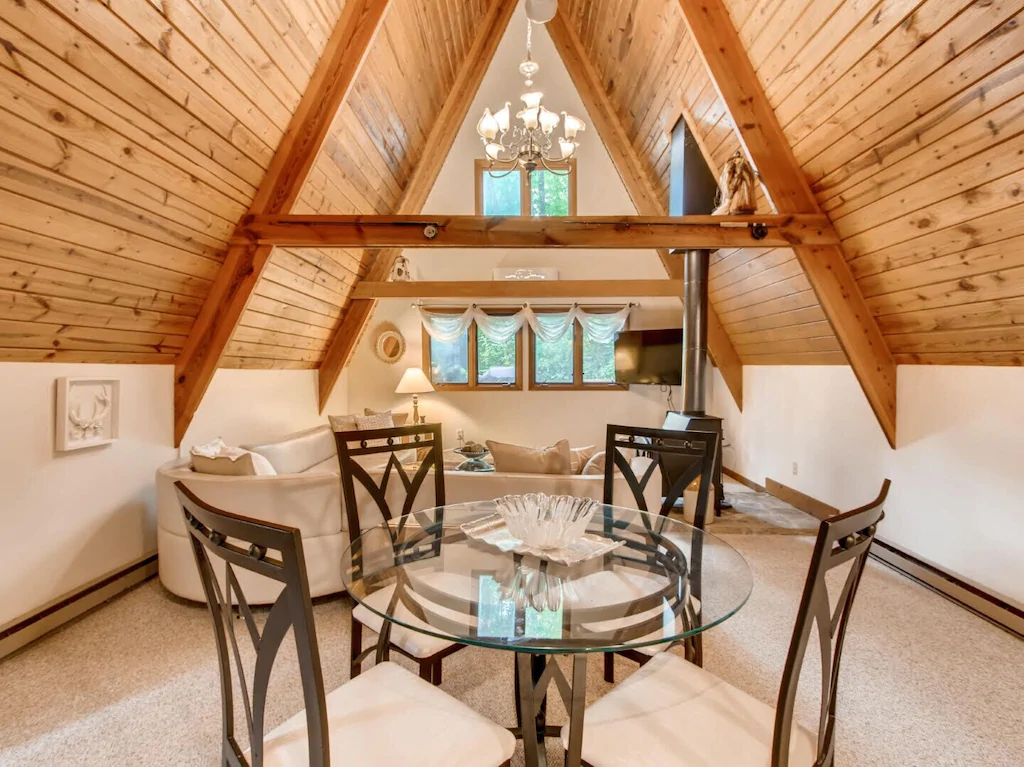 Rolling Waters Chalet can offer you an unforgettable experience for a dream vacation in the Smoky Mountains. Whether you want to stroll around the streets of Gatlinburg and browse its many shops, explore the Artists' Community Loop, or spend your vacation outdoors admiring nature at its finest, this authentic 1965 Chalet Village cabin is at the perfect location.
With its mid-century modern architecture and furnishings accompanied by the works of local artisans, you can enjoy a restful night's sleep under the flowing canopy of a romantic log bed or in the open A-frame loft under its beautiful cathedral ceiling.
For a romantic evening, soak in the warm, bubbling water of the hot tub on the private mountain terrace. Otherwise, relax on the deck overlooking Ski Mountain Road. But best of all, close your eyes and relish the sounds of nature.
Beary Blessed Cabin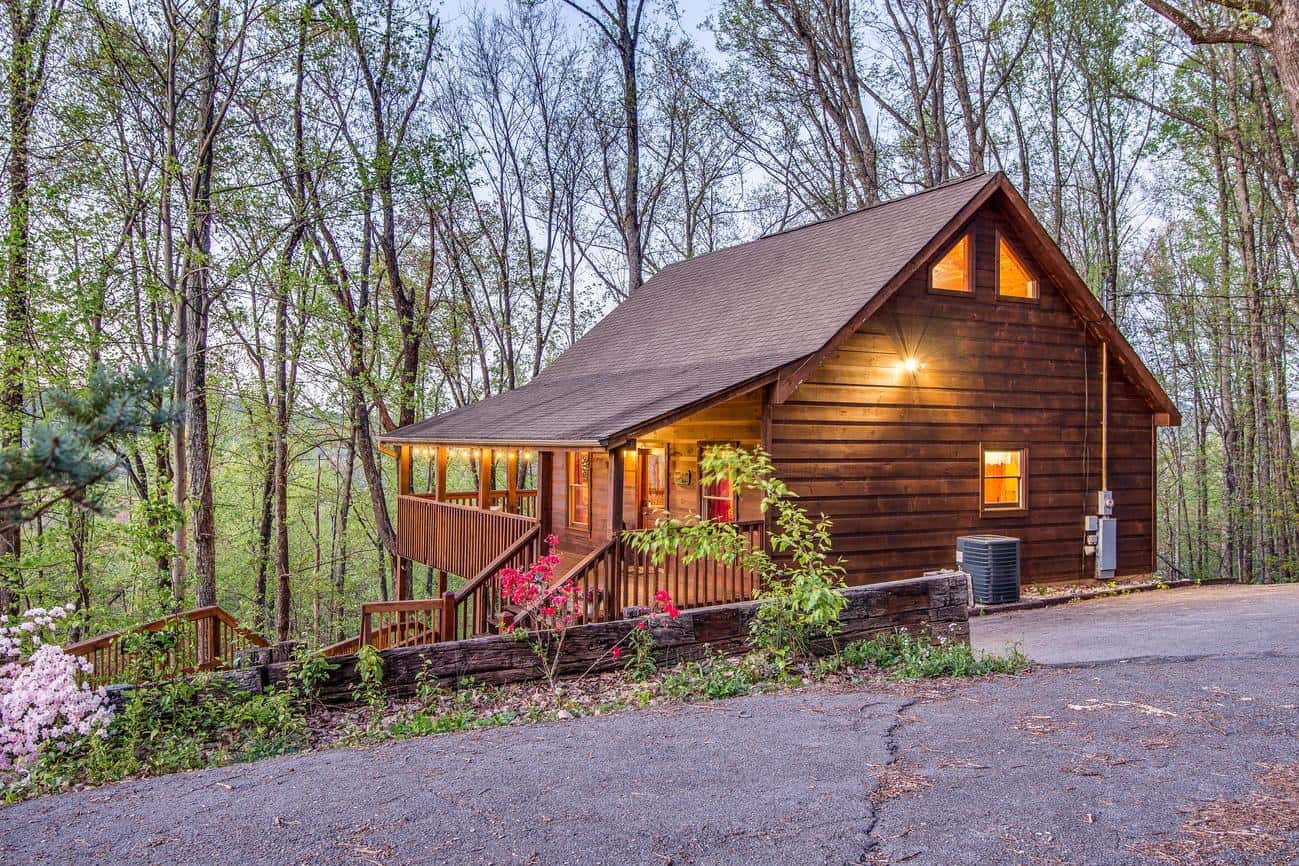 This cozy log cabin will make you feel connected to nature and feel at peace. Its two-story windows fill the cabin with stunning natural light and mesmerizing views of the mountains. Also, offering a fully functional kitchen, one bedroom, and a hot tub will make you feel at home immediately.
Its hued cathedral ceilings, open floor plan, hardwood floors, and magnificent views of the Smoky Mountains will amaze you. Frankly, your stay at Gatlinburg will be even better with its unique architecture and location!
The Beary Blessed Cabin is truly the perfect option for people who love their privacy.
Honey Bear Hideaway Cabin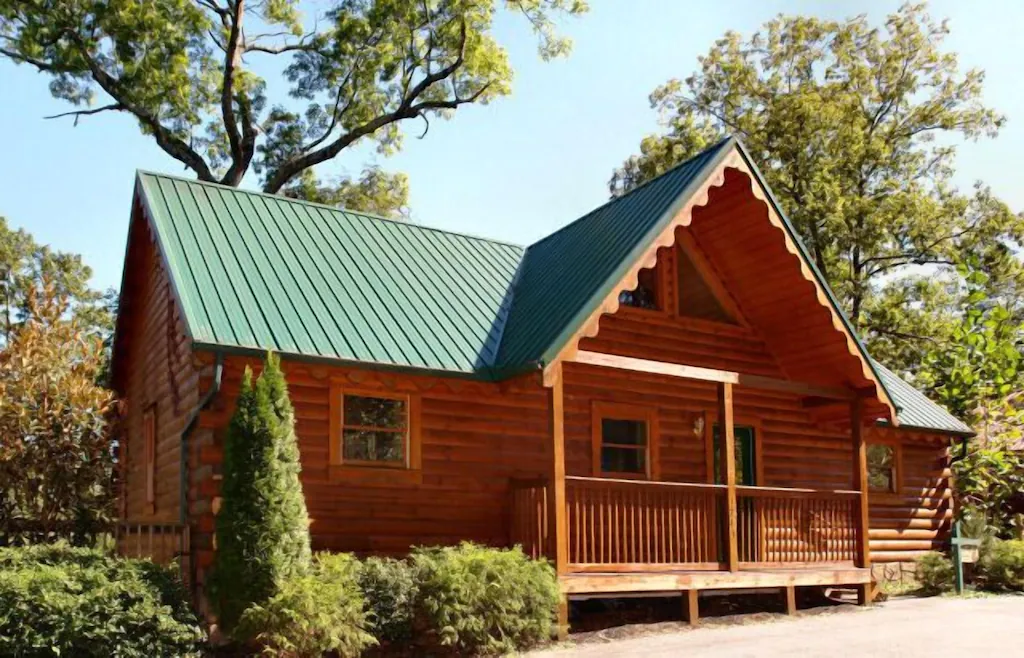 The original Honey Bear Hideaway cabin was destroyed in the wildfires of 2016 but is now fully remodeled and made into a beautiful space for a memorable vacation. This brand-new cabin is fully furnished that comfortably accommodates up to four people. There is a king-size bed in the loft bedroom and a sleeper sofa in the living room.
Located conveniently between Pigeon Forge, Dollywood and Gatlinburg, this cabin offers it all. Soak in the lovely sights, sounds, and smells while being just a small drive away from the city's shopping, food, and entertainment.
Spend the evening relaxing with your partner or family by the gas fireplace or challenge them to a game of pool! Honey Bear Hideaway is the perfect destination for a relaxing vacation in the mountains!
Bearfoot Retreat Cabin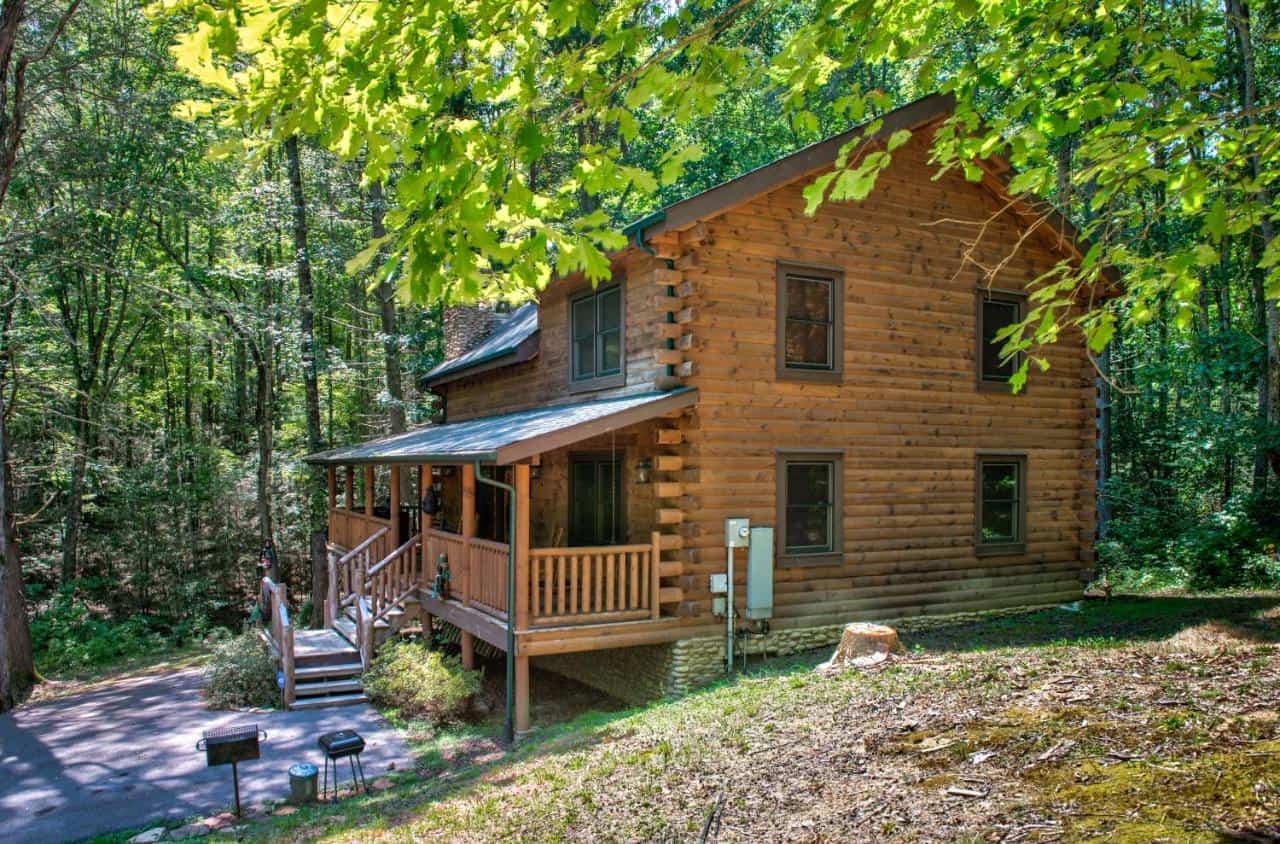 Bearfoot Retreat is a gorgeous two-bedroom cabin ideal for relaxation, romance, and fun. Located in the Chalet Village community, it's less than three miles from Downtown Gatlinburg, eight miles from Pigeon Forge, and a mile to Ober Gatlinburg ski resort.
This cabin features two spacious king suites with whirlpool tubs, a large kitchen and living area on the main floor, and a game room. All three floors have covered decks with spectacular views of the Smoky Mountains. Outdoor cooking, seating, and relaxing are offered throughout each deck, including a hot tub, dining table, rocking chairs, and swing.
Here, you will access all three Association Clubhouses, featuring large swimming pools, tennis courts, gym, shuffleboard, game rooms, and much more! If you're looking for the perfect honeymoon log cabin getaway experience, Bearfoot Retreat is just the place you're looking for.
Hope's Haven Cabin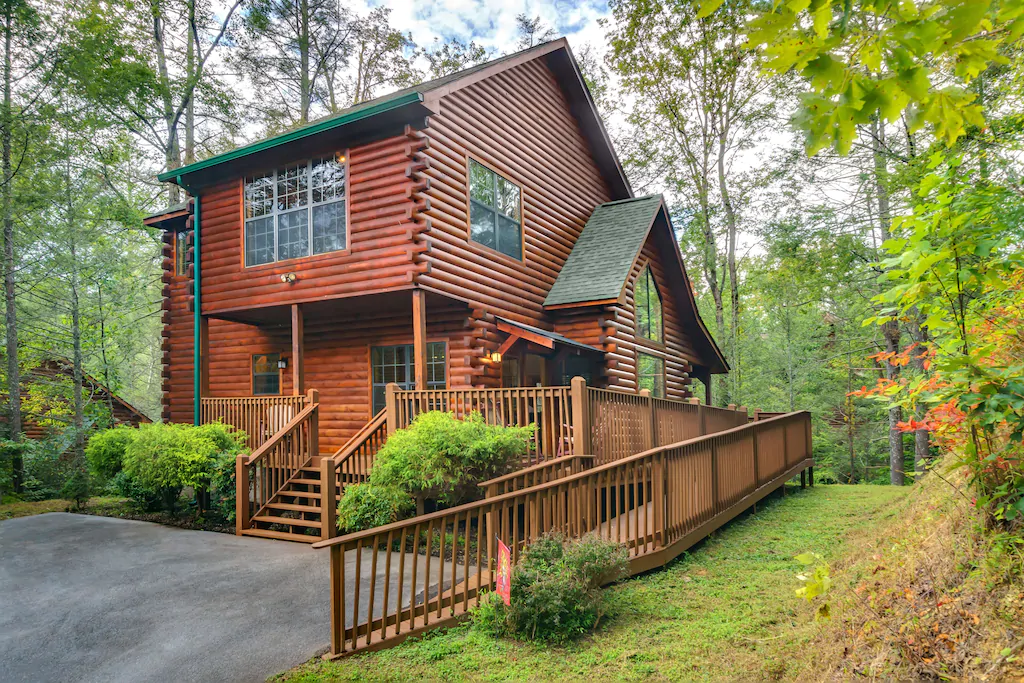 Hope's Haven is a relatively new high-end cabin that offers two king-size bedrooms with attached bathrooms, a fully functional kitchen, a media room with state-of-the-art equipment, and an arcade gaming machine loaded with 700 games.
It is less than a 3-minute drive from the Rocky Top Sports World and Mills Park playground and just 10 minutes from Gatlinburg. It is easy to access since there is no need to worry about steep mountain roads.
Enjoy a nice soak in the outdoor hot tub or play cornhole while grilling out on the charcoal grill. All these amenities provided by Hope's Haven make for a perfect fun and romantic getaway to the mountains.
Tip: To check out more cabins visit VRBO
Related Read:
How to elevate your stay in Gatlinburg
Once you settle in your romantic cabin you will undoubtedly want to explore Gatlinburg and the Smoky Mountains with your partner or create an even more romantic experience at your cabin. So, check out here the top romantic things you should do for the best romantic experience.
Make Your Cabin Stay More Romantic
Plan for alone time. Undoubtedly, it is an excellent chance to explore the town, but make sure you leave time to just relax in your cabin together. Enjoy the fantastic views of the Smoky Mountains in your hot tub or next to the fireplace. Bring some things to make your time at the cabin special, like massage oils, bath salts, handmade soaps, or a bath bomb.
Get flowers delivered to your cabin from Cupid's Petals.
Stop by Kilwins Chocolates to pick up some truffles.
Order lunch from one of the local restaurants and have a picnic by your cabin and in nature.
Top things to do in Gatlinburg
What's more romantic than enjoying a couple's massage at a luxurious day spa? With all the excitement that the Smoky Mountains offer, take some time to relax together in a tranquil way. The Gatlinburg area has a variety of spas, all offering excellent treatments for couples.
Space Needle by Starlight
The 407-foot-high Gatlinburg Space Needle exhibits the entire city and surrounding mountains from a 360-degree display platform. After sunset, go to its top and see the city lights shine below you while the stars shimmer right over you.
Great Smoky Mountain Wheel
A classic romantic activity is definitely cuddling up with your partner on a funky Ferris Wheel. For the ultimate Ferris wheel experience, head to The Island in Pigeon Forge to experience the big wheel, which offers panoramic views of the lovely landscape of Pigeon Forge and the Smoky Mountains. After your journey at the wheel, go to the fountain show for a multi-sensory experience.
Read More: 20+ Best Things To Do In Gatlinburg
Final Thoughts
Gatlinburg is a terrific city to explore beautiful mountain views and experience a serene holiday, honeymoon, or anniversary trip with your significant other. Also, Gatlinburg famously hosts comfortable cabins that offer excellent romantic getaways to any couple.
Enjoy relaxing days in luxurious and cozy cabins with spectacular views while soaking in a hot tub with a glass of bubbly wine or sharing a blanket in front of a fireplace during the winter evenings. Live in a fairy tale in one of Gatlinburg's many homey cabins.