A city with a rich history like Gatlinburg is one of the most visited tourist attractions in the United States, mostly because it serves as the gateway to the renowned National Park – the Great Smoky Mountains.
Located in Tennessee, it welcomes millions of tourists annually to the Great Smoky Mountains amidst other side attractions along the Pigeon Fodge to keep each visitor entertained.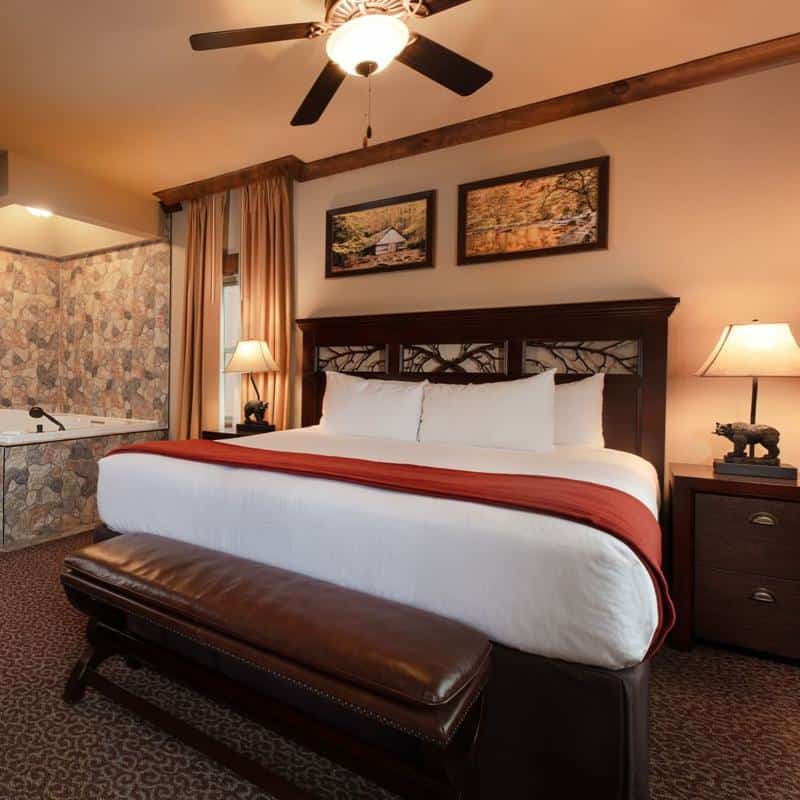 Now, you might be planning your next holiday for Gatlinburg, meaning you would need to be abreast of all information about the city. A major box to tick is the hotel you could stay at.
Best Gatlinburg Hotels on the Strip
Margaritaville Resort Gatlinburg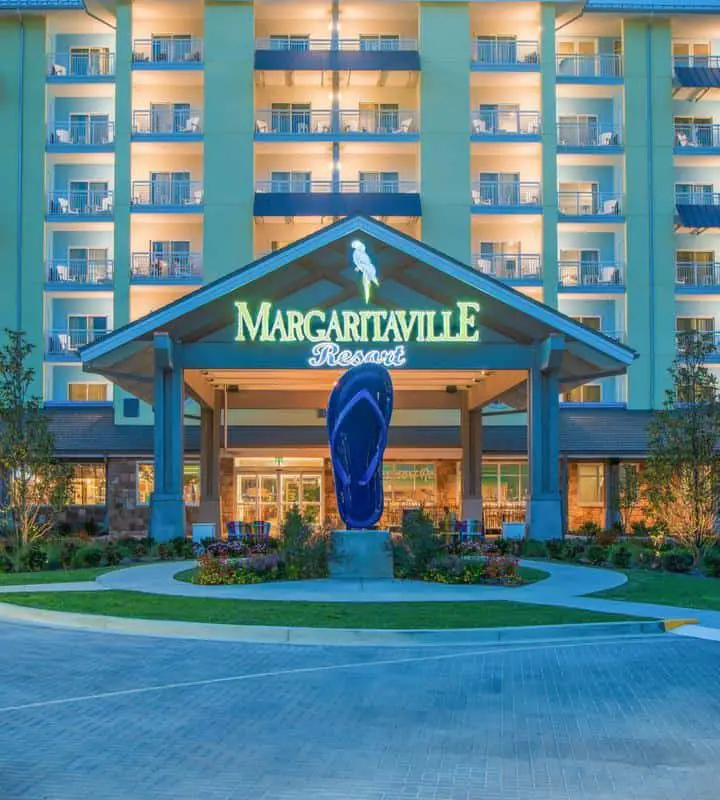 Highlights: Indoor pool, on-site dining, free breakfast, free WiFi, lots of attractions
Price: Starting price $179 for standard rooms
With Prices ranging from $179 for rooms in the Margaritaville resort, the resort offers everything you will need from a mountain resort. The scenery offers you the perfect ambiance to free your mind and uplift your spirits.
It doesn't matter what your plans are for the getaway; the outpost offers you the place to get yourself an ample breakfast with a variety of options such as sandwiches and snacks amidst other options.
You can also opt to stay in the indoor pool and enjoy your meal at the poolside. A visit to the website shows a full list of the breakfast menu you can order in and enjoy with your partner or in solitude while enjoying the beautiful scenery. The Landshark Bar and Grill are an on-site dining arena for you.
Located on the Trolley line, Margaritaville Resort is within walking distance of attractions downtown.
Baymont by Wyndham Gatlinburg on the River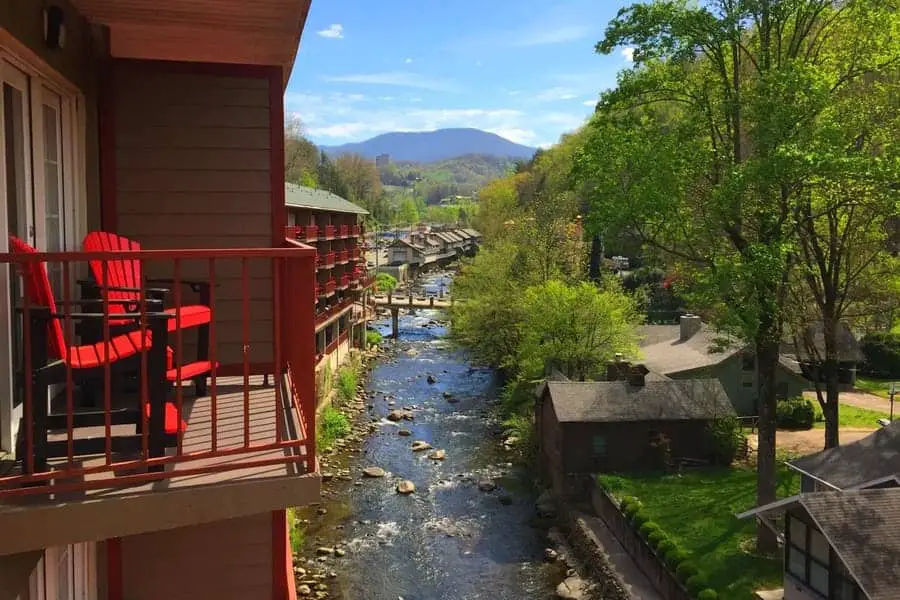 Highlights: Fireplace, indoor pool, Free WiFi, picnic area, Italian Cafe, Side attractions
Price: $127 for standard rooms in the inn
Baymont has an enticing room overlooking the fireplace and the Little Pigeon River. The mountains provide an expansive scenic view for everyone in the hotel, and just like its name, it is indeed by the river. In addition to its indoor pool, it offers a play area for kids; it is also both family and pet friendly.
Guests at Wyndham enjoy free Wifi, and you can benefit from the amenities offered by the hotel, including a lounge, a picnic area, and free breakfast on site. If you desire some Italian food, you can visit the popular Best Italian Café & Pizzeria, where they serve the "The Best Taste of Italy."
You may also take the time to visit some of the attractive landmarks, such as the Historic Ogle Log Cabin, amongst other impressive locations, to enjoy Gatlinburg thoroughly.
The Historic Gatlinburg Inn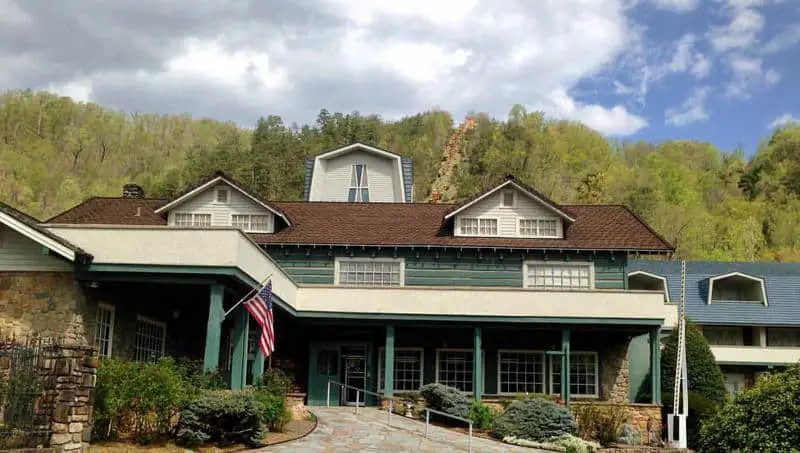 Highlights: Free WiFi, Private bath, Large jacuzzi, free breakfast, scenic view, historic
Price: Standard price for a 1 bedroom is $129
Situated on the blue mountain midst of Gatlinburg, Gatlinburg Inn offers the perfect getaway from the hustle and bustle of city life. Designed in a Victorian style, the rooms give a pleasant appeal to guests, and you can enjoy an away from home. Each room has a private bath, heat, and air, and free Wi-Fi is accessible to guests.
The special rooms boast extra comfort, including a large jacuzzi, a fireplace to warm your toes, and a balcony. You can enjoy the scenic view. You are entitled to free breakfast every morning with varieties you can choose from.
Established in 1937, Gatlinburg inn has been the perfect hotel for families; as they look to bolster their romance, you can enjoy all of its thrills without having to break the bank.
Want try other breakfast? why not check our best pancakes in Gatlinburg.
Quality Inn & Suites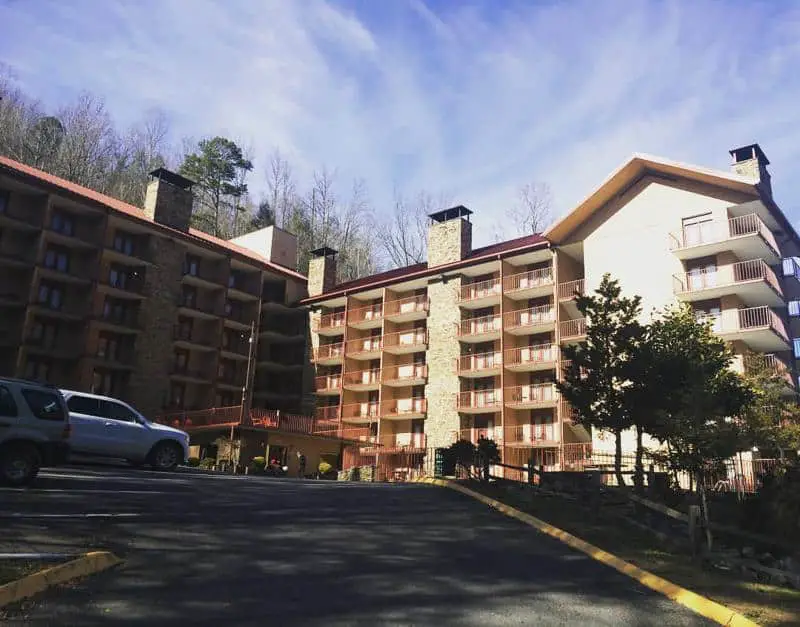 Highlights: snow skiing, hiking trails, Free WiFi
Price: Standard rooms between $72 to $123
The Quality Inn is situated right at the heart of the Gatlinburg Mountain Coaster and barely 1.5 miles from the renowned Great Smoky Mountain National Park that welcomes millions of visitors annually.
Visiting the park, you will enjoy outdoor activities like snow skiing, Whitewater rafting, hiking, and 600 miles trials, with streams that extend miles and miles across.
You will enjoy all of Gatlinburg, starting from the restaurants with their amazing cuisines, the museums sporting different sight-worthy emblems to the Dollywood amusement park, The splash country, and numerous other attractions to make your visit to Gatlinburg a worthy one.
A visit to the Smoky Mountains is always interesting, owing in part to the year-round concerts and events.
The Park Vista – A DoubleTree by Hilton Hotel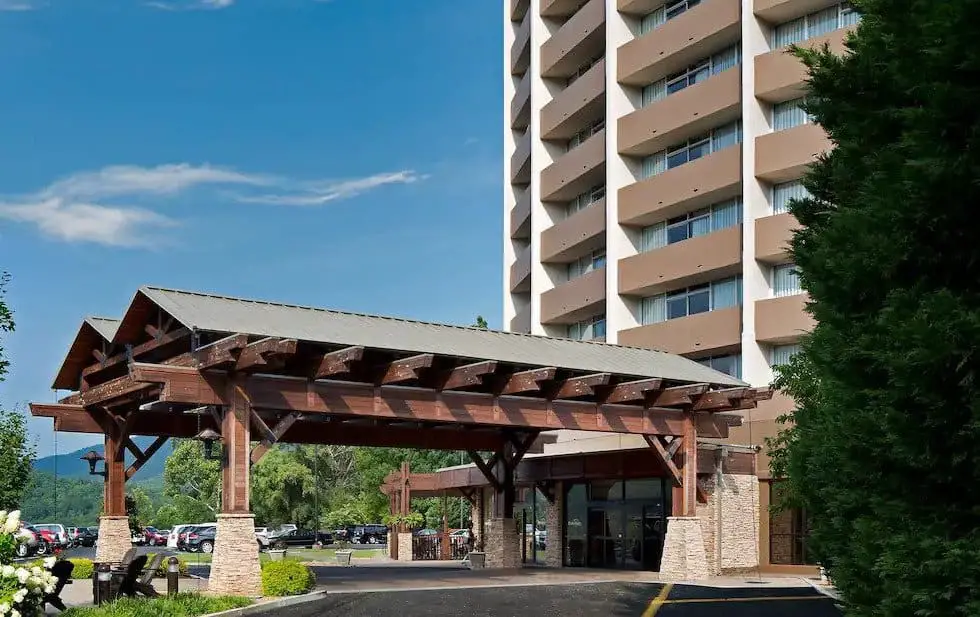 Highlights: Jacuzzi tubs, concierge service, Business Centres, 24hrs reception service, BBQ/Picnic
Price: Starting price for a standard room is $182
The Park Vista is located ideally to provide guests with an easy movement around the city for sightseeing around the local attractions.
Park Vista offers visitors an impressive range of services personalized to give everyone the best experience ever. It has an indoor pool and features a jacuzzi tub with water slides. It is run seamlessly with a concierge service and a business Centre open for 24hrs. It also has a BBQ area that permits guests the ample enjoyment they desire.
You do not need to miss your daily fitness exercise while at the hotel; you can easily pop into the well-equipped center. Each room has a refrigerator, a private bathroom, and a TV on which you can catch up on the activities of the world, giving the feel of home. It also has a cable satellite, a table phone, and a hairdryer to keep guests looking glamorous.
It has an on-site restaurant where guests can visit or enjoy a variety of dishes. You can also eat on the patio outside during summertime while appreciating the beauty.  Guests can also move around, paying visits to interesting areas like the Convention center, the ski resort, and the Space Needle tower. All of which make Gatlinburg one of the best destinations in the world.
Read More: 20+ Best Things To Do In Gatlinburg
Sidney James Mountain Lodge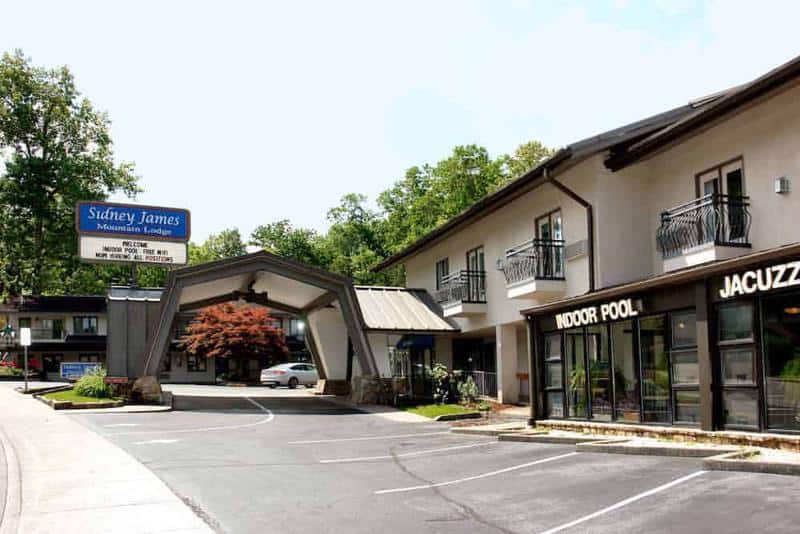 Highlights: Meeting facilities, Family-friendly, fully equipped rooms, Free WiFi, Proximity to attractions
Price: Due to a recent price slash, rooms at the Sidney James costs $79.
Sidney James Mountain Lodge is strategically located in an area that makes accessing the local attractions possible. It can easily be driven to from the Pigeon Forge, and it has a jacuzzi, a sauna, and an indoor pool for private visitors.
It has various amenities to make the guests comfortable. Are you working and require a place to stay where you can juggle both work and comfort? The meeting facilities will come in handy to help you mix your business with pleasure. A kid's pool and a sun deck mean it can be the perfect place to stay with the family.
You can access the staff all day if you need help with booking tours around the beautiful city or you need to procure tickets for events happening around. To make a comfortable stay, each room has a refrigerator plus other amenities.
An in-house restaurant readily provides guests with different meal options for those looking to take a bite in the hotel. It also has lots of other dining options around. It is close to Ober Gatlinburg Ski Resort and is barely a 25-minute drive from these locations. You can also easily drive to the Great Smoky Mountains to get the full experience of Gatlinburg.
Bearskin Lodge on The River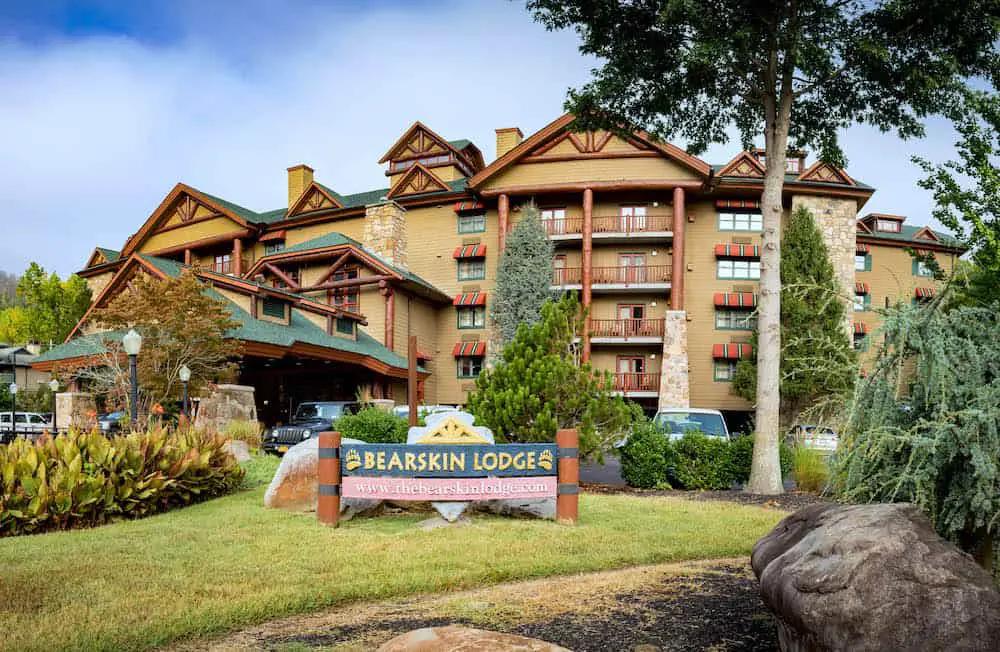 Highlights: 24 hours reception, fully equipped rooms, Free WiFi, pet-friendly, family-friendly, on-site restaurant
Price: Going rate is set at $133 for a standard room.
Like its name, Bearskin lodge is just by the river and is just a little walk down to the Great Smoky Mountains, which serves as a tourist attraction to tourists year After a year. If you are an avid internet person, you should opt for this hotel as it offers free WiFi all over the property.
Rated 3 stars, Bearskin features an outdoor pool and a 24 hours reception. It also has a picnic area where the family can gather and a gym for you to maintain fitness levels while on holiday. Each room has basic amenities like a refrigerator and a coffee maker and is also fitted with a cable to enable guests to keep up with all channels.
It also has a hairdryer and a microwave. All equipped to give the feel of a home. Bearskin lodge has lots of restaurants and Cafes around it where guests can visit for a quick bite. Side attractions like the Gatlinburg Convention center and the Gatlinburg Space Needle are 10 minutes away from the hotel. Also, a 25-minute drive away is the Gatlinburg Pigeon Forge Airport.
Hampton Inn Gatlinburg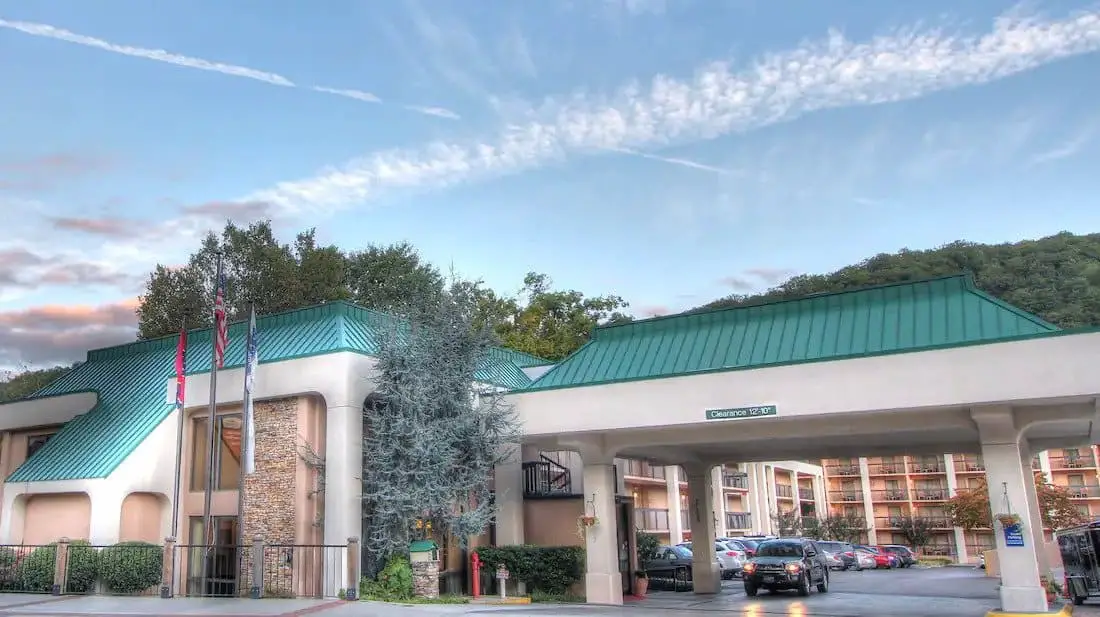 Highlights: 24hrs reception, family-friendly, Free WiFi, fully conditioned rooms, side attractions
Price: Rates start from $78/ room
The Hampton Inn is located in Gatlinburg, close to the enticing local attractions. It is within walking distance of the Great Smoky Mountains, and you can finally experience firsthand the thrill of the Mountains and why it welcomes loads of tourists every year.
It is also a mere walking distance from the Ober Gatlinburg Ski Resort and other famous attraction centers and numerous off-site dining areas.
Guests at the hotel have unrestricted access to the reception 24 hours, which helps with bookings and the procurement of tickets. It also has an outdoor pool where families can cool off. In addition, there is a business center, a shopping mall, and connected rooms. It has 96 rooms, with each one fully air-conditioned.
It is situated close to the Gatlinburg Convention Center and a few minutes' drive from Sevierville and the Pigeon Forge.
Westgate Smoky Mountain Resort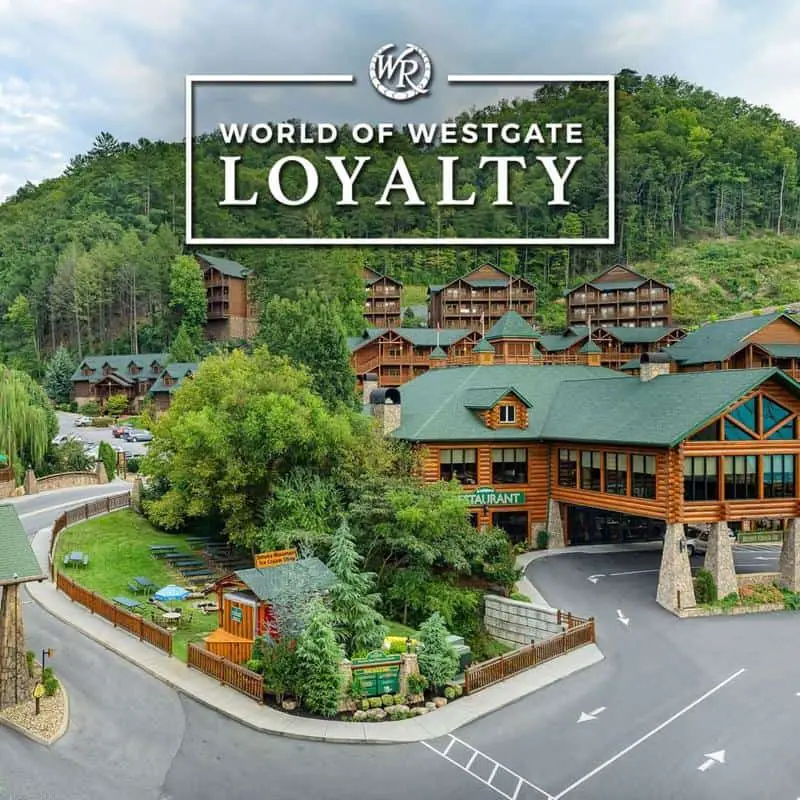 Highlights: Spa, fitness center, BBQ/picnic, business center, kid's pool, on-site dining area
Price: A room at Westgate Smoky Mountain Resort can be gotten at $129.
For those that prefer privacy, Westgate Smoky Mountain Resort could be the ideal hotel location for you. It boasts an indoor pool and a sauna while offering comfortable accommodation. Guests have access to the spa and wellness center, where they can relieve the body of accumulated stress.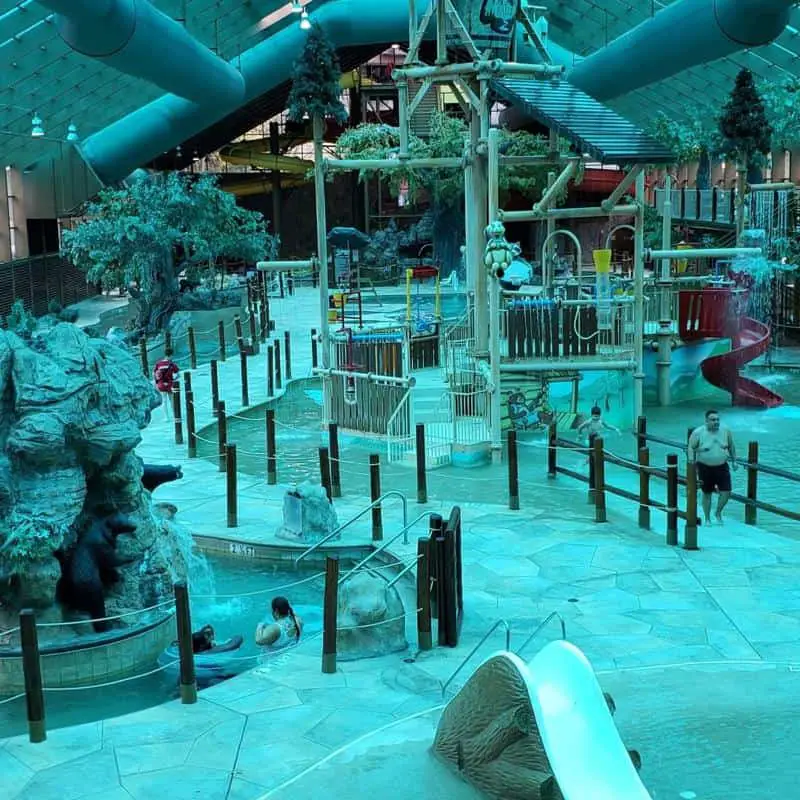 With a 24-hour reception, checking in and out is express. More so, families can visit the kids' pool and water sliders to enjoy the thrill of the water. With a 3-star rating, it incorporates almost all you would need from a hotel; a BBQ picnic area and a business center open 24 hours every day.
The staff are nice and are multilingual, making it easier to offer information on local attractions. Rooms at Westgate Smoky Mountain are equipped with a desk and other basic amenities to guarantee guests a comfortable stay in the hotel.
It also has an onsite dining area, such as the Westgate Smokehouse Grill, where guests can enjoy their meal. In addition, there is a lounge bar where guests are welcome to relax after a day of visiting various attractions; for guests willing to explore and dine out while at the resort, numerous restaurants and cafes are nearby, each offering a relish dish.
The Pigeon Forge Mill, Ober Gatlinburg Ski, and the renowned Great Smoky Mountains can all be accessed via a short car trip from the resort.
Glenstone Lodge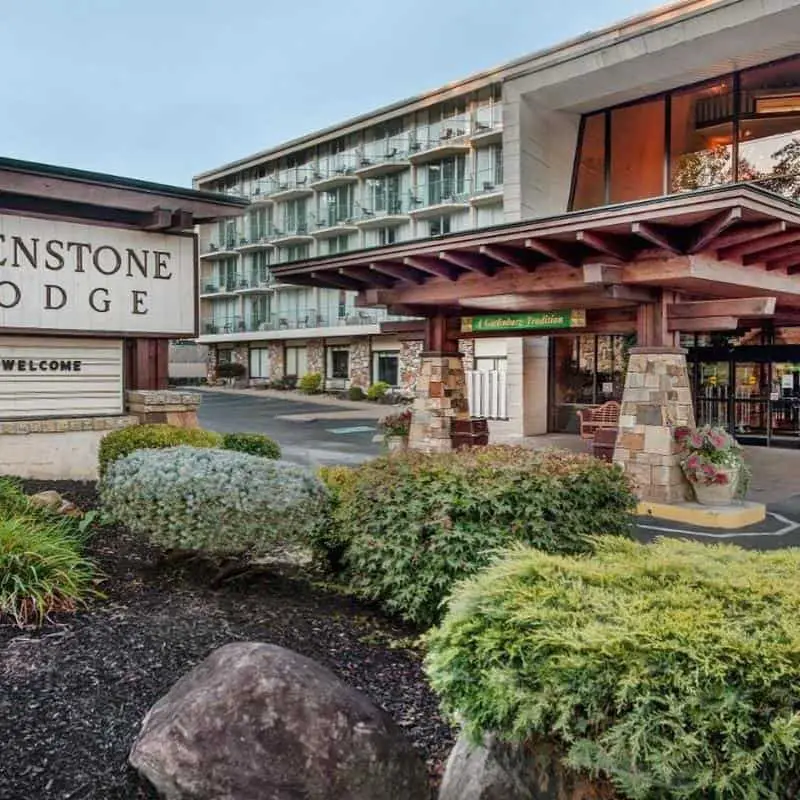 Highlights: BBQ/picnic, Free WiFi, 24/7 reception, indoor pool, proximity to side attractions.
Price: The most expensive room being the Deluxe Queen suite costing $209/a night. The room features a sofa bed and 2 large double beds. Starting price for rooms is $99.
Glenstone Lodge is within walking distance of attractions such as Ober Gatlinburg ski resorts and the Space Needle Tower. For those that prefer privacy, it also has an indoor swimming pool and free Wi-Fi connection so that guests do not miss anything from the outside world.
At Glenstone, guests have access to the reception 24/7, where they can get information on local attractions they intend to visit, among other information. It features a kids pool and quick checking in and out feature making you don't have to waste any time Once a booking is confirmed.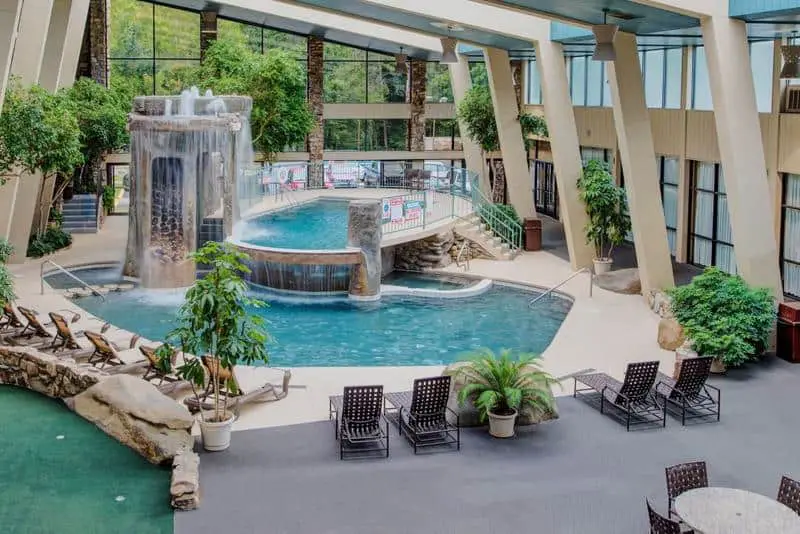 To improve comfort, Glenstone lodge also has a kids pool, storage for luggage, a meeting room to conduct business on the go, and a BBQ/picnic area for guaranteed enjoyment. An on-site restaurant is also available for those willing to eat in and enjoy the meals from the hotel.
However, guests that wish to explore have other eating options easily accessible. Perfectly situated, Glenstone is close to Gatlinburg Convention Centre and is also minutes walk from the popular Great Smoky Mountains.
Country Inn and Suites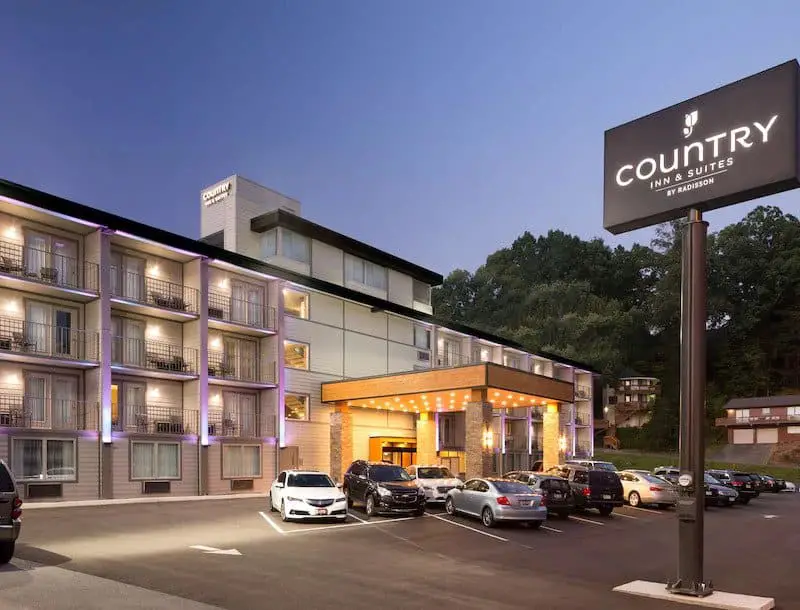 Highlights: Free WiFi, Impressive view, basic amenities, fitness center, lift.
Price: A room at Country Inn costs around $87.
Country inn and suites is another fine hotel near major attraction centers like the Gatlinburg Convention, which is just a 5-minute walk away. It is also a short drive from the Pigeon Forge Airport.
Guests have access to free WiFi amongst other amenities like a fitness center, a heated pool, and other basics to make the stay an enjoyable one. The Ober Gatlinburg Ski Resort is also close by and within walking distance. Visitors are also entertained by a view of the rich heritage of Gatlinburg, Tennessee.
Reception is accessible every hour of the day, and it also has a lift to convey visitors up to the rooms on the upper floors. With a free public parking space, those on-site can easily travel by car to visit local attractions.
The Great Smoky Mountains are also within walking distance from the hotel, and visitors can enjoy the enthralling experience of one of the most attractive tourist Centres in the world.
Zoders Inn and Suites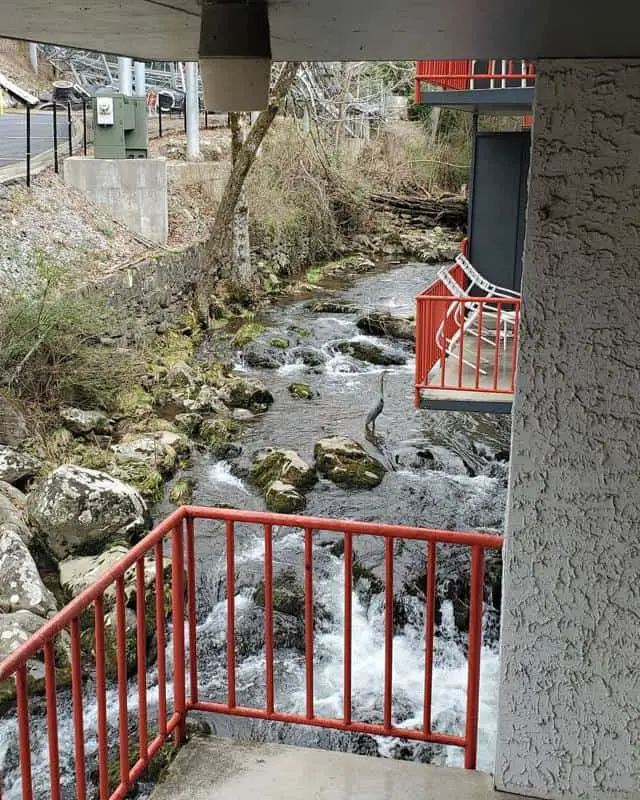 Highlights: fitness center, fully equipped rooms, indoor pool, Free WiFi
Price: Starting price for room is as low as $144 due to recent price review.
Zoders Inn and Suites feature a Jacuzzi and an indoor pool, making it a very comfortable place to stay during visits to Gatlinburg- the renowned tourist Centre. Guests also have access to free internet access to keep in touch with ongoing events in the world. Guests have access to various facilities in the inn, including the Picnic area, a sun deck, and an ever-ready reception.
A fitness center is readily available for guests to keep fit while moving. Each room has refrigerators, microwaves, and dishwashers to make you feel at home. For more comfort, a hairdryer and oven are also accessories in the rooms.
Strategically positioned, guests can easily access multiple tourist attractions like the Ober Gatlinburg Ski Resort, Great Smoky Mountains, and the Gatlinburg Convention Centre, all accessible quickly.
Black Bear Inn & Suites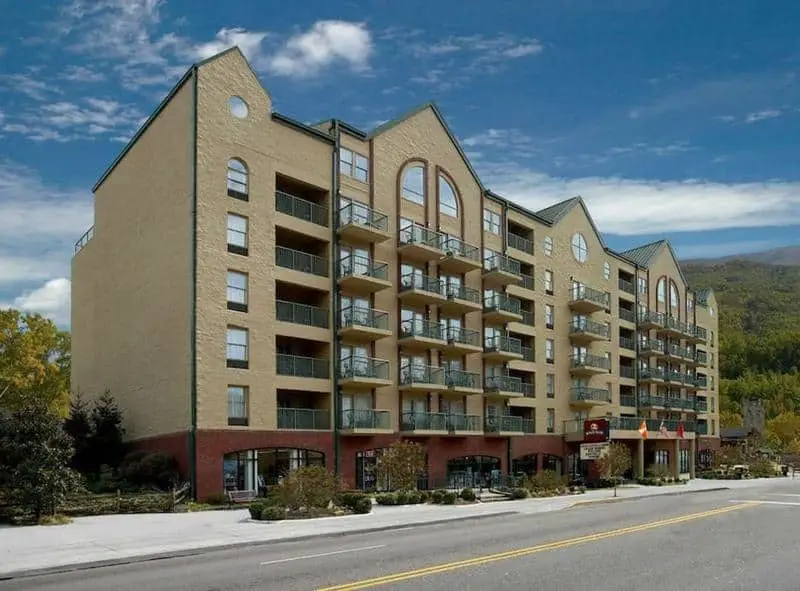 Highlights: Free WiFi, Spa, Family-friendly, Lots of attraction
Price: can be as high as $269 for deluxe rooms.
Located at the southern end of the Gatlinburg Strip, the Black Bear Inn & Suites is close to one of the best sight-worthy elements in the "Great Smoky Mountains National Park." A 3 star hotel with average rating on the search engine (google), the rooms have a stylish and sleek look. The rooftop oversees an impressive view that makes your holiday visit worthwhile.
They offer you a hot delicious breakfast comprising omelets and Belgium waffles- All on the house! The inn offers you the ideal location to enjoy the scenic drive to some of the most visited parks in the world. You can take a detour around visiting the Dollywood, Titanic Museum Attraction, or shopping the Tanger Outlets. You might consider staying in the Black bear inn at affordable rates.
Related Read:
Conclusion
Travelling is interesting, and it could be therapeutic as well as enjoyable. Gatlinburg, Tennessee, is one of the world's leading places that offers a serene experience owing to the many local attractions in the city, which have attracted lots of tourists. It has a scenic view which makes it pleasant to the eye and worthy of sightseeing.
Read More:
FAQs
What Should Guide Your Decision in Picking An Hotel?
To make your visit to Gatlinburg enjoyable, however, a perfect hotel situated right in the heart of all the side attractions is the best decision. Therefore, with this specially curated list, you can choose the best hotel to stay in during your visit to Gatlinburg in the strip to ensure you have a fulfilling experience.
When is the best time to visit Gatlinburg?
You would do best to book rooms ahead of your visits as the Great Smoky Mountains often feature lots of conventions that might jack prices up. Best time to visit is between September and October.