The most convenient and closest airport to Gatlinburg and the entire Smoky Mountains is McGhee Tyson Airport at Knoxville. The Smoky Mountains are huge attractions that bring in more than 10 million visitors each year throughout all seasons. Transportation in and out of the destination is a priority for any tourist who wants a convenient way to move about.
Most visitors opt to travel by car; either rental, taxi, Uber, or personal vehicle. The road gives them the chance to enjoy more of the natural scenery and get to know new places around the tourist towns. Combining an air flight and road trip will make the whole adventure more conducive but you need to know where to visit.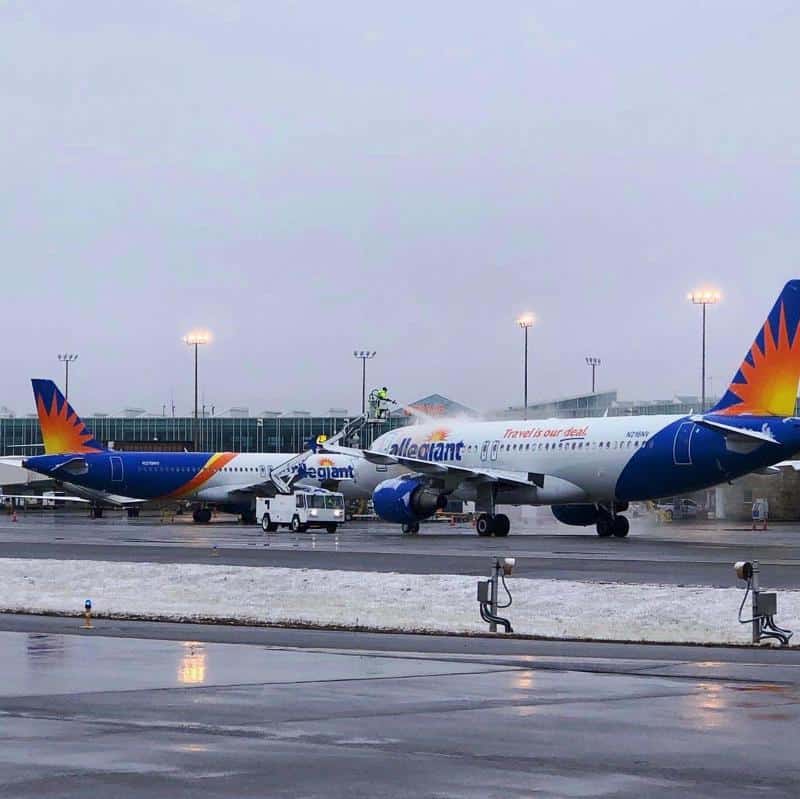 This article will take you through the best two airports you can go to to visit Gatlinburg or Pigeon Forge. You can take a look at how far the airports are from each town and get to choose the most convenient flight for you.
The 2 Closest Airports to Gatlinburg and Pigeon Forge
Closest airports to Gatlinburg and Pigeon Forge map:

1. McGhee Tyson Airport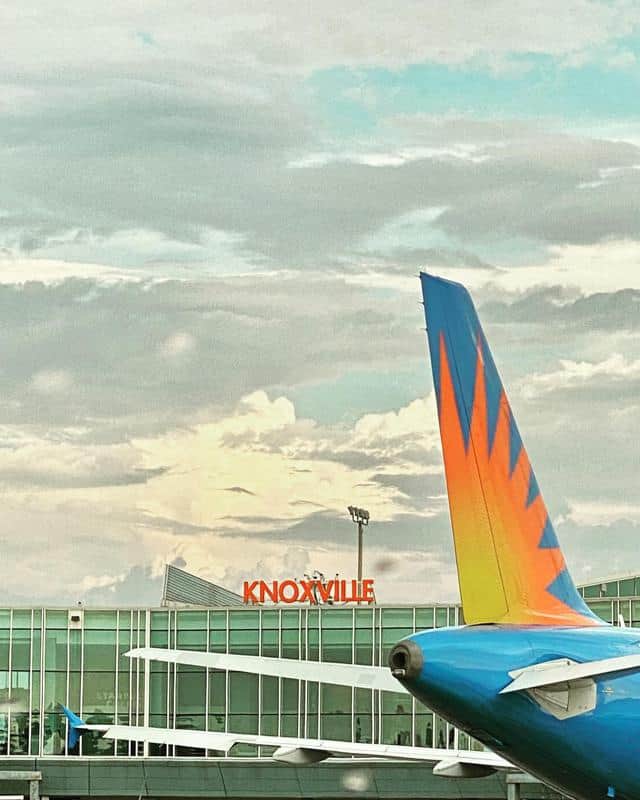 Details:
Address: 2055 Alcoa Hwy Alcoa, TN 37701
Website: McGhee Tyson
Telephone Number: 865-342-3000
McGhee Tyson Airport is the closest airport to any part of the Smoky Mountains. It is about a 1 hour and 10 minutes drive from Gatlinburg. The distance between the McGhee airport and Pigeon Forge is approximately 33.9 miles which is about a 53-minute drive.
The small airport is situated 12 miles south of Knoxville where there is less traffic compared to other close airports. The airport is the premier air facility in the entire East Tennessee where it has employed over 2,700 people. Moreover, the airport serves over 2 million passengers each year with over 100,000 aircraft operations.
Several airlines service McGhee Tyson Airport and they include Allegiant Air, Delta Air Lines, United Airlines, American Airlines, and Frontier Airlines. McGhee offers nonstop flights to various parts of the United States like Boston, Atlanta, Las Vegas, Denver, Detroit, Chicago, Dallas, Houston, Newark, Orlando, Phoenix, and Philadelphia. Check their nonstop air flights page on the company website for more options.
There are two levels at the McGhee Tyson airport where the top-level houses the gates, shops, restaurants, ticket counters, and security. A Smoky Mountain theme décor is applied throughout the level with wood carvings and faux waterfalls.
Car rentals, offices, and baggage claims are at the bottom level. This is where you will find transportation means using Lyft, as well as Uber, or taxis. Car rentals are the best option since it is difficult to get ride shares when going to the Smoky Mountains. The rental companies in the area include Avis, Alamo, Hertz, National, Payless, Dollar, and Budget.
There are several offerings when it comes to food at the McGhee Airport. Check out Quiznos Subs which is located on the right once you are past the TSA security checkpoint, you won't miss it. This casual dining place is open all week starting from 5 am. Starbucks is located next to Quiznos and is open from 5 am to 6 pm daily.
2. Asheville Regional Airport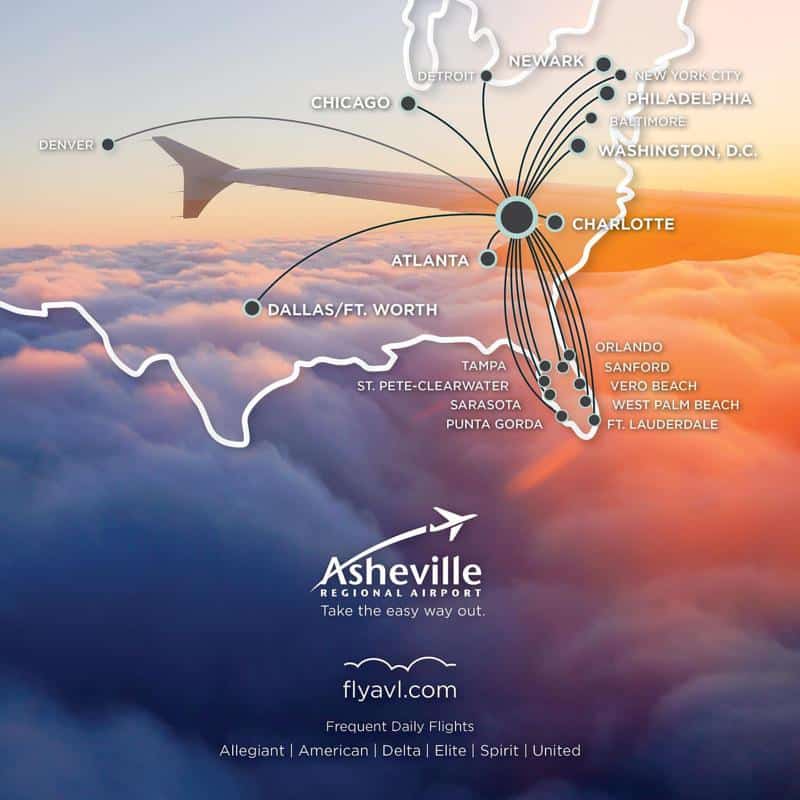 Details:
Address: 61 Terminal Drive, Suite 1, Fletcher, NC 28732
Website: Asheville Airport
Telephone Number: 828-684-2226
Asheville Regional Airport is the second-best option for close airports to both Gatlinburg and Pigeon Forge. It is located at a distance that is about two hours from both regions. It serves over 1.6 million passengers each year with over 70,000 aircraft operations. The airport is smaller than McGhee Tyson Airport covering an approximate area of 900 acres.
The regularly used jet airliners include the Airbus A320 that carries between 150 and 177 passengers, the Airbus A319 with 12 passenger seats, the Boeing 717-200 with 110 passenger seats, and the Canadair Regional Jet that has three versions for 50, 65, and 76 passengers.
Asheville Regional Airport is the best airline to use if you are looking to explore the North Carolina side of the Smoky Mountains. Biltmore is approximately 15 miles away from the airport and south of Downtown Asheville is about 14 miles away if you use I-26 and I-240.
The airport is served by five airlines too including Allegiant, Delta, Elite, United airlines, and American airlines. You can easily get nonstop flights from several destinations like Atlanta, Dallas, Florida, Philadelphia, Boston, Washington, Denver, and many more. Feel free to check out their website for more offerings.
Rental cars are available at the exit from agencies like Budget, Dollar Rent a Car, Hertz, National Car Rental, Enterprise, and AVIS. The South 3 route provides public transportation to the passengers through the Asheville Public Transit system. Prices are cheap and more affordable when compared to renting a car, you can expect to spend $1 to get to downtown Asheville.
You won't lack refreshments at the airport since it has a sizeable option of restaurants and bars like the Blue Ridge Trading + Tavern which serves locally brewed beer.
Other Airports to Consider
Tri-Cities Regional airport – This airport specifically serves Bristol, Kingsport, and Johnson City but is just a two-hour drive from Gatlinburg. The primary commercial service airport covers an area of 1250 acres and has two asphalt runways that serve over 46,000 aircraft per year. For the available airlines, we have Allegiant Air, American eagle, Delta Air Lines, and Delta Connection.
Gatlinburg Pigeon Forge Airport – This is a municipal airport in Sevier County, Tennessee that is north of Gatlinburg and Pigeon Forge. You can get cheap rental cars from options like Enterprise Rentals. The airport is small and accommodates small airplanes and smaller groups of passengers which makes for a great personal experience.
Chattanooga Metropolitan Airport – The airport is about two and half hour drive from Gatlinburg and Pigeon Forge if you use I-40 W and I-75. Available airline services come from Allegiant Air, American, Delta Air Lines, Delta Connection, and the United Express.
Also Read:
Frequently Asked Questions
1. What Southwest Airport is Closest to Gatlinburg?
The closest airport to Gatlinburg from the southwest direction is Knoxville McGhee Tyson Airport. It is approximately 1 hour and 10 minutes' drive from the location which makes it the best option for those looking forward to traveling by air from the region. Other options include Ashville Airport and Tri-Cities Regional Airport which are more than 2 hours away.
2. What Airport Do you Fly Into for the Smoky Mountains?
There are a few airports near the Smoky Mountains that will get you nonstop flights from various destinations around the country. You can get to travel from far regions like Las Vegas, Atlanta, Dallas, Chicago, and Denver to Smoky Mountain airports like the McGhee Tyson Airport or Ashville Regional Airport.