Pigeon Forge is a mountainous town in Eastern Tennessee. Famously home to Dollywood, Dolly Parton's Appalachian-themed park, it takes BBQ seriously.
So, whether you want classic pulled pork, steak or a huge rack of ribs, these BBQ joints in Pigeon Forge will have something for everyone. Here are the eight best BBQ joints in Pigeon Forge.
Best BBQ in Pigeon Forge
Bennett's Pit Bar-B-Que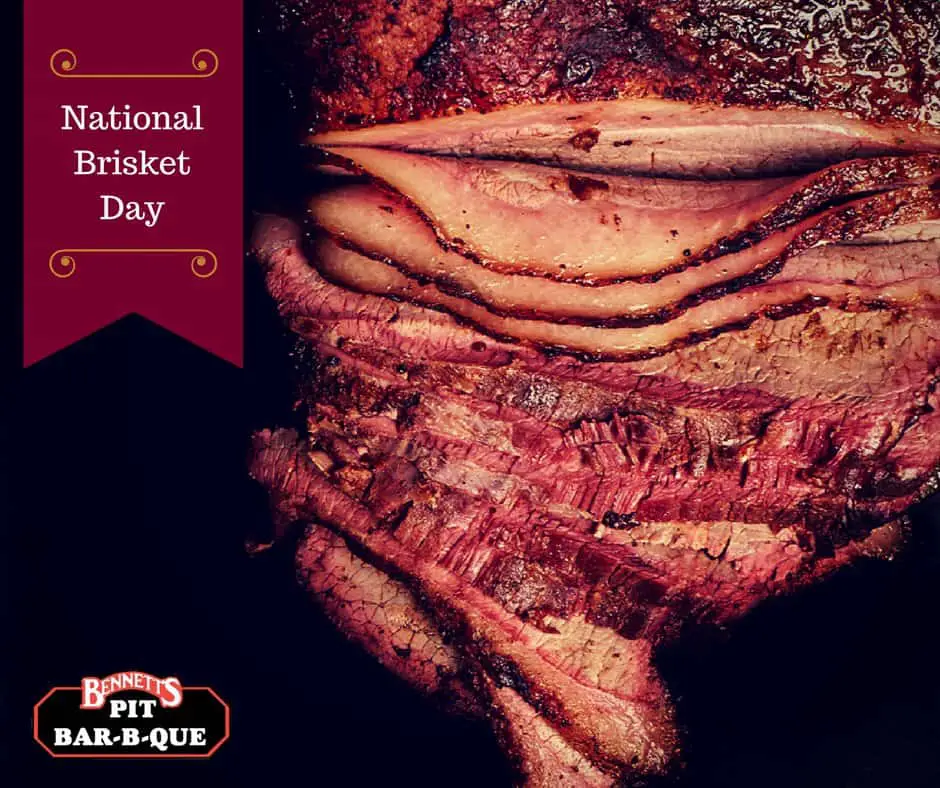 Bennett's Pit is one of the most famous BBQ joints in Pigeon Forge. They have been delivering high quality BBQ for over 30 years, so you can trust they know what they are doing!
The pork ribs, pulled pork, check and beef briskets are basted in Bennett's own special sauce for a unique smoky flavor. Then the meat is placed over smoldering hickory wood and smoked for up to 14 hours! The heat and special sauce penetrate deep into every layer of meat. Every mouthful will be flavorful.
To go with your choice of BBQ meat, we recommend the spicy mac and cheese, garlic biscuits, deep fried corn, potato salad, and green beans. The sauce comes on the side so you can enjoy as little or as much as you want.
Address: 2910 Parkway, Pigeon Forge, TN 37863-3314
Opening Hours: 11am – 9pm. Closed on Wednesdays
Price: $$
Awards: Travellers' Choice from Trip Advisor, Best Barbeque In Pigeon Forge
You should try: The ribs
Takeout: Yes
Boss Hogg's BBQ Shack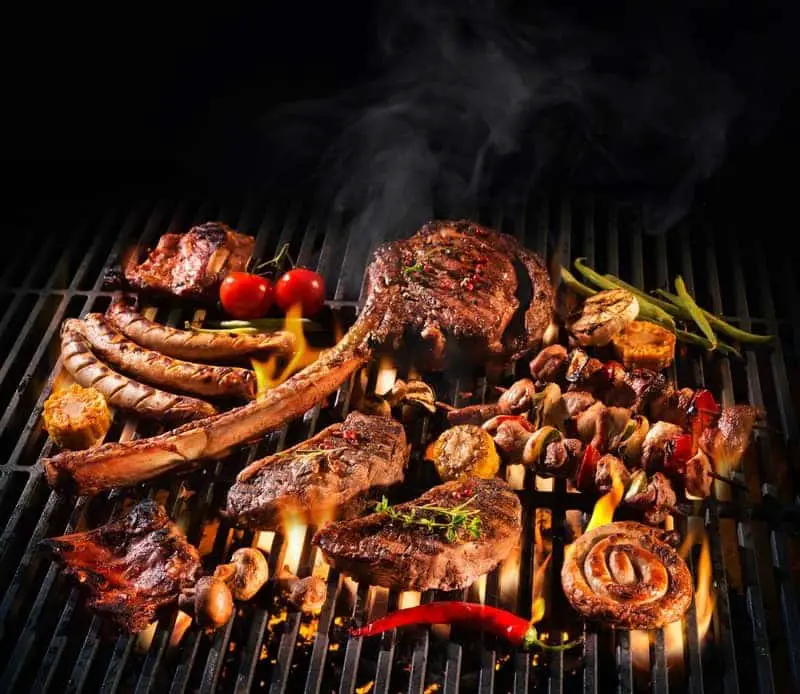 Boss Hogg's BBQ Shack is a locally owned BBQ joint and a true staple or the area. It's tucked away from the tourist trail, making it an ideal spot if you want a quiet family meal. With over 35 years' experience, this is a hotspot for locals.
This BBQ Shack specializes in slow-cooked meats, with the smoked chicken and pulled pork is a favorite with their customers. Their signature sauce is a zesty mix of mustard tang and sweetness.
Their speciality is for family-style meals. The Barbecue Pork Sandwich Plate includes sides, the Brisket Value Pack will feed your whole family with a full pound of brisket.
Address:  1198 Wears Valley Rd, Pigeon Forge, TN 37863
Opening Hours:  11am-9pm
Price: $$
You should try: Barbecue Pork Sandwich Plate and rib plate.
Takeout: Yes
Puckett's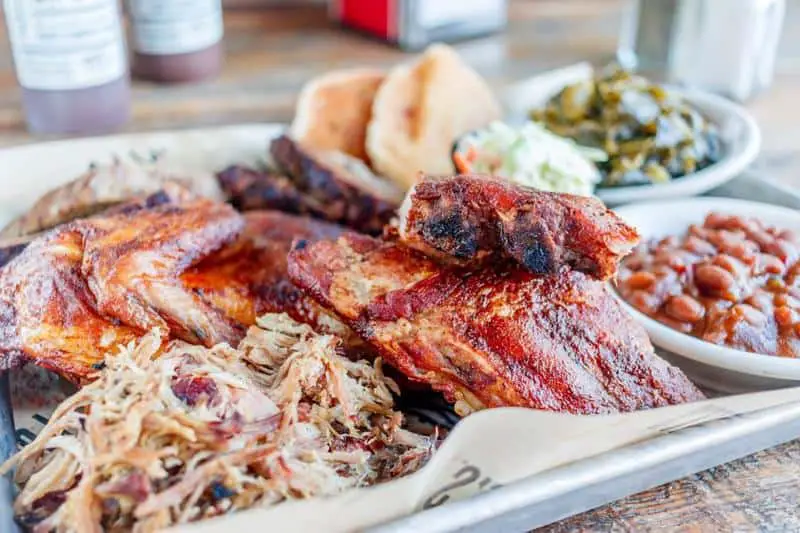 Puckett's have roots stretching back to the 1950s when they started as a little grocery store in the village of Leiper's Fork, Tennessee. Not just a BBQ joint, they regularly host local live musical acts for you to enjoy as you eat their Southern comfort classic.
Puckett have a pretty varied menu and serve breakfast, lunch and dinner. Their dessert menu is probably the best for a Pigeon Forge BBQ joint. While the food is a nod to Southern barbecue, it avoids being a kitschy cliché (this is no Cracker Barrel!).
This venue is so popular, we recommend booking a table, especially if there is a live act on. Their breakfast menu makes this a hotspot for a morning crowd, and their platters are a fantastic way to share great food with friends.
Address:  2480 Parkway, Pigeon Forge, TN 37863,
Opening Hours:  11am-9pm
Price: $$
You should try: Puckett's Brisket Nachos, Piggy Mac burger and BBQ platter
Takeout: Yes
Calhoun's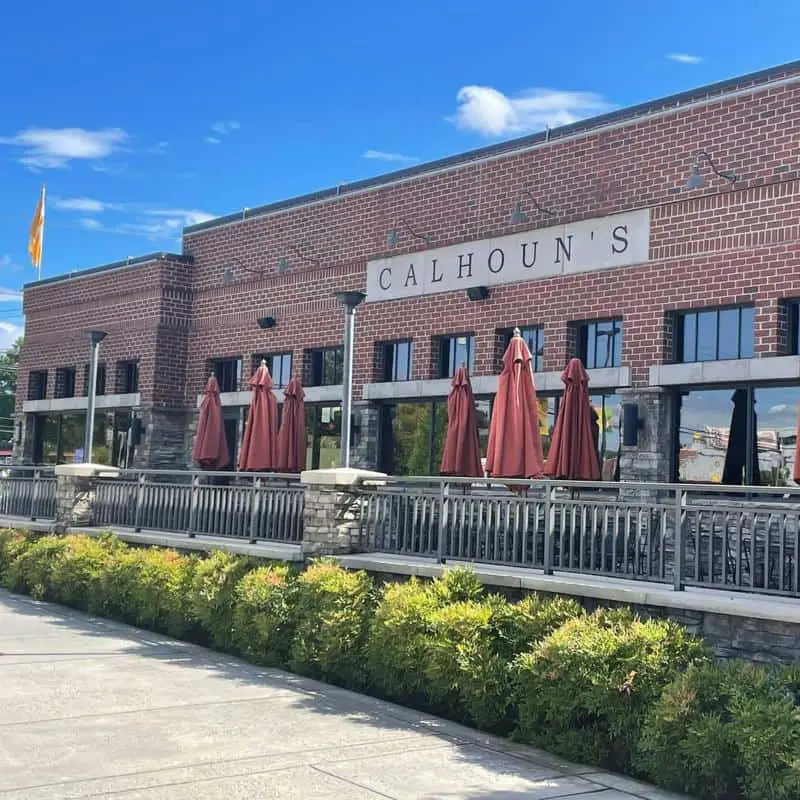 Calhoun's is one of the best BBQ restaurants in Pigeon Forge, famed for their ribs. You can get all kinds of delicious ribs. If you can't decide what to get, they have a trio platter with pulled pork, ribs, and chicken tenders.
Calhoun's also has salads, sandwiches, burgers, steak, and chicken. With a fun cocktail menu, you can enjoy an evening of fun with friends alongside your tasty BBQ.
This spot gets busy as one of the traditions for visiting fans of SEC football is to eat at Calhoun's. A hotspot for Sunday brunch, their sausage links and giant waffles are a must-try. We recommend someone order the brunch and someone order the BBQ, then you can create the perfect BBQ brunch!
Address:   2532 Parkway Pigeon Forge, TN 37863
Opening Hours:  11am-9.30pm
Price: $$
You should try:  Pulled pork nachos, Hickory Smoked Bar–B-Que Ribs and Ale steak
Awards: Multi-time winner of the coveted Best of Knoxville reader awards,
Takeout: Yes
The Listening Room Cafe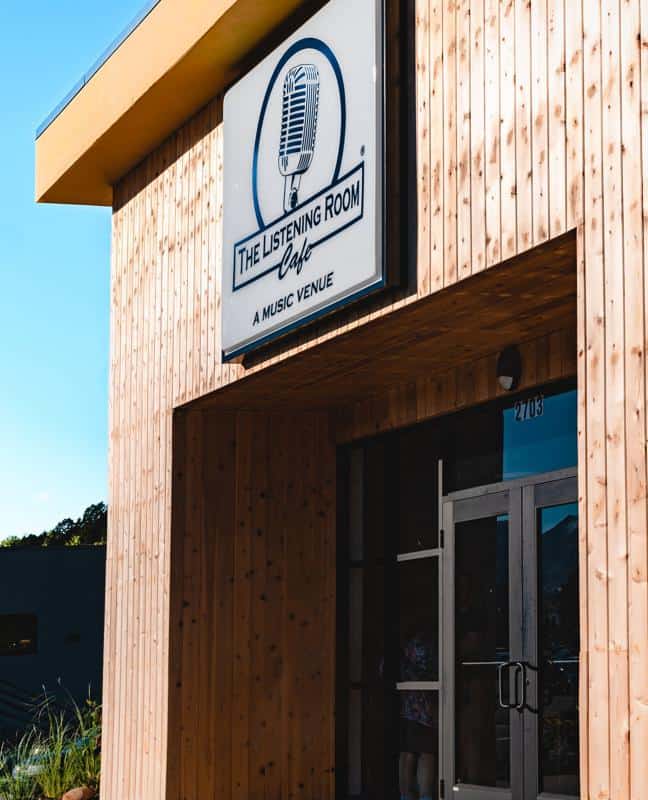 The Smokies is home to lots of different music venues, but usually food is an afterthought. For The Listening Room, their BBQ inspired food is as important as the sounds.
Usually locally sourced ingredients to form a menu filled with old classics and new favorites, you're sure to leave with your ears and your stomach satisfied. They described their menu as polished casual contemporary restaurant with a southern edge. It's a limited menu, but it's filled with crowd-pleasers.
Their menu includes favorites like ribs, BBQ platters and burgers. If you want somewhere to drink with friends as well as enjoy good food, join them for Happy Hour between 3pm and 5pm Monday to Friday. They have a pretty large drinks menu as well as being a fantastic spot to brunch.
Address: 2703 Teaster Ln, Pigeon Forge, TN 37863
Opening Hours:  Monday – Friday: 11am-11pm Saturday: 10am-11pm
Price: $$
You should try: The BBQ platter and the cocktails
Takeout: No
JT Hannah's Kitchen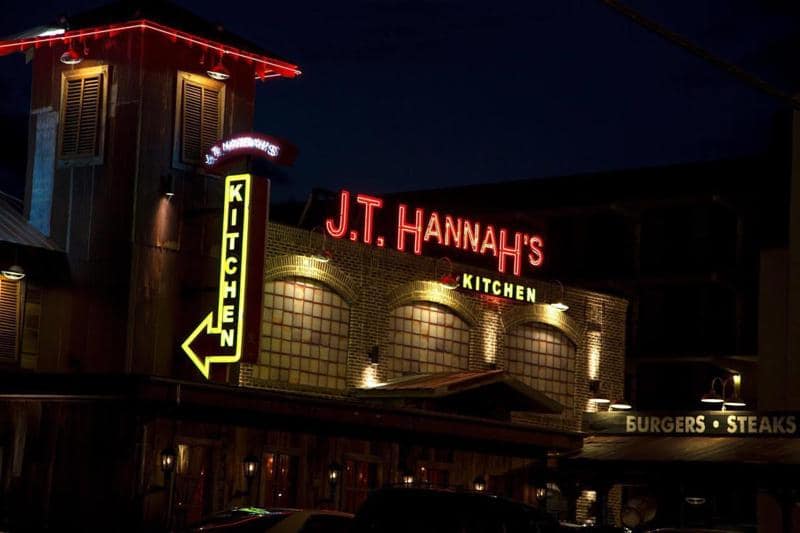 J.T. Hannah's is an independently and locally owned Southern eatery. The restaurant initially opened in mid-2011 and has quickly become a favorite with locals thanks to the fantastic casual dining experience and value for money J.T. Hannah stands out for not being a chain restaurant.
Their signatures may be steak and seafood, but locals will recommend their delicious burgers and deluxe sandwiches. Their St Louis spare rib is so renowned they have even won awards. If you have room, try Mama Laura's Famous Strawberry Short Cake!
This BBQ joint gives you the atmosphere as well as the food. Their warehouse is filled with rustic décor and relics reminiscent of the 1930s. Opened in honor of J.T. Hannah, a prosperous businessman in the Great Smoky Mountains, the establishment's goal is to keep the traditional of good food and even better prices alive.
Address: 3214 Parkway Pigeon Forge, TN 37863
Opening Hours:  Sun – Thur: 11am-9pm, Fri – Sat: 11am-10pm
Price: $
You should try:  Award-winning St. Louis Spare Ribs and Mama Laura's Famous Strawberry Short Cake
Takeout: No
Preachers Smokehouse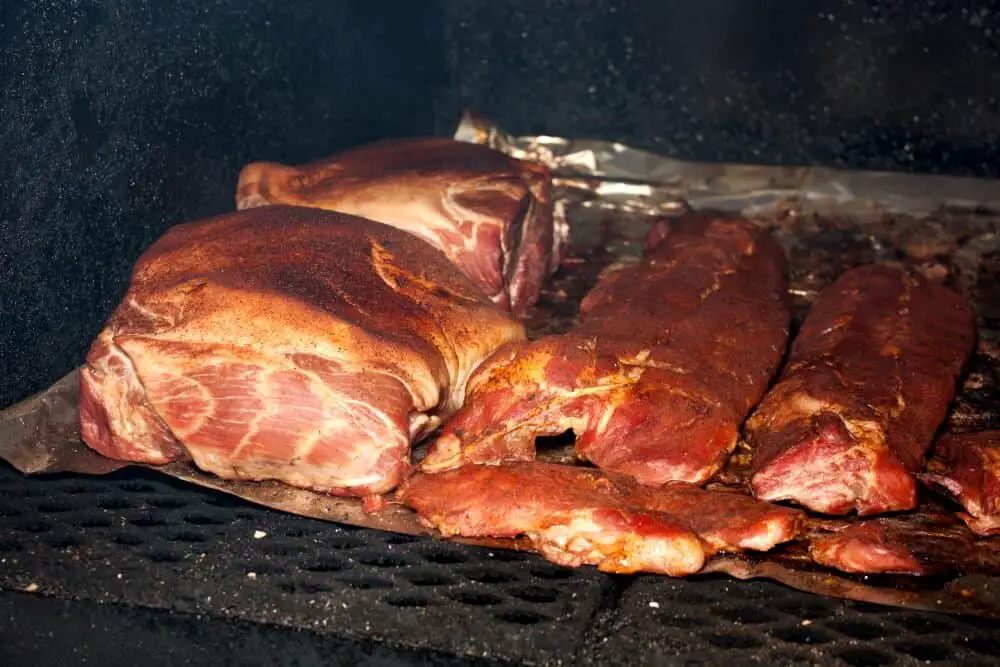 Although not technically in Pigeon Forge, Preacher Smokehouse is well worth the visit. Located off the beaten track in Sevierville. This family run BBQ restaurant delivers fantastic home style meals in a friendly environment. Enjoy a cozy atmosphere and low-cost food.
This BBQ joint looks like nothing more than a cabin, but it has some of the best reviews for restaurants in the area. The owners will treat you like family, happy to chat and give you recommendations.
Their menu is limited, but it's authentic. They even offer a sample platter with a bit of everything, if you're the indecisive type. Their BBQ ribs are the jewel in their crown, although they also have tasty sandwiches and authentic sides.
Address:  2929 Pittman Center Rd, Sevierville, Tennessee, USA
Opening Hours:   Thursday-Saturday: 11am-7pm
Price: $
You should try:  BBQ ribs
Takeout: No
Mama's Farmhouse
Mama's Farmhouse is a new take on the Southern all you can eat style restaurant. Everything is served family style, which means you don't have to stand in line or fight over buffet trays. If you find something you like, the server can give you more of it. This allows Mama's Farmhouse to serve fresh food and waste less.
This restaurant is dedicated to making family-friendly southern food, including BBQ. It's an ideal spot if you're traveling with a big group as they will have something for everyone. Because you pay per person, this is a wallet-friendly spot in Pigeon Forge. Be warned, their menu is always changing so your favorite may not be served anymore!
This is a fantastic spot if you have a sweet tooth! Mama's Banana Pudding was on the list of Best Banana Puddings in Tennessee, and they won the People's Choice Award at the 2015 International Biscuit Festival in Tennessee.
Address: 208 Pickel Street, Pigeon Forge, TN 37863
Opening Hours: 8 am-9 pm
Price: $
You should try:  Fried chicken and biscuits
Awards: Award winning biscuits
Takeout: No
Also Read:
Best BBQ in Pigeon Forge: FAQs
What is Tennessee BBQ?
In Tennessee, BBQ usually is defined by both dry and wet pork tibs as well as pulled pork shoulders served in a tomato-based barbecue sauce. Memphis will pretty much put barbecue sauce on anything, including nachos, pizza and even pasta!
Every restaurant and chef will have their own recipe, you usually won't find out what is in it as they like to keep the special sauce ingredients a mystery! You can try every restaurant on this list and not taste the same BBQ twice.
What are Dry and Wet Ribs?
When browsing menus for BBQ restaurants in Pigeon Forge, you may notice dry and wet ribs include on the menu. Dy ribs usually involve rubbing a mix of dried spices and herbs onto the meat before smoking it. Wet ribs are basted during smoking and then covered in a wet sauce. Either way, it's tasty.
Whether you are dining with family, looking to enjoy a boozy evening with friends or want a quick bite, Pigeon Forge has a BBQ option for you. Although ribs are popular, these restaurants will cater to every type of taste.