The time of booking is one of the most beneficial tips to keep in mind when booking a cabin in the Smoky Mountains. Prices are much lower during the weekdays than on the weekends. You may end up saving a few dollars to hundreds if you leave the weekends to the frequent crowds, especially during the summer and holidays.
Top 5 Pigeon Forge Cabins with Indoor Pool
1. Keaton's Kabin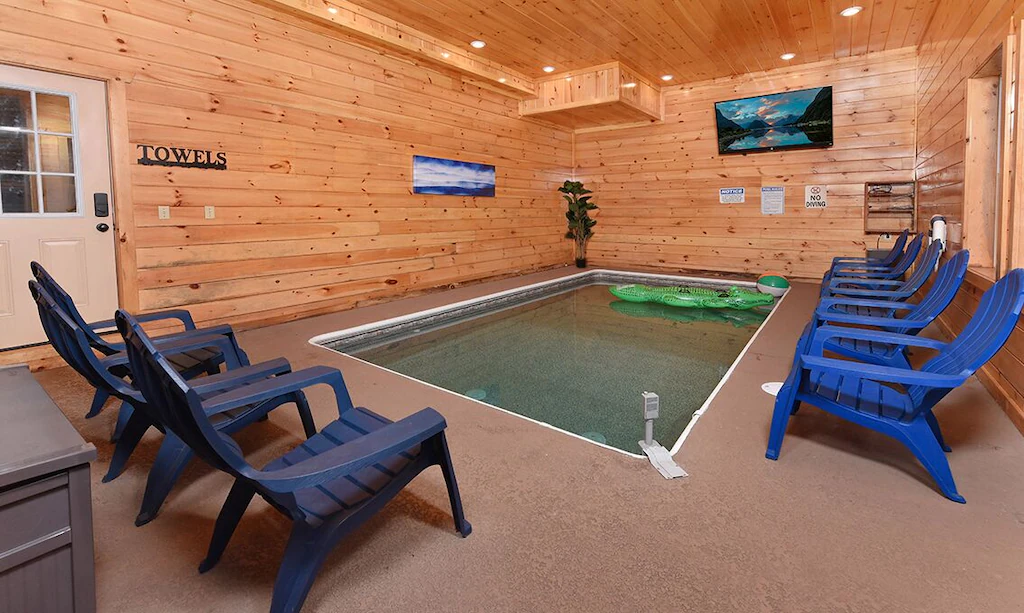 This recently opened cottage/cabin in Pigeon Forge ranks number one on the Forge destinations due to its low price. The cabin is just a few minutes from the main Pigeon Forge town, about 1 mile from the center of the region.
At just $225 per night, you are treated to a four-bedroom pool cabin that can accommodate up to 19 guests. The bedrooms include three master ensuite options that come with one great King-sized bed in each one of them. The other bedroom comes with several beds from 2 queen-sized bunks and one twin bed with a private bath and a futon.
You won't be bored in the incredible theatre area where you can sit and watch your favorite movies with your family. Video games are also provided at the venue for the kids who want to waste the day away with their favorite titles.
The indoor swimming pool makes for a great winter destination since it is heated. It is nice and private, with a huge window that oversees the beautiful greenery of the Smokie Mountains. All of this is complemented by the beautiful hot tub where you can soak in with a good glass of wine.
2. Jump'n Inn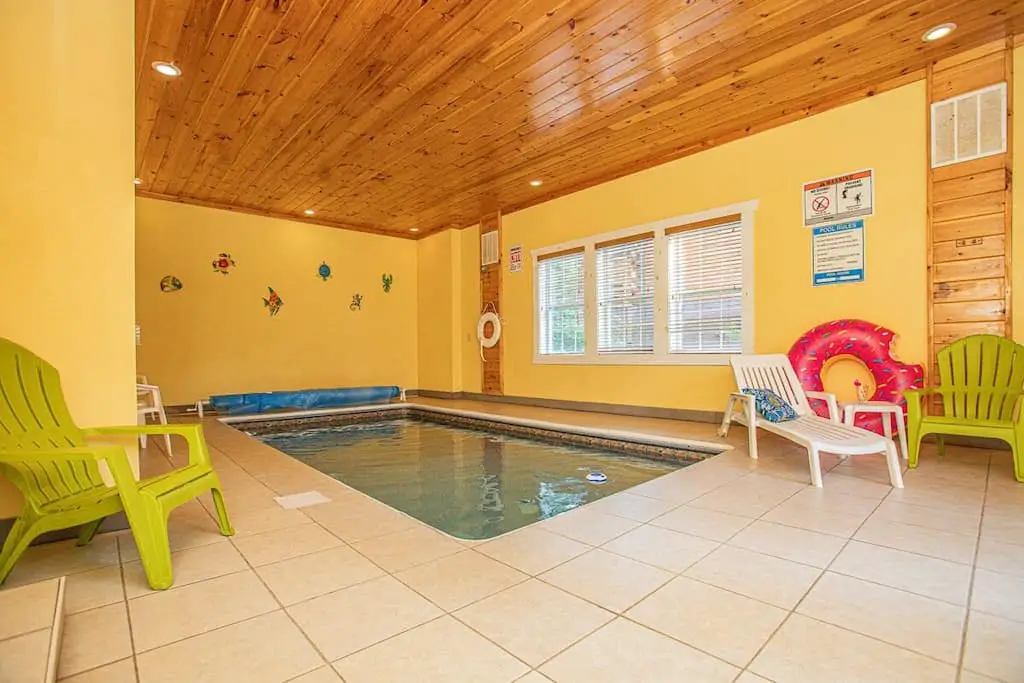 Jump'n Inn is another affordable cabin in Pigeon Forge just a mile from the center of the town. It is a luxurious cabin that is able to fit up to 17 guests in its four bedrooms and convenient five bathrooms. Like Keaton's Inn, no pets are allowed in this cabin, and you are also not permitted to smoke.
It is important to keep in mind that Jump'n Inn is one of the most popular cabin selections in Pigeon Forge; hence early booking is recommended. The vacation cabin is breathtaking the minute you walk into the venue with its blonde wood décor and large windows that protrude abundant natural light.
Welcome to this inviting cabin that offers you a plethora of entertainment, from the big Smart Roku TV to the game room. Host pool games on the pool table or get to play air hockey in the dedicated space. A private home theatre features a 110-inch projector that is great for watching movies at parties of up to 15.
Jump'n Inn not only has one pool but too, one on the outside and another indoor pool. The indoor pool is heated, which allows you to swim around and splash the water at all times of the year, unlike the outdoor pool.
3. Still Life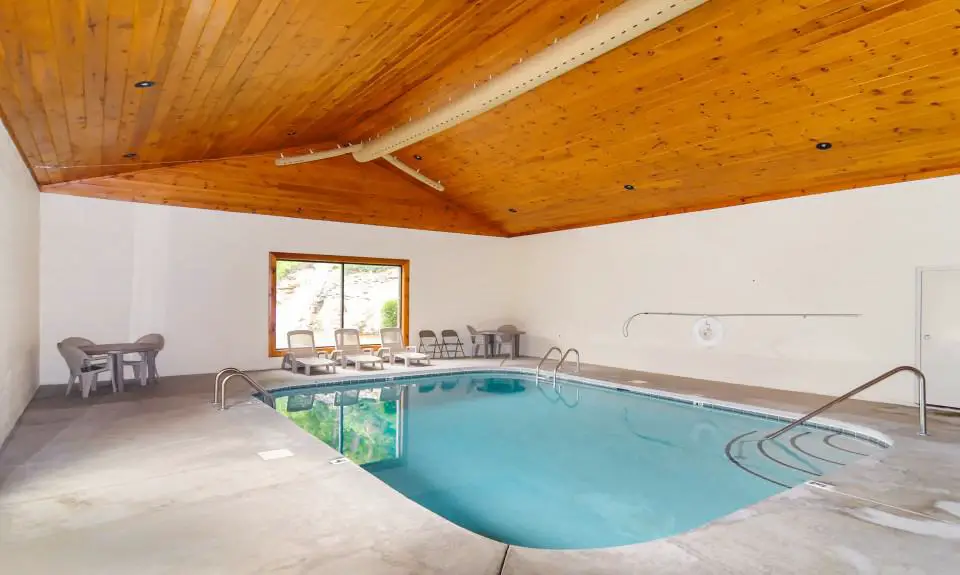 Unlike our first two contenders, Still Life is a pet-friendly cabin but comes with a smaller capacity of up to 6 guests. It is located just 3 miles from the Pigeon Forge Parkway in a quiet and serene environment with all the amenities you would need for a chill vacation.
The one-bedroom and 1.5 bathroom cabin cover a space of 1392 square feet with an entry-level common space that has a sleeper sofa. There are large windows that bring in a lot of light and provide an epic view of the mountain regions.
Still Life is part of the Bear Creek Crossing Resort with other enticing amenities, including a clubhouse available daily for parties and family reunions. It is also a great place for big occasions like weddings due to the beautiful scenery from the waterfall at Smoky Mountain Lodge and the full staff who accommodate big events of up to 75 guests.
4. Wet Feet Retreat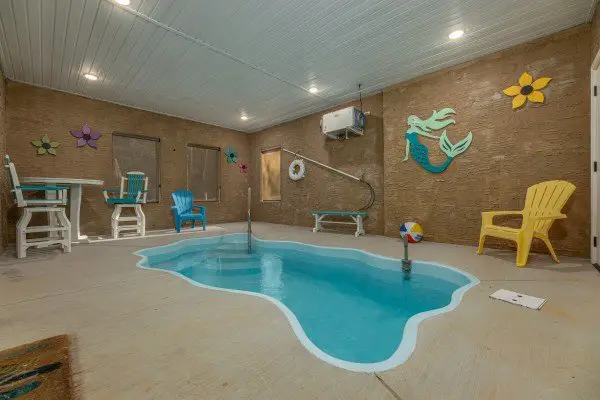 Wet Feet Retreat is able to accommodate up to 18 guests in its five-bedroom, 4.5-bathroom space. It is conveniently located near Dollywood, where you can pop in to take a thrilling theme park ride or dance the night away during the bluegrass concerts. The cabin is also close to other locations, including The Cal Ripken Experience and the Stream.
The private indoor pool will be the first thing you see once you step foot into the huge space. This is the place to get wet all days of the year. The hot tub is a great addition to the relaxing environment, and the arcade games for entertainment will keep your children busy all day.
5. Splash Mountain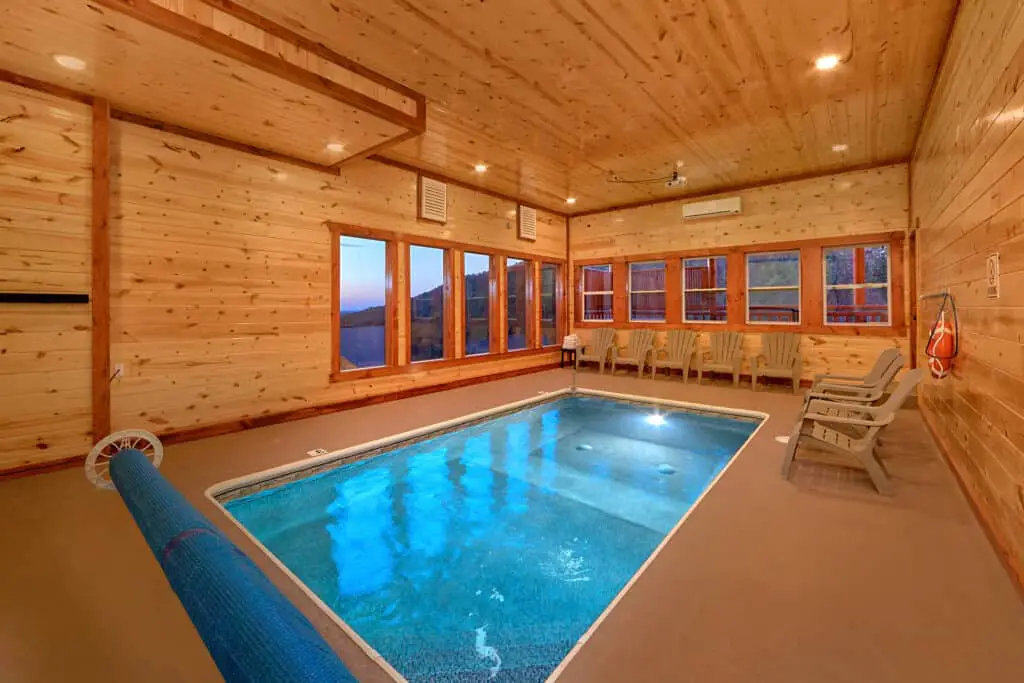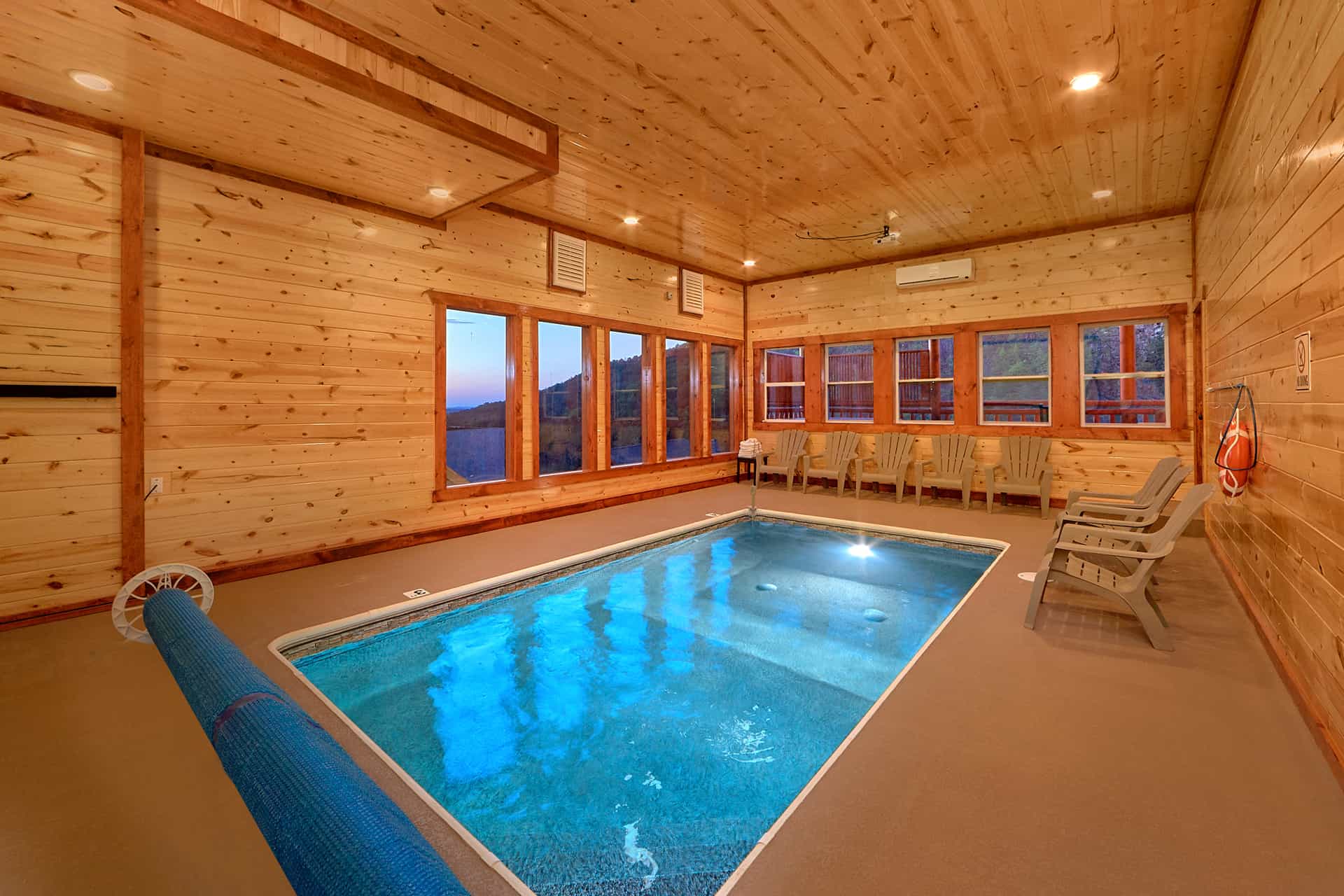 Cabins in Splash Mountains are where you want to be if you intend to have an indoor pool for larger groups. It is a more expensive location that accommodates up to 60 guests in its 14-bathroom space. It is also close to Dollywood and The Ripken Experience in case you are looking to visit famous nearby attractions.
There are three levels; the upstairs level with a sleeping of 36 guests, the main level with the big kitchen and dining room, and the lower level where there are four enclosed king-size bedrooms. A theatre room is on the lower level where you can comfortably sit 16 people and a huge 80-inch flat-screen TV for all your entertainment needs.
The indoor pool is like no other. It is surrounded by three large windows that shine a light on the beautiful blue pool water. Splash all day in these family-friendly venues and get to have the parties and celebrations of your Life.
Also Read: Best Hotels in Pigeon Forge with Indoor Pool
Top 5 Gatlinburg Cabins with Indoor Pool
6. Urban Cowboy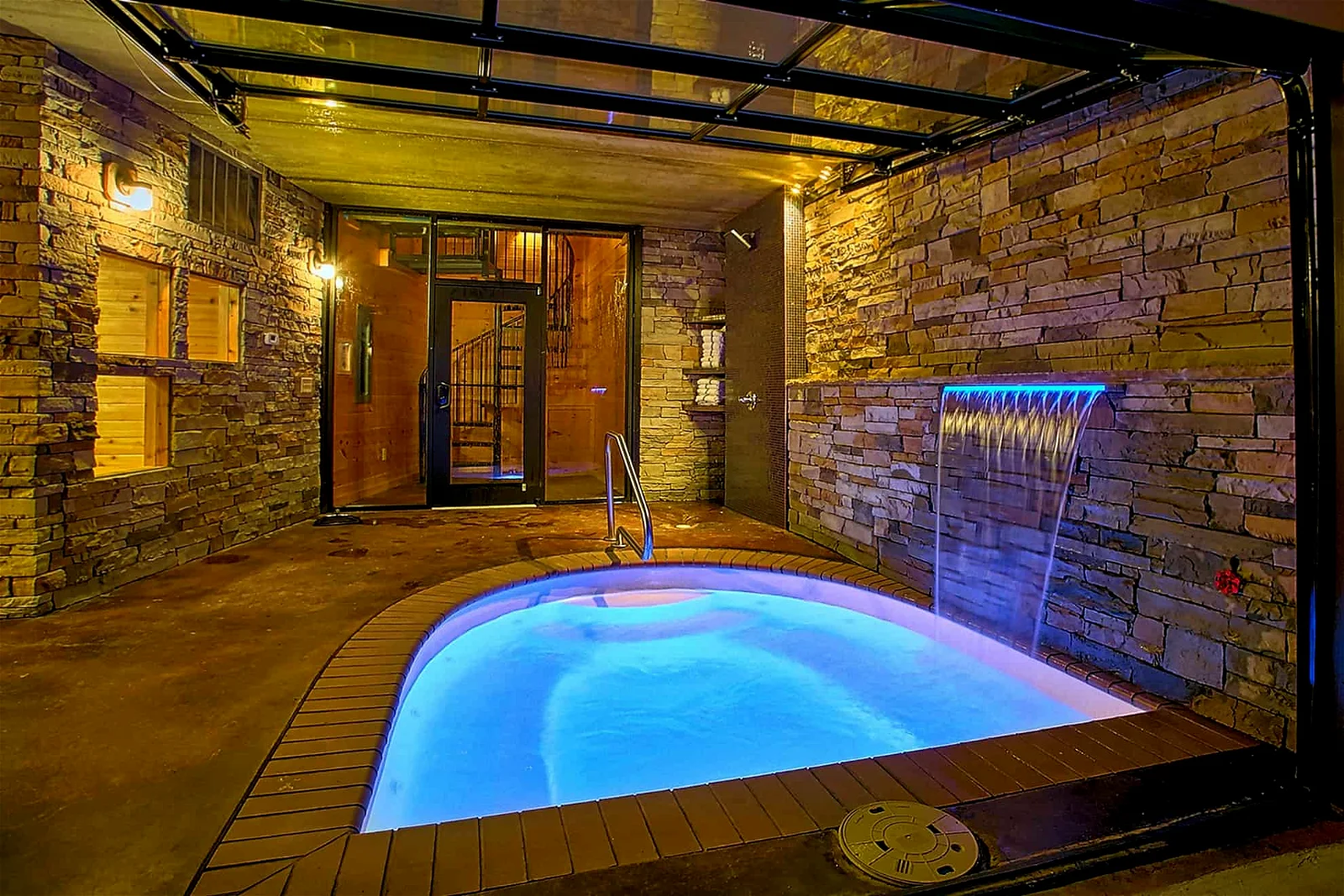 Urban Cowboy makes it to the top of Gatlinburg cabins with indoor pools due to its two people's maximum occupancy. This is the ultimate couples vacation cabin. It is situated in a serene and quiet environment free from the huddles of city life. You can get to lay on the king bed while taking in the morning sun bursting through the scenic mountain trees.
The indoor pool overlooks the top to the bottom garage door, inviting in all the light and views from the Smoky Mountains. There is a waterfall fountain on the side of the sizeable heated pool where you can get splashed as you twirl around.
7. Splash N' Play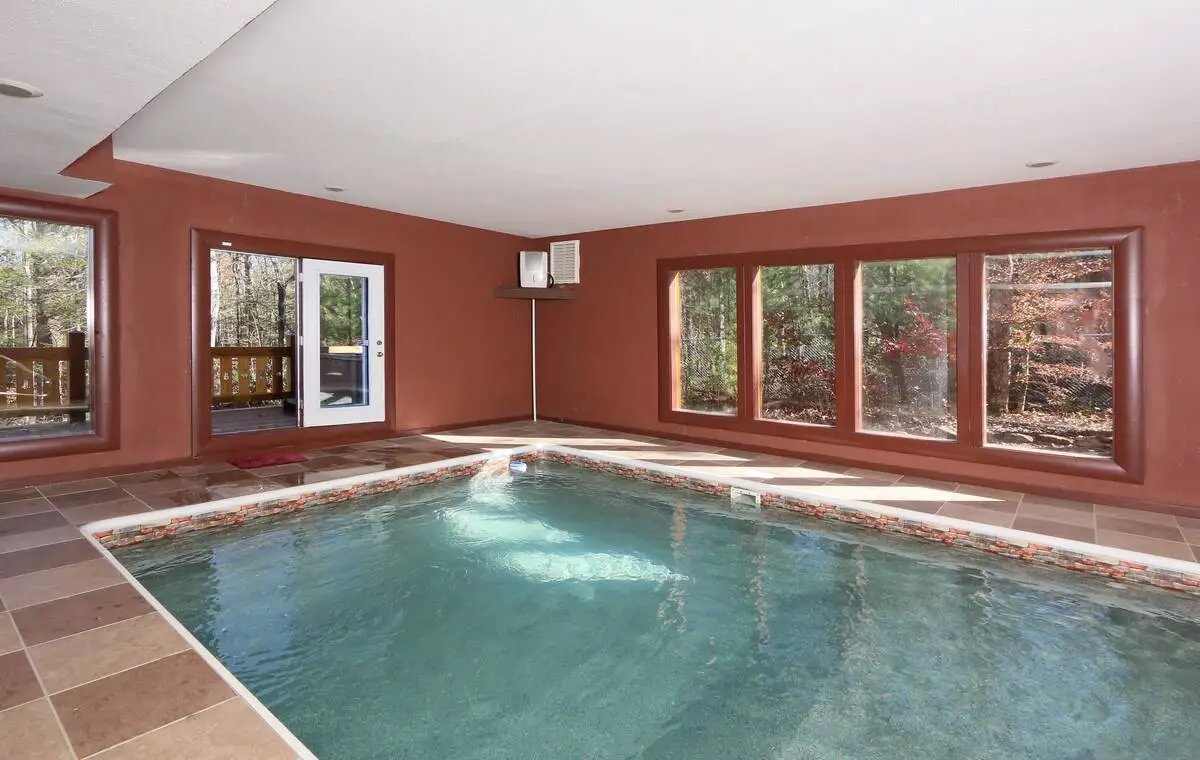 Splash N' Play is a pet-friendly cabin, albeit more expensive than most. Regardless of the price, you get the best of what cabins in the Smoky Mountains have to offer, from huge entertainment rooms to huge screens, heated pools, massive sleeping space, scenic mountain views, and close to major attractions and amenities.
The cabin has five bedrooms and space that can accommodate up to 20 guests. You can only bring a maximum of two pets, or else you won't be allowed to get in with them. The private indoor pool is heated and is adjacent to a spacious hot tub, great for such a luxurious cabin.
A deluxe game room compliments the eclectically furnished movie theater. What you can get in this cabin that other cabins do not offer is the professionally decorated cabin package. Call in advance to arrange how the cabins will be decorated and suited to your liking. Please keep in mind that the starting rate is for only ten people, and each additional guest gets to pay $12.50 per night. You can only stay for a minimum of four nights.
8. Hilltop Haven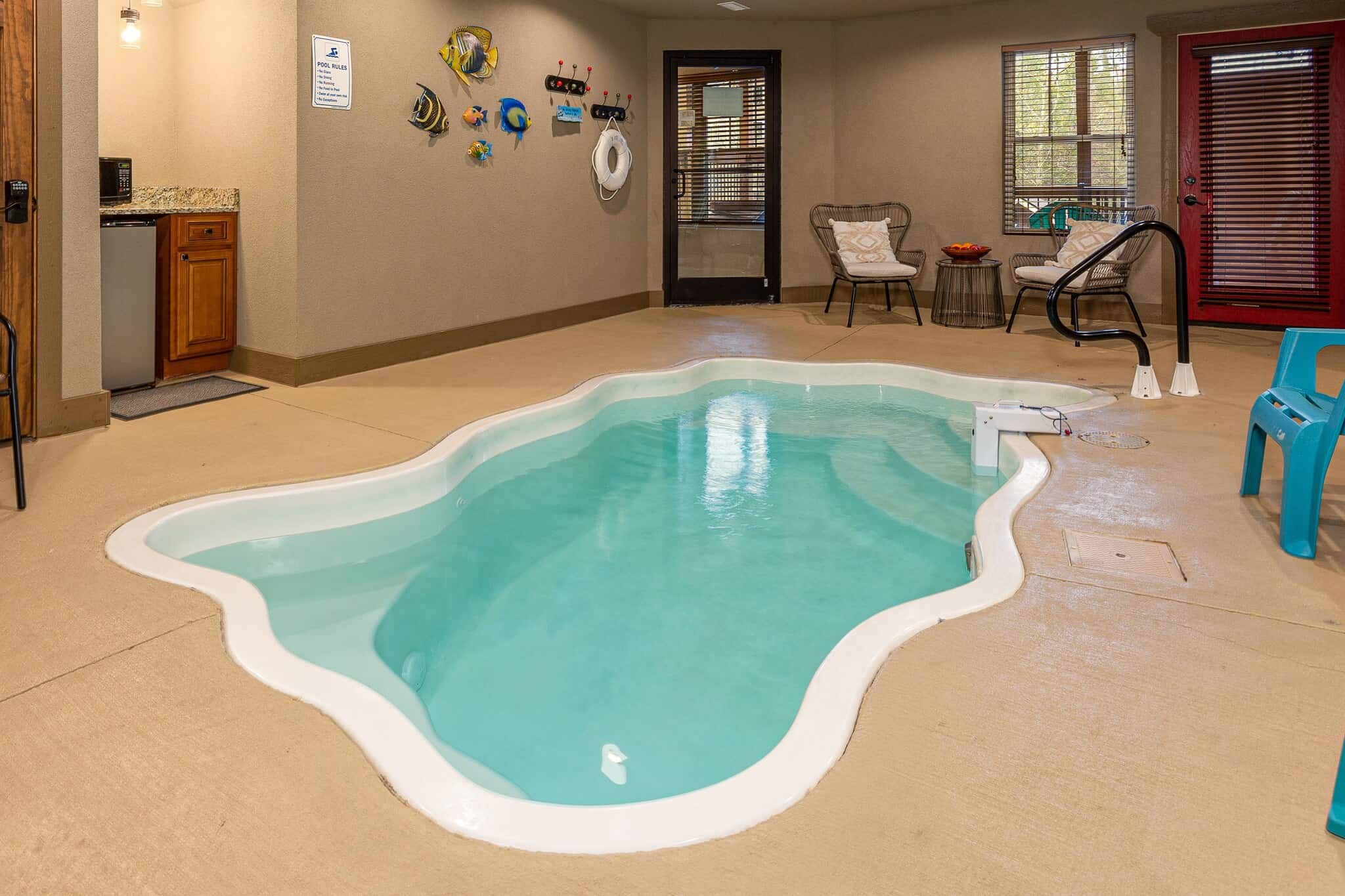 Hilltop Haven is a great cabin for families with children or couples' retreats. The luxurious four-bedroom cabin comes with a fully equipped kitchen, a feature theatre room, and a game room for all your entertainment needs. The indoor pool is heated to 79 degrees and surrounded by a great sound system that blasts music throughout the big venue.
The game room has 60 arcade games that complement the TV system with 260 channels, including Nickelodeon and Cartoon Network for the kids. The outdoor space is magical, giving you a long glance at the beloved smoky mountains with fresh air and beautiful greenery.
The rooms come with modern finishes and comfortable couches best for binge watching your favorite shows. The fireplace is cozy for those intimate moments during cold days. Each room is comfy with flat-screen TVs that will keep you company all night long.
9. Big Bear Plunge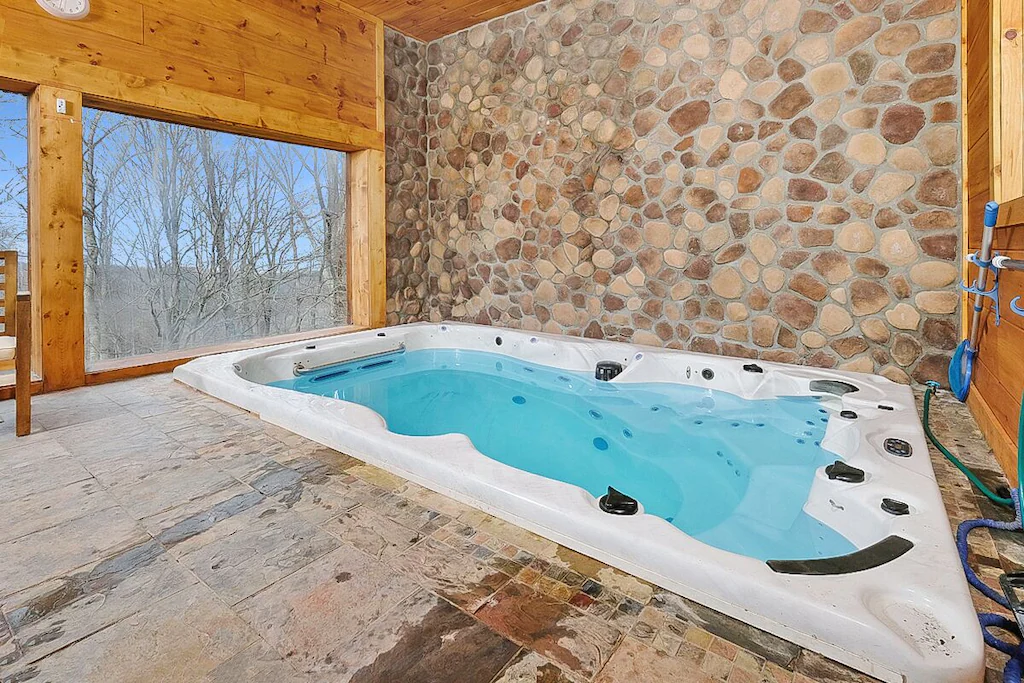 The Big Bear Plunge has a Mountain View from its high location in Gatlinburg. This three-bedroom house with an indoor pool is located minutes away from Ober Gatlinburg Ski Resort and downtown Gatlinburg.
This is where you want to be for some of the best self-care regiments, from the big flat screen living room TV to the comfy sofa seating, fully-stocked kitchen, and a breakfast bar in the dining space. There is a felted-pool table in the living room area with other entertainment options like the encased arcade games.
You know a great Smokie Mountain cabin is not done without a dedicated movie theatre. On top of all that, there is a sauna that will relax all the exhaustion away. The indoor pool is jetted and surrounded by a river rock wall that gives you the illusion of being outside.
10. Pooling Around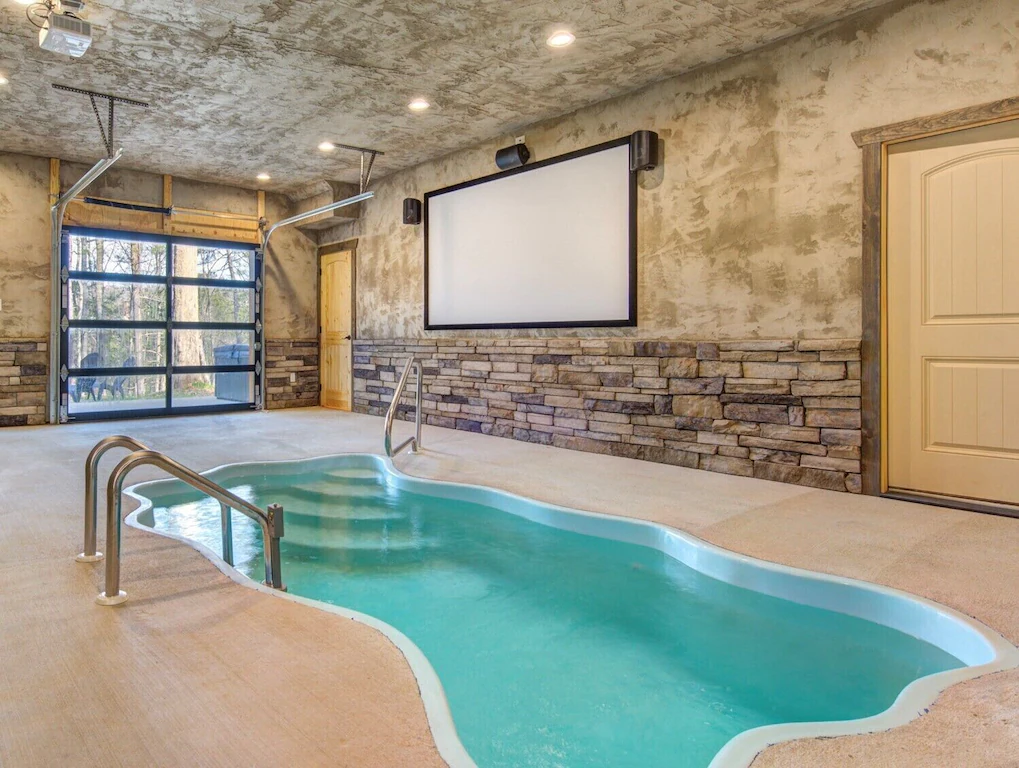 Pooling Around offers you a more affordable cabin option in the Smoky mountains compared to every cabin. It is a cheap 4-person cabin that comes with one bathroom and does not allow pets. The rustic charm of this cabin is endearing, which adds to the awesomeness of the indoor pool and adjacent hot tub.
You won't miss any spectacular views of the Smoky Mountains from the large windows that peer into the far distance. It is a great place to sit with a book on the leather chair or soak in the indoor pool as you waste the day away in a pool of tranquility.
Entertainment at its best comes from the large flat-screen television with access to cable Tv and a DVD plus Blu-Ray system. Get to catch up on the latest game or a late-night movie with your loved one. The fully-equipped kitchen is ready for a great meal with all of its stainless-steel appliances and cookware.
Read More:
Final Thoughts
There are more cabins in Gatlinburg with indoor pools than in Pigeon Forge. Gatlinburg is more populated with tourists and features many more tourist attractions compared to Pigeon Forge, which is why you are bound to find high-spending cabins in the region. If you want more options for indoor pools in Gatlinburg, then look at the Gone Swimming and City Slicker cabins.