Miniature golf is one of the most exciting activities in Pigeon Forge and Gatlinburg towns for adventure lovers touring the Great Smoky Mountains! There are some fantastic putt putt options for your golf themed courses in these towns.
Mini Golf in Pigeon Forge and Gatlinburg
Playing mini golf is a perfect family holiday activity for all seasons. A visit to the Smoky Mountains isn't complete without multiple rounds of golf in the Gatlinburg and Pigeon Forge area.
There are excellent golf courses in these areas that are easily accessible during your vacation in Tennessee. The courses, ranging from level ground to steep mountains with colorful topography, lures numerous golfers who enjoy challenging shots to improve their game.
This article explores some of the crazy fun Putt-Putt golf in Pigeon Forge and Gatlinburg in Tennessee.
Pigeon Forge Mini Golf
1. Crave Golf Club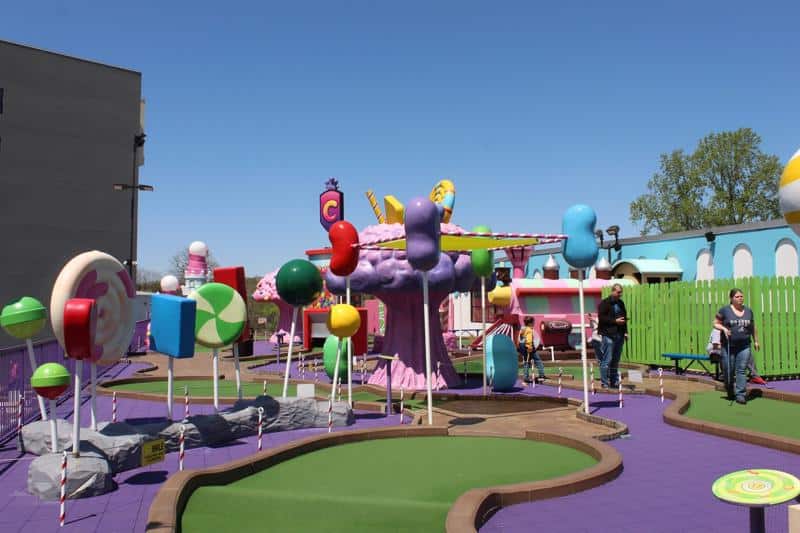 Location: 2925 Parkway Pigeon Forge, TN
Hours: 9:00 a.m. – 12:00 midnight daily
Price: $ from 9.99 for kids, and $14.99 for adults
Considered one of the best putt putt Pigeon Forge golf courses, Crave has candy and dessert-themed 19-hole Courses. The unique golf courses include a spin wheel where each hole has a spin wheel with diverse options – some add a challenge, and others assist you.
The candy-themed Crave Golf Club has two exciting courses, an indoor course and one on a rooftop with cute jelly beans, gum balls, ice cream, cake, etc. Both courses are decorated to make you feel like you're in Candy land fantasy. It's a perfect spot to take lots of videos and pictures for keep's sake.
Once you finish your mini golf games, you can grab some candy from the candy wall or get some tasty signature ice cream or milkshake from the counter.
If you're looking for a family to experience fun-filled memories and lots of candy treats, Crave mini golf is one of the best golf courses in Pigeon Forge. You'll be left craving more putt putt golfing adventures!
2. Toy Box Mini Golf Course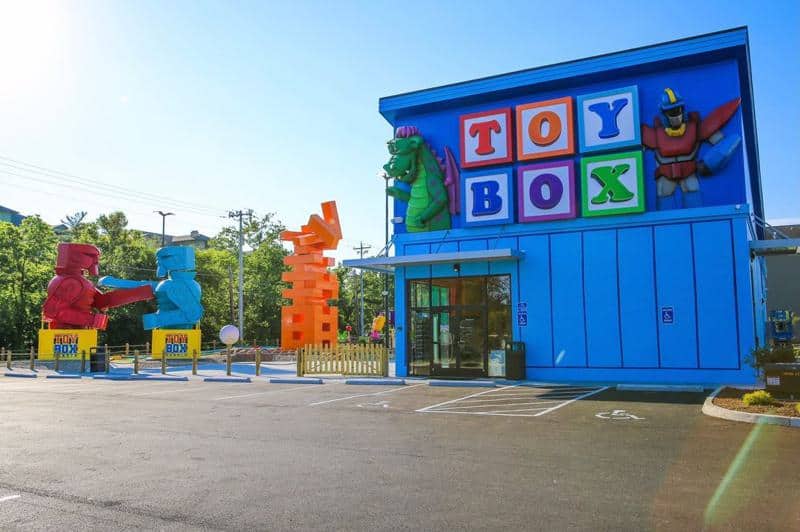 Location: 112 Dollywood Lane Pigeon Forge, TN 37863
Hours: 9:00 a.m. – 12:00 a.m.
Price: 12 yrs. and above $15; Below 11 yrs. $9.99
Toy Box is a family toy-themed mini-golf. The course has an expansive 18-hole outdoor mini-golf course, laser maze, a toy store, massive toy photo props, and more!
Your fun begins as soon as you enter the enormous toy box building. Explore the toy wonderland while competing in a challenging game of mini-golf!
Golfing here is fun! The toys, the refreshments, and the sound effects will get you in high spirits and gear you up for an adventure of a lifetime.
Each hole offers a creative yet challenging design and in-hole placement. The 18th hole provides an exciting finish to the round! You'll love it!
Try Toy Box mini-golf Pigeon Forge for family members of all ages; they have wonderful employees and pocket-friendly prices for all the food and amenities in the facility.
3. Professor Hacker's Lost Treasure Golf in Pigeon Forge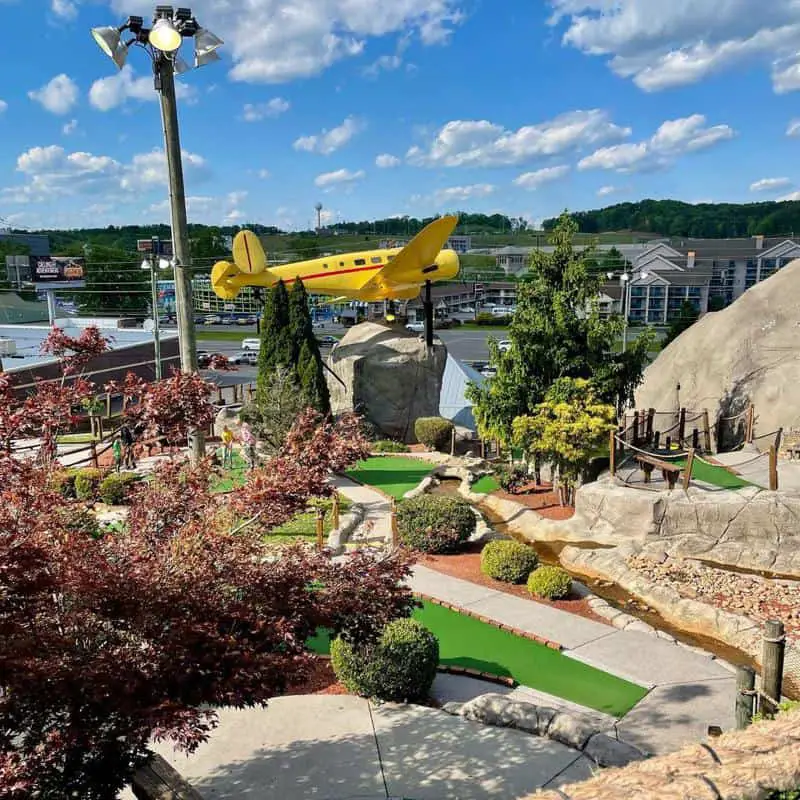 Location:3010 Parkway, Pigeon Forge, TN 37863
Hours: 9.00a.m. – 11.00 p.m. daily
Price: $5 -$13 for kids under 12 yrs.; $15:50 for 13yrs and above, including adults
Professor Hacker's Lost Treasure Golf is an adventure course with a geographical theme where players follow an explorer's path to the golf holes. The course was built in honor of Professor Duffer A. Hacker – a man who wore many hats in geological/archeology studies.
The two 18-hole golf courses take you up to two different expeditions in search of gold and diamonds hidden on the (mock) Islands of Fog Clift in South America.
So, here's how it works; once you purchase your tickets, you are led to a mining car* up the mountains where the golf course is laid out. Follow Professor Hacker's trail as you putt your balls through the obstacles such as pirate ships, caves, a temple, a mock volcano, and waterfalls.
Playing on a professor-themed Pigeon Forge mini golf course is an amazing course! It's a fantastic golfing adventure for the entire family.
4. Lazerport Fun Center – Mini Golf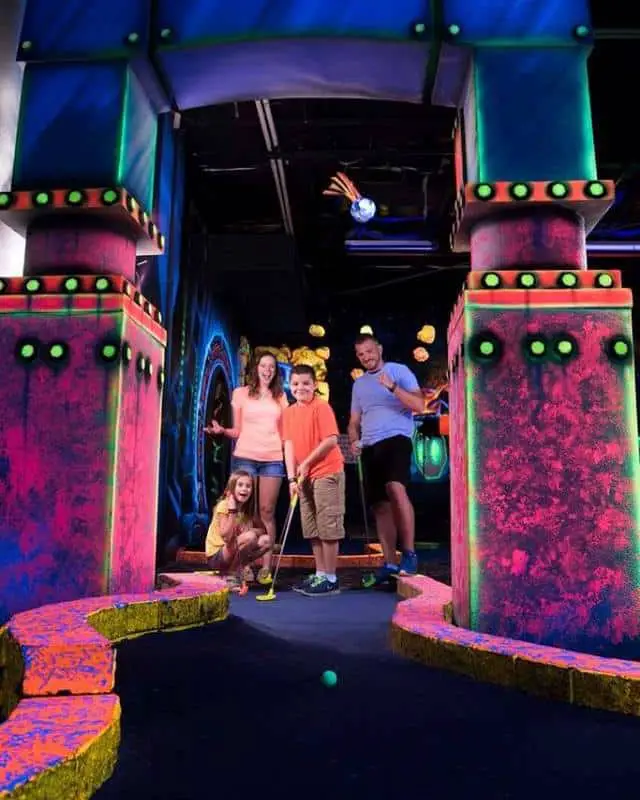 Location: 2782 Parkway, Pigeon Forge, TN 37863
Hours: 10:00 AM – 12:00 AM
Price: from $11.99
Lazerport Fun Center has the most exciting arcade games in Pigeon Forge, including an 18-hole indoor black light glow mini-golf course.
At Lazerport Fun Center, you can play indoor mini-golf in one massive space. It is the only backlit course available in Pigeon Forge. To play the 18-hole course costs under $10, with kids under the age of five playing for free.
This mini golf is unique in that it has a pleasant temperature-controlled, indoor setting, no matter the weather conditions in the outside environment, and you can still enjoy your golf experience here!
5. Ripley's Old MacDonald's Farm Mini-Golf
Location: 1639 Parkway, Sevierville, TN 37862
Hours: Opens 10:00 a.m. Daily
Price: $ 11.99 -3-11 yrs.; $16.99 – 12 yrs. and over
Ripley's Old Mac Donald's is a 54-hole Mini-Golf adorned with a "farm-life" theme. It's located in Sevierville, a few miles outside of Pigeon Forge. It is a family-friendly fun mini-golf course featuring barnyard animated characters, water pools, and interactive farm elements.
The 'old farm' theme style portrays Old MacDonald and his friends. Ripley's Old MacDonald's Farm Mini-Golf offers a charming experience with a vast mini-golf course that accommodates both the young and the old.
There are straightforward, medium-level, and challenging courses for kids and seasoned golfers who understand the game. Each hole has a different farm animal on the multiple courses for all levels of mini golfers.
The "farm theme" makes people come from all over the world to experience old Mac Donald's mini golf adventure – you can expect to see pigs basking in the sun, horses, chickens, and so much more. They also play farm country music to enhance the farm environment vibe.
Despite all the farm elements on the golf courses, the place is pretty clean, with no lying debris on the courses. It's an adventurous family experience at Ripley's Mac Donald's Mini Golf!
Also Read: Best Go-Karts in Pigeon Forge
Gatlinburg Mini Golf
1. Hillbilly Golf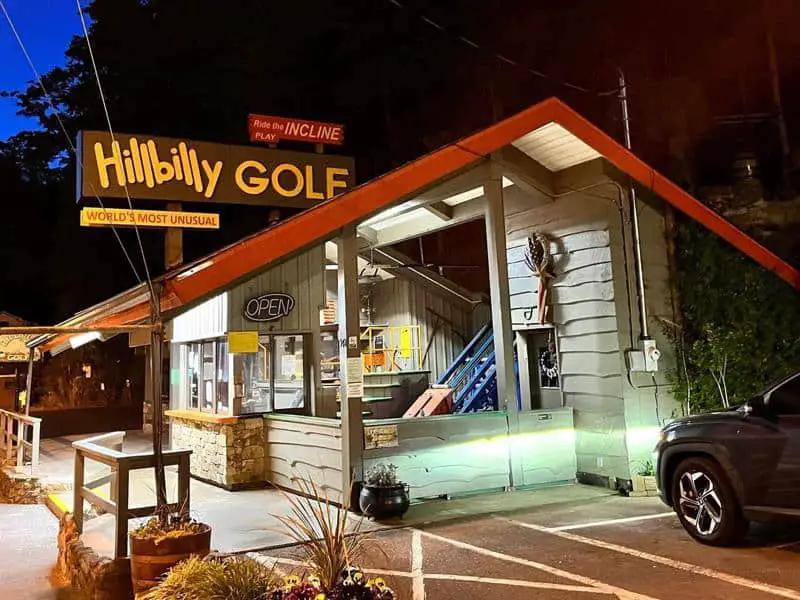 Location: 340 Parkway, Gatlinburg, TN 37738
Hours: 9:00 AM – 10:00 PM
Price: $7.99-$12.99
Experience a magical mountain top golf experience at Hillbilly course where – check this out, a golf ball bounces off a dilapidated tractor and then rolls into a fantasy operation. The course at Hillbilly doesn't come in the manicured lawns you're used to.
Experience fun and excitement at the Countryside-themed obstacles with 18 holes at the Hillbilly Golf in Gatlinburg. Enjoy Hillbilly putt-putt with "Dueling Banjos" strumming guitars in the background as you play from hole to hole in the countrified outhouses and stills as obstacles placed in a downward fashion.
So it's easy to lose your ball, over and over – so you might want to bring some extras to achieve your par in the shortest – or longest time possible.
So here's how it works at the Hillbilly golf course: to get to the first hole, take a ride in a tramcar that takes off 300 feet up a steep slope. This is not for the faint-hearted. If you have kids, they'll love the thrill, no doubt. The view of the city from the top is stunning!
Once you get to the top, there are two courses with obnoxious farm equipment laid out as obstacles, and you'll love it. Pick both courses. The difference is about $6 per game.
The incline railway that intersects with the course is quite a sight, so don't miss out on the scenery and take some pics. At the end of the course, the tram ride will transport you back to the golf course entrance.
2. Gatlin's Mini Golf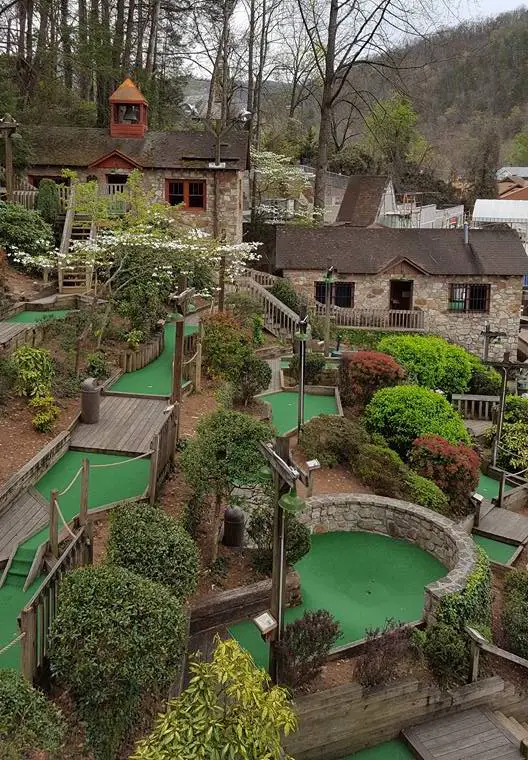 Location: 716 Parkway, Suite 219, Gatlinburg, TN 37738
Hours: 10:00 AM – 10:00 PM
Price: Single golf $15.99; All-inclusive Pass $34.99; Unlimited golf Pass $21.99; Passport Pass $21.99
Gatlin's Mini Golf features two – 18 Hole award-winning outdoor putt putt courses located on a gorgeous hillside. The adventure created around Gatlin's is that every hole you play tells a beautiful story about the history of Gatlinburg.
The indoor course is set indoors under the sea with a backLight 9 Hole Mini Golf. Gatlin's allows its guests to combine its 45 Holes of Miniature Golf with Gatlin's other activities, such as escape games and Laser Tags, into value packages at a discounted price.
Buy a Gatlin's Passport or other bundle options to have the time of your life at the Mini Golf course, playa timeless game in the area's most extensive mini-golf environment — play till you drop with 45 holes of fun!
3. Treasure Quest Miniature Golf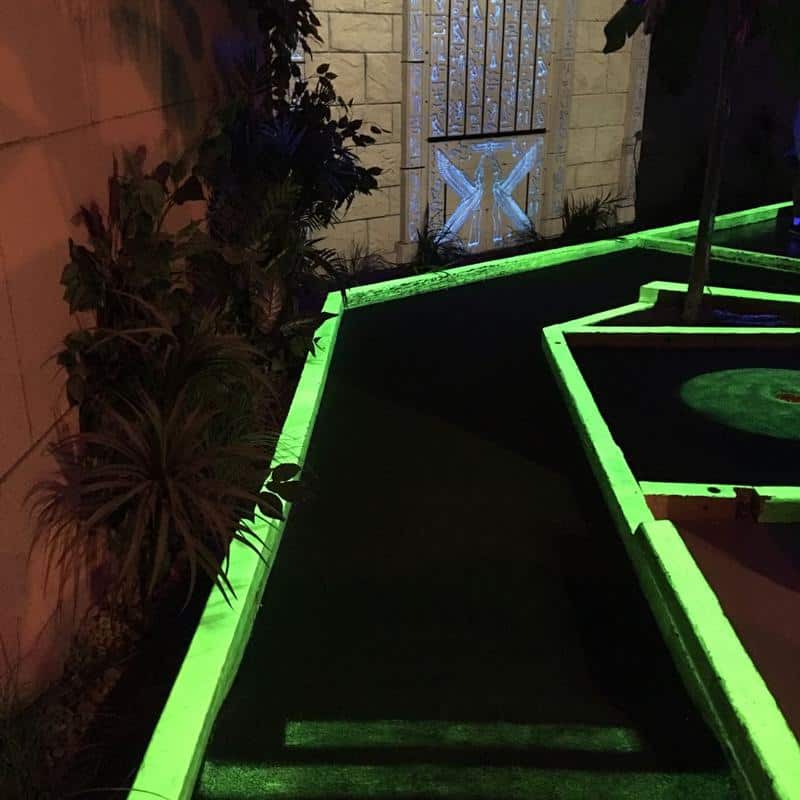 Location: 653 Parkway, Gatlinburg, TN 37738
Hours: opens 10:00 a.m. daily
Price: from $9
If you love nerve-wracking golf experience then the Treasure Quest Miniature Golf is your best bet. It is an 18-hole golf course where 13 holes are set in an enclosed stunning landscape setting.
An indoor environment surrounds the other five courses with beautiful, highly illuminated black lights to liven up the task of spotting the holes.
The best part about this exciting mini-golf course is that they allow you to keep your score card, and if you return for a second day, you only pay about $5 per person. Another great incentive is that you get a free game with a hole in one on the last hole. How awesome!
There are two courses at the Treasure Quest Miniature Golf one is complex, and the other is suitable for kids and exciting characters.
The indoor mini-golf has exciting moments with alligators amid a dark glow to make it more challenging.
4. Ripley's Davy Crockett Mini-Golf
Location: 188 Parkway, Gatlinburg, TN 37738
Hours: 10:00 a.m. – 11:00 p.m. Open daily, weather permitting
Price:$9.99 for kids; $14.99 adults
Ripley's Davy Crockett Mini-Golf offers an experience worthy of your time and money if you love to reminisce about the old days. The course is strategically located on the backdrop of the Great Smoky Mountains as the backdrop, in memory of the great Tennessee hero – Davy Crockett, fondly remembered as "them thar hills" explorer.
Ripley's Mini Golf has two 18-hole golf courses with fifty four holes of a "farm-themed" course featuring water landscapes, animations, and interactive elements.
Both courses are immaculately maintained and well-marked, giving you a consistent golfing experience. The miniature courses comprised adventurous obstacles, including woodland creatures, several hills, meandering twists, and challenges to add to the difficulty of achieving hits in the holes.

The entire course is in excellent playing condition, with a clean environment free of loose debris.
Both courses incorporate a frontier theme, making it truly difficult to sink a hole in one, but all the more worthwhile if you're competing with family or friends.
Ripley's Davy Crockett provides an unforgettable experience for your Gatlinburg Mini Golf.
Also Read: Best Things To Do In Gatlinburg
Things to consider when choosing a Mini Golf in Pigeon Forge and Gatlinburg
With an endless list of golf courses to choose from in Pigeon Forge and Gatlinburg, there are things to consider if you would like your family to maximize time; enjoy the excellent facilities and challenges in the adventurous golf courses.
To help you narrow down the ideal courses, here's a list of things to consider before picking out courses worth your time and money.
Mini Golf Location
Pigeon Forge and Gatlinburg are about two miles apart. The good thing about golf courses in this area is that most are lined up on the same street. Some courses are a little further off the road, so you can choose a mini-golf course near your vacation home/hotel to avoid traveling too far if you want a night's adventure.
The Environment
A clean, attractive, and well-maintained environment is what most people would want. The creative décor goes a long way to liven up mini golf courses. Beautiful and engaging courses like the Hillbilly courses have farm- filled, fun themes that resonate with the community's local culture.
Lazerport Fun Center mini-golf offers a unique indoor mini-golf with backlight as the main difficulty. The rugged décor at Ripley's is so much fun. Gatlin's mini golf has a beautiful history told in every golf hole so that you learn as you play. How cool!
Value
Your family vacation budget allows you to pick mini-golf courses within your spending limits. Consider value for money as you decide on a course with your spending interest at heart.
Difficulty
When choosing a mini-golf course, you'd most likely want something adventurous, with multiple holes to tackle and all kinds of difficulties to overcome as you enjoy every minute.
Ripley's Mini Golf is a favorite for most folks as it has multiple challenge features, while Crave Golf Club has a candy theme that kids would love to experience. The toy mini box has a toy theme that's great for the kids.
So, consider your family's vital interests and skill level before spending your money.
Combined Activities
When planning a vacay, I'm sure you consider going to places that offer multiple activities in a single property to maximize time and diversify your adventures in a centralized location.
Lazerport fun center is a one-stop place to enjoy several activities, including mini-golf.
Ripley's also offers countless adventures to explore besides mini-golf courses to ensure your family stays busy with fun things to do as you play golf.
Restaurants
Playing hard all day is exhausting. Kids use lots of energy when engrossed in games they love to play. When choosing a golf course, check if they also offer food and snacks to keep your family refreshed and replenished as they enjoy golfing.
Final Word
Gatlinburg and Pigeon Forge is the world's best-known destination for mini-golf. You are spoiled with so many choices as most establishments offer unique themes and attractive designed golf courses to lure visitors in.
Mini golf is timeless, ageless, and requires little physical effort to enjoy. We have picked the best and most challenging mini-golf in the area for you to try out. I hope you have a fantastic time at the Smoky Mountain with these classic mini-golf courses.