Everyone in and around Cocke County, Tennessee, is probably familiar with the legend of Popcorn Sutton. He is often viewed as the area's hero, but for others, he is seen as a criminal. Still, his name is associated with one of the county's greatest claims, the most famous and authentic mountain moonshine.
Continue reading to find out more about Popcorn Sutton and his fascinating life.
Who is Popcorn Sutton?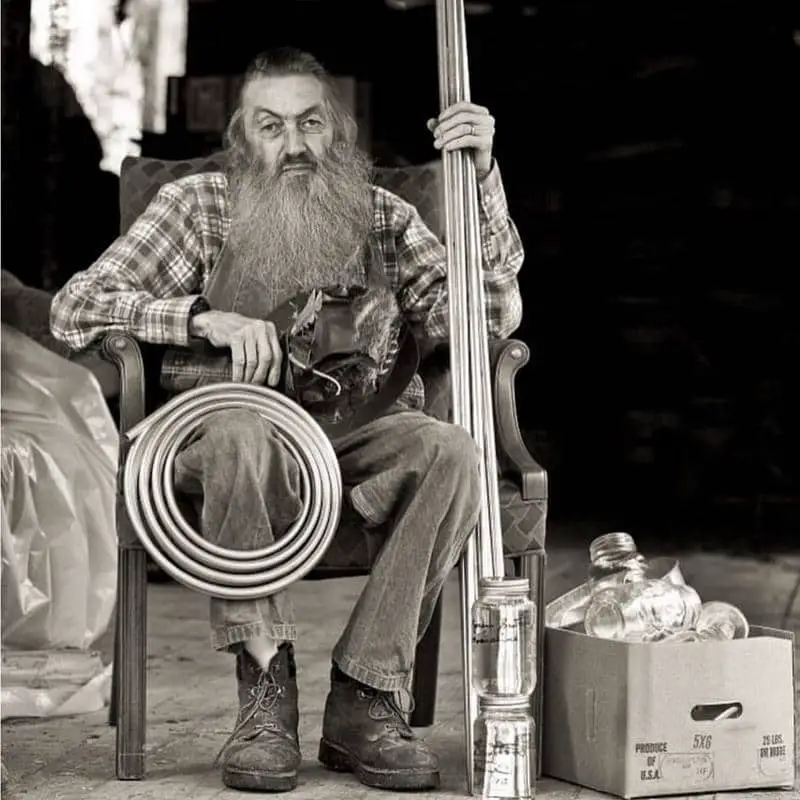 Popcorn Sutton was a moonshiner born in Maggie Valley, North Carolina. In fact, he came from a long line of bootleggers and considered moonshining his birth rite. Sutton indeed made his career out of this illegal trade.
In his 60s, he rose to massive fame with his self-published autobiographical guide to moonshining production and self-produced a home video depicting his moonshining activities. Later, he also featured in several documentaries, including "This is the Last Dam Run of Likker I'll Ever Make," which received a Regiona l Emmy Award.
He was also known for being convicted of crimes related to moonshining and illegal firearm possession. However, since his passing, his fame became more widespread with a new whiskey company honoring his name, as well as from numerous mentions on Discovery Channel's popular show "Moonshiners."
What is Moonshine?
Moonshine is used as a slang word to refer to strong and illegally-made alcoholic spirits. For this reason, it's typically associated with bootleggers and the Prohibition era in the USA.
While moonshine is still used to describe illegal homemade alcohol, legitimate distillers will often sell beverages described as moonshine. Officially, the US government regards moonshine as a "fanciful term" and doesn't regulate its use.
Therefore, "moonshine" is often used as a nostalgic marketing term. Some moonshine producers will seek to offer reproductions of clear high-proof homemade alcohol from the Prohibition era. However, moonshine can technically be anything.
Also Read: Is Moonshiners TV Show Real or Fake?
Popcorn Sutton's Media Career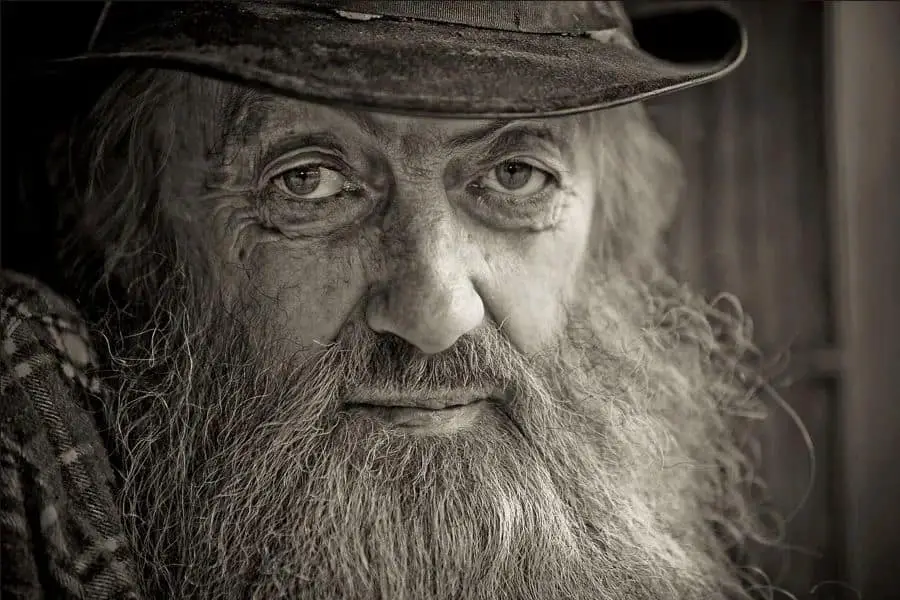 Autobiography
Sutton self-published an autobiography and guide to moonshine production. He wrote "Me and My Likker" in 1999 and began selling copies of it at his junk shop in Maggie Valley. The New York Times described it as "a rambling, obscene, and often hilarious account of his life in the trade." At around the same time, Sutton produced a home video of the same title and released it on VHS tape.
Film Industry
His first appearance in a documentary was in Neal Hutcheson's 2002 "Mountain Talk," focusing on the "mountain dialect" of the area. He was one of the various people of southern Appalachia featured in this film.
Sutton next appeared in another Hutcheson film which brought him notorious fame. The film "This is the Last Dam Run of Likker I'll Ever Make" was released in 2002 and quickly became a cult classic.

Did Popcorn Sutton Go To Jail?
Sutton had many episodes with the law throughout the 1970s, 1980s, and early 2000s. Sutton faced several criminal complaints and convictions for moonshine-related crimes throughout his infamous career.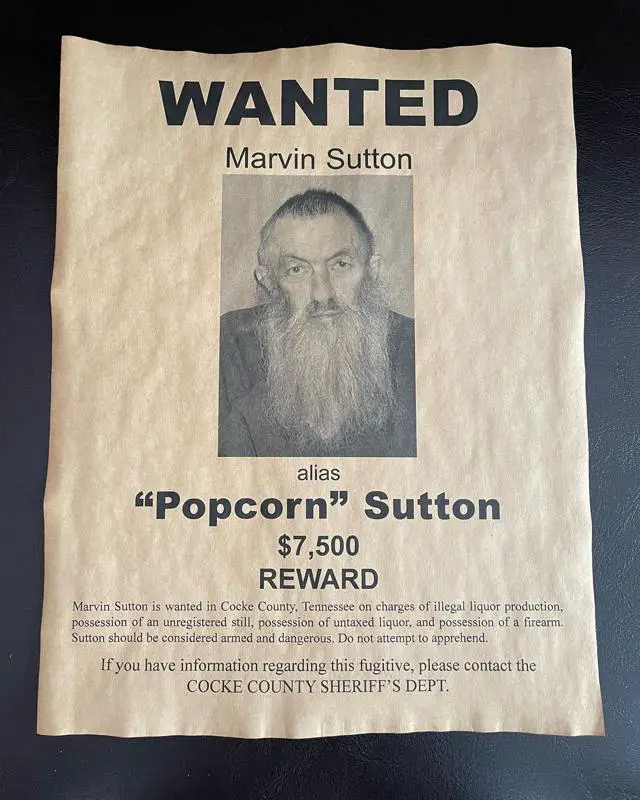 Newport Plain Talk, Cocke County's local newspaper, reported the following arrests and convictions:
In 1974, Sutton was investigated by the Bureau of Alcohol, Tobacco, and Firearms and charged with multiple violations.
In 1981, Sutton was convicted and sentenced in the Haywood County Superior Court in North Carolina for felony possession of a controlled substance. He received a five-year sentence.
In 1985, he was convicted of a felony assault with a weapon with intent, for which he received another three-year sentence.
In 2007, Sutton was caught with over 650 gallons of moonshine by local Cocke County authorities. He was placed on probation.
In 2008, while still on probation from the previous charge, an undercover agent working for the Tennessee Alcoholic Beverage Commission discovered 500 gallons of moonshine being housed and produced by Sutton.
With the last conviction in 2008, he received many other charges such as tax evasion and transportation of an illegal substance. That year, his conviction led to a sentence by federal authorities of 18 months in federal prison.
Does Popcorn Sutton Have a Family?
Popcorn Sutton married Pam Sutton in 2007, just two years before his death. Sutton also had a daughter by the name of Sky Sutton.
However, she and her father were not very close. According to the Knoxville News Sentinel, she and her father spoke on the phone occasionally. However, before his death, she had not seen him in years.
Today, Sky Sutton is a published author, historian, and genealogist. In fact, she has written a book about the life of her late father, "Daddy Moonshine: The story of Marvin "Popcorn" Sutton." She also holds a sample of moonshine from one of her father's recipes.
Is Popcorn Sutton Really Dead?
Perhaps wishing to not spoil his legendary status, Popcorn Sutton made a rather difficult decision for himself. Instead of attending his federal prison term, he committed suicide by carbon monoxide poisoning in 2009.
Sutton was found dead at the age of 62 by his wife, Pam Sutton. She found him after returning from running errands in his parked green Ford Fairmont with the engine running at the rear of their property in Parrottsville, Tennessee. Mrs. Sutton said, "He called it his three-jug car because he gave three jugs of liquor for it."
His daughter said he had told her in advance that he would die by suicide rather than go to jail, adding that he had "the strength to die the way he lived: according to his own wishes and no one else's."
Where is Popcorn Sutton Buried?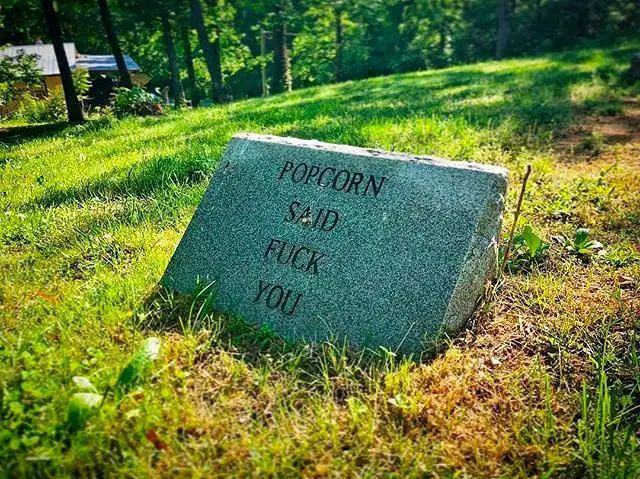 As only a legend would be, Popcorn Sutton was actually buried twice.
Initially, he was buried at a family graveyard in Mount Sterling, North Carolina. However, on October 24, 2009, it was relocated to his property in Parrottsville, and a private memorial service was held. His body was carried to its new resting spot by horse and carriage.
Reports vary on why he was exhumed and reburied. However, most believe it was either due to vandalism of the original site or a family dispute with his widow.
Either way, months later, his wife Pam held a large public memorial service, which Hank Williams Jr. famously attended. A customary grave marker was used at the head of Sutton's grave, reading "Marvin Popcorn Sutton / Ex-Moonshiner / October 5, 1946 / March 16, 2009."
Beside his grave is a footstone that reads, "Popcorn said [f—] you". He had already prepared the footstone in advance for his gravesite, and for years he had kept it by his front porch and had kept his casket ready in his living room.
Final Thoughts
No one can deny that Popcorn Sutton is a legend that showed the world a long-forgotten American culture and lifestyle. Some may say he was just a criminal, but still, Popcorn Sutton is admired for living his life without any reservations or regrets.
Perhaps the last moonshiner in his generation, his legacy is still present thanks to his wild, adventurous life and commitment to this unusual industry. No matter how many years might pass or people's diverse opinions on Popcorn Sutton, he will always remain a hero and an authentic moonshiner of the Smokies.