You can get to taste moonshine in Gatlinburg, Tennessee, for just $5 per person. The highly sort after drink is a staple in the Smoky Mountains, and you can even get to taste some for free at the very many local liquor stores.
The history of making moonshine and selling it is filled with lots of shady business and law evading tactics. Because of this, moonshine gets its mysterious and cool reputation that most people want to be part of.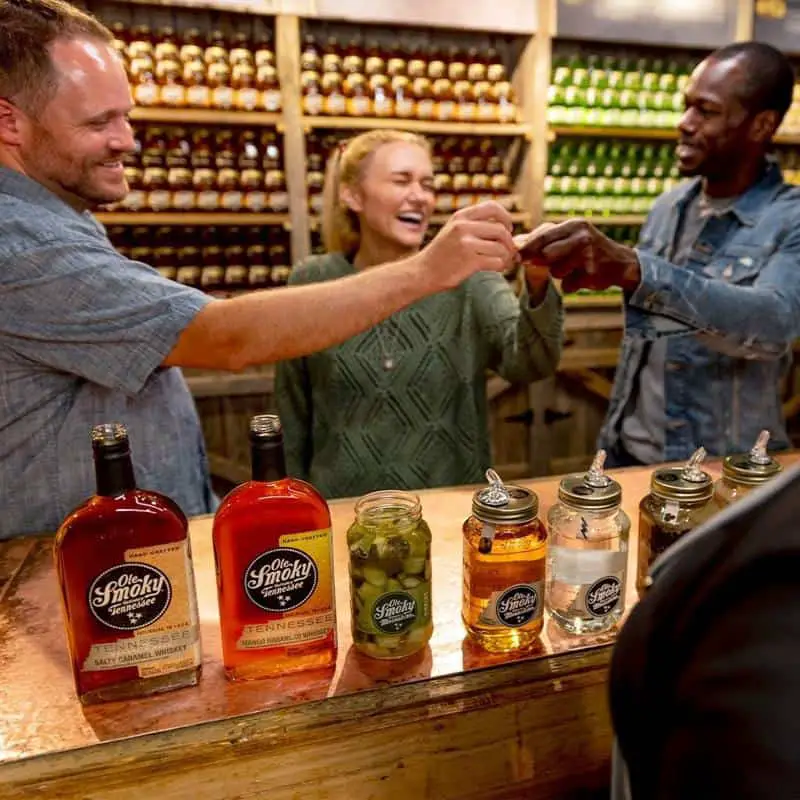 Read more to get to know some distilleries that offer free moonshine for guests to taste. Get to know the first federally licensed distillery that sells moonshine. Our list consists of the best available options, but you may be able to get free moonshine from other smaller and less-known distilleries in Gatlinburg.
Moonshine Tasting in Gatlinburg
1. Ole Smoky Moonshine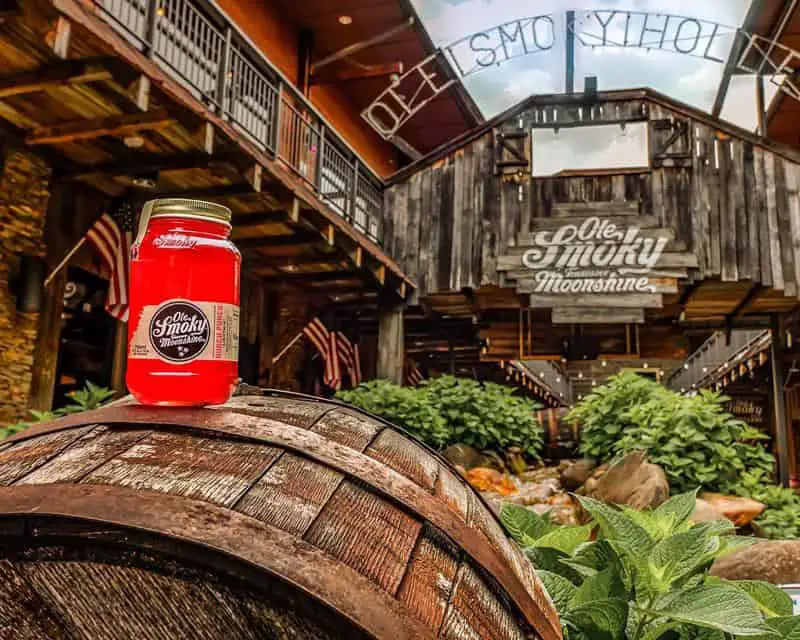 Tennessee's first legal moonshine tasting, Ole Smoky Distillery is not only a moonshine tasting place but also offers distillery tours where you can get behind the scenes of Ole Smoky Mountains Gatlinburg and Nashville distilleries. The distillery specializes in crafting whiskies, moonshines, and canned cocktails. There are three locations, two in Gatlinburg and another in Pigeon Forge at The Island (The Barn).
Moonshine products from Ole Smoky include the Strawberry, which is fruity despite its 32.5% ABV and 65 Proof. This drink tastes fruity Strawberry giving it a smooth and sweet flavor that makes you want to savor every drop.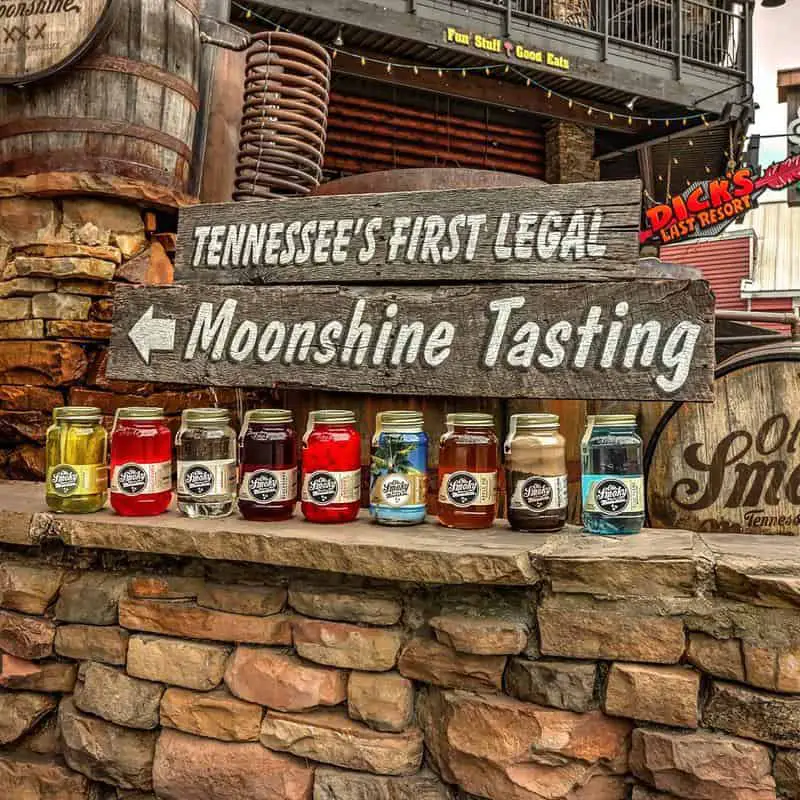 The Original Moonshine is one of their products which is made with the same renegade attitude of its forefathers. The one-hundred-year-old recipe gives up a white and bright whiskey. This 100 Proof and 50% ABC beverage is guaranteed to fire up your night with its unflavored taste.
Visit the Ole Smoky Distillery to taste the moonshine samples for as little as $5. They also offer tours that cost between $10 and $44.95 for a one-hour tour. Keep in mind that guests must be above 13 years old to join the guided tour, and only those above 21 years of age can get to taste the moonshine and other alcoholic beverage samples.
2. Sugarlands Distilling Company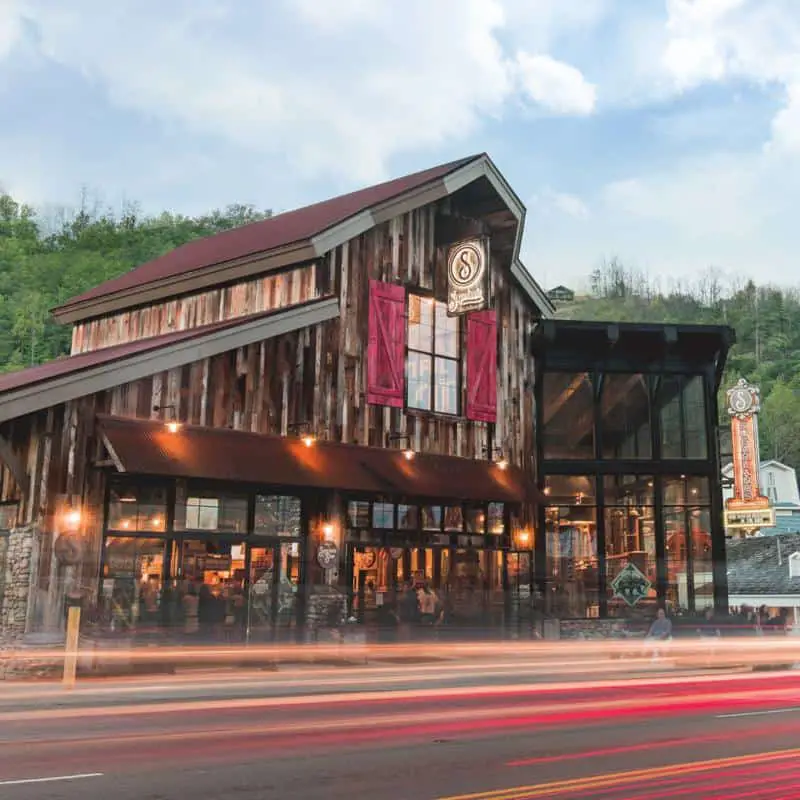 Sugarlands Distilling Co. is the distillery that works with Moonshine Legends on the Discovery Channel. Their partnership helps in creating innovative recipes that are upbeat and fun. The sampling at Sugarlands is unique, with several items that you won't find in other popular moonshine distillers in Gatlinburg.
The live music in the distillery creates an inviting and exciting atmosphere filled with country music's best hits. Do not be surprised if you run into country music favorites like Cole Swindell.
Sugarlands is the home to award-winning moonshine, rye, and whiskeys like the 100 proof Bristol Motor Speedway, Cole Swindell's Peppermint Moonshine, Daytona International Speedway Limited Edition, Jim Tom Hedrick's Unaged Rye, Silver Cloud Tennessee Sour Mash Moonshine, and the Mark & Digger's Rye Apple Moonshine that is 80 Proof.
There is a free tour around the distillery's still house. Visit the location to get to sample some of the award-winning spirits. All you need to do is pay $5 per person to sample the spirits. However, the participants get to receive a $5 voucher that is redeemable with any in-store purchase of the same price.
3. Tennessee Shine Company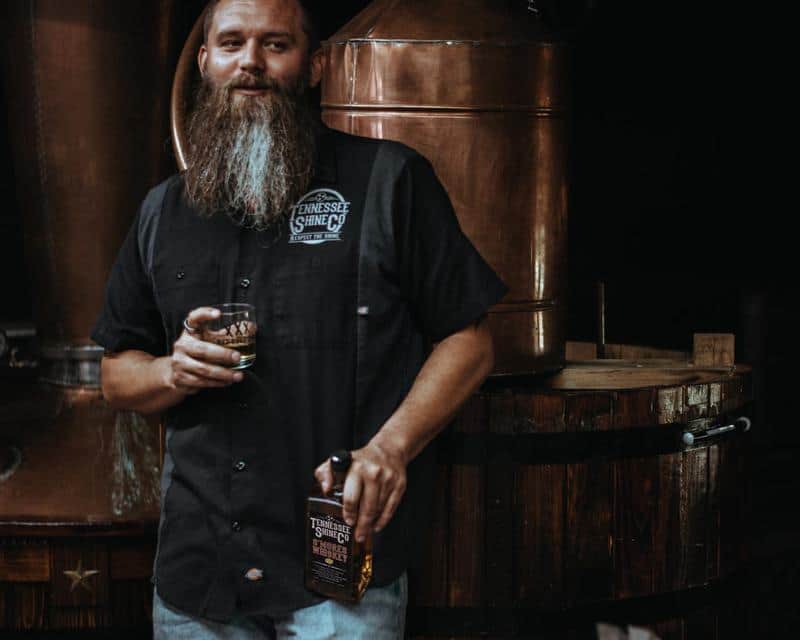 Moonshine tasting at Tennessee Shine Co. is free. The distillery offers moonshine tours from Monday to Thursday from 10 am to 8 pm, Friday to Saturday from 10 am to 9 pm, and Sunday from 12 pm to 7 pm. Whiskey and wine tasting are also available for free.
The self-guided tour takes you through the Moonshine making process, a few historical facts about the moonshine activities, the prohibition of Moonshine by the United States, and much more. You can also get to learn other fun facts like how the moonshine ties to NASCAR. The tour takes place in the interactive 5,000-square-foot compound located on Highway 66.
Available moonshine products come from family recipes that ensure you get the highest proof moonshine in Gatlinburg. Some of the products include the Moonshine Cherries, including maraschino cherries soaked in 100-proof original moonshine. The perfectly infused cherries are guaranteed to create an explosion of heat in your mouth.
There is also a sizeable collection of shine wine that is also available in the wine tastings. Some of them include the Cherokee hollow white, Rocky Flat Red, Pigeon Forge Blush, Cabernet Sauvignon, Cove Creek White Wine, Pretty In Pick Wine, and Wears Valley Red Wine.
Some Honorable Mentions
Moonshine

near Gatlinburg
4. Old Forge Distillery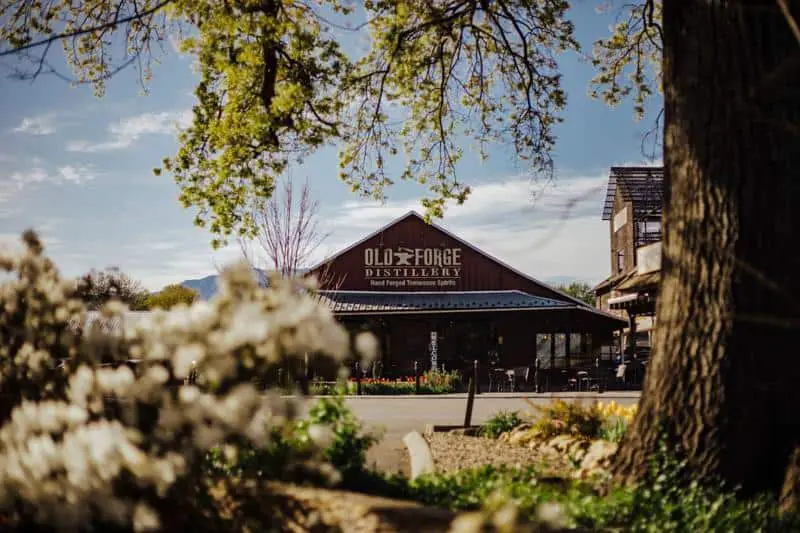 The Old Forge Distillery offers up to 10 free moonshine tastings. This is almost half of the samples from their 24 moonshine varieties. In case you want to sample other products like the Blended Bourbon Whiskey or the Harvest Gin, then you are required to pay a small fee of $2. However, there are no specialized tours for this distillery, but you are welcome to ask the staff members any questions you may have.
Keep in mind that the moonshine and other product tastings are for adults over 21 years old. You can come with your children, provided you accompany them at all times and keep them away from tasting any alcoholic beverages.
Available spirits include moonshine & moonshine cherries, cream liqueurs, rock & rye, bourbon whiskey, vodka, rum, and gin. Moonshine products include the 1830 Original Moonshine with flavors like French toast, coffee, bananas foster, and chocolate.
One of the highest-rated drinks is the Backwoods Cut Moonshine, which has an alcohol content of 130+ Proof and 655 ABV. It is an alcohol with a hint of honey and vanilla. You may taste garden herbs, sweet corn, and baking spice hints.
Related Read: Is Pigeon Forge a Dry County?
5. Old Tennessee Distilling Company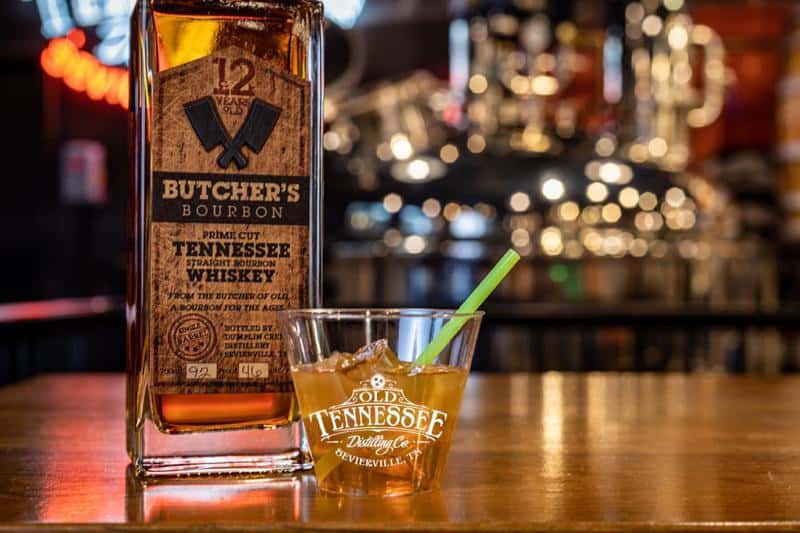 This is the furthest moonshine tasting location from Gatlinburg. It is worth a try since you can be able to easily get to Kodak in just a few minutes drive from Gatlinburg. The moonshine tasting is free every day of the week.
Old Tennessee Distillery makes a variety of alcoholic beverages ranging from rum, rye, gin, vodka, whiskey, and moonshine. Moonshine drinks include the 60 Proof, 30% ABV Dumplin Creek Watermelon Falls and the 100 Proof, 50% ABV Dumplin Creek Frost that received the 2016 Gold Seattle International Spirits Award.
The distillery uses the Dumplin Creek Frost to make margaritas like Frost Margarita with one oz. of Dumplin Creek Frost, lime juice, raspberry syrup, and tail of Dragon Triple Sec. Another great moonshine variety is the Pumpkin Patch, which comes with natural flavors and 30% ABV, 60 Proof.
Final Thoughts
One thing to note when going for moonshine tasting is that the City of Gatlinburg has mandated distilleries to charge $5 for any spirits tasting. However, these locations we have mentioned above give you the option to get a $5 voucher that can be redeemed in their stores. Therefore, it is fair to say that you are technically getting free moonshine tasting in Gatlinburg moonshine distilleries.
Read More:
Gatlinburg Moonshine Tasting:

FAQs
How much is moonshine tasting in Gatlinburg?
In late 2016, the City of Gatlinburg decided to mandate the charge of $5 for moonshine tasting in all Gatlinburg moonshine distilleries. However, most places provide you with a $5 voucher to redeem in their stores.
According to the City of Gatlinburg, "The City of Gatlinburg is pleased with the decision by local moonshine and whiskey distilleries to charge a fee for sampling their spirits. The conversation with distilleries stemmed from concern over maintaining the reputation and image of Gatlinburg as a family-friendly environment for tourists. The voluntary decision to charge for samples is a step in the right direction to maintain Gatlinburg as a family-friendly vacation destination."
Is Gatlinburg known for moonshine?
Gatlinburg is the Gateway to the Smoky Mountains. The mountains were known for decades to harbor moonshiners who made the illegal beverage in secret due to the strict laws which used to exist back in the day. Today, moonshine can be made by any licensed distillery, which has led to many distilleries in Gatlinburg and the Smoky Mountains general profiting off the rich moonshine history.
Also Read: Is Moonshiners TV Show Real or Fake?
How many moonshine distilleries are in Gatlinburg?
Gatlinburg has three moonshine distilleries: Tennessee Shine Company, Ole Smoky Distillery, and the Sugarlands Distilling company. However, there are other distilleries nearby that may be worth looking into, which include the Old Forge Distillery in Pigeon Forge and the Old Tennessee Distillery in Kodak.
Is moonshine illegal in the Smoky Mountains?
Tennessee State laws were changed in 2009 to allow moonshine distilleries to obtain licenses for making legal moonshine. Moonshine is illegal in the Smoky Mountains in case you make it without a license from the state. There are various moonshine tasting places in the Smoky Mountains where you can legally purchase and drink moonshine.