The beauty of choosing between a Pigeon Forge and Gatlinburg bar is that you do not have to choose. It only takes less than 20 minutes to drive from the center of Pigeon Forge to the middle of Gatlinburg. Moreover, multiple world-class and tourist beloved bars in each region will meet all your needs, except if you are looking for an Ice Bar.
You are probably taking a look at this list since you are on vacation and touring around the Smoky Mountains. Knowing the best places to get a chill drink is an understated advantage. There is something for you whether you want a bar with a scenic view or one where you can catch up on the game.
Get to know the more traditional options and compare them to modern popular venues to get a feel of both worlds. Follow through our specials list to know the various unique features of each bar and how popular they are among fellow tourists.
Summary of the best bars in Pigeon Forge and Gatlinburg
Best sports bar: The Roaming Gnome Pub & Eatery
Best with a scenic view: Cliff Top and Gatlinburg SkyCenter
Best with live music: Ole Red
Best bar for craft beer: Gatlinburg Brewing Company
Best Bars in Pigeon Forge
Iron Boar Saloon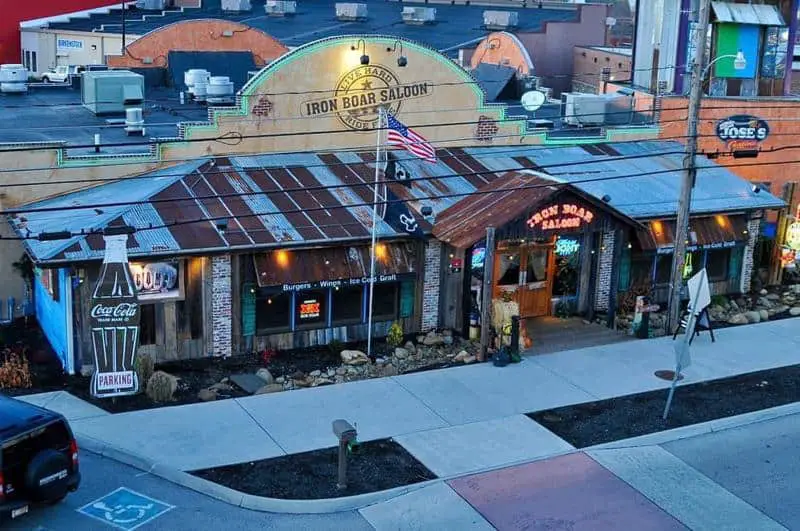 Address: 104 Walden's Main Street, Pigeon Forge, TN
Phone: 865 429 7779
Known for: best biker bar in the Smoky Mountains
If you get the chance to visit this biker bar, we suggest you try the biker-made Iron Boar Lager. Iron Boar Saloon is a classic biker bar with all the bells and whistles you would expect. From the cold beer to the biker stickers and art on the walls, to the classic music, and the bike parts hanging from the roof. Check out the virtual tour of the venue on their website.
It is a great bar for riders despite not being as authentic as you would expect a traditional biker bar to be. It is tourist-friendly yet offers all the things you would want from a biker bar starting with the cold beer.
Funky Buddha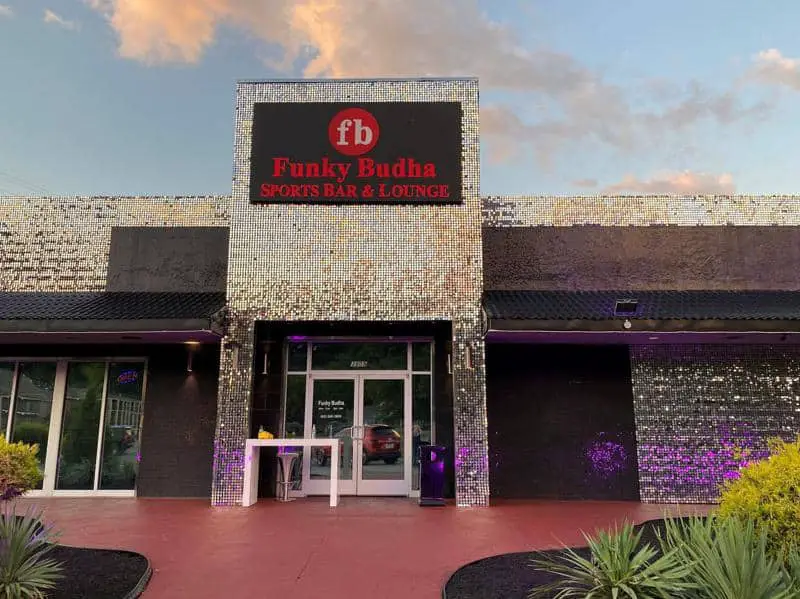 Address: 3909 Parkway, Pigeon Forge, TN
Phone: 865 366 3865
Known for: Nightlife of the Smoky Mountains
You won't find a better place to enjoy the nightlife of the Smokies if it is not at the Funky Buddha. The dance floor is open till 3 am where adults above 21 years can get to fill the night with memories. There is also hookah on the open patio that you can take up.
Moreover, this upbeat destination offers Asian-American foods on its menu which you can enjoy in the lounge area or on the open patio. We recommend you try the Buddha burger with a freshly ground beef patty, bacon, lettuce, onions, pickles, and blue cheese crumbles.
Margaritaville Resort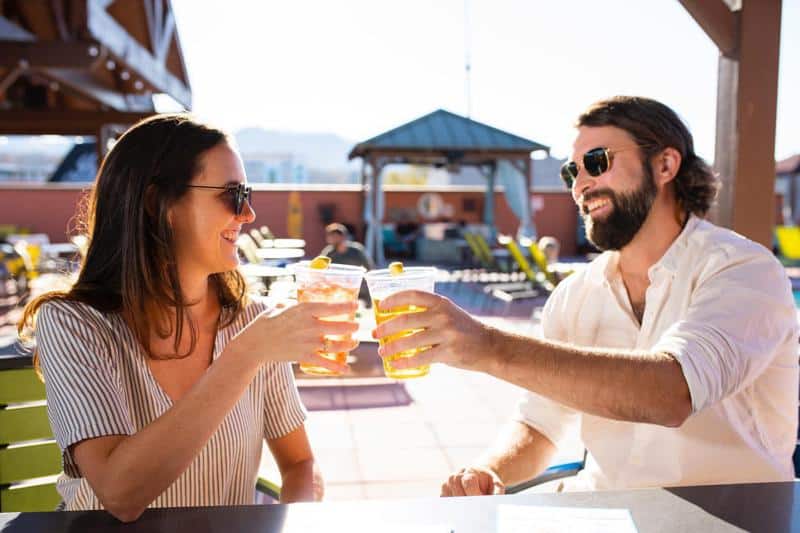 Address: 131 The Island Dr., Suite, 5118, Pigeon Forge, Tennessee, 37863
Phone: 866 774 2300
Known for: Scenic views of the Smokies Wheel, Fountain Show, and Pigeon Forge River
Pigeonforge.com awarded Margaritaville Resort the 2021 awards for "Best of Hotel 2nd Place", "Best Resort 2nd Place", and "Best Bar – Winner". You have a lot of fun activities to choose from when visiting the resort since they offer spas, pools for swimming, coffee shops, and accommodations.
None of these compare to the two bars they have: one on the rooftop and another located on the lobby level. The lobby level provides a great outdoor patio that looks into the little Pigeon Forge River while the rooftop offers scenic nighttime views of the Great Smoky Mountain Wheel. Moreover, you can get to see the nightly Fountain Show from the roof.
Old Forge Distillery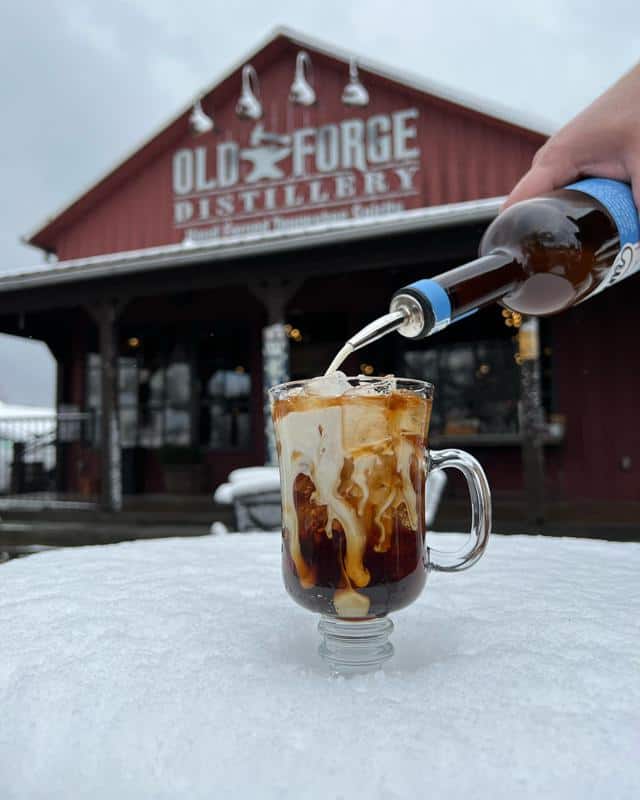 Address: 170 Old Mill Avenue, Pigeon Forge, TN 37868
Website
Phone: 865 774 4126
Known for: Free moonshine tastings
Want to taste the high-proof moonshine the Smoky Mountains are known for? Well, the Old Forge Distillery has you covered. It is home to award-winning craft spirits that you can taste for free. Get to sit on the patio or lounge area as you sip on one of the craft cocktails from spirits of the premium craft distillers.
Blue Moose Burgers & Wings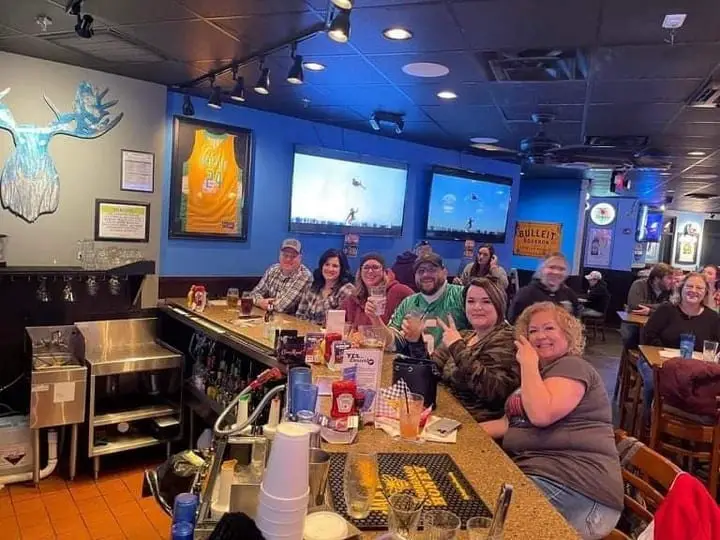 Address: 2430 Toaster Lane #108, Pigeon Forge, TN 37863
Phone: 865 286 0364
Known for: Family-friendly and local bar with incredible fast food
Blue Moose is not only a family-friendly sports grill but also a great dining place with delicious Angus Beef and chicken wings that come in more than 15 flavors. You can come here with your family as they eat their heavy lunch and grownups can catch up on the game or some much-needed refreshment.
More than 20 TV screens surround this locally beloved bar to provide an immersive sports experience from any side of the bar.
The Roaming Gnome Pub & Eatery
Address: 202 Collier Dr. Sevierville, TN
Phone: 865 774 3336
Known for: large food portions, local favorites, and Irish theme
Are you having a fun day with the family but still missing out on that game you have been dying to watch? Well, the Roaming Gnome comes to the rescue. This Irish-themed pub is a true sports bar in the Smoky Mountains that will give you a good time with its various sports packages.
The bar is technically not in either Pigeon Forge or Gatlinburg but is nested between these great towns that we would be amiss not to include it. It is a tourist favorite location with its warm and cozy atmosphere. You can see the various TV sets from any corner of the place which makes for a great game night.
A jukebox adds a homely feel t the locals and the fish tank display lovely species to add more oomph to the venue. You won't be disappointed in the food as the Gnome has great selections from the mouth-watering cheeseburger to other large burgers. There are flatbread pizzas, some tacos, fish and chips, chicken fingers, and sandwiches like the Philly cheesesteak with thinly sliced Ribeye steak.
The Casual Pint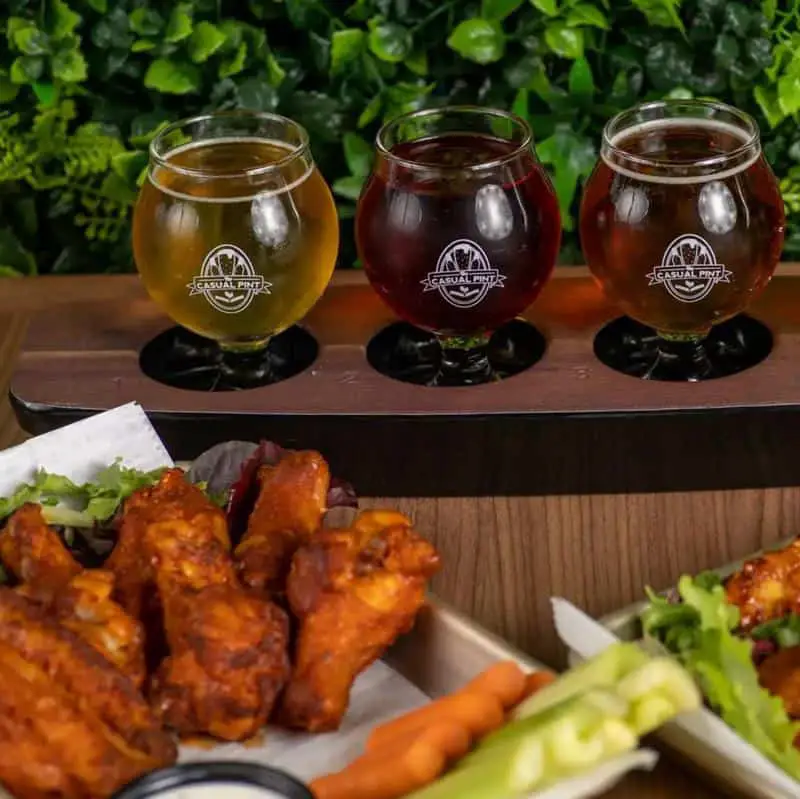 Address: 2905 Parkway, Pigeon Forge, TN 37863
Phone: 865 428 2526
Known for: great craft beer selections in a social setting
The Casual Pint is a franchise of multiple craft "beerstros" that sell alcohol for taking on the premises or off the premises. Its mission is to bring the people the best of craft beers one pint and one growler at a time.
This community staple location is in the Holiday Inn & Suites. You won't miss the best selections of regional, national, or local beers in the store. On tap you will get common items like the bud light, traditional lager, Double Dale's, and the dark garnet red Killer Penguin.
Casual Pint Pigeon Forge is open every day of the week with most of its fun times happening on Friday and Saturday. Get to feast on the pizza and beer combo that will wind your tiresome day of adventure in a great fashion.
There are lunch, dinner, and snack options on the menu from quick bites to full blown cheesy meals. Try the spinach tortilla served with kettle chips or the buffalo chicken with chicken, buffalo sauce, cheese, ranch, and romaine lettuce.
Also Read: Is Pigeon Forge a Dry County?
Best Bars in Gatlinburg, TN
Loft Lounge at Ober Gatlinburg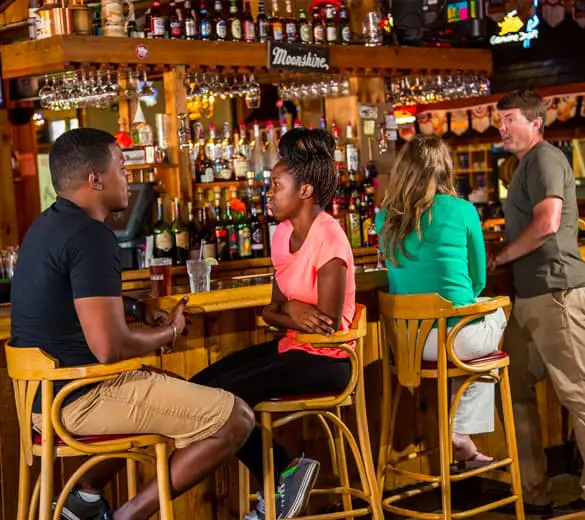 Address: Ski Area & Amusement Park, 101 Parkway Suite 2, Gatlinburg TN, 37738
Phone: 865 436 5423
Known for: All season's bar with an amazing annual Oktoberfest
Loft is located inside Ober Gatlinburg where it is open all days of the year. The Oktoberfest at the Loft is some of the best partying scenes you will ever see in the Smoky Mountains. Drinks are in plenty from regular draft beers like the Blue Moon, Angry Orchard, and Michelob Ultra to Spirits like bourbon, whiskey, scotch, tequila, and some high-proof moonshine.
Cliff Top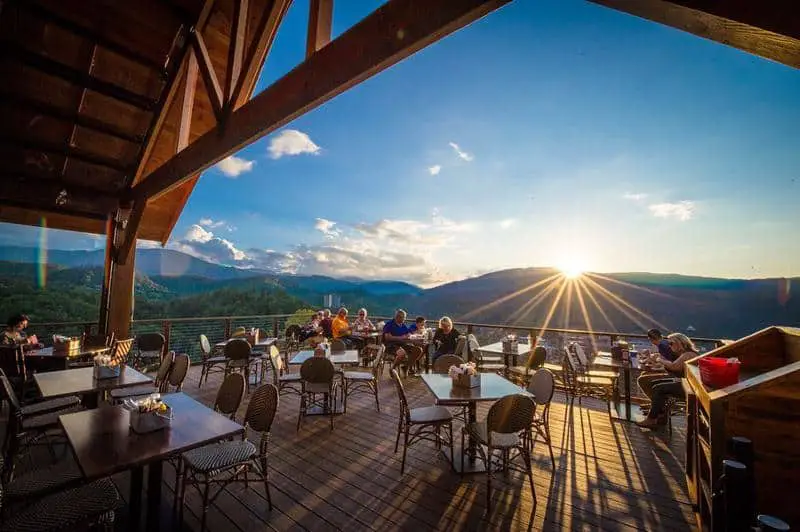 Address: 576 Parkway, Gatlinburg, TN 37738
Website
Phone: 865 325 2400
Known for: Scenic Mountain views
Cliff Top restaurant is located in Anakeesta at the Black Bear Village. The venue recently underwent a $6.5 million dollar expansion that improved the live music experience, outdoor movie shows, and firepit. The restaurant is also a bar with a scenic view of the mountain tops. A full bar is a great addition for craft beer lovers who can kick back and admire the vies from Mt. LeConte.
Ole Red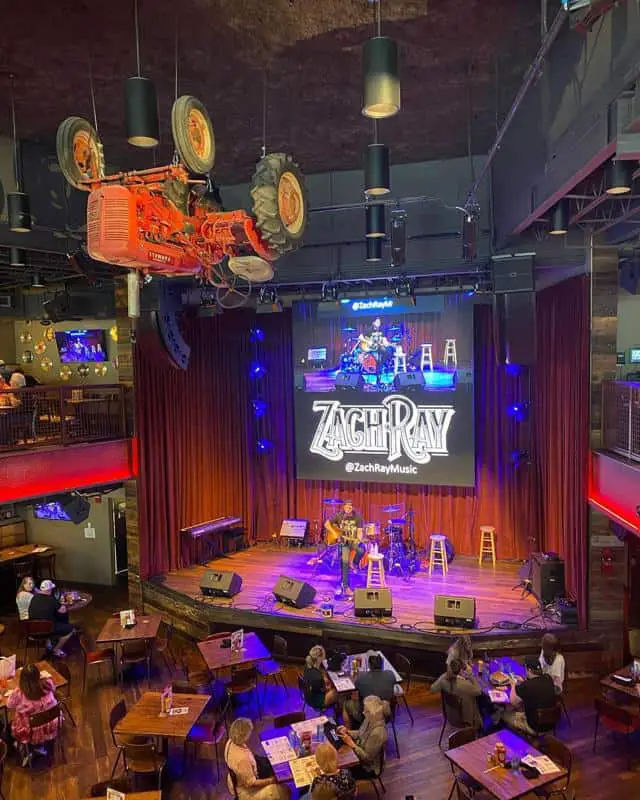 Address: 511 Parkway, Gatlinburg, TN 37738
Phone: 865 325 3101
Known for: A great local experience with live country music and food selections
Live music is at its best in Ole Red Gatlinburg. Founded by superstar Blake Shelton, this new bar brings classic and innovative takes on the bar affair. Enticing bubbles include the Dirty Tractor and Hillbilly Breeze signature cocktails that can put some moonshine spirits to shame.
Visit Ole Red to feast on the smoked brisket tacos with bourbon chimichurri, tortilla, cilantro, and shaved onions.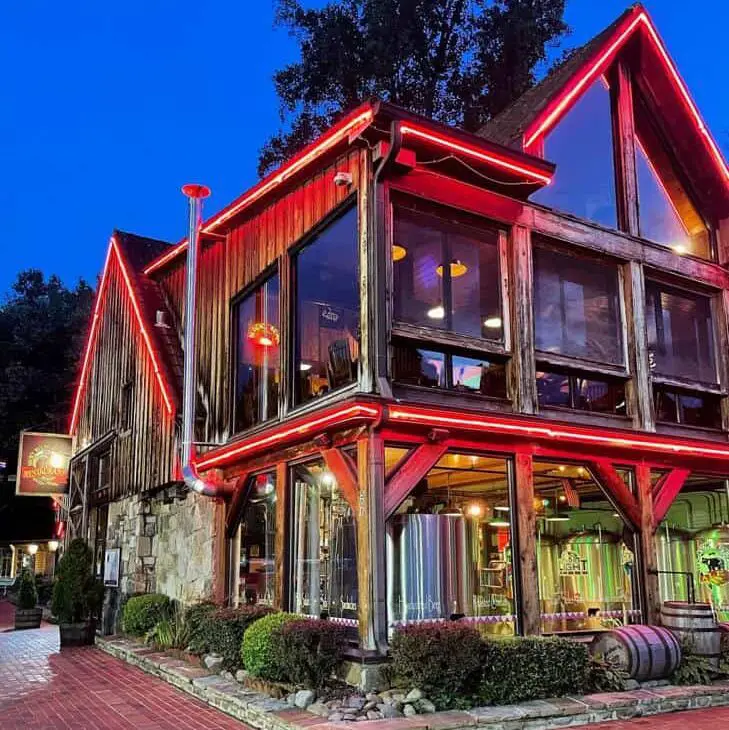 Address: 2530 Parkway, Pigeon Forge, TN 37863 and 1004 Parkway, Gatlinburg, TN 37738
Phone: 865 436 4200 (Gatlinburg), 865 868 1400 (Pigeon Forge)
Known for: Being open till late in the night and offering micro-brewed beer alongside great food
There are two locations of this brewery, one in Pigeon Forge and another in Gatlinburg. Pigeon Forge bar is more exciting and upbeat compared to its brother. This is because the one in Gatlinburg is mostly popular with skiers, snowboarders, and a few hikers who need a break from their adventurous escapades around the Smokies.
Pigeon Forge on the other hand is popular for providing an escape from the fast life in the area. It comes with amazing food selections and features over twenty flat-screen TVs that add to the fan-filled nightly entertainment. Visit the bar after your exhausting day by just locating the huge grain silo, you won't miss it.
Gatlinburg SkyCenter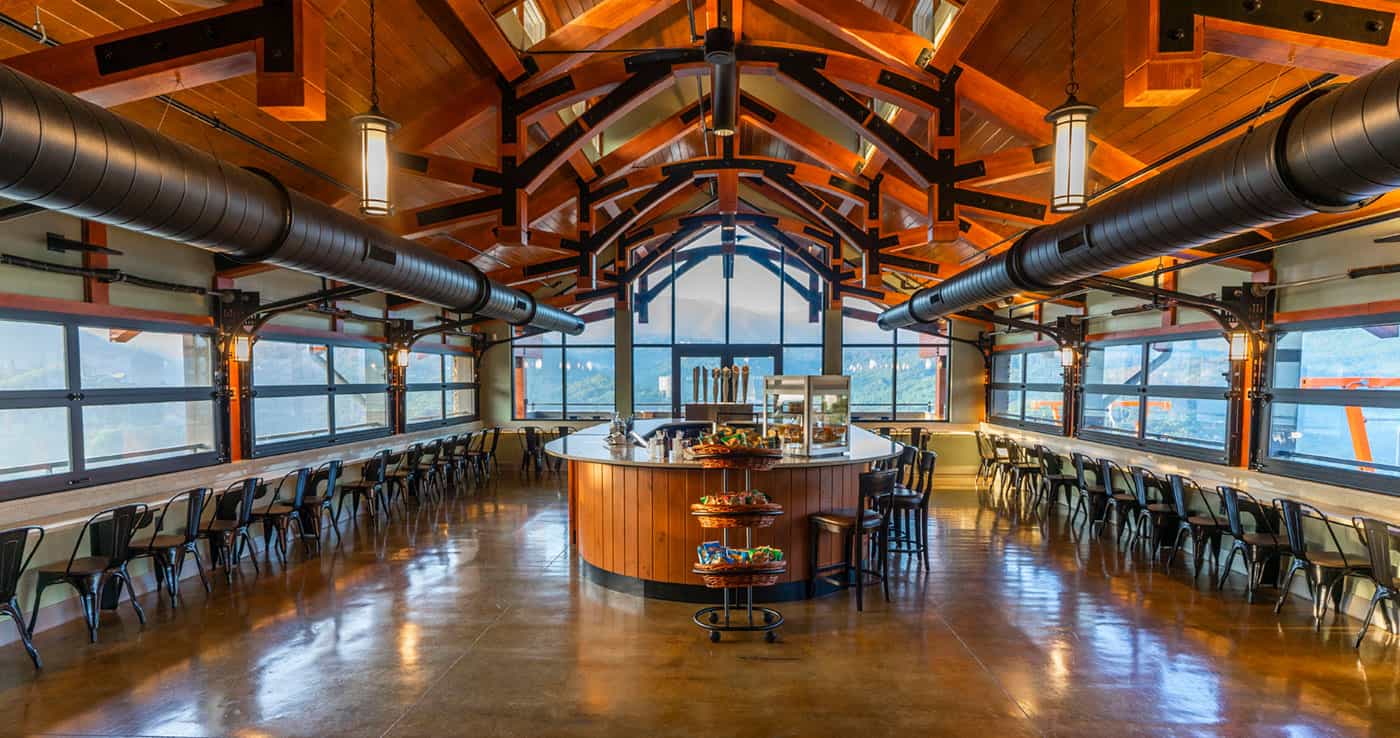 Address: 765 Parkway, Gatlinburg, TN 37738
Phone: 865 436 4307
Known for: Great views of the mountains and convenient skylift ride
This bar is in the Skylift Park in Gatlinburg. You will enjoy the view from the elevated heights from its location at the tip of Crockett Mountain on the SkyDeck. One great advantage of this bar is that you can get to access it from the Skylift Park rides.
You won't want to miss the photos from this height so make sure to get a camera or purchase a pic of yourself in the yellow chair- this is a 70-plus-year-old tradition that dates back to the 1950s. A sitting area is available on the front deck and inside the bar where you can choose to order from their sizeable menu of small wraps and light foods.
Gatlinburg Brewing Company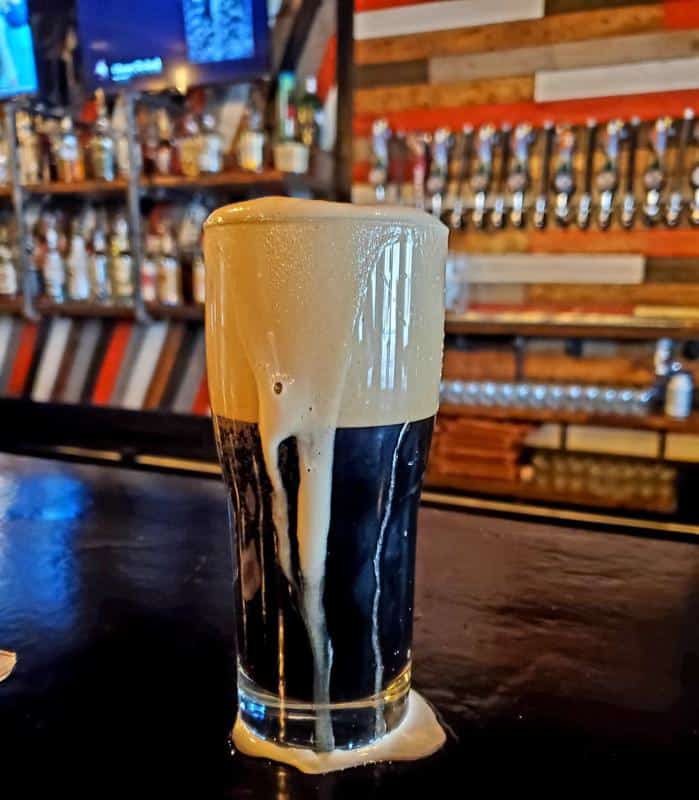 Address: 458 Parkway Gatlinburg, TN 37738
Website
Phone: 865 412 1123
Known for: Incredible craft beer selections
For what they lack in craft beer, they will make up for it with the build your own pizza option. Gatlinburg Brewing Company brews its beer on-site to ensure the customers get the freshest bunch in as delicious quality as possible. Draft beers in the list include the GPA, Gatty Light, and strong options like the 9.5% ABV A-Monk Friends with Belgian Strong Dark Ale.
Final Thoughts
Gatlinburg has more restaurants, pubs, eateries, and bars compared to Pigeon Forge. It is the most entertaining and attractive destination for tourists who want to kick back and relax with a cold one. The bars have better scenic views and come with more exciting specials in Gatlinburg. However, check out the nearby Sevierville town for Pigeon Forge alternative bars.