Did you know Anakeesta offers all-day park access together with unrestricted scenic rides through the Chondola chair lift ride? You can also get to have a 360-degree view of the Smoky Mountains and as far as Kentucky. There are always events taking place at Anakeesta, with most being live music shows and liquid velvet plays at the Black Bear Village.
The reputation of the Anakeesta adventure theme park is great since it is the receiver of a 2020 and 2021 Traveler's Choice Award. Attractions like the rope obstacle courses at TreeVenture and BearVenture have set it apart from the competition. Its huge size is another great advantage of the park as you get to have a whole day of outdoor family fun and then some.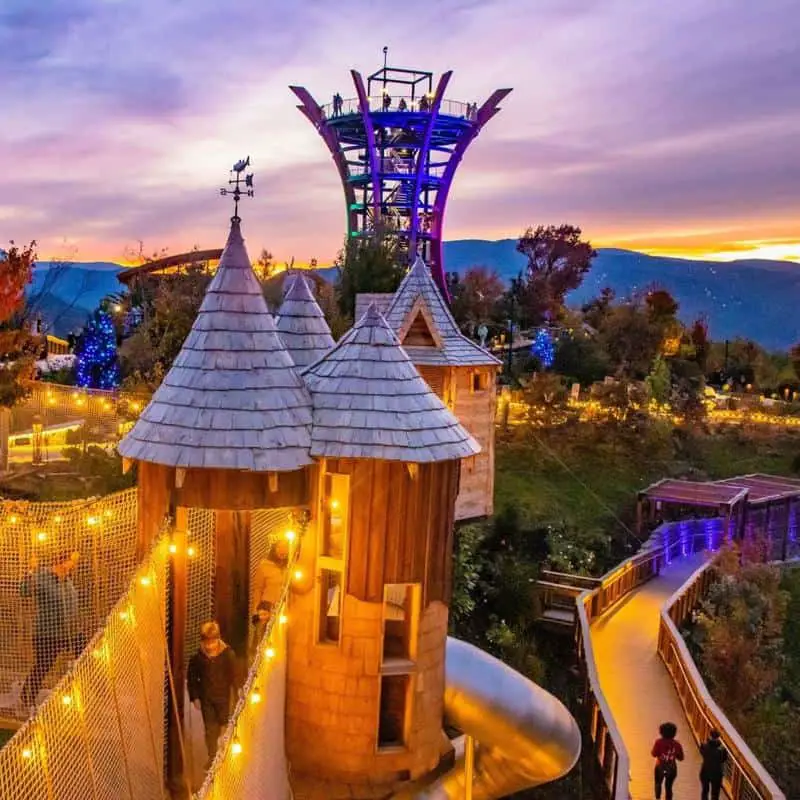 This article will take you through the various things you need to know about the Anakeesta theme park. Our list consists of dining, play, adventure, and shopping locations where you can go on your vacation to get the most of what Anakeesta offers.
About Anakeesta, Gatlinburg: Family Theme Park
Address: 576 Parkway, Gatlinburg, TN 37738
Website: Anakeesta
Telephone Number: 865-413-8430
Business Hours: Hours are subject to change, but you can typically find the park open between 9 am and 8 pm every day.
Anakeesta is located above the city of Gatlinburg in a land that covers over 70 acres of the mountains. It is largely immersed in nature with lots of vegetation, greenery, and rocky environments. Anakeesta is a Cherokee Indian phrase that means 'the place of high ground', which reflects its high altitudes and sky-high adventure retreats like the ziplining.
To get to the theme park, you will first start your journey at Parkway in downtown Gatlinburg. From there, the Chondola ride takes you high up into Anakeesta in an open-air chair that can sit multiple people. The ride takes you high up for 600 feet, after which you get to land in the Firefly Village at Anakeesta.
Another way to get into Anakeesta theme park in Gatlinburg is to take the park's Ridge Rambler adventure vehicles. These vehicles can be found in the city of Gatlinburg and can only take you to the park if you so wish.
A lot of places at Anakeesta are accessible via a wheelchair, including the Firefly Village shops, Vista Gardens, and dining pavilion. Wheelchair inaccessible places include the attractions like the Treetop Skywalk.
First Aid assistance is just a second away from the many certified professionals who roam around the park. Needless to say, you won't be missing any urgent medical attention in case of a major or minor accident while having some fun. If an assistant doesn't find you in time, then you can visit the Information Booth in the Firefly Village to get help. Ask any Anakeesta employee for assistance in case you are far away.
With all that said, let us jump into the various activities you may want to indulge in while at Anakeesta.
Things to do in Anakeesta
Play and Adventures
1. Rail Runner Mountain Coaster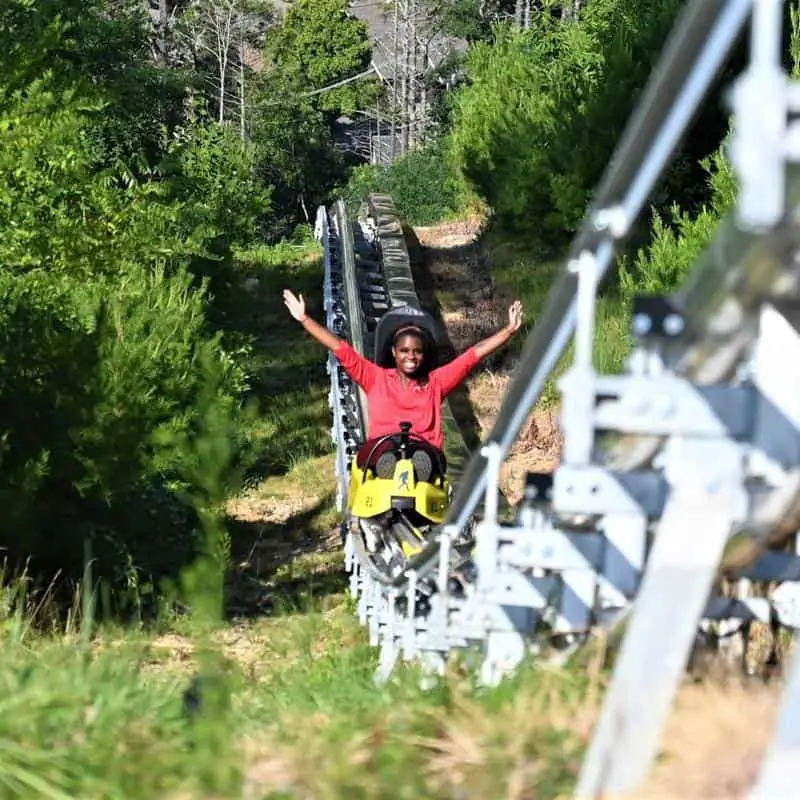 As the first of its kind in the United States, the Rail Runner Mountain Coaster is a must-visit adventure. This downhill adventure takes you on a ride through a single rail system, where you get to control the speed up to 25 miles per hour. The ride is about 1000 feet to the top, along which you can get to see the scenic nature of the park and bask in the blissful wind brushing through your hair.
There is a single rider and tandem rider option. No one under seven years of age is allowed on the single rider, and neither are individuals who weigh more than 230 pounds. Riders also have to be more than 48 inches tall. The tandem ride's combined weight can't be more than 230, and the passengers must not be taller than the driver's shoulders.
The many turns in the forest are exhilarating as they take you through 400-foot elevation changes through the Anakeesta mountains. This is definitely a must-try for visitors.
2. Chondola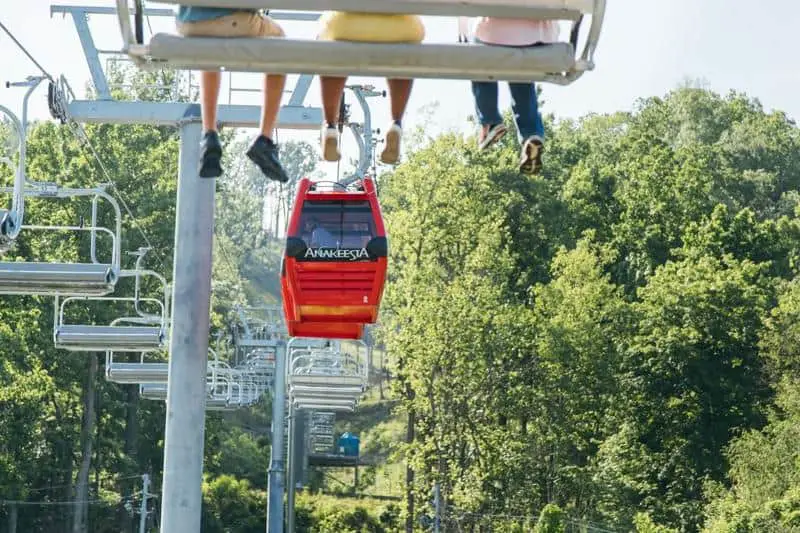 The beauty of Condola is that its cost is included in the general admissions fee into the Anakeesta theme park. The Chondola ride takes you from Gatlinburg city, where you leave the noisy scenes behind and head up to the serene Anakeesta mountains. The open-air 4-person chair sits you comfortably as you get whisked up 600 feet to the summit of the Anakeesta Mountain.
Ensure you secure any loose items as they may fall down and become hard to find. But do not let that stop you from enjoying the beautiful scenes down below that occasionally brings out a bear or two.
3. AnaVista Tower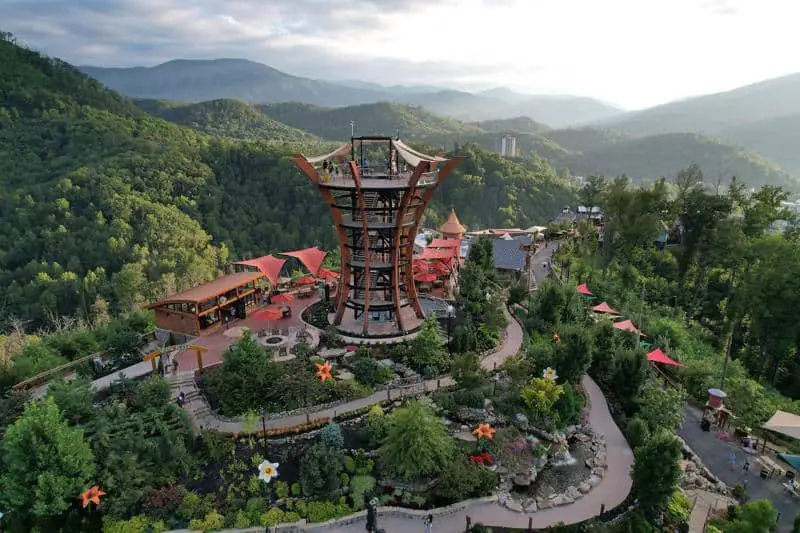 The AnaVista observation tower is the highest point of downtown Gatlinburg. This is where the Anakeesta Live webcam is situated to give the whole world a taste of the theme park and the Smoky Mountains 24 hours per day.
360-degree views of the Smokie Mountains make this the perfect place to come and take a look at everything the mountains got to offer. The Vista Gardens surround the tower, and guests get to go through 84 steps to get to the huge observation deck at the top of the tower. There is no charge for entering the AnaVista tower since it is all included in the general admission fee.
4. Dueling Zipline Adventure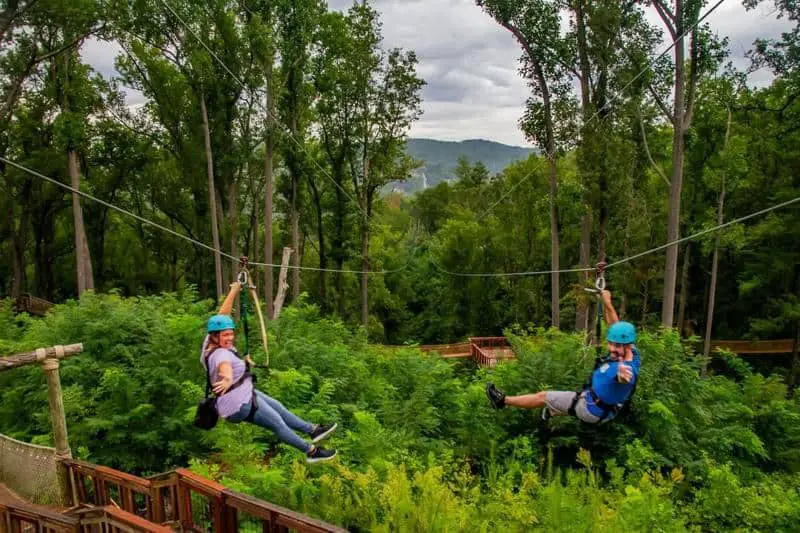 The Dueling Zipline Adventure is a thrilling ride that takes about one and half hours to complete. It is open to people of age seven and above, which makes it a perfect experience for family vacations. No reservations are needed, but you should book earlier since they sell out quickly to eager guests.
Zipline will take you through trees high above the forest floor, giving you a huge adrenaline rush over 50 feet. Participants cannot weigh more than 270 pounds or less than 70 pounds. Visit the attractions to get treated to the safest zip line you could ever get among trained professionals.
Also Read: Best Zipline in the Smoky Mountains Pigeon Forge Area
5. Gem Mining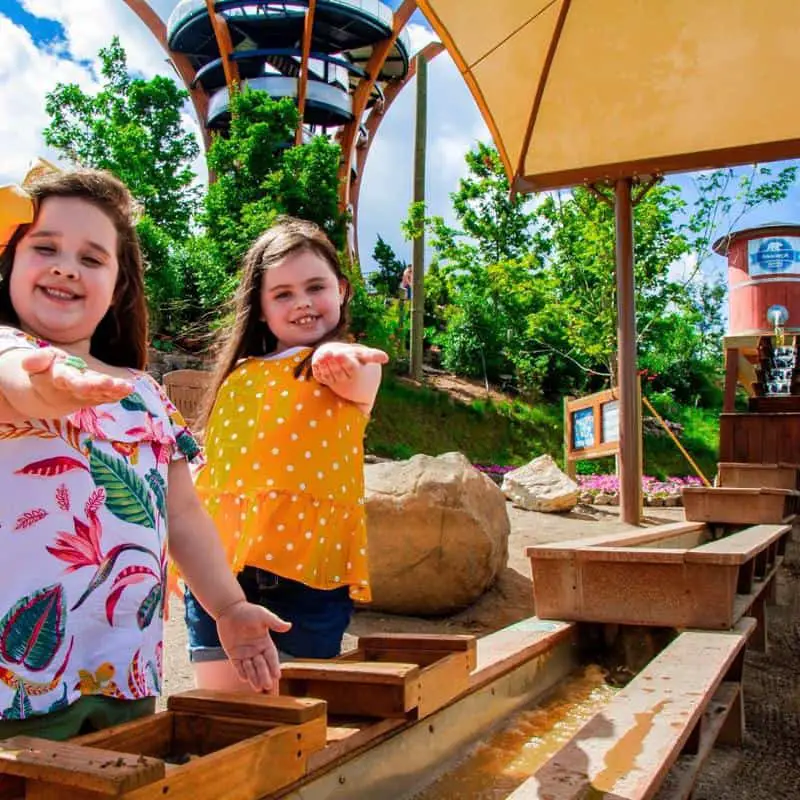 Gem mining is a big industry in the Smoky Mountains. Anakeesta brings you this child-friendly experience at a starting price of $8. You can bring your children here to dig for their precious treasure near the interactive waterfall and sluice.
6. Bearventure challenge course
Located in the AnaVista Garden, the Bearventure challenge course is an exciting trail that takes you through physical hustles. Kids love this challenge as it is whimsical and takes them through the black bear-themed side of the park.
7. Treeventure challenge course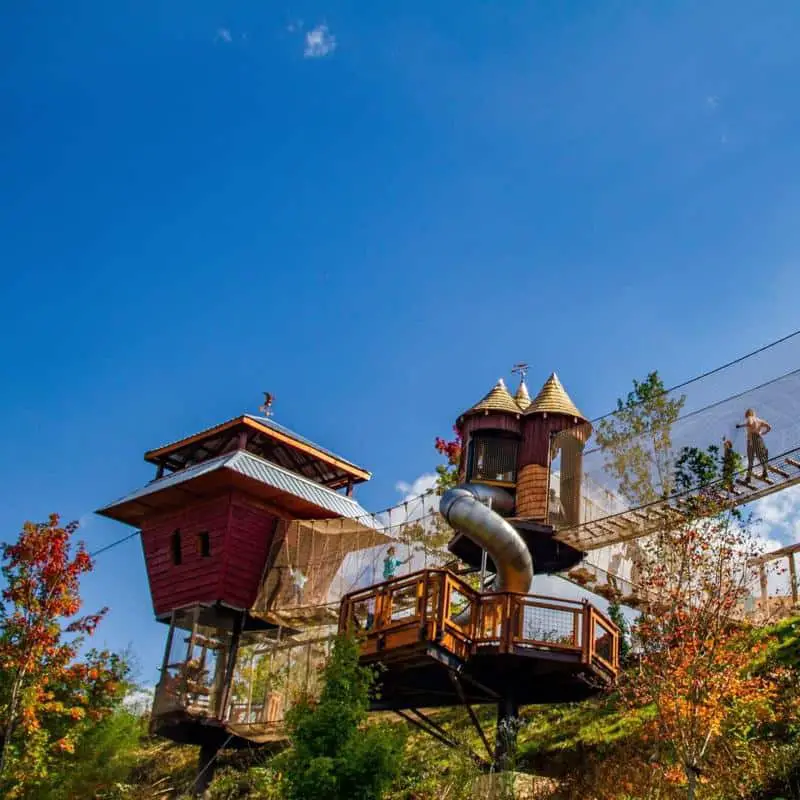 The TreeVenture is not so different from the Bearventure challenge course. Its cost is included in the admission fee. All you need to do is show up to enjoy this imaginative play tailored for families. The interactive tree houses have three levels on which you and your family get to play.
Netted bridges give you the thrilling push you need to climb to the top of the trees. Once you get to the top, you can then take a slide to the bottom, where you can choose to go back up for more fun.
8. Treetop skywalk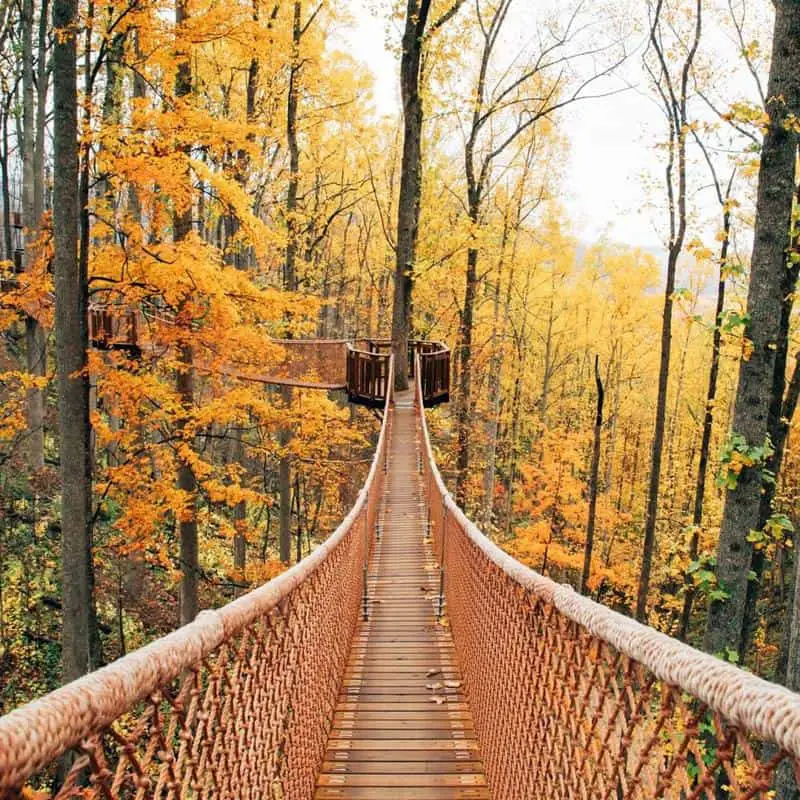 The Treetop skywalk in North America is located at Anakeesta theme park. The 880-foot-long skywalk is composed of a hanging bridge suspended at about 50 to 60 feet above the forest floor. You can get to experience what it feels to be a bird up in the treetops from this height.
This is the perfect spot to spot most bear sightings in the mountains. Woodpeckers are also a common sight in this region of the park. Cameras are highly recommended as you can get to see a lot of amazing animals and get the best views of the Anakeesta mountain nature.
9. Treehouse Village
The various bridges with challenges are interconnected at the Treehouse Village. This village is a play area for children where they can get to interact with physical and educational elements that help them build confidence and strength.
Also Read: 20+ Best Things To Do In Gatlinburg
10. Smokehouse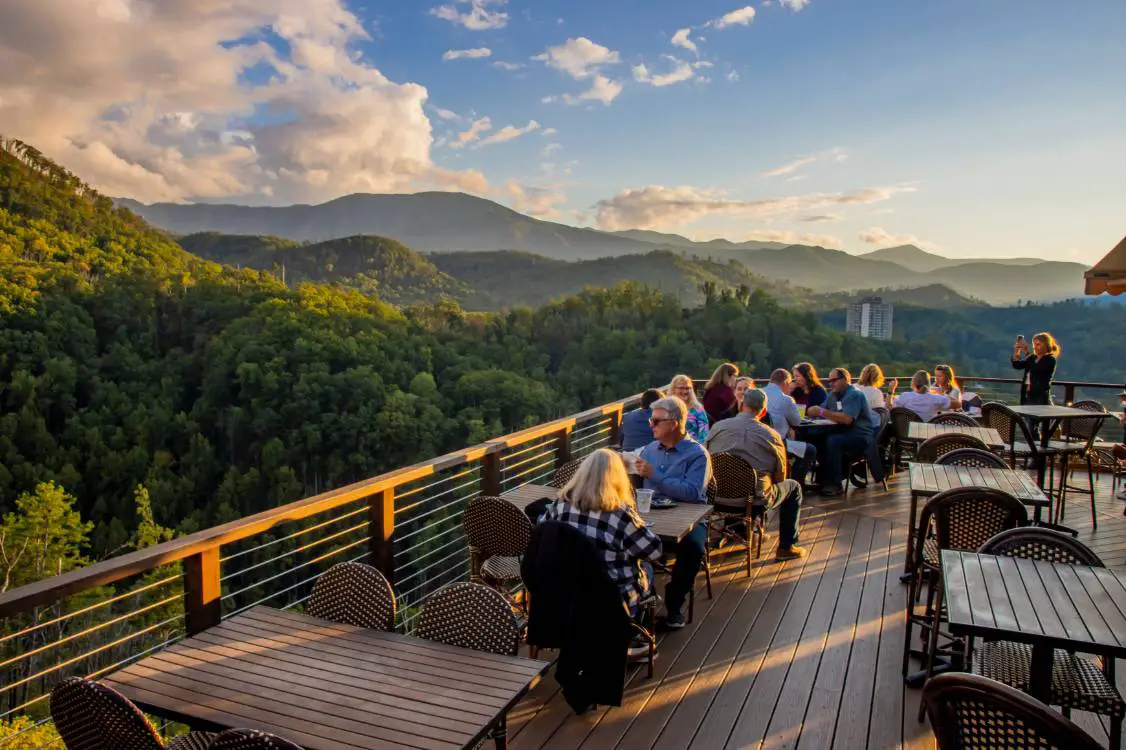 Smokehouse brings you house-smoked meats, including brisket, pulled pork, and chicken. This awesome dining place is located at the top of Anakeesta Mountain in the Firefly Village. It is serenely located at the highest point to give you a relaxed and unforgettable experience among beautiful sceneries and forest ambiance.
The smokehouse opens at 11 am with options like the beef brisket for $14 and the pulled pork for $13. Plates include the garden salad that comes with spring mix, cherry tomatoes, red onion, shredded cheese, and cucumber.
11. Kephart café
Kephart Café serves gourmet hot dogs, Flavor Burst frozen yogurt, and other items like flatbread at the Black Bear Village. It is a great option for those on the go with its assortment of fast-food meals and soft drinks.
Craft beers and Black Bear pizza make it the perfect stop after a long day of exploration. Visit Kephart Café to get sweet treats like the $2 Blue Bell Snacks consisting of various choices like the cookies n cream sandwich or the vanilla sandwich.
12. Cliff Top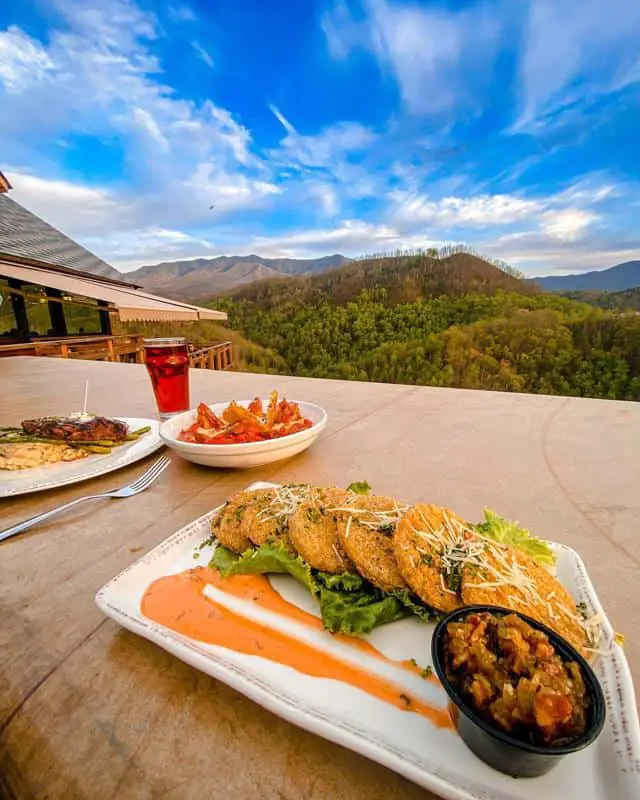 Cliff Top is also located at the Black Bear Village next to the Kephart café. It serves modern American cuisines like mouth-watering steaks and gourmet burgers. Lunch favorites include the Sirloin, which has 10 ounces of Sirloin Grilled to perfection together with French Fries, herb compound butter, and sauteed seasonal vegetables.
Do not miss their Smoky Mountain Burgers that come with half-pound grilled Angus beef on Brioche Bun and are served with tomato, lettuce, onion, and crispy French Fries.
13. Pearl's Pie in the Sky
This is a great dessert place that offers guests cream hand-dipped ice creams by Bluebell. The cones, milkshakes, and sundaes are a dream for the sweet tooth. Homemade fried pies, as well as brownies and cookies, will leave you wanting more. The decoration is reminiscent of 1940s culture that adds to the uniqueness of the Anakeesta theme park.
14. Watering Can
The Watering Can is a small eatery that also acts as a retail outlet. Visitors come to this location in the Vista Gardens and AnaVista Tower to get treated to a sweet drink alongside a tantalizing sandwich. There are earthy consumer products that highlight the beauty of the Smoky Mountains; feel free to purchase a piece of the exquisite nature.
15. Snack Shack
Snack Shack in the Anakeesta theme park is situated between Black Bear Village and Firefly. Funnel cake fries are the order of the day. Bring family and friends along as you won't miss a snack that is befitting for each and every one of them.
16. The Happy Camper
The Happy Camper is located on the ground near Treeventure challenge in the Vista Garden. It offers refreshing drinks on your trail and a few snacks to quench that hunger.
Shopping
17. Adventure Outpost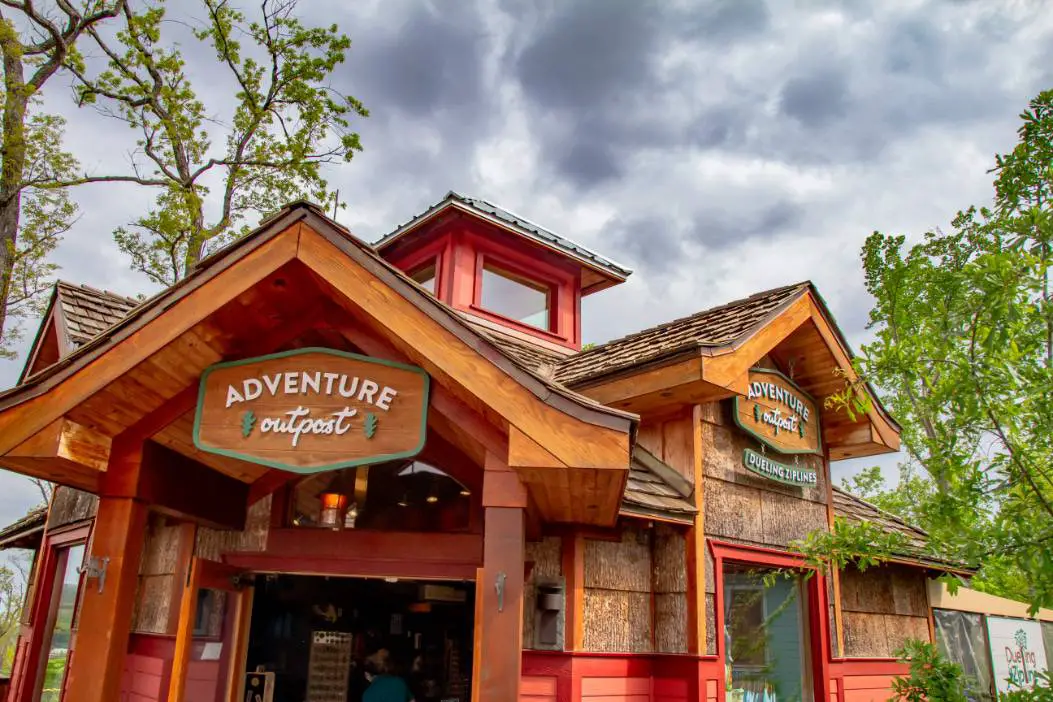 The Adventure Outpost is where you can go to purchase the theme park's branded t-shorts, hats, hoodies, and even magnets. There are more items than you can think of buying. The Outpost is also where you get the Dueling Zipline Adventure tickets as you sign the waiver and check in.
18. The Mercantile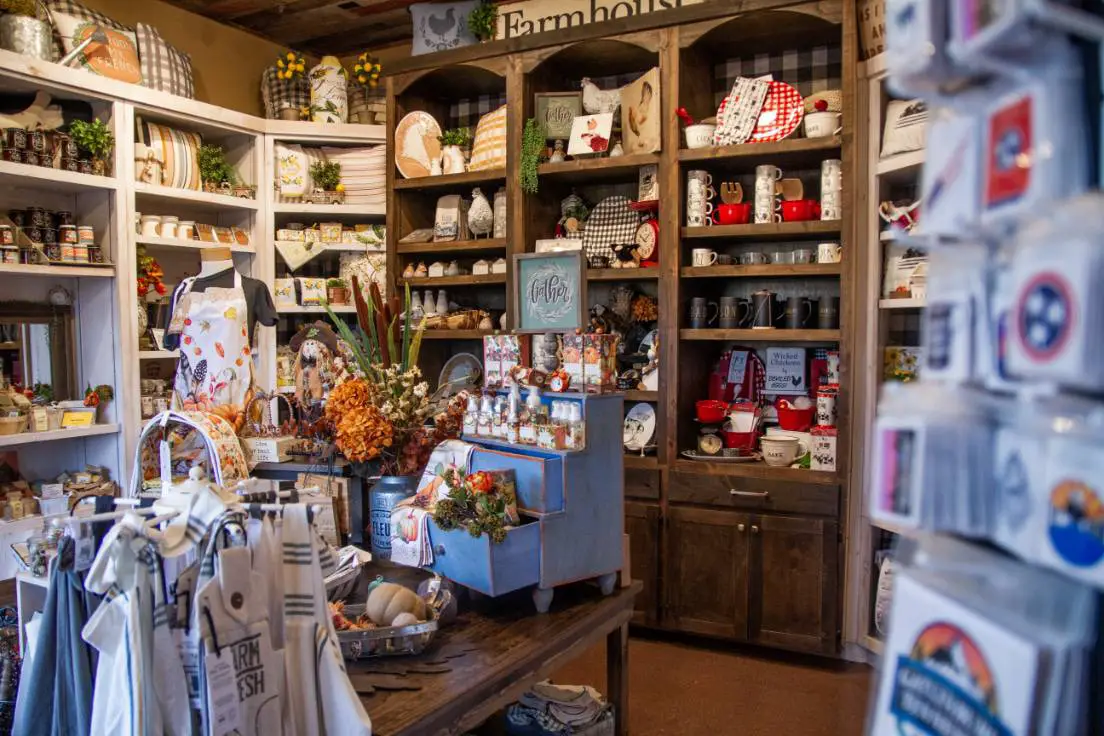 Locally made items grace the Mercantile. It is a modern general store that offers home and kitchen items like utensils, décor, and bowls. There is a good selection of vintage items like sweet treats, games, and gadgets that are reminiscent of the southern culture.
Read More:
Anakeesta Tickets and Pricing
The cost of visiting attractions at Anakeesta is generally affordable. Other parks offer competitive prices, but with the experiences you get, one can only hope the tickets are never sold out. Various tickets are available, including an annual pass and a general admission pass.
The general admission pass is valid for one day unless you got the admission an hour before closure which grants you the next day free. The day admission includes access to the Treetop Skywalk, unlimited Chondola/Ridge Rambler rides, Treehouse village adventure, bearventure, treeventure, memorial forest interpretive walk, and access to shopping and dining places. Charges are as follows:
Adults between 12 and 59 years of age = $32.99
Seniors above 60 years of age = $25.99
Children between 4 and 11 years of age = $19.99
3-year-old children and below = Free
Annual passes include VIP access to the unlimited use of Chondola and Ridge Rambler. There is a 20% discount on offerings like the zipline tour, Gem Mining, Rail Runner Mountain Coaster, food & beverages in all restaurants, and retail purchases. This pass can help you skip ticket lines if you buy it before visiting. Charges are as follows:
Adults between 12 and 59 years of age = $59.99
Seniors above 60 years of age = $54.99
Children between 4 and 11 years of age = $51.99
3-year-old children and below = Free
Some attractions need individual ticket purchases, like the Rail Runner Mountain Coaster. The single rider option costs $14.99 per person, and the Tandem rider goes for $18.99 per person. Keep in mind that you can only purchase the tickets on-site. The Dueling Zipline is another separate ticket attraction that goes for $59.99 regardless of age.
Frequently Asked Questions
How long does it take to get through Anakeesta?
You can expect to spend approximately 2 hours going through all the attractions in Anakeesta. However, this depends on the activities you partake in and if you choose to dine and wine. The good news is that the ticket is for an all-day admission which gives you plenty of time to explore the scenic park to the fullest.
How long is the Condola ride at Anakeesta?
The Condola ride from Gatlinburg is short, taking about 10 to 15 minutes to get you to the FireFly Village in Anakeesta. It is an open-air chair experience that can be substituted for the Ridge Rambler ride.
How much is parking at Anakeesta?
Anakeesta park does not offer any self-parking or valet parking to the guests. The best parking option is the Parkway Parking next to where you board the Chondola. It is a paid parking lot but can be substituted with other public parking lots nearby.
Can I bring my pet along?
Unfortunately, you are not permitted t bring any type of pet to the Anakeesta theme park. Only ADA-certified service animals like guide dogs are allowed on the premises. The staff at the ticket counter need to be informed of your service animal in case you plan to bring one along.