Gem Mining in the Smoky Mountains is a fun, and interactive experience fit for the family. Gemstones like sapphires and emeralds are some of the most attractive pieces you can have on your jewellery or pieces of clothing.
Pigeon Forge houses a handful of gem mines, some of which are designed for a kids' experience, most of which fit the entire family. The town also has the most old-fashioned gem mines that provide you with a horseback riding package together with the option of petting animals in the adjacent zoo.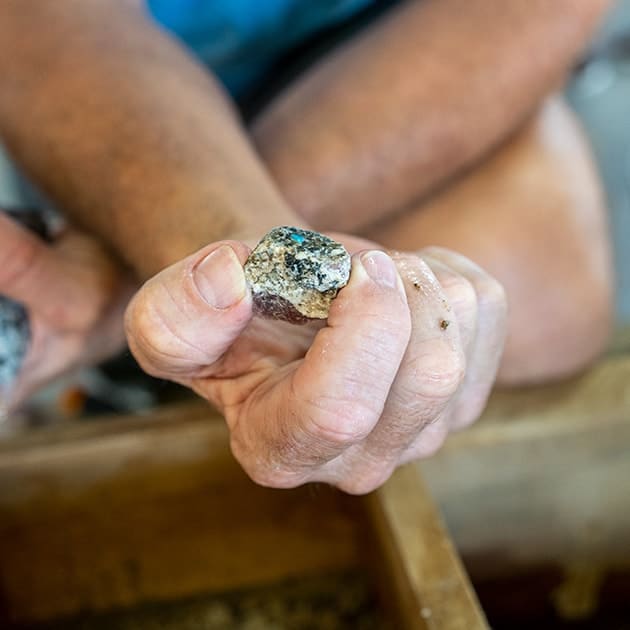 Gatlinburg is no exception when it comes to gem mines, with its kid-friendly location that provides an interactive mining experience. We will take a look at these gem mines what unique offerings they have. You will get to know their attractive prices and the various special offers they have for a great family experience.
Best 4 Gem Mines in Pigeon Forge and Gatlinburg
1. The Pigeon Forge Gem Mine in Pigeon Forge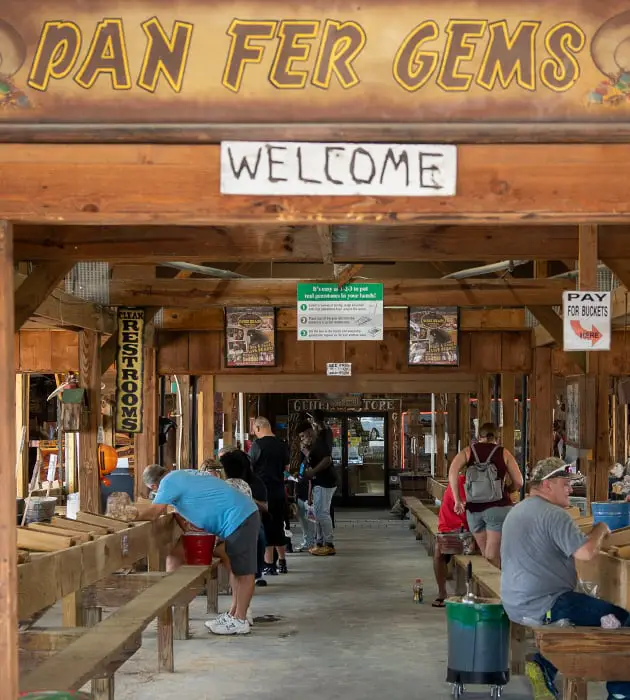 Details:
Address: 2865 Parkway Pigeon Forge, TN 37863
Website: Pigeon Forge Gem Mine
Telephone Number: 865-453-4733
Business Hours: Monday to Sunday from am to 10 pm
So, what is the Pigeon Forge Gem Mine? This is the largest gem mining location in the entire Pigeon Forge and Gatlinburg regions. It is one of those places you will want to visit if you plan a trip to the Great Smoky Mountains National Park.
The most popular gems at the gem mine are the minerals, rough gems, and fossils. The minerals are in plenty awaiting your arrival, including the amazonite, bloodstone, pyrite, sodalite, crystal quartz, Dalmatian jasper, and geodes that come with crystal formations.
The fossil museum is completely free for all visitors, and there are a plethora of options for those interested in gem mining. Mining options come in a variety of buckets that house the precious stones you excavate. The prices range from $35 to $1500, giving you more options in case you are a gem enthusiast or collector.
The $35 specialty bucket is the standard and cheapest option which comes with a mix of Ruby, Emeralds, Garnet, Tourmaline, Amethyst, Smoky Mountain Topaz, Citrine, Sapphires, Rose Quartz, Aquamarine just to mention a few. On the other hand, the $65 Big Bear option is a mix of some of the above gems together with a free 1 Carat Cut/$15 off custom jewellery.
The Miners Special option is an interesting pick since it is tailored for the casual miner. You will get it at $100 with an option of getting fossils on top of the gems. The package comes with 2 Free Carat Cut/ $30 off custom jewellery.
The Super bucket ranges from $500 to $1500 and features the most options. It also gets bundled with other Pigeon Forge Gem Mine activities like free family admission to see live bears at Three Bears General Store and free certificates to dine at the Sawyers Farmhouse Restaurant.
The Gem mining in Pigeon Forge is interactive for creating incredible memories. Start by selecting your bucket of choice, go through the exhibit to find treasures. Proceed to assay your precious gems, and you can end the entire trip by creating fun jewellery pieces like earrings with the gems.
2. Anakeesta Gem Mine in Gatlinburg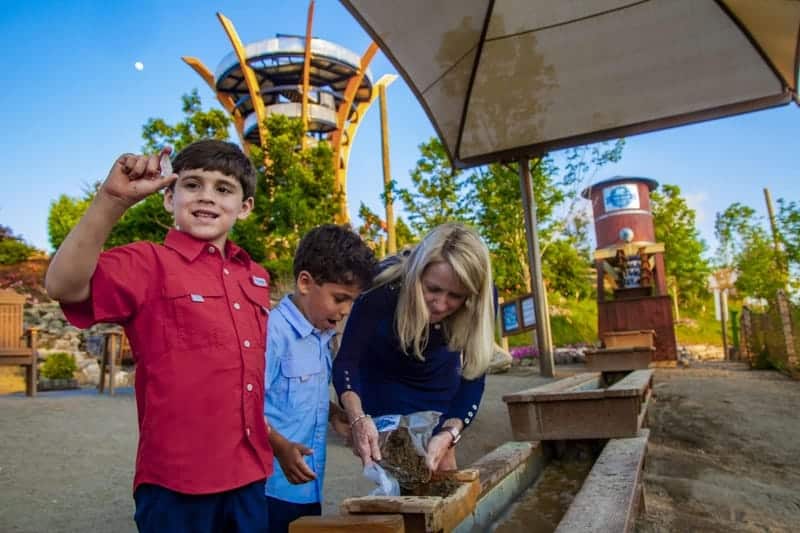 Details:
Address: 576 Parkway, Gatlinburg, TN 37738
Website: Anakeesta Gem Mining
Telephone Number: 865-217-2064
Business Hours: Typically Monday to Sunday from 9 am to 9 pm
Anakeesta is like Disney Land but located in the Smokies. There are a lot of fun activities that will leave your kids wanting more. They can get to swim in the interactive waterfall as they await to search for the precious gems or carry home a few fossils.
The experience is designed for kids to have fun, so the prices are lower than other gem mining locations on Pigeon Forge and Gatlinburg. Tickets begin at $8 and go up depending on the number of diamonds the kids want to carry home.
The gem mine is located at the heart of downtown Gatlinburg at traffic light number 5. The establishment is open every day of the week, whether it rains or shines. The hours may depend on the day and holidays, so check out their website for any updates. You can also sign up for their email list to get recent updates on their activities and operations.
Also Read: 20+ Best Things To Do In Gatlinburg
3. Goats on the Roof Gem Mine in Pigeon Forge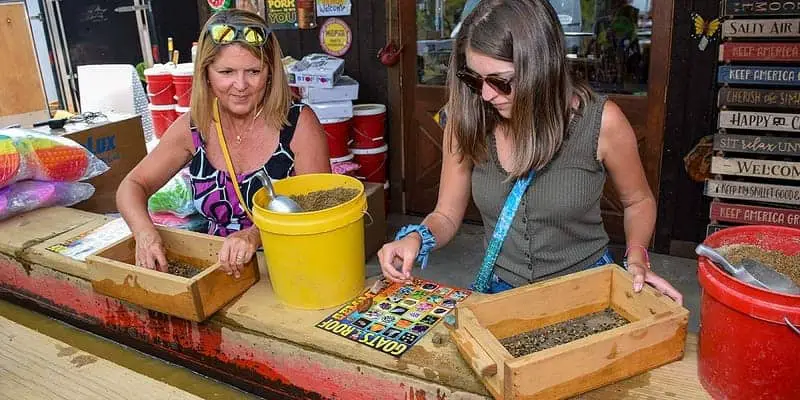 Details:
Address: 1341 Wears Valley Road, Pigeon Forge, TN 37863
Website: Goats on the Roof Gem Mine
Telephone Number: 865-366-7139
Business Hours: Opens every day of the week from 8 am
Goats on The Roof is the most fun name for a gem mining place. The attraction is aptly named because of the goats that roam on the roof of the location. The attraction caters to many things like goat feeding adventured, gem mining, fudge eating, ice cream licking, and getting amazing gifts from their gift shops.
Located at the Wears Valley Road, Goats on the Roof provides a gem mining experience fit for the entire family. Here, you will get to search through rough piles of dirt to get various gemstones that you can then take home to display or turn into jewellery.
The rare gems at Goats on the Roof include rubies, emeralds, and sapphires. The bucket you are given is filled with gemstone-rich soil that you can sift through to discover what lies underneath. You get to keep whatever you find. It is an authentic, old-timer attraction that uses old-style water sluice techniques to get to the gemstones.
The pricing is favorable:
$15 for one bucket of gem-rich soil
$20 for two buckets of gem-rich soil
$25 for a large bucket of gem-rich soil
4. The Big Rock Dude Ranch at Ponderosa in Pigeon Forge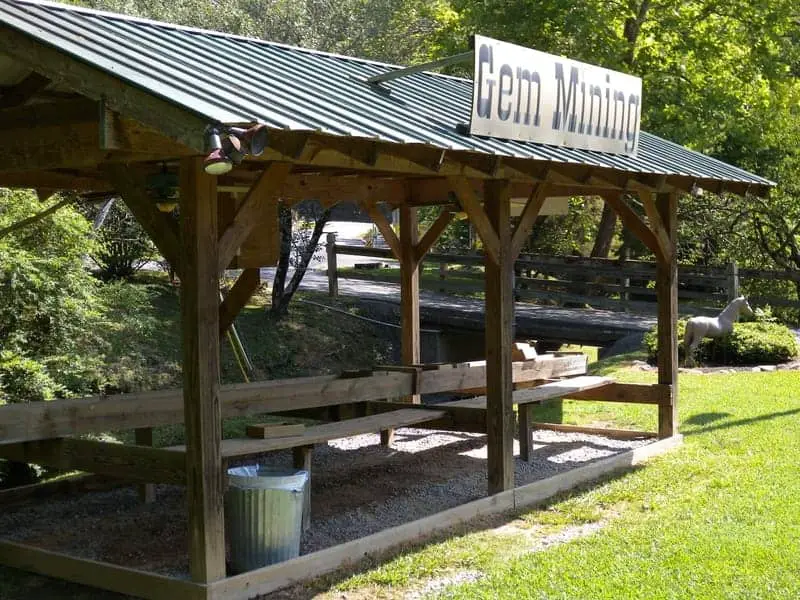 Details:
Address: 909 Little Cove Road, Pigeon Forge, TN 37863
Website: Gem Mining at Big Rock Dude Ranch
Telephone Number: 865-426-9398
Business Hours: Monday to Sunday from 9 am to 5 pm
This is the place to be if you are looking for some old-fashioned activities. The Big Rock Dude Ranch is especially attractive to seniors who want to enjoy the scenic views in a traditional form of fashion that isn't filled with a lot of modern aspects. The main attraction here is horseback riding which is friendly to people of all ages. Feel free to bring the entire family out for some fun time.
Located at Ponderosa just outside Pigeon Forge, the Big Rock Dude Ranch is home to other attractions like petting zoos and fishing ponds. You can get to feed the fish at the pond or choose to jump on an ATV to explore the general store in the region as well as the museum.
The riding stable is huge, with over 80 horses that are well saddled for riding. The horses are specifically picked based on their dispositions and temperaments so as to provide a warm and calm riding experience.
The gem mining location is situated beside Little Cove Creek and the Kids' Playground. Here you will get treated to all sorts of Geo's that will add to the old-fashioned experience of the ranch. The gems are collected from various parts of the world, which is great for the variety collection.
The various types of Geos for your thrilling gem mining experience include pyrite, blue calcite, quartz Chrystal, Amethyst, serpentine, Septarian, Agate, Rose Quartz, Turquoise, and Jade. Bring your kids along; they will love the mining in combination with the free petting zoo that has rabbits and ducks, emus, ponies, and geese, just to mention a few.
The prices are reasonable at just $14.95 for a 3.5-pound gem bag of ore and $22.95 for two bags. Additionally, you can get a special offer in case you bundle the gem mining experience with horseback riding.
An example of the special offer is the $76.95 package that comprises of 3 pound Gem Mining Ore, 1-hour of Mountain Horseback Trail Ride, one bottle of Spring Water, one bag of corn for Petting Zoo, 3-day fishing pass, and one national arbour day foundation donation.
Also Read: 60+ Best & Fun Things To Do in Pigeon Forge
Final Thoughts
Other gem mining locations near the Smoky Mountains include the Carolina Outfitters in Bryson City, Gatlin's in Gatlinburg, and the Great Smokey Gem Mine. Our top 4 picks highlight the abundance of gems in Pigeon forge and Gatlinburg, whether found in the regions or outsourced from elsewhere.
Gem mining is not an activity for hobbyists and miners alone. Your whole family can get to create more memories through the hunts, and the gems make for great commemorative pieces. Moreover, the best Pigeon Forge and Gatlinburg mines offer more activities for your enjoyment, like horseback riding and petting zoos.
Gem Mines in Pigeon Forge and Gatlinburg: FAQs
1. Are Gem Mines in Pigeon Forge and Gatlinburg fake?
Gem hunters often have a hard time distinguishing between genuine gems and fake ones. Most gem mining places have a mixture of both, and some are not sure of the authenticity of their gemstones. If you are looking for real gems in Pigeon Forge or Gatlinburg, then go to the Pigeon Forger Gem Mine; it is the only place where you will get real gemstones in the area. The rest contain a mixture of both real and fake ones.
2. How much is the gem mine in Pigeon Forge?
Pigeon Forge gem mine prices depend on which establishment you visit. However, on a general basis, you can expect to spend between $13 and $ 50 for a mixture of fake and real gems. Authentic gems like the ones at Pigeon Forge Gem Mine will cost you between $35 and $1500, depending on your option.
3. Does Dollywood have gem mining?
Dollywood does not have gem mines but is located just two miles from The Pigeon Forge Gem Mine, where you can mine gems for as low as $35.