Ghost Town in the Sky was a popular attraction in Maggie Valley, North Carolina, from its opening in the 1960s until it closed in 2002. Many people remember it fondly from their childhood. However, since its sudden closure in the 2000s, it has become just a spooky ghost town.
In the last few years, there has been a lot of gossiping on social media about a reopening. But are these claims accurate? Here's everything you need to know about this ghost town in Maggie Valley.
What is Ghost Town in the Sky?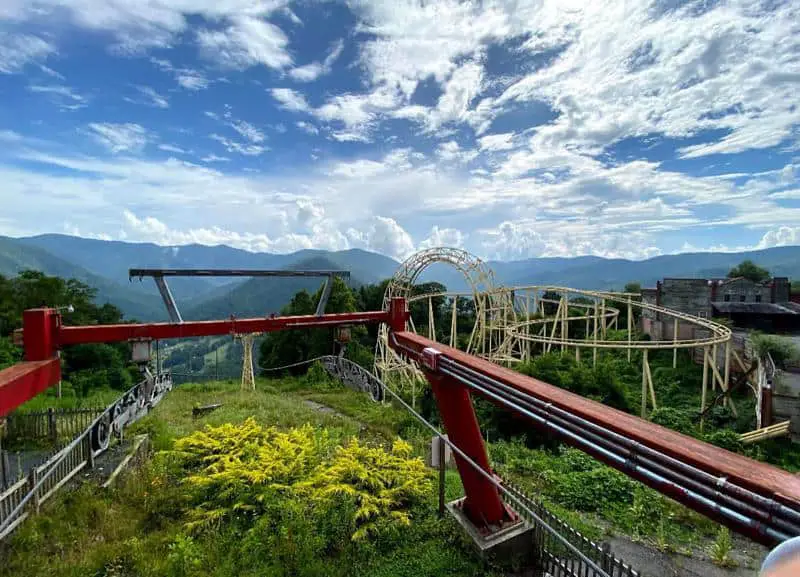 Ghost Town in the Sky, also known as Ghost Town Village, was an amusement park with a Wild West theme. It sits at the top of Buck Mountain in Maggie Valley, North Carolina, and used to have a top elevation of 4,650 feet.
The entire park sat on 250 acres on top of a mountain, so it could only be accessed by riding a train or chairlift to the top. The park's center had an area designed like a ghost town of the Old West, while at different parts, there were other town areas, each at different elevations. In some spots, the staff would stage gunfights and other entertainment.
Over the years, new rides and attractions were added to Ghost Town in the Sky, including a massive roller coaster. This attraction was one of a kind, but today, it sits abandoned, making it a real-life ghost town. It has been closed for over two decades now.
Ghost Town in the Sky in the 60s and 70s
Ghost Town in the Sky quickly became the largest attraction in Western North Carolina and one of the largest in the country. The park brought thousands of visitors each day to Maggie Valley.
On holidays during the summer, Ghost Town would have up to 10,000 visitors. It attracted millions of visitors to Western North Carolina and Maggie Valley, resulting in an economic boom for the small town of Maggie Valley. In fact, many new hotels, motels, and businesses were created after the opening of Ghost Town in 1961.
Ghost Town Maggie Valley had about 120,000 square feet of building space that was divided into several different original towns. Each town was located at different elevations of the park and offered different experiences such as live shows, horseback rides, camping, train rides, and of course, amusement park rides.
Why Did Ghost Town Experience a Decline in Visitors?
During the early 1970s, Ghost Town's peak would be over 400,000 visitors annually, which declined significantly by 2008. The decline in attendance was due to mechanical issues with rides, causing frequent ride closures, and interest in the Wild West declined through the 70s to almost zero interest in the eighties and beyond.
Why Did Ghost Town in the Sky Close?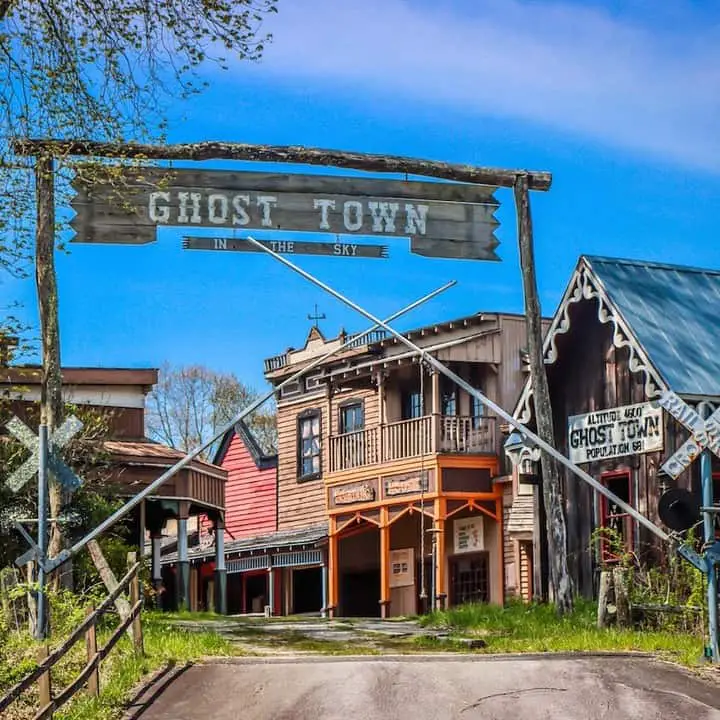 In 2002, the chairlift collapsed, leaving guests stranded on it for hours. Three minor injuries were reported during the evacuation, and the park completely closed shortly after. So, despite some beliefs, the closure of the park was not due to a guest's death. But there were indeed many injuries during the unfortunate event of the chairlift's collapse.
Why Previous Attempts of Reopening Failed?
Even though the park tried to reopen several times, there were always setbacks, causing it to close again. Bursting water pipes, vandalism, and safety inspections caused the park to stop further reopening operations. There was also one incident in 2013 where a man got shot with a real bullet during one of the "staged gunfights," but it's still unclear how it happened.
Every time the park closed, it wasn't just because of one or two incidents. Overall, it's a lot of work to transport people, water, and supplies up to that high of an elevation. So, whenever the park wasn't busy, the business struggled to earn enough income to keep the Ghost Town in shape. Eventually, there were too many issues to keep the theme park open and running, so it hasn't been able to reopen.
Is Ghost Town in the Sky Going to Reopen?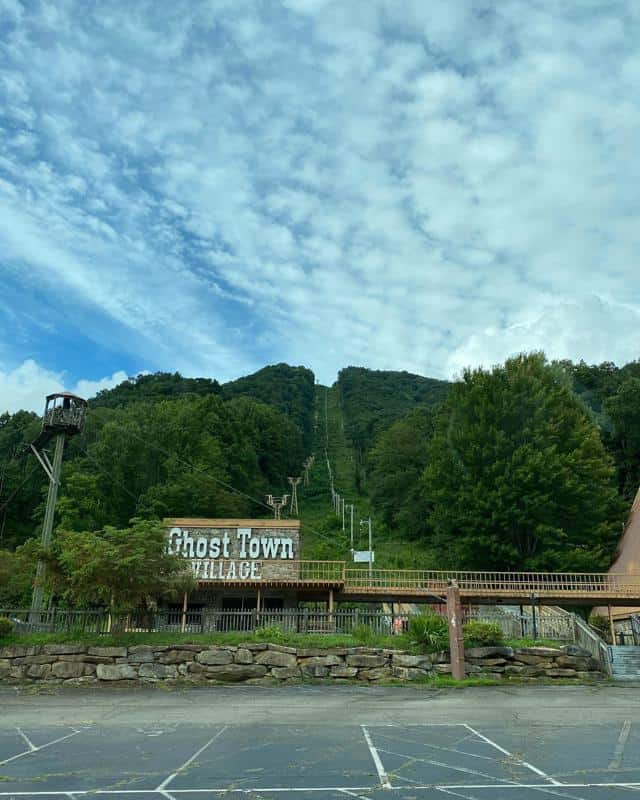 The property has had a new owner, Alaska Presley, since 2012, but it's unclear if or when the park will reopen. Some reports claimed that the park was to reopen within the year 2022.
However, in April 2022, the future of Ghost Town in the Sky got a little more complicated. Alaska Presley passed away at the age of 98 on April 7th. She has been part of the property since its opening and aspired to develop and innovate the park once again.
During the time of her passing, she still held some control and ownership of the property. So, it is unclear who will now be named the owner or controller of the property. Thus, depending on the new owner, the future development of the property could be shaped completely differently.
Is it Possible to Explore Ghost Town in the Sky?
The most commonly asked question regarding Ghost Town in the Sky is whether people can visit it today. While photos or videos are often shared by explorers fascinated by the creepy and forgotten, the abandoned theme park is, in fact, closed to the general public. Not only is it difficult to access, but it has a strict no trespassing policy.
Are There Other Ghost Town Attractions in North Carolina?
Ghost Town in the Sky may not be open to the public, but there are other spooky places you can check out. North Carolina has several real ghost towns. But they are not controlled by any type of organization, so only visit them at your own risk. These abandoned towns aren't always tourist-friendly, so they may not be safe. Some of these towns are Buffalo City, Brunswick Town, Cataloochee, Diamond City, Judson, Lost Cove, Mortimer, and Proctor.
Read More: 
Final Thoughts
Ghost Town sadly remains closed and abandoned to this day. While its closure and difficulties had a significant impact on Maggie Valley and surrounding areas, Maggie Valley is actively making a return to popularity. It is refocusing on being the hub for many mountain outdoor and recreational activities.
Furthermore, there are plenty of other cool things in North Carolina that won't involve trespassing. So, if you were hoping to visit this eerie park, don't be discouraged! You can still have a great vacation in North Carolina by experiencing other attractions.