With stunning mountain views, adorable places to stay, and no shortage of fun activities, it should come as no surprise to hear that Pigeon Forge and the surrounding region are thought to be the wedding capital of the south. In fact, it is often considered one of the leading destination wedding venues in the United States!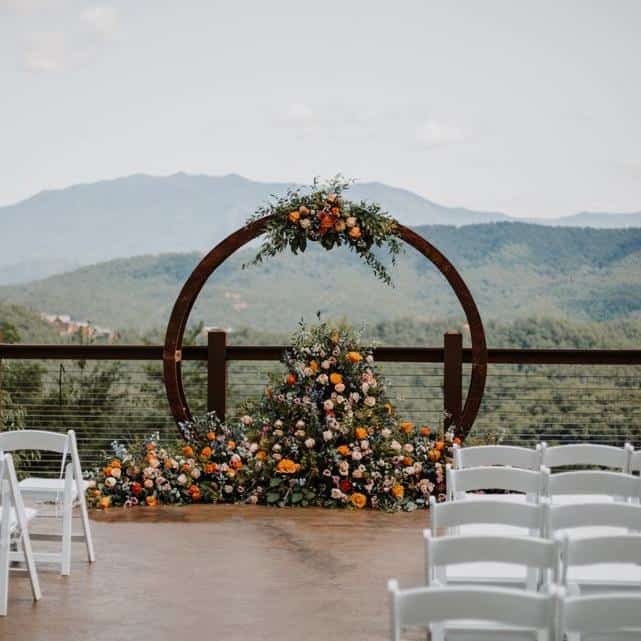 What better way to declare your love for your spouse, or renew your vows, than in a romantic wedding chapel in Pigeon Forge. Whether you want a walk-in wedding, quiet elopement or a big family party, wedding chapels in Tennessee can accommodate your needs.
We have found 5 of the best wedding chapels in Pigeon Forge, Tennessee.
Best Wedding Chapels in Pigeon Forge
Wedding Bell Chapel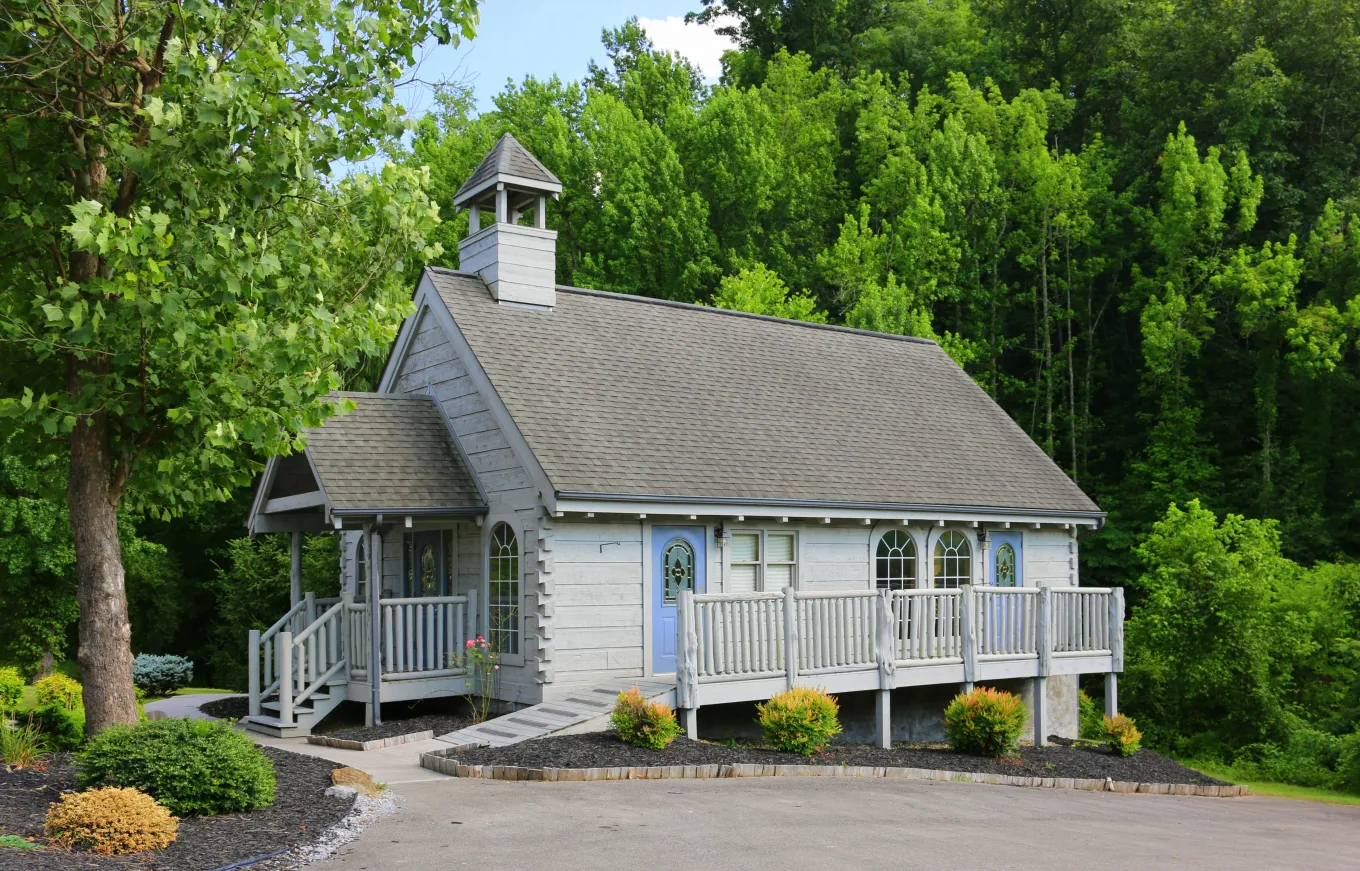 Wedding Bell Chapel replicates the classic, rustic cabins Pigeon Forge is known for. This wedding chapel is located in a seclude and romantic setting against the backdrop of a thick forest of trees. Inside the chapel features rustic knotted pine wood, stacked stone walls, a large crystal chandelier and stained glass windows.
Wedding Bell Chapel offers affordable wedding packages to suit any couple's budget. Whether you want a grant 40-person ceremony, or something just between the two of you, they will have the perfect package for your preferences and budget. This chapel service has been voted Best Chapel in Pigeon Forge by thousands of couples and the TripAdvisor Certificate of Excellence Winner multiple times.
Are you looking for a fun and fast way to get married or renew your wedding vows? You can pull up to their chapel, and a church-ordained minister will then perform the ceremony without you needing to get out of your vehicle. It should only take 3 to 4 minutes.
Address: 2254 Alpine Village Way, Pigeon Forge, TN 37863
Prices: $129 chapel ceremony with no guests, $189 simple package, $259 20-40 guests. Prices go up to $999 for the all exclusive package.
Capacity: 40
Creekside Cove Wedding Chapel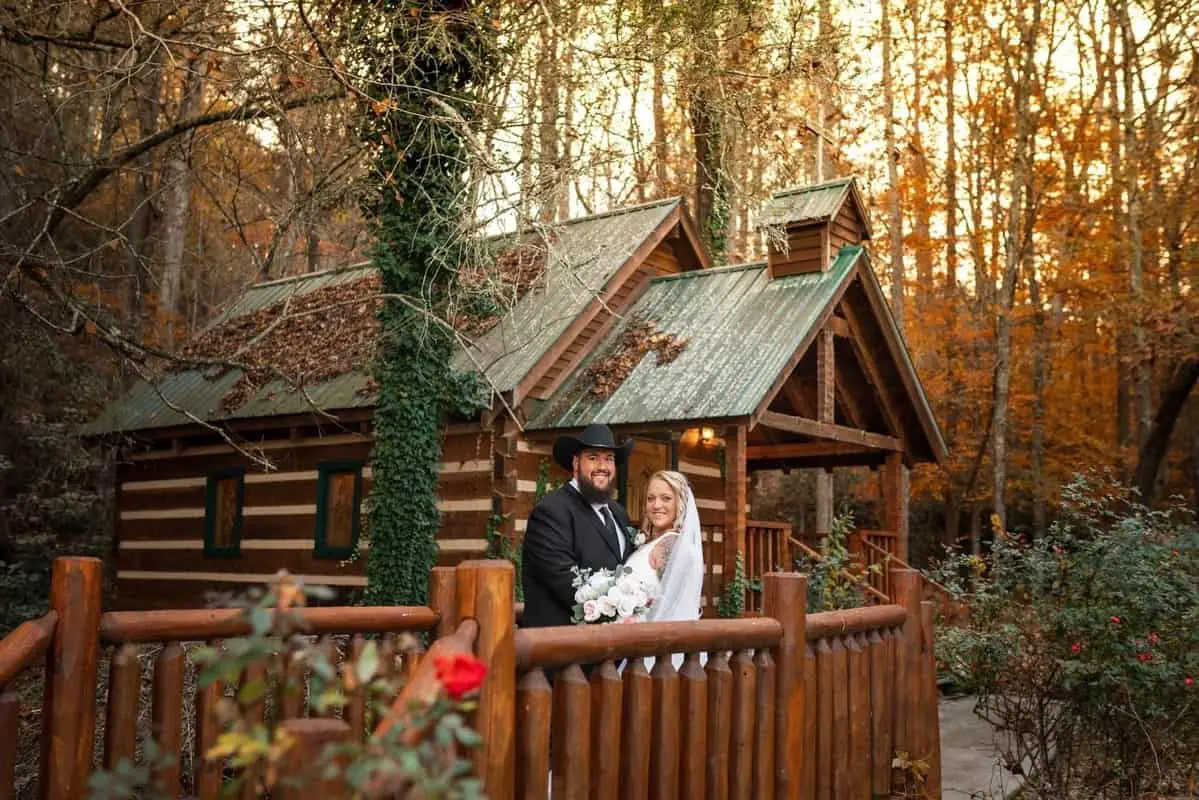 Creekside Cove Chapel is an adorable rustic wedding chapel in Pigeon Forge. It has been designed to replicate the chapels early settlers would have used for their wedding ceremony, creating a simplistically romantic setting.
Get wed inside the chapel, which has authentic wooden pews and a light stained wood interior design. Alternatively, get married outside the chapel under the secluded gazebo, in the relaxing meadow or on an arched bridge. The chapel holds up to 20 guests, for a more modest experience.
Address: 702 Wears Valley Road Pigeon Forge, TN 37863
Prices: Prices start at $279 with a platinum wedding costing $799
Capacity: 20
Honeysuckle Honey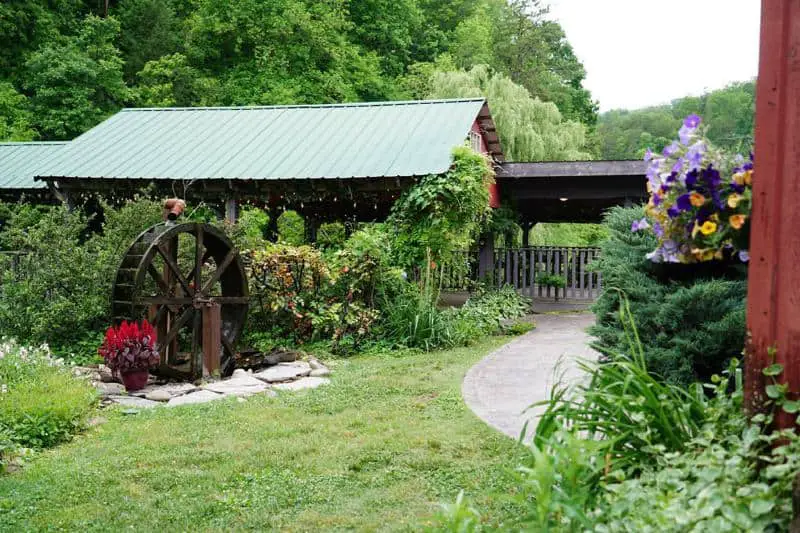 Known as The Best Place to Elope in East Tennessee, Honeysuckle Honey is an all-inclusive wedding venue. This venue offers a 45-minute elopement package for groups of 30 people or fewer. The elopement package wedding option does not include a reception with a meal or a DJ.
The wedding willow tree is the most popular, especially for couples eloping. There is also a cute stone temple arch and a historic wedding arbor. There is a covered pavilion which offers shading and the traditional wedding chapel that seats 40-50 people.
Address: 934 Mill Creek Rd Pigeon Forge, TN 37863
Prices: $1,499 weekdays or $1,599 on Saturday's elopement package, all-inclusive $1,999 weekdays or $2,100 on Saturdays, $2,499 weekdays or $2,599 for the Saturdays mountain package or large family elopement.
Capacity: 30
The Magnolia Wedding Venue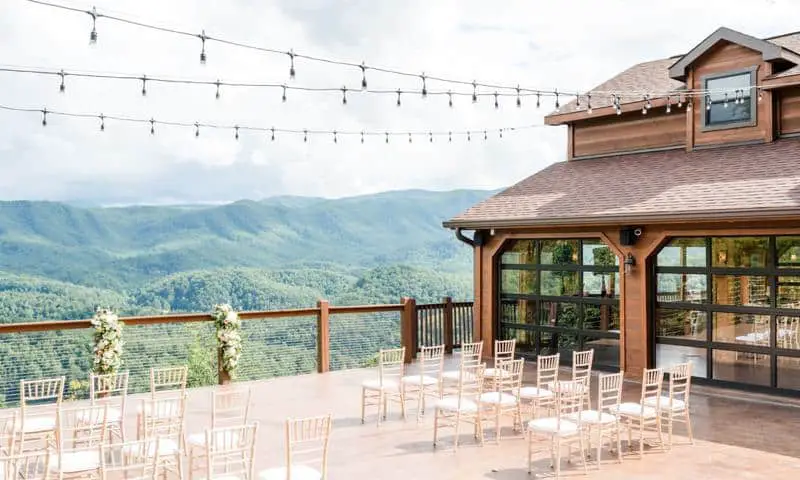 The Magnolia Venue sits on a mountain and offers panoramic views over the stunning Smoky Mountains. You can marry inside their chapel or outside on the patio area. This small family run company cares about the little details and makes the ceremony as personal as possible.
This modern wedding venue has a wonderful, intimate feel that is out of the way of the general busyness of life. It is so out of the way and remote that guests need to take a shuttle to get to the venue due to the steepness of the road leading up to it.
Unlike other Pigeon Forge venues, the grand ballroom isn't a barn or cabin, it's a beautiful ballroom. With large windows, you can enjoy stunning views from the inside. The outdoor patio features bistro-style lighting for an unobstructed view of the Smoky Mountains. The surrounding grounds are filled with a forest area and woodland, ideal for photography.
You'll even get access to a fantastic bridal suite at The Magnolia Venue. It's a modern and large building, filled with windows so you can enjoy the stunning views. There is a serene, connecting deck with mountain views.
Address: 1120 Eagle Pointe Way, Pigeon Forge
Prices: Between $4,000 to $11,750n
Capacity: 100
Angels View Wedding Chapel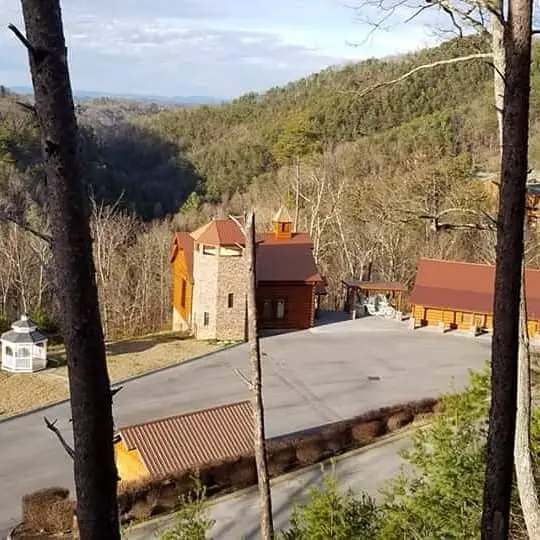 Angel's View Wedding Chapel is a wedding venue located in Sevierville, a less than 15-minute drive, surrounded by stunning mountains and the Black Bear Ridge Resort. This wedding chapel covers all areas, making it as stress free as possible. This venue offers indoor and outdoor ceremonies,
The wedding chapel's humble yet timeless spaces provide couples with enough room for all the family, whilst also enough room to enjoy the lush green landscape. The chapel features a large window that overlooks the nearby mountains, so you can marry in bad weather without compromising on the view. You can also marry outside on the chapel lawn or by a white gazebo.
Angels View is the ideal pick if you want a one stop shop where you sit back, and let the chapel do everything for you. These packages include everything from accommodation to photography and catering.
Address: 1740 High Rock Way, Sevierville, TN 37862
Prices: From $600 to $17000
Capacity: 65
Related Read:
Wedding Chapels in Pigeon Forge:

FAQs
How do I get a marriage licence in Tennessee?
Compared to other American states, getting a marriage license in Tennessee is relatively quite easy for couples in a rush. If you want to get legally married in Tennessee, even for a walk in wedding, you and your future spouse must obtain a marriage license from the local county clerk's office.
To get a licence, you must bring your ID or birth certificate to prove your date of birth plus a social security number. Most marriage licence offices are open on Saturdays, and the state allows you to enjoy your license and get married on the same day.
How long will it take to get a marriage licence in Pigeon Forge?
In Tennessee, marriage licenses are valid immediately. That means you can go straight from the county clerk's office to the wedding chapel. The marriage license will be valid for 30 days after your wedding.
The only delay is that the Tennessee requires the wedding officiant to tear off the bottom portion of the marriage license, sign it, and send it back to the county clerk's office to be recorded. This means your marriage will not be recognized until this form has been received. Make sure your mailing address is correct, as your marriage licence will be sent back to you from the county clerk's office.
What is a wedding chapel?
A wedding chapel is a location in the Smokies that isn't a formal church, legal court or outdoor venue. Chapels are a great option for a quick elopement, a smaller wedding or a more controlled wedding party.
Chapels will usually come with their own dedicated staff, who will coordinate your nuptials and make the day much easier. They can cover everything from the photography and accommodation
Final Words
No matter what your wedding goals are, Pigeon Forge will provide you and your guests a wonderful spot to relax and enjoy while providing the happy couple with everything they need to make it a one-of-a-kind day to remember.