What is The Downtown Flavortown in Pigeon Forge?
Downtown Flavortown is a massive 43,000 sq. foot facility.  The new mixed-use entertainment venue, restaurant, and bar are finally open in Pigeon Forge.  The gigantic entertainment Center /restaurant is a partnership between FACE Amusement Group and Chicken Guy (Fieri's brand). Downtown Flavortown is the seventh establishment opened by FACE Amusement in Pigeon Forge, Tennessee.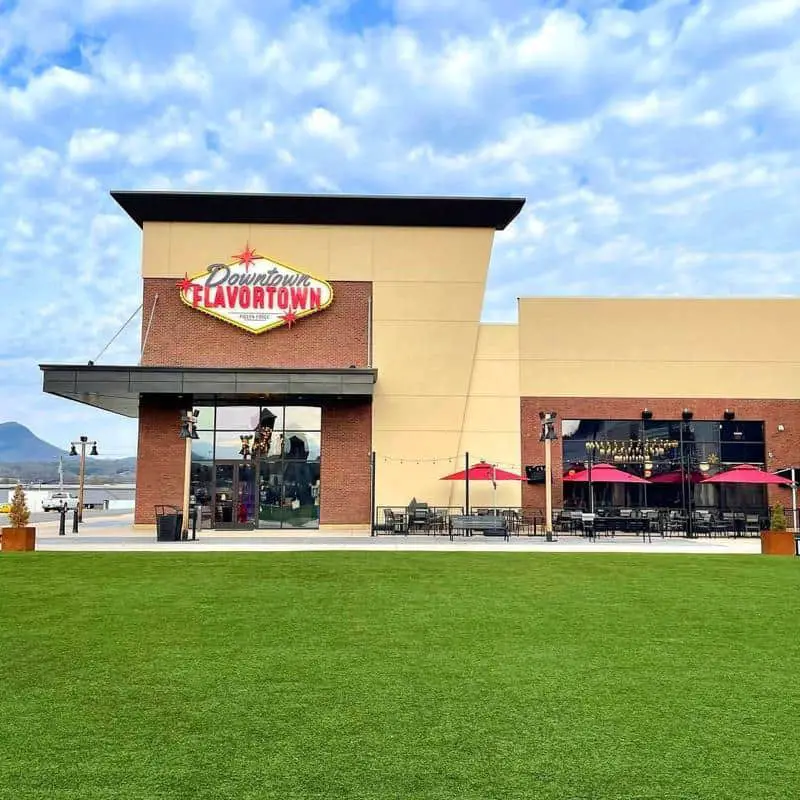 Together, Chicken Guy and FACE Amusement combined their wits to develop a mixed-use restaurant/bar and entertainment venue for the entire family. Downtown Flavortown in Pigeon Forge pulls out all the stops with an open kitchen where you can watch the chefs at work, and a sizable open Tiki bar, with an open seating capacity of 300! HITECH arcade games, a 14-lane duckpin bowling alley, and a gift shop sprawled across 10,000 square feet of pure bliss!
An official statement from The CEO of Face Amusement – Bucky Mabe:
"This is a perfect pairing of a chef-focused restaurant with a family entertainment center and a natural extension of our relationship with Guy Fieri and his team," said Bucky. "Only the ultimate explorer of all-American flavor could mash up this fascinating range of unexpected combinations that will be sure to turn a family night out into lifelong memories."
What to Expect at Downtown Flavortown
Location: Mountain Mile shopping complex, Suite 100, 2655 Teaster Lane, Pigeon Forge, TN 37863
Hours: Sun- Mon 11:00 AM -11:00 PM
Menu Prices: from $9.95
Bowling Prices:  from $25
Gaming Prices: from $25
Downtown Flavortown is where great food, unforgettable family moments, and excitement meet. Guy Fieri is a household foodie name across the US, and he passionately unites EVERYONE with his wicked tasty treats. Fieri was so excited about the opening of this particular establishment.
Speaking to the press, Fieri remarked, "No matter where you go in this great country, I can put ya' on the road to Flavortown, real-deal food and good times, that's what I'm all about. But there's one experience that I've been saving for a particular time and place. I'm talking next level, go big or go home, the ultimate party. And I'm bringing the great people of Pigeon Forge with me to Downtown Flavortown."
Flavortown is not your typical restaurant. It has a large window between the dining area and the kitchen that allows guests to peek in and watch as the chefs do their magic. Above that window hangs a golden decoration glittering on the wall, moving in the light. Some walls are colored, while others have huge, energetic designs.
In addition to the mega entertainment packed at this incredible joint, don't miss the classic opportunity to take photos beside the iconic 1968 Chevy Camaro on display.
The Menu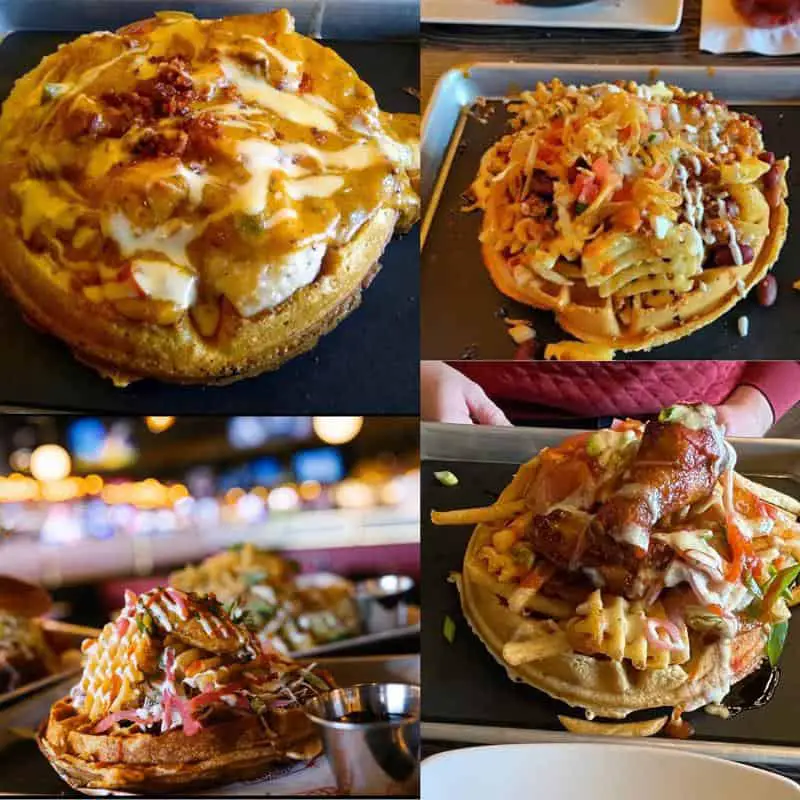 We're not talking about your usual healthy meals here. At the Downtown Flavortown restaurant, you will experience an assortment of flavor-blasted Americana cuisine – real cheesy overstuffed burgers, Trash Can Nachos; Nashville stuffed hot chicken waffles, fried pickles, and of course the famous Fieri's Donkey Sauce.
Try some greasy faves with Fieri's award-winning Bacon Mac N' Cheeseburger topped with sweet apple wood bacon, goes well with Dragon's Breath Cheese Fries. You can opt for the giant turkey burger or steak sandwich, with yummy extras, served generously, including onion straws, and crown it with a mountain of Donkey Sauce.
The sandwich is stacked so high that the flavors of each ingredient complimented each other so well, particularly with the topping – the shredded cheddar cheese layer. A fry trio accompanies each main dish: standard fries, potato wedges, and waffle fries, all mixed and served in a miniature imitation of a frying linen basket on the food tray.
Most meals are in the $15-$20 range. Menu items range from $9.95 to $32.95.
Overall, Flavortown food is terrific; large servings, so huge you need a phat appetite to finish your meal. The atmosphere is lively; kids don't get bored waiting for orders to come through. The Gaming arcade and bowling alley are clean and quite impressive.
Tiki Bar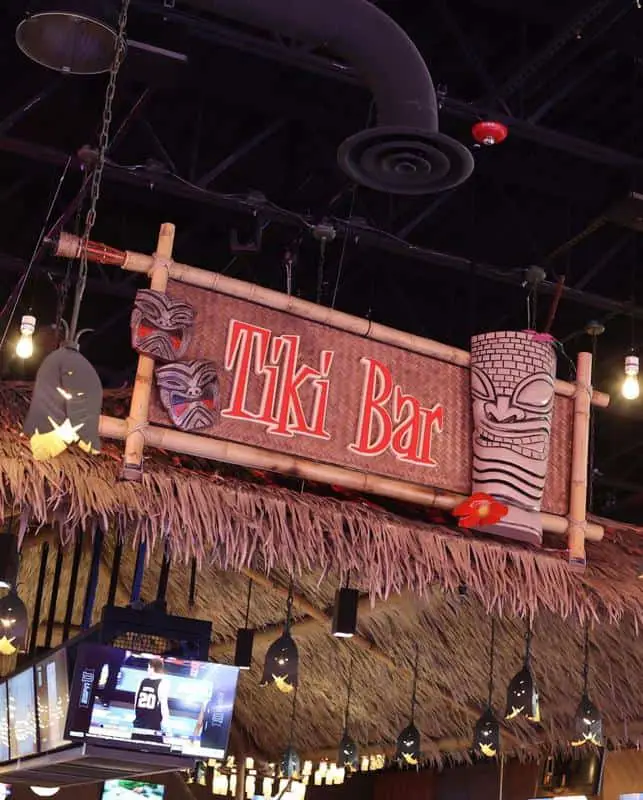 Downtown Flavortown also features a full-service Tiki bar, which serves tasty margaritas, and large "Bubblin Bowls" — which the menu thoughtfully advises is ideal for three people. Enjoy timeless classics like the Bloody Mary garnished with candied bacon, mojitos, and fancy Long Island iced teas.
Here's the best part…
Tiki bar serves drinks in gorgeous relic mugs and mason jars reminiscent of southern culture. To crown your dining experience, since you probably will never see Fieri at the restaurant, you can take a picture with his life-sized figurine in the lobby or the sleek 1968 Chevrolet Camaro memorabilia in the space.
So photo-worthy for your gram!
Bowling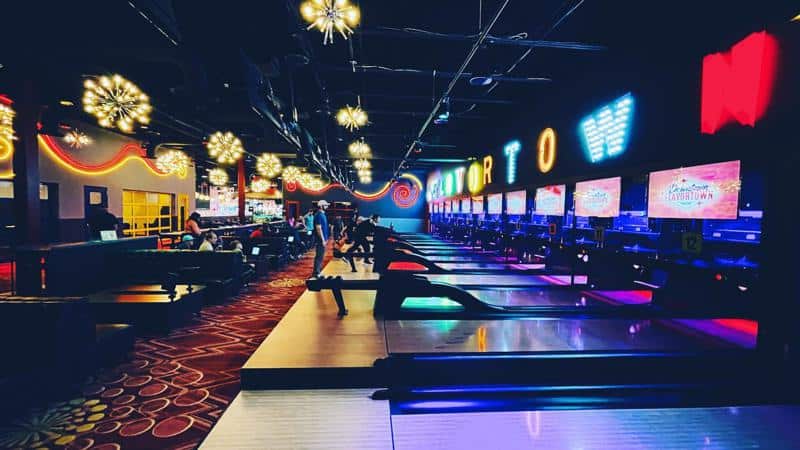 The Bowling area is a 14-lane duckpin alley sprawled across a gigantic arcade. The place is so huge you want to slide to the end of the pit, but worth every dime—a great spot to hang out in the evening with your friends and family.
Each of the 14 alleys has a huge TV screen to track your score in every game that you play. Duckpin bowling involves bowling with a smaller ball (without finger holes) and equally smaller pins.
The pins are the same, but the smaller ball makes it somewhat challenging to achieve a strike. Bowlers are allowed three rolls per frame, a great consolation for the elusive trikes.
If you prefer dining at the bowling alley area, here's a complete menu for your choice pizzas, trash can nachos, or the real deal chicken wings.
Arcade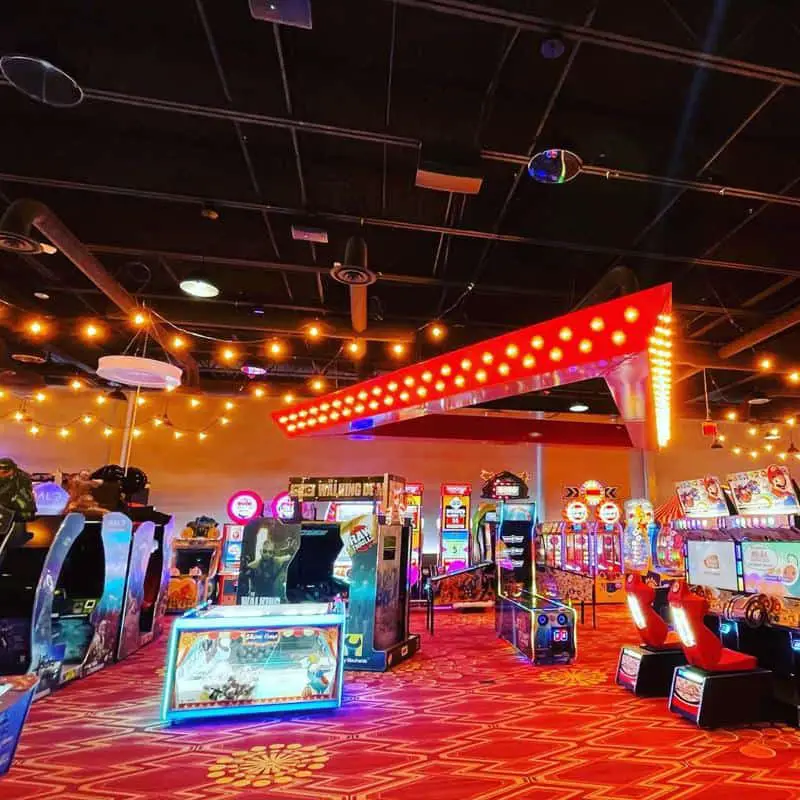 The Best attraction besides Fieri's restaurant in Downtown Flavortown is the vast 10,000 square feet arcade, with addictive cutting edge and classic games" and "go-big-or-go-home prizes, which is a lot of fun for the kids.
The arcade is a decent size area with diverse games. Most games go for 7-11g bucks. You need to get a card at a little booth at the arcade's entrance to your left to access any game. You can check your ticket balance and refill your card there as well. The arcade has sufficient staff on call, and ready to assist you and answer any questions that you may have.
A little History of Downtown Flavortown
About Guy Fieri
Guy Fieri is an Emmy Award winning American restaurateur, author, and Food TV presenter. He came into the limelight in the 2006 food competition in California dubbed "the Next Food Network Star." Fieri aced the competition and was granted his debut TV series, the "Guy's Big Bite." Since then, his success with food and diners knows no boundaries.
As a celebrated Chef, and food TV host – Fieri invented "Flavortown" in one of his shows while joking about a giant pizza that looked like a man-hole cover. That one-liner became the highlight of his jokes about an imaginary town – "Flavortown," as he often referenced the mythical land during his shows. He then jokingly referred to himself as the "Mayor of Flavortown."
The name became an inspiration for his new venture, a delivery-only diner concept dubbed "Flavortown Kitchen." Fieri partnered with other stakeholders and opened "virtual diners" across the United States. That's how he landed a lucrative business opportunity in the Mega restaurant, Downtown Flavortown, in Pigeon Forge partnering with Clarence Mabe, an entertainment gaming guru in most of the Southern States of the US.
About Clarence Mabe
Coach Clarence Mabe is a resident of Gray, Tennessee, and was always fascinated with video games since way back in 78′. He is passionate about family values and family entertainment. Over the years, Clarence has established numerous entertainment arcades in Tennessee including Rockin' Raceway, a family entertainment center (FEC), which saw the creation of FACE Amusement in collaboration with his sons Bucky and Rusty Mabel.
FACE Amusement is continually growing with new innovative arcades and attractions across Tennessee hence the partnership with Guy Fieri in the new amusement joint, Downtown Flavortown in Pigeon Forge.
Conclusion
Planning a vacay in Pigeon Forge, Tennessee? Check out the newest joint in town housed at the Mega Mountain Mile Shopping complex. Experience the tasty, wickedly huge burgers served in classic Fieri style as you listen to his soundtrack playing.
Watch your favorite game on multiple screens in one of the lobbies, or let your family have a swell time playing games in the arcade while you watch.
Downtown Flavortown in Pigeon Forge is an enjoyable place to visit and experience it all with your family. It's a bit pricey, but what arcade isn't? Plus, the location is perfect – it is in a tourist area with Guy Fieri's brand restaurant.
Related Read:
Flavortown in Pigeon Forge: FAQS
1. When did Downtown Flavortown in Pigeon Forge open?
Downtown Flavortown restaurant and bowling alley in Mountain Mile Shopping Complex officially opened its doors on March 8, 2022, in a partnership between Guy Fieri and Face Amusement Group.
2. Is there outdoor seating at Downtown Flavortown?
Yes, they do have an outdoor seating area.
3. Is Downtown Flavortown presently accepting dining or party bookings?
Yes, you can go to their website and choose your preferred date, time and dining experience on Open Table.
4. What is Donkey Sauce?
It's Guy Fieri's famous ingredient. He calls it aioli; a blend of mayonnaise, mustard, Worcestershire, garlic, salt, and pepper.