The Smoky Mountains offer several great outlets and specialty shopping. However, the Gatlinburg and Pigeon Forge Outlet Malls are the two major affordable shopping destinations.
The Smokeys bring the best in Pigeon Forge when looking for brand shops, incredible deals, and incredible variety. Whether you need outdoor gear for your next adventure, souvenirs, new books, or new outfits, the outlet mall shopping districts have everything you need.
Outlet Malls in Pigeon Forge and Gatlinburg
Tanger Outlet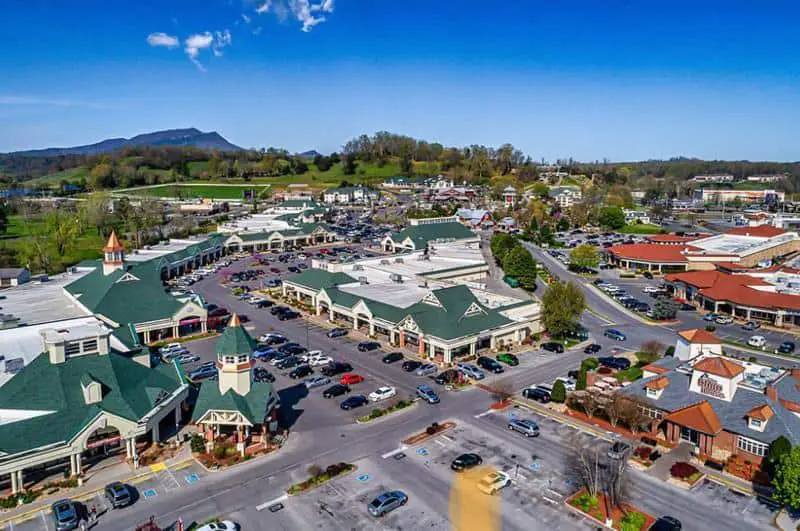 Opening Hours: Monday to Saturday from 10 am – 9 pm, Sunday from 10 am – 7 pm
of Stores: 100+ stores
Website: Tanger Outlets
Tanger Outlet is a premium outlet mall near Pigeon Forge, and specifically, it is located in Sevierville. It is home to over 100 leading domestic brand manufacturers and premium designer brands. This is the best place in the Smokies area to buy designer brands at a discounted price.
In fact, here, you can find all your favorite brands up to 70% off. In addition to the fantastic savings you experience every day in Tanger, you may also receive special coupons and offers to help you save even more. Visit the site regularly to keep up with seasonal sales and discounts at this Tennessee's only Tanger luxury outlet mall.
Some top jewelry and apparel brands with stores here are:
| | | | | |
| --- | --- | --- | --- | --- |
| Adidas | Aeropostale | Coach | Clarks | Converse |
| Disney | Fossil | Gap | Kate Spade | Michael Kors |
| New Balance | Nike | Pandora | Polo Ralph Lauren | Reebok |
| The North Face | Tommy Hilgifer | Under Armour | Vans | Victoria's Secret |
While in the mall, you may be wondering where to get food. The shopping center offers various well-known shops that offer light meals and drinks to re-energize for more shopping! Some of these stores in the mall are:
Auntie Anne's
Ben & Jerry's
Chop House
Smith Creek Moonshine
Starbucks Coffee
If you are a brand addict, Tanger Outlet will give you exclusive deals on top designer clothing worn by top celebrities. All this at massive discounts that will save you a few hundred dollars!
Pigeon Forge Factory Outlet Mall
Pigeon Forge Factory Outlet Mall, also known as the "Red Roof Mall," has been one of Tennessee's most popular outlet retail centers since the 1980s. It is a gigantic vast red roof complex for significant discounts on clothing, accessories, tools, jewelry, children's clothing, watches, belts, furniture, and other similar items. With these many shop options, you can shop to your heart's content! This is Pigeon Forge's ideal place to get terrific bargains for everything you might desire.
Stores include Big Dog Sportswear, Handbag Superstore, Direct Tools, Levi's and Wrangler, L'Eggs Hanes Bali,  Atlas Travel Network, Veterans Store, and Souvenirs World.
Hunger shouldn't stop you from continuing shopping. Luckily, you don't have to leave the center for your lunch or afternoon drink. Grab a bite of Domino's Pizza and enjoy more shopping!
Related Read:
Advantages Of Shopping In Outlet Stores Over Retail Malls
You are guaranteed to find great discounts on branded items.
The mall's outlet stores have exclusive factory inventory. In other words,  you can buy anything at the factory price, not resale.
You buy high-quality items at low prices.
You can find luxury brands like Victoria's Secret at your local mall.
You can find even the latest products in stock.
FAQs
Do outlet malls sell only outdated stock?
It's not entirely true that outlet stores only sell old stock. Indeed, regularly, outlets sell old items to clear out the warehouse, but they also sell new products. So don't be discouraged if you see last season's trends. Look closely and carefully, and you will surely find new products too. Furthermore, most available products, old and new, are at a lower price than retail stores.
Do you save money when shopping at outlets?
Yes. At outlet malls, you will get massive sales of high-end products. This is because brands use outlet stores to increase sales by offering discounts that eventually encourage purchases. However, sometimes there might be a catch.
Some consumer reports highlight price differences for some products. You may find products that are at the same or more expensive price in outlet stores compared to retail stores. Of course, this is rare, but still check the retail and outlet prices.
Final Thoughts
Shopping in outlet malls has great advantages in getting quality products at affordable prices. Big brands use these stores to bring their high-end products close to you at discounted prices. Of course, you will also find individual outlet stores in other regular malls, apart from those in outlet malls, but there's nothing better than having your favorite brands in one place.
If you are traveling to Pigeon Forge or Gatlinburg, complete your stay in the Smoky Mountains with a trip to one of these incredible outlet malls.
Grab your favorite sneakers or apparel at a reduced price, and then dine at one of the outlet's fancy or casual food stories. You may save more than you think on quality brands like Levi's, Under Armour, Victoria's Secret, or Clarks, among many other famous names in the fashion industry.