When Buc-ee's announced its intention to open its largest store in Sevier County, everyone was obviously over the moon.
After all, it is said that the beloved beaver-themed Buc-ee's Family Travel Center, planned for Sevierville, will be the world's largest convenience store.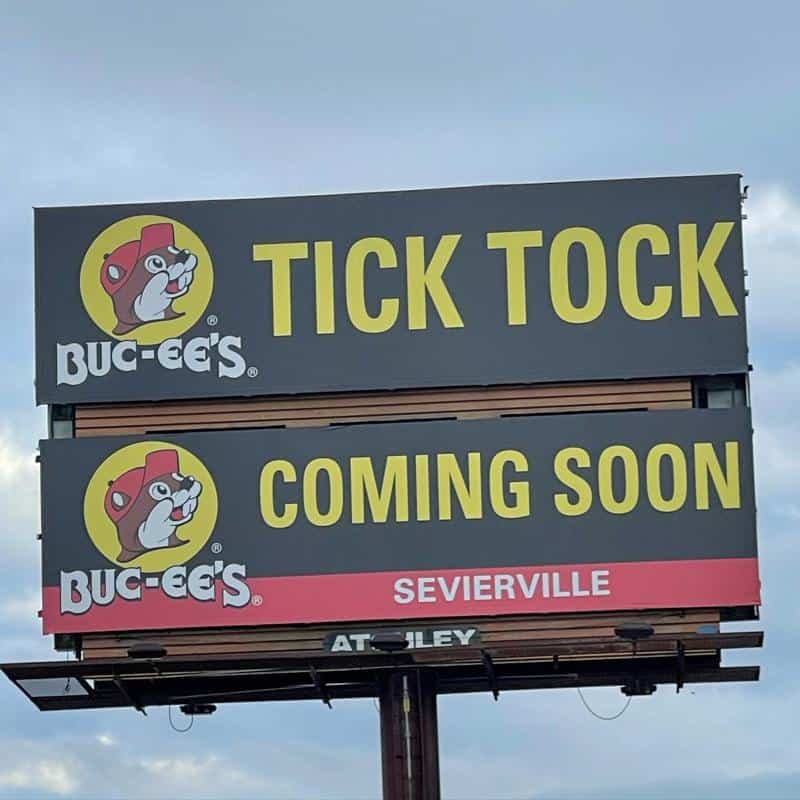 But there are still a lot of questions about Buc-ee's grand opening. So, let's unfold them all one by one.
What is Buc-ee's?
First of all, for those who might not be familiar with this grand store, Buc-ee's is a convenience store chain based in Texas. It was founded back in 1982 in Lake Jackson.
Its first location outside of Texas opened in Alabama in 2019, spurring a rapid expansion throughout the Southeast with stores in Georgia, Florida, South Carolina, Kentucky, and now, Tennessee.
However, this is not just like any other convenience store. Wishing to offer road trippers and other travelers a space to fulfill all their needs, Buc-ee's has created the largest convenience stores in the world.
Buc-ee's claims to be "home of the world's cleanest bathrooms, freshest food, and friendliest beaver." So, many people intentionally travel to this convenience store and experience the enormous store filled with endless snacks, made-to-order meals, a gift shop, and clean bathrooms.
Why Do People Love Buc-Ee's so Much?
There are many reasons why locals and people passing through love Buc-ee's. But naturally, one of the reasons is food. In fact, they have all the fuel you need. For instance, they have beaver nuggets, or in other words, caramel popcorn, Texas-style brisket sandwiches, tons of fresh jerky, kolaches, drinks, and gas pumps galore.
Additionally, Buc-ee's is like an enormous gift shop. If you are on a road trip and are looking for a small gift for friends and family, the store offers a large collection of t-shirts, hats, blankets, mugs, and many other items emblazoned with Buc-ee the Beaver.
Buc-ee's Interesting Facts: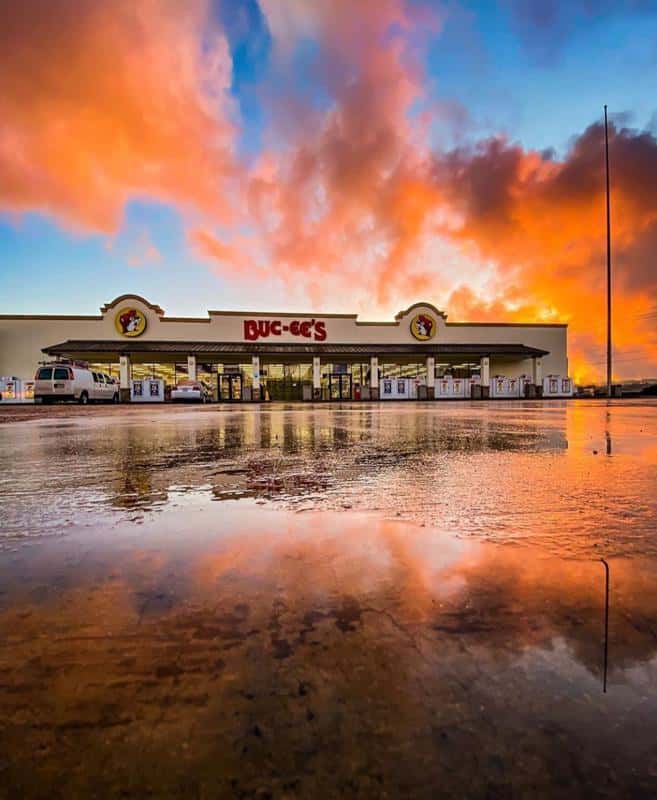 Buc-ee's awarded bathrooms
As mentioned already, Buc-ee's is praised for having the cleanest bathrooms. And indeed, they've been named and awarded as the cleanest in America. Furthermore, the bathroom award isn't the only one Buc-ee's can claim.
The convenience store also slid its way into the Guinness World Records twice. The first was for the largest convenience store in its New Braunfels, Texas, location. And the second is for the longest car wash with a conveyor at its Katy, Texas, location.
Buc-ee's Mascot
Buc-ee's is Arch Alpin's and his business partner Don Wasek creation. But since Alpin was the primary creator, Buc-cee's gained its name from him. Specifically, Alpin attended a high school that had a Buccaneers mascot, thus inspiring the name and spelling.
Furthermore, as a child, Aplin's nickname was Beaver after the cartoon beaver that appeared in the Ipana toothpaste commercials that ran before he was born. And so, when he set out to open his first convenience store, he commissioned the logo of "Buc-ee the Beaver."
Buc-ee's in Sevierville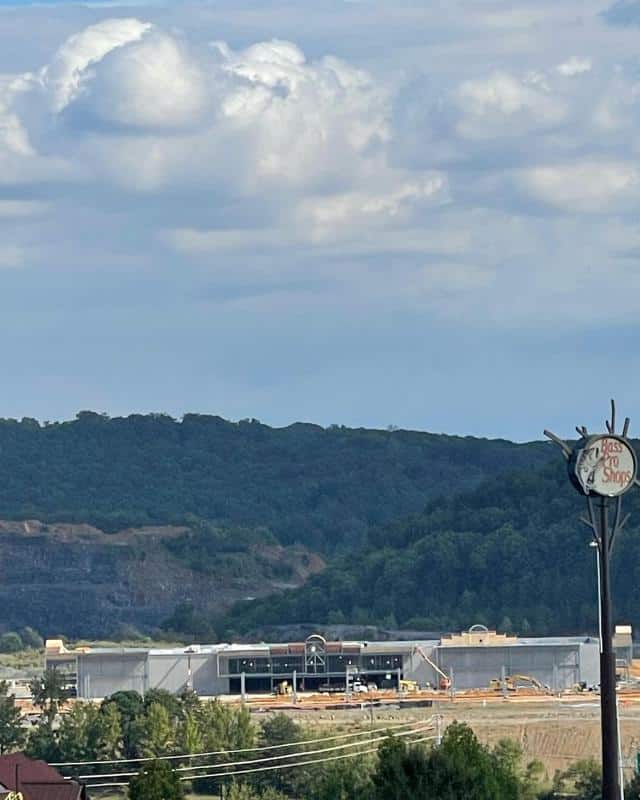 In a news release, Stan Beard, Director of Real Estate for Buc-ee's, said, "It is not a coincidence that we chose The 407 as our first big store location outside of Texas. We will be the proverbial 'welcome sign' at the front door of the exceptional travel experience that the Smoky Mountains, Sevierville, and Sevier County has to offer."
And indeed, Sevierville is the gateway to popular tourist attractions such as Dollywood in Pigeon Forge and the Great Smoky Mountains National Park. Therefore, for many travelers, this small town is their first stop before arriving at the final destination of their vacation.
So, as the world's best convenience store and travel center, Buc-ee's decided to have Exit 407 on I-40 in Sevierville as their new location. The gargantuan Buc-ee's will be located on land owned by Kituwah, LLC and the Eastern Band of Cherokee Indians. The land was acquired previously after being dormant for years due to a failed development. Therefore, this enormous project is highly anticipated.
In fact, as indicated by Stan Beard, the Sevierville Buc-ee's will be a vacation gateway by itself. Specifically, he said, "You won't forget your first visit to Buc-ee's and it won't be your last! We are thrilled to share our over-the-top customer experience and be a pivotal part of the Kituwah and EBCI vision for the Gateway to Adventure."
How big will Sevierville's Buc-ee's be?
Buc-ee's will cover an enormous area of 74,000 square feet of the 200-acre development. It will provide a total of 120 fueling positions, EV charging stations, and a car wash, which will be nearly the length of a football field. The previous largest Buc-ee's location came in at 66,000 square feet.
Other notable developments at Exit 407
As already noted, out of the 200-acre only 74,000 square feet will be used for the convenience store. The rest of the area developers indicated will feature a "world-class" golf attraction, a go-kart facility, and a distillery experience.
Furthermore, Buc-ee's Sevierville will feature a place to get delicious pancakes, giving a glimpse into the Smoky Mountains experience. Additionally, the European theme park company Puy Du Fou will bring a unique historical attraction to the site. The immersive show will be inspired by Cherokee Indians who served in World War I.
When will Buc-ee's in Sevierville open?
Sevierville's enormous Buc-ee's is predicted to be launched in the summer of 2023, according to the job postings from the company.
Meanwhile, the store's site seems to be making considerable progress, as seen from the construction photos taken in late September 2022.
Read More:
Final Thoughts
Undeniably, the new Buc-ee's store in Sevierville is a highly anticipated project many await to finish. Overall, this fantastic convenience store chain is loved by many because it really is the dream for all travelers and road-trippers.
It serves everyone's needs, whether that is simply filling your car's tank, a relaxing stroll around its gift shop, having a delicious quick meal before continuing your journey, or even a fun day trip by participating in one of the various exciting activities.