Want to see the largest animatronic chicken show in the world? Go no further than the Frizzle Chicken Farmhouse Café in Pigeon Forge. This establishment located in the resort town is famed for having a family-friendly ambiance enticing with its frizzle chickens.
Pigeon Forge is the home to great attractions and fun activities that you may pass by the Frizzle Chicken Farmhouse Café without noticing its uniqueness. The town is home to the largest Titanic Museum in the world and the Alcatraz East Crime Museum, and the Pirates Voyage Dinner & Show. You will also find one of the Hollywood Wax Museums at this exotic location.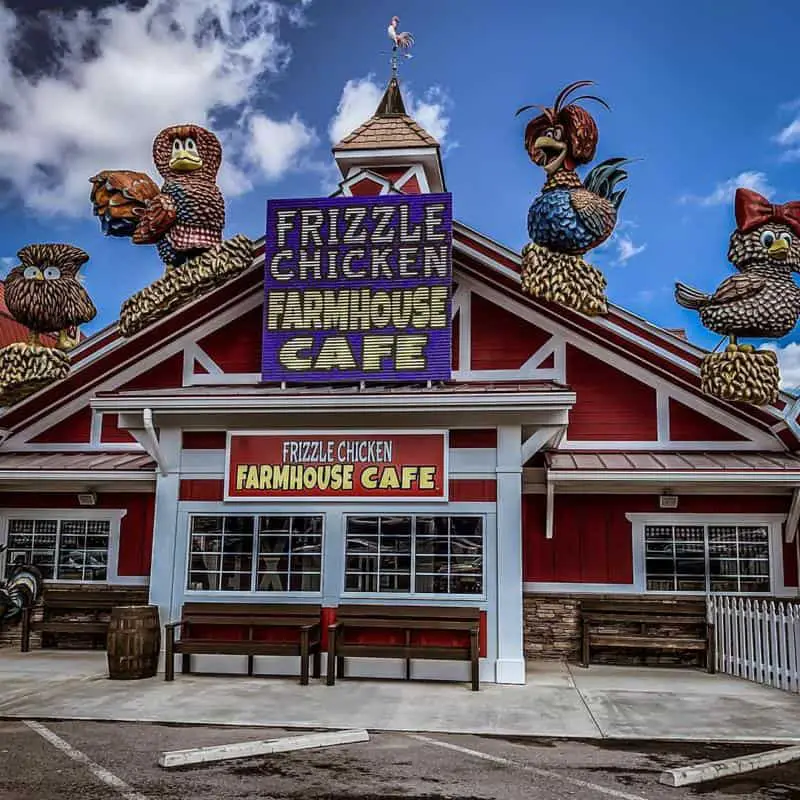 Located next to the world-famous Comedy Barn Theater, the Frizzle Chicken Farmhouse serves both breakfast and lunch. You will not get treated to a dinner meal at this establishment, but you will get to enjoy signature dishes like the Fried Catfish for your breakfast, and lunch meals between 7 am and 1 pm.
We will look at the unique features of this café as well as their special meals that will leave your kid wanting more. You will get to see the reasonable prices at Frizzle Chicken Farmhouse café and how they beat the competition with their simple pancake recipes.
About the Frizzle Chicken Farmhouse Café
Café details: 
Address: 2775 Parkway Pigeon Forger, TN 37863
Website: Frizzle Chicken Farmhouse
Email: [email protected]
Telephone Number: 865-774-7707
Business hours: Thursday to Monday from 7 am to 1 pm for Breakfast and Lunch
Frizzle Chicken Farmhouse Café at Pigeon Forge is a dining place that offers the most fun Southern-style breakfast and lunch. This entails signature biscuit cuisines, Fried Catfish, and some impeccable gourmet pancakes. Moreover, all of their meals are reasonably priced and come in big portions to fill your stomach as well as your family's.
Kids will love the Farmhouse café due to its main attraction – the animatronic frizzle chickens. These frizzle chickens are mechatronic puppets that are automated to portray certain chicken movements as they 'sing' along to famous songs like Let it Go from Frozen and Y.M.C.A by the Village People.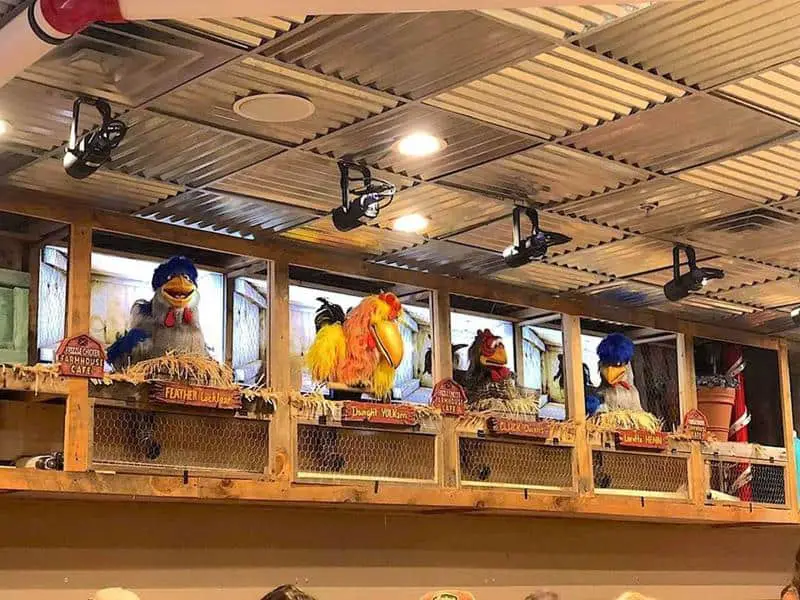 You will clearly notice the 100 animatronic frizzle chickens once you go through the door. They are well placed on top of the wall all around the restaurant to give every diner a great view of the show. They are placed in make-shift coops that have LED screens behind them to add more visuals to the show.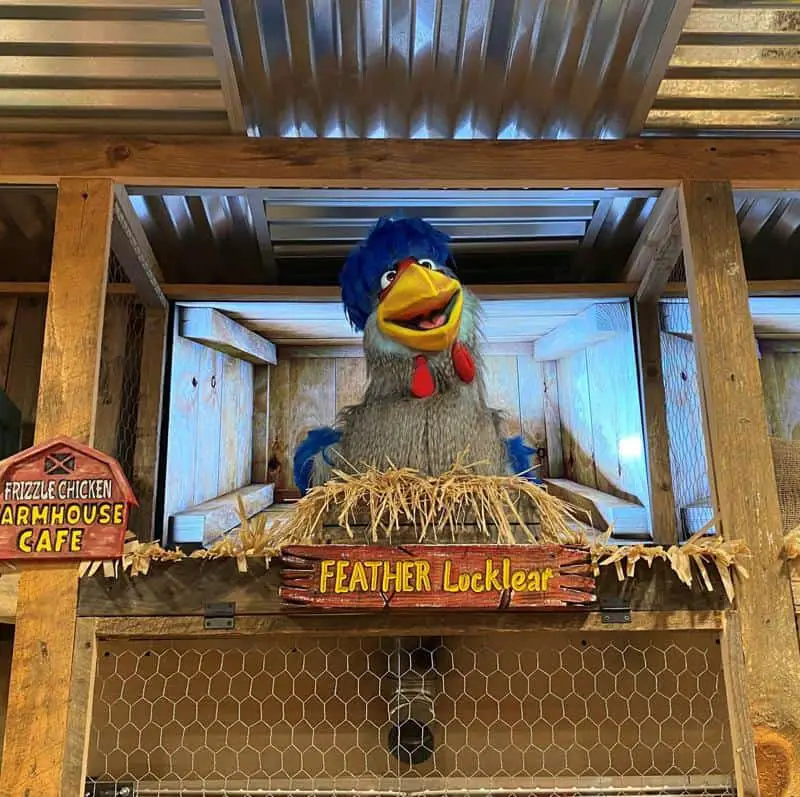 Each chicken is given a poultry twist celebrity name that sounds both funny and quicky. You will not Tanya Clucker in her coop, together with Oprah HENfrey, Elvis PresLAY, Dolly PartHEN, Larry BIRD, Ameila EGGhart, Justin TimberBEAK, HENifer Lopez, Albert EGGstein, Willie NelsHEN, Milay FRYis, LAYer Swift, HENny Rogers, CLUCK Norris, Wyatt CHIRP, Kim KardashiHEN, WINGo Starr, and Loretta HENN.
The café chose the Frizzle chicken breed due to their docile, quiet, and gentle nature. The breed has unique feathers with curls, giving them a special look that adds to their flair. The frizzle chicken animatronics will entertain you with their hilarious clucks and dance motions. Bring your children over to the café for brilliant, funny shows from the queens of the roost.
Frizzle Chicken Menu: Offerings, Prices, and Hours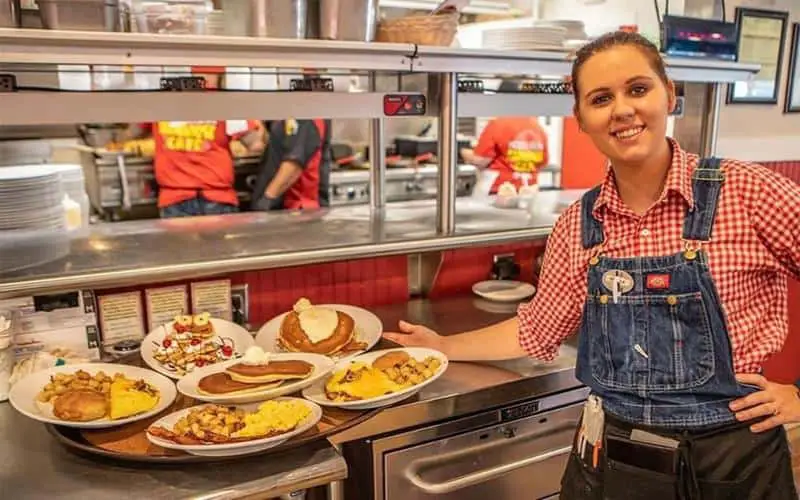 The food prices around here range from $8 to $15. It is a very budget-friendly venue for your breakfast and lunch needs. It is even more convenient for families if you want to save a buck or two. Moreover, the portions are not small. The big portions of breakfast, pancakes, and much more ensure you get a huge meal that will keep you energized throughout the day.
The breakfast menu consists of several entrees, including the classic biscuits and sausage gravy, which comes with two scratch biscuits. You will also find the Belgian Waffle consisting of the classic Waffle that is crisp on the outside and fluffy on the inside. Another great entrée item is the Rock Smith special that you don't see everywhere; it has two country ham and biscuits that are grilled and buttered.
The kids' breakfast serves children under the age of 10 and comes with special bear cakes that are bound to leave them wanting more. On the lunch side, your children will get to enjoy hamburgers, Cheeseburgers, Grilled Cheese, or Chicken tenders, all accompanied with French fries or a fruit cup. Keep in mind that Frizzle Chicken Farmhouse café does offer gluten-free and sugar-free syrup upon request.
The lunch meals are served with French fries and coleslaw regardless of what item you pick. The options include the tantalizing five chicken tenders fried to perfection, melted Grilled cheese on Texas toast, hand-breaded/fried/grilled chicken sandwich, BLT classic served on Texas toast, and the Chuckwagon steak sandwich that is fried and served on a toasted bun.
The Frizzle Chicken Farmhouse café pancakes are all served with homemade syrup and whipped butter. The most popular pancake offering is the $12.99 Kearney Stack that comes with three pancakes layered with apple smoked bacon and farm fresh eggs. Another option is the Chicken Taco Pancakes that cost $11.29 and has four silver dollar pancakes filled with fried chicken tenders and topped with tomato jam.
A low-cholesterol breakfast at the farmhouse café costs $8.99 and comes with scrambled egg whites, turkey bacon/sausage, and whole wheat pancakes. You will also find the French toast with thick-cut Texas toast, dredged in special dip, all topped with powdered sugar, and served with homemade syrup.
Related Read:
Frequently Asked Questions
1. How often do the chickens sing at Frizzle?
The animatronic chickens at Frizzle Chicken Farmhouse café are designed for singing at intervals of about 15 to 20 minutes. This depends on the time of day and how busy the café is at a particular time. If you enter the premises and find the frizzle chicken inactive the entire time, you can request the management to turn them on, which they will do in an instant.
Do not worry about the noise. The frizzle chicken show is tailored to be as pleasant as possible by causing little distractions to your dining experience.
2. Is there takeout or delivery at Frizzle Chicken Farmhouse Café?
The Frizzle Chicken Farmhouse Café does offer takeout as well as delivery to its customers. You also do not need reservations to dine here. Just walk right in and find yourself a perfect seat for the show and a satisfying breakfast/lunch meal.
3. How expensive is the food at Frizzle Chicken Farmhouse café?
Food at the Frizzle Chicken Farmhouse café is very cheap. You will not spend more than $15 at the café, with most foods costing between $8 and $15.