The Smoky Mountains region is highly sought after for its unbeatable attractions and competitive hospitality, right down to food, shows, and lodging. Any tourist in the area will have a tale to tell of the generosity, class, and quality of the entertainment they found in their visit.
Pigeon Forge is home to multiple shows that leave patrons entertained with a fun-filled extravaganza of music, comedy, magic, and whatnot. You are in for a promise of a fantastic time attending these shows, more so should you attend night shows.
The Comedy Barn Theater is a comedy show in Pigeon Forge serving the best clean comedy available in the Smokies area. You will be treated to some great acts by hilariously talented comics imported from all over the country. Some of the acts have been headlining the show for more than two decades. The show has been going on since 1994, when the first episode hit the stage.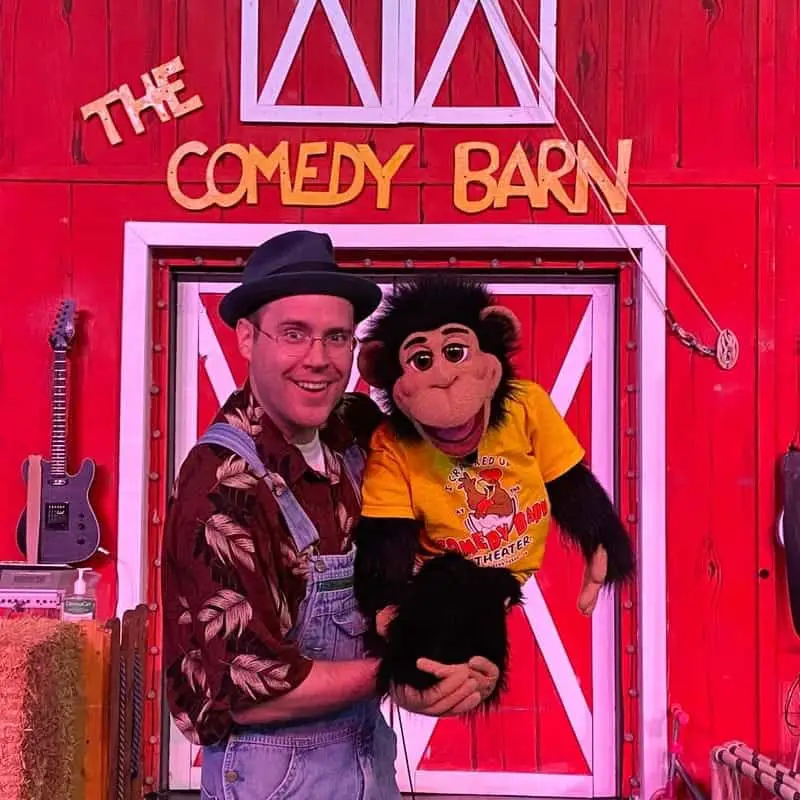 The show features some high-spirited acts of magic, ventriloquism, comedy, and music from a live band. You are in it to enjoy the rib-cracking jokes from celebrated local and national talent-the best of Pigeon Forge.
You will have a memory of your night at the comedy show from the highly engaging, family-friendly comedy performed. Bring your whole family to enjoy the most celebrated and successful clean comedy show around. This article will guide you through the show, what it entails when it's open, and what to expect when you attend. Tag along!
About the Show and the Theater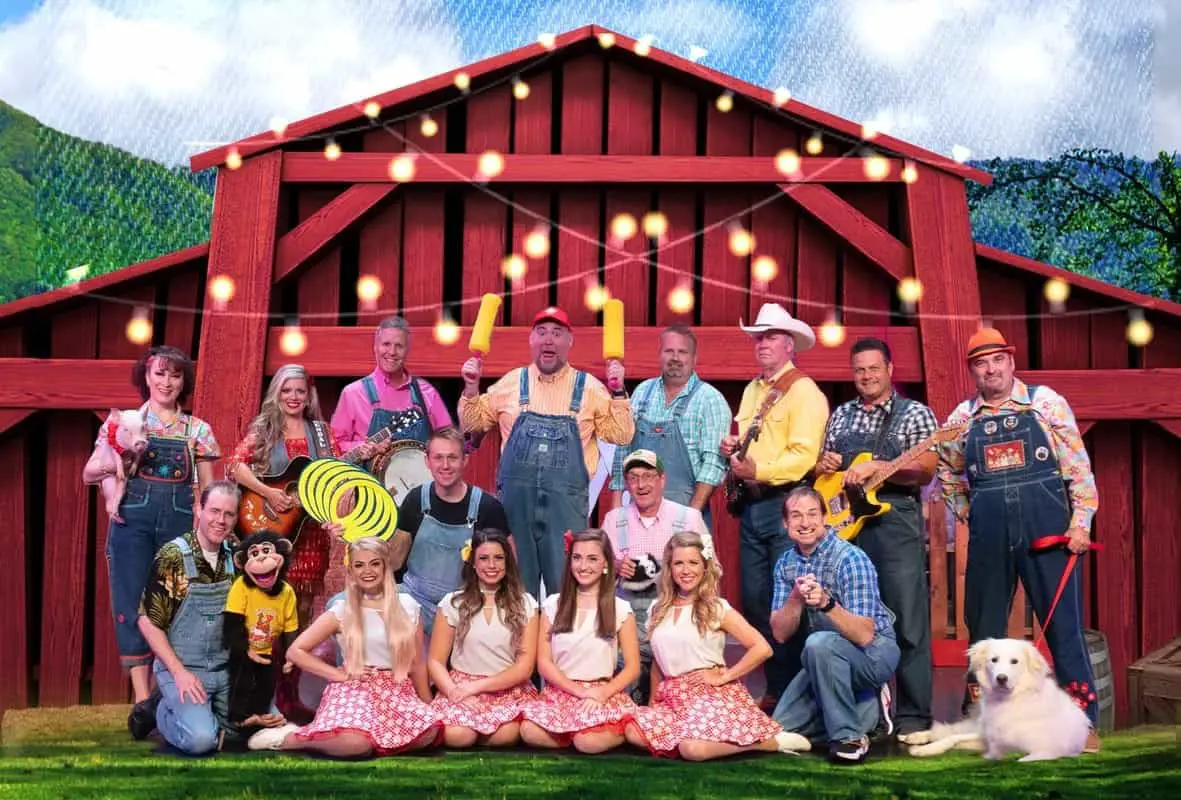 Comedy Barn Theater features acts by talented actors, showcasing their expert moves and experiences with their acts. The show stocks the best ventriloquists who will make a stuffed monkey do stuff (get the pun?) you didn't think was possible, all the while having a "candid conversation" with him. The family-friendly magic of disappearing magic balls and fake corn cobs is just hilarious to watch.
The show would be incomplete without the funny comedians-otherwise they wouldn't be comedians at all! They tell family-friendly jokes that even your third-grade sibling will enjoy and, of course, laugh. Then enter the jugglers, with their circus feet and devil sticks, showing their prowess by doing dangerous antics you cannot try at home. Your adrenaline will be sky high by the time they are done with you.
The show is culminated by a live band playing gospel and country numbers that have grown to be household favorites. Expect inspiring music from Dolly Parton, Kenny Rogers, etc. The in-house live band plays so well that you will soon be dancing to the tunes "mid-concert." Releasing all the stress is what the hosts call it, and they ensure that their show is a contributor to that action.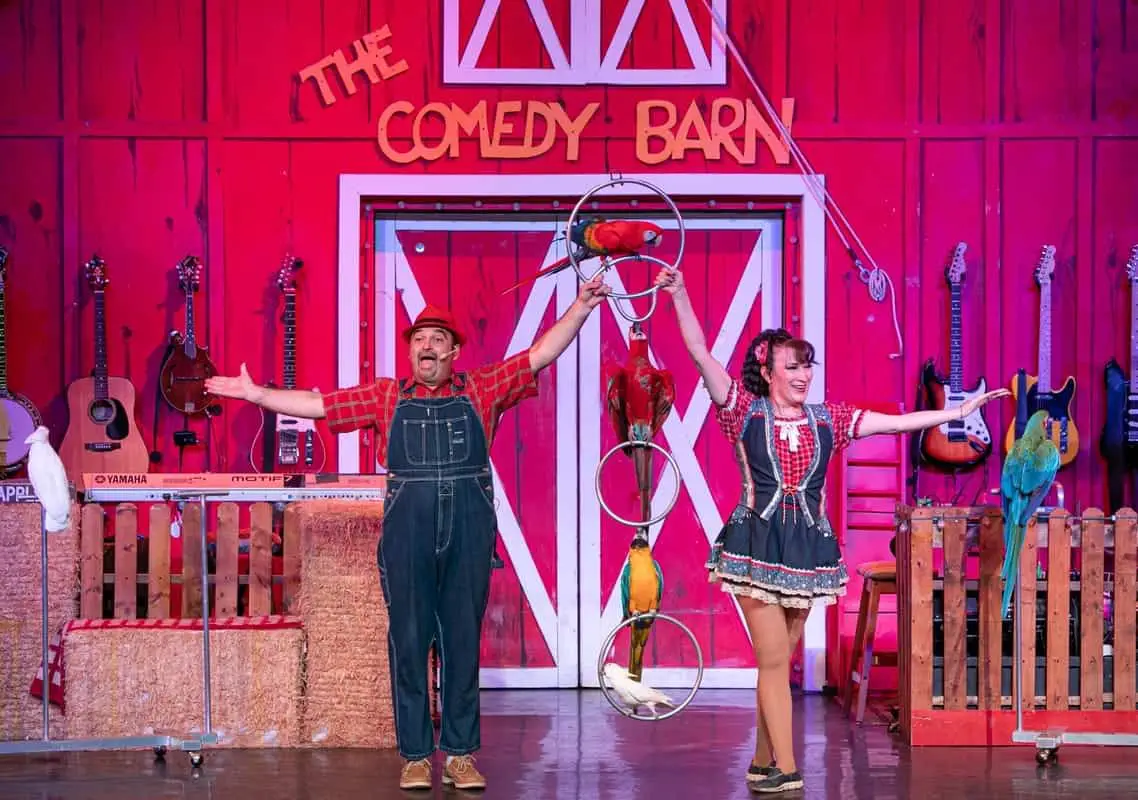 Live animal acts are also part of the show. Cats, dogs, and pigs show their hand in obstacle jumping, following instructions, and other funny movements the trainer tells them to. It's incredible how quickly animals learn to do tasks. The animals are so good that you might find yourself in the nearest animal shelter, ready to adopt one after the show. Remember to take care of the animal if you take one, right?
And when a hungry stomach rumbles, all the fun goes out the window, said the hungry man. Well, not anymore! There are concessions sold at the food stand as you enter the premises. Treat yourself to some fantastic fried chicken, vegetable soup, and baked cornbread. If you are not so hungry, a snack will do.
Get chewy with the theater's popcorn, candy, and refreshments. Unfortunately, there are no alcoholic drinks on sale since this is a family-friendly show.
How to Get To the Comedy Barn Theater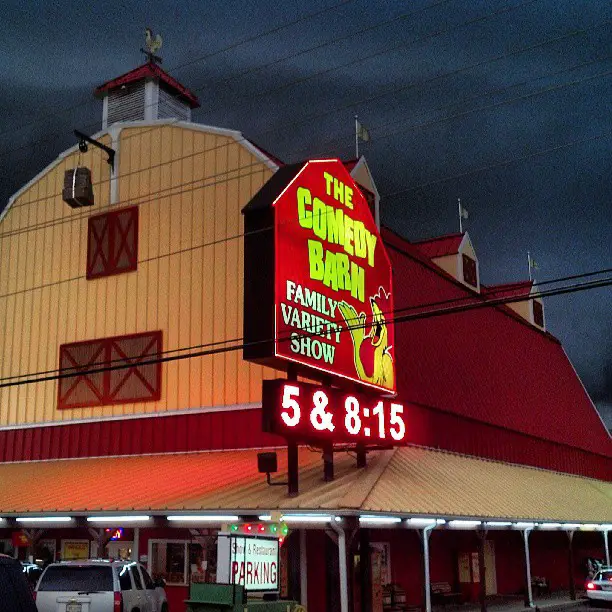 Address: 2775 Parkway, Pigeon Forge, TN 37863, United States
The Comedy Barn Theater Show is performed at, you guessed it, the Comedy Barn Theater. The theater is located in Pigeon Forge, between the third and fourth lights on the main Parkway road. The Comedy Barn Theater is relatively easy to identify due to its signature structure and colors. You will see a massive building with a red roof and the shape of a barn; you can't miss it.
Getting to the Barn by taxi is the easiest way to land at the venue, especially if you're lodging in the town. Pigeon Forge has many taxis that can service your transportation needs, or you can hail an Uber or Lyft ride, whichever is more convenient for you.
Complimentary parking is available; it comes with every ticket to the show. So should you bring your whole family, from the grandparents to the distant cousins, your family station wagon will be safe. Not to mention the discounts and offers you get when you book group tickets-read more on that in the ticketing section.
When Is the Show Open?
The Comedy Barn Theater show is daily at 8 p.m. and 10 p.m., except on national holidays when times may vary. They also do extra shows during peak seasons like Christmas and Thanksgiving. Check out the official website for updates on the current showings. They also post closures on their social media handles, so make sure to check that out too.
The show may be canceled during bad weather like storms and heavy snowfall. They inform their patrons earlier when this is anticipated so that you don't have to waste your trip.
The show is approximately two hours long, with a 15-minute intermission. Use this time to grab a snack at the food stand or stretch your feet, ready for the final session of laughter and musical entertainment. For convenience, arrive 30 minutes early to get seated, and order food at the concession stand for you and your party.
Ticket Pricing
The rates tolled for entry to this laughter haven are friendly compared to other night shows in Pigeon Forge. One might argue that the price is low since you have to factor in food, which, unfortunately, is not part of the ticket fee. The ticket gets you access to the show and its amenities, but you will have to buy snacks at the food stand should you feel the urge. It's advisable to have other dinner plans before attending the show, or after if you prefer. But mind you, laughing on an empty stomach isn't a great idea.
Back to the tickets now, you can purchase them online through their booking assistant. The process is simple as you only indicate the number of people attending the show, the seating you prefer, and some personal details, and alas, you are done. Your tickets are ready for collection or printing, whichever your booking option was.
The prices are as follows:
Adult tickets (10+ years): $34.99.
Children (3-9 years old): $12.99
Children (under 3): Free
Ticket prices are exclusive of taxes and gratuities. You may need to carry cash for tips and buy something to eat at the food stand. Remember to carry yourself accordingly, as rowdy behavior isn't tolerated here. Be advised to take minimal amounts of alcohol and substances, if at all, to prevent a possible barring at the show. They do this since it is a family show, and order is expected.
Is Comedy Barn Theater for Me?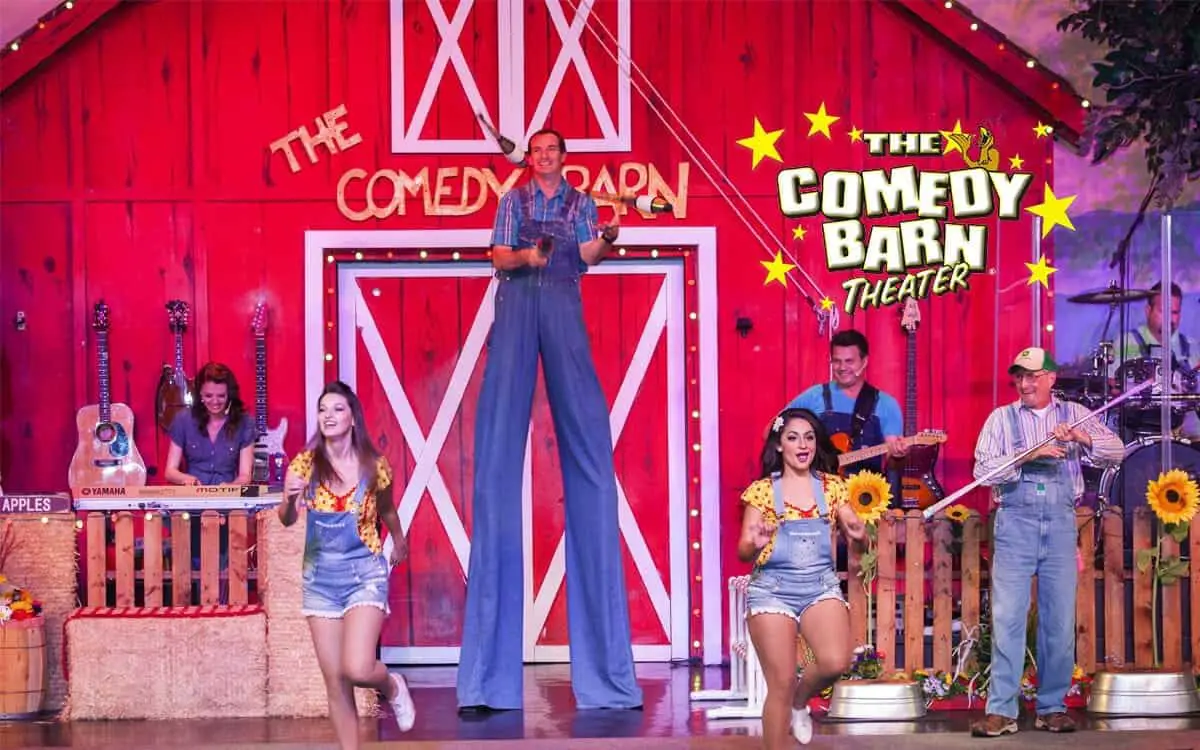 Comedy is served clean at the Comedy Barn Theater Show. Receive tons of laughs at the show with country and gospel music to match. If you are looking for family fun where all ages can laugh, then book several tickets for your extended family and enjoy a night of rib-cracking comedy.
Since it's a family show, no alcohol is served. If you wish to have a drunken evening, this may not go well for you. Also, attending while visibly intoxicated isn't an option.
If you intended to enjoy a dinner show, the Comedy Barn Theater show would disappoint on the food part. While they serve food like fried chicken and chips at the concession stand, it's not included in the ticket price. Grab dinner elsewhere and come to the Barn for pure laughter and giggles.
Also Read: The 11 Best Dinner Shows In Pigeon Forge
Comedy Barn Theater: FAQs
Does Comedy Barn Pigeon Forge serve alcohol?
No, and alcoholic drinks are not allowed either.
Who owns Comedy Barn Pigeon Forge?
Comedy Barn Theater was purchased by World Choice Investment-a Dolly Parton's Dinner Show company.
Is the Comedy Barn show worth it?
Comedy Barn Theater is your top choice for a comedy-filled night in Pigeon Forge that you and your family can enjoy together. They perform clean comedy daily from 8 p.m. to 10 p.m., starting at around $34.99 only. The show is two hours long, with a 15-20 minute intermission.
Conclusion
Comedy Barn Pigeon Forge is a clean comedy show happening nightly at the Comedy Barn Theater. You can't afford to miss the incredible talents shown here, from juggling, magic to performing animals. The comedians are top-notch in their delivery, leaving you stitched up when they are done.
Wash it all down with a music session from the in-house live band, performing country and gospel tunes. If you are in the Smoky Mountains area, make a date with the Barn!