Pigeon Forge is a wonder that ought to be documented as the greatest all-year destination in the United States. Why? More like why not!
Pigeon Forge will have you falling for it, from the temperatures to the incredible shows and tours. If you don't believe it, this article will clear your mind.
The town is nestled at the foot of the heavily forested Appalachian Mountains. It's referred to as the "cradle of the Smokies," attracting thousands of tourists, both locals, and travelers. Pigeon Forge has some of the most popular shows and live events in the country, especially seasonal events like Christmas and Easter holiday specials.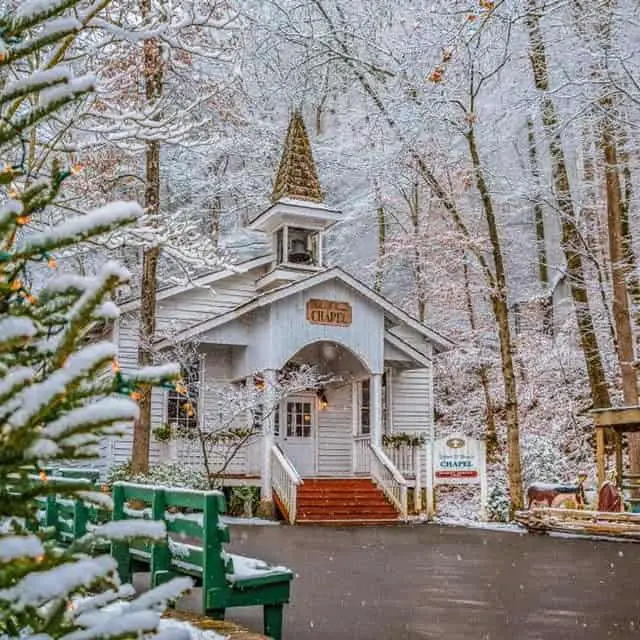 Enough of the praise, what about the weather? Pigeon Forge, and by extension, the Smoky Mountains region, has a varied climate just like the rest of the country. There are snowy days and heat-scorching moments in the summer, but will the snow make you dress like an Eskimo to manage? While it may snow in the area, Pigeon Forge has some of the most temperate climates you will find in the South.
How Frequently Does It Snow in Pigeon Forge?
Pigeon Forge receives an average cumulative snowfall of 6 inches per year. Pigeon Forge has moderate snowfall compared to the annual US average of 27.8 inches. Snowy cities like New York receive highs of the 70s in snow depth, while less snowy cities like Las Vegas have less than an inch of annual snowfall. Therefore, Pigeon Forge falls into the friendliest category of destinations with snow.
Snowstorms are not frequent here, and as aforementioned, there is minimal snowfall. That said, you may, however, experience a tad of a shower of snowflakes in the afternoons. Snow will mostly fall at night, and it can be unpredictable. You can leave the office on a warm evening without a jacket, but on the best day, you are greeted by white smiles all over the trees! If that isn't unprecedented, you fill in those blanks.
If you are from warmer places like Alabama, Georgia, or your personal favorite, Hawaii, you might catch a cold on your Tennessee tour in the winter. Winter in the Smokies can get chilly, and warm clothing is vital. The average temperature in winter is 26° Fahrenheit, which is way cooler than in these warm winter areas.
But if you're from states like Washington or Utah, Pigeon Forge and its snow are like having a breeze in summer. 6 inches of snow in the area feels like spring compared to the harsh cold winters with snowfalls elevating in the hundreds! And who doesn't love spring?
How Are the Temperatures in Hotels and Shows During Winter?
In Pigeon Forge, live events and shows are present in the winter. Despite the weather, you can visit your favorite show or attraction in the Smokies during the winter holidays (Thanksgiving, Christmas, or New Year). The majority of these indoor celebrations are open year-round except for the days they close for the year (check out individual shows in Pigeon Forge for exact show days).
Technology allows hotels and indoor shows to continue in climate-controlled areas that provide a favorable environment to enjoy shows. You can visit dinner shows, comedy shows, magic shows, and go shopping in the shopping centers and malls in the area.
Check out the official Pigeon Forge weather forecast for weather predictions. This will help you prepare for what to expect when you go out. Updates are uploaded by the hour, making them a good tool when planning.
Which Are the Coldest Months in Pigeon Forge?
If you look at the average cumulative rainfall and snow months, your coldest months in the Smokies hill town will be December and January. The months receive the highest precipitation, and with it comes the cold that any Pigeon Forge resident will frown upon. While it may be an excellent time to throw snowballs and build snowmen in the winter of December (which is somewhat customary in America), you may want to adorn your warmest clothes.
The temperatures in winter fall to lows of 26°F on average, which is not very forgiving to bare skin. While the snow may be less, the breeze may not be as candid. Arm yourself with warm clothing and some hot soup before you enter a snow fight with your children or siblings.
Average Temperatures in Pigeon Forge During the Winter
Winter in the Smokies region falls between mid-November and mid-March. During this time, the weather is categorized as chilly, with an average score of 30°F. The table below stipulates the temperature spread in the four months of winter in Pigeon Forge:
| | | | |
| --- | --- | --- | --- |
| Month | Average Snowfall in inches | Average Rainfall in inches | Average Temperature in °F |
| November | 0.7 | 3.7 | 48.6 |
| December | 0.5 | 4.6 | 41.2 |
| January | 1.3 | 4.6 | 37.8 |
| February | 1.1 | 4.1 | 41.5 |
| March | 0.3 | 5.0 | 48.9 |
From April through September, the temperatures are friendly for lighter wear and less likely to snow. However, there are instances of rainfall throughout the year. It's especially in March, with an average of up to 5 inches of rain. Check out the yearly average climate of Pigeon Forge from Climate-Data.org for in-depth stats on the weather.
What Clothes to Bring to Pigeon Forge in Winter?
The rule of thumb for travel packaging is always to pack light. You see, many people pack a lot of unnecessary things when traveling. Some things are essentials, like drawers and medicine, and then there are disposable items like soap and hair shampoo. It sounds economical to take with you all your hygiene items.
But do you know you may end up bringing more luggage to the airport? Carrying these items translates to more cargo fees. You will end up saving nothing and being worn out, not to mention the check-in and check-out processes.
So what clothes do you pack?
Clothes essential for your Pigeon Forge trip during the winter are moderately warm. Check the date of travel and corresponding temperatures. Another factor that may influence your travel wardrobe is where you are from. If your state is heavier on snow than 6 inches, chances are you will find Pigeon Forge accommodating. The reverse is also true, so plan accordingly.
Generally, pack warm clothing but not too bulky, as if you are heading to polar Iceland. Pack a few sweaters for the cold weather, and since you will most likely be heading to indoor shows mainly, there is no need to dress in full winter regalia. Most outdoor activities in the Smokies close in winter, apart from a few, like Paula Deen's Lumberjack Feud, which has temperature-controlled grandstands for the audience.
When Does Pigeon Forge Warm Up?
Winter runs from November to March, and thereafter, the weather is warmer for most outdoor activities. Starting March 20th, when spring kicks in, the temperatures will increase along with the decreased rain and more sunny days. Temperatures of 76°F prevail up to August, with October having the highest number of sunny days at 16.7 days.
Here is a nominal monthly temperature chart for Pigeon Forge:
| | | | |
| --- | --- | --- | --- |
| Month | Average Temperatures in °F | Min. Temperatures in °F | Max. Temperatures in °F |
| January | 37.8 | 30.9 | 47.6 |
| February | 41.5 | 33.9 | 51.9 |
| March | 48.9 | 40.0 | 60.3 |
| April | 58.4 | 48.5 | 69.8 |
| May | 66.3 | 56.8 | 76.2 |
| June | 73.6 | 64.4 | 83.1 |
| July | 76.3 | 67.8 | 85.3 |
| August | 76.0 | 67.2 | 85.4 |
| September | 70.7 | 61.8 | 80.4 |
| October | 59.7 | 51.0 | 70.0 |
| November | 48.6 | 40.4 | 59.3 |
| December | 41.2 | 34.4 | 50.8 |
Generally, Pigeon Forge is fairly warm and friendlier to visitors who frown at freezing temperatures.
Things to Do in Pigeon Forge in Winter
Fall Color Viewing: this is by far one of the most phenomenal views in the Smokies. You will see leaves starting to change color in the last two weeks of October till winter starts in mid-November.
Attend dinner shows: Pigeon Forge packs a variety of dinner shows that will keep you entertained and on a full stomach. Check out the Pirate Voyage Dinner Show, Dolly Parton's Stampede, or the Hatfield & McCoy Dinner Feud.
Visit MagicQuest: an interactive magic-themed game fit for all ages.
Winterfest Pigeon Forge: a display of more than 5 million small lights from November to February each year.
Attend interactive shows: the Paula Deen Lumberjack Show is the perfect opportunity to test your agility in manual fits.
Also Read: Best Time to Visit Smoky Mountains
Conclusion
The snow in the Smoky Mountains is not as heavy as it is in other parts of the nation receiving heavy snow. The average snowfall in Pigeon Forge is 6 inches, with January being the coldest month and receiving the most snow.
However, there are a dozen things to do while in Pigeon Forge in the winter. Dinner shows are known to attract hundreds in the winter, and there is enough accommodation in hotels and lounges in Pigeon Forge. What is keeping you from visiting the beautiful Pigeon Forge? It's not the snow, no doubt!