Pizza is a delicacy that Americans love and adore. Have you ordered one today? It's now a household food that two in three Americans feast on daily; folks love pizza. Only a handful will tell you about its origins, despite it being a darling palate.
Pizza gained popularity in Naples, Italy, as a cheap and tasty option for the working class. Pizza would later find its way into American culture in the 1940s when Italian immigrants brought their favorite dish along. Since then, it has been tickling the taste buds of all till today, you included.
While pizza originated in Italy, pepperoni pizza was "invented" in America by Italian immigrants. This spicy and saucy topping is one of the most in-demand pizza toppings in the US. Be proud of that, at least.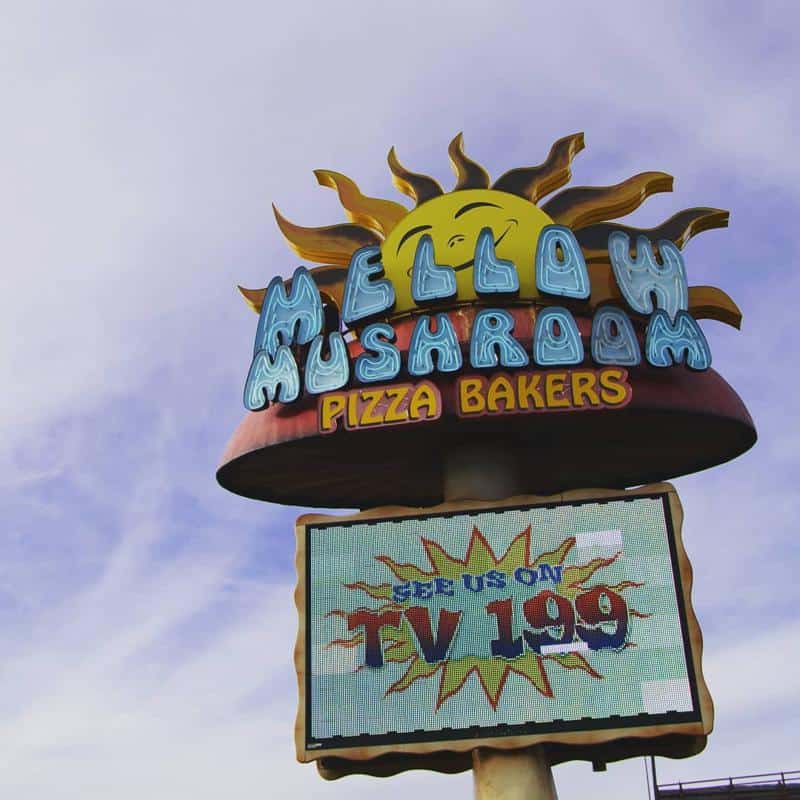 Mellow Marshmallow is a franchise that started operations in 1974 as a single pizzeria in Georgia. It has two locations in Pigeon Forge, serving delicious food and drinks to travelers and locals alike. Their celebratory achievement is the pizza recipe. Go for twenty years, and still, that taste never changes when you come back for a slice of pizza down memory lane.
The two locations in Pigeon Forge are family-operated, serving food that not only meets your expectations but also grants you top-notch service that deserves that 5-star review afterward.
Mellow Mushroom in Pigeon Forge
Where Is Mellow Mushroom Located In Pigeon Forge?
The eatery boasts two spots in Pigeon Forge. Five-star treatment with stellar customer service and delicious meals, mostly pizza, awaits you at either of the two joints. Mellow Mushroom prides itself on having an in-house, homegrown hospitality policy. Owners of the franchise run the business and weigh in on the menu. It means that you can find an original serving on the menu, but the same great taste of signature southern baked pizza is present.
Both locations in Pigeon Forge serve the same menu selections, including the famous pizza and pretzel bites. The Mellow Mushroom franchise runs similar prices on their menus. The menu prices offer familiarity to any visitor who is a frequent customer at a Mellow Mushroom joint in their hometown. This is one of the reasons Mellow Mushroom is a favorite among many pizza eaters who love a southern crust on their slice.
Location 1: 2485 Parkway, Pigeon Forge, TN 37863
The first Mellow Mushroom location opened in 2010 along Parkway Road, next to Marble Slab. It's in the same parking lot as Starbucks-hard to miss. This location has a cabin feel, featuring the lumbering activities which thrived in the area. The building has stucco and natural stone on the outside. A big Mel character tower above the entrance welcomes you into the restaurant.
Inside, little mushroom figurines and cartoon characters decorate the octagon-shaped dining space. The floor-to-ceiling windows give you a perfect view of the serene outdoors, perfect for a date night over a delicious pizza.
Location 2: 131 The Island Dr Ste 3101, Pigeon Forge, TN 37863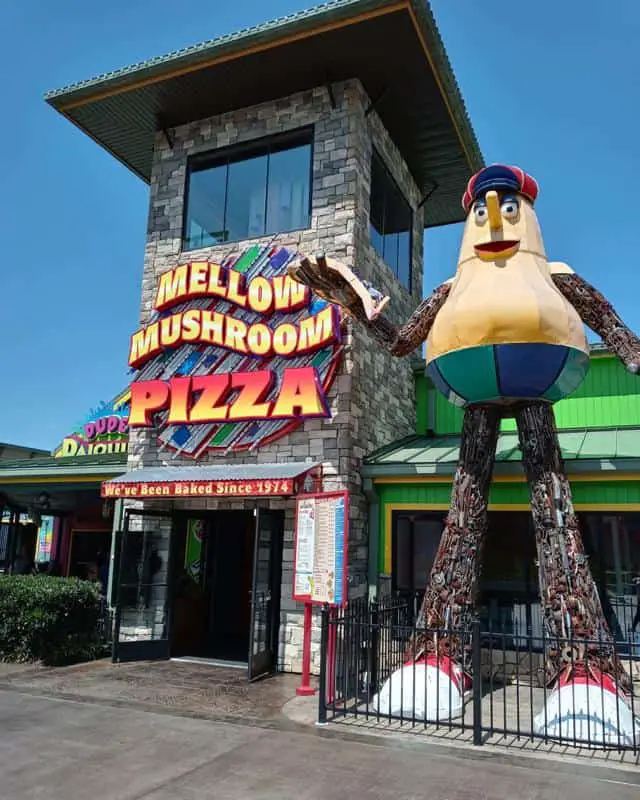 The Mellow Mushroom Island location is the newest, having opened in 2013, but it's a popular spot for the southern pizza joint. It is located on The Island, on Island Drive between the 3rd and 4th lights. The brick and blue wood panel structure is unmistakable even for a first-timer, not to mention the signature Mellow character at the door. The interior has an artistry vibe, with a pop culture theme. You can have your food inside the restaurant or out in the attached Dude's Daiquin Bar.
Folks prefer this location for its accessibility and the fact that there are other activities in the neighborhood, including the 200-foot observation wheel. It offers a good relaxation point between shopping or after attending the surrounding attractions and shows in the Great Smoky Mountains region. Make sure to try it when you are around the area, and you may just have found a favorite chill spot for you and your mates.
Opening Hours
Mellow Mushroom locations in Pigeon Forge are open for business all week:
Sunday: 11 am-10 pm
Monday: 11 am-10 pm
Tuesday: 11 am-10 pm
Wednesday: 11 am-10 pm
Thursday: 11 am-10 pm
Friday: 11 am-12 midnight
Saturday: 11 am-12 midnight
Contact Information
You can order through the self-service web portal or physically at one of their two iconic locations. They do offer take-out and dine-in options; take your pick.
Alternatively, a call-to-order option is also available.
Hotline: 8652862229
What to Expect at Mellow Mushroom
Mellow Mushroom is centered on the philosophy of the family. That is why all their restaurants are locally run, and they also allow the owners to have their local tweaks to the menu. They have an option to offer local recipes alongside the coveted pizza and calzone dishes and draft beers. You are almost guaranteed a good time, either alone or with the company.
Another feature worth noting is the affordable menu options, especially for the original recipes for pizza and beer. The restaurant also ensures that their pizzas follow the route to the south, making tasty hand-tossed pizza on hot stone as it should be. What more could you ask for regarding originality?
Feast in a calm, casual environment, away from the chaos of typical restaurant codes and protocols. Just enter the next Mellow Mushroom you see, order, and enjoy your crusted piece of the south, as simple as it gets.
Mellow Mushroom Menu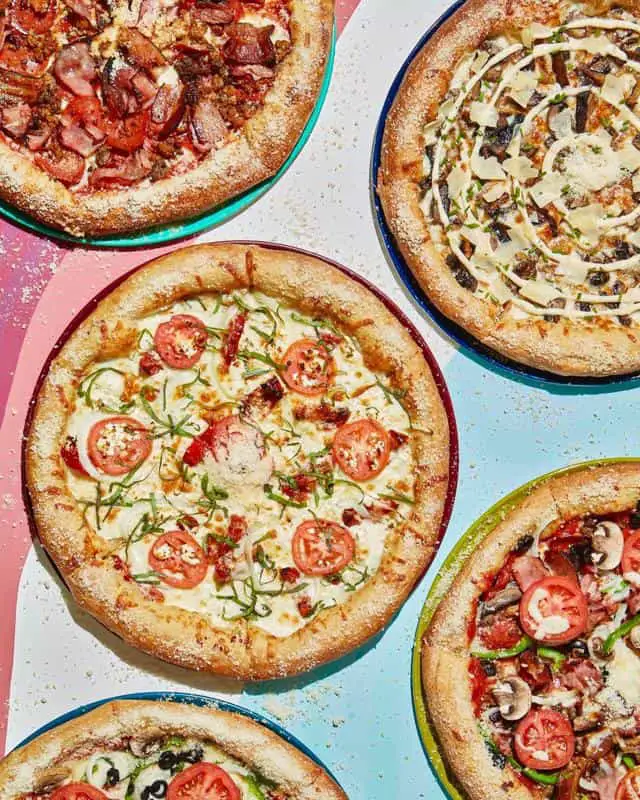 The Mellow Mushroom menu is the true definition of their pizza and beer prowess. The restaurant has some of the best southern-style pizzas you can find. If you have been to any pizzeria, you will agree that the Mellow Mushroom pizza is quite different. The crust is more pronounced than the Chicago-style pizza, and the slice is thinner, too. This makes the pizza slice have a distinct taste full of the original pizza of Mellow Mushroom's hippie vibe.
From its inception, back then, when the restaurant was run by two Georgia Tech students, the chain was proposed to serve students cheap pizza and beer. They run the prices at $2.40 for a pizza! Today you will not find that pricing-unless they have offers for their 50th anniversary, just as they did for their 40th celebration.
Read More: Best Italian Restaurants in Gatlinburg & Pigeon Forge
What's the Menu Like Today at Mellow Mushroom?
Today, the pizza is known for being made in southern style, with rich and fresh ingredients. All restaurants in the Mellow Mushroom chain use Appalachian water that enhances the crust as a primary ingredient in dough making. The dough is then kneaded and hand-tossed on a hot stone. The result is the pizza you are craving right now.
Mellow Mushroom has been catapulted to be a big chain serving hundreds of locations, Pigeon Forge included. Amazingly, the menu has not changed much. The pizza recipe is still the same! They will knead the dough with Appalachian water, hand-toss it, bake it in a hot stone, and serve it with delicious fresh toppings.
Thankfully, you don't have to forgo your food preference reservations at the restaurant if you don't ingest gluten or prefer vegetarian or vegan food options. You can bring your friends and family along for a delicious bite of pretzel, pizza slice, or calzone.
And what better way to complement the tasty pizza slices than washing it down with some cold beer on a relaxed afternoon hangout?
The restaurant has an extensive selection of liquors to make your tipsy moment a reality. Get a taste of the prohibition-era moonshine jar or a glass of cocktail and a beer for your partner. You don't partake? Not a problem: a mocktail will be as fun, right? They also have tea, shakers, and soft drink selections for you.
Related Read: 8 Best Pizza Places in Pigeon Forge & Nearby
Pricing
Mellow Mushroom is a regular pizzeria with favorable prices for its food. Here is a little sneak peek of what to expect on your bill the next time you visit the establishment:
Munchies (pretzels, bruschetta, soups, bread, hummus, and dips): prices under $10.99
Munchies wings: $14.99
Greens (salads, bacon wedges, acai, etc.): prices under $14.99
Stone baked pizza: $15.99-$29.99
Hoagies and sandwiches: prices under $13.99
Burgers: prices under $14.99
Wine: $prices under $14.99
Cocktails: $12
Beer: $3-$7
Non-alcoholic beverages (mocktails, tea, soft drinks, etc.): prices under $5.49
Customer Reviews
Mellow Mushroom receives praise for originality in their pizza recipe and having reasonable prices. Their beers are drafted professionally, leaving clients satisfied with their service. But there are also complaints about slow service and service misappropriation. Generally, the eatery will serve you well anytime you come to Pigeon Forge.
Take a look at a sample of the online reviews posted by some of the patrons:
Tripadvisor:
My daughter and I go to this location at least once a month for Mighty Meaty Pizza. It is the best pizza we've ever had! We order Garlic Dipping Butter on the side, which is tasty. The wings and salads are fabulous too! There isn't a question on here about our server, but we will ask for "Castle" every time. He is outgoing, attentive, and always remembers us. "
"The pizza was OK but overpriced. My wife got a gluten-free pizza, and, essentially, it was a four-piece pizza for 17 dollars. For a few bucks, more could have gotten a steak dinner."
Google Reviews:
"Awesome spot for custom pizzas, and they have a great selection on their menu. Everyone was happy and upbeat. I was very impressed with their gluten-free options! We'll be going back while on our trips to the mountains."
I waited for 30 minutes on the waitlist while they did open seating. Finally, I was seated at an uncomfortable table. I've been sitting here for 25 minutes and no one has come to my table. I've always liked this restaurant before their update. Food seems to be not available. No server. "
Also Read: 10 Best Restaurants in Pigeon Forge
Mellow Mushroom Pigeon Forge: FAQs
Does Mellow Mushroom in Pigeon Forge Deliver?
Online orders are available on 3rd party partner programs like Uber Eats. Delivery is subject to the cout=rier service and your location, and sometimes that option may not be available in your area. Kindly check with a Mellow Mushroom near you to see if they can deliver.
You can also enjoy their food at home using the takeaway service at any of their stations. Call ahead to place an order for curbside pickup.
Is Mellow Mushroom Based on Drugs Like Marijuana?
A popular question, to which truth is relative. Do they use marijuana in their food? No. But they do have pharmaceutical companies to advertise their medication. That's a clever way of packaging which sets them apart from the other pizza chains.
What is the Price of a Large Mellow Mushroom Pepperoni Pizza?
You can get a large mozzarella+pepperoni pizza with mellow red sauce for $20.55. Other pizza options on the menu include cheese, meaty, chicken, etc.
Conclusion
Mellow Mushroom is a beloved restaurant chain with two locations in Pigeon Forge. You can order from their extensive menu for signature meals or a local specialty with a drink of your choice.
The joint is famous for its southern-style pizza, hand-tossed and baked on the stone. It has a special and sweet crust that other pizzas lack. The next time you are in Pigeon Forge, why not try out this signature pizza slice at one of the spots? You will love it!