The Great Smoky Mountains National Park is one of the largest protected areas in the east of the United States. It is home to black bears, who inhabit the elevations of the park. It is thought that around 1,500 bears live in the park, this is roughly two bears per square mile.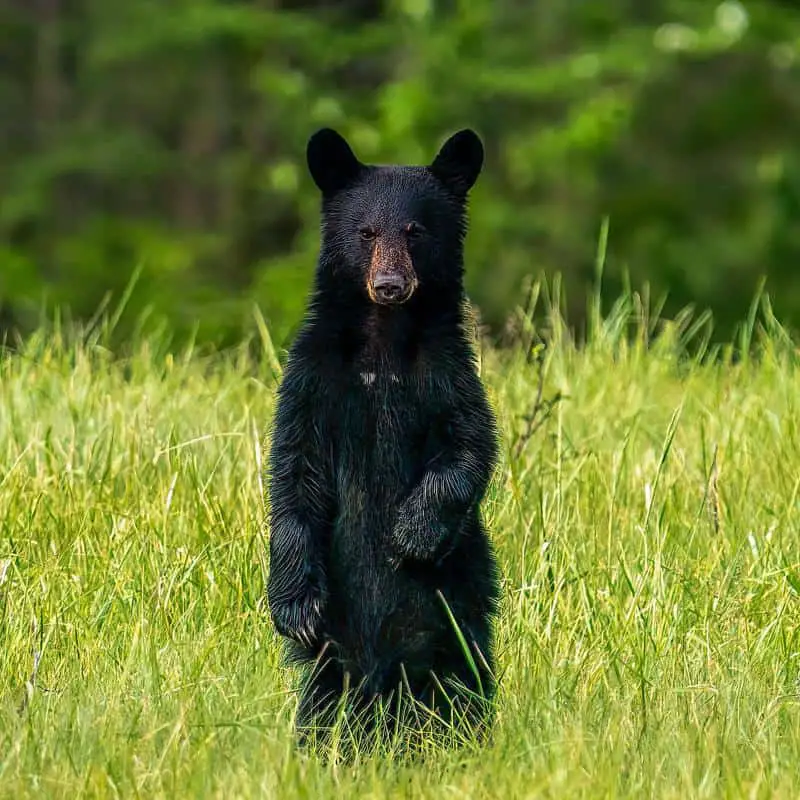 It is not uncommon to see a black bear during a visit to the Smoky Mountains, especially during the early morning and late evening hours in spring and summer.
Here is everything you need to know about black bears in the Smoky Mountain, what they look like and how to keep safe should you ever encounter one in the wild.
What Kind Of Bears Are In The Smoky Mountains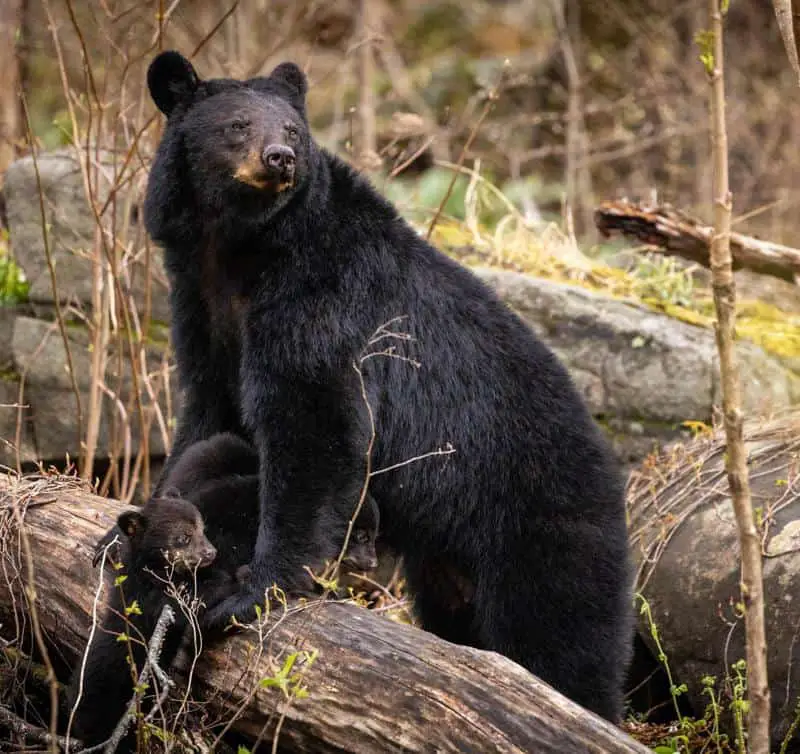 The most commonly found bear in the Smoky Mountains is the black bear. Black in color, they are around six feet tall and three feet high at the shoulder. In the eastern section of North America, the majority of black bears are a deep black. The further west you head, the more likely it is you could see brown, cinnamon, tan or blonde black bears.
During the summer months, a typical adult male bear weighs around 250 pounds while adult females are usually smaller and weigh slightly over 100 pounds. Black bears double their weight in the fall months. Some bears in the park have even been documented to weigh over 600 pounds!
Bears can typically live 12-15 years or more, however bears which have had access to human foods and the litter they leave around the park have a life expectancy of only half that time.
Bears are like humans, they are omnivores. Their diet mostly consists of plants like berries and nuts, but they do seek animals and insects as a source of protein. Bears have fantastic color vision and an amazing sense of smell. They can climb trees and run 30 miles per hour, making them fantastic hunters if they wanted to be.
Best Time To See Black Bears In The Smoky Mountains
Black bears, much like the Goldilocks story, like the weather just right. They don't like extreme cold or extreme heat. Black bears in the mountains don't actually hibernate in the winter months, but they do sleep for longer periods of time when it gets cold.
If you want to see black bears during your visit, we recommend heading to the Smoky Mountains during Spring or Summer. You are more likely to see them during the early morning or the late afternoon when they forage for food.
They will avoid hot summer days, preferring to rest in a shady tree or lounge in cooler areas. Hikers on their morning trips or afternoon hikes often report seeing black bears hanging out in the tree line. On colder days, bears will wake up and wander away for a little bit before heading back to their den to sleep.
If you want to see black bears up close, the best way to do it is via binoculars, a telephoto lens, or a spotting scope. As cute and cuddly as bears may appear, please remember they are wild animals and can be very dangerous when they feel threatened. Always respect bears and give them space.
Also Read: Best Time to Visit Smoky Mountains
Best Places To See A Black Bear In The Smoky Mountains?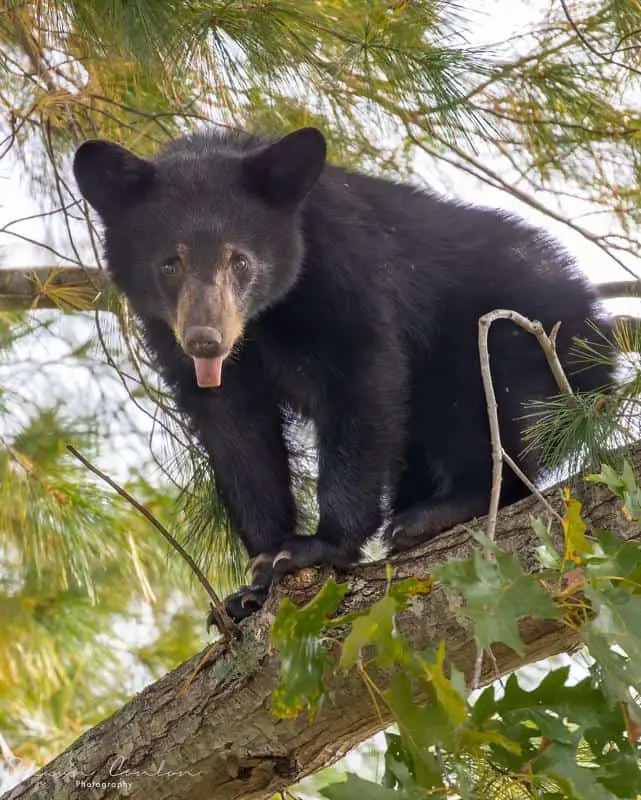 According to a range of knowledgeable sources, the best place to see black bears when visiting the Smoky Mountains is in Cades Cove, a spot just a few miles from Gatlinburg and Townsend, Tennessee.
They generally like to spend time in remote, highly wooded areas. Black bears love Cades Cove because it has a suitable ecosystem and a variety of food sources. Wild berries like blackberries, blueberries, and huckleberries grow throughout the valley and are easy to harvest by bears. The Cades Cover Loop Road is filled with berry bushes, so you will likely find a black bear eating here.
Another spot where bear sightings are commonly reported is Roaring Fork Motor Nature Trail. This 1-way loop drive is filled with historical sights and stunning nature. Bears can often be seen around the old cabins.
How To Protect Bears
How visitors behave while in the Smoky Mountains National Park has an impact on the safety of the black bears. Here is how you should act when visiting the park.
Dispose of all food scraps or garbage in bear proof garbage containers or take it home with you.
Use the food storage cables to store your food and garbage when camping.
Do not feed the wildlife.
Do not approach within 50 yards or close enough to disturb the bear
Call a ranger or visitor center if you spot someone else breaking the rules during their visit.
What Do You Do If You See A Black Bear?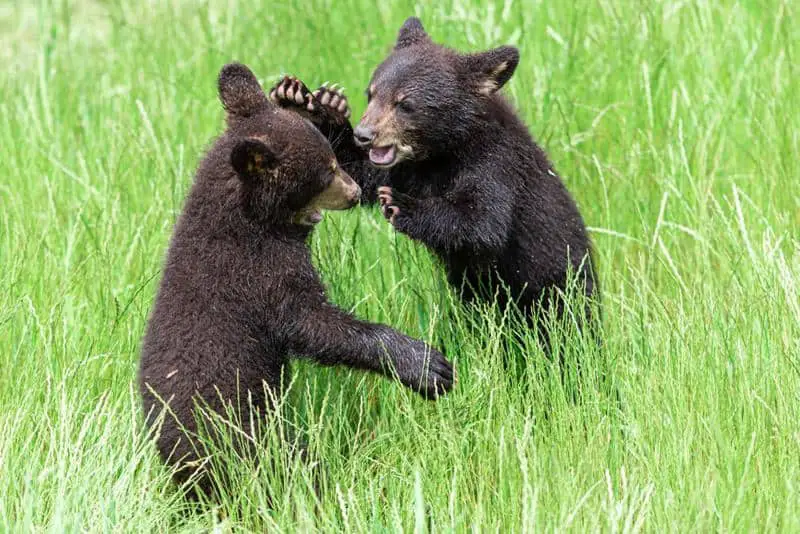 Black bears are unpredictable and can be very dangerous. Although bear attacks on humans are rare, they can happen. Bears should also be treated with caution and respect. The National Park Service requires you to always stay 50 yards or 150 feet away from wildlife. This is for both your safety and the bear's safety! Here are some tips on what to do if you encourage a black bear in the Smoky Mountains:
Remain alert.
Do not approach the black bear and don't the bear approach you
Act natural if the bear is at a distance, eating or is walking past you
Don't get too close as this could encourage aggressive behavior
Don't run away from the bear, slowly back away and don't take your eyes off the bear
If a black bear follows or approaches you, without vocalizing or paw swatting:
Change direction.
Stand your ground if persistently followed.
Talk loudly, shout and act aggressively
Throw non-food objects like rocks or sticks
Don't run and don't turn your back from the black bear.
Don't feed the bear
Don't discharge a firearm
Report it to a park ranger
Try to protect others as safely as you can
Please don't worry if you do see a bear as attacks are very rare, and deaths are incredibly uncommon! According to the North American Bear Center, since the year 1900, black bears have killed just 61 people across North America.
Bears in Smoky Mountains:

FAQs
Are bear attacks common in the Smoky Mountains?
Bear attacks in the Smoky Mountains are incredibly rare and deaths even more so. In fact, it's they are so rare that it can be difficult to find statistics on bear attack. In the year 2000, the Chicago Tribune reported that a woman was killed by a black bear within the Great Smoky Mountains National Park, about 10 miles away from Gatlinburg. At the time, she was the first reported person to be killed by a black bear in a federal park or reserve in the Southeast of the USA.
In 2020, WKRN reported that at least 40 incidents occurred relating to bears attacking humans. Most of these incidents were related to hungry bears attacking humans for their food.
Can I feed the black bears?
Absolutely not! It is illegal and irresponsible to feed the black bears in the Smoky Mountains. If you are caught by a parker ranger, you will receive a fine of up $6,000 and a jail sentence of up to 6 months.
Bears who eat human food and their waste live a shorter life. Bears attacks are usually caused by food, as they can get very hungry and desperate for food. As you walk through the national park, you will see lots of notices and flyers that will remind you of the perils of feeding the bears.
Are there grizzly bears in the smoky mountains?
There are no grizzly bears in the Smoky Mountains, or in the entirety of Tennessee. There is only one species of bear found in Tennessee, and that is the black bear. Grizzly bears can only be found in a few states in the US, including Wyoming, Montana, and Idaho. They can't be found anywhere near Tennessee or North Carolina where the Smoky Mountains are located.
How often do you see a black bear in the Smoky Mountains?
Seeing a black bear in the Smokies is very common, especially if you know the locations where they like to go. Sometimes you don't even have to enter the famous national park to see them, as bears frequently roam around Gatlinburg. It will all depend on the areas you go and the time of year.
What do I do if I see a bear at my Smoky Mountain cabin?
When visitors head to the Smoky Mountains, it is common they stay in one of their authentic cabins. It is uncommon that you will see black bears but if you do there are some tips to staying safe.
The key to staying safe while staying at your cabins is to keep food and trash outside of your vehicle. Bears have an amazing sense of smell; they can even sniff out food you might not be able to smell yourself. Many people think leaving food inside a car is safe, but bears will happily break into a vehicle to access a granola bar. Always keep your car locked, black bears are nifty at gaining access when they want to.
Most cabins have bear-proof trash containers, which you must use, and latch closed. If you find your cabin does not have this, arrange for an employee to bring you one. Food can be kept inside the cabin, just as long as the windows and doors are kept closed.
Read More:
Final Words
The black bear is one of the most popular animals for visitors to spot in Tennessee's Smoky Mountains! It's on many people's bucket list and they are easy to spot, if you go the right time of year. There are lots of chances to catch these beautiful yet wild creatures, but you need to take some safety precautions.