The best campgrounds in the Smoky Mountains give you access to incredible wildlife sceneries, wildflowers, mesmerizing waterfalls, and bear sightings. The Great Smoky Mountains is the perfect place to take your family for camping, especially between April and October.
The Great Smoky Mountains national park stretches Tennessee and North Carolina as well as two huge mountain ranges: Blue Ridge and Appalachian. It gets the Smoky name from the blue-colored mist that covers the mountain peaks; a beautiful site to behold.
The Smoky Mountains is the most visited national park in the United States with over 10 million visitors each year. That is not all, entrance into the park is free. No wonder visitors love to camp in this beautiful location. There are various sites that provide tent, RV, and horse camping. You won't miss a kid-friendly campground and the amenities are favorable for weeks of solitude and basking in nature.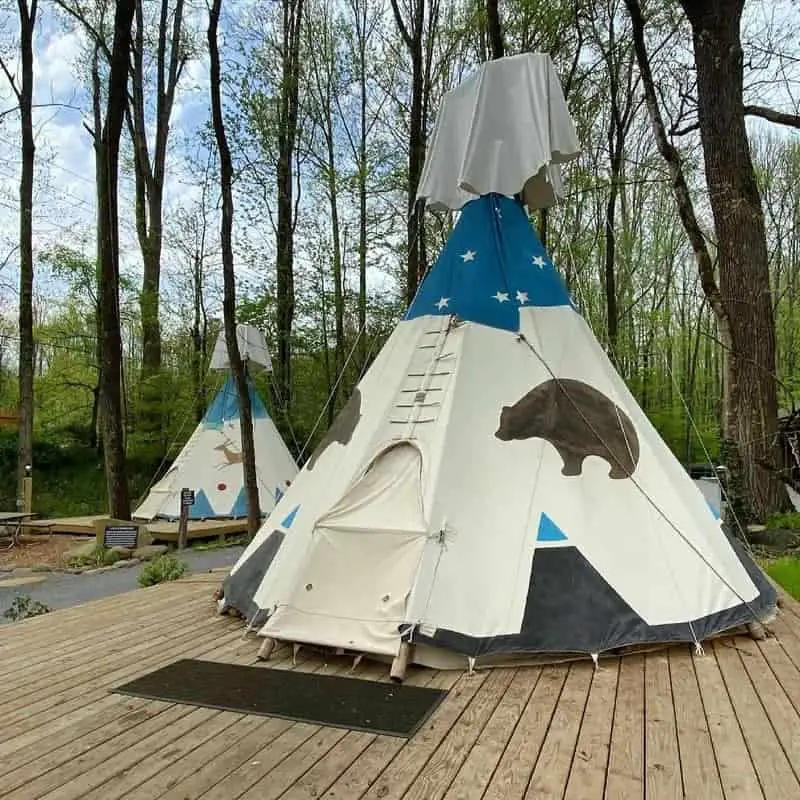 This article takes you through the best camping sites in the Smoky Mountains. Read more to get to know what site is suitable for you. Different types of campers require different types of camping from RV favorable to tent ready, and family-friendly locations. By the end of the article, you can be able to choose and book your site with ease.
Summary of the best campgrounds in the Smoky Mountains:
Camping Site
Sites Available
Cost Per Night
Elevation
Maximum Length of RVs
1
Greenbrier Campground
120
$45-$125
1631 feet
2
Smokemont
142
$25
2,198 feet
Not RV ready

35 feet for Trailers and 40 inches for motor homes

3
Big Creek Horse
12
$17.50
1,700 feet
Not RV ready
4
Cades Cove
159
$25
1,807 feet
Not RV ready

35 feet for Trailers and 40 inches for motor homes

5
Abram's Creek
16
$17.50
1,125 feet
12 feet
6
Cosby Group
157
$17.50
2,459 feet
25 feet
7
Balsam Mountain
43
$17.50
5,310 feet
30 feet
8
Anthony Creek
3
$23
1,800 feet
Not RV ready
9
Elkmont
220
$25 – $27
2,150 feet
Not RV ready

32 feet for trailers and 35 feet for motor homes

10
Cataloochee
27
$25
2,610 feet
31 feet
Best Camping in the Smokies
Below are the top 10 camping sites in the Great Smoky Mountains
1. Greenbrier Campground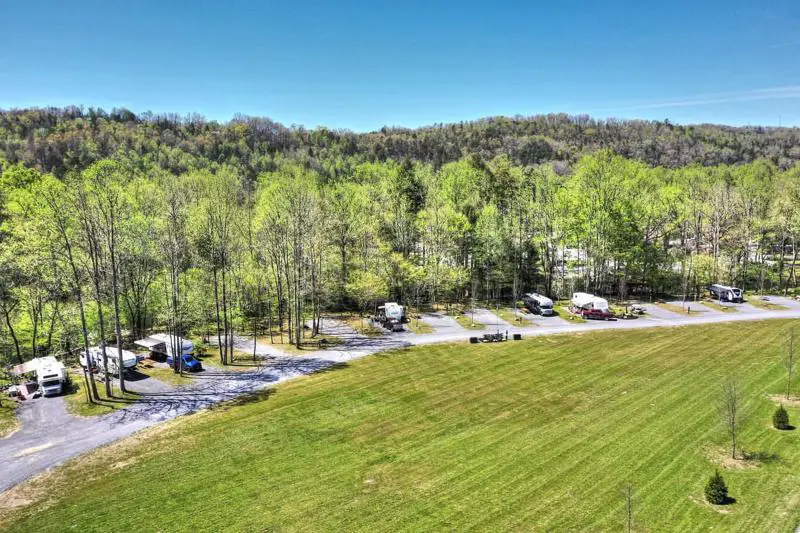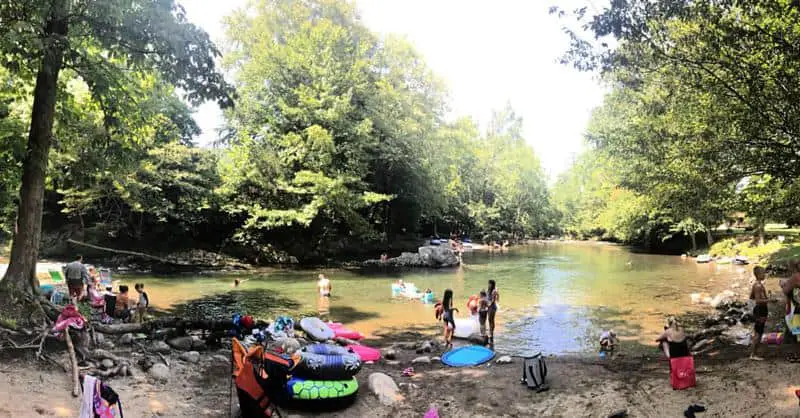 Address: 2353 East Pkwy, Gatlinburg, TN 37738
Website: Greenbrier
Telephone number: 865-430-7415
Cost per night: $45- $125
Perks: RV and Tent ready, on-site firewood sales
You can Greenbrier Campground the deluxe of all campgrounds in the Smoky Mountains. It is the perfect location for those who want the best of the best when it comes to camping in a modern setting. If you want to feel connected to the modern world whilst in the woods then this is where you need to be.
Greenbrier campsites have water, sewer, and electric hookups. There is also 50/30 Amp and 110 outlets at each site for your electrical needs all day every day. As if that wasn't enough, Greenbrier also includes complimentary Wi-Fi. It is sufficed to say that the campground is for entertainment and team building activities with its many amenities and complimentary services.
There is a volleyball, badminton, Bocce Ball, Corn Hole, and Horseshoes at the sites. Other amenities include charcoal grills, propane grills, golf cart rentals, camp store, luxury bathhouses, cable TV, and Outdoor billiards.
Also Read: 7 Best Horseback Riding in Smoky Mountains
2. Smokemont Campground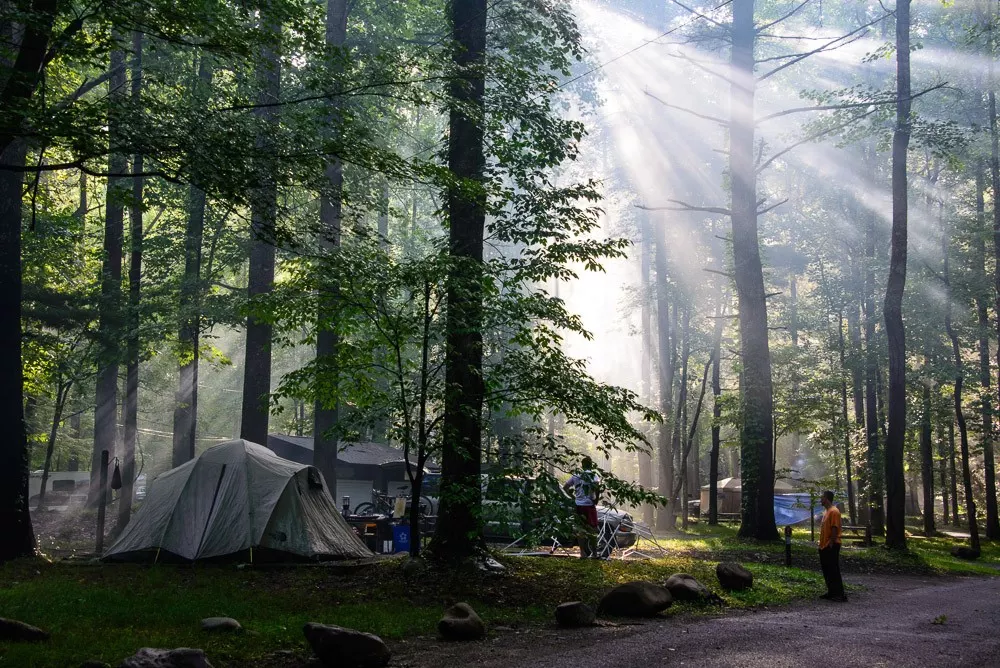 Address: Smokemont Campground Rd A, Cherokee, NC 28719
Website: Smokemont
Telephone number: 828-497-9270
Cost per night: $25
Perks: Tent and RV ready
Smokemont aims to provide all the best features of a great outdoor camping experience. The site offers tent pads, grills, fire rings, tent campsites, as well as RV ready sites. It is located in the North Carolina side of the Smoky Mountains blanketed in wildflowers during the spring. The climate at Smokemont is typically moderate with mild winder and hot summers.
This is the place you want to be if you want to hike during your trip. It is elevated at 2,200 feet and comes with 800 miles of hiking terrain. You can opt for other activities if you are not a big fan of hiking. There are regions for fishing, going for picnics, and taking a great view of the Smoky Mountain wildlife.
The cool rivers that run through the amounts are great for backcountry fishing but wildlife watching is the most popular activity in this site. About 1500 bears roam through the national park which makes it a common thing to get a glimpse of on or two. There are also over 4,000 different types so plants to see in this region.
Amenities in the Smokemont campgrounds include clean drinking water, a dump station, flush toilet restrooms, food lockers, tent pads, fire pit, fire rings, and electricity hookups. You won't get bored camping at this site as nearby attractions include the museum of the Cherokee Indian, Qualla Arts & Crafts Mutual, and Oconaluftee Indian Village.
3. Big Creek Horse Camp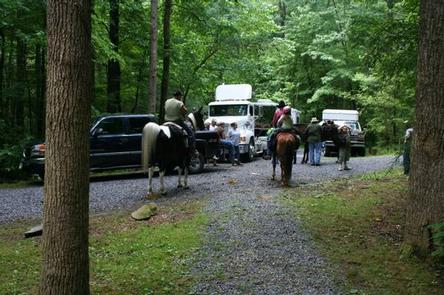 Address: 236 Big Creek Park Road, Newport, Tennessee, 37821
Website: Big Creek
Telephone number: 865-436-1261
Cost per night: $17.50
Perks: Cannot enter without a horse, not RV ready
It is important to note that you cannot get into the horse camping sites in Smoky Mountains without a horse. Big Creek Horse Camp is one of these horse-dedicated campgrounds that offer the best camping experience for riders.
The terrain around this site is perfect for long rides on your horse. You can get to ride the beasts around the 35-foot-high Mouse Creek waterfall while catching stunning views of the ranging waters. You may also opt to take a hike instead since it is nearby the famous Appalachian Trail.
The site is located about 16 miles from Newport, Tennessee. It is nearby the Big Creek Group Campground that accommodates large groups than this one. To get to the site, follow the Waterville Road and cross the Pigeon River.
Proceed to go past Walters Power Generating Station till you get to the intersection at Mt. Sterling Gap. You can then see visible signs pointing you straight to Big Creek. Once you get to Big Creek, proceed to go past the Ranger Station and take the first left where you can get to see the Big Creek Horse Camp.
Did you know that Big Creek Horse Camp is currently the only horse camp with flushing toilets and potable water? Well now you know. Keep this one at the top of your horse camping list.
4. Cades Cove Campground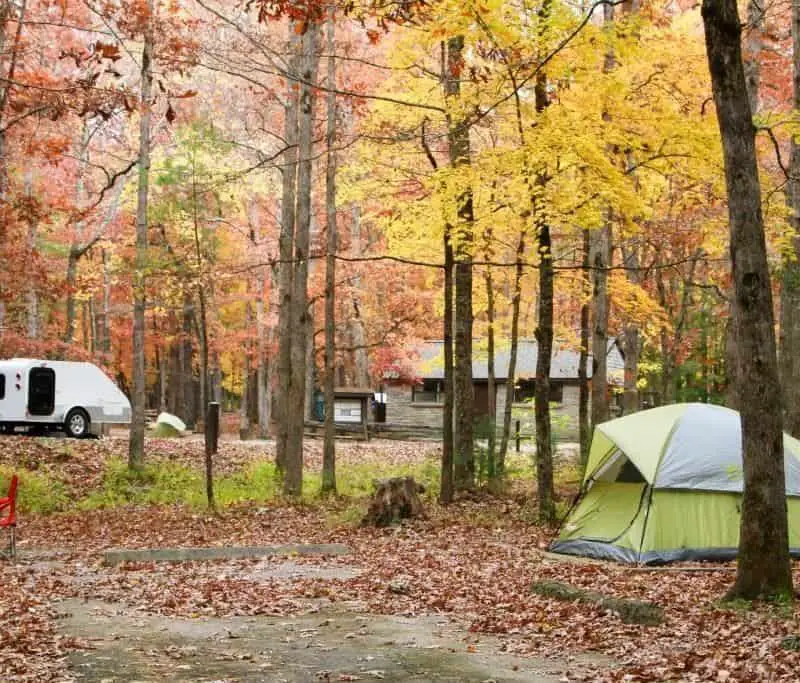 Address: 10042 Campground Dr, Townsend, TN 37882
Website: Cades Cove
Telephone number: 865-448-2472
Cost per night: $25
Perks: Tent and TV ready, Camp store
Cades Cove Campground provides the beloved front country style campsite where you can get to bring your RV and family. It is not ideal for backpackers but tent camping is available for the adventurous ones. Despite not having showers, the site is filled with lots of amenities including drinking water and usable restrooms.
The campground has a camp store where you can get your necessary items like toiletries and clothing. There are also refreshments including hamburgers, ice cream, beverages, and other sorts of store-bought food in case you get hungry. This is one of the reasons Cades Cove is a huge attraction to families and group style campers.
Wildlife sightings in the campground include beers, turkeys, raccoons, foxes, otters, and deer. Hiking trails near the campsite take you to scenic waterfalls like the Abrams falls through a five-mile round trip. You do not need to walk as there are bicycles ready for hire on the camp store.
You are required to have a Tennessee fishing license to get some fresh feed from the park's streams. The historic buildings around the valley are great for the history buffs who want to explore the numerous 19th and 20th century grist mills, churches, barns, and log cabins.
5. Abram's Creek Campground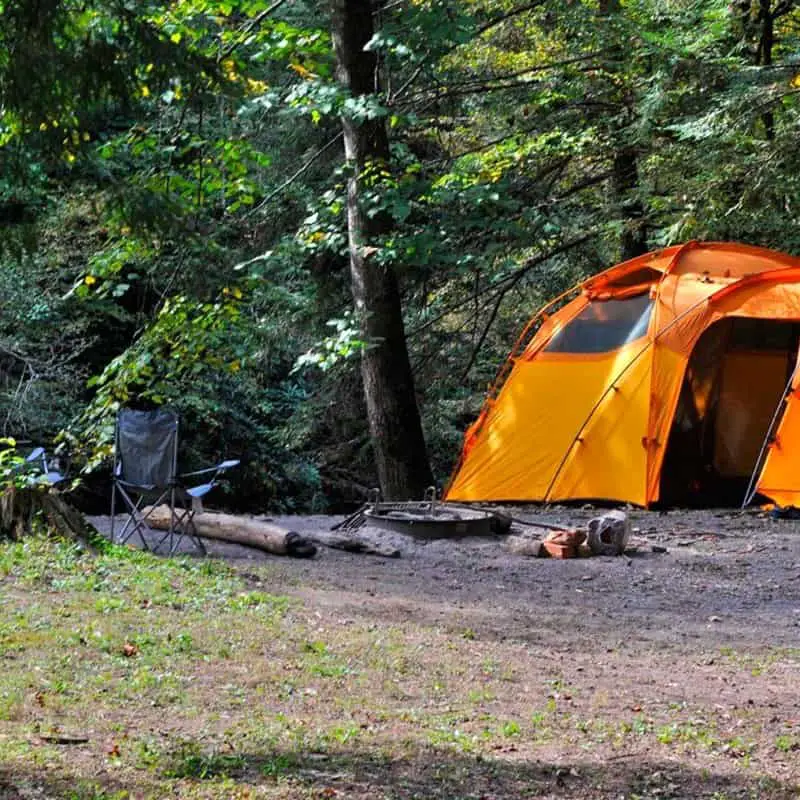 Address: Abrams Creek Campground Rd, Tallassee TN 37878
Website: Abram's creek
Telephone number: 865-856-2445
Cost per night: $17.50
Perks: Not RV ready.
Abram campground has a maximum accommodation limit of six people per campsite. Moreover, you cannot stay at the location for more than fourteen days consecutively. There are quiet hours which are in effect between 10 pm and 6 am and generators are not allowed to stay on between 8 pm and 8 am. This is to keep the wildlife at bay and help them get some shut eye for your own excitement.
Elevated at 1125 feet, the beautiful Abram's Creek Campground provides a secluded setting unlike the other high up sites. It is a relaxed campsite where only tents are allowed with the provision of flush toilets and drinking water.
The site is on the west side of the Smoky Mountains National Park accessible through a narrow road from the Happy Valley Road. Abram's campground is open mostly between late April and mid-October due to the snow conditions. Unlike the Smokemont and Codes Cove, the Abrahams Creek campground does not include electricity hook ups at the campsite.
Accessible hikes include Abram's Waterfall through the Little Bottoms Trail. Stay clear from swimming in the waterfall since several drowning incidents have been reported due to the harsh undercurrents. You can also opt for backcountry fishing in the chill cool waters of the various streams and rivers passing through.
Read More: 8 Best Smoky Mountain Hikes By Difficulty
6. Cosby Group Campground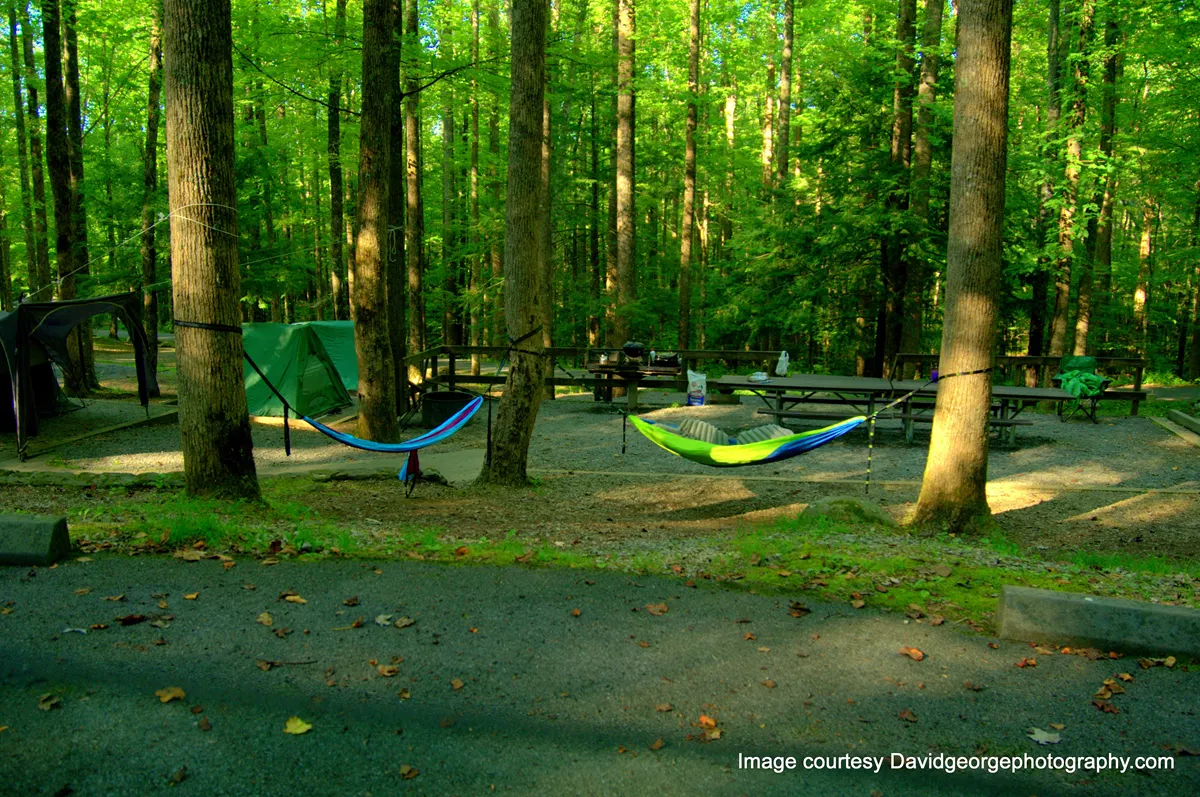 Address: 127 Cosby Entrance Rd, Cosby, TN 37722
Website: Cosby Group
Telephone number: 423-387-2683
Cost per night: $17.50
Perks: Tent and RV ready
The Cosby Group Campground is where you want to be if you are looking for a less chaotic, quiet, and less busy campsite in the Smoky Mountains. The front country campground is tucked under a huge canopy. It offers a peaceful and secluded environment.
Camping season at Cosby Group runs from late March to late October depending on the year. BE sure to check out the linked website for any updates on the opening and closing dates. The sites can only accommodate seven people at a time to enjoy the modern restrooms with cold water only.
Like Abram's Campground, the Cosby Group also does not have electric or water hook-ups. Moreover, there is not camp store where you can purchase toiletries or essentials like food and clothing. However, there are shops that are located about 10-minute drive from the campsite where you can buy essentials, sandwiches, and ice cream.
Tent pads, grills, tables, fire ring, and picnic tables are available for your secluded camping trip. For those who would love more activities there is the river rafting trips, aquarium trips, and skiing trips during the winter.
7. Balsam Mountain Campground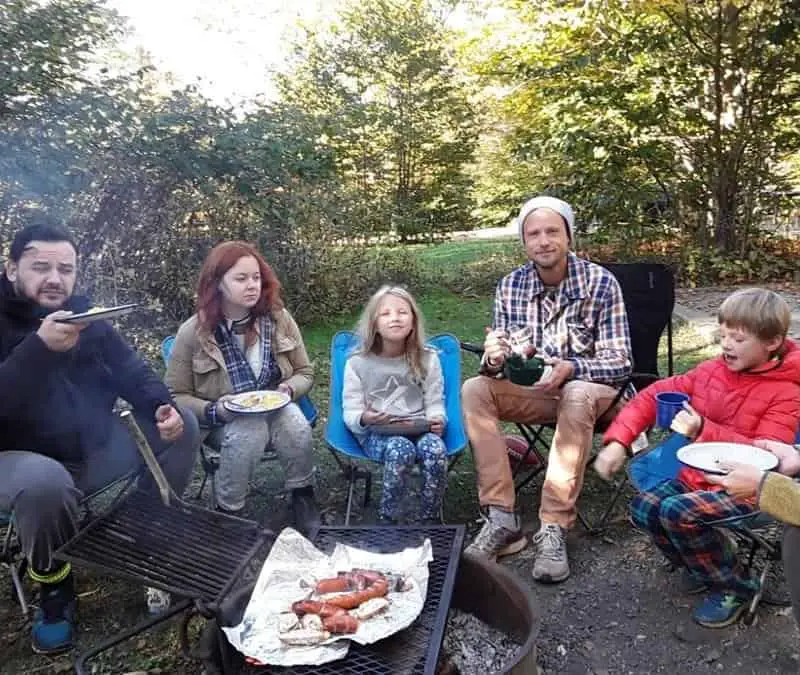 Address: Cherokee, NC 28719
Website: Balsam
Cost per night: $17.50
Perks: Tent only camping
Balsam gives you a great opportunity to see elk during the spring and fall seasons. The elevation of 5,300 feet makes it an ideal place for watching wildlife and taking nature walks through waterfall regions and great landscapes.
The restrooms in the campsite do not have lights which means you need to arm yourself with flashlights and spare batteries. Th Flat Creek Trail is a short relaxing hike trail that takes you through great scenic views of the Smoky Mountains. Other adventurous trails include the Rough Fork Trails and Hemphill Bald terrain.
8. Anthony Creek Horse Camp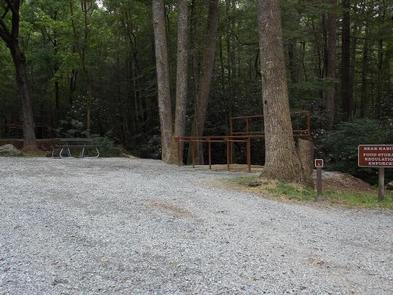 Address: Antony Creek Trail, Townsend, TN 37882
Telephone number: 865 448 4103
Cost per night: $23
Perks: Only horse camping allowed
It is located near the rolling waters of Anthony Creek, covered in wildflowers in the spring and vivid colors during the fall. Like other horse campgrounds, you need to have a horse to get through the gate. You won't find any showers or water/electricity hook-ups on this campsite.
Anthony Creek Horse Camp is close to Codes cave where you hand get to see the Cherokee Indian Hunting grounds. The historical and natural attractions in these areas are a huge attraction to tourists. The region of Anthony Creek is considered a beer favorite where you can expect to see a beer or two from time to time.
Hiking is the most popular activity at this site. Trails from the campsite take you to Bote Mountain and Abram's Falls where you can enjoy wild bird sounds and various plant life. Do not be surprised if you bump into wild turkeys and deer on the way.
9. Elkmont Campground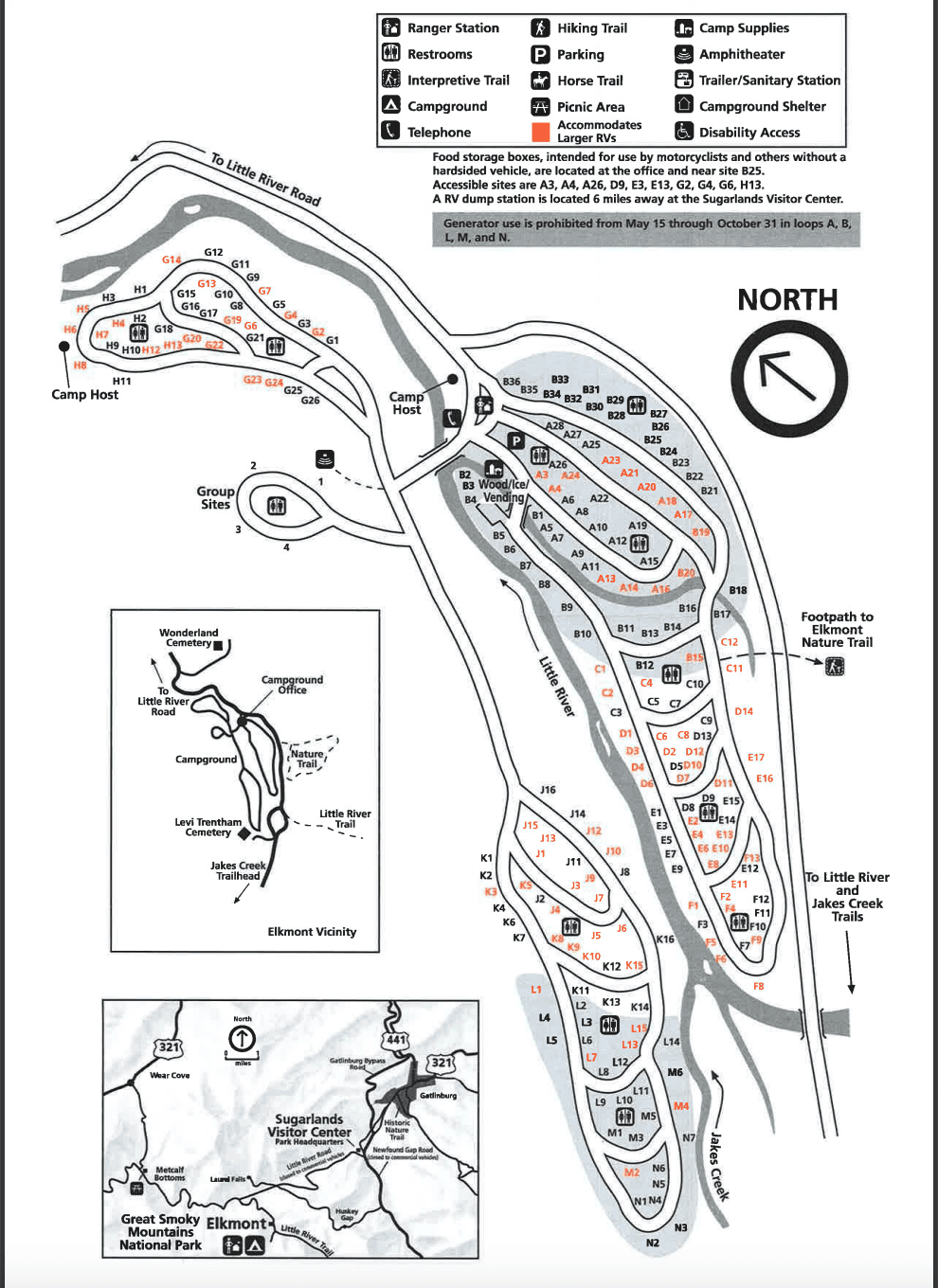 Address: Elmont Campground Rd A, Gatlinburg, TN 37738
Website: Elkmont
Cost per night: $25- $27
Perks: RV and Tent ready, on-site firewood sales
Elkmont is one of the few campsites in the Smoky Mountains that provide 5-amp hook-ups for medical devices like CPAPs. You won't miss fire rings, picnic tables, and tent pads at Elmont. The RV ready site is filled with lots of restrooms with one per one loop.
The campground store is situated by the ranger station and comes with a well-stocked shelf in such a tiny space. You won't miss items like bread, ice, peanut butter, no-alcoholic beverages, and most importantly, camping gear like tents and other accessories. Vending machines are available for you late-night snacks and the ice cream machine is definitely going to be your child's favorite spot.
A thriving forest covers the 2150 feet elevated campsite with lots of surrounding activities. The Laurel Falls provide a nice trail from the Elkmont campsite where you get to spot elk and bears from time to time.
Elkmont is a great site for group campers. You can comfortably fit 15 to 30 in each of the secluded sites. Moreover, this is one of the most visited camps in the national park which has made it have well-maintained trails and lots of hiking and fishing activities.
10. Cataloochee Campground
Address: Cataloochee entrance Rd, Waynesville, NC 28785
Website: Cataloochee
Cost per night: $25
Perks: Not RV ready
Amenities at Cataloochee include Equestrian facilities, trails, fire pits, fire rings, group camping amenities, allowance for pets, picnic tables, and flush toilet restrooms. You won't run short of activities as you can go for a backpacking trip, bird watching, backcountry fishing, mountain biking, nature trail, and historic site seeing.
Keep in mind that the terrains on these regions are rough. There is a 3.1-mile entrance road to the Cataloochee valley which is narrow and curvy. RVs have a hard time navigating through this dangerous road which is why the National Park has regulations on it. Motor homes that are longer than 32 feet are not allowed and neither are trailers longer than 25 feet.
No hookups or showers at Cataloochee campground as it is tailored to offer you the traditional style of camping. The 27 sites include seven horse campsites where you can only enter with a horse and RVs aren't permitted. Three of the campsites are dedicated or group campers with a starting charge of $40 per night.
The secluded campsite is a great location for avoiding clouds to nest in the entrenched forest near North Carolina border. Activities range historic site seeing, hiking through the scenic trails, and creek. Little Cataloochee trail is a fan favorite as it takes you through historical buildings that are reminiscent of the region's culture a hundred years prior.
Camping in the Smoky Mountains: FAQs
What gear to carry when camping in the Smoky Mountains?
Camping is an adventurous activity that requires proper planning. You need to arm yourself with a couple of items to ensure your health is not at risk and you do not get yourself hurt. The first essentials include tent and sleeping bags in case you want to camp outside. Appropriate clothing is necessary to layer you from the cold weather and rainy days.
Safety comes first. Do not forget to carry flashlights with extra set of batteries for backup. A first aid kit is also another safety item you do to want to leave behind. Take note of the activities you are going to partake in and carry necessary sporting gear, fishing equipment, or wildlife watching gadgets.
What is the best month to camp in the Smoky Mountains?
The best time to camp in the Smoky Mountains depends on what you are looking for. Crowds of people fill the camping sites during the summer periods, especially in September. The cold months are less populated but do not feature lots of outdoor activities except a few like winter hiking and skiing.
Best time for hiking during your camping trip is between June and August. This is when the temperatures are the hottest and wildlife is more visible. The bear and elk population are more active between July and August during the warm months.
An attractive time to horseback ride during a camping trip is May to June. The cooler temperatures and low traffic during this period offer freeing ambiance for the horses and interaction with wildlife. July is when most rains pour in the Smokies. This is the best time to visit the waterfalls when they are at their highest levels.
All in all, May to August are the best times to camp in the Smoky Mountains as you won't run out of activities to do.
What are the best free camping spots in the Smoky Mountains?
There are no free campgrounds in the Smoky Mountains. However, you can get to camp near the Smoky Mountains at some free nearby campsites. It is important to note these campsites provide primitive camping options that are not for everybody.
Free camping sites near the Smokies include the Nantahala National Forest, Cherokee National Forest, Pisgah National Forest, and Harmon Den Wildlife Management Area.
What is the best tent camping in the Smoky Mountains?
Elkmont Campground is the most popular and busiest campsite in the Smoky Mountains. It has over 200 sites and attracts thousands of visitors each year. This is the best tent camping in the Smoky Mountains if you are looking for a fun-filled group camping experience in the region. There are nine sites that are wheelchair accessible and some have electrical service hookups for medical equipment.
What are the best Smoky Mountain campgrounds with electricity?
Elkmont and Smokemont campgrounds provide electrical service hookups for medical grade equipment. Stick to these two sites in case you want to use the hook-ups since the other campsites do not offer the service.