Immediately after the transition from Sevierville to Pigeon Forge, the Parkway turn is one of the most surrealistic lands in the Smokeys. Everything seems normal. But then, when you drive past the Hard Rock Cafe, things quickly become strange.
First, you notice the impressive silhouette of the Titanic at the top of the hill ahead. Then, on the other side of the Parkway, you see an entrance to a collapsing skyscraper, also known as Beyond the Lens, with a gigantic hand holding an outdated camera on top of it.
Then, as you move along the road, you notice a conceptually out-of-place Hatfield-McCoy dinner show and the strange concept of the ButtonWillow Civil War Theater. And finally, you see an Upside Down House.
As already mentioned, very peculiar things loom around Pigeon Forge! But surely, an Upside Down House is a bizarre sight. So let's see what this Upside Down House is and why is it here in Pigeon Forge?
What is the Upside Down House?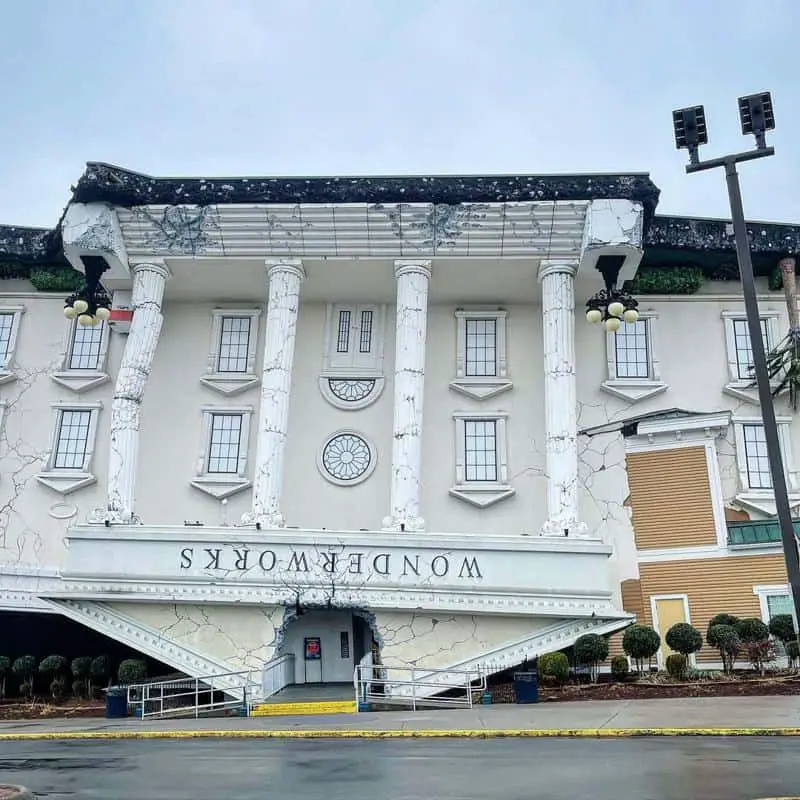 This humongous upside-down building is actually a museum called WonderWorks. It is one of the most popular attractions in Pigeon Forge and Smoky Mountain.
The WonderWorks attraction combines a science fair, an amusement park, and a children's museum into one giant unforgettable experience. Admission includes over 150 activities, from roller coaster simulators to black light ropes courses.
WonderWorks entertains young kids, teens, and adults at the same time. All the attractions are an absolute pleasure for young and old! The experience should last from two to four hours, depending on how many exhibits your group wants to interact with.
Why is it Upside Down?
According to Professor Wonders, this upside-down building was, in fact, a top-secret laboratory on a remote island in the mysterious Bermuda Triangle. However, something terrible went wrong with one of the experiments that harnessed the power of a tornado.
The wind got stronger than expected, creating a swirling vortex that went out of control and was too powerful to contain! In the end, the mighty cyclone tore the building from its foundation and carried the lab hundreds of miles away, and finally landed upside down at Pigeon Forge.
Of course, when you enter the building, everything will be upside down, so you'll have to step into the inversion tunnel and flip to the right and take part in the fun! Once correctly aligned for your adventure, family fun awaits you with over 100 interactive exhibits designed to challenge your mind and inspire your imagination.
Inside Look at Upside Down House (WonderWorks)
Once you enter through the inversion tunnel, there's a series of exhibits, and they're called Wonder Zones. Each Wonder Zone has a theme like weather, space, art, and many other entertaining and educational attractions and exhibitions.
The Wonder Zones are as follows:
The Extreme Weather Zone
The Physical Challenge Zone
The Light and Sound Zone
The Space Discovery Zone
The Wonder Art Gallery
The Imagination Lab
All the zones combine entertainment and education, but some are more challenging than others. For instance, the Physical Challenge Zone is basically all about sports, and the Light and Sound Zone is mainly about television and video games.
Wonder Zones Popular Interactive Exhibits
Hurricane Shack:
Hurricanes are among the most common natural disasters globally, leaving their own path of destruction afterward. This rapidly changing storm consists of a cyclone center, a spiral cluster of heavy rains, occasional hailstorms, and strong winds exceeding 155 mph. Experience a category 1 hurricane-force winds up to 74 mph in the hurricane shack.
Bed of Nails: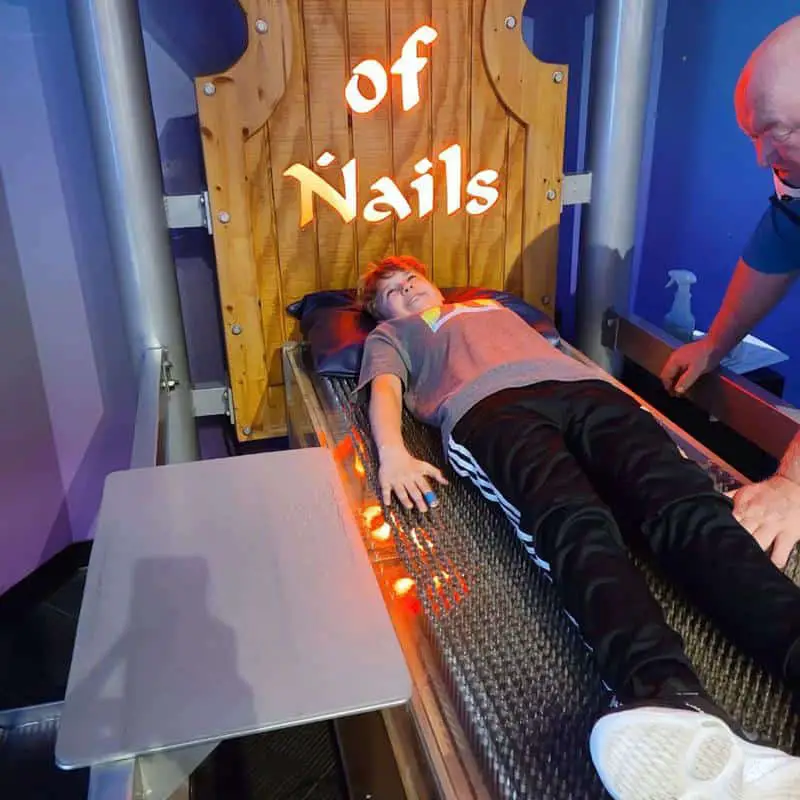 All great scientists know that pressure is the application of force to the surface of an object. When you step on one nail, your foot exerts a great deal of force on the small surface of that nail and easily pierces the skin. That is the principle of pressure. See what it feels like to lie down on a bed of 3,497 nails! Don't worry, it won't hurt a bit.
Bubble Lab:
No matter your age, you will love this exhibit! Here you get to create bubbles the size of basketballs, blow bubbles through a bubble sheet, or make a bubble big enough for you to fit inside! Marvel at all the pretty colors in the bubbles as they float around, which are actually reflections and refractions of the light around the bubble. The colors show how thick or thin the bubble wall is.
Recollections:
At Recollections, you can dance as if no one is watching! Walk in front of this screen and watch the shadows quickly change to different colors and patterns. And while doing that you will hear music! Perform some of the best movements in front of the screen and watch every movement of your body mirrored and multiplied in brilliant and vibrant colors.
Astronaut Training Challenge:
This 2-person gyroscope will spin and rotate in multiple, random directions as it simulates outer space's effects on humans. Experience the feeling of weightlessness and the rolls and tumbles that astronauts feel when conquering missions in space.
Wonder Coaster:
On a ride on a roller coaster, you enjoy dips, flips, turns, or even all of the above. The Wonder Coaster is a multiple-axis virtual roller coaster that will take you through seemingly endless loops and rolls. The coaster has a full 360 degrees of pitch and roll that will get your adrenaline pumping!. If you prefer not to be flipped upside down, explore the ocean in a virtual submarine adventure.
Apart from the Wonder Zones inside this fun upside down amusement park you'll find a ropes course, a laser tag activity, a 4D XD stimulator ride and traveling exhibits. Let's check them out!
Pigeon Forge Ropes Course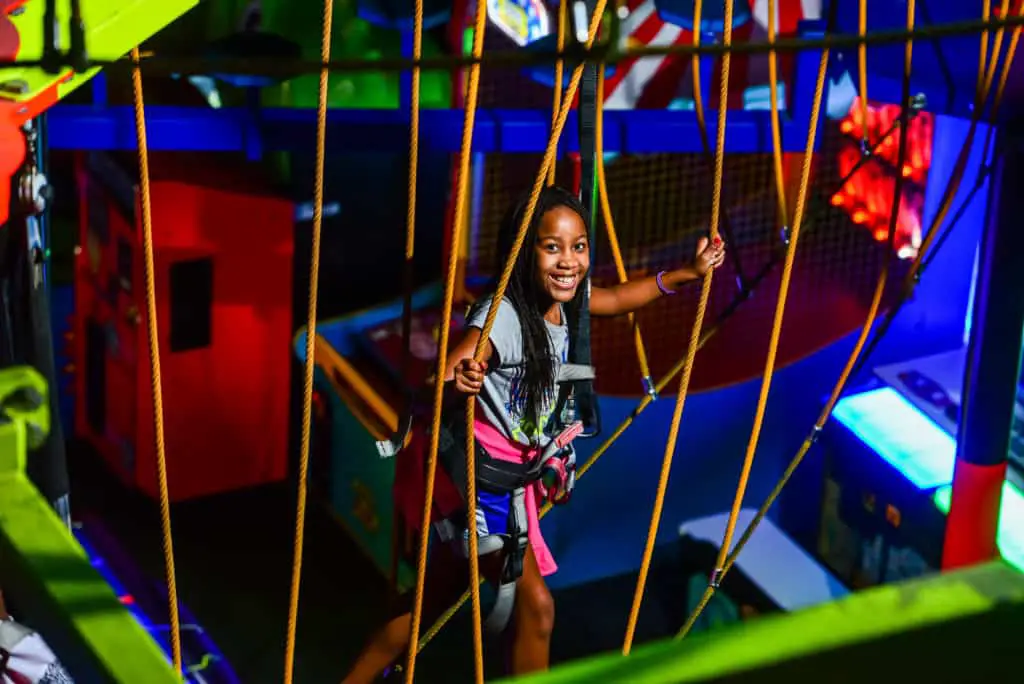 WonderWorks takes family fun to a new level with the world's largest indoor rope course. Visitors can climb 50-foot-high  four-story ropes and encounter over 50 different obstacles and activities, including swaying stairs, lily pads, and quivering bridges.
This four-story dark adventure is the first in Pigeon Forge and was designed with each participant's experience in mind. Advanced athletes will discover new challenges, and first-time climbers will get a great sense of accomplishment navigating and completing the course. Children gradually gain confidence by testing their mental and physical abilities with this exciting and fun activity.
Overcome fear and get an adrenaline rush at Pigeon Forge's top attractions. This exciting experience is included in the admission fee.
Laser Tag Pigeon Forge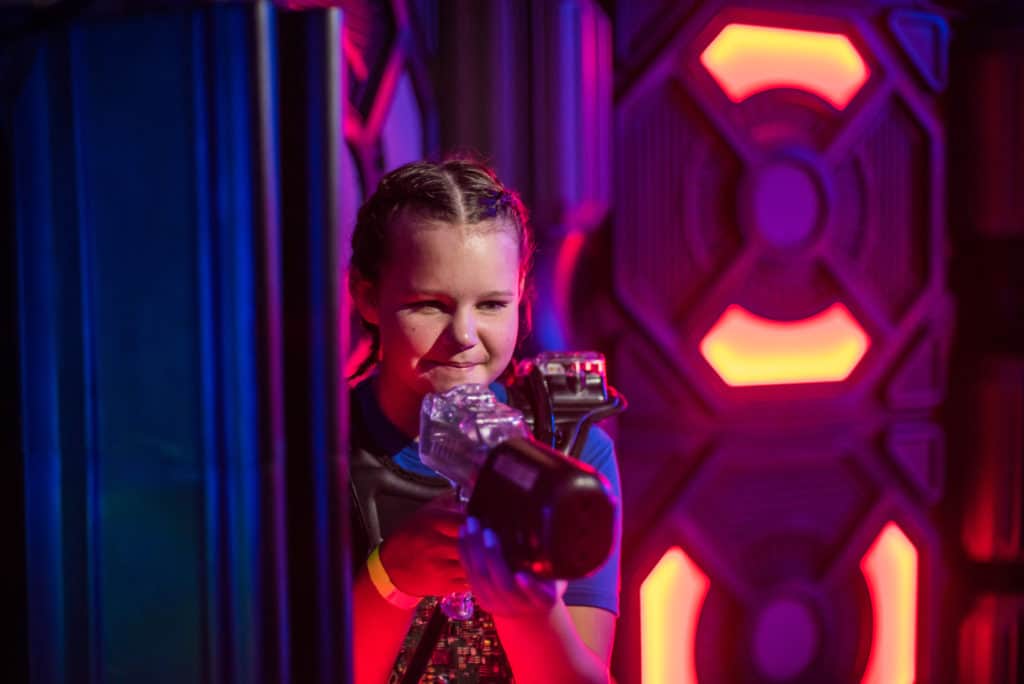 Put on your vest and get ready for the best laser tag in Pigeon Forge! Step into the black-lit maze as you fight your opponents in fast-paced, action-packed laser tag battles!
This is a survival game. Whoever outlasts the other players wins! You can try to hide, but you will eventually be found, so keep your eyes open and mind sharp.
The LaserTag combines innovative technology to provide players with a unique interactive experience. The laser tag is included in the WonderWorks ticket.
4D XD Stimulator Ride
Experience a fun adventure in this 12-seat 4D theater that transcends time, space, and imagination.
This unique experience combines 3D film with special effects and a full-motion seat, from slight sensations to intense vibrations.
The 4D XD Motion Theater experience effectively takes you from your seat to the big screen action and adventure!
Traveling exhibit from Wonderworks Branson
WonderWorks celebrates the history and culture of the American classic Route 66 with a traveling exhibition.
Route 66 got its start at a meeting in Springfield, Missouri, which would cement the midwestern city as the birthplace of the historic route. Designed to connect Chicago and Los Angeles, Route 66 offers travelers a must-see street attraction and a unique driving experience with many Americana works preserved along the way.
Let the top down in your Chevrolet Corvette, blast "Get Your Kicks On Route 66," and take a journey along the "Mother Road" with WonderWorks
What You Need to Remember When Visiting Wonderworks
During your visit to WonderWorks, the following restrictions will apply:
Wonder Coaster – Minimum height of 48."
Ropes Course – Minimum height of 48" to participate alone or 42" when accompanied by an adult (all participants must wear closed shoes.)
Rock Climbing – Must weigh between 40 and 250 pounds and wear closed shoes.
360 Degree Bikes – Minimum height of 58" and must wear closed shoes.
So, prior to purchasing tickets, make sure everyone in your party meets the height, age, weight and clothing requirements for rides and check to ensure the best attractions are open.
Also Read: 60+ Best & Fun Things To Do in Pigeon Forge
Upside Down House: FAQs
How much is the Upside Down House?
Tickets for adults are $32.99, and children (ages 4-12) are $24.99, as are seniors 60 and over. Children 3 and under are free.
Is there Food at the Upside Down House?
While WonderWorks does have the snack bar WonderDog Cafe, the food quality is relatively low, and the prices are high. Instead of paying too much for an hour-old hot dog on a stale bun, I recommend leaving the attraction and eating elsewhere. After all, your ticket allows you to come and go as you please for the whole day.
How to get to the Upside Down House?
WonderWorks Pigeon Forge is located at 100 Music Road in Pigeon Forge, TN. The museum is located near the Titanic museum and is easy to see from the main Parkway. Look for the monumental upside-down building!
Wonderworks is open every day at 9 a.m.
Final Thoughts
This 55,000-square-foot interactive attraction is definitely worth visiting and is one of the best destinations in the Smokies. The all-inclusive price ensures that your family will enjoy everything at a set price. Your group will remember the hands-on exhibits and experiences long after your trip.