Every local from Pigeon Forge has a soft spot for Dollywood's Blazing Fury. After all, it is the first roller coaster in Dollywood, making it part of the town's heritage.
Everyone probably knows every line spoken by heart and can easily recite them spontaneously while riding the train.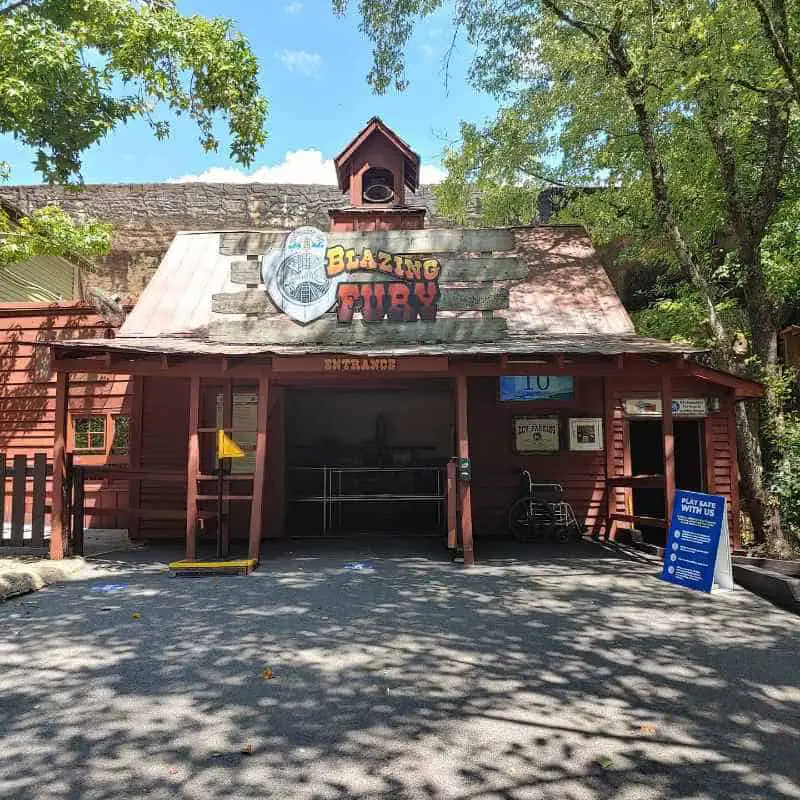 However, one might ask, what is the Blazing Fury, and why is it so important for Pigeon Forge's people. To find out, keep reading and discover everything you need to know about this tremendously loved roller coaster in Dollywood.
What is the Blazing Fury?
"Fire in the hole" is the phrase for Blazing Fury, and it's a very fitting one, to say the least. The indoor roller coaster takes you on a ride through an out-of-control fire engulfing an 1880s town.
After you hop in your train car, pull down your lap bar, and prepare for a fiery adventure. The Blazing Fury car will slowly creep into a chaotic town as a cast of characters ranging from firefighters to gunslingers and damsels hurry to escape the blaze.
At the Blazing Fury, you should be prepared for the unexpected as you ride through the dark. You will encounter people jumping from houses, and running out of their homes, and some are just freaking out as the flames are all around.
When Did Blazing Fury Open?
Blazing Fury opened in 1978 at the then Silver Dollar City. It was designed based on the world's first indoor roller coaster built in Missouri in 1972, Fire In The Hole.
Fire in the Hole was built around some Branson local history. It involves the James Gang, devil-mask-wearing vigilantes-turned-outlaws, and a giant cave of miracles.
As this context is not relatable to Sevier County's locals, Blazing Fury was designed as a dark ride through a burning hellscape with Molly and Luther's humor.
Is Blazing Fury Scary?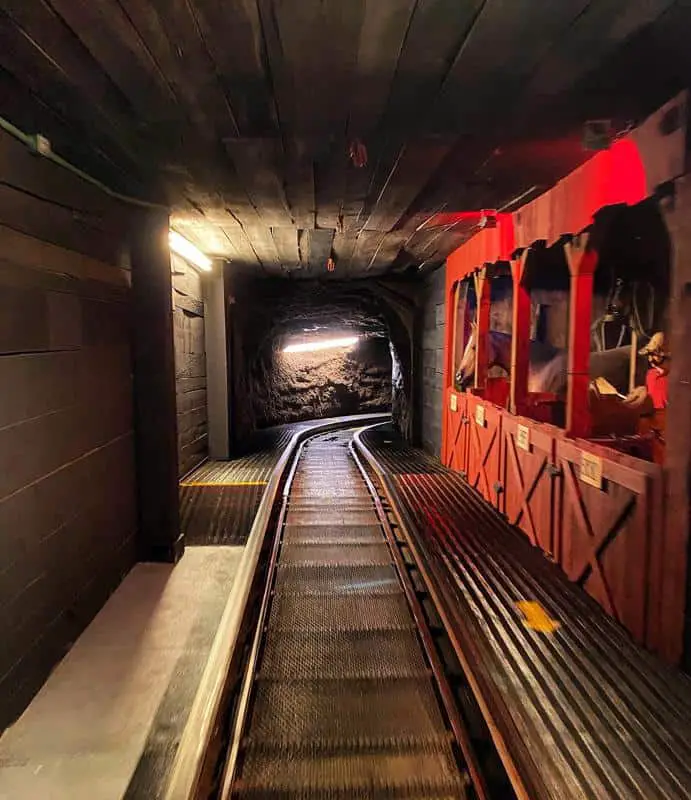 Undoubtedly, Blazing Fury has always been a thrilling attraction at Dollywood. However, for many, it is considered outdated.
For those already familiar with the roller coaster, the reworked version of this ride has made it pretty dull, thrill-wise. But for first-time riders, the darkness and ignorance of "what lies ahead" add plenty of anxiety.
After all, nobody can deny Blazing Fury's scary vibe. Its creepy mannequins, flashing lights and story can give someone a scare. Still, be aware this is according to each individual's scare factors.
Does Blazing Fury Have a Drop?
Blazing Fury has one sudden drop at the end of the ride. Dollywood doesn't list how large the drop is. However, as far as coasters go, it is not very steep.
Most estimate that the drop is approximately somewhere between 15 to 25 feet. So, if you are a roller coaster enthusiast, this might feel like a small drop.
Still, Blazing Fury is not about its thrilling drop and adventurous vibe. It's about its connection to the history of the park. After all, Dollywood wouldn't be what it is today without Blazing Fury and its role in the park.
Fun Facts to Know About Blazing Fury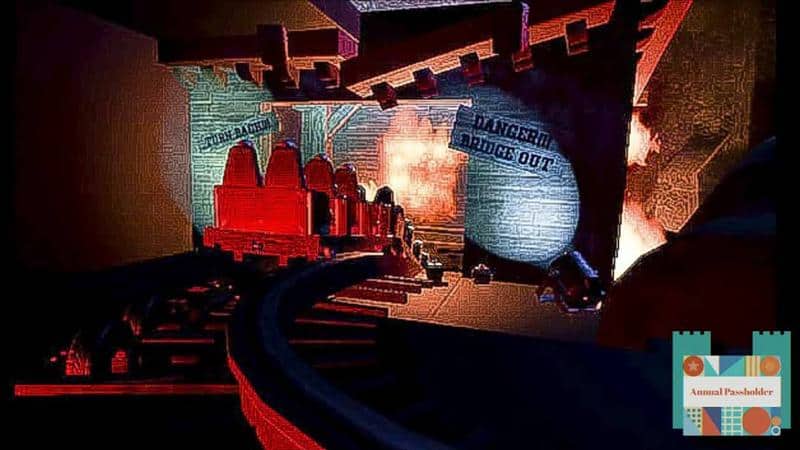 Small Details and Probs Tribute to Dollywood's Past
The park's staff and designers had a bit of fun while creating some of Blazing Fury's handmade scenes.
Throughout the ride, you can find many "Easter Eggs." Specifically, you can find a few homages to Dollywood's rich history.
For instance, you can find hidden details in certain props that refer to defunct rides and the park's former names, like Goldrush Junction Rebel Railroad and Flooded Mine.
Today It Carries More People than It Used To
When the Blazing Fury opened in 1978, it had five two-car trains, and each car could fit six riders. Today, it operates with three cars per train. There are four trains in total, but only three can run simultaneously. It is necessary for at least one train to always be stored in the maintenance shop.
Props Are Slowly Being Replaced
Blazing Fury is all about darkness and creepiness. But to accomplish that, many of the original props were purchased from an old haunted house in Gatlinburg, Tenn.
However, not everything you see on the ride today is "original." Selected props have been repaired and replaced over the years to keep the roller coaster in top condition.
So don't be surprised if next time you visit Blazing Fury, you notice something different about the ride. It is all to make the ride better and creepier!
The Maintenance Shop Is Located in The Center of The Building
As you meander through the town, you may notice glimmers of fluorescent light. That light comes from the maintenance shop, where Blazing Fury's trains go for upkeep.
While inside the ride, you might notice two small sections of the track that can be "switched." The reason for this is to allow for a train to enter or exit the shop.
Furthermore, many of the doors you see throughout the ride are actually functional. For example, the door on the hotel scene where Molly is always threatening to jump is, in fact, an access point for maintenance.
Sensors Start the Special Effects and Monitor the Trains
Blazing Fury is all about its unique and memorable scenes with the residents escaping the flames. But have you ever wondered how the residents know the exact time they are supposed to enact their scenes?
Throughout the ride, about 50 sensors are located on the tracks. They are like spring-loaded light switches or triggers that manually switch as the train passes over them.
Specifically, these sensors have two purposes. The first is to notify the coaster's computer system of a train's location on the ride, and the second is to trigger special effects.
The Park Is Continually Investing in Blazing Fury's Upkeep
With Blazing Fury being the oldest roller coaster at Dollywood, the maintenance team regularly strives to improve the ride. In fact, a few years ago, the park replaced a portion of the track to make the ride smoother.
Also, Blazing Fury enthusiasts must remember that there used to be a big splash down into a pool of water after the long incline at the end of the ride.
However, it was proven that the water caused wear and tear on the ride. So, as a result, in 2011, the park removed the water feature. Otherwise, there was a risk of shutting the coaster down altogether.
Read More:
Final Thoughts
Blazing Fury may indeed be outdated compared to other roller coasters in Dollywood or other themed parks, but don't forget that it is one of the oldest.
For first-timers, Blazing Fury offers a fantastic adventure in a dark-themed script of a burning town mixed with dark humor.
Still, even if you have visited Blazing Fury before or prefer more adventurous rides, visiting this roller coaster with your family can bring childhood nostalgia.
Because Blazing Fury may not be a thrill ride, but it's a time machine. It can take you back through the summers of your youth to the 1970s and make you feel like a child again.